Millennium Hilton Bangkok
The Millennium Hilton in Bangkok is a 32 story luxury riverside hotel on the west bank of the Chao Phraya River. All of the rooms have a river view. The hotel is one of the most recognizable riverfront landmarks with its unique ?flying saucer? rooftop design. One of the highlights is the view from the Millennium Hilton rooftop bar, one of the best in Bangkok.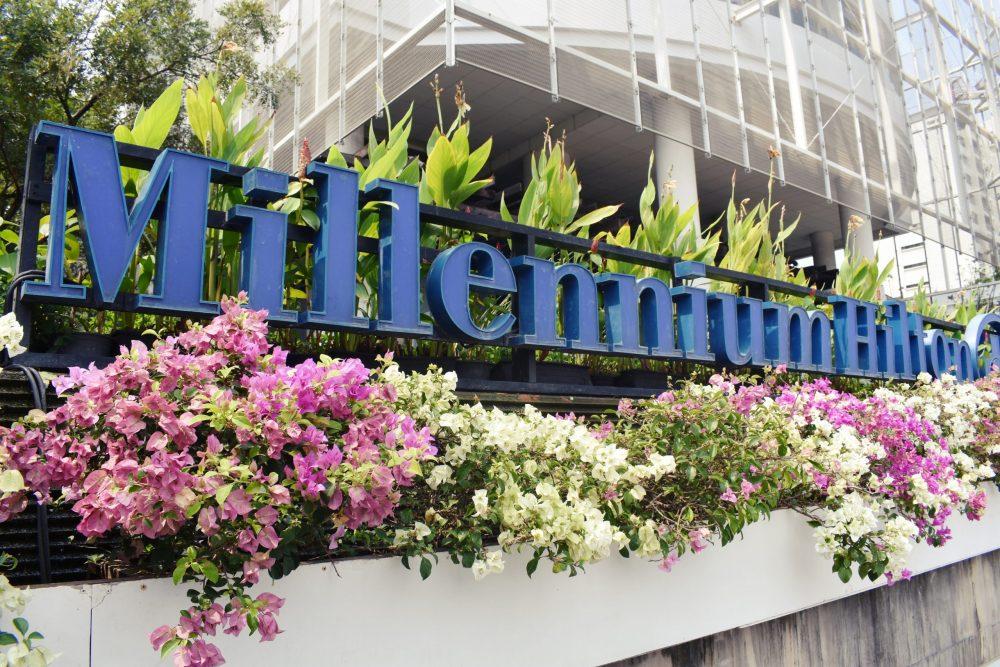 Millennium Hilton Location
The Millennium Hilton has an excellent location on the banks of the Chao Phraya River, a short walk from public transport, restaurants, bars & shopping facilities. The Millennium Hilton Shuttle Boat connects the hotel with Sathorn Pier, next to BTS Saphan Taksin Station.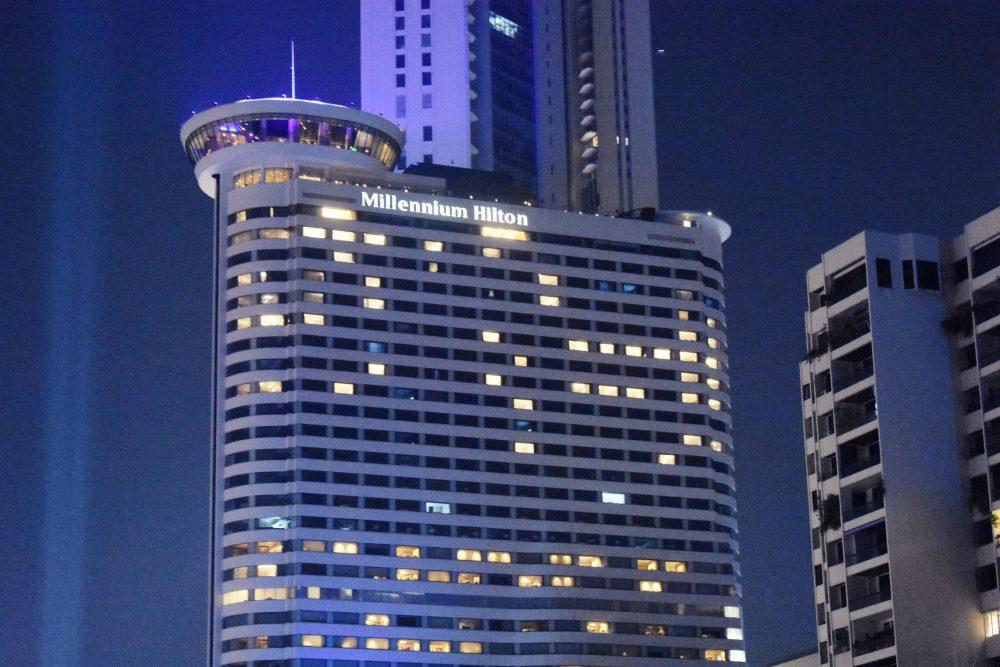 Millennium Hilton Rooms & Suites
The accommodation comprises 533 rooms & suites which are all newly renovated in an elegant contemporary design with all modern amenities. There are 10 categories of rooms & suites, from deluxe double rooms to an ultra-luxury executive suite. Each room has a panoramic river view. Some rooms & suites include access to the Millennium Hilton Executive Lounge.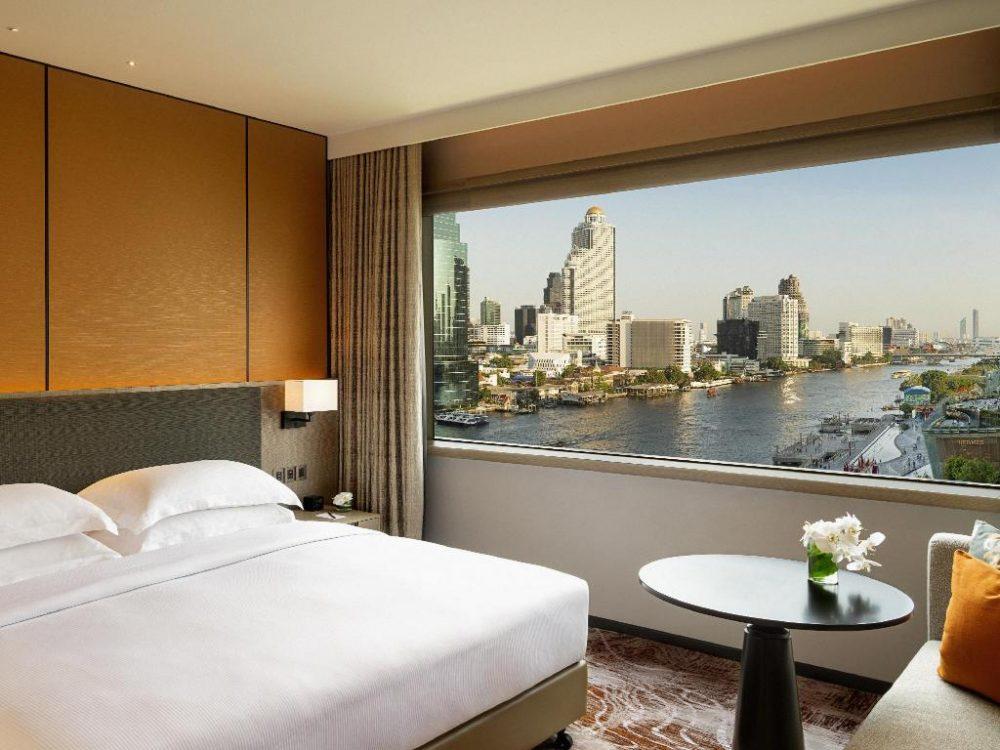 All of the rooms come equipped with modern facilities. Basic room facilities include
double or twin beds
shower & bathtub
a large flat-screen cable TV & movies
sitting area with sofa
high-speed internet
minibar
luxury tea & coffee maker
alarm clock radio
in-room safe
IDD telephone
bathrobes
hairdryer
daily fresh fruit & flowers
complimentary water
daily newspapers
towels & toiletries.
Premium rooms & standard suites have an iron & ironing board, video games, a whirlpool bath & a writing desk.
The Executive Suites have the added luxury of panoramic windows, a living room, Millennium Hilton executive lounge access, complimentary afternoon tea, free-flow evening cocktails, soft drinks & canapes, free clothes pressing & free 2-hour use of a meeting room. The Royal Suite is even plusher with a larger apartment-style layout and the most stunning view.
Millennium Hilton Bangkok Facilities
The Millennium Hilton has just about every facility you could wish for. The staff speaks 6 languages, English, French, German, Chinese, Korean & Thai.
Facilities include?
24-hour reception
24-hour room service
Infinity Pool
Fitness Center
Spa
Shuttle Boat
Coffee Shop
Snack Bar
Shops
Florist
ATM
Luggage Storage
Wheelchair Access
Business Center
Dry Cleaning
Beauty Salon
Laundry
Babysitting Service
The Millennium Hilton Executive Lounge has exclusive facilities including a private room, & complimentary drinks & food.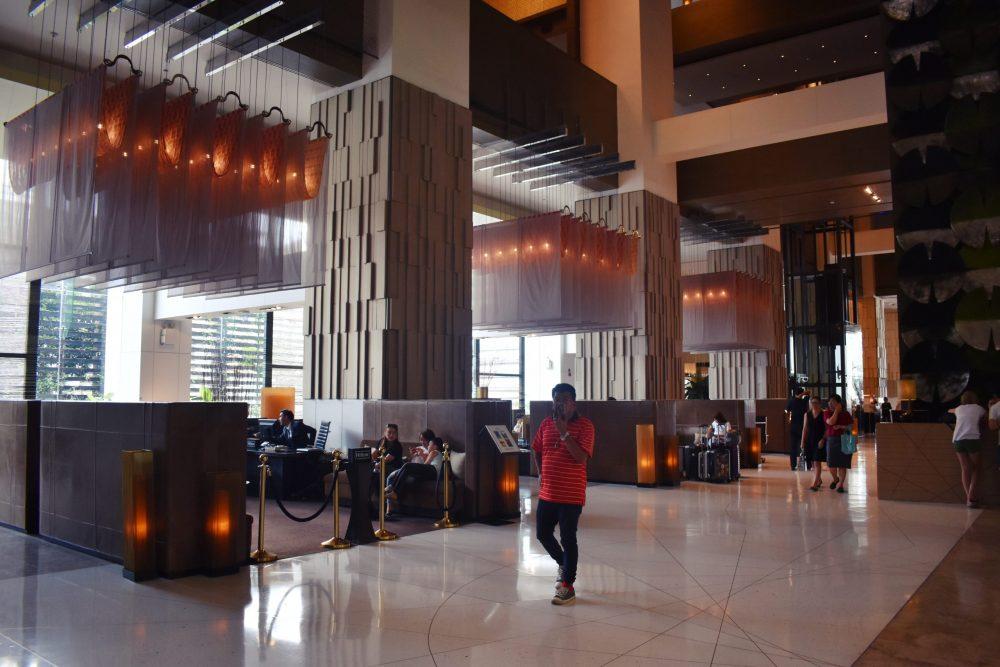 Millennium Hilton Restaurants
There are 4 Millennium Hilton restaurants serving Thai, Chinese, Seafood, Steak, BBQ, Desserts & International Buffets. They are
Yuan: Contemporary Chinese cuisine
Prime: Gourmet Steakhouse
Flow: International Buffet
The Lantern: Cakes, Pastries, Chocolates & Desserts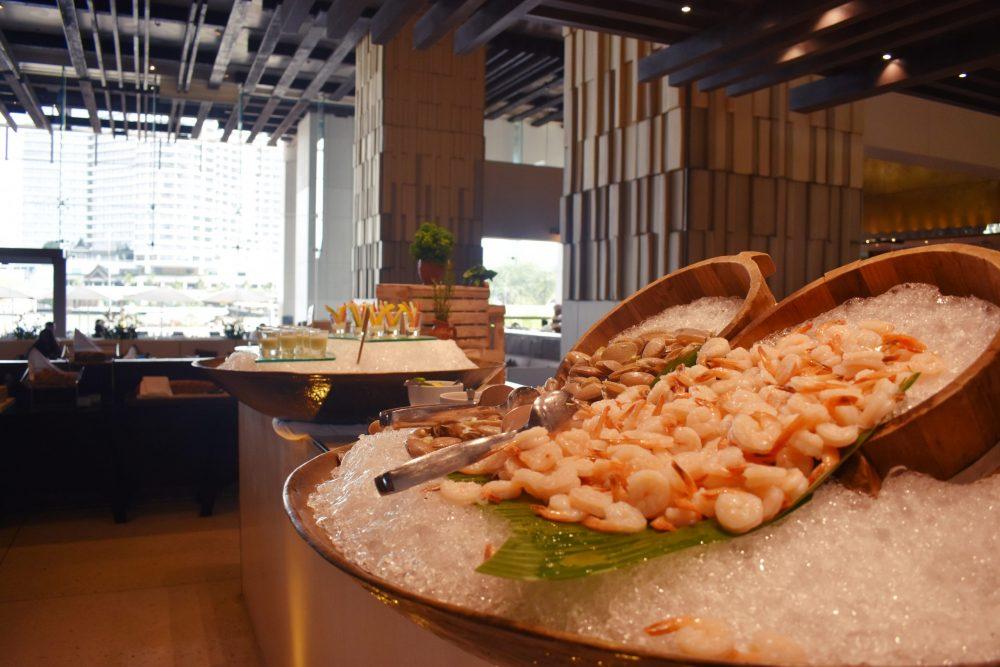 The Millennium Hilton restaurant, Flow is located in the lobby area on the ground floor. Its an open kitchen restaurant with a self-service international buffet & cooking stations where you can order dishes cooked to your preferences. The food on offer includes seafood, Japanese, Thai, European, Indian & Chinese. The restaurant is noted for its Cheese Room, one of the biggest in Thailand. There is both indoor air-conditioned seating & outdoor seating on the terrace with river views. An a la carte menu is also available. Every Sunday, Flow hosts a Sunday Brunch which is one of the most popular in Bangkok. Flow is open daily from 06.00-24.00.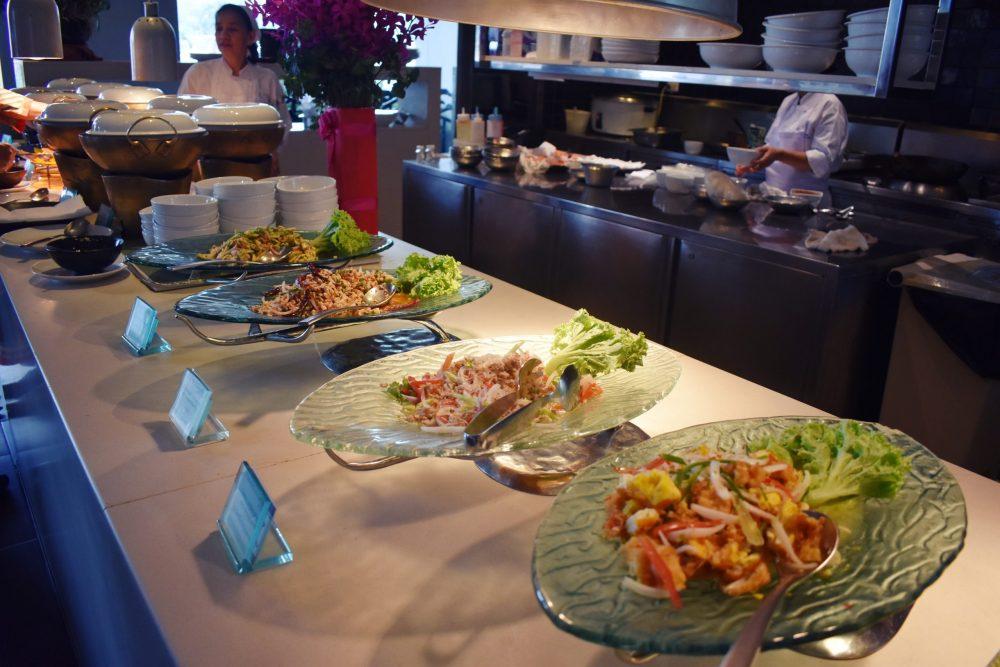 The Lantern is a cafe featuring a delicious selection of bread, pastries, cakes, chocolates, desserts, & snacks that can be paired with premium teas, artisanal coffee, fresh juices & smoothies. Air-conditioned dining inside or alfresco on a terrace overlooking the river. The lantern is open daily from 08.00-20.00.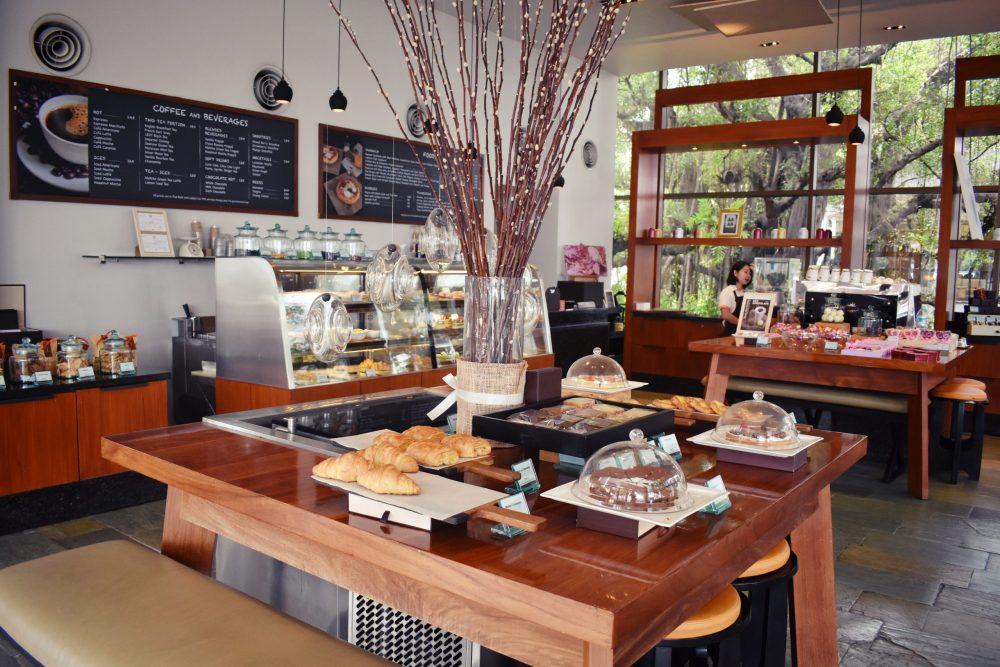 Prime is the most highly regarded of the Millennium Hilton restaurants. It?s a fine-dining gourmet steakhouse specializing in imported beef, lobster, oysters & fine wines. The restaurant has a ?prime? location, overlooking the river. Prime is open from 18.00-23.00, Tuesday to Saturday. Reservations are recommended. Check the menu.?
360 Rooftop Bar & Jazz Lounge
The Millennium Hilton Rooftop Bar, 360 has one of the most stunning river views in Bangkok. The stylish bar has two distinct sections. An outdoor seated deck on the 31st floor & an indoor air-conditioned circular lounge with 360-degree views of the city & river skyline on the 32nd floor.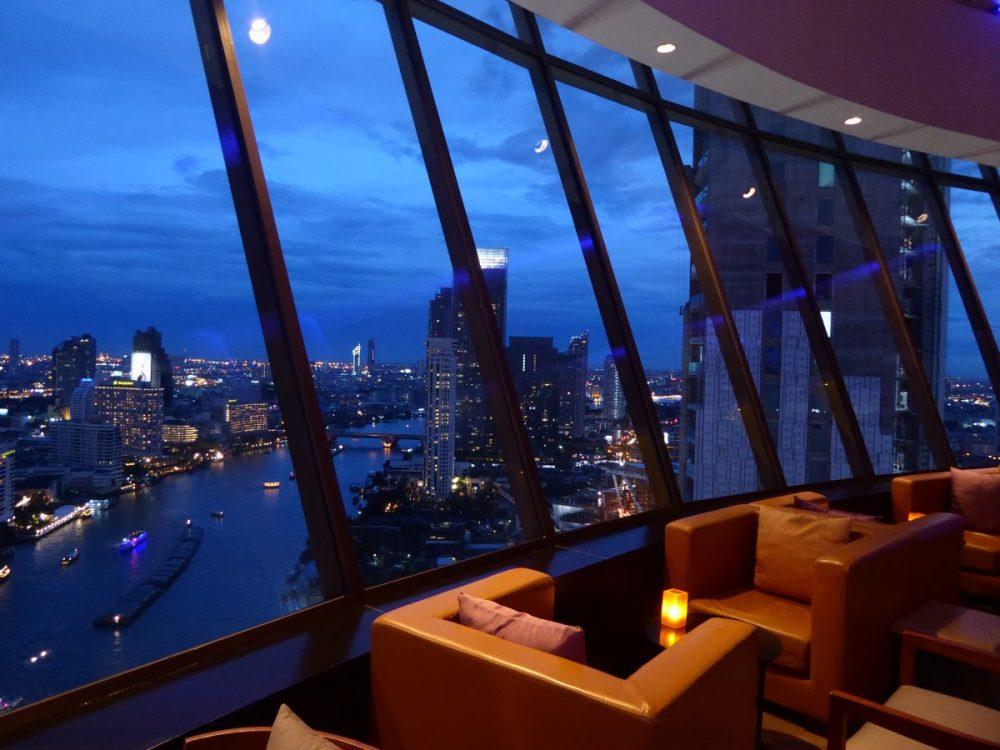 The romantically lit interior features a central stage with nightly live jazz performances featuring both classic & avant-garde tunes. The bar specializes in signature cocktail creations from a resident mixologist as well as a selection of wines, champagne & premium spirits.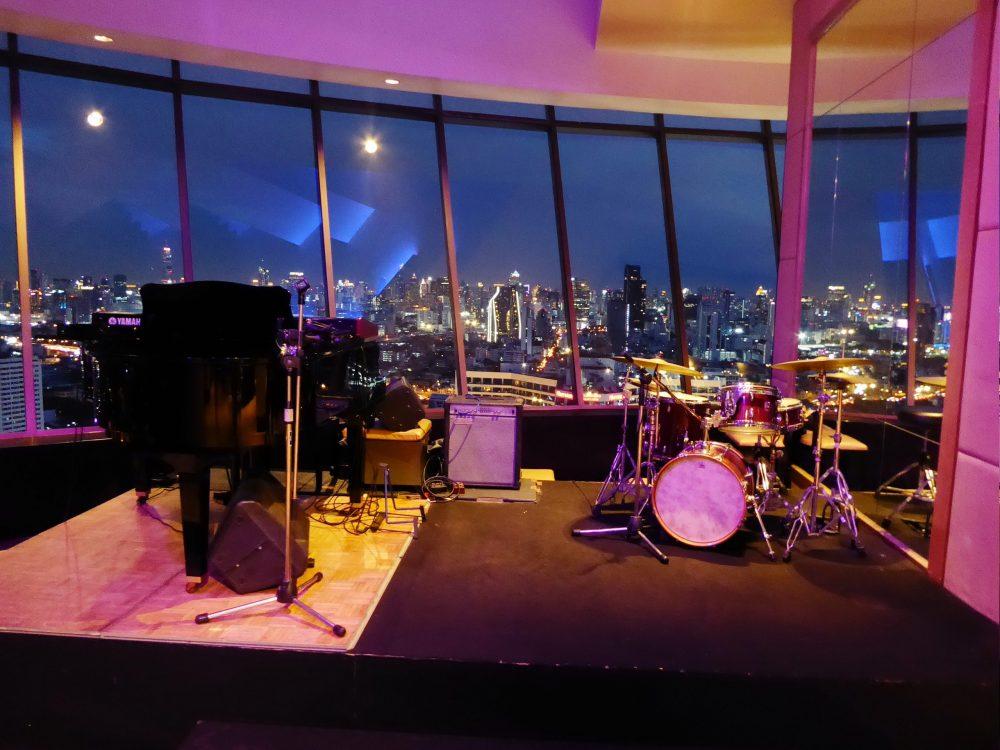 Millennium Hilton Rooftop Bar ? Drink Price
Wine by the glass 450-800 baht
Wine by the bottle 2000-16500 baht
Cocktails 450-950 baht
Spirits 300-10500 baht
Small Beer 250-420 baht
Soft Drinks 180-300 baht
Bar Snacks 200-990 baht
17% Tax & VAT are added to all prices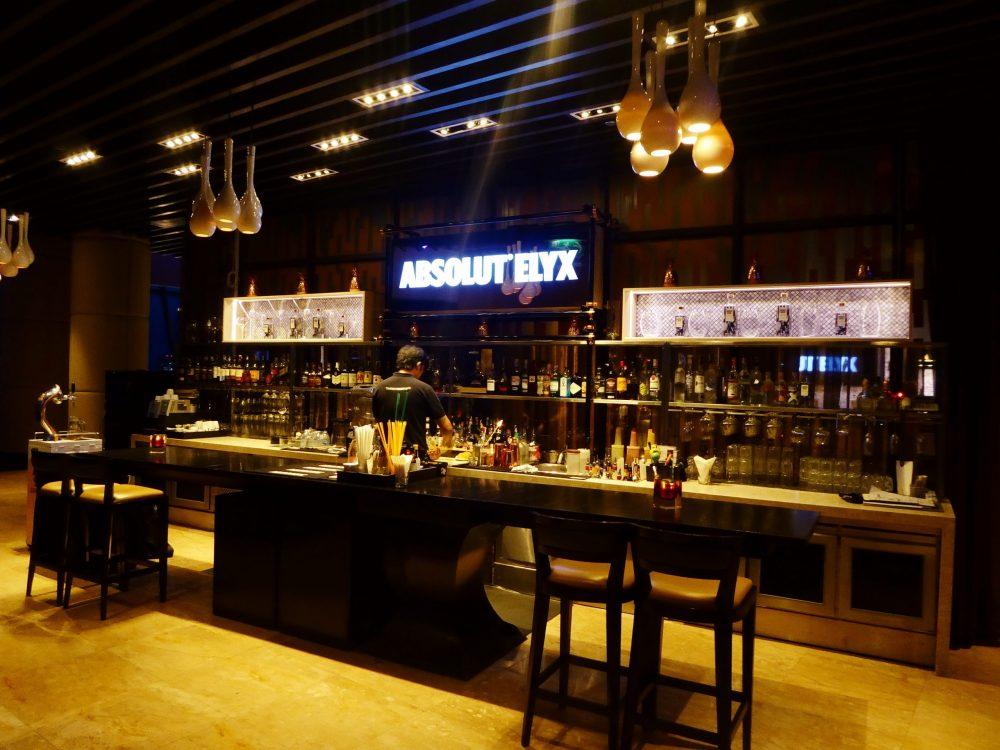 The outdoor bar has terrace seating overlooking the river, a great spot to view the passing river traffic. At the side is a comfy lounge area with candlelit tables. The sunsets at the back of the hotel so the lounge area is the best place to sit if you want to experience the sunset. Note that the outdoor area is closed if it is raining. The Millennium Hilton Executive Lounge can also be found on the rooftop area but is not accessible to the public.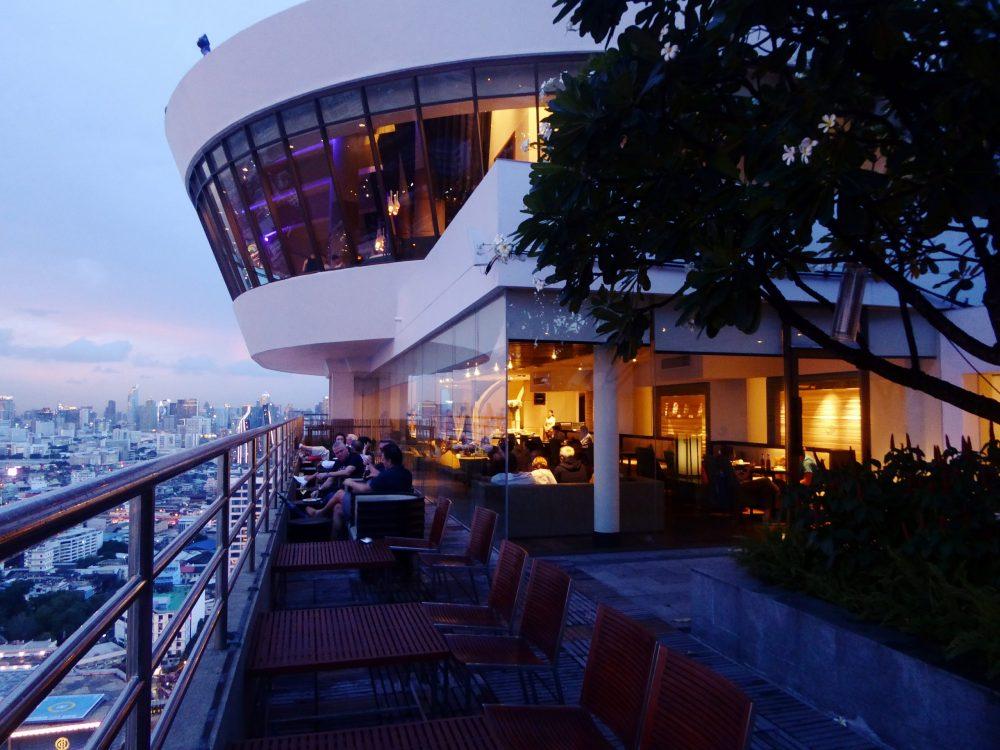 The Millennium Hilton Rooftop Bar is open daily from 17.00-01.00.
Millennium Hilton Beach Bar
The Beach is a poolside bar next to the outdoor infinity pool. There is an a la carte snack menu featuring Thai food and International favorites such as pizza, pasta, burgers, salads & sandwiches. Check the menu here. The Beach is open daily from 07.00-21.00.
Millennium Hilton Executive Lounge
The Millennium Hilton Executive Lounge can be found on the 31st floor, overlooking the Chao Phraya River. The lounge is private & offers complimentary breakfast, free-flow soft drinks, afternoon tea, evening cocktails & canapes.
Millennium Hilton Health Club
The Millennium Hilton has a modern fitness center, open 24 hours. The following facilities & activities are available.
Aerobic Machines
Weight Training Facilities
Yoga
Sauna
Steam Room
Jacuzzi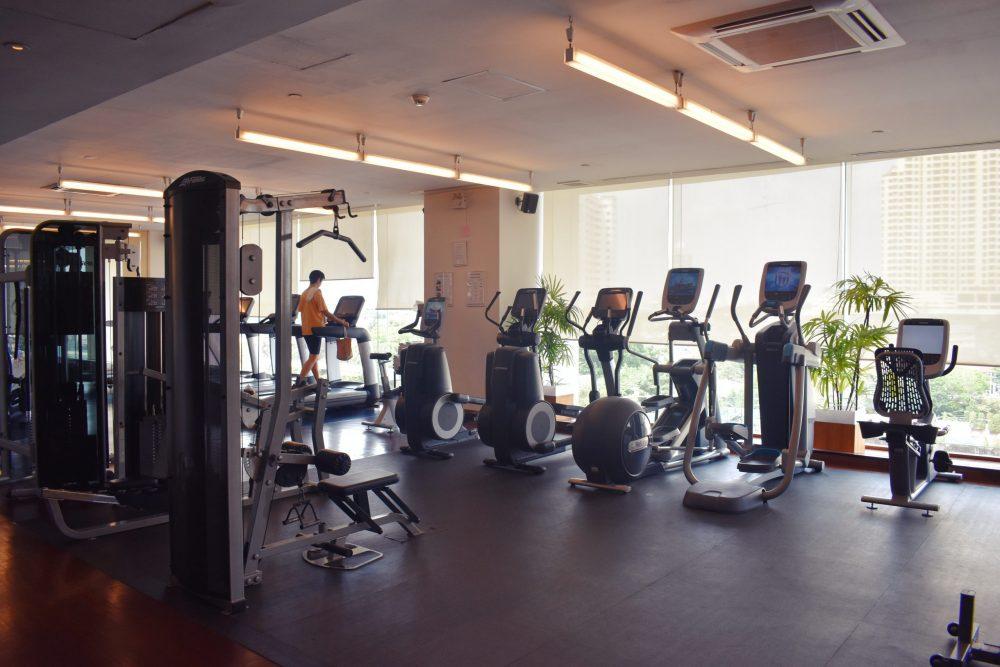 Millennium Hilton Spa
The Millennium Hilton Spa, Eforea is set on two floors with both indoor & outdoor treatment centers. There are 12 spa rooms & suites, two with private sauna. The Spa offers a wide range of treatments & programs to relax & heal your mind, body & soul using both traditional Thai & western techniques. Treatments include massage, facials, full-body, hydrotherapy & beauty. There is also a nail salon providing manicure & pedicure. Eforea Spa is open daily from 10.00-21.00.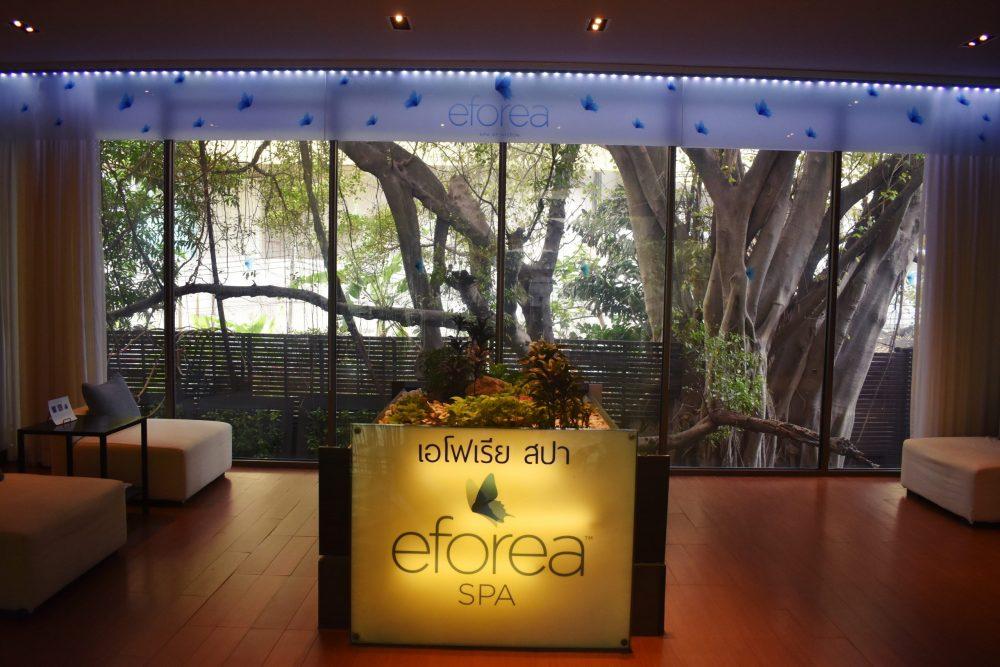 Millennium Hilton Spa Services
Body Scrub
Body Wrap
Head Massage
Herbal Oil Massage
Body Massage
Deep Tissue Massage
Back & Shoulder Massage
Foot Massage
Maternity Massage
Thai Herbal Compress
Aromatherapy
Facials
Millennium Hilton Spa treatments are available from 10.00 to 20.00 daily. Minimum age 18. Spa treatments range from 2200 to 6200. Non-guests are welcome. Reservations recommended.
Millennium Hilton Bodhi Tree
Behind the Spa, you may notice a tree wrapped in colorful ribbons. This is a sacred Bodhi Tree, a fig tree. These are common in Thailand and have a religious & superstitious significance. The Bodhi Tree is regarded as sacred as the Buddha was sat under a Bodhi Tree when he achieved enlightenment. A sacred Bodhi Tree cannot be cut down as it is thought to bring bad luck, so you often see them in unexpected places. Next to the Bodhi Tree is the hotel spirit house, a shrine to the protective spirit of a place. An altar is placed next to the tree & spirit house where offerings of flowers, food & drink are placed daily to honor the spirits & to bring good luck to the hotel & it?s employees.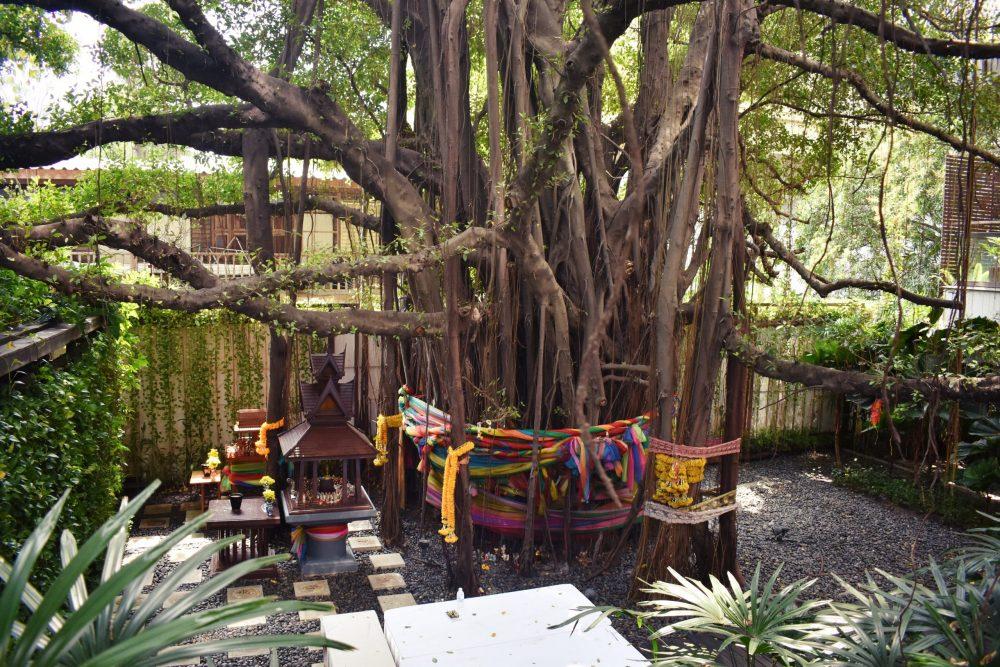 Millennium Hilton Infinity Pool
The Beach features an infinity pool & a white sand sundeck with bean bags & comfortable sun loungers. The Beach Bar provides guests with an exclusive drink & food menu. Just behind the beach are massage booths. The pool is open from 06.00-21.00.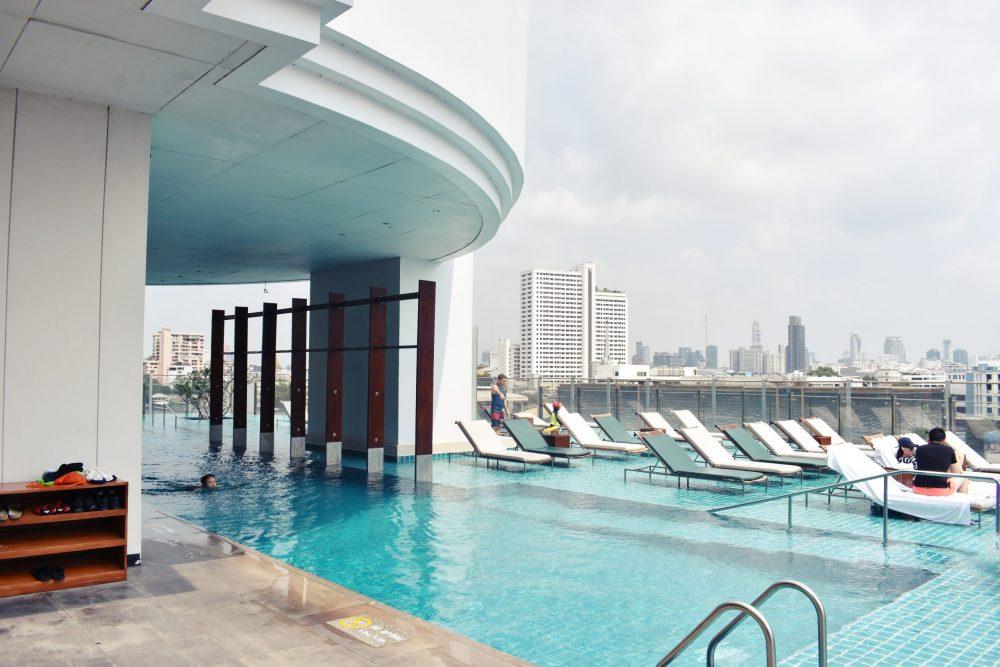 Bangkok to Chiang Mai by Train ? Travel in a First Class Sleeping Compartment
Bookings available up to 1 year in advance
Millennium Hilton Shuttle Boat
The Millennium Hilton has its own mini-fleet of shuttle boats. Services from the hotel pier go to & from the following destinations.
Sathorn Pier (for BTS Saphan Taksin Station) ? from early morning until midnight
Asiatique ? from late afternoon until 11.30 pm.
The service is for guests only though you may use the boats if you are going to & from the hotel for meetings, dining, drinking, or visiting the spa.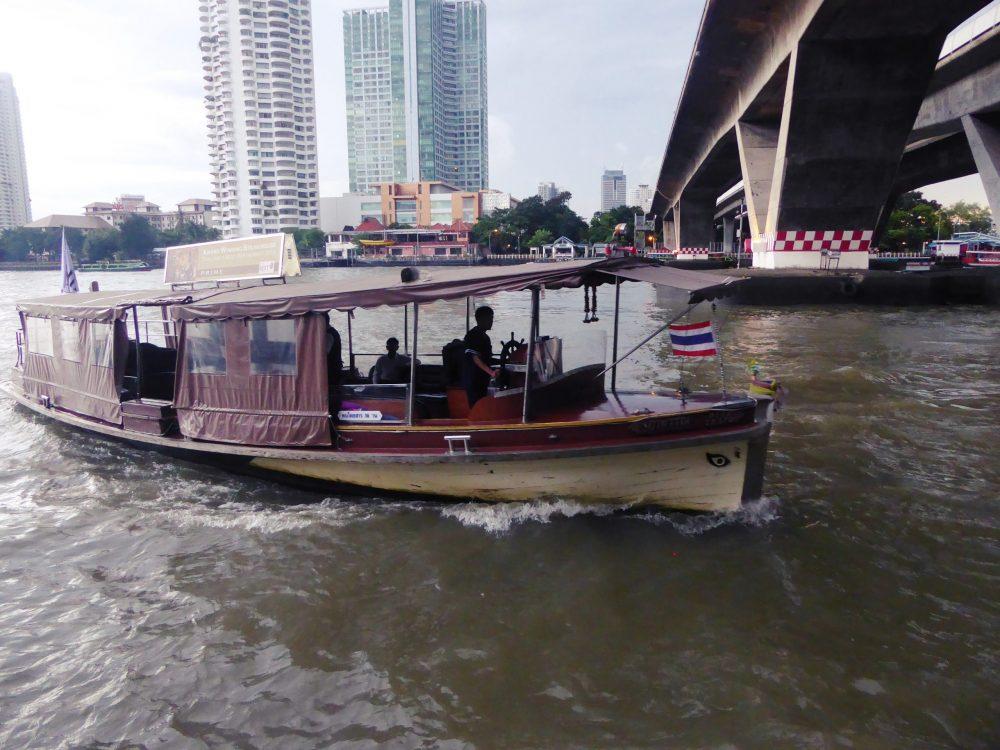 Landmarks Nearby
ICONSIAM ? The newest & biggest mall in Bangkok is next door to the hotel.
The Jam Factory ? An art gallery, a bookstore, cafes & riverside dining. Next door to the hotel.
Khlongsan Plaza ? A covered local neighborhood market selling cheap clothes, shoes, tourist souvenirs. Next to the hotel.
River City ? Riverside Mall specializing in Thai Antiques & Art. Opposite the hotel, on the other side of the river.
Holy Rosary Church ? Gothic Style Riverside Church dating back to the 1890s. Next to River City.
Millennium Hilton Bangkok Video
Want to see more? Check out this video to learn more about this luxury riverside hotel in Bangkok.
Book Your Stay at the Millennium Hilton Hotel Bangkok
Millennium Hilton is one of the most luxurious hotels on the Bangkok riverside. The rack rates for Rooms & suites are from 3200 to 10500 baht per room/suite per night. A tax of 10% is added to all prices. The more exclusive rooms & suites should be booked in advance. Check out the latest offers on Agoda & Bookingcom here
Book Millennium Hilton Bangkok with Agoda
If you book through the link above, we receive a commission. Agoda or Bookingcom share their commission with us. You do not pay more. You pay the same as booking direct. If you have an account with Agoda or Booking you can log in at the confirmation stage and use Agoda cash, Genius discounts, coupons, or codes. We are an independent website. All revenues we make go to support, update, maintain & improve Tourist Bangkok.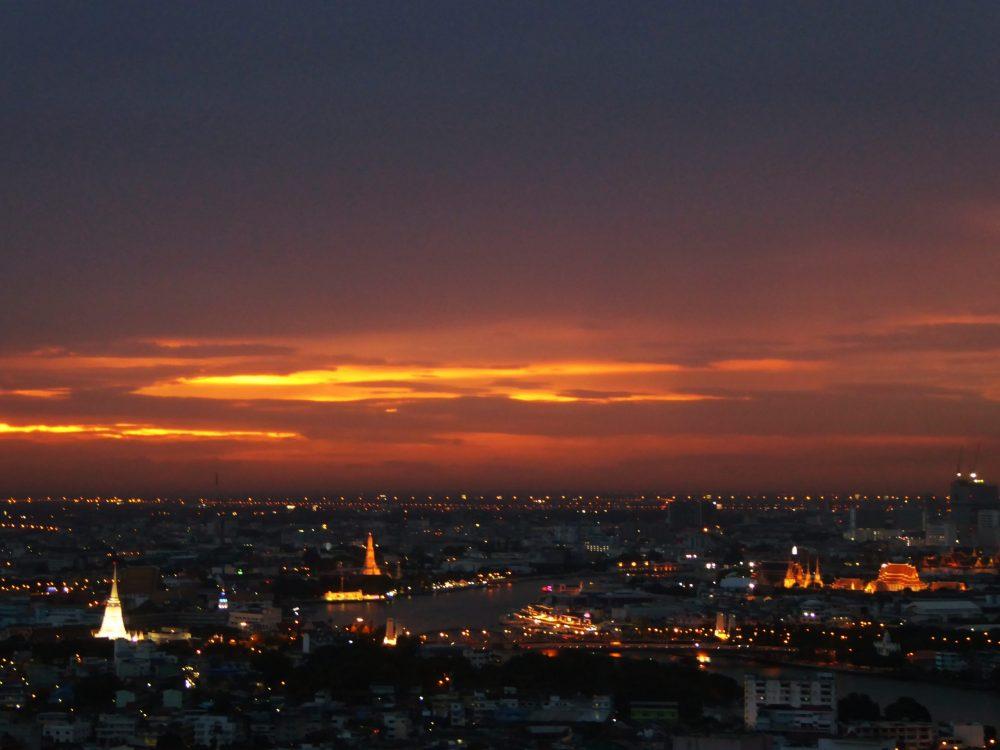 How to get to the Millennium Hilton Bangkok
Suvarnabhumi Airport (BKK) ? If you are staying at the Millennium Hilton, we recommend you take a private transfer from the airport. There are three classes to choose from. Click on the link for more information & booking.
A VIP Meet & Greet service is available that includes fast-track immigration clearance, a hostess to escort you to your waiting transport & a porter for your luggage. Check here for details & booking.
Don Mueang Airport ? From Don Mueang, you can take a private or shared transfer. There are two classes to choose from. Click on the link for more information & booking.

Local Transport
Taxi ? The hotel can arrange a taxi for you or you can hail one on the street. Beware of taxis that hang around on the street near the hotel. These taxis do not use the meter, overcharge & will try to take you to fake gem shops & worse. Never ask a taxi driver for recommendations, they will only take you to places that pay them a commission.
Tuk-Tuk ? If you would like to use a tuk-tuk, walk up to Charoen Nakhon Road & hail a passing one. The same as for taxis, avoid ones that park & hang around near the hotel for the same reasons as taxis above.
BTS Skytrain ? Saphan Taksin Station is a 5-minute journey on the hotel shuttle boat. The BTS Skytrain is one of the most convenient ways to get around Bangkok.
Hotel Shuttle Boat ? There is a free shuttle boat to the hotel from Sathorn Pier (next to BTS Saphan Taksin). The shuttle boat from the hotel also operates a free service to Asiatique.
Chao Phraya Express & Tourist Boats ? Both the Express (Orange Flag) & Tourist (Blue Flag) call at the Sathorn Pier.
Khlong San Pier ? Si Phraya Pier?? There is a cross-river ferry service from Khlong San Pier which is to the left of the hotel on the riverside. The ferry runs to Si Phraya Pier next to River City. The fare is 5 baht & the ferry runs from 04.30 to 21.30 daily. Services are every 15 minutes.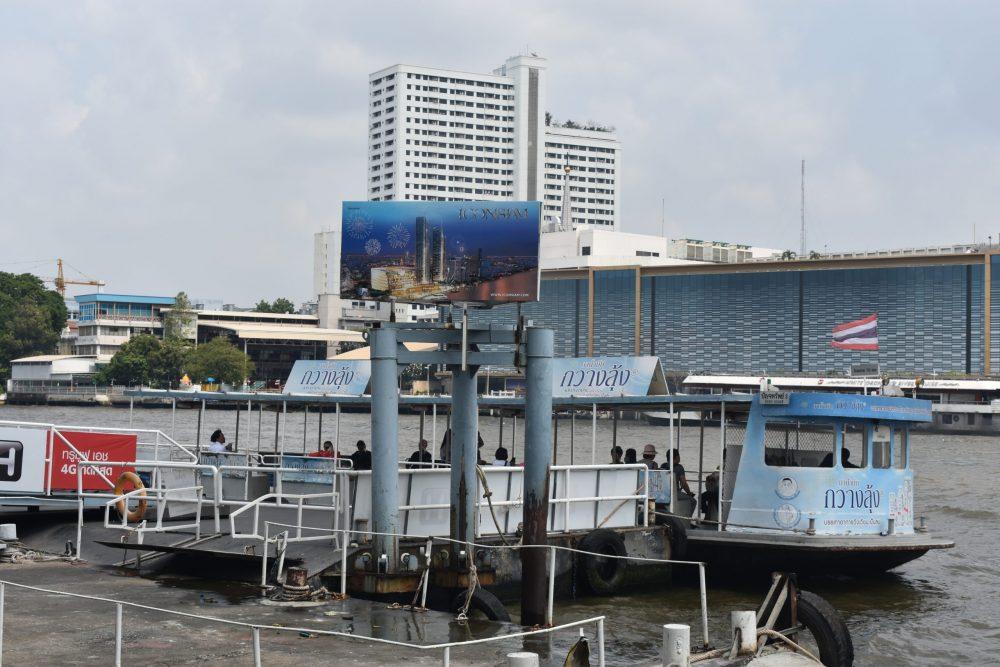 Millennium Hilton Bangkok Map