Thailand Visa
Do you need a visa to visit Thailand? Find out here.<
/p>
If you are visiting Bangkok as a tourist you have the following options depending on your nationality. A visa-exempt entry, a visa on arrival, a single or multiple-entry tourist visa. It is also possible to get a Thailand visa extension at a local immigration office.
Thailand Visa Exempt Entry
Free visa-exempt entry is available to citizens of 57 countries.
Citizens of Canada, France, Germany, Italy, Japan, the United Kingdom, and the United States get 30 days if arriving by air or land. This can be extended in-country for a further 30 days at an immigration office at a cost of 1900THB.
Citizens of Andorra, Australia, Austria, Belgium, Bahrain, Brunei, Czech Republic, Denmark, Estonia, Finland, Greece, Hong Kong, Hungary, Iceland, Indonesia, Ireland, Israel, Kuwait, Latvia, Liechtenstein, Lithuania, Luxembourg, Laos, Macao, Malaysia, Maldives, Mauritius, Monaco, Mongolia, Netherlands, New Zealand, Norway, Oman, Philippines, Poland, Portugal, Qatar, Russia, San Marino, Singapore, Slovakia, Slovenia, Spain, South Africa, Sweden, Switzerland, Turkey, Ukraine, United Arab Emirates, and Vietnam get 30 days arriving by air or by land. Land & sea entries are limited to two per calendar year except for citizens of Hong Kong, Laos, Macao, Mongolia, Russia & Vietnam. There are no limitations if arriving by air. You can apply for an extension of 30 days (air) or 7 days (land) at an immigration office at a cost of 1900THB.
Citizens of Argentina, Brazil, Chile, Peru, and South Korea get 90 days if arriving by air or land. This can be extended in-country for a further 30 days at an immigration office at a cost of 1900THB.
Citizens of Cambodia get 14 days arriving by air or land and citizens of Myanmar get 14 days but only if arriving by air.
?
Thailand Visa on arrival
A visa on arrival is available to citizens of the following 18 countries.
Bhutan, Bulgaria, China, Cyprus, Ethiopia, Fiji, India, Kazakhstan, Maldives, Malta, Mexico, Nauru, Papua New Guinea, Romania, Saudi Arabia, Taiwan, Uzbekistan & Vuanatu.
It is for a single entry & valid for 15 days and costs 2000 THB. It is available on arrival at any International airport and at most land border crossings. You will need your passport, a photo, a completed application form, a completed arrival card, proof of onward travel, proof of funds of at least 10,000THB, proof of a hotel booking. An E-Visa on arrival is now available online.
Get an E-Visa on Arrival here
Thailand Visa in Advance
Citizens of the following countries must obtain a visa in advance of travel from a Thai embassy or consulate in their home country. All countries in Africa, Afghanistan, Bangladesh, Iran, Iraq, Lebanon, Nepal, North Korea, Pakistan, Palestine, Sri Lanka, Syria & Yemen.
?
?
Thailand Tourist Visa
Single Entry Tourist Visa (SETV)
A single-entry Thailand tourist visa is valid for a 60-day stay from the date of arrival. It can be extended in-country for a further 30 days at an immigration office at a cost of 1900 THB. You must enter Thailand within 90 days from the date of issue. You can apply at any Thai embassy or consulate worldwide. The cost of the visa is 1000 THB or equal to the local currency of the country where you apply. Processing usually takes one to two days if applying in person, longer if applying by post.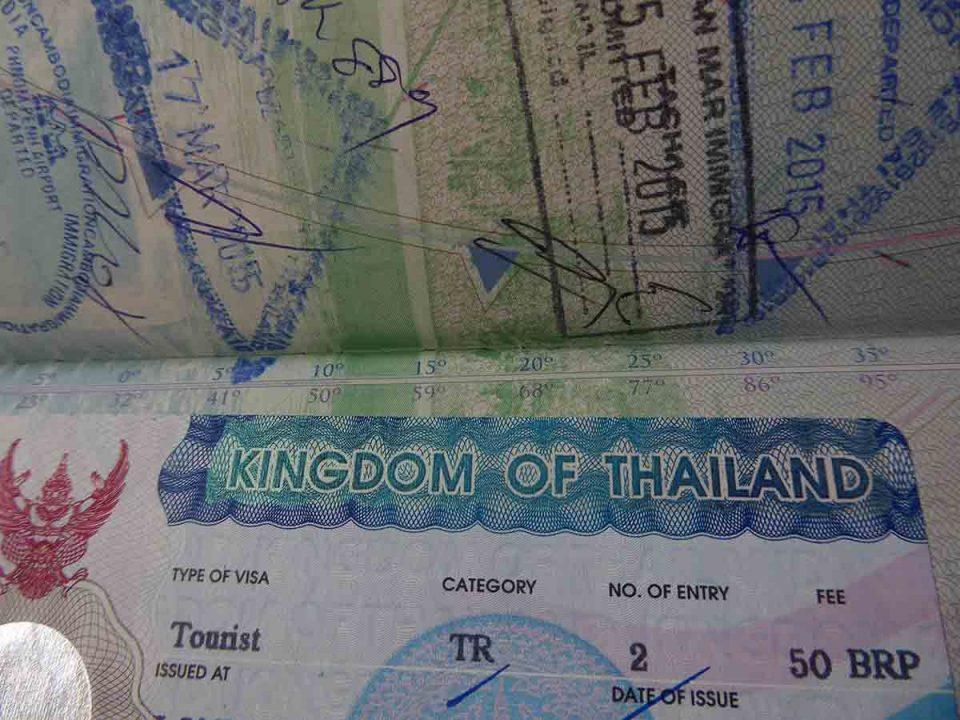 Multiple Entry Tourist Visa (METV)
Thailand no longer issues double or triple entry tourist visas, as in the past. There is now a Multiple Entry Tourist Visa. It?s valid for 6 months from the date of issue and allows you to stay at most 60 days at a time in Thailand. Each 60-day stay is extendable for a further 30 days at an immigration office. You will then need to exit and enter again, though you can do this as many times as you wish within the validity of the visa. This visa can be stretched to 9 months through exiting and entering again just before the 6-month validity expires.
The cost of this Thailand visa is 5000 THB payable in your local currency and you need to show proof of employment, proof of residence in your home country, and proof of funds in your bank totaling at least 200,000 THB. Proof of a flight booking and first hotel booking may also be requested. The multiple-entry Thailand tourist visa can only be applied for at Thai consulates and embassies in your home country or country of legal residence.
Visa Runs
If you've entered Thailand on a 15/30-day visa on arrival/visa-exempt basis you can in theory exit the country and re-enter on the same day via a land border or by air to/from a neighboring country to get another 15/30 days. However, Thai immigration has cracked down on this practice and limit how many times you can do this. This is up to the discretion of the immigration officer you meet. If you do this on a regular basis you will have problems. Two reliable companies who run land visa runs via air-conditioned minibus from Bangkok are …
Bangkok Buddy goes to Poipet and Thai Visa to Ban Laem both on the Cambodian border. Not all nationalities qualify for a visa run. Check the websites for who qualifies and who doesn't, schedules and cost.
Overstaying Your Visa
Overstaying your visa can have serious consequences. The fine for overstaying your visa is 500 THB per day capped at most, 20,000 THB. The fine starts after the 2nd day of overstay. This is only payable at an International airport or land border on leaving the country. You cannot pay at an immigration office. If you?re arrested you will face prosecution, be detained in prison, and then deported. Anyone who overstays over 3 months will face a long-term ban from entering Thailand. Overstaying from 3 months to 1 year will incur a ban of one year, overstaying from 1 to 3 years will incur a ban of 3 years, Overstaying from 3 to 5 years will incur a ban of 5 years and overstaying 5 years or more will incur a ban of 10 years.
Extending your Thailand Visa
If you entered Thailand on a visa-exempt entry (by air), a single or multiple-entry tourist visas (air or land), you can extend each entry by 30 days. Arriving on a visa-exempt entry by land you can extend it by 7 days. Citizens of a G7 country (Canada, France, Germany, Italy, Japan, the United Kingdom, and the United States) can extend a land entry by 30 days. Extensions cost 1900 baht. You can apply to extend your visa at any immigration office in Thailand. There are offices near all main tourist destinations and in every province.
How to extend your visa in Bangkok
If you want to get a Thailand visa extension in Bangkok, you will need to go to the Bangkok Immigration office at the Government Complex on Chaengwattana Road in North Bangkok. Opening hours are 08.30 to 16.30. The office closes for lunch from 12.00 to 13.00. Immigration closes on weekends and public holidays.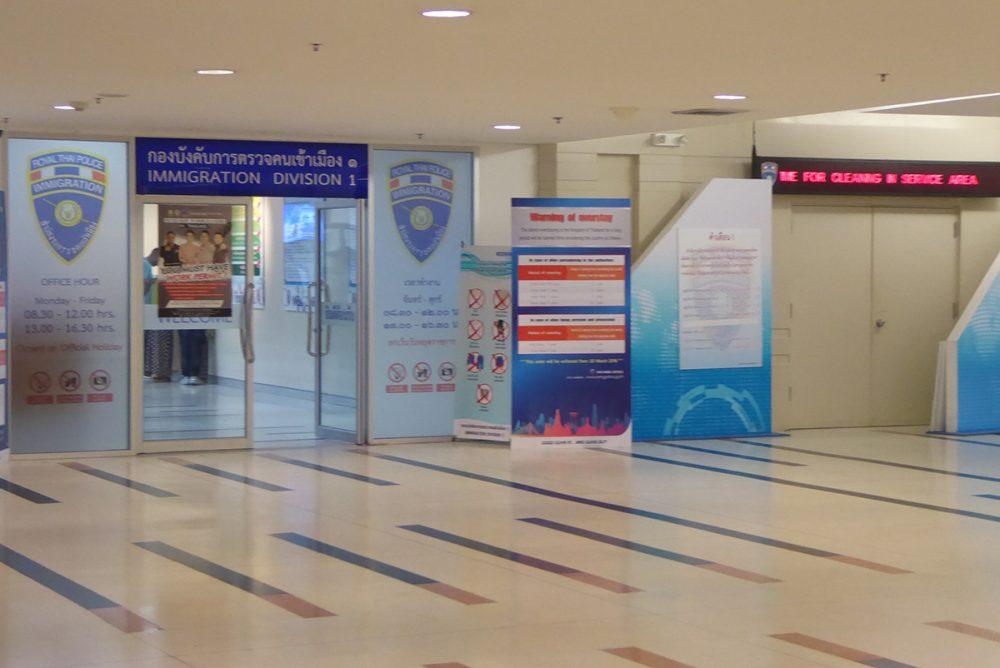 What do you need?
*Your Passport
*Application Form (get it at the immigration office)
*One Passport Photo
*Photocopies of your passport photo page, Thai visa, and entrance stamp pages.
*The fee of 1900 baht
There is a copy shop in the complex basement. Copies cost 1 baht per sheet. Passport photos are 100 baht for 4. The basement has many cafe?s, banks, and shops.
How to get to Bangkok Immigration Office
If you need a Thailand visa extension, you can get to the Bangkok immigration office easily by public transport. You can take a taxi, bus or train.
Taxi
You can take a taxi from central Bangkok. The fare will be about 200 baht each way. You could also travel to Mo Chit BTS station on the Sky Train and take a taxi from there for about 100 baht each way.
Bus?
You take the BTS Sky Train to Mo Chit Station or the MRT Train to Chatuchak Park Station. There you can catch the outbound Number 52 air or non-air-conditioned bus which will take you all the way. The Air-Conditioned bus is blue. The fare is 20 baht.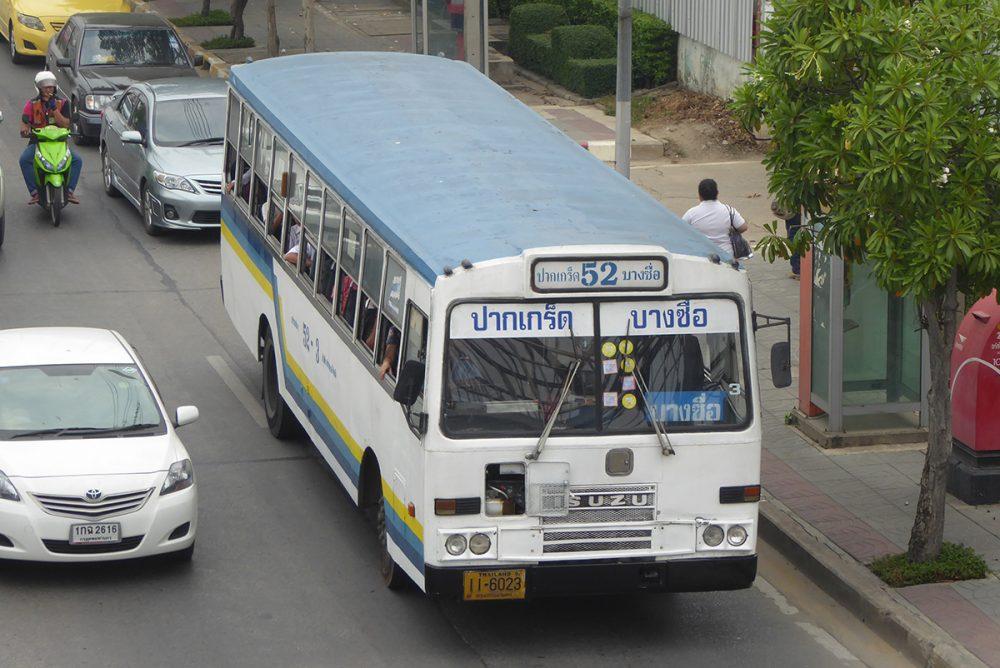 The Non-Airconditioned buses are blue, pink, or white. The fare is 10 baht. The non-airconditioned buses are slowly being phased out so it is best to take the air-con bus if it comes first. You need to get off at the CAT Telecom stop just before a sign in English for the office of the Ombudsman.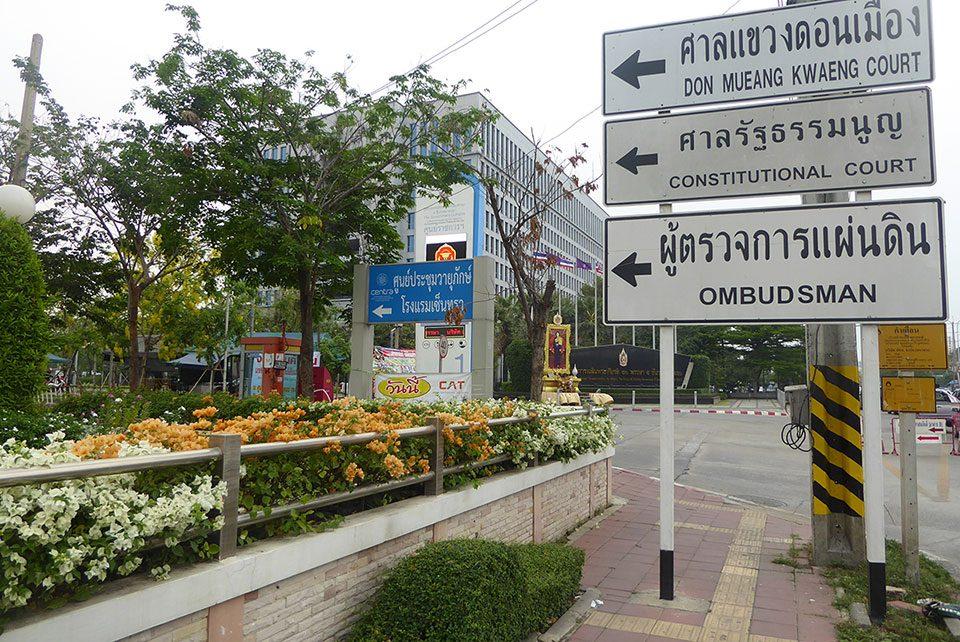 Train
You can also take an ordinary train (3rd class) from Hualamphong Train Station. Ordinary trains depart Hualamphong at 09.25, 11.20, 11.40, 12.55 & 14.05. The journey time is 38-58 minutes depending on which train you catch. Get off at Laksi Station which is opposite IT Square. The fare is 4 baht. It is a 15-minute walk down Chaengwattana Road from there or you can pick up the 52 bus or a taxi for 40 baht. There are return ordinary trains at 10.26, 11.26, 13.20, 13.33. Also rapid trains at 13.59, 17.11 & 17.49. The rapid fare is 24 baht. If you are traveling from Khaosan Road take the 53 red bus to and from Hualamphong.
When you arrive turn left into the complex and you will see a Motorcycle taxi stand and just beyond it a bus stop. The Bangkok Immigration office is in building B which is the furthest building from the complex entrance on the right-hand side. You can walk in about 12 minutes or you can take a Motorbike for 20 baht or take the free shuttle bus (every 10 minutes) from the bus stop.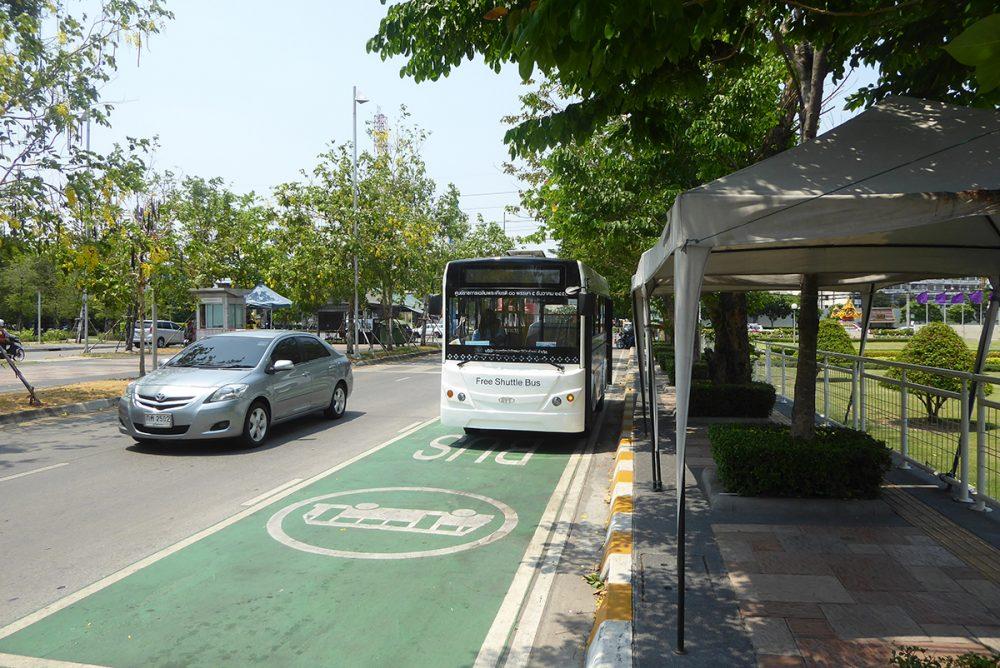 The Shuttle bus will drop you at Gate 1 or 2 of building B. Motorbikes will drop you at Gate 1. The shuttle bus only picks up from Gate 2.
Thailand Visa Extension Application
When you arrive at Building B, you need to go to the Immigration Division 1 office and collect the Thailand visa extension application form from the counter assistant. Fill out the form, affix your photo using the glue provided, and make sure you have the photocopies you need. You will need to give a phone number and address on your application form. You will also need to write an explanation for why you want to extend the visa.
Next, go to the next room and collect a queue number. There is an electronic queuing system. Wait for your number to appear on the screen and hand in your Thailand visa extension application and payment to the officer, who will check your application. If approved, you must wait again while they process your application. When your number appears again you can collect your passport and your Thailand visa extension. The process can take anywhere between 30 minutes and 3 hours depending on how busy it is.
To travel back into Bangkok, take a taxi from outside Building B. You can also take a Motorbike, walk, or take the Shuttle Bus (Gate 2) back to Chaengwattana Road. There is a bus stop on the opposite side of the road. You can catch a taxi, minivan or the 52 bus back to Mo Chit BTS.