Thailand Tourism Festival 2019
By Peter C on January 26th, 2019 in Thai Festivals
The Thailand Tourism Festival 2019 is Thailand's largest annual tourism event. This years event runs from January 23rd to 27th atLumphini Park in Bangkok. The aim is to offer inspiration for Thais, visiting tourists & expats to travel around Thailand exploring the different culture & attractions of each region. This year's theme is green travel that is environmentally friendly & sustainable. The emphasis is on the fun with a host of activities, performances, workshops, games, dining & shopping. We attended the first day and had a great time watching the performances, trying different foods, and browsing the various products on offer in the markets. Every region is distinctly different but here you can experience it all in one place in one day. Despite the name, It's not a commercial event but a celebration of Thailand.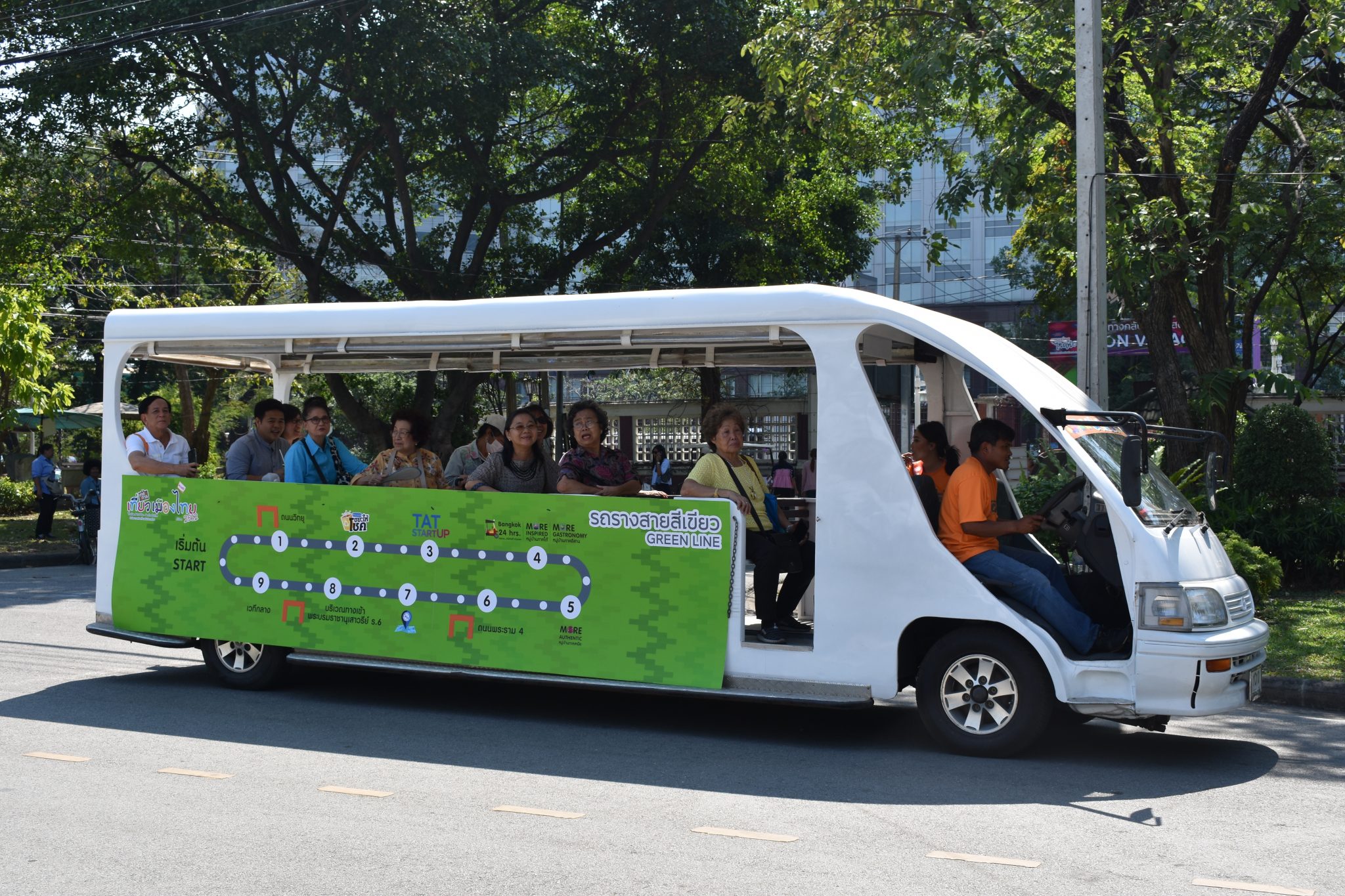 Thailand Tourism Festival 2019 Zones
The Thailand Tourism Festival 2019 contains nine zones. There are five village zones representing the five major regions of Thailand, a TAT studio & start-up zone, the main TAT stage, a reduce reuse recycle zone promoting sustainable tourism, and a tourism networks zone. Each village zone has a tourist information area selling tours and free tourist literature. The tour packages and literature are mainly for Thai tourists as most information is in the Thai language. There are free trams running a circular route around the zones if you don't feel like walking.
The Villages
There are five villages at the Thailand Tourism Festival 2019. The five villages are Central, Northern, North Eastern (Isan), Southern & Eastern. Each village has a stage, a market selling clothes, handicrafts, a food village with seating, & tourist information booths. The village decor, food on sale & products are representative of that region of Thailand. There are demonstrations of local craftsmanship where you can buy the products you see being made and workshops where you can try your hand at making things yourself. During the daytime, there are cultural performances on the stage and pop up shows, processions, competitions with prizes, and interactive performances around each zone. From 7 pm there are cultural shows and live music performances on the main stages.
Thailand Tourism Festival 2019 / The Food
Each Village has a food zone featuring local specialties. In the North Eastern zone, you will find Papaya Salad, Kai Yaang, and Larb while in the Northern zone you can feed on Sai Ua, and taste Thai coffee. The Eastern zone has lots of seafood, the Southern zone curries and the Central zone has Pad Thai and curry puffs. You will also find fresh fruit, juices, and desserts such as mango and sticky rice. Everything is reasonably priced from as little as 10 baht to 100 baht. At most stalls, you can watch your food being freshly made.
Thailand Tourism Festival 2019 – Markets
Each village has a market selling a variety of products including clothing, bags, handicrafts, packaged food, gifts & souvenirs, musical instruments, and art.
Music & Performances
After dark, the focus turns to the village stages featuring shows and live music. The highlight is the Morlam (Isan Variety) show on the north-eastern stage. The show features traditional music and song performed by a 20 strong band playing traditional instruments backing a troupe of about 50 singers and dancers of all sexes. The singers rotate between songs as do the dancers who change costumes for each part of the program. The costumes are wonderful while the choreography, dancing, singing, and musicianship are faultless. Apart from the dance routines, there is a comedy section featuring three men dressed as women. You won't find this kind of show outside of the Isan region and is an experience not to miss. The northern, southern, central and eastern stage featured live music. There will be different artists each day of the Thailand Tourism Festival 2019.
If you're in Bangkok this weekend go along and check out the festival. Plan on spending the day. There is lots to do, great food and entertainment. It's a great day out.
Thailand Tourism Festival 2019 Videos
You May Also Like
Popular Pages on Tourist Bangkok