Vintage & Retro Shops in Bangkok
Bangkok is a retro collectibles heaven. There are several cool vintage & retro shops in Bangkok selling rare collectible items from the 50s to the 90s. If you are looking for 2nd hand shops that buy & sell click here, If you are looking for vintage clothing click here
Big Tree Antique
Big Tree Antique is a retro shop specializing in pop culture memorabilia including figurines, models, signs, retro machines, bar decoration, furniture & more. Everything from old miniature cars through to a lifesize green Incredible Hulk!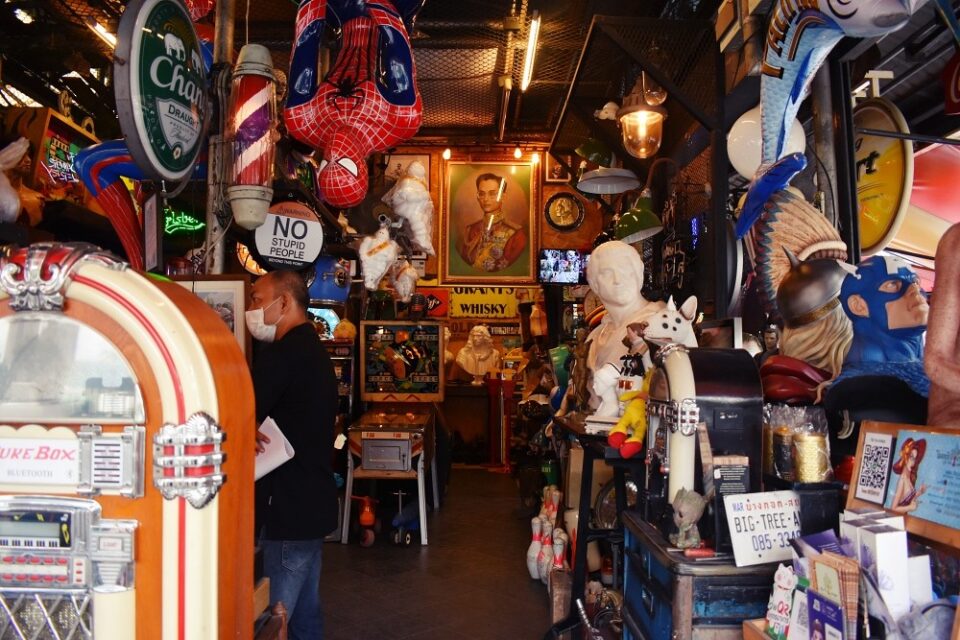 The shop is worth browsing even if you are not shopping for anything due to its eye catching stock. This is the place to come if you are looking for some cool home decor or a jukebox or fruit machine.?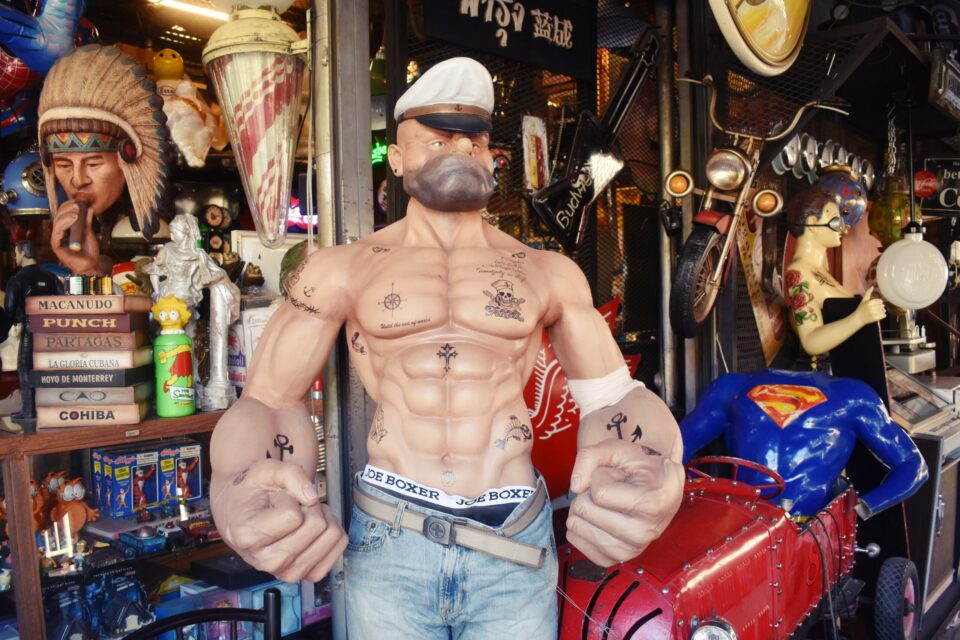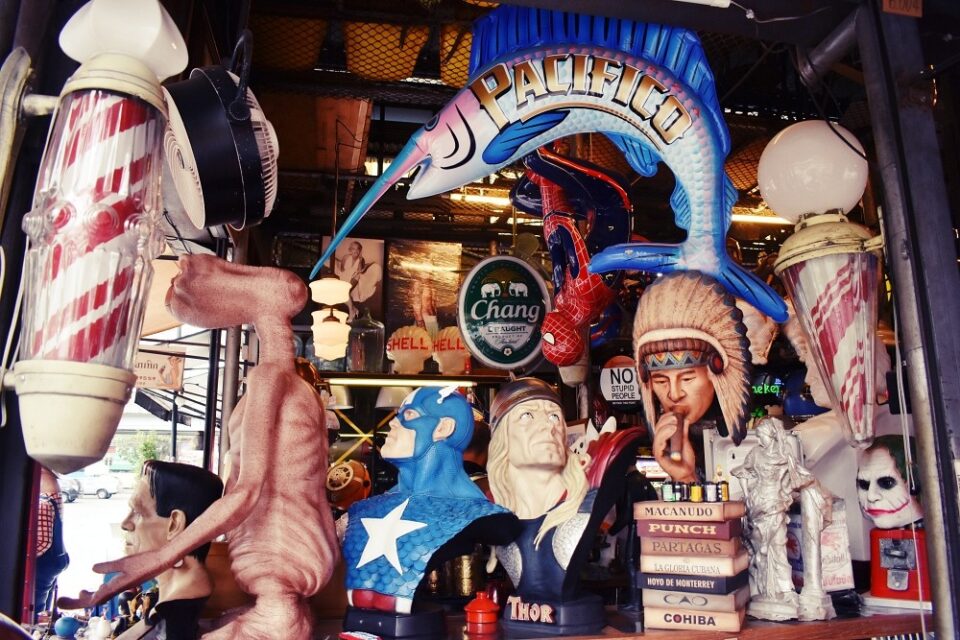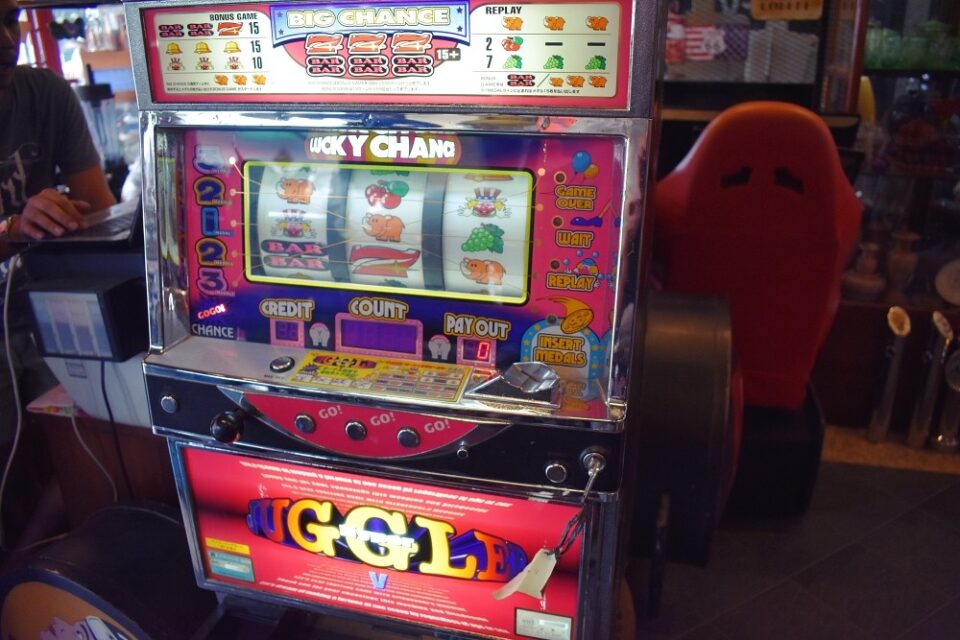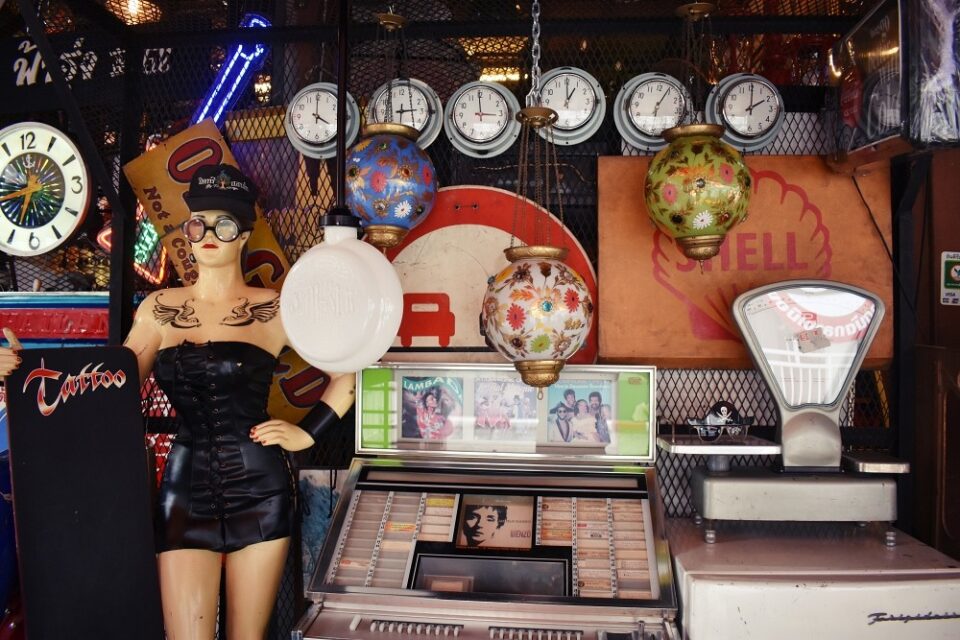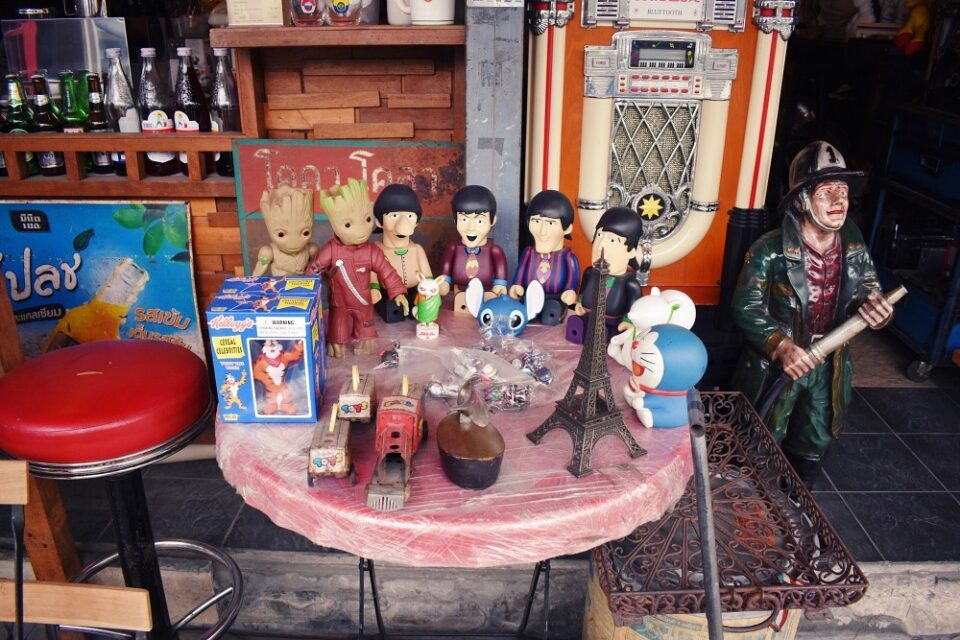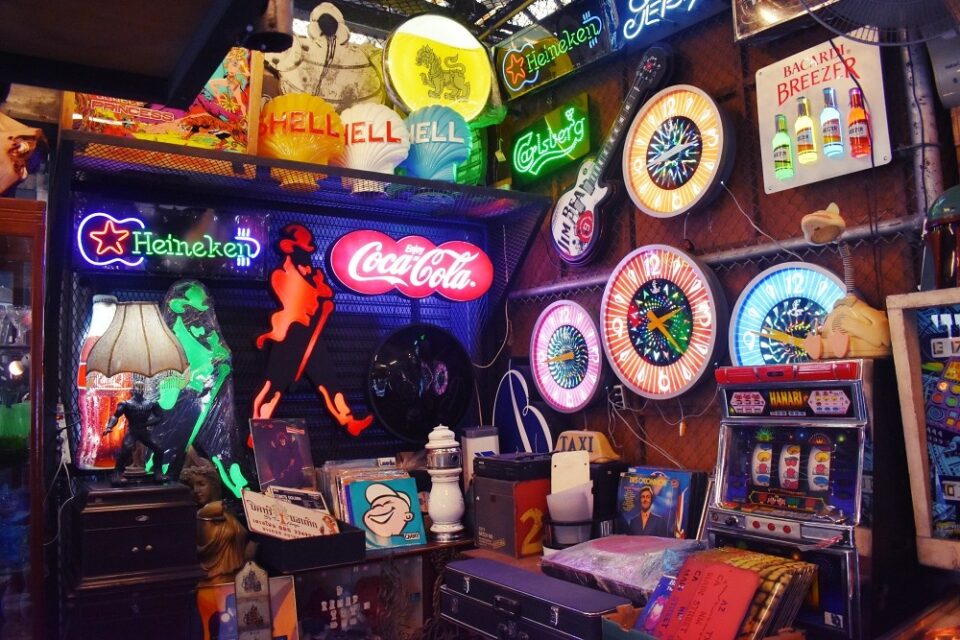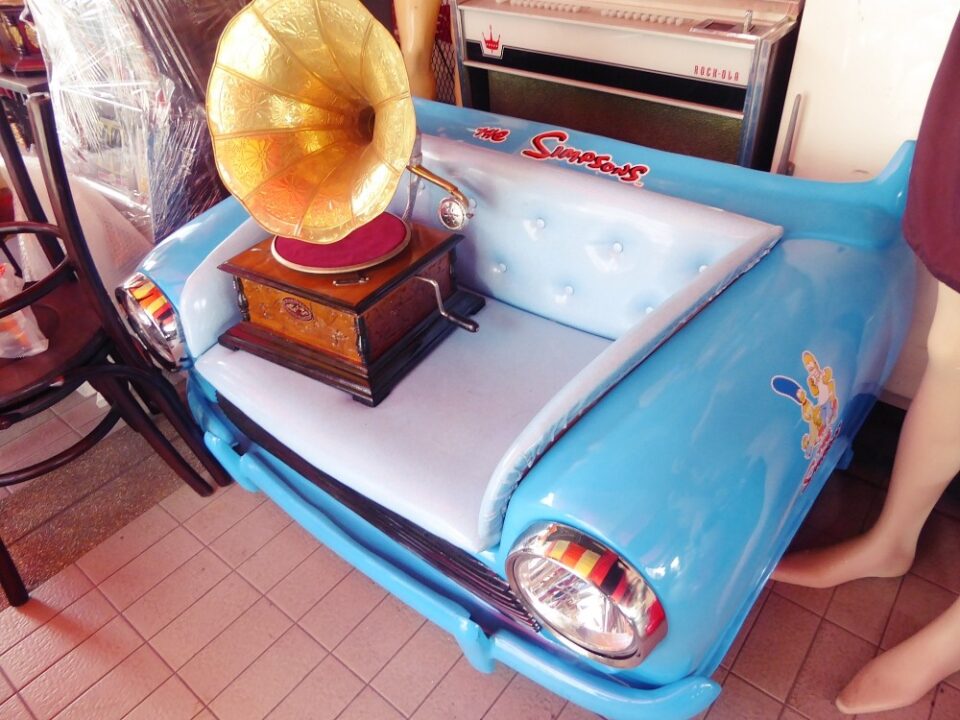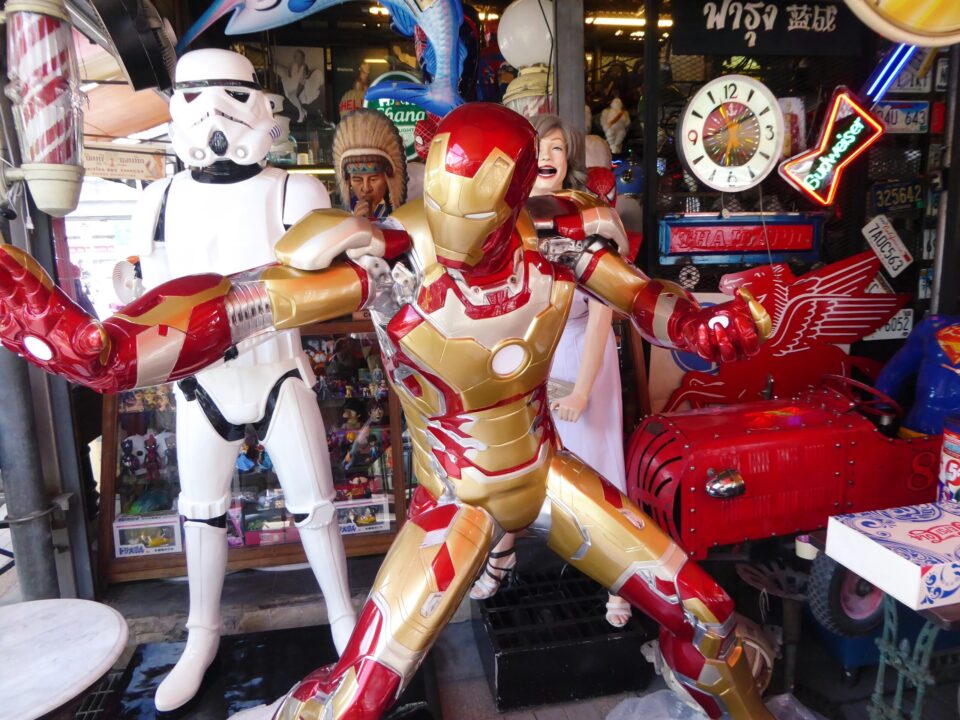 The stock turns over quickly and new items are displayed every day. Mannequins are popular and are displayed outside the shop. Some of the characters spotted at Big Tree include the Incredible Hulk, Batman, Spiderman, Cartoon characters, Marilyn Monroe, Star Wars, Mao Zhe Tung, The Simpsons & more.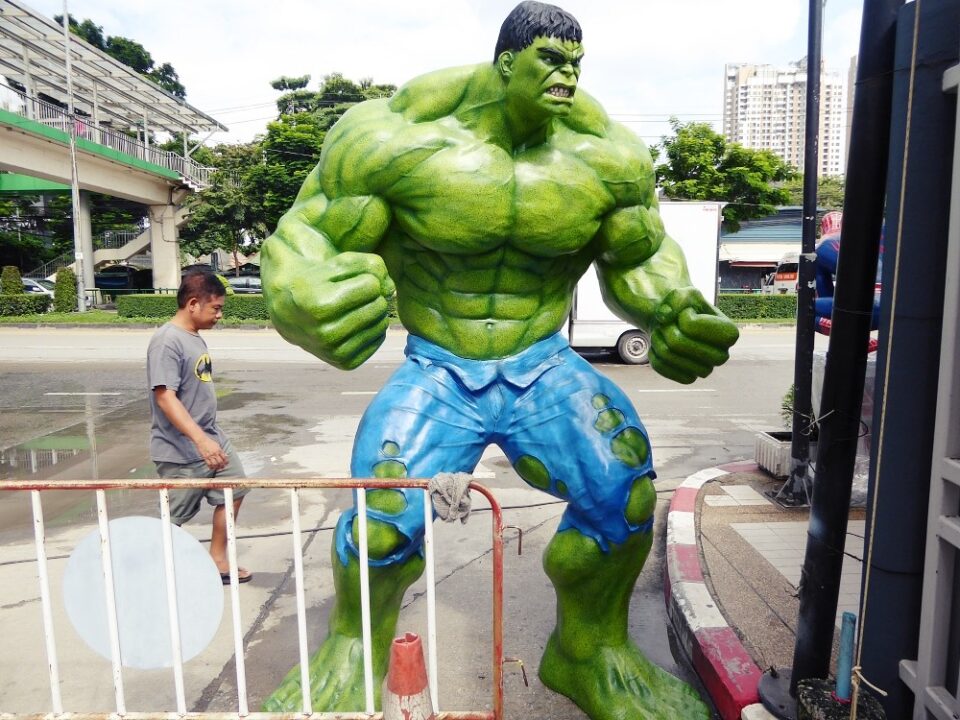 There is also a selection of home decoration items that are up to 100 years old. Big Tree is a good place to look for Industrial decor such as old lamps & machines, game machines such as space invaders, jukeboxes & fruit & pinball machines. The pieces on sale here still work and are not just for decoration.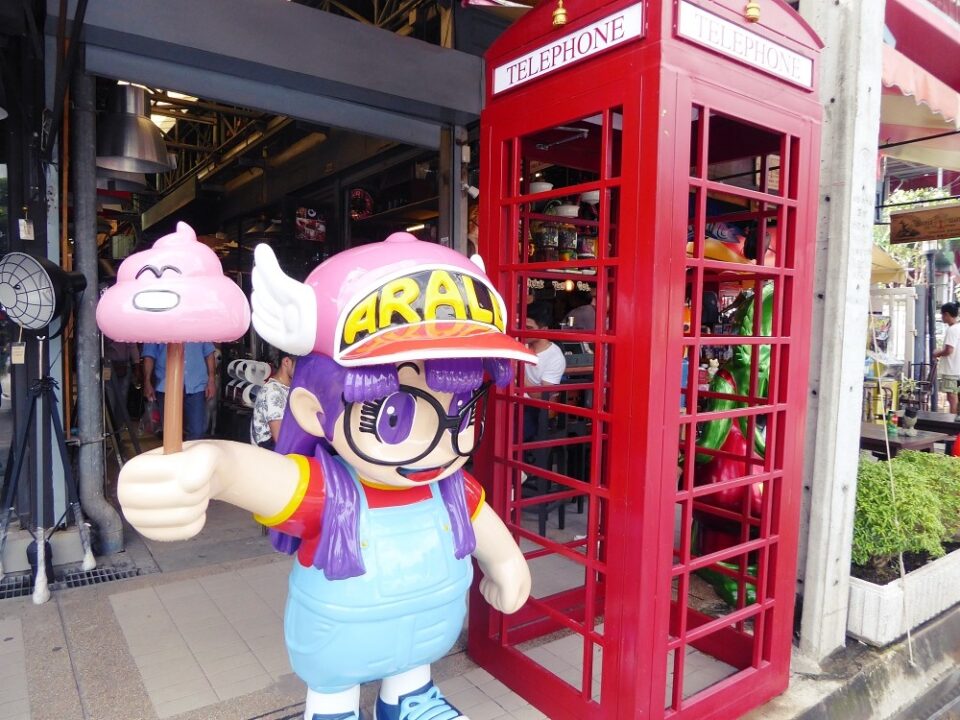 Many of the items are very rare and are hard to find. Prices are not cheap but are negotiable as nothing is priced. There are also more mainstream vintage items such as vinyl records, cassettes & vintage signs.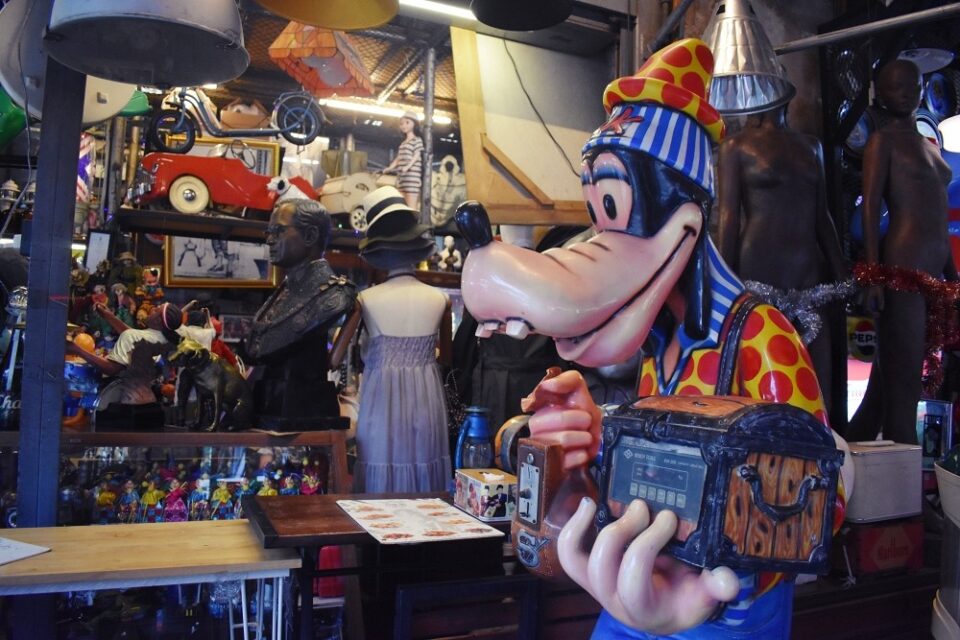 The shop also operates as a bar/coffee shop with some tables outside & there is also a short food menu. The shop also buys rare collectible items. Big Tree is opposite Chatuchak Market & is worth a visit if you are going to the weekend market.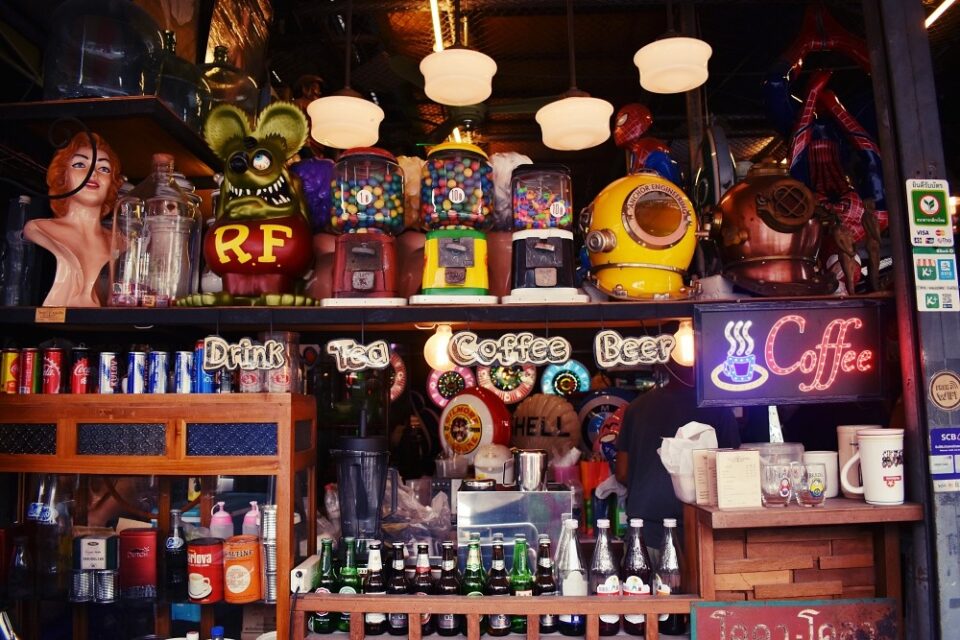 Where is Big Tree Antiques?
Location: Kamphaeng Phet 2 Road, Chatuchak, Bangkok
Opening Hours: 10.00 to 19.00, 21.00 on Saturday/Sunday
Getting There: MRT Kamphaengphet (exit 1)
Tuba (Line 2)
Tuba is an antique shop specializing in retro furniture, decorative objects, and memorabilia mainly from the 50s, 60s and 70s. Inside you will find hundreds of pieces including audio and radio equipment, vinyl records, books, bottles, vases, cabinets, tables, chairs.
Also, ceramics, retro signs, collectible items, paintings, lamps, luggage, puppets, toys, telephones, watches, TVs, clothes, and loads more. Everything is nicely arranged and presented. Nothing has a price tag so you must ask and bargain.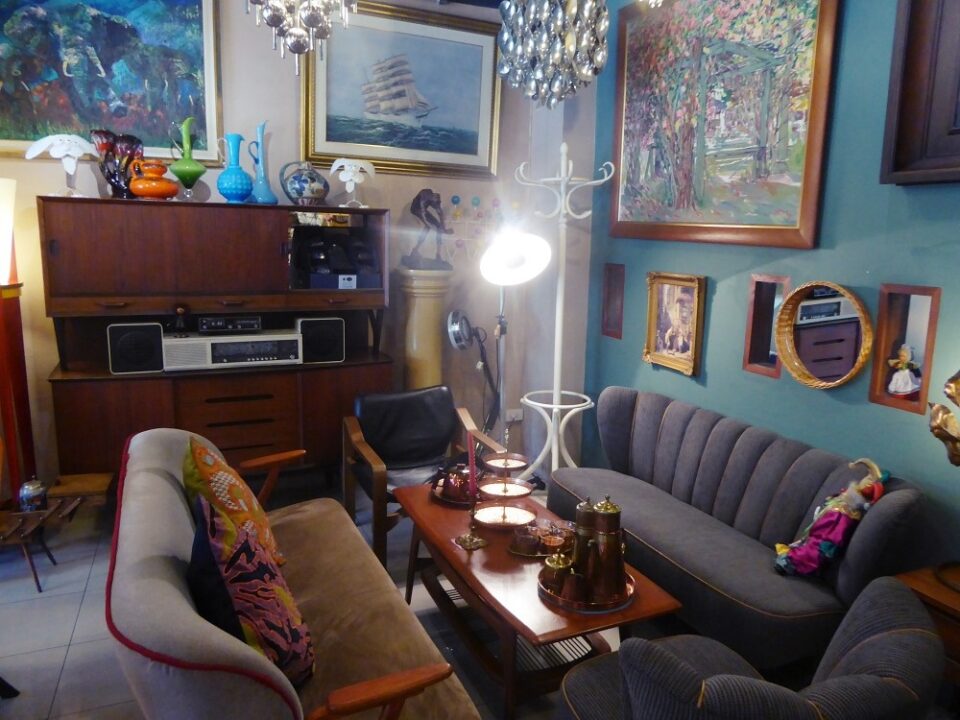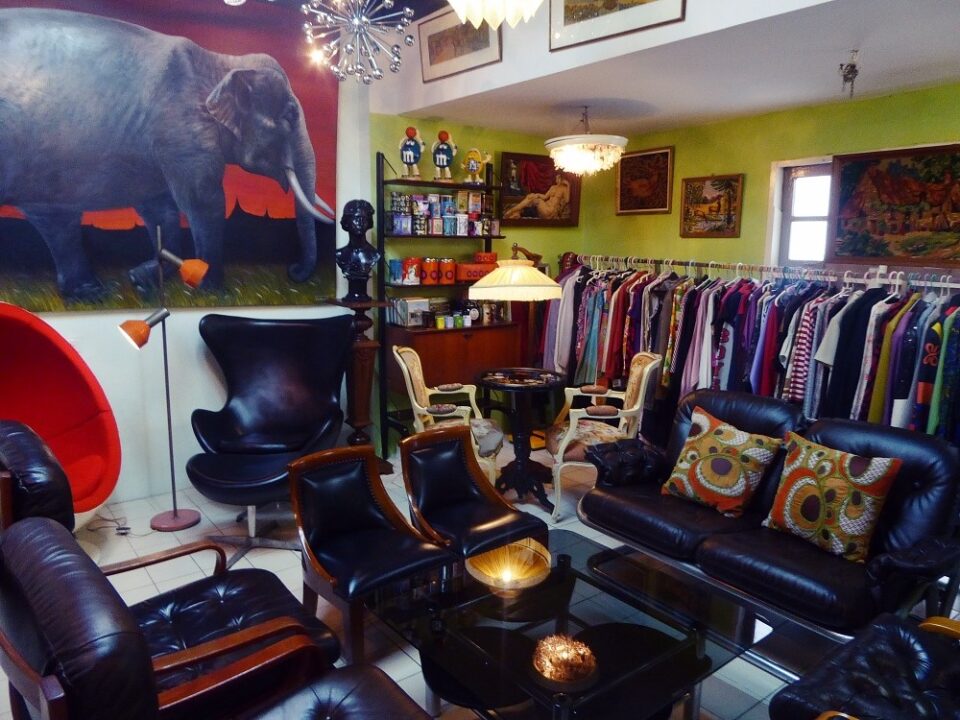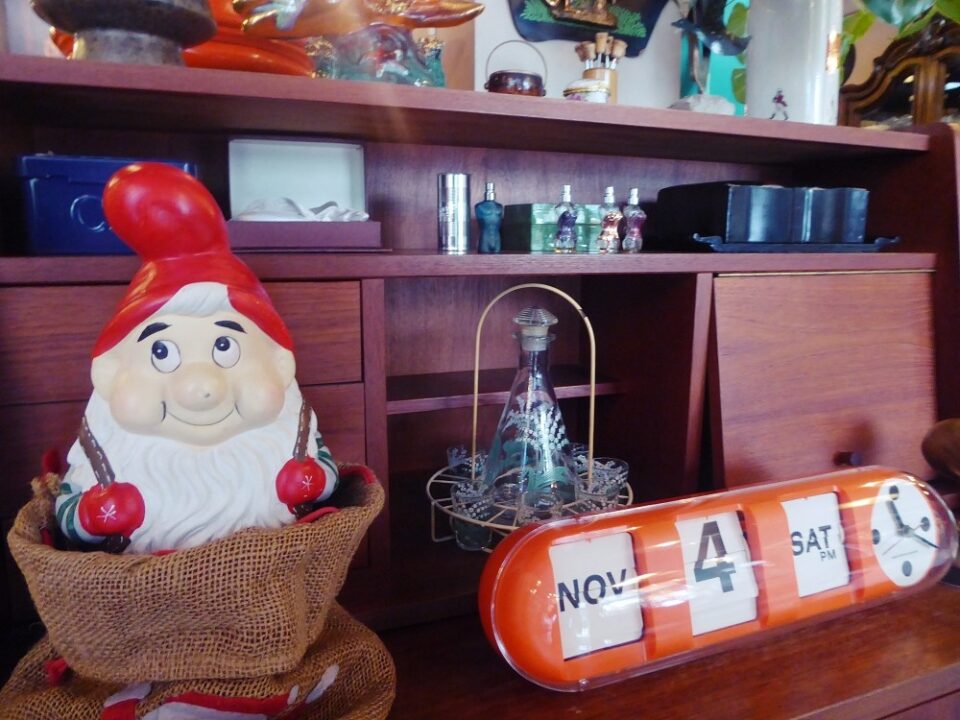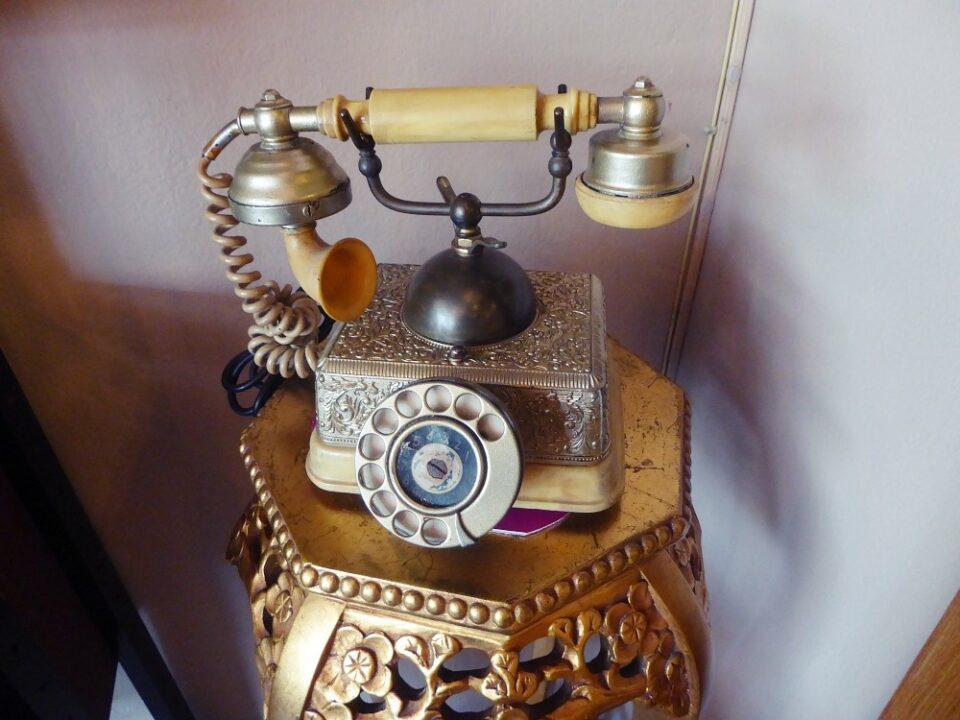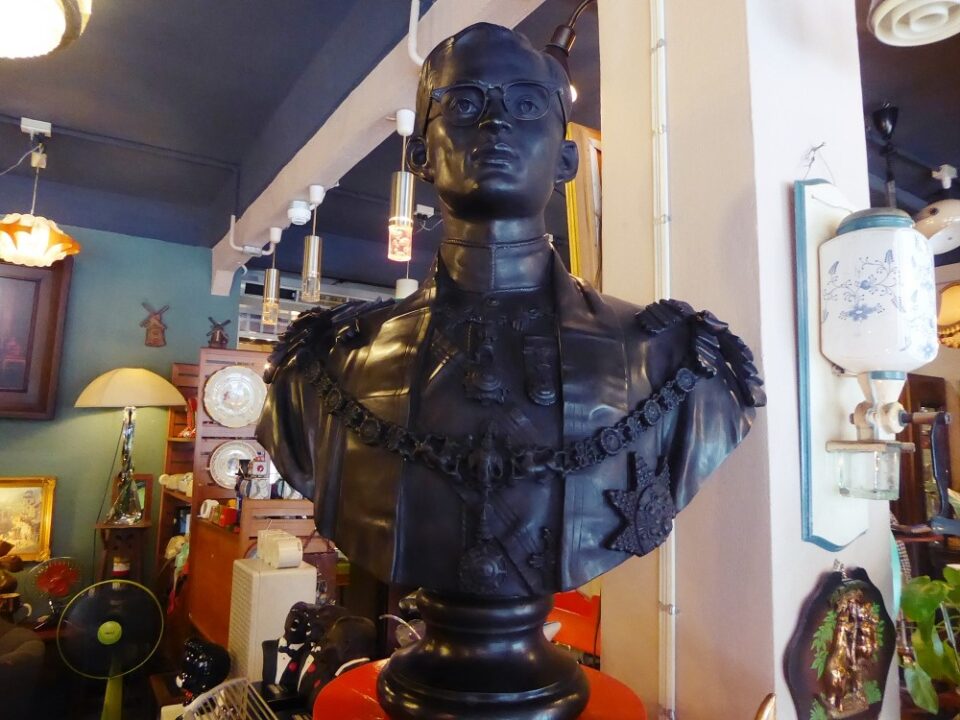 The small square opposite the shop is home to Tuba Restaurant and gallery which serves International food. The restaurant,? furnished and decorated with retro items and paintings some of which are for sale. The bar is open until 2 am and has a great happy hour between 17.00-20.00 daily. Tuba also has a large warehouse full of even more retro items on Lad Phrao Soi 55 called Papaya Vintage.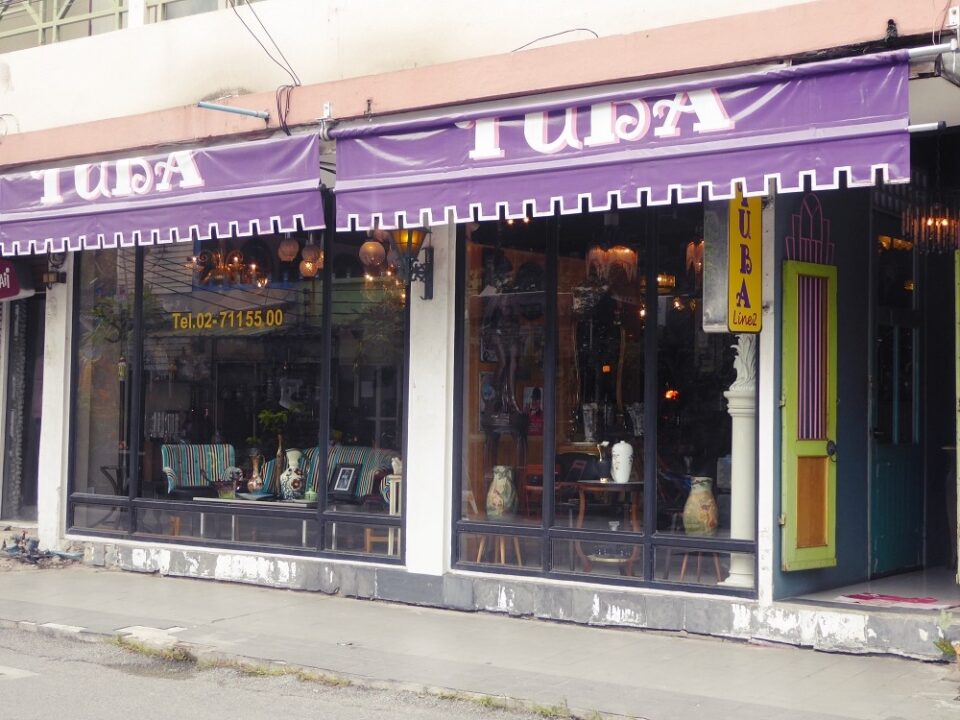 Where is Tuba?
Location: Sukhumvit 63 (Ekkamai), Soi 23, Bangkok.
District: Ekkamai/Thonglor
Opening Hours: 10.30-19.00 daily
Getting There:
BTS: Ekkamai Station. Then take a taxi to Ekkamai Soi 23.
?
?
Y 50
Y50 is a retro antique, vintage, and furniture shop on Ekkamai 21 opposite Tuba. It specializes in mid-century modern furniture much of it imported from Scandinavia.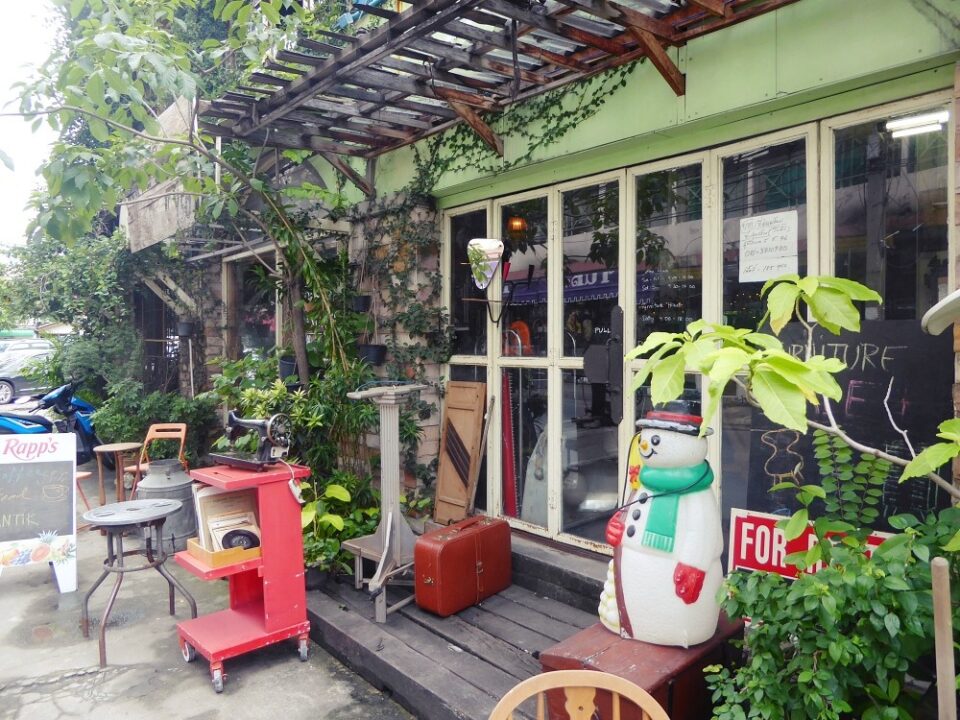 Inside you will find a large range of items spread over 2 floors. There is furniture, ceramics, sculptures, paintings, decorative objects, vinyl records. Also, luggage, lamps, clocks, bicycles, clothes, stuffed animals, retro signs, musical instruments, and more.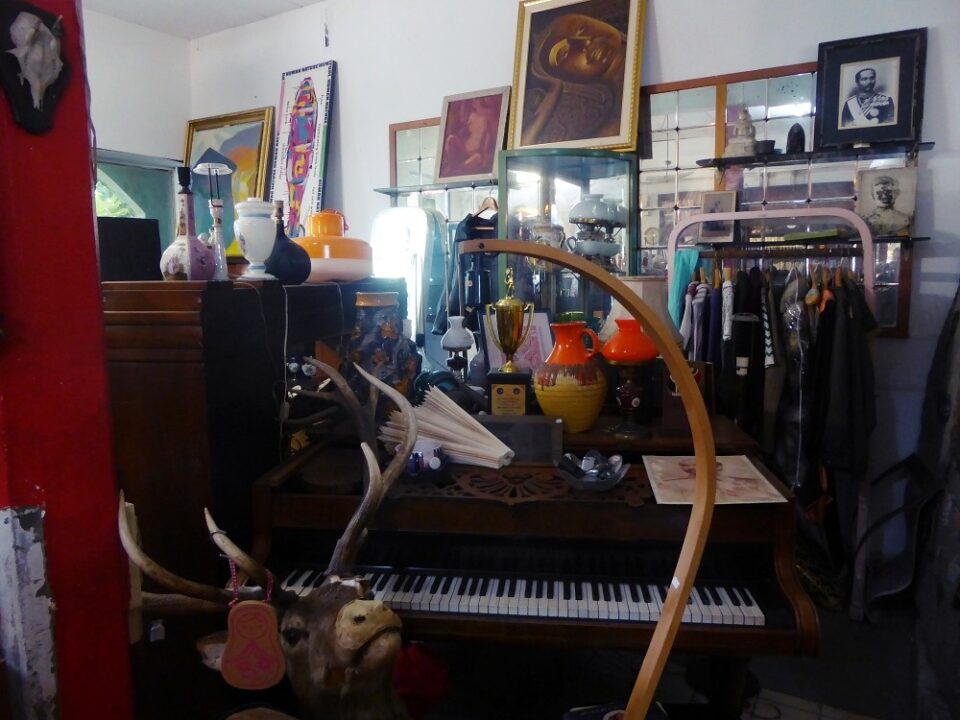 There is also a nice quiet cafe serving good food and drinks.?
Where is Y 50?
Location: Sukhumvit 63 (Ekkamai), Soi 21, Bangkok. (opposite Tuba)
District: Ekkamai/Thonglor
Opening Hours: 10.00-18.00 daily
Getting There:
BTS: Ekkamai Station. Then take a taxi to Ekkamai Soi 21.
Machine Age Workshop
*Machine Age Workshop is permanently closed*
Machine Age Workshop specializes in restoring vintage American industrial age artifacts dating from the late 1800s to the mid-1900s.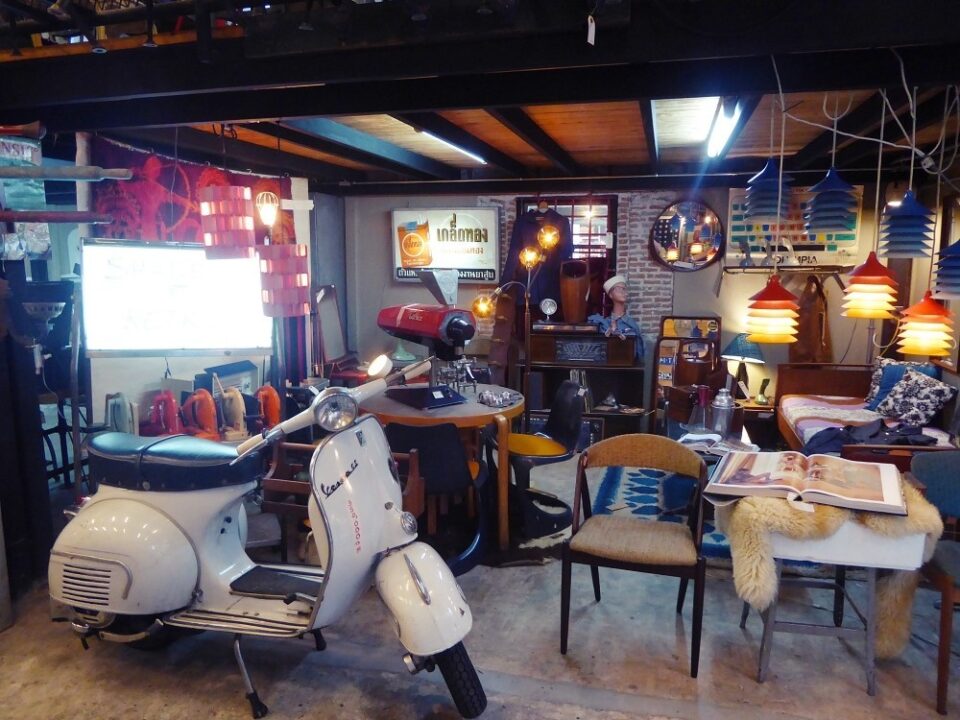 The showroom features many unique items such as old factory lamps, Toledo stools, pre-world war 2 furniture. A US army drafting table, vintage barn doors, wooden radios, clocks, & various machines. Also, old signs, leather luggage, stuffed animals, and even a vintage movie camera.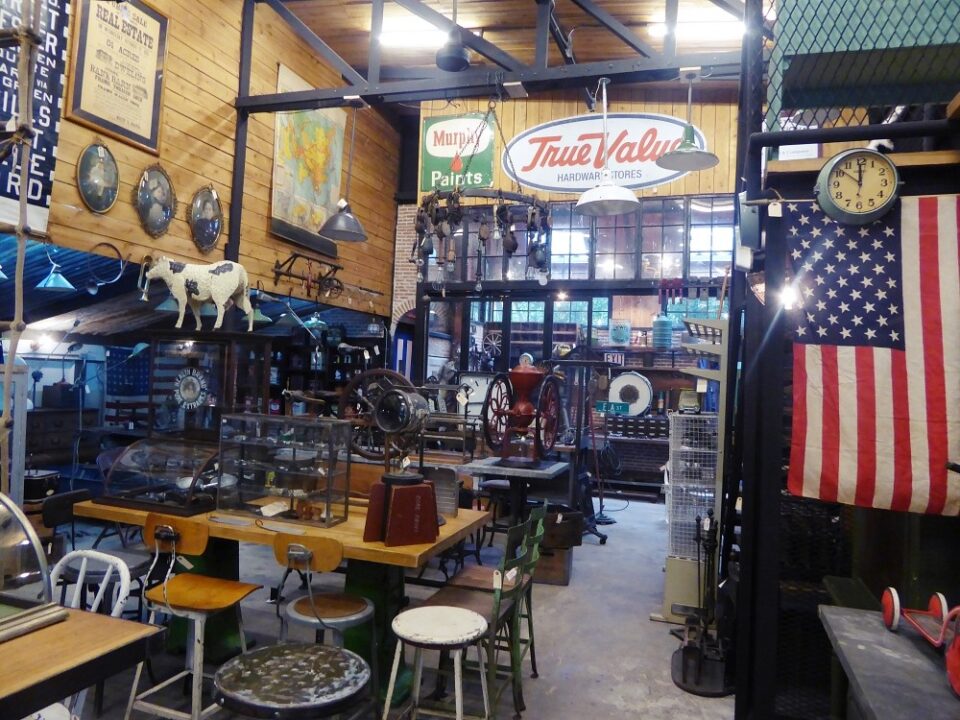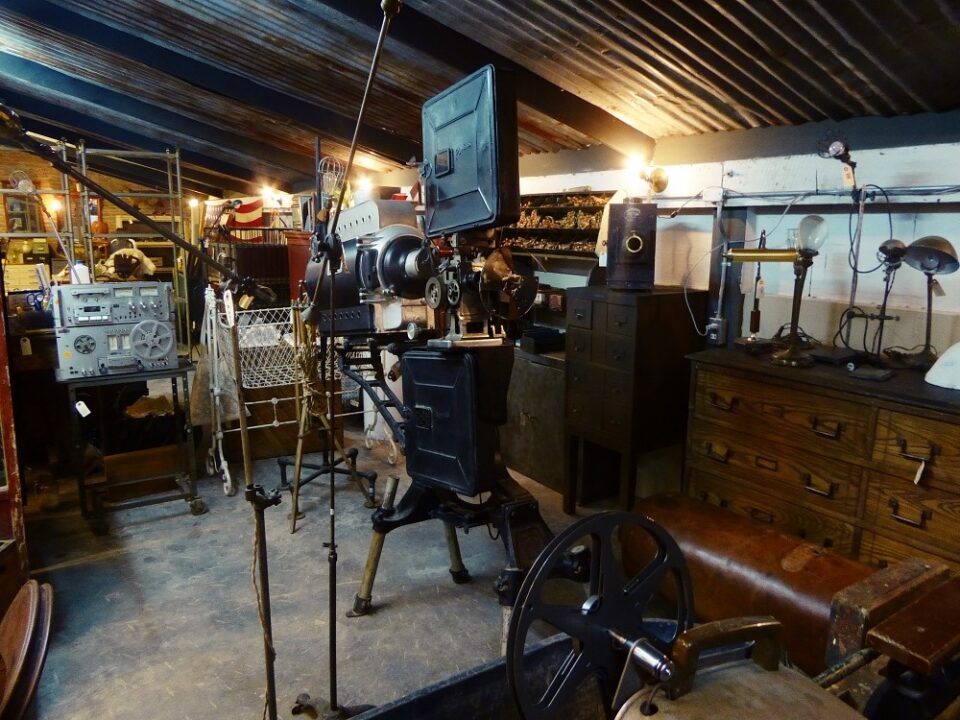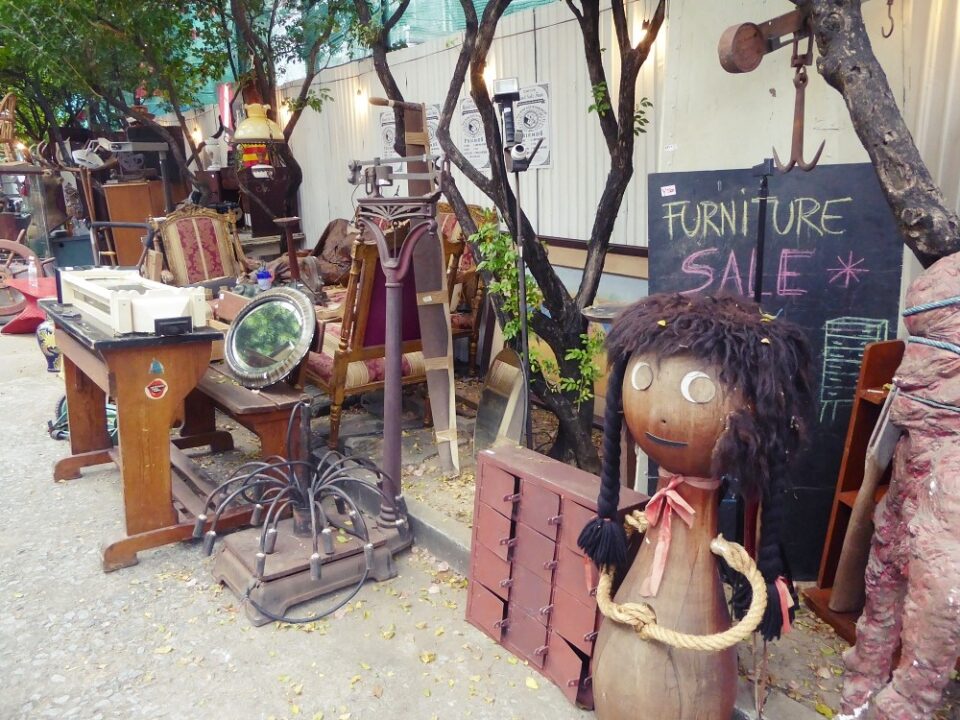 There are workshops inside the showroom where you can see the restoration work. There are also some vintage Thai and European items including an old Vespa scooter.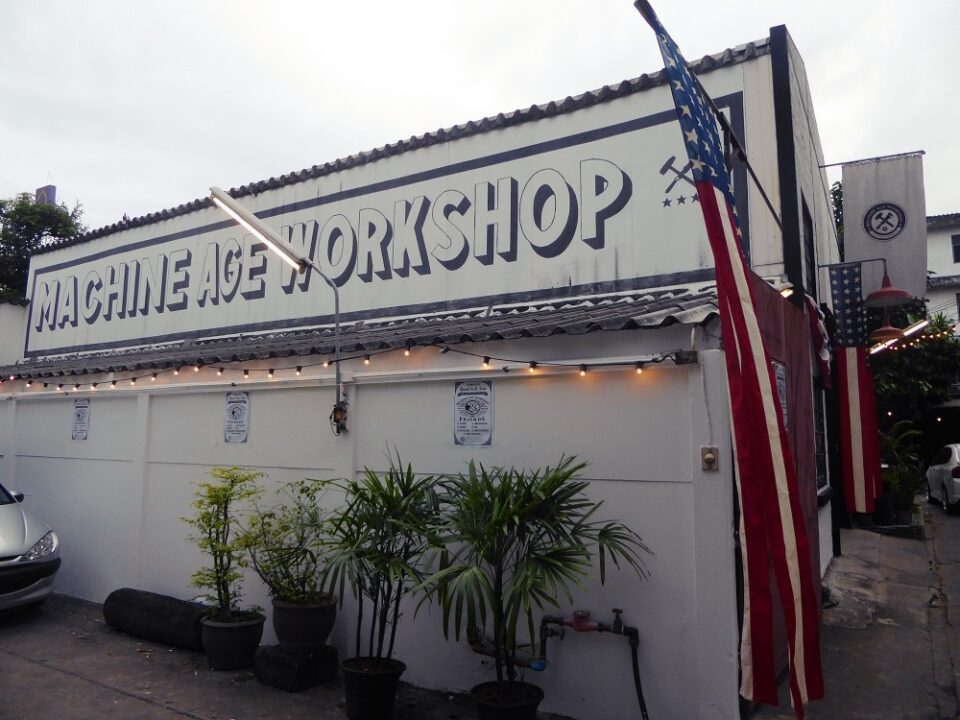 Where is Machine Age Workshop?
Location: 281/1 Ekkamai Soi 15 (Sukhumvit Soi 63).
District: Ekkamai
Opening Hours: 10.00-19.00 Tuesday-Sunday. Closed on Monday.
Getting There: BTS Ekkamai (exit 1). Turn right into Sukhumvit Soi 63. The workshop is a 15-minute walk on the left-hand side or take a taxi (about 40-60 baht depending on traffic).