Bangkok Taxi
How to get around Bangkok by Taxi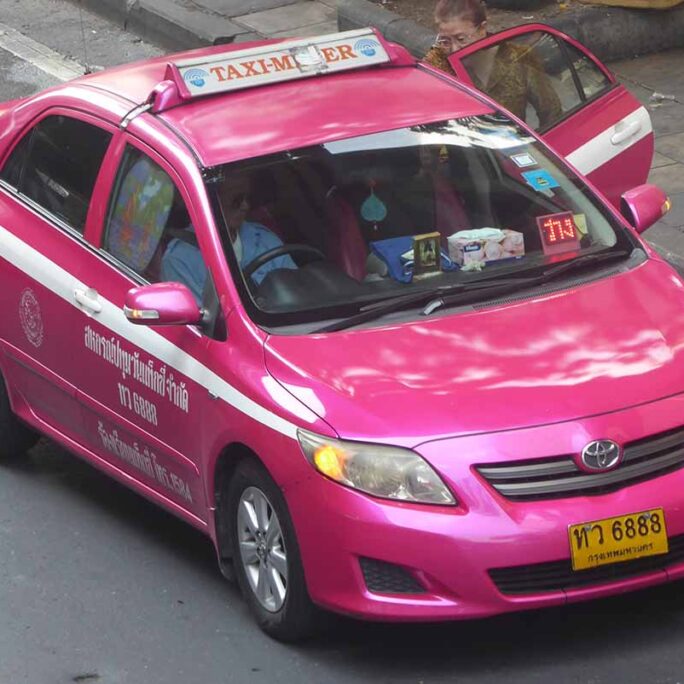 Getting Around Bangkok by Taxi
All Bangkok Taxi have meters and are air-conditioned. They come in many different colors and are usually in plentiful supply. Getting around Bangkok by Taxi can be cheap & easy, depending on the traffic. By international standards, they are also good value for money with a meter starting price of 35 baht which rises per minute or kilometer. 
How much does a Bangkok Taxi cost?
The meter starts at 35 baht which covers the first two kilometers. Thereafter, it rises by two baht per kilometer. There is a stationary surcharge of 1.25 baht per meter if traveling at under six kilometers per hour. A metered taxi should not cost more than 100 baht to go anywhere within 10 kilometers of central Bangkok. If you take a Tollway remember that you must pay the Tollway fee which is 45 – 70 baht. Don't try to pay taxi fares with large bills (500/1000) as drivers usually don't have change. Check you have change before you enter. There is no need to tip taxi drivers.
How to take a taxi in Bangkok
A lot of tourists get overcharged by taxis in Bangkok, but this is often the tourist's fault. The common mistake is leaning through the window with a map, pointing at a destination and then asking "how much"? This is an invitation for the driver to quote you a price and not use the meter. This will usually end up with you paying up to five times more than on the meter. NEVER ASK "how much"! Just get in and show the driver where you want to go and he should start the meter.  If they won't use the meter, get out and catch another one. It is illegal for a Bangkok taxi not to use the meter. Bangkok Taxi fares using the meter are cheap.
Some Bangkok taxi drivers will ask you your destination before they let you in. They may well refuse your destination if it takes them to an area with heavy traffic. This is illegal but they do it anyway. Also, make sure that they turn on the meter when you start your journey. Always hail a passing Bangkok taxi and NEVER use taxis that are always parked outside hotels or the big tourist attractions. This is a particular problem around the Grand Palace and Khaosan Road. These Bangkok taxi drivers make a living out of overcharging tourists by not using meters and vastly inflating fares.
A Bangkok Taxi that is available, has a red or green light at the bottom left-hand side of the windscreen, no red light means it's already occupied. To hail a taxi just wave your hand and it should stop. It is always difficult to get a taxi when it rains or during morning and evening rush hour.
Taxi Scams
Don't agree to visit gem or tailor's shops if a driver asks you. These are scams. Never ask a driver to recommend a restaurant or anywhere else as they will take you to a place that pays the driver commission and not a place where the food is good, and you will certainly be overcharged. Always be clear about your destination. Most taxi drivers understand the names of major tourist attractions but their standard of English is generally poor. It is a good idea to ask your hotel to write the name of your destination in the Thai language if you are unsure.
Taxi Complaints
You can complain about taxis at the Land Transport Department on 1584. Take a photo of the license plate or driver ID which should be posted inside the car.
Is there Uber in Bangkok?
No. Uber no longer operates in Thailand.
Grab Taxi Bangkok
The Grab Transport Services in Thailand include taxis, private cars, motorbikes, car hire with driver and food delivery to your hotel. Grab taxis are no cheaper than metered taxis.
Grab Thailand App
Download the App and you can book a taxi on your mobile. 24-hour service. 
Airport Taxis
Click on the highlighted link for information on how to take a taxi from Suvarnabhumi Airport & Don Muang Airport
Taxi Bangkok to Pattaya
Taking a taxi is a popular way to get between Bangkok and Pattaya. You can check fares & make bookings here.
Taxi Bangkok to Hua Hin
Taking a taxi is a popular way to get between Bangkok and Hua Hin. You can check fares and make bookings here.
Bangkok Taxi Booking Online
You can book a reliable taxi online to pick you up at your hotel or another place. If you want to travel out of the city you can book a private taxi transfer here.
You May Also Like
Popular Pages on Tourist Bangkok