Chinese New Year Bangkok 2020
Posted by Peter C on February 12th, 2019 in Thai Festivals
Chinese New Year Bangkok 2020 (Wan Trut Chin)
The date of Chinese New Year for 2020 is Saturday 25th January. The biggest celebrations will be held on YaowaratRoad in Chinatown. Bangkoks Chinatown is the worlds largest and is home to a large Thai Chinese community. Yaowarat Road becomes a walking street full of food stalls & entertainment. Celebrations are also held at many temples and shrines in the area and around the city.
Chinese New Year Bangkok 2020 Schedule
Friday 24th Expect to see various events and parades around Chinatown. There will be dragon and lion dances and events at most temples and shrines. All around Yaowarat you will see people burning paper and setting up tables of food outside their houses and businesses. Wat Uphai Ratbamrung will hold an evening ceremony on the 24th.
Saturday 25th Activities start around midday. There will be dragon and lion dances in the street and many food stalls on Yaowarat Road. The parade starts at about 3 pm when Yaowarat Road will be partially closed. After the parade, there will be live music on two stages at each end of Yaowarat Road until midnight. The biggest and most impressive dragon dance takes place in front of the main music stage near Chinatown Gate.
Sunday 26th Yaowarat Road will still be a walking street with food and souvenir stalls.
Sunday 9th February This the last day of Chinese New Year and features the Lantern Festival where colorful lanterns are displayed outside homes and line the streets.
Continue reading for a full report and photo/video blog on the 2019 Chinese New Year celebrations in Yaowarat.
What is the Chinese New Year?
Chinese New Year is a Chinese festival celebrating the beginning of a new year based on the traditional Chinese lunar calendar. It is also known as the Spring Festival and celebrated by Chinese communities around the world. The first day of the new year is when the new full moon appears between the 21st of January and 20th February. Chinese New Year in Bangkok 2019 was on February 5th. In 2020 it will be on the 25th of January. According to the Chinese zodiac, each year represented by one of 12 animals. They are Rat, Ox, Tiger, Rabbit, Dragon, Snake, Horse, Goat, Monkey, Rooster, Dog and Pig. This year is the year of the Pig. 2020 will be the year of the Rat.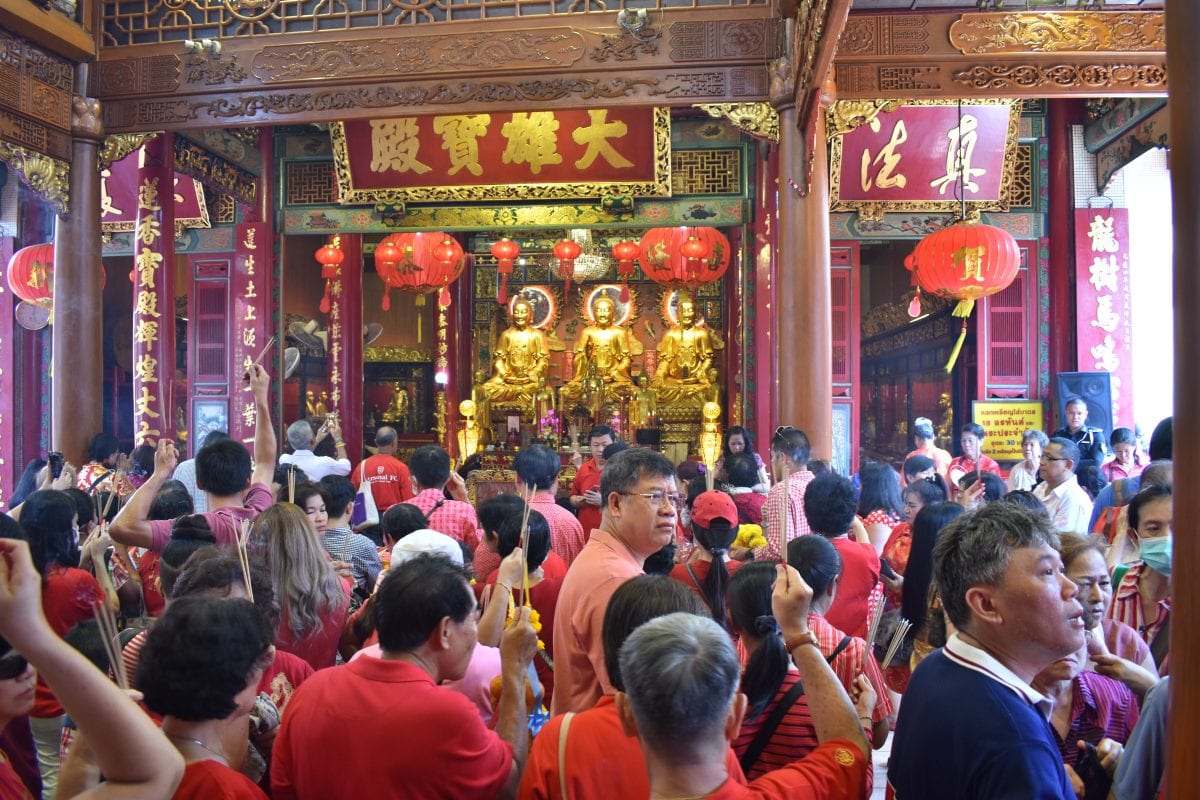 The first day of Chinese New Year is known as Wan Chai or shopping day, people go out to shop for offerings. The second day is known as Wan Wai or worship day where people worship the gods and ancestral spirits. The third day is known as Wan Tieow or going out day where people visit and bless relatives.
What Happens at Chinese New Year?
Chinese New Year is traditionally a time to honor deities and ancestors. People burn paper items and put a candlelit table containing food and drink outside the home for the ancestors spirits. At temples and shrines, people offer prayers and make donations. In return, they receive blessings from monks. Buddhist images and statues of Chinese deities receive prayers. Worshippers wish for good fortune, happiness, wealth and good health. Mandarin oranges are popular offerings at temples as a sign of good luck.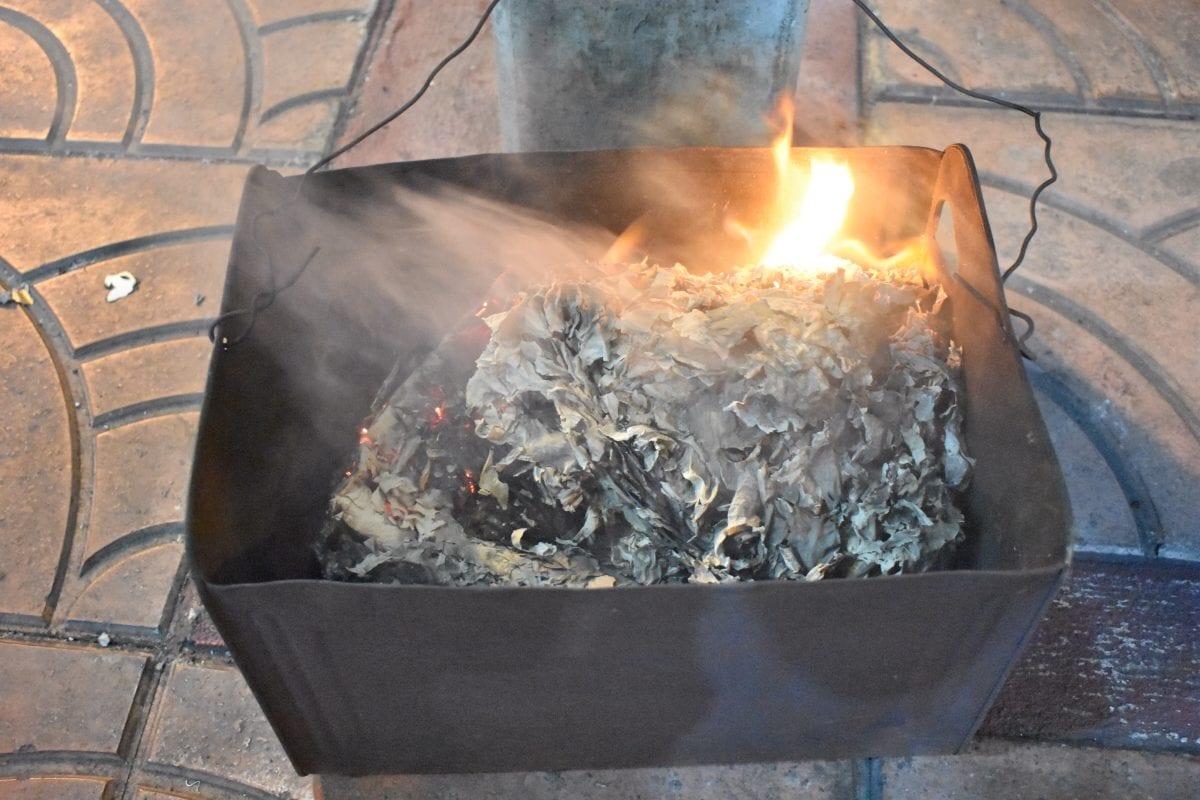 Chinese New Year is a family occasion with families coming together for an annual pre-NYE dinner. Other traditional activities include cleaning the house to sweep away ill-fortune and decorating windows and doors with red paper cuts. Red paper lanterns are hung outside houses and businesses. Another tradition is the giving of money in red paper envelopes. This is known as ang pao. Most people wear red clothes to bring auspiciousness to the wearers life. Women traditionally wear beautifully decorated red dresses known as Qi Pao.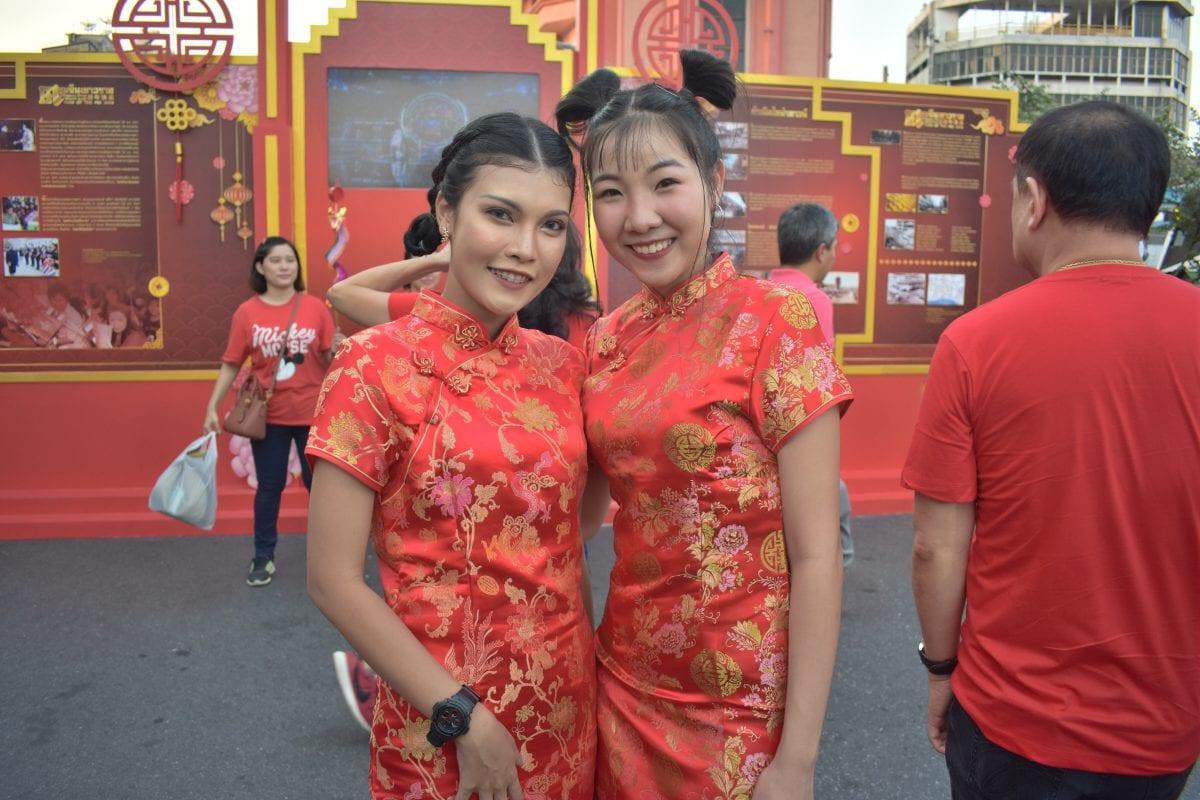 Chinese New Year on Yaowarat Road
We visited Yaowarat on New Years Eve and New Years Day. We started by visiting Wat Mangkon Kamalawat, the largest Chinese Buddhist temple in Chinatown. The temple, packed with local people paying respect to the various Buddha images and Chinese deities inside. The air was thick with incense smoke. Worshippers were bringing offerings of mandarin oranges and yellow garlands which placed before Buddai the laughing Buddha just inside the main entrance and on a large altar in the Viharn in front of the three Buddha images. Around the temple, people were making merit by attaching notes to money trees, praying before the temples various deities and queuing to receive a good luck blessing from monks.
The closed road from the Chinatown Gate to Grand China Hotel transformed the usually busy road into a walking street. Red lanterns were strung above parts of the street adding a splash of color to the road. Stalls on both sides of the road sold unique new year themed gifts and clothing as well as local food. Stages at both ends of the street featured cultural and musical performances. Lion dance troupes roamed Yaowarat Road and the side roads entertaining the crowds with their colorful performances and costumes.
Chinese New Year in Bangkok 2019 Highlights
Lion & Dragon Dances
Chinese celebrations usually contain both Lion and Dragon dance troupes. Both the Lion and Dragon in Chinese traditional culture are mythical, powerful and auspicious. The purpose of the dance is to bring good fortune and prosperity to an individual, neighborhood or business.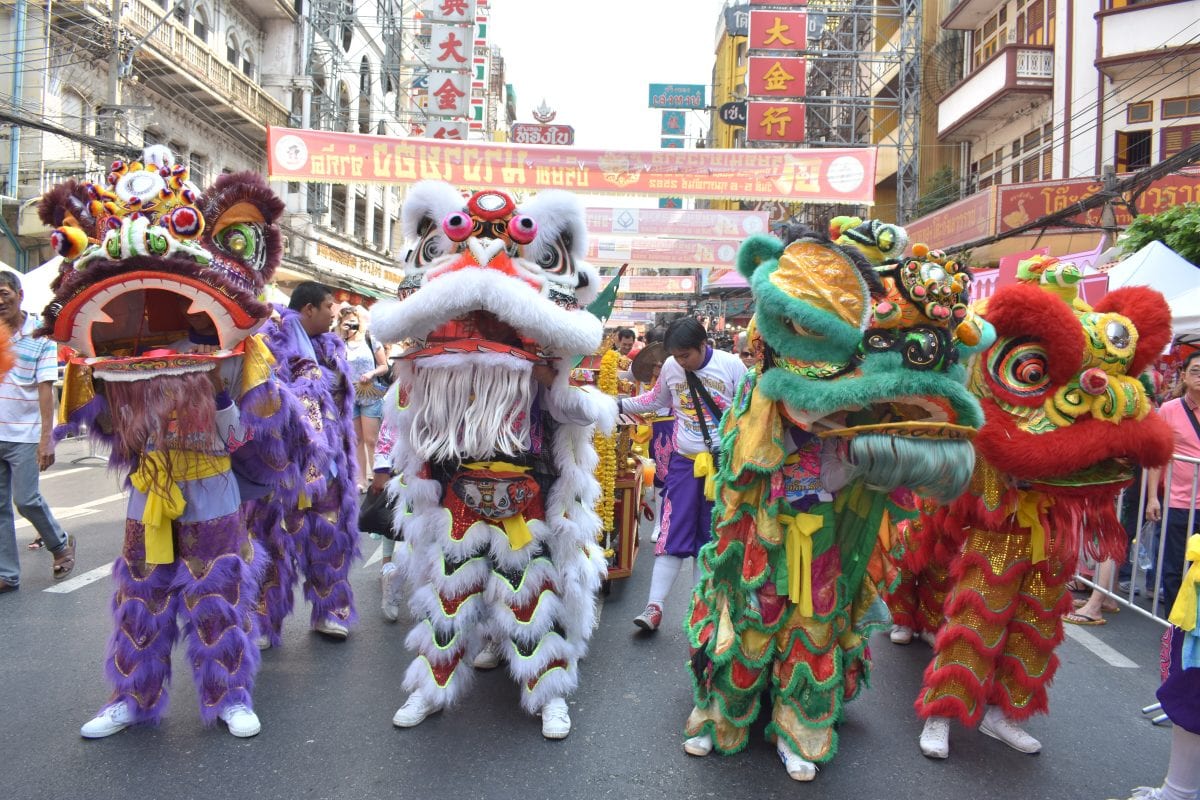 Each lion comprises a two person team with one operating the head and front legs while the other controls the back legs. Musical accompaniment provided by drums and symbols. The lions are colorful and beautifully decorated with teeth and large blinking eyes. They act in a friendly way and will dance with each other before approaching people in the audience who are offering a monetary gift. It is placed in the lion?s mouth and should bring good luck to the giver. Sometimes the lion will respond to the gift by giving back mandarin oranges.?
Chinese New Year Lion Dance (Part 1)
Chinese New Year Lion Dance (Part 2)
The Dragon Dance is more complex with up to 15 performers controlling a dragon. The dragon moves above the heads of the performers on poles with which they control the movements. The dragons are colorful and beautifully decorated with teeth and red-lighted eyes. The length of the dragon is important as the longer the length the more good luck and prosperity it can bring. Dragons can also have fireworks attached inside the mouth and fired into the air.
The dragon dance performances after dark were impressive, especially the massive golden dragon on New Year?s Day. The performance was more of an acrobatic show with performers climbing & swinging from poles to control the dragon which snaked up a pole.
Chinese New Year 2019 Lion & Dragon Dance at Wat Traimit in Bangkok
Chinese New Year in Bangkok 2019
Music & Cultural Performances
The main stage on Yaowarat Road featured cultural performances from Chinese artists who came from China to take part. Most impressive were the dancers performing traditional dances with fantastic costumes and choreography. Local music artists featured the Japanese inspired girly pop of BNK48 and rock and pop from Paradox and Lula. The Shanghai Mansion Hotel also had great music. There were also street performers, magicians, and mime artists.
Chinese New Year in Bangkok 2019
Chinese New Year in Bangkok 2019
Street Food at Chinese New Year in Bangkok 2019
The street food market was great with a massive choice of dishes from all over Thailand. Most of the?Yaowarat?regular street side eateries were open expanding out on to the street. There were also special Chinese new year treats and cooking exhibitions.
Cooking Chinese Noodles at Chinese New Year in Bangkok 2019
You May Also Like
Popular Pages on Tourist Bangkok