Bangkok Airport
A Guide to Suvarnabhumi Airport in Bangkok (BKK)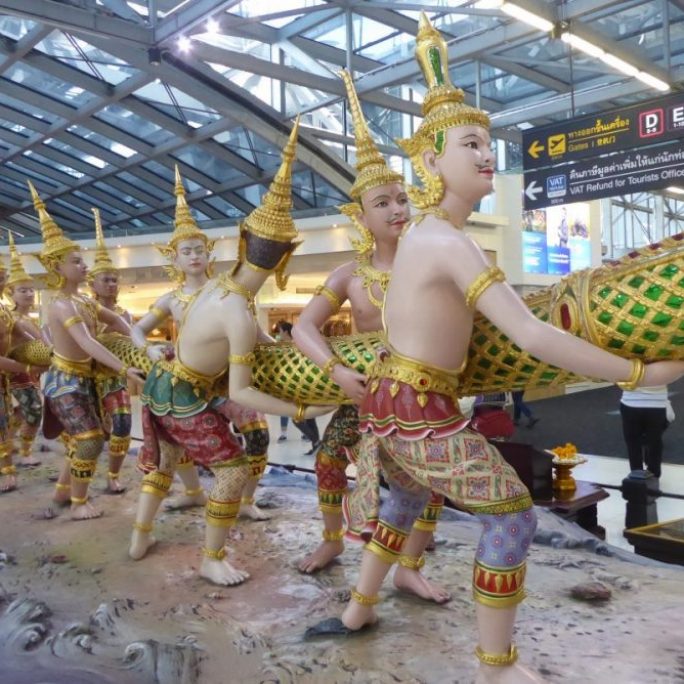 Suvarnabhumi Bangkok Airport
>
Suvarnabhumi Airport (BKK) is the main airport in Bangkok for tourists arriving in Thailand. It is one of the biggest airports in Southeast Asia with 80 million passengers passing through annually. The airport is 25 km from downtown Bangkok.
Bangkok Airport Arrival
You should receive a landing card on your flight. Fill it in, in black or blue ink on the plane to save time when you arrive. On arrival, proceed to the immigration counters. This is a 10-minute walk, though there are walkway escalators. You will need your passport, boarding pass, and a completed arrival/departure card. Your passport must be valid for at least another 6 months. On arriving at the immigration queue an attendant will check your arrival card. If it is completed correctly, they will allow you to proceed to the Immigration counter.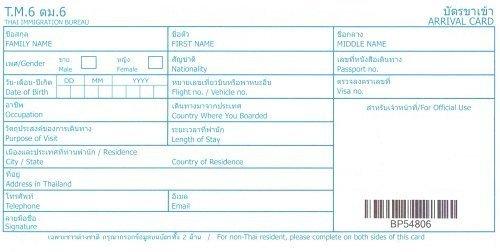 Bangkok Airport Immigration
*Important* – You must complete the address in Thailand section or you will not be allowed to proceed. Writing "Don't know" or leaving the space blank is not acceptable. If you haven't booked accommodation try writing Khaosan Road guest house (this is usually acceptable) or prepare a hotel name in advance. At the immigration counter, you will be processed and photographed (no hats or glasses). All entry points into Thailand now require you to provide biometric data. You will need to have all ten fingers & both thumbs scanned. You may also be asked to show a return flight ticket & proof of funds to cover your stay in Thailand.
Proof of funds required for tourists
Thailand has official regulations regarding the financial requirements for visiting tourists. You may be asked to provide proof of funds, however, in practice, this is rarely required. It is up to the immigration officer's discretion & people are selected at random. This is not aimed at genuine tourists but at people & certain nationalities that are considered a risk of staying in the country for illegal purposes such as working without the correct permits.
Financial Requirements
The requirements are 10,000 baht per person or 20,000 baht per family for a 30-day visa-exempt entry or 20,000/40,000 for a 60-day tourist visa. The requirements for a visa on arrival are 10,000 & 20,000 baht. Only cash & not credit cards are accepted. The amount can be in any currency. If you are worried about this just bring the amount in your home currency and change it to Thai baht after exiting immigration. It will provide you with spending money for the first part of your stay. 
You can also be asked for proof of a flight ticket for departing Thailand. Proof of leaving via a land border is not acceptable.
Always be polite to the immigration officer. You can then proceed to baggage and exit through customs. As soon as you've disembarked from your flight you will start seeing Thai bank exchange booths as you make your way towards immigration. These offer a lower rate than those in the arrivals hall which in turn offer lower rates than some exchanges in the basement level of arrivals in the airport link train terminal. This can amount to as much as 15%. There are also booths selling Sim Cards. 
Bangkok Airport Customs
You can bring in no more than 200 cigarettes and one liter of alcohol. If more than the allowance the penalties are confiscation of the items and a fine of ten times the value. Narcotic drugs are strictly prohibited as is pornography.
Currency Exchange
After exiting customs the first thing you will need is the local currency. There are ATM's after you exit customs & more exchange booths.
Bangkok Airport Exchange Rate
The best rate at Suvarnabhumi Airport is always offered by SuperRich (orange color booth). They are located behind the airport link train ticket booth at the basement level of arrivals. The same rates are available at Super Rich (green), Twelve Victory, Happy Rich Plus and Value Plus exchanges. If there is a big queue at SuperRich just change your money at one of them.
SuperRich Bangkok Airport
There is usually a queue due to popularity but service is fast so you won't hang around too long. You will need to show your passport. If you want to skip the queue you will find that the other nearby exchanges match SuperRich rates. Opening hours vary from 6 am to 11.30 pm. Twelve Victory is open until 24.30. Outside of those hours, you're stuck with the Thai bank's exchange booths in the terminal which are open 24-hours. You can check SuperRich rates at
https://www.superrich1965.com/
Check the example below of the different rates on offer using departure from the UK and 1GBP to THB as a guide.
UK Bank 50.20
Travelex UK online 51.20
Exchange booth before Immigration 51.62
Exchange booth in Arrival Hall 53.50
SuperRich booth in Airport Link station 54.20
Where to get the BEST exchange rates in Bangkok City
Foreign Exchange ATM
Suvarnabhumi Airport now has foreign exchange Ex-Smart ATMs operated by Kasikorn Bank which changes some foreign currencies to baht and baht to US Dollars, Euros & Yen. The currencies that you can change to Baht are US Dollars, Euro, Japanese Yen, British Pound, Chinese Yuan, South Korean Won, Malaysian Ringgit, Singapore Dollars, Taiwan Dollar, Hong Kong Dollar, Australian Dollar & Swiss Franc. The rates are displayed on the ATM screen so you can compare rates with SuperRich.
The machines have instructions in 10 languages. There is no fee for using the ATM. Exchange rates are better than those at Kasikorn Exchanges in the terminal. An example of the rate for GBP to Thai Baht on 11th October 2019 at 4 pm in the afternoon was 37.50 to the pound, exactly the same as that offered by SuperRich. The EX-Smart ATMs are only in the basement Airport Rail Link Station next to KTB Bank.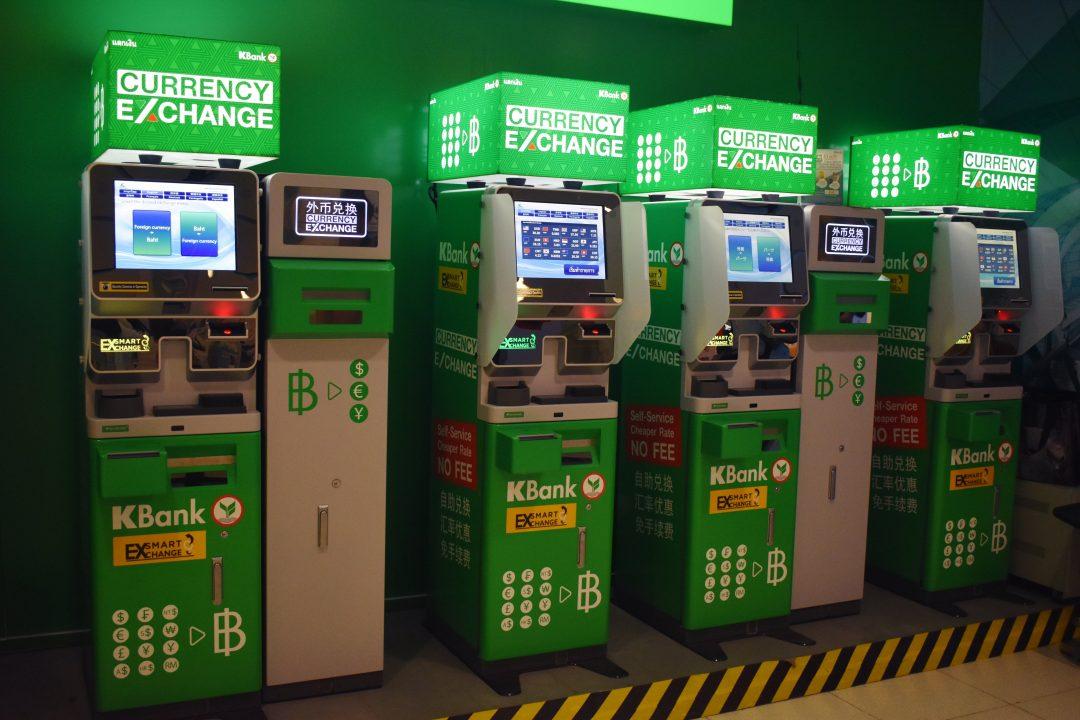 Bangkok Airport ATM's
There are ATM machines throughout the airport terminal once you have exited immigration and customs. There is a withdrawal fee of 220 baht. All Thai Banks charge the same fee except for Citibank & AEON. Citibank withdrawals are free for Citi cardholders but only at Citi ATMs. Citi charge 200 baht per withdrawal for other bank cards. AEON only charge 150 baht per withdrawal. Unfortunately, neither has an ATM at the airport. 
Where to find AEON & Citibank in Bangkok
Superrich Visit Thailand Cash Card
If you are visiting Thailand you can bring cash in any currency and buy a cash card at the airport on arrival.  You can pay in your foreign currency which will be exchanged into Thai baht at Superrich rates. The card can be used as a debit card in shops & online and also to make ATM withdrawals. It can be topped up and any balance repaid at the end of your trip. There is a small issuing fee and there is a charge for ATM withdrawals but 70% less than the normal Thai bank charges for foreign-issued ATM cards. The card is available from a Superrich counter in the basement Airport Rail Link Station. The card is much better than Travel Cash Cards in your home country with better exchange rates and no foreign ATM card charge.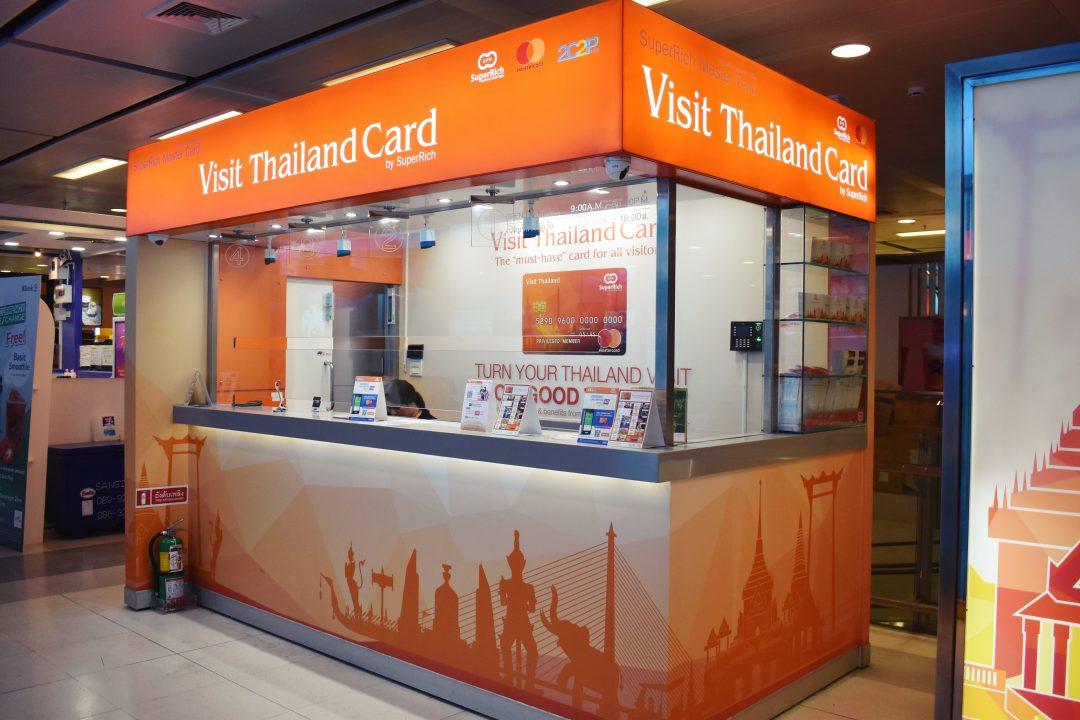 Thai Sim Cards
After clearing customs and entering the arrivals hall get yourself an International Tourist Sim Card. There are three local service providers… DTAC, True Move, and AIS. They all have counters here. Sometimes there are promotions with free sim cards.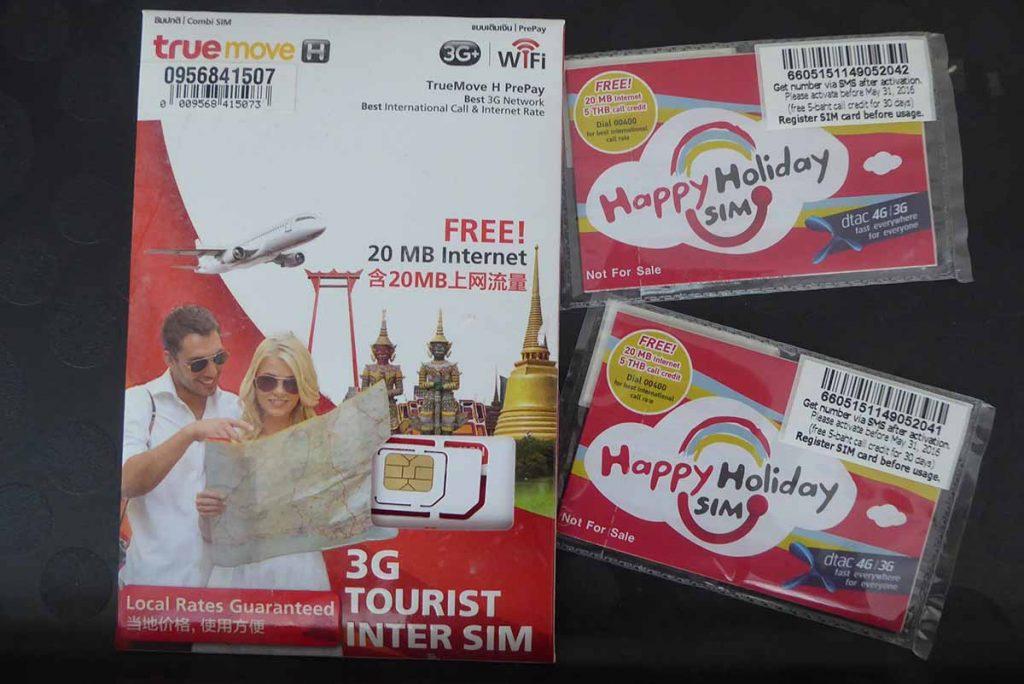 The Sim card comes with 100-baht free credit but you must pay for a package. They all offer similar 3G/4G unlimited internet packages at 199/299/599/1000 baht for 7/15/30 days and unlimited calls to users of the same network. International calls start from 1 baht a minute, local calls 0.99 baht/minute, local/International SMS/MMS 2 – 15 baht/message.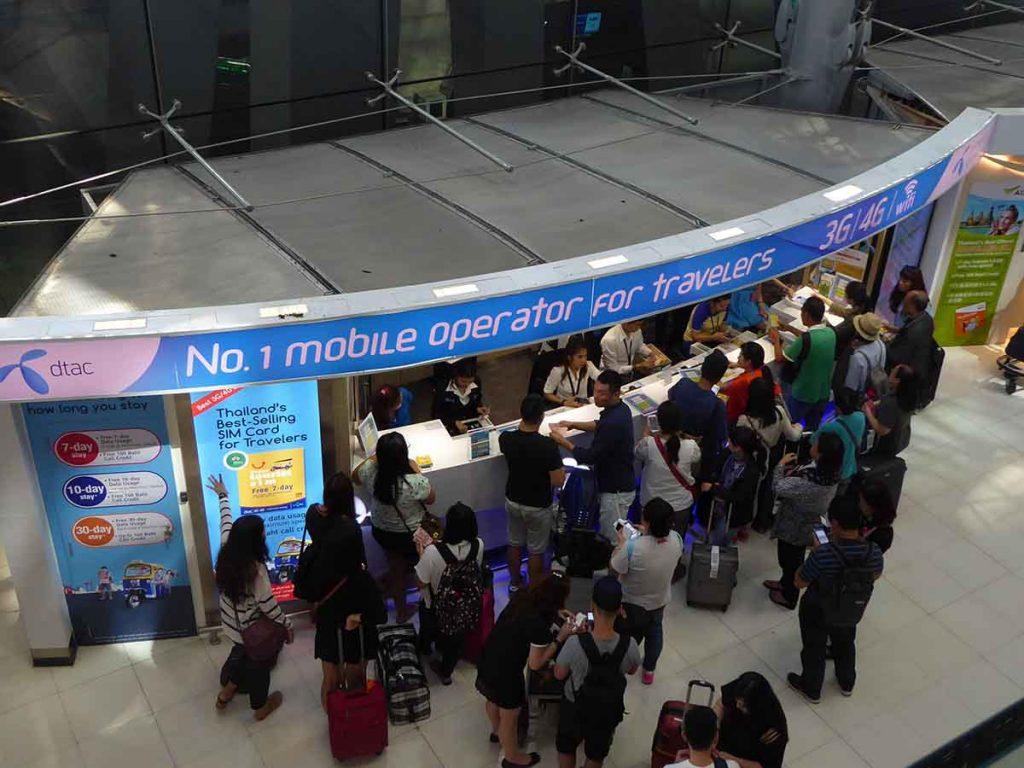 Which is the best Thai Sim Card?
They all usually similar have similar deals but you should check each for the deal that suits you best. Credit is added easily at convenience stores like 7 – 11, online or at the service provider's own stores which are usually found in every Bangkok Shopping Mall. You must register your Sim card before you can use it. You will need to show your passport.
Also, it is important that your phone is unlocked before you can use a Thai sim card though you can buy a phone locally from around 350 baht for something basic. Smartphones start at around 2000 baht.
Pocket Wifi
There are counters in the Airport Rail Link station renting out pocket Wifi. The ones on offer in the airport are more expensive than buying a Sim Card. 
Bangkok Airport Free WIFI
You can connect to the free Suvarnabhumi Airport WIFI as soon as you get off the plane. Connect to AOTFreeWiFibyTrue. Open a browser window and click "Get Free Wifi". Enter your name, Passport Number, Phone, email address, and country. You'll then be given a username and password you can use to log-on.
Suvarnabhumi Airport Information
There are several Airport Information Counters in the passenger terminal and an official Tourism Authority of Thailand tourist information counter in the arrival hall. Ignore the other tourist information counters and head for the TAT who don't try to sell you tours, hotels, and taxis. They have a host of free maps & brochures for all regions of Thailand.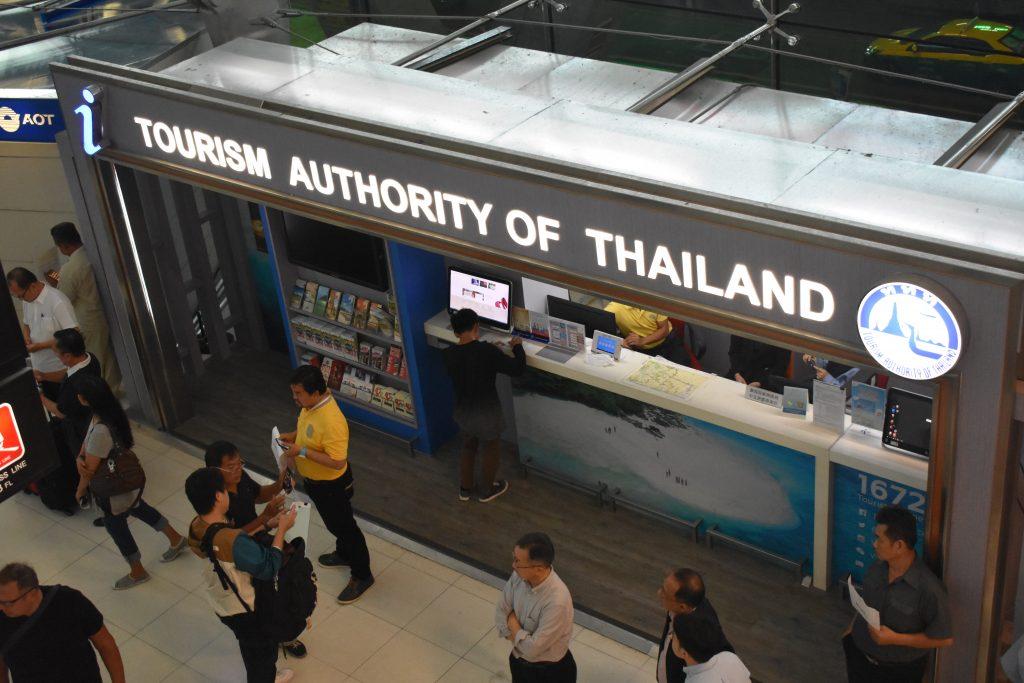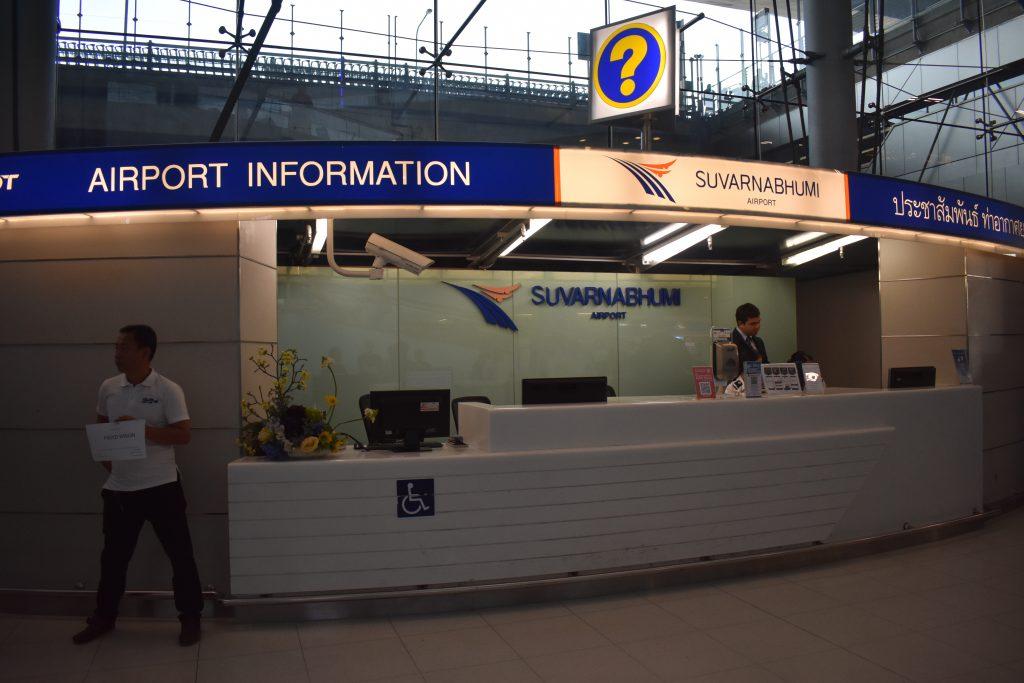 Bangkok Airport Luggage Storage
There is a Bellugg Bangkok Airport luggage storage office on the arrival & departure levels charging 100 baht per day (small), 120 baht per day (medium), 150 baht per day (large).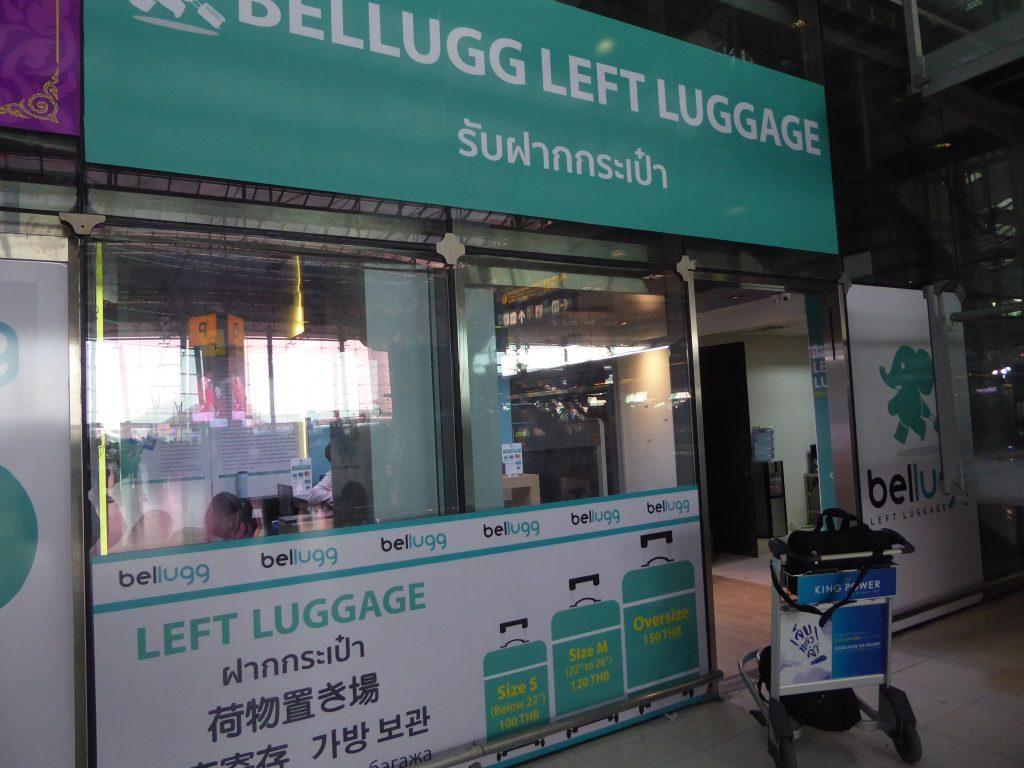 In the basement Airport Rail Link station concourse, there is an AIRPORTELs left luggage storage office charging 100 baht per bag (any size/weight) per 24-hours. They also accept golf bags, bicycles, sporting equipment, and laptops. Delivery to hotels is also available. There is also Air Luga luggage storage who charge 100 baht per day, 500 baht for 7 days, 700 baht for 10 days & 1000 baht for 15 days. They will also deliver luggage to any hotel in Bangkok for 299 baht. They also deliver to Pattaya, Hua Hin, Chiang Mai, Phuket for 599 to 899 baht which includes 15 days free luggage storage.
Bangkok Airport Luggage Lockers
There are also left luggage lockers on the basement airport link train concourse. Charges are 50 baht per hour or 300 baht per day. Minimum of 2 hours. They also offer luggage delivery to anywhere in the city or in Thailand. The charge is by the kilo with a 30-kilo piece of luggage costing from 350-500 baht depending on size.
If you need medical help there is a 24-hour Medical Center on the 2nd floor. A 24-hour Post Office is in the international departures concourse with a CAT Internet Cafe next door. There is a Muslim Prayer Room located in the departure hall between terminal 1 & 2.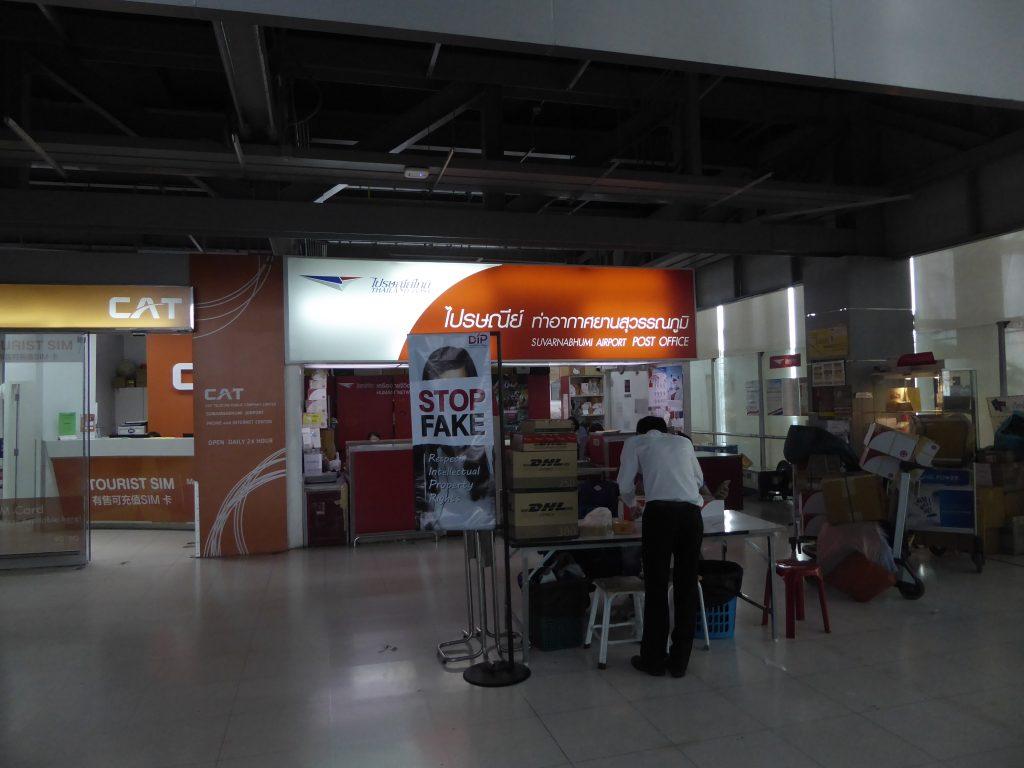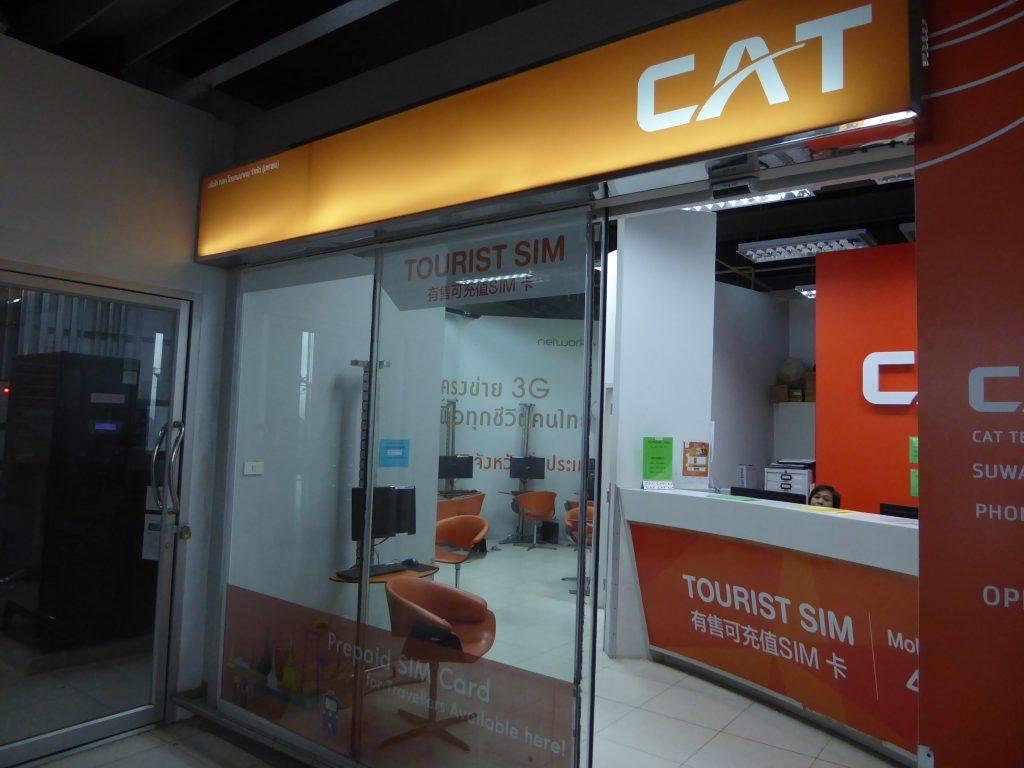 Suvarnabhumi Airport to Bangkok
Bangkok Airport Taxi
The most popular form of transport from Suvarnabhumi Airport to Bangkok is public taxis. They depart from outside gates 4 and 7 on the 1st floor of the passenger terminal. The airport taxis have meters and the fare depends on the distance traveled. There is a 50-baht surcharge added to the fare and the passenger must pay the tollway fees which are currently 75 baht. If you take a taxi from Suvarnabhumi Airport to Bangkok only use the official taxi rank and ignore offers from unofficial touts in the terminal who will try to overcharge you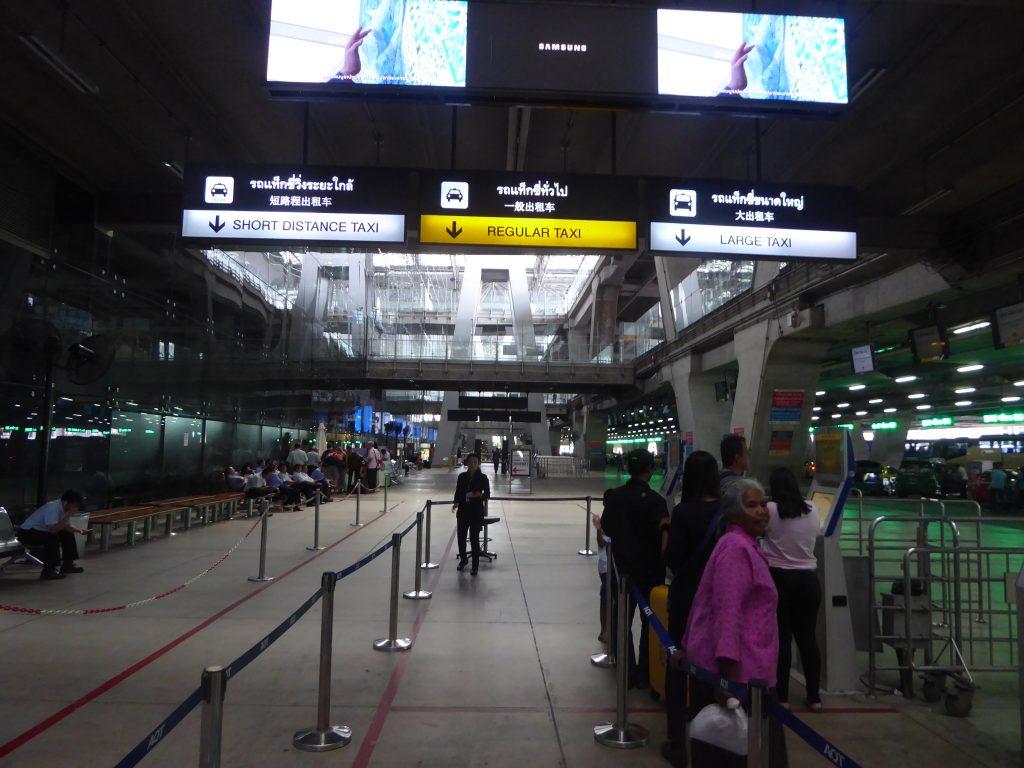 There are three classes of Bangkok Airport Taxi. Firstly, standard taxis that can take up to four people with a normal amount of luggage. Secondly, larger taxis that can accommodate more than four passengers or excess luggage. Thirdly, people traveling short distances to local destinations or local hotels.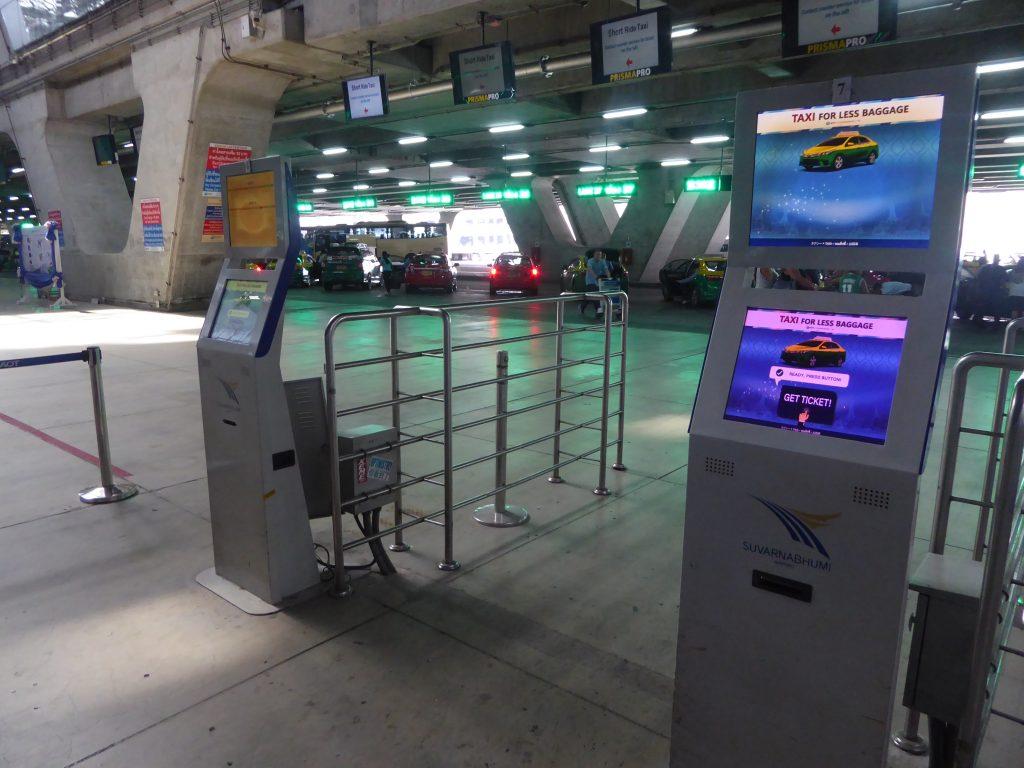 The system is automated using automatic ticket dispensers. There are three types of tickets. Enter the correct queue lane, press the button and you'll get a printout which shows which taxi to take and where it is parked. Walk to the parking bay and hand over the ticket to the driver. There is an attendant at the ticket machine area if you need help and a help desk. The service is 24 hours. Make sure the taxi driver turns the meter on and keep your receipt from the taxi stand if you need to complain later. Most taxi drivers are honest but some are not.
Bangkok Airport Taxi Cost
The rough cost of a taxi from Suvarnabhumi Airport to Bangkok is normally around 350 – 450 baht including tollways and surcharge. Don't ask the driver "how much is the fare"? when you get in the taxi. This is an invitation for the driver to not use the meter and that you want to negotiate a price. This will work out more expensive than using the meter! The fare estimate above is accurate.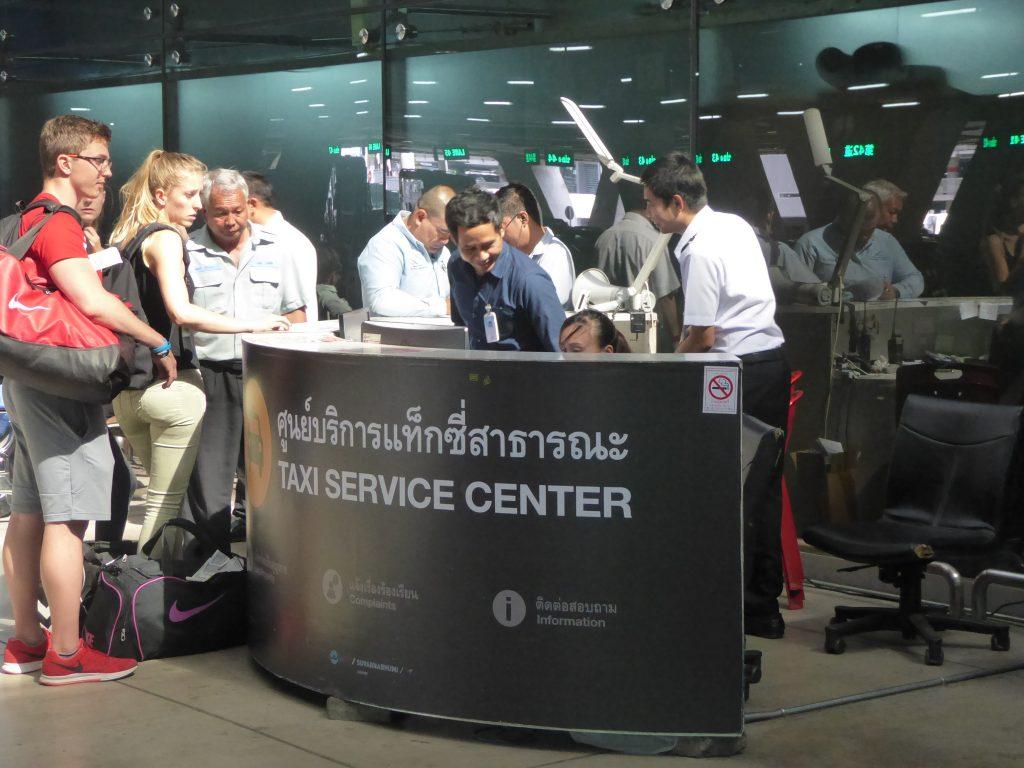 There is a 24 hour shared VIP taxi transfer by passenger van from Bangkok Airport to any hotel in Bangkok. The cost is 400 baht per person. This is a good choice if you are traveling solo & want to avoid taxi drivers or public transport. You have to book in advance & will receive an E-Ticket. Click here to book tickets.
Bangkok Airport to Pattaya
If you are going from Bangkok Airport to Pattaya you can book a taxi online to meet you at the airport. This also applies if you want to travel from Bangkok Airport to Hua Hin. There are also vans that can seat up to 12 people if you are traveling in a group. You can make a booking in advance here. You can book online to other destinations outside Bangkok here.
Bangkok Airport Electric Taxi
If you want to travel from Suvarnabhumi Airport to Bangkok using a more environmentally friendly mode of transport, Bangkok Airport now has a fleet of zero-emission electric taxis. Research has shown that electric vehicles emit fewer greenhouse gases than petrol or diesel vehicles. The electric taxi can take you anywhere in Bangkok and as far as Pattaya, Hua Hin, Rayong, & Ayutthaya.
Electric Taxi Cost
They are more expensive than an ordinary taxi with a starting meter price of 150 baht & rise by 16 baht per kilometer after the 3rd kilometer. The passenger must also pay any tollway fees.
The service is run by the government land department & the taxis are equipped with personal entertainment tablets & free Wifi. There are only a limited number of vehicles so don't be surprised if they are fully booked. You can by cash or debit/credit card. The electric taxi station is on level one of the terminal building.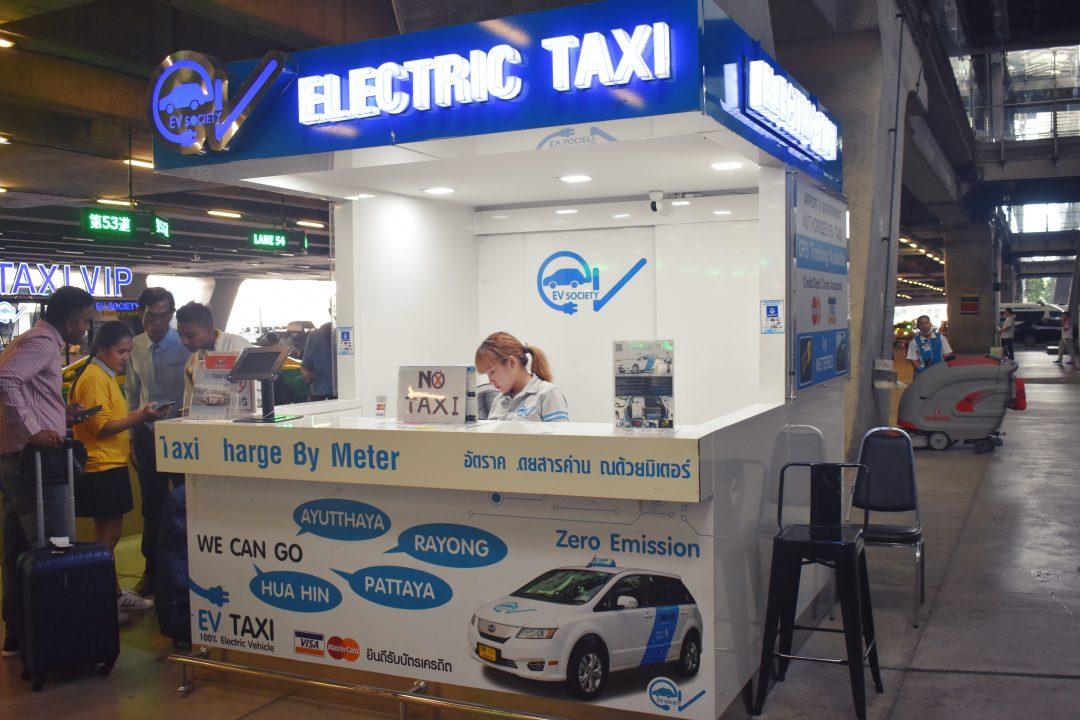 Bangkok Airport Limousine
You will be approached by Limousine drivers as soon as you exit customs. They are official and will ask you if you require a taxi. These are private services and will cost you about 700 baht, much more than a metered taxi.
AOT Limousine
Airports of Thailand (AOT) run a Limousine service to locations in Bangkok. Offering 6 kinds of vehicles. Prices range from 1100 – 2300 baht depending on vehicle and destination. The booth is on the 2nd-floor arrivals hall in the passenger terminal. 24-hour service.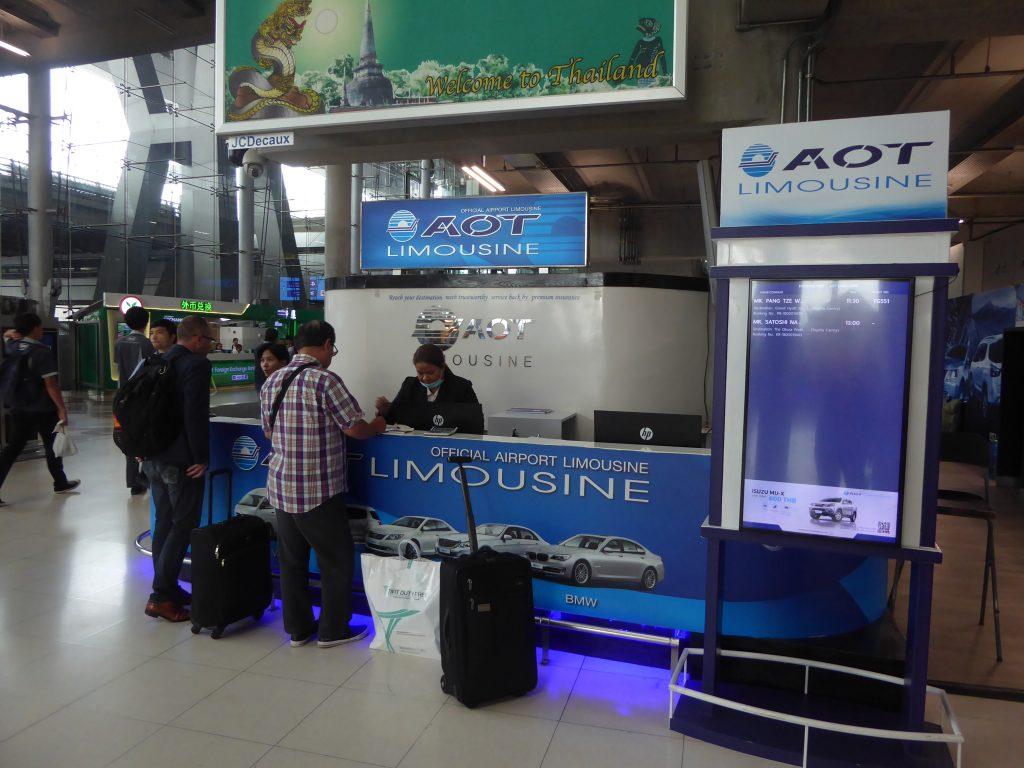 Bangkok Airport Grab
To use Grab you need to download the Grab Thailand app when you arrive at the airport. You will need a phone number for registration. You can choose Grab Car or Grab Taxi or Just Grab. Grab Car is a private vehicle. You will receive an estimate for the fare which is the price that you will pay at your destination. The quote that you receive will not always be the same. It will depend on demand and supply. The fare should be somewhere between 400-600 baht with a choice of standard or premium cars. You have to meet your Grab car outside level 2, not the same area as the metered taxi rank.
Bangkok Airport Grab Extra Charges
There is a 50 baht booking fee for a standard taxi and 150 baht booking fee for a large taxi. There is also a 100 baht airport surcharge fee (50 baht more than the airport taxis) & any tollway fees. The fare per kilometer is the same as airport meter taxis. Grab taxi is an ordinary taxi that will take you on the meter rather than at a fixed fare. Just Grab will allocate you the nearest car or taxi at the time of booking. You can pre-book Grab Car or Grab Taxi but not Just Grab. You can pay by credit card but your home bank may charge you a transaction fee.
Bangkok Airport Taxi vs Grab
Grab is more expensive than taking a standard airport meter taxi. There is a 50 baht booking fee added to the base fare though the rate per kilometer is the same. If you book a seven-seat Grab the booking fee is 150 baht. The Airport surcharge fee for Grab is 100 baht compared to 50 baht for an official airport metered taxi. Any tollway fees must be added to the final fare for both. Grab is a good choice if you don't mind paying a little more and prefer to know how much the fare will be in advance or avoid the hassle of dealing with a rogue taxi driver who refuses to use the meter.
Bangkok Airport Rail Link
The airport train station is on the basement level of the passenger terminal. Service hours are 06.00 am – 24.00. Trains leave every 15 minutes and take 30 minutes to arrive at the Phaya Thai terminal station which has a walkway to the BTS Phaya Thai station. The fare is 45 baht. Get off at Makkasan station to connect with the MRT.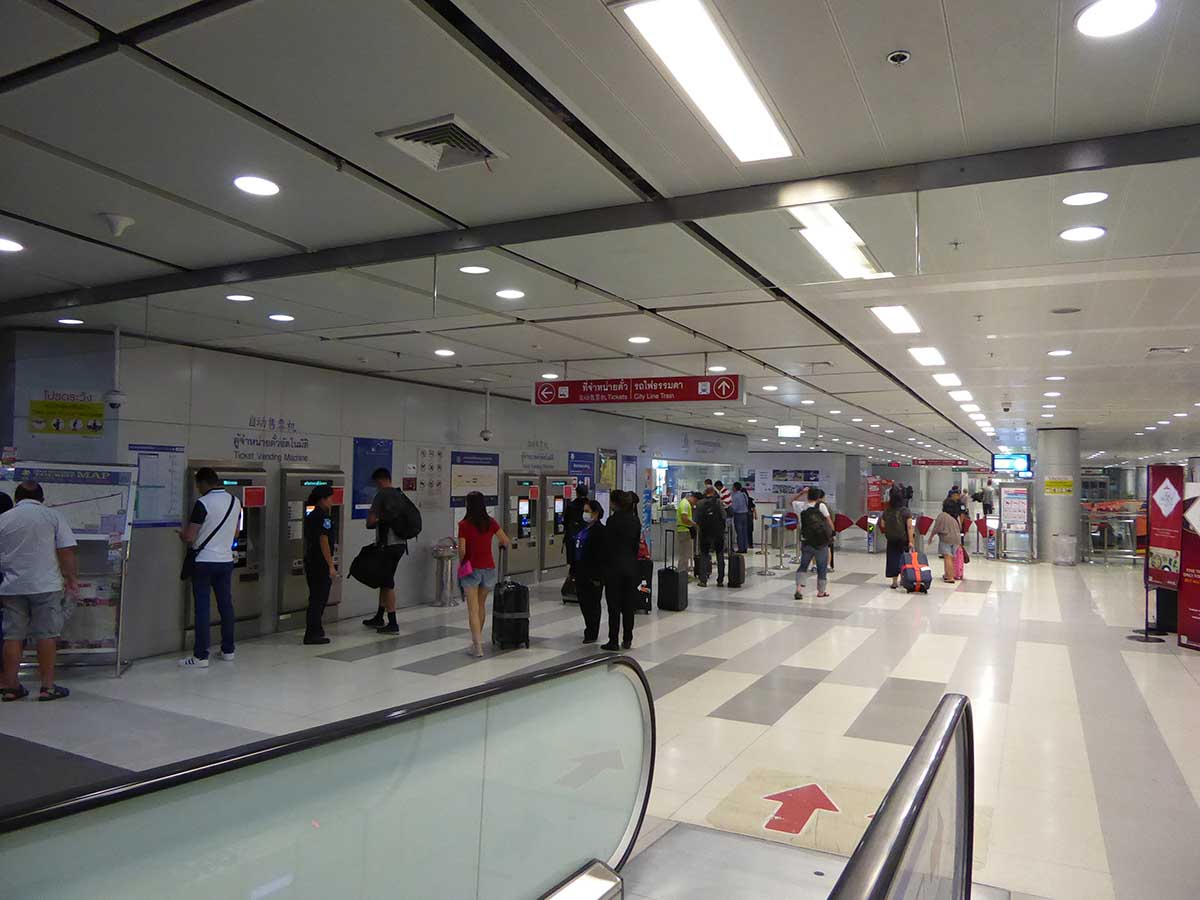 The train also serves as a commuter line stopping additionally at six stations en-route. Centrally there are stops at Ratchaparop and Makkasan stations. Makkasan station has a walkway to the MRT Phetchaburi station.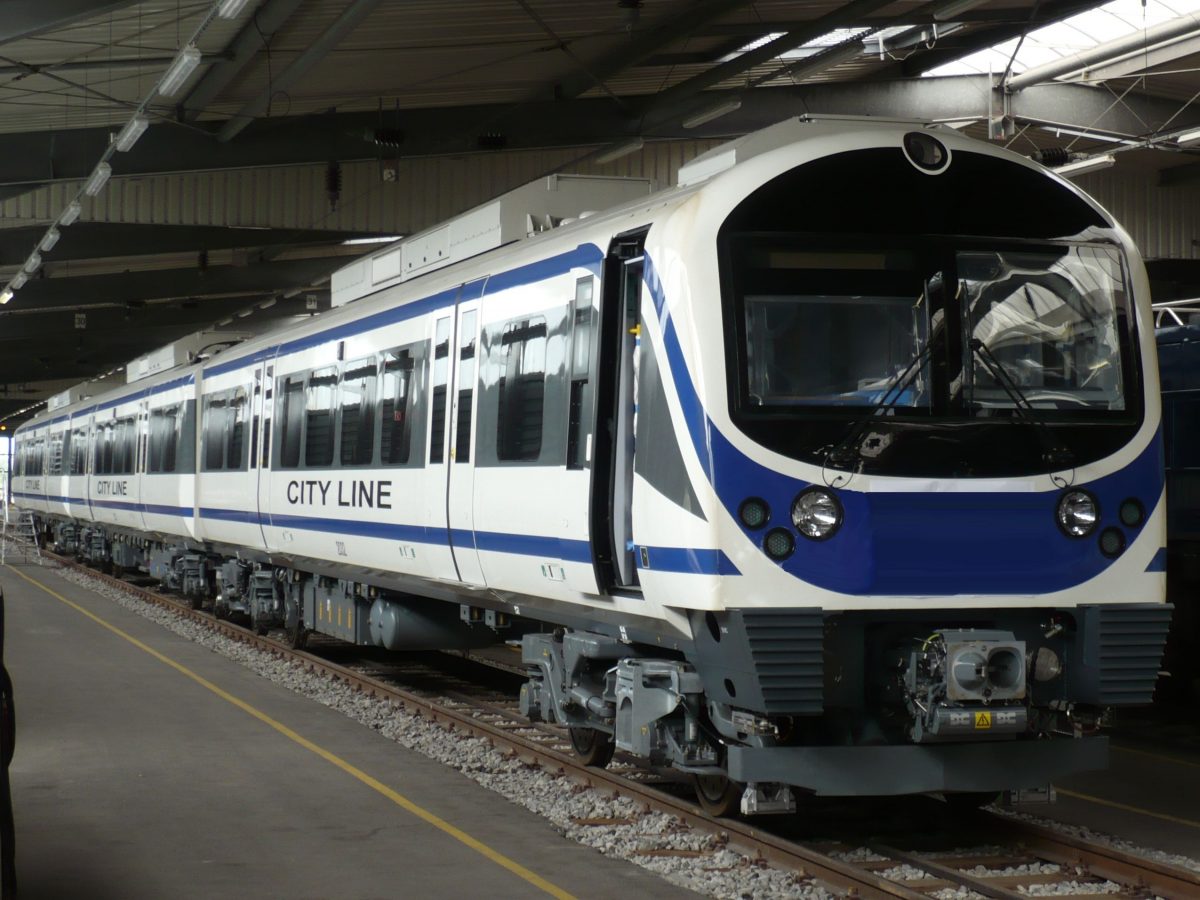 Phaya Thai to Khaosan Road
If you are heading to Khao San Road from Phaya Thai terminal you can take the orange air-conditioned bus number 59 (inbound). This will take you all the way to Khaosan. You will need to turn left at the station street-level exit and walk about 100 meters to the bus stop. It would be easier to take the S1 bus from the airport.
Taxis from Phaya Thai
Phaya Thai has a taxi stand underneath the walkway leading to the BTS station. Only take a taxi that uses the meter. Ratchaparop station is within walking distance to hotels in the Pratunam district. You can catch a taxi outside the station exit. Bus 183 (outbound) connects to Khao San Road. Makkasan station is in a heavily congested traffic area. It is difficult to find a taxi as drivers tend to avoid it.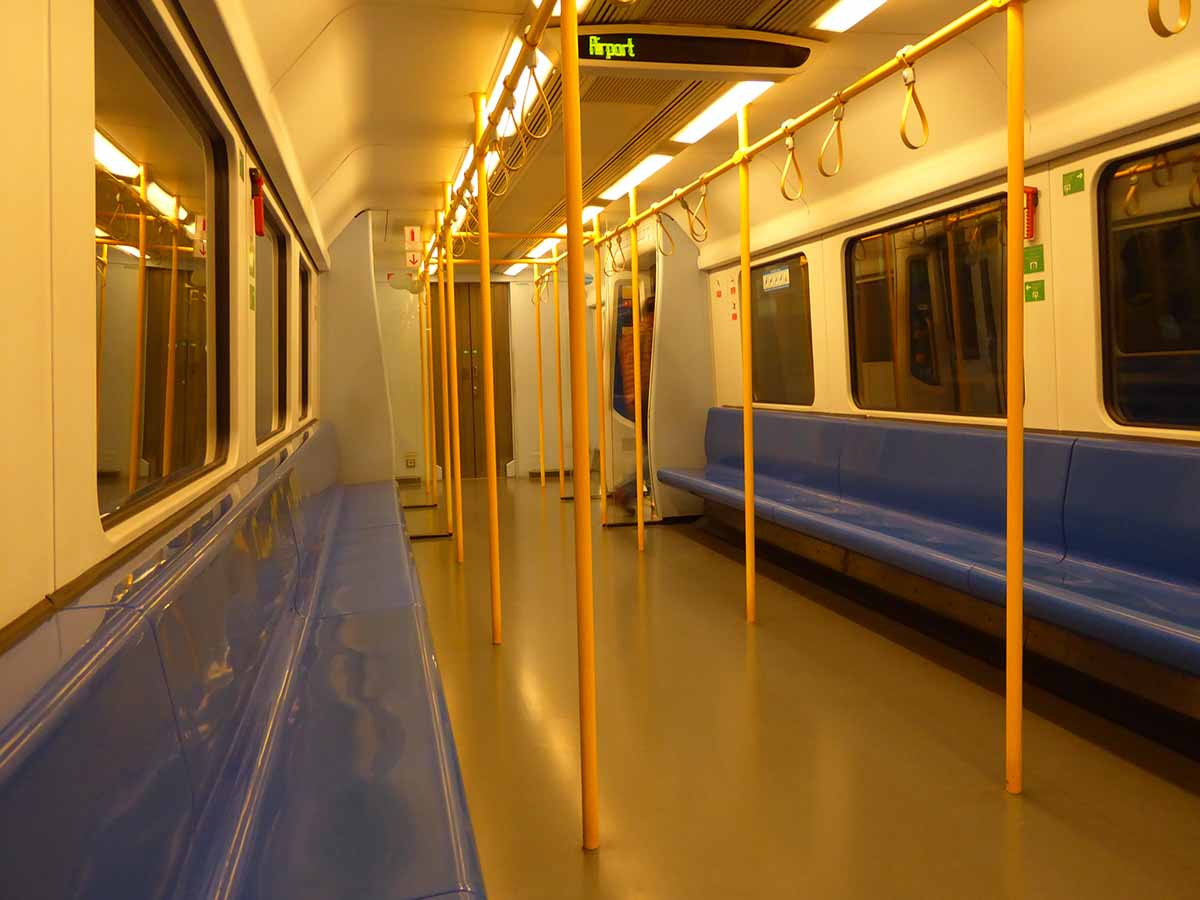 Note that Airport link stations apart from the Airport terminal station are poorly designed for passengers with heavy luggage due to a lack of lifts and escalators. You may have to descend flights of stairs with your luggage.
Bangkok Airport Bus S1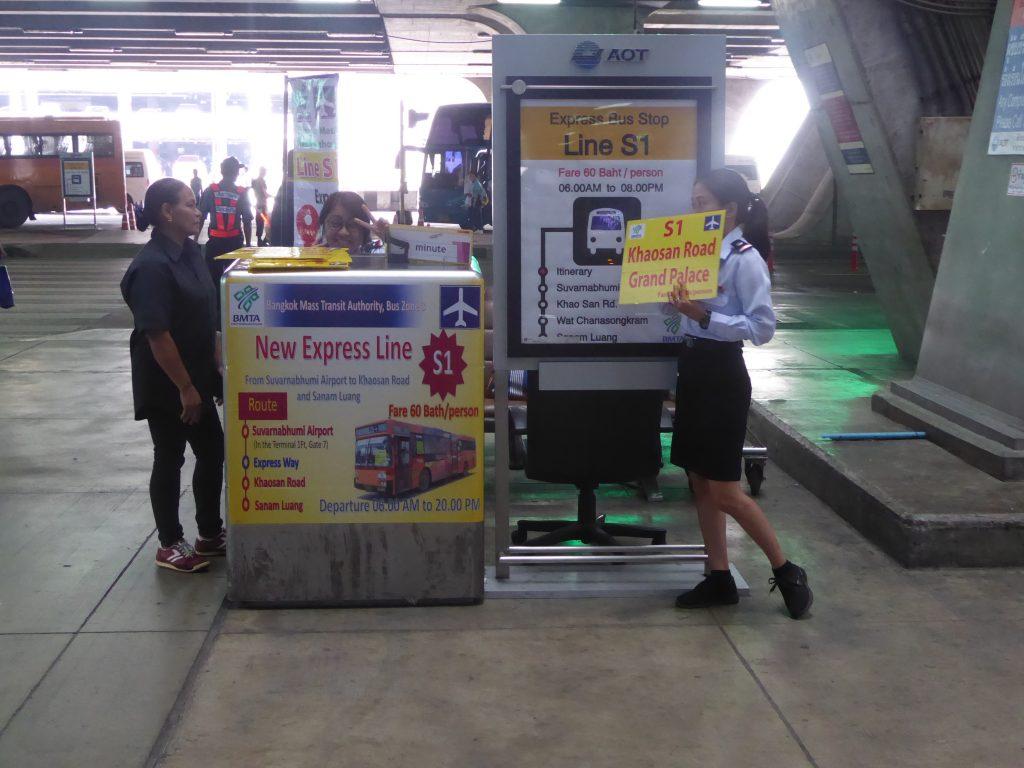 Airport Bus S1 runs to Khaosan Road. It departs every 30-45 minutes between 06.00-20.00 from Gate 7 on the 1st floor of the terminal. The fare is 60 baht. The bus takes the express-way stopping at Yommarat Railway Crossing, Lan Luang Road, Tanao Road, Banglamphu (Khaosan Road) and Sanam Luang. The bus returns to the airport via the same route.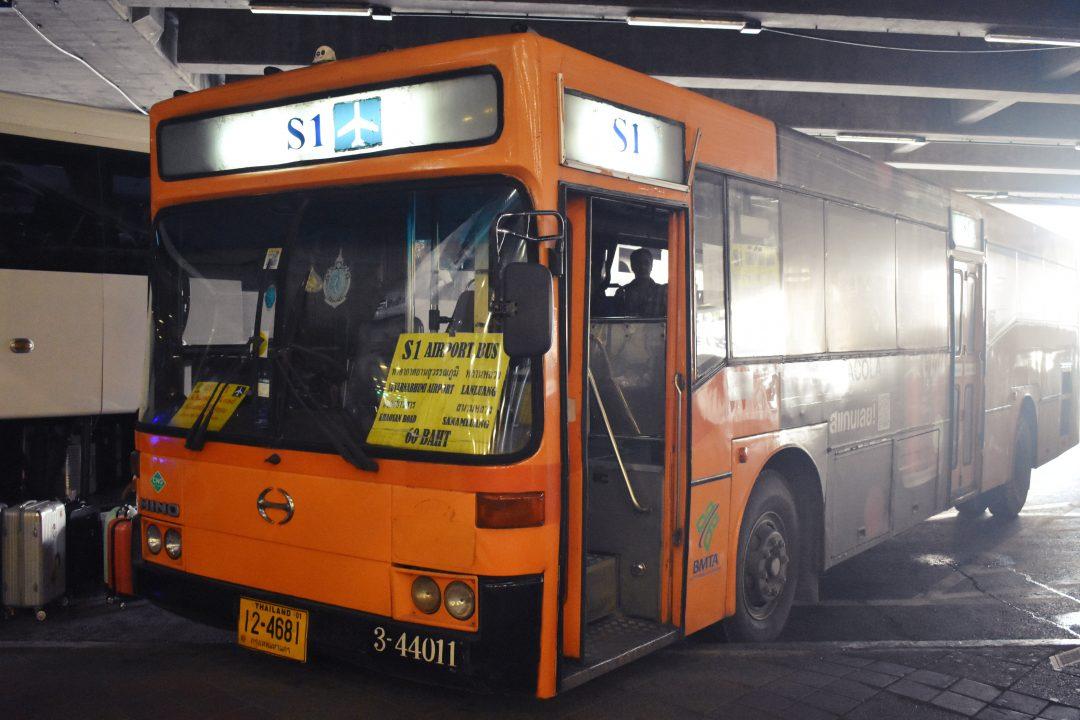 Bangkok Airport Limo Bus
The Limo Bus is an Airport Bus operating two routes from Suvarnabhumi Airport. Route one goes to Phaya Thai BTS Station & Khaosan Road. Route two goes to Silom (MRT & BTS) & Siam. Service hours are every 20-30 minutes from 08.00-23.00 daily. The journey times are 45-60 minutes. The return journey is the same route in reverse with departures from 10.30-24.00. The fare is 150 baht. The fare includes unlimited baggage and free Wifi on the bus. The ticket office is on level one at gate 8.
Elephant Airport Express Shuttle Bus
The Airport Express is a new service that links the airport to 300 hotels in Bangkok City. There are 3 routes, the Yaowarat line takes you to Chinatown, and the old town, the Sukhumvit line takes you to hotels on Sukhumvit Road and the Sathorn line takes you to Sathorn, Silom, and MBK. The fare is 180 baht and you are allowed two pieces of luggage. The service runs from 07.00 to 19.00 daily. There are 7 to 8 trips per day. The bus leaves from between gate 7 and gate 8 on the 1st floor where there is a ticket counter. More information and schedules can be found on the website. https://elephantairportexpress.com/

Bangkok Airport 24-Hour Minibus by 12go 
There is a 24-hour minibus service to central Bangkok. Departures from the airport leave at 02.00, 03.00, 05.30, 07.00, 09.00, 12.00 & 19.00 (to Power Nap Lounge at Interchange 21 Building, Asoke – BTS/MRT). These are convenient if arriving late after the Airport Bus and Rail Link have stopped. Tickets are available from 12Go, online only.  Buy Tickets Here.
BKK to DMK Shuttle Bus 
If you have a connecting flight departing from Don Mueang airport there is a free shuttle bus departing every 30 minutes from exit gate 3 on the 2nd floor. Service hours are 05.00 to 24.00. You must show your flight ticket from Don Mueang to use this service. If you don't have a ticket you must take a taxi or the 24 hours 554 Bangkok city bus (see below). If you need to book a taxi to Don Mueang you can do so online in advance here.
Bangkok Airport to Pattaya Bus
Bell Travel operates a VIP 24 seat Airport Bus to Hua Hin and Pattaya and there is a van/ferry service to Ko Chang. They all depart from the ground floor of the passenger terminal. The ticket counters are next to each other on level one, gate 8.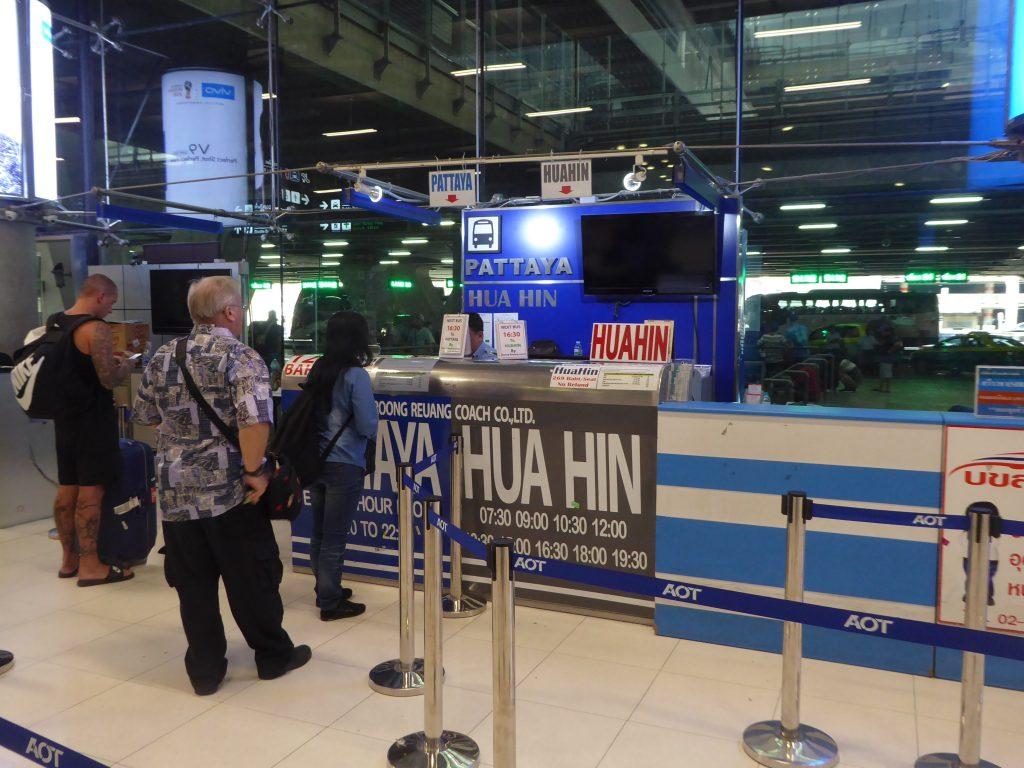 These buses are popular and are often fully booked for several hours in advance. If you want to make an advance booking you can book using the forms below.
Suvarnabhumi Airport Transport Center
InterCity Government buses depart from the Transport Center. There are ordinary first & second class buses to Hua Hin, Pattaya (Jomtien), Khon Kaen, Udon Thani, Nong Khai, Trat, Chantaburi, Nakhon Ratchasima and AranyaPrathet (for Cambodia). Tickets are available from the ticket office at the Transport Center. No advance online booking.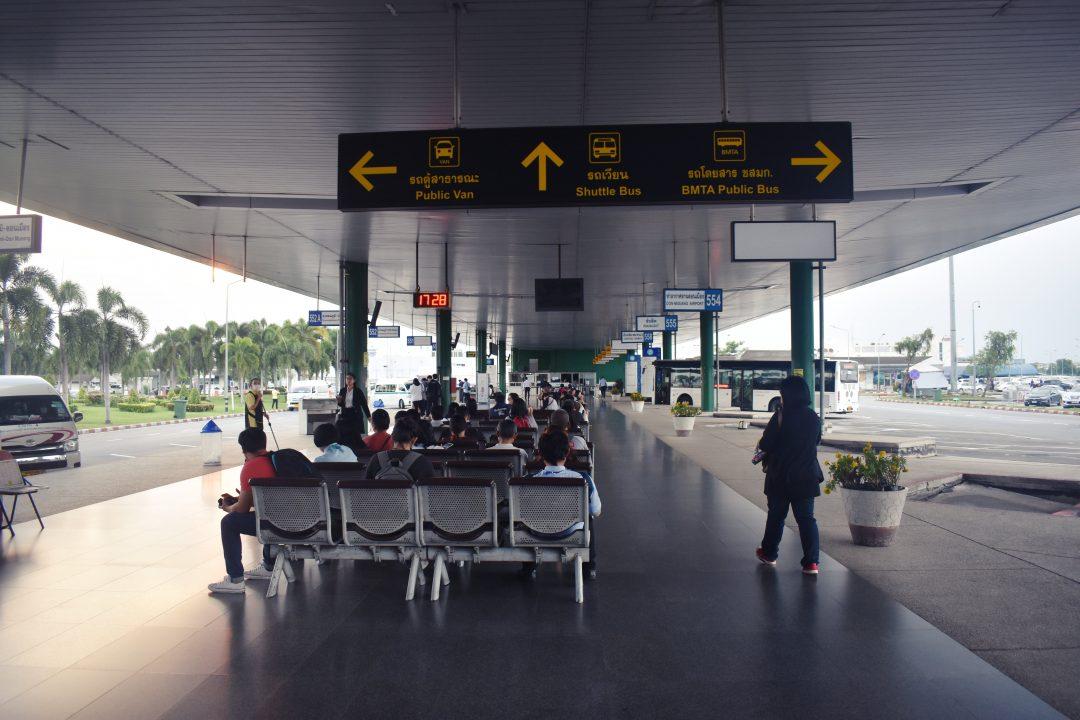 Bangkok city buses & passenger vans depart from Suvarnabhumi Transport Center which is a few kilometers from the terminal. To get to the Suvarnabhumi Airport Transport Center you need to take a free shuttle bus. The express shuttle service departs from exit 5 on levels 2 & 4 every 5 – 15 minutes, 24-hour service.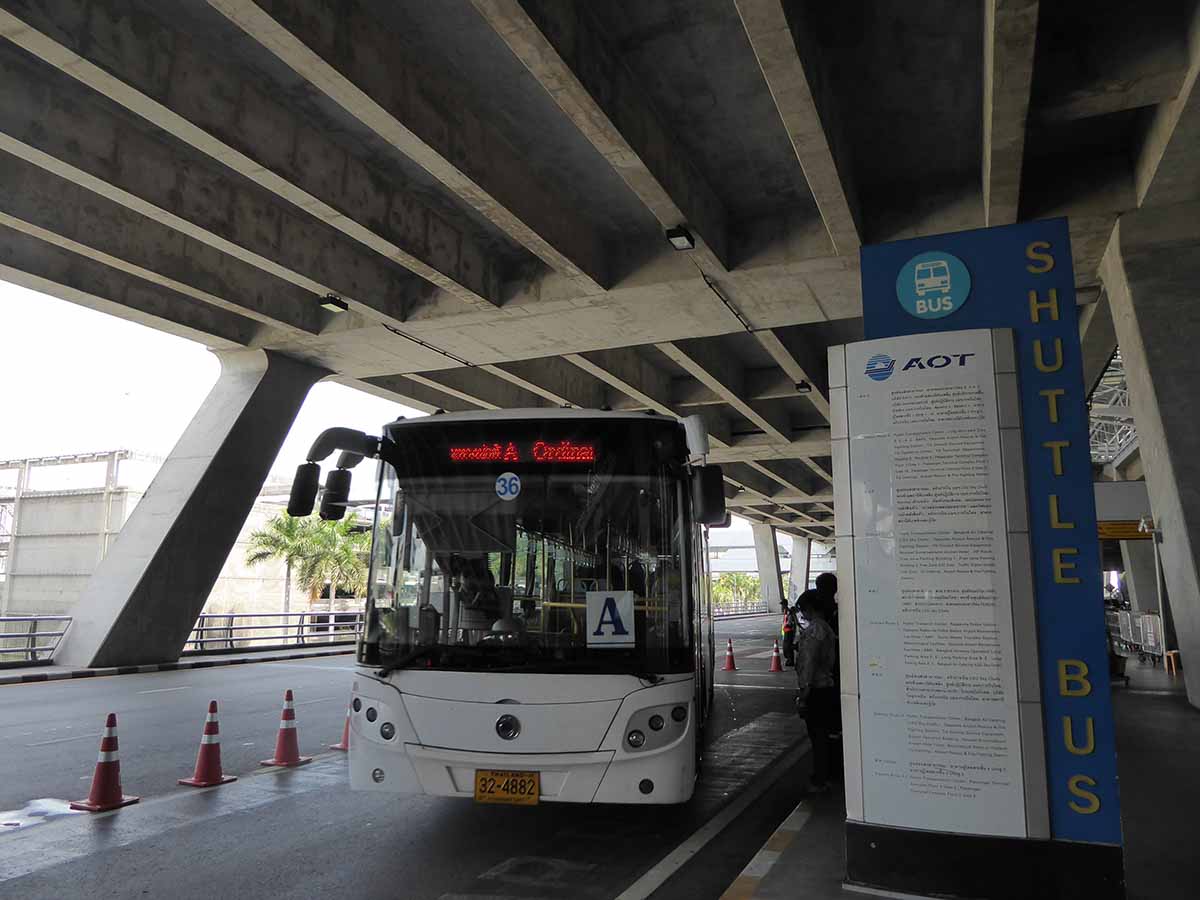 Public Buses & Vans
Public buses & Passenger vans mostly run to the outer suburbs, not the city center. The exceptions are bus/van 551 which runs to Victory Monument and bus/van 552 which runs to BTS On Nut station.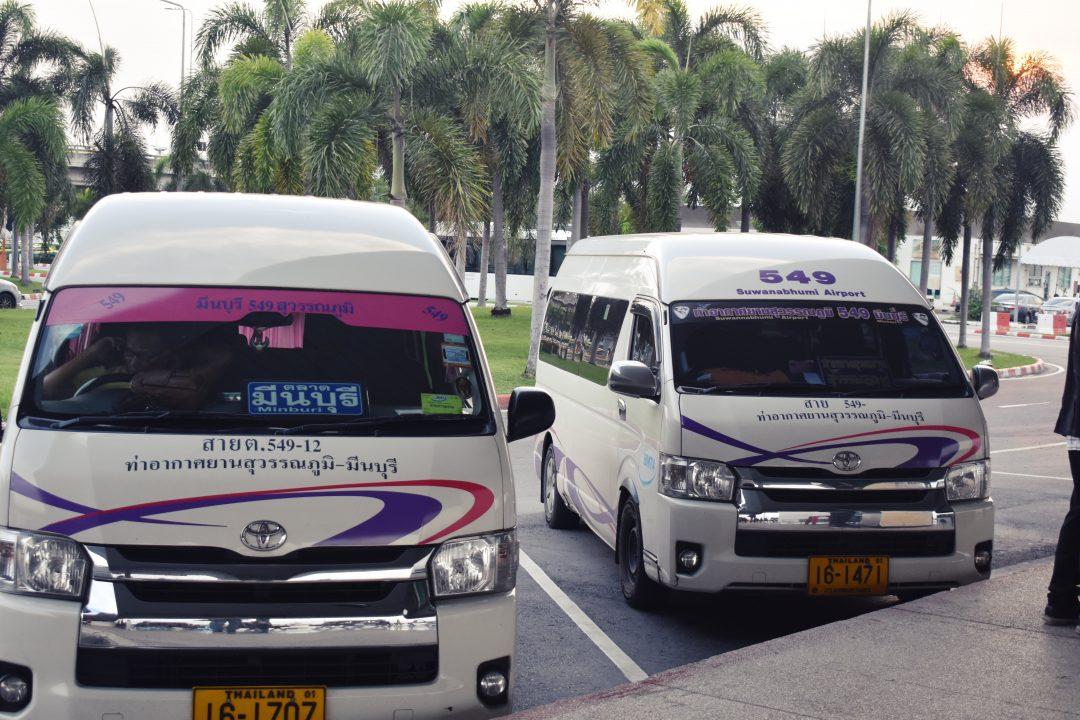 Bus 554 & Bus/Van 555 run to Don Muang Airport. The 554 is a 24-hour service. The fare is 37 baht and the route is mostly on the expressway. During evening rush hour this journey can take 2 hours due to traffic.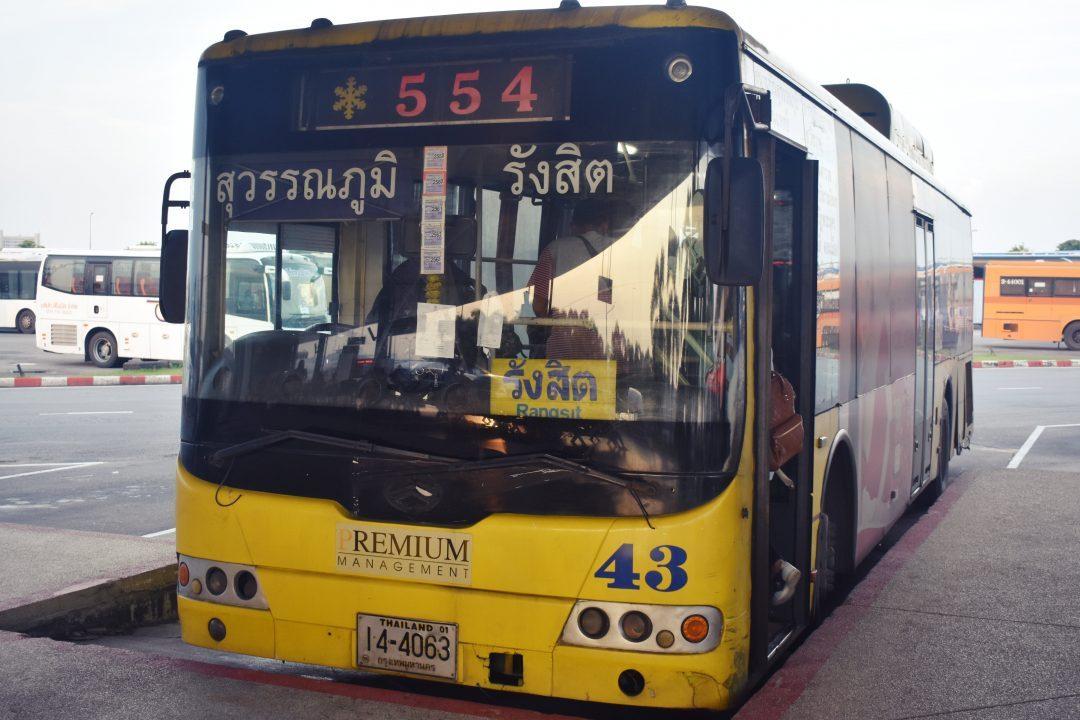 Bangkok Airport Car Rental
All the car rental companies at Suvarnabhumi Airport have booths at gate 8 on the 2nd floor of the passenger terminal. Thai's drive on the left. You will need a valid International driving license. Check that you are fully insured for any vehicle that you hire.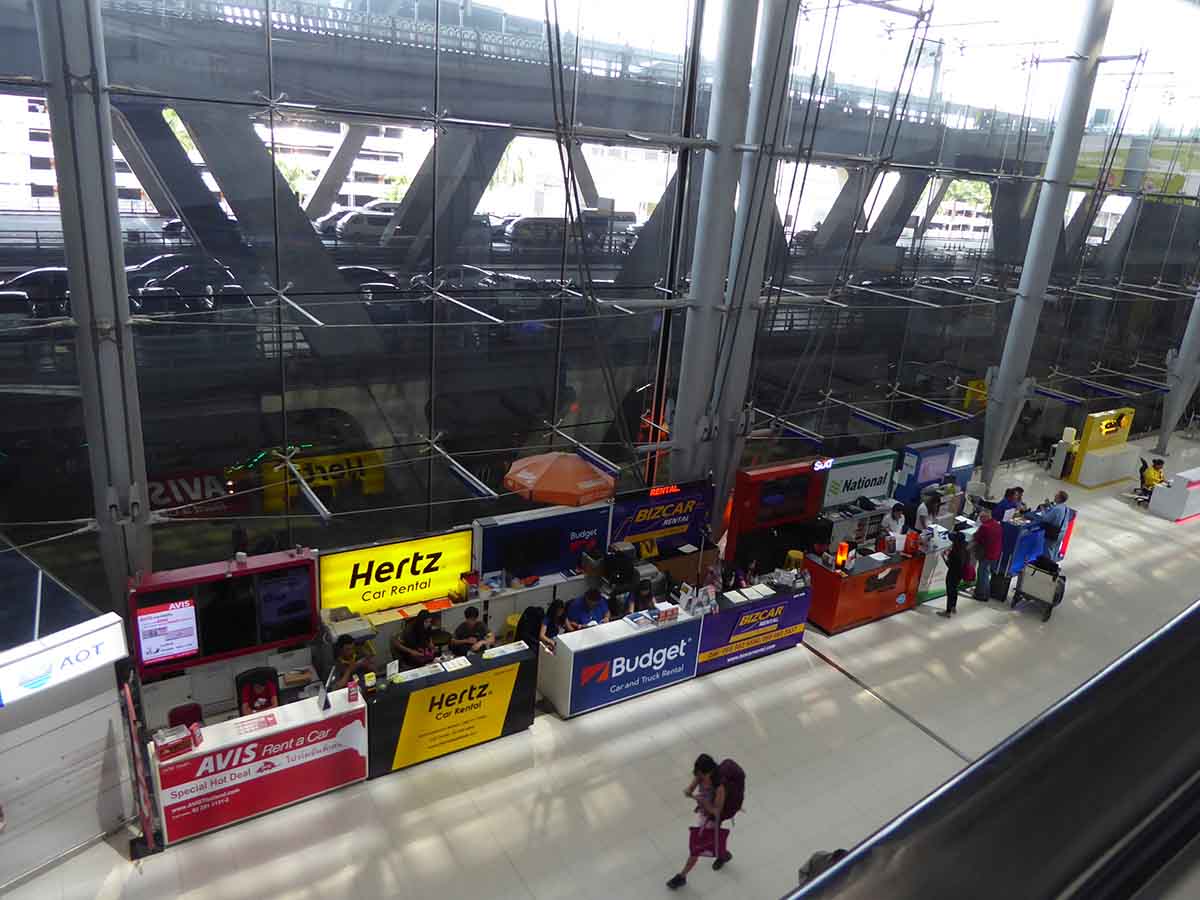 Suvarnabhumi Airport Food
There is a good choice of cafes, and restaurants such as Starbucks, Burger King, Dean & Deluca, S & P, Mister Donut, McDonald's, Coffee Club & more on the 3rd floor of the passenger terminal. A branch of Subway is in the basement Airport Rail Link Station. 
Bangkok Airport Cheap Dining
Food is expensive in the terminals with chain fast food outlets charging about 20% above their usual prices. The cheapest place to eat in the airport is the Magic Food Point on the ground floor of the passenger terminal near gate 8. It's open 24 hours and features Thai style street food. Dishes range from 50-80 baht and coffee is 30 baht. You need to buy coupons at a booth to use as payment.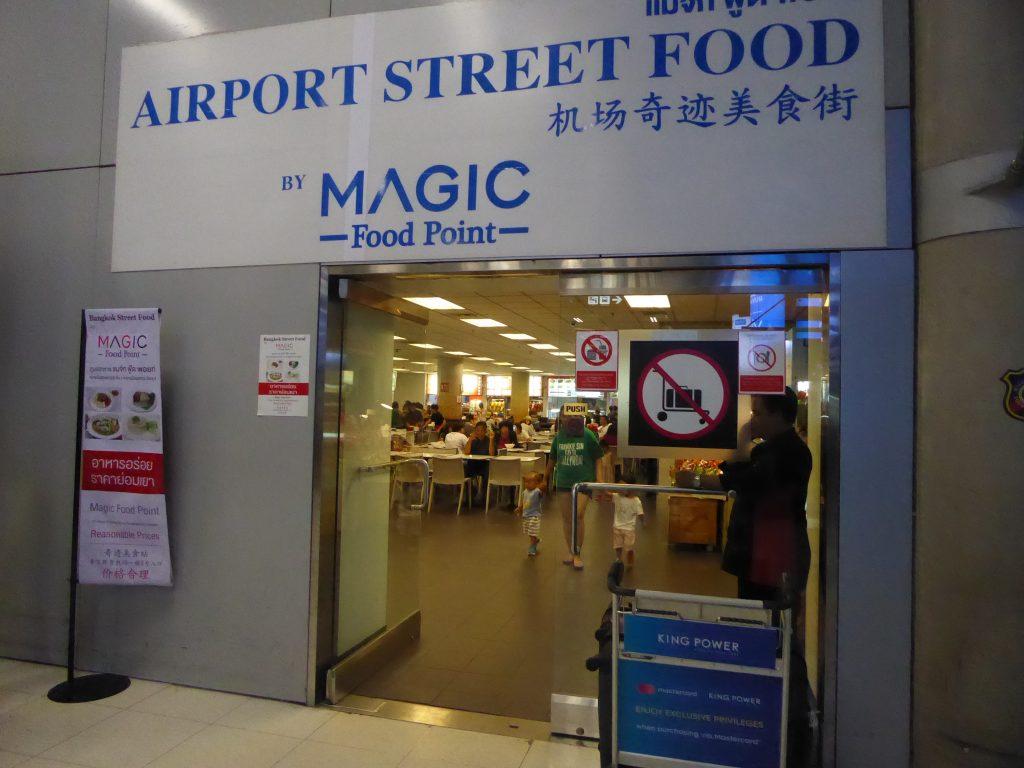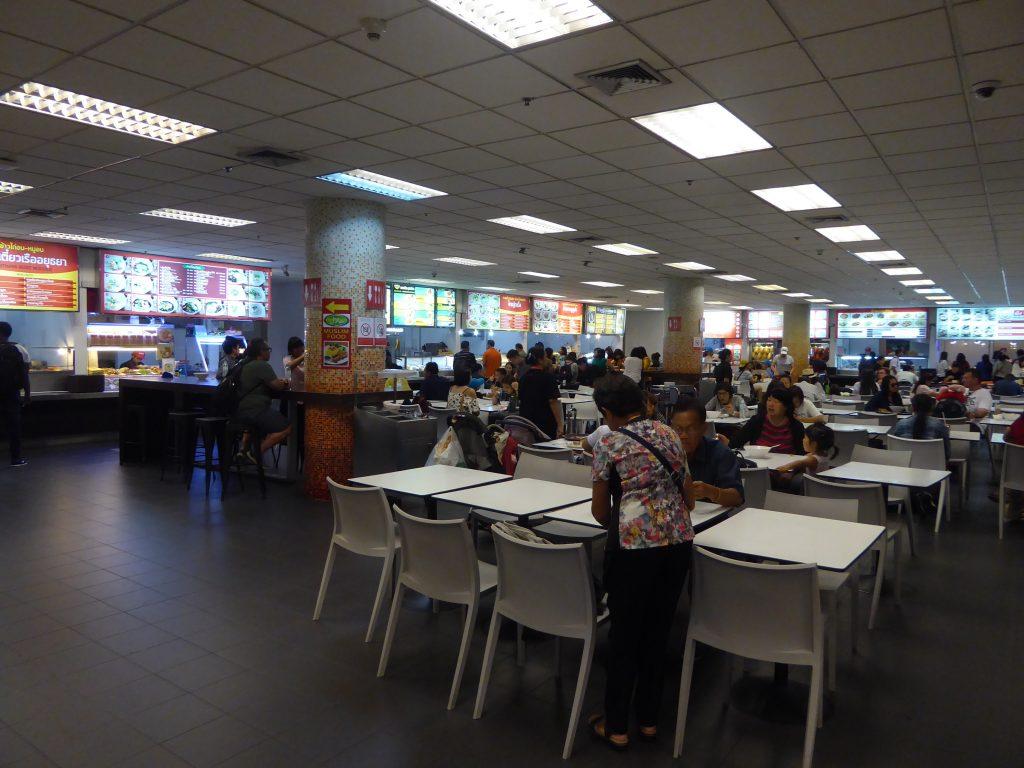 Bangkok Airport Shopping
In the terminal, you will find branches of Boots, Asia Books & Souvenir shops. In the basement Airport Rail Link Station, you will find the Royal Project Shop which sells a range of fresh and packaged produce. Thai Tea, Coffee & dried fruits are popular items.
7-11 Bangkok Airport
There are branches of 7-11 convenience stores on the departure level & in the basement Airport Rail Link Station. 
Bangkok Airport Massage & Spa 
There is a Thai massage shop in the basement Airport Rail Link Station.
Central Village
If you have a long layover at the airport or have time to kill on your way to Bangkok Airport, there is a new outlet mall near the airport called Central Village. There are over 130 International brand shops selling discounted goods. There is a free shuttle bus from the Novotel Airport Hotel. Click here to learn more.
Suvarnabhumi Airport Hotels
Bangkok Airport is located outside an urban area & there are no local hotels or hostels that are within walking distance or easily accessible by public transport. However, there are several sleeping options within the terminal compound.
Novotel Bangkok Airport
The most notable is the Novotel Suvarnabhumi Hotel which is 300 meters from the passenger terminal and reached via an underground walkway from the Airport Rail Link Station. The hotel also has a shuttle van which picks up at the terminal arrival zone.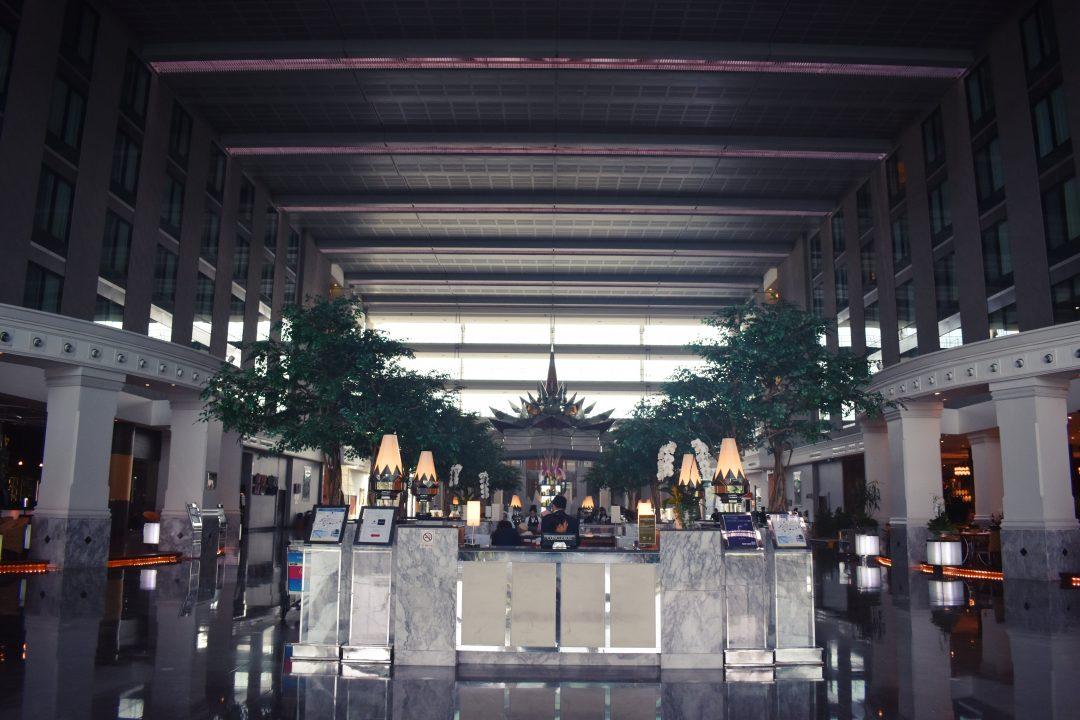 The Novotel Bangkok Airport Hotel is the only hotel offering first-class facilities It has a Spa, a swimming pool set in a tropical garden, several restaurants, a coffee shop, a sports bar & several retail shops. 
Room rates are from 225-450 USD depending on the date & class of the room. Discounted rooms are available through Agoda & Booking. You can check rates & availability by clicking on the links below. 
Book Novotel Bangkok Airport Hotel with Agoda
Book Novotel Bangkok Airport Hotel with Booking Com
Miracle Transit Hotel
The Miracle Transit Hotel is located behind immigration on the 4th floor of the terminal building at Suvarnabhumi Airport. The rooms are available for a period of 6-12 hours for passengers departing internationally, arriving or with a layover at the airport. The room facilities include a bathroom, TV, free Wifi, Minibar, Snacks, a flight information monitor, Air-Conditioning & Internet.
Hotel facilities include a Beauty Salon, Sauna, Spa, Thai Massage, a breakfast buffet, a 24 hour Coffee Shop & Bar & Duty-Free Shops. There is a maximum of two adults and one child per room. Room rates are 100 USD to 285 USD. The reception is open 24 hours. The hotel is convenient for those connecting from domestic Thai flights to International flights or vice versa that involve layovers.
Book Miracle Transit Hotel With Agoda
Book Miracle Transit Hotel with Bookingcom
Suvarnabhumi Airport Boxtel
There is a pay by the hour Boxtel in the basement Airport Rail Link Station. The rooms are small but the location is quiet & conveniently located next to the foreign exchange offices & the Airport Rail Link Station. There is no bathroom in the room but there are modern restroom facilities a few minutes walk away. Rooms are single occupancy only per 4 hours. Cafes and a 7-11 are 50 meters away. Boxtel has a common area with seating and vending machines. Rooms are air-conditioned, have a USB Charging socket & have free Wifi. There is a 24-hour check-in desk.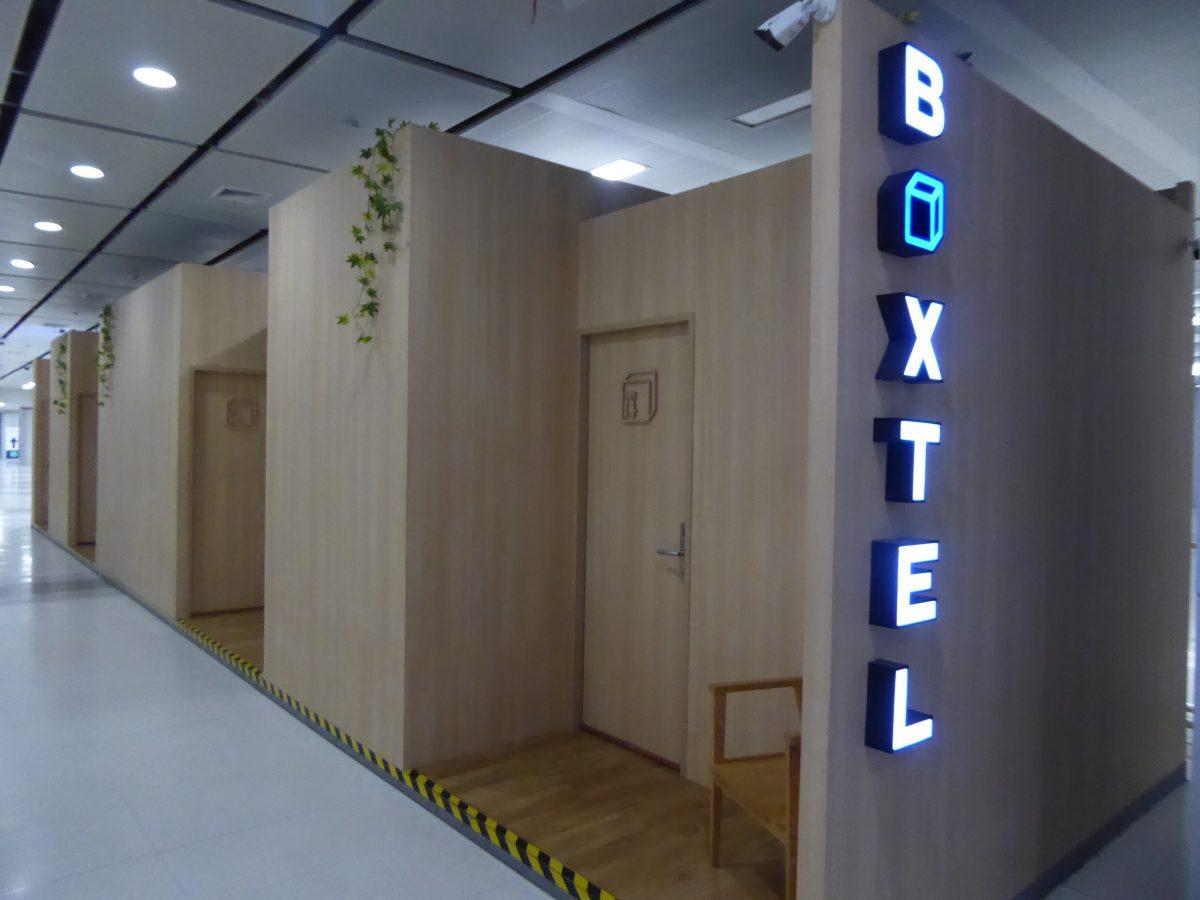 This is a convenient option if you arrive after midnight and want somewhere secure to sleep for a few hours before the Airport Rail Link & Exchange offices open. There is a free wake up service. You can book online with Agoda or Booking Com & make payment in advance before you travel. If booked online rates are from 41 USD Single, per person for 4 hours. Walk-in rates are the same & your stay can be extended by the hour at 300 baht per hour. These rooms are popular & you are advised to book in advance.
Book Bangkok Airport Boxtel with Agoda
Book Bangkok Airport Boxtel with Booking Com
Bangkok Airport Capsule Hotel
The Avagard Capsule Hotel is located in the basement Airport Rail Link Station. This is the cheapest option if you want to stay at Suvarnabhumi Bangkok Airport. The Japanese style capsules resemble a spacecraft & are ultra-modern. The capsules are air-conditioned and have free Wifi, an alarm clock, a USB charging point, toiletries, towels, free water & slippers. There is a safe box within the capsule. The capsules are single occupancy & there are lockers for a backpack or suitcase.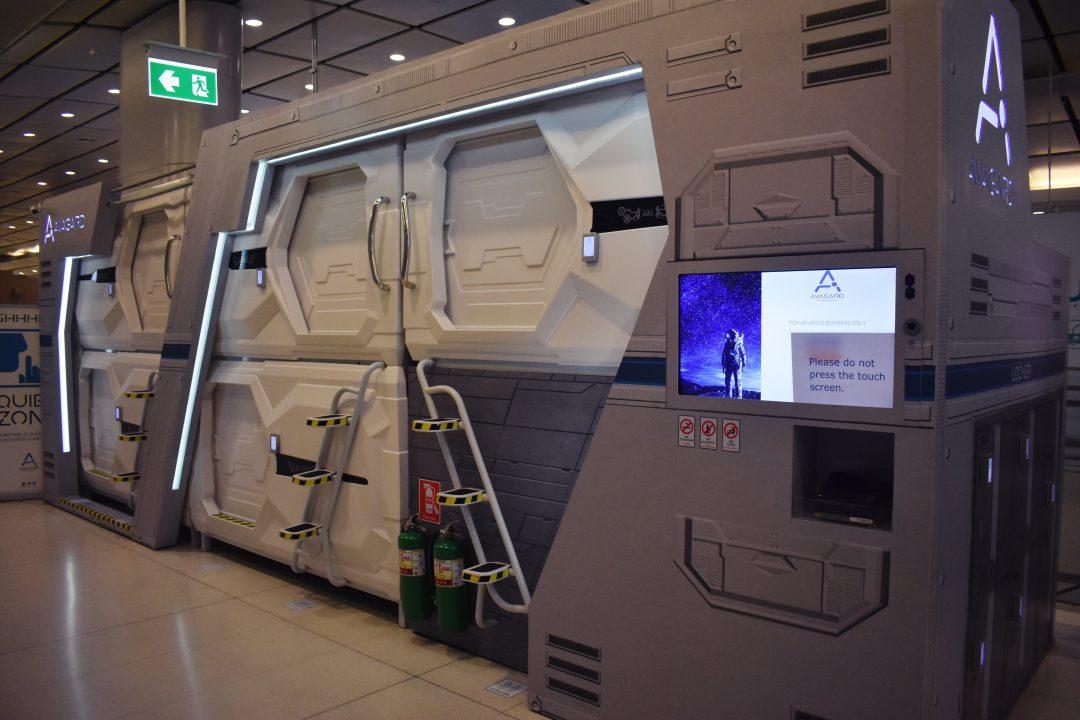 The Bangkok Airport Capsule Hotel can be booked at a discounted rate online in advance through Agoda. Rates are from 26 USD for a 7-hour stay from 10.00-17.00 & from 65 USD for a 15 hour overnight stay from 18.00-09.00. Walk-in rates are 8 USD per hour if there is availability. Only one person per capsule. Check-in from 10.00-24.00. 
Book Bangkok Airport Capsule with Agoda
The location is quiet & conveniently located next to the foreign exchange offices & the Airport Rail Link Station. There is a modern shared bathroom a few minutes walk away. Cafes and a 7-11 are 50 meters away.
There are other hotels and hostels near the airport. More information here.
Suvarnabhumi Airport Sightseeing
There is nothing to see near the airport, however, on the departure floor of the terminal, you will find 12 Yaksha statues. The Yaksha are mythological guardian giants that keep away evil spirits and at Suvarnabhumi, they act as the airport guardians. You will notice that they look similar but take a closer look as each one is slightly different and they all have an individual name. The Suvarnabhumi Yaksha are actually replicas of the Yaksha at Wat Phra Kaew, Thailands most famous temple. 
In the center of the departure floor of the terminal is the multi-tiered roof, Bushapaka Throne enshrining an urn containing relics of the Lord Buddha.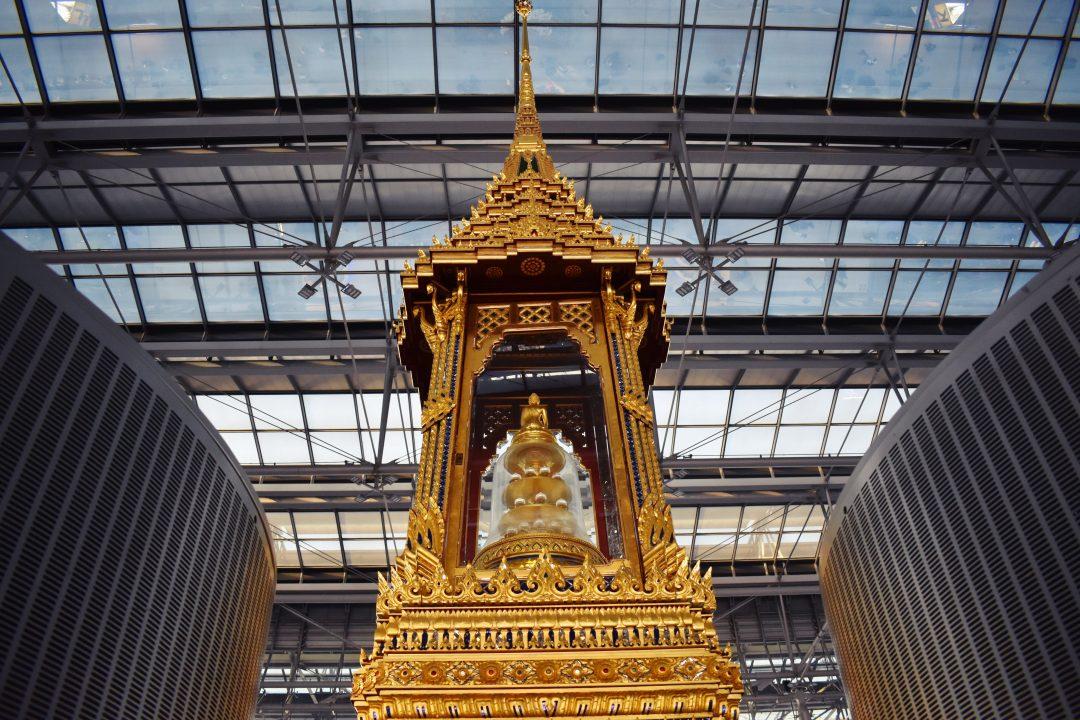 Transit Tours
If you have a long layover, there are several guided private sightseeing tours that will pick up & drop off at Suvarnabhumi Airport. Tours operate to Ancient City & Erawan Museum, Wat Pho, Wat Arun & the Grand Palace or the Floating Market & Train Railway Market. Tours run from 6 to 10 hours. Alternatively, you can hire your own private vehicle & driver for up to 12 hours, designing your own tour. Details below. 
Bangkok Airport Map
You May Also Like
Popular Pages on Tourist Bangkok