Golden Mountain Temple Fair
The oldest temple fair in Bangkok at Wat Saket
Posted by Peter C on November 18th 2019 in Thai Festivals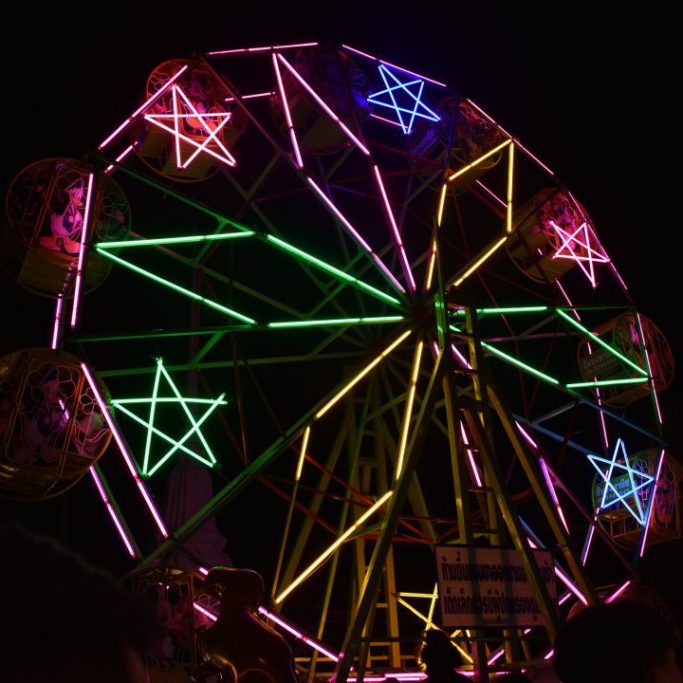 Thai Temple Fairs
Thai Temple Fairs (ngan wat) are community events that usually take place on temple grounds at the time of Buddhist religious festivals. The most famous Thai temple fair in Bangkok is the Golden Mountain Temple Fair which takes place every November on the grounds of & surrounding streets of Wat Saket. The Golden Mount is one of Bangkoks most famous temples & landmarks being visible from all around the surrounding area and a beacon at night with its brightly lit chedi.
*The Golden Mountain Temple Fair 2020 is cancelled due to COVID19* See you in 2021!*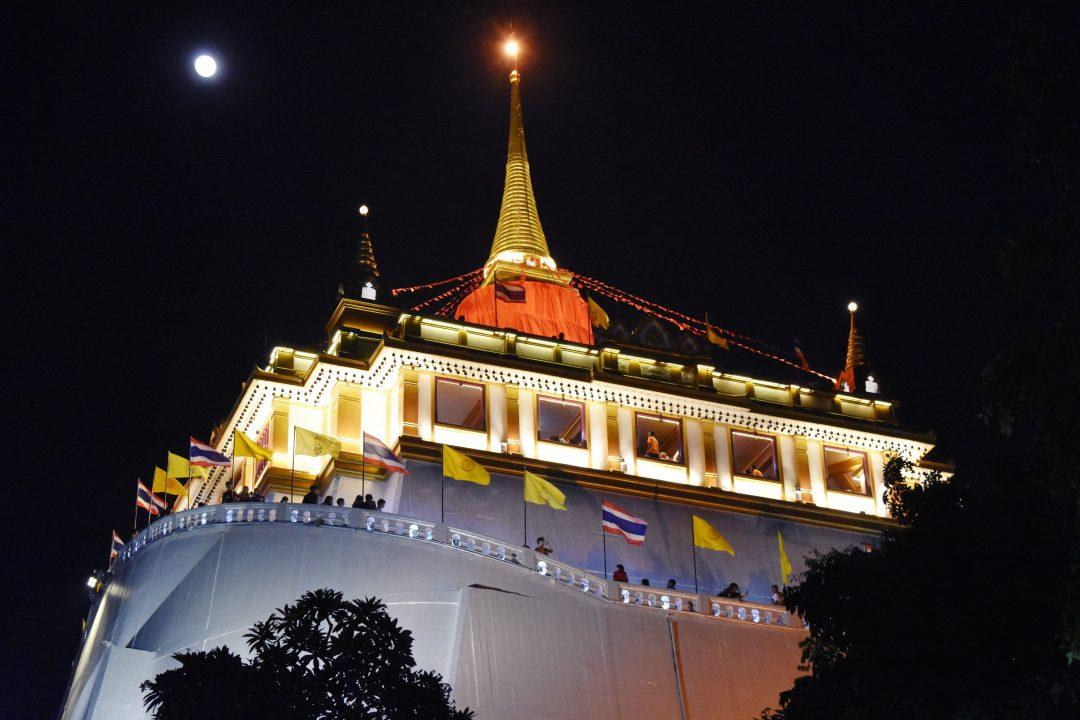 Thai Temple fair dates are determined by the lunar calendar & the event is mostly a local affair attracting few tourists, but this is usually due to a lack of publicity in the English language as most activities are similar to those found at popular fairs around the world.
?
What happens at a Thai temple fair?
Firstly, Thai temple fairs are family orientated so you will find lots of games & activities that families can enjoy together. There are shooting galleries and dart games, a Ferris wheel, various rides, a ghost house, model painting & bouncy castles. There is also usually a live music stage & traditional dance along with market selling clothes, toys, souvenirs & local products. A Thai temple fair would not be complete without food especially local delicacies. There is also a religious aspect with many families making merit and receiving blessings at the temple.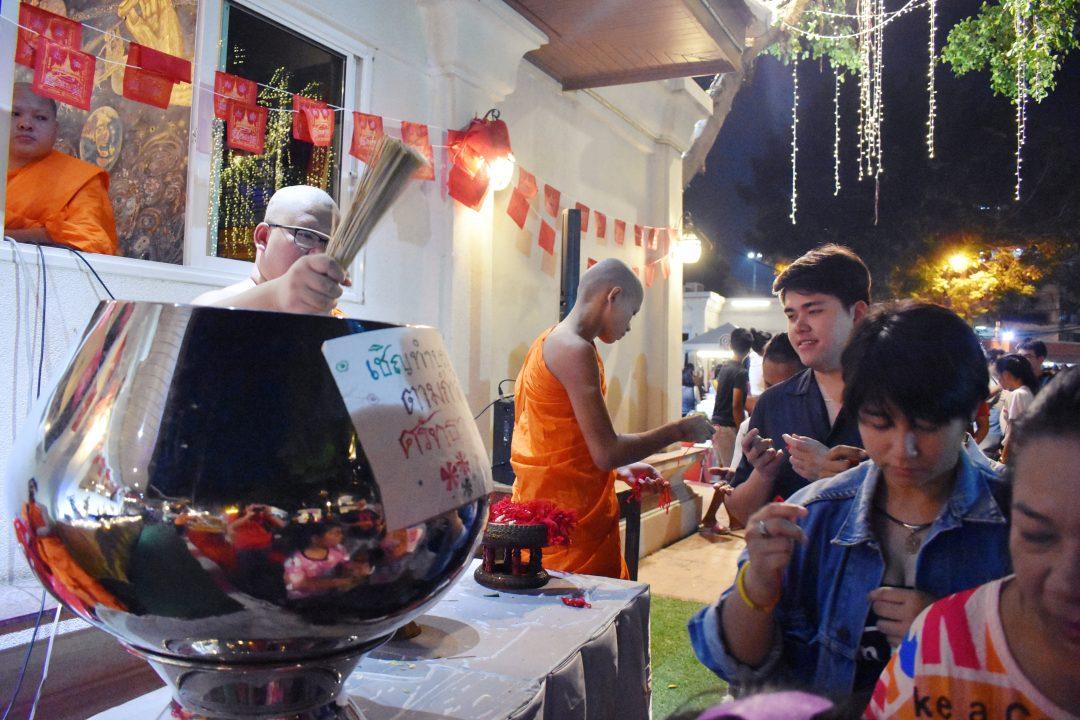 Golden Mountain Temple Fair
The annual Golden Mountain temple fair is held in October or November with the exact dates being determined by the Lunar calendar. The temple fair takes place around the Loy Krathong Festival with the starting date being seven days prior to Loy Krathong Day. The festival starts at dawn on the first day with a procession to the top of the golden mountain where a red cloth is wrapped around the golden chedi which contains sacred relics of the Buddha. The temple fair starts later the same day and ends at midnight on Loy Krathong Day.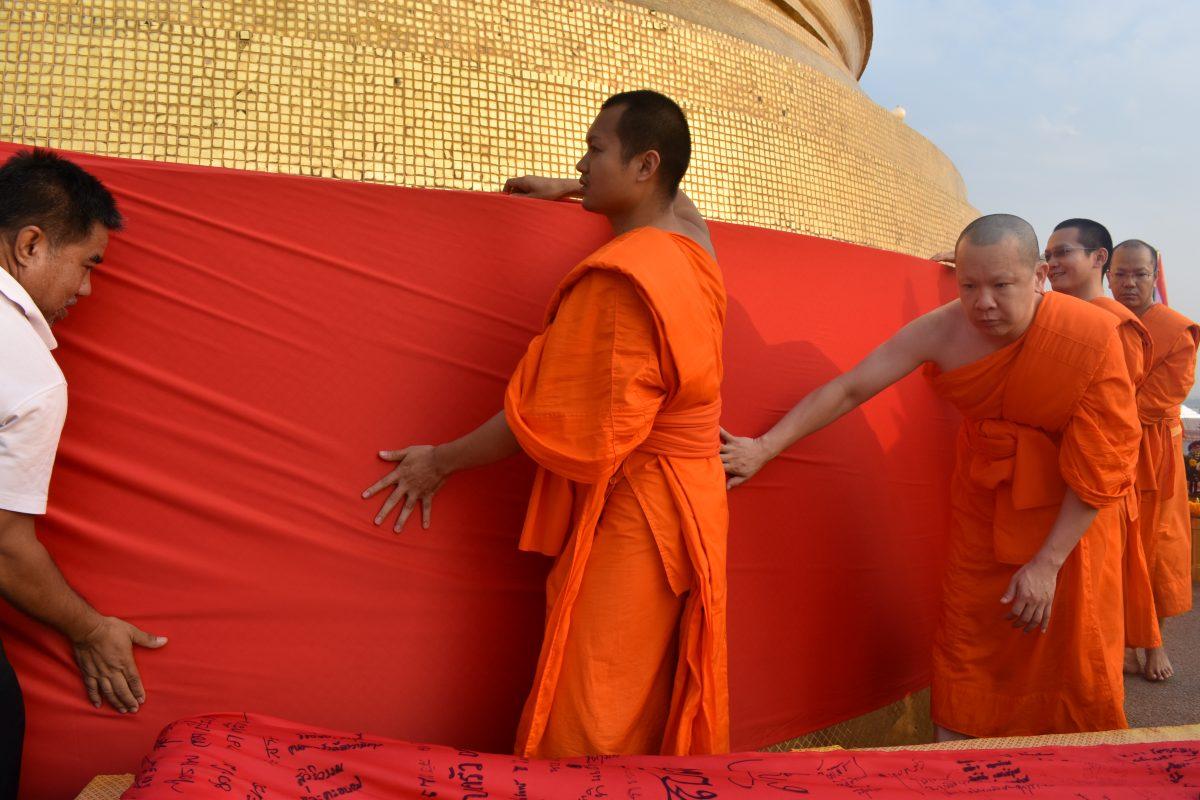 The Golden Mountain temple fair is the oldest in Bangkok with its origins stretching back to the founding of Bangkok. It is held in a carnival atmosphere attracting people of all ages from families with young children through to teens & adults of both sexes. The busiest day is Loy Krathong Day. The fair isn?t just held within the temple grounds but spreads out into the surrounding streets which are packed with stalls & people.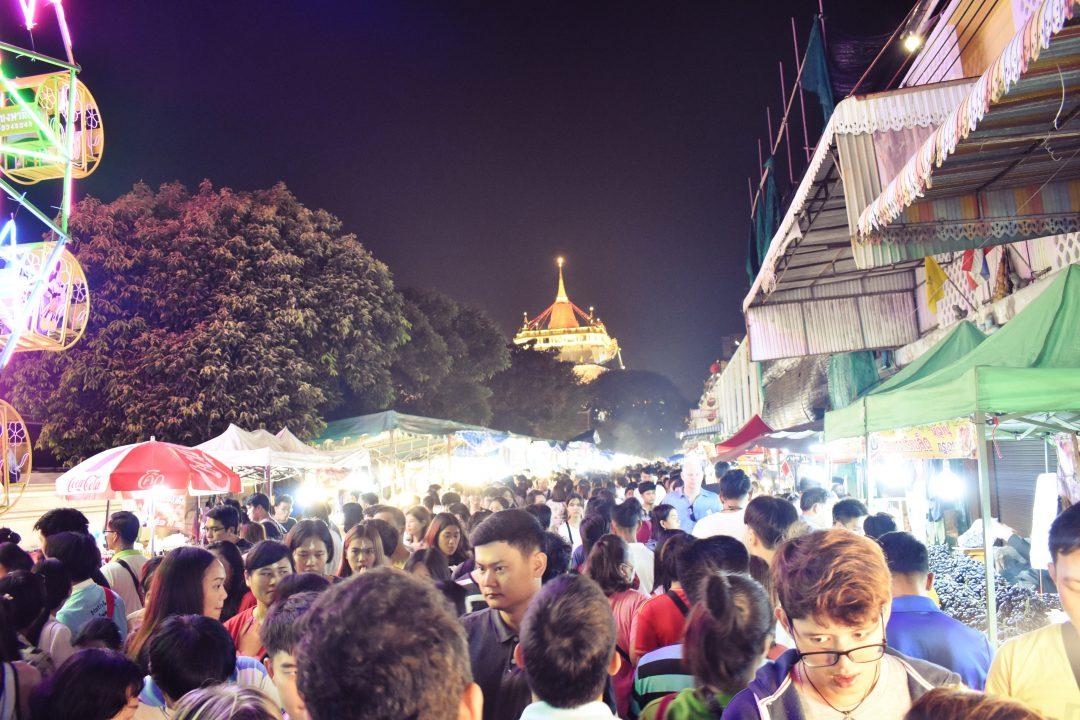 There is no admission fee for the 344 step walk to the summit of the Golden Mountain during the temple fair. It is worth the walk up for either sunset or the night time views of the fair, surrounding area & the full moon. However, be warned that there is a big queue to ascend to stop overcrowding on the summit and the crowds may not be to everyone?s taste.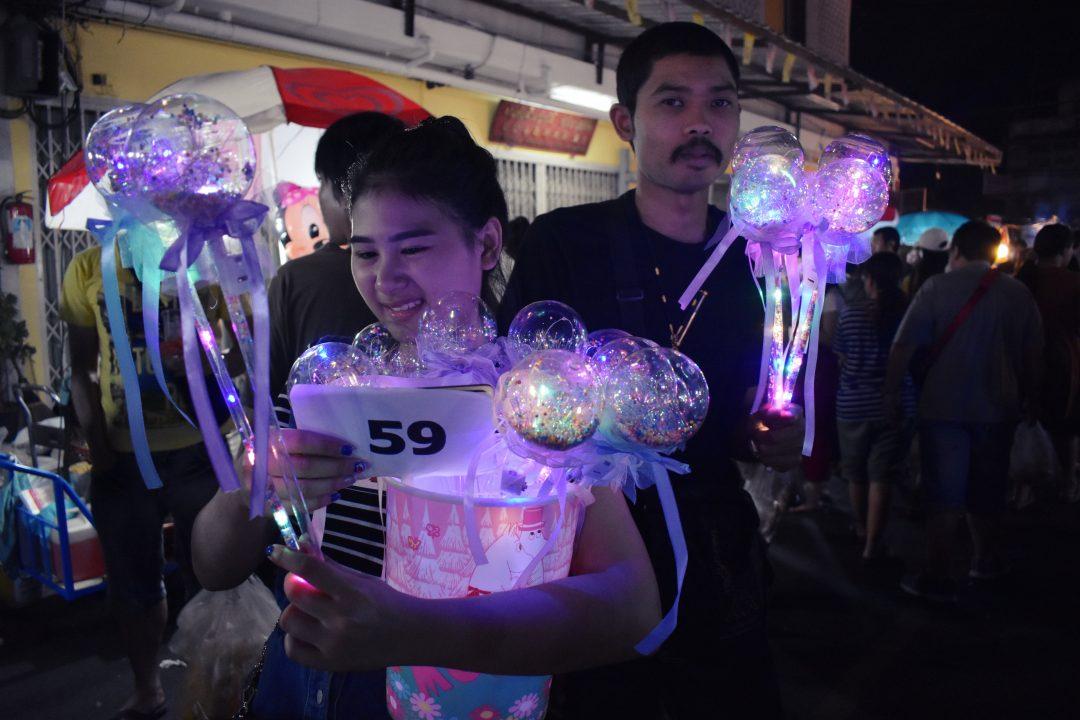 Golden Mountain Temple Fair Activities
One of the most popular activities at Thai temple fairs is the shooting gallery. There are several variations using pistols, rifles, and also darts. The guns are not real ones but shoot pellets, & plastic darts. The targets are small stuffed toys, target boards, or cans. Other variations are throwing darts at balloons & balls into small buckets. The prizes are usually stuffed toys in various sizes. You can spot a big winner among the crowds who will be clutching a giant teddy bear. The games are not free but are cheap.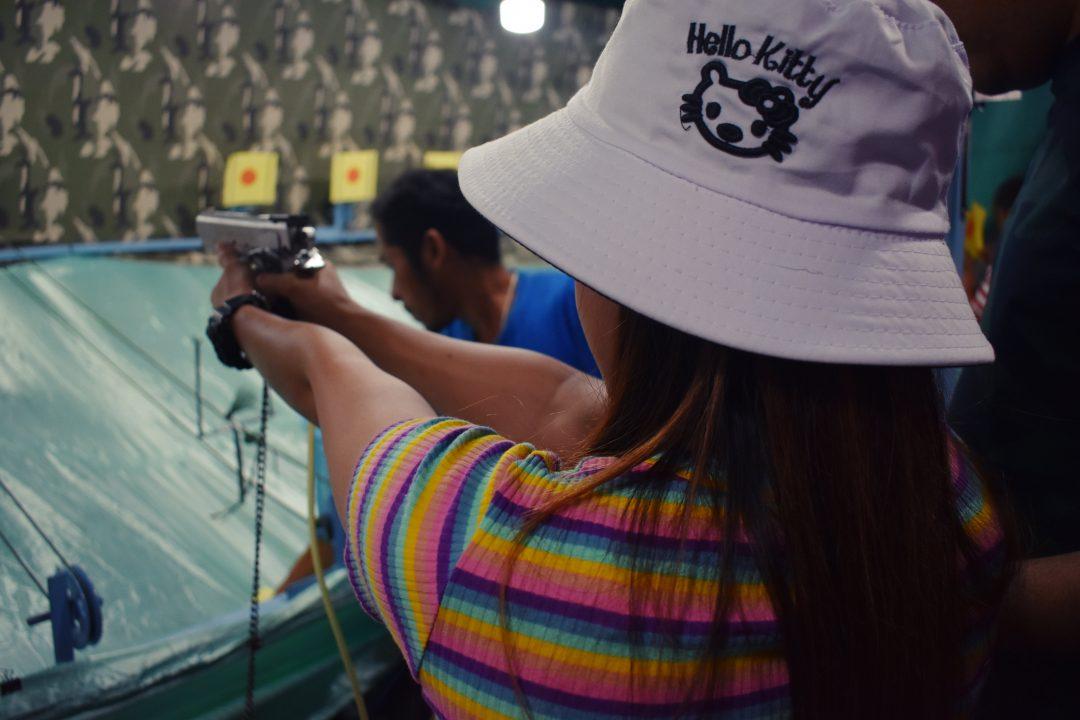 Another popular activity with children & even young adults is model painting. There were several stalls selling plaster models of popular cartoon characters, animals & vehicles along with a small painting kit. A seated area was provided for painting the models. The models were 30 to 40 baht and more depending on size.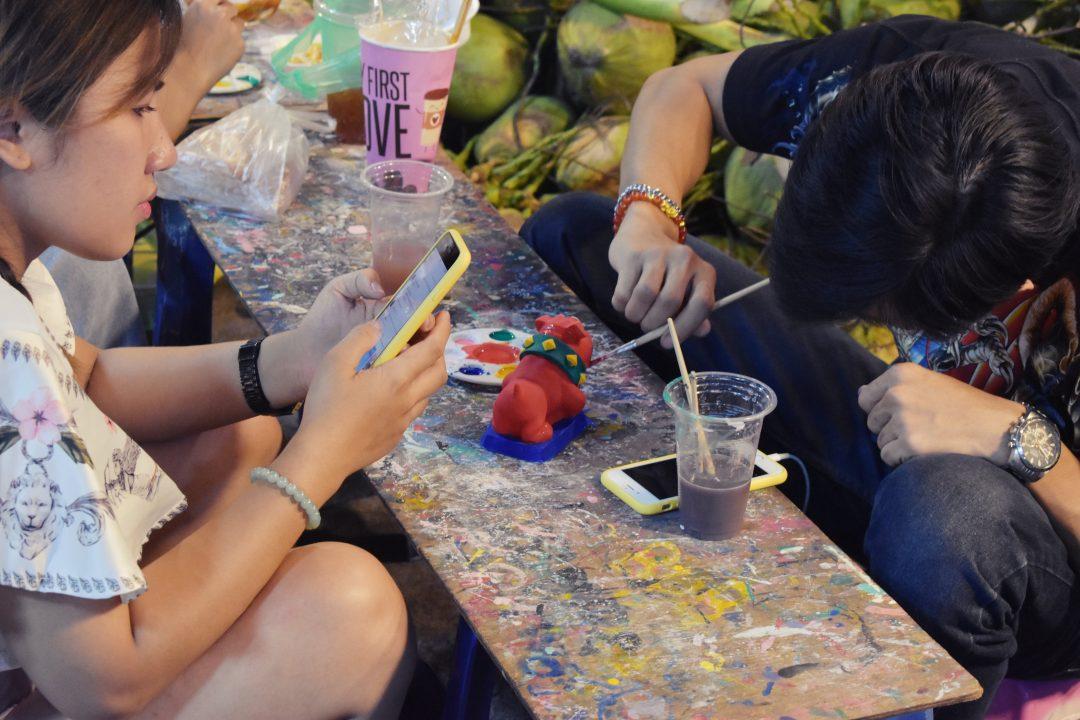 Retro Fair Rides
One of the most distinctive features of any Thai temple fair is the brightly lit Ferris wheel. The wheels, known as Chingcha Sawan (heavens swing) are a classic retro ride operated by hand turning a wheel. The wheel looked ancient but was popular attracting a never-ending queue of eager riders at 30 baht a ride.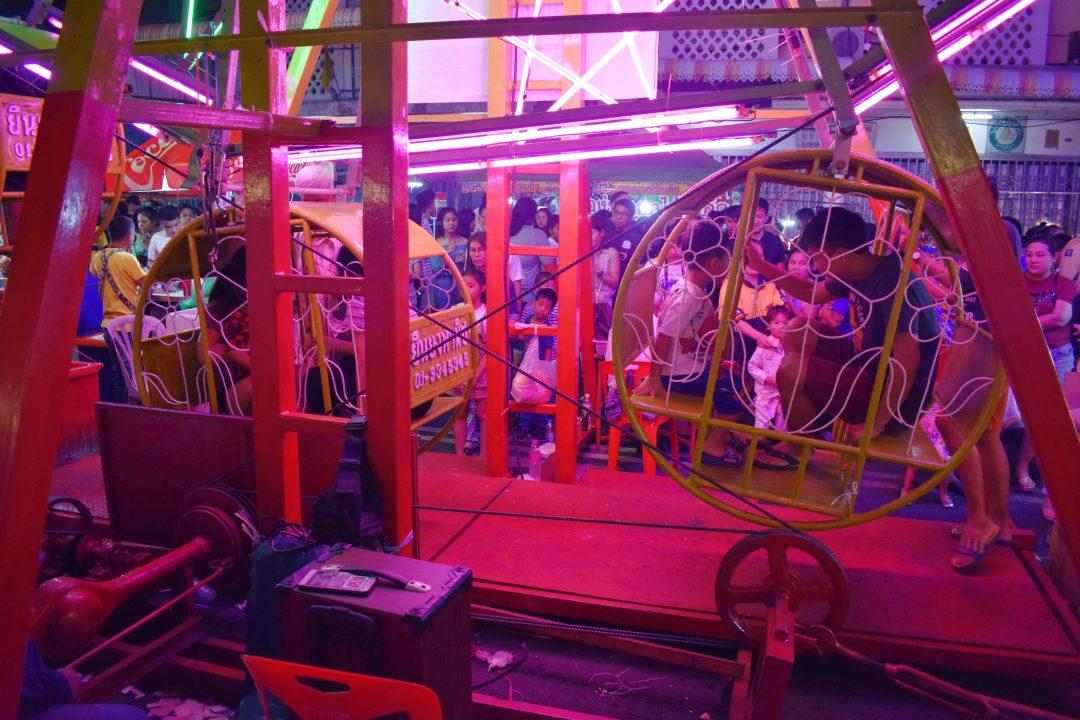 Ghosts & Ghouls
Thai people love ghosts & ghost stories as evidenced by the continual stream of local ghost-themed movies in Thailand?s cinemas. So, no surprise that the fair had not one, but two haunted houses, attracting a stream of visitors paying 20 baht for the chance to be ?haunted?. Entering within, you will be in total darkness apart from some ghoulish looking ?ghosts? who will suddenly leap out of nowhere in an attempt to scare you.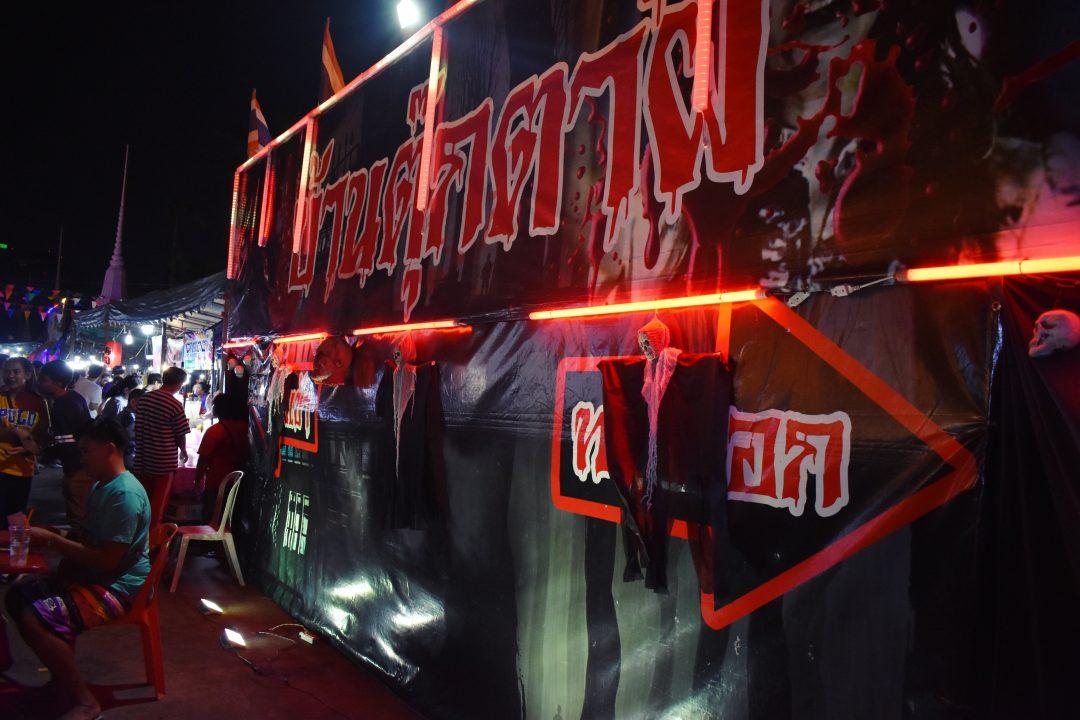 Other attractions included a bouncy castle for younger children & a massage area that was popular with older people. Also around the complex were music & dance areas as well as some unique solo performers.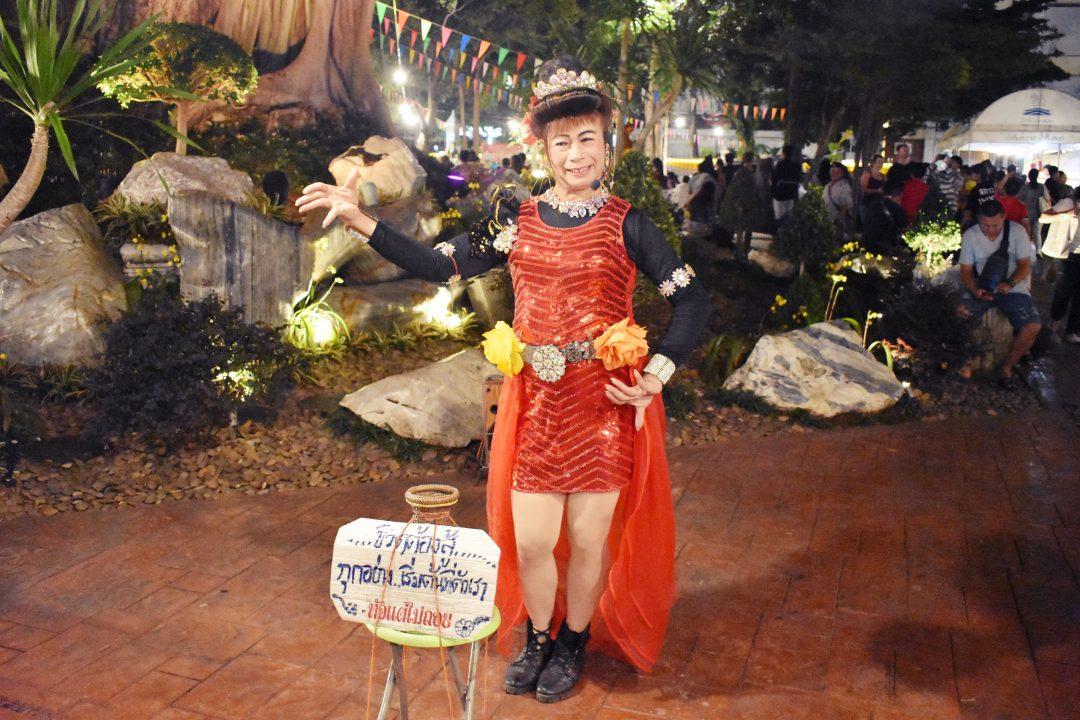 Golden Mount Temple Fair Food
There was a staggering variety of Thai street style food on offer including papaya salad, noodle dishes, moo ping (grilled pork), curry puffs, fried insects, five baht Sushi, meatballs & the ubiquitous sausage on a stick. More interesting were the Kao Lam (sticky rice in a bamboo tube) & Khanom Jaak (steamed coconut grilled in banana leaves). French fries were the only nod to western style food while the most exotic offering was a spit roast crocodile. Thai temple fairs in Bangkok are alcohol free zones but soft drinks, smoothies, coffee & tea drinks were plentiful.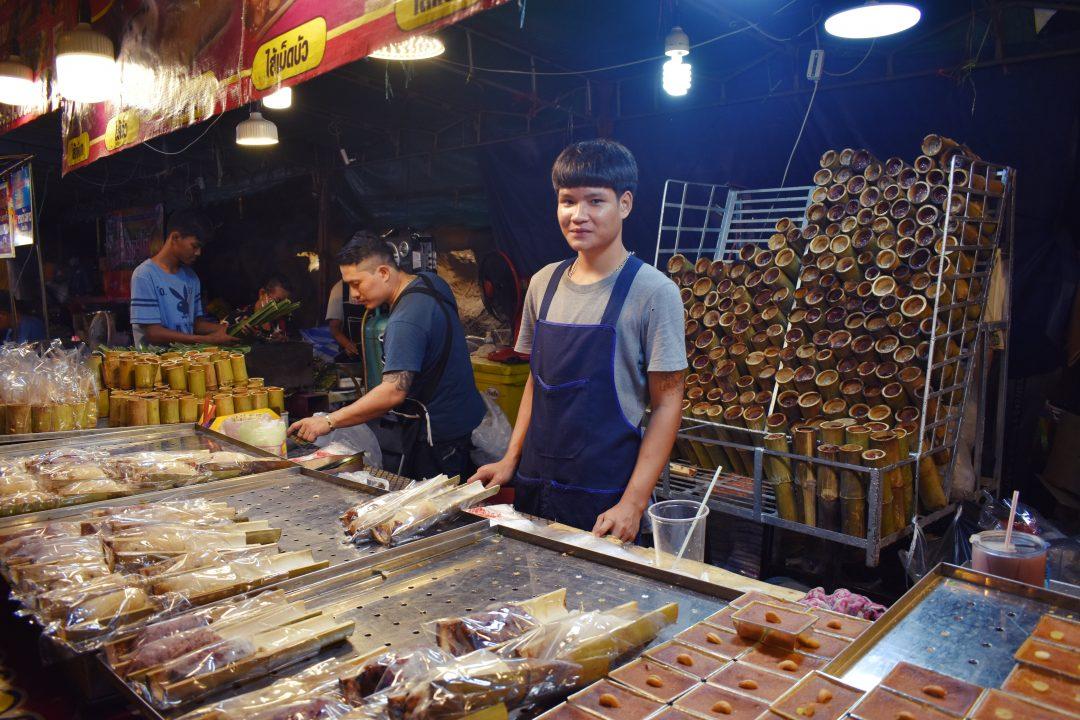 Making Merit
Making merit is an important aspect of Thai festivals in which the Buddhist religion plays an important part. All Thai festivals have a link to Buddhist beliefs. Making merit entails doing good deeds or acts such as donating money, food or supplies to temples, monks & charitable causes.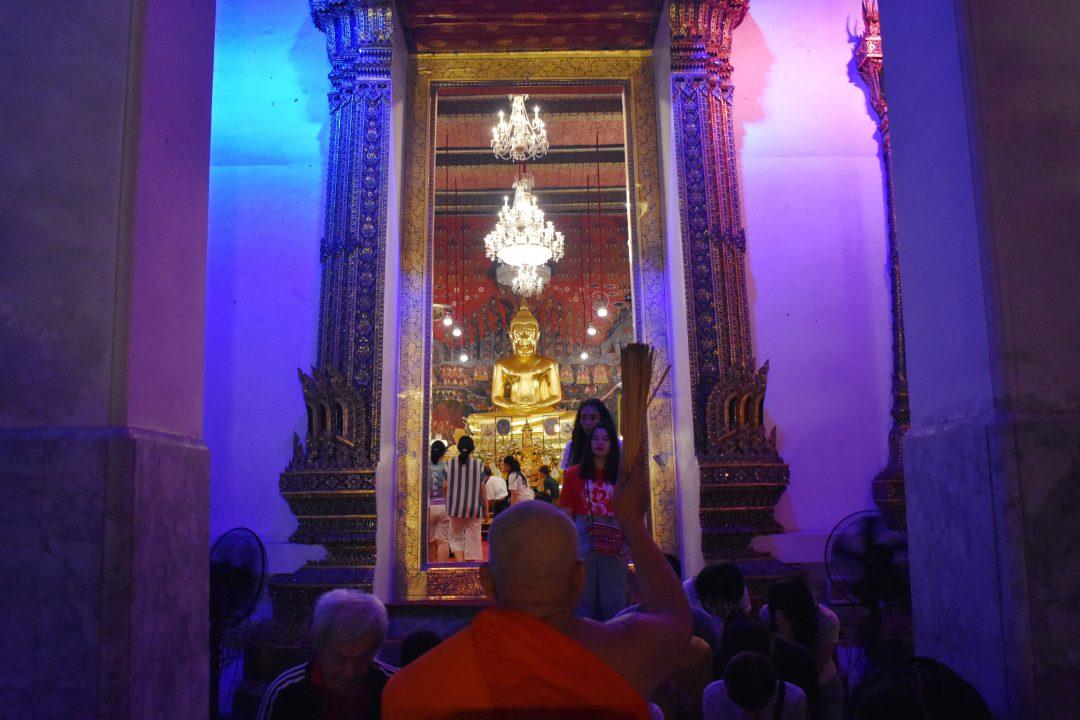 During the temple fair, Wat Saket?s ordination hall is busy with worshippers seeking good luck, good health & prosperity. There are several monks in attendance to give blessings, receive prayers and tie sacred strings to wrists. The sacred string is believed to bring good luck & protection. A donation should be made, usually 20 baht. Blessings are administered with a spray of water administered with a brush that is dipped in consecrated water.
Loy Krathong
As the Golden Mountain temple fair coincides with Loy Krathong there were Loy Krathong activity areas inside the temple compound. A small artificial pond with a replica model golden mountain was used for floating small candle Krathong.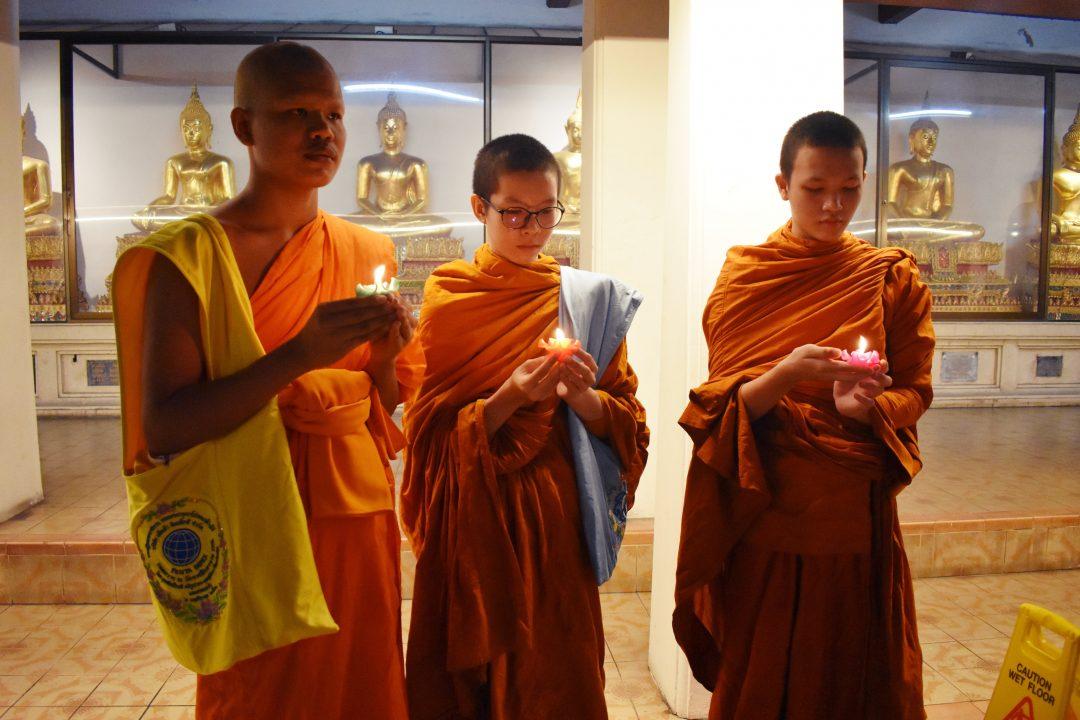 A stall next to the pond sold brightly colored small candle Krathong. The candles were lit before a prayer was made and the candle krathong was floated on the water.
When is the Golden Mountain Temple Fair?
The exact dates are determined by the Buddhist lunar calendar. The next Wat Saket temple fair will be in 2020 from October 25th until November 1st. The fair will be open from 17.00-24.00 daily. Check back nearer the date for confirmation.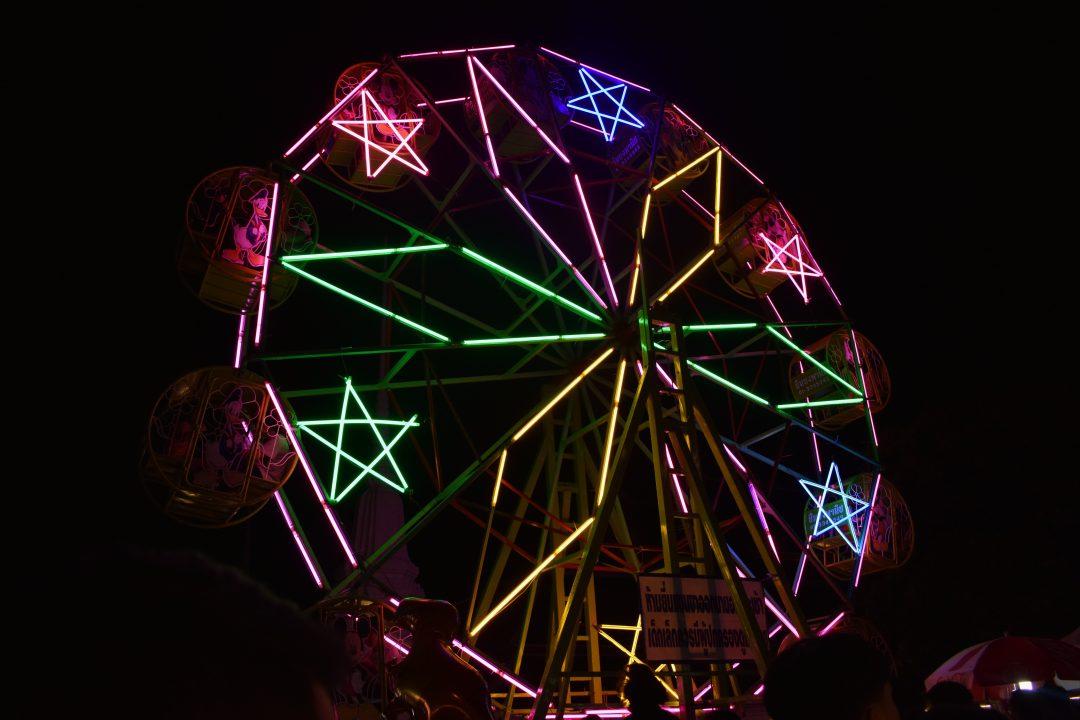 ?
?
?
Thai Temple Fairs in Bangkok
Wat Indharaviharn Temple Fair?
The Wat Indharaviharn Thai temple fair in Bangkok is usually held during the first 10 days of March. The temple is off Samsen Road & a short walk from Khaosan. The temple is famous for its large 32 meters tall standing Buddha.?
Read More about Wat Indharaviharn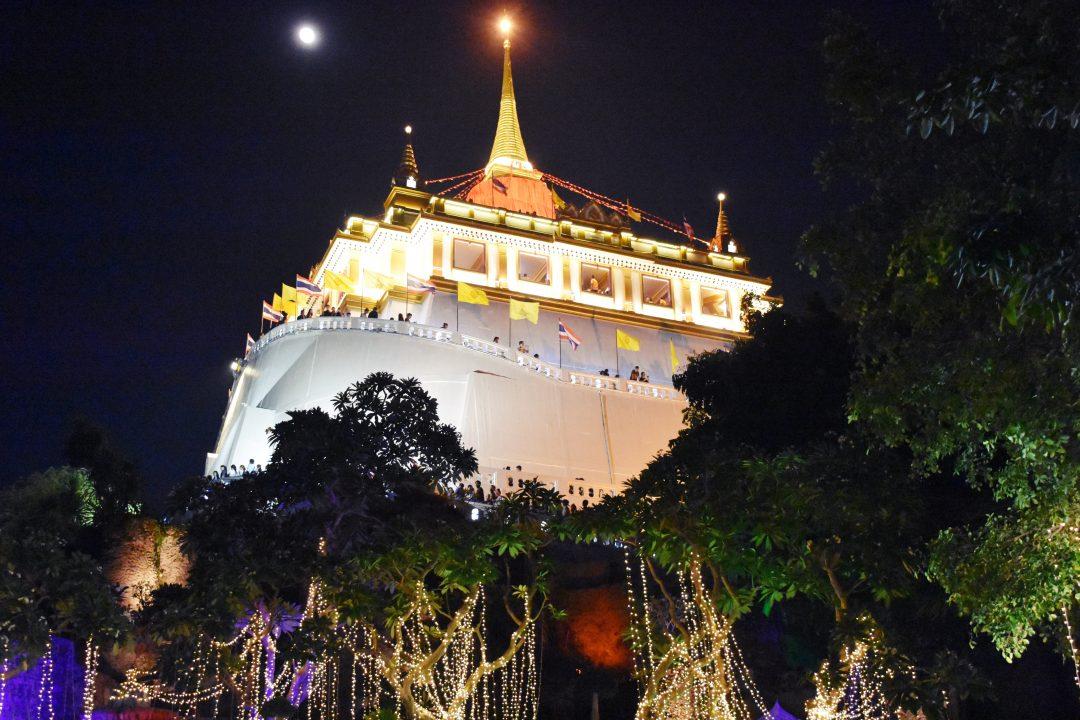 Golden Mountain Temple Fair Map
You May Also Like
Popular Pages on Tourist Bangkok
Recent Posts
Recent Posts on Tourist Bangkok Blog