Money Exchange
Where to change money in Bangkok
?
If you are planning a trip to Thailand it is important to get the most out of your hard-earned cash. It starts before you arrive in Thailand with money and getting the best exchange rates. Read on to learn about …
Thai Money
The best place to exchange money in Bangkok Airport
Where to change money in Bangkok
Thailand ATM Fees 2020
The cheapest ATM Fee in Thailand 2020 & lots more!
Thai Money
The Currency of Thailand is the baht (THB). It comes in both notes and coins. The baht is subdivided into 100 Satang. The notes are issued in baht denominations of 20 (Green color), 50 (Blue), 100 (Red), 500 (Violet/Purple), 1000 (Brown). The coins you will mostly encounter are 10 (Silver color with a Bronze center), 5 (Silver), 2 (both Silver and Bronze), 1 (Silver). You are unlikely to encounter satang but if you do it will be the 50, and 25 which are both Copper colored. The 2-baht coin can easily be confused with the 1 baht coin due to the small difference in size.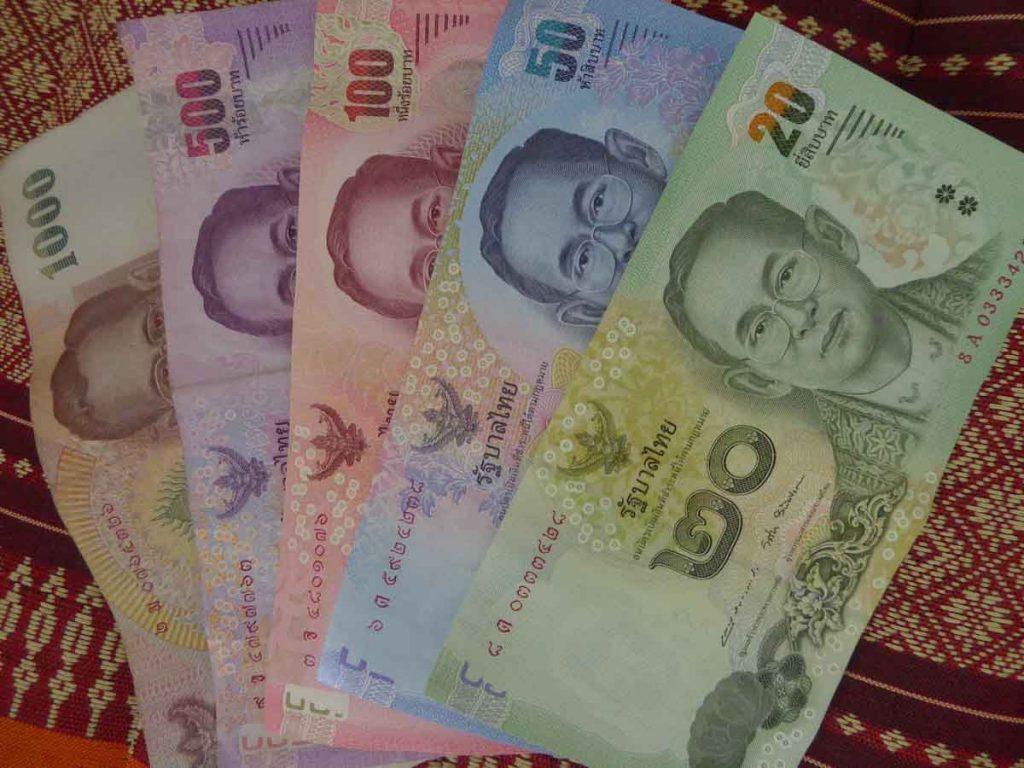 Some people write a 2 on them to aid identification. If you do this BE SURE not to write on the King's head which would be offensive to Thai people. Try to carry plenty of smaller notes with you as outside of large shops and restaurants it can be difficult to change 500/1000 notes. Don't try to pay for small value items, taxis or tuk-tuks with high-value notes.
Bangkok Airport Exchange Rate
The Bangkok Airport Exchange Rate is excellent if you go to the right place. Do not change money in the baggage claim area or in the arrivals hall. You will get at least 5 to 10% more if wait till you have exited immigration & customs.
Best place to exchange money in Bangkok Airport
Where to change money in Bangkok Airport? If you are arriving at Suvarnabhumi Airport (BKK) go to the basement airport rail link station. This is the best place to exchange money in Bangkok Airport. The exchanges offer better rates than those in the terminal. There are also automated exchange machines at the same rate. 
Best Exchange Rates at Suvarnabhumi Airport
Money Exchange at Don Muang Airport
If you are arriving at Don Mueang Airport (DMK) the best rates are available at Don Muang Railway Station.
Best Exchange Rates at Don Mueang Airport (DMK)
Where to change money in Bangkok
Knowing where to change money in Bangkok can be confusing for tourists as there are many currency exchanges. Most are conveniently located in malls, stations & on streets in tourist areas. There are also mobile ATM minivans which are often parked in tourist areas.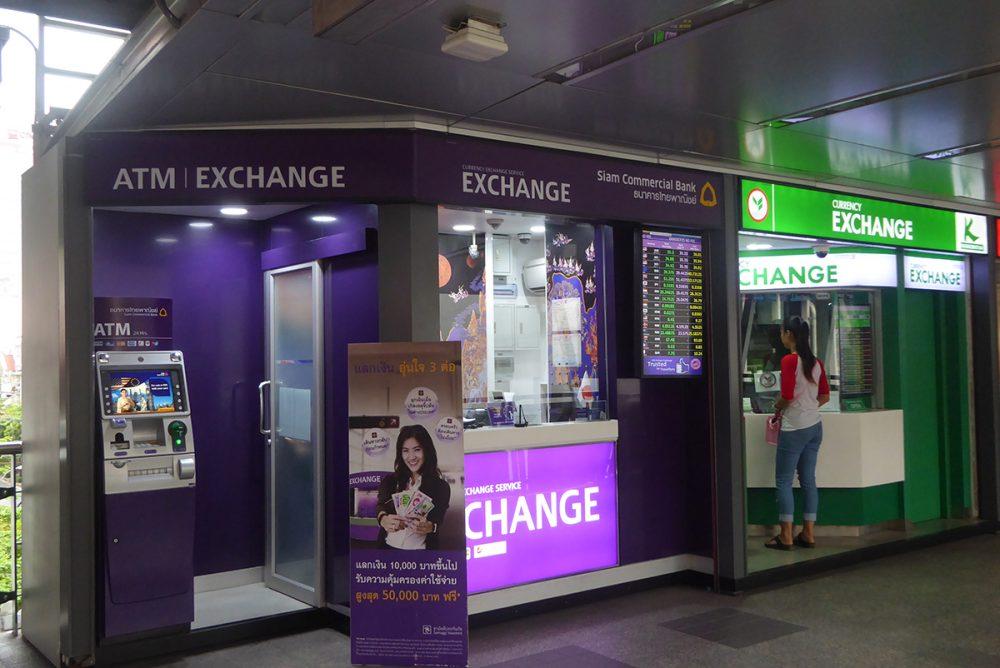 Exchange rates at Thai Banks
Thai banks all offer similar rates and don't charge commission. Thai banks offer the worst exchange rates. The worst rates are offered by SCB (purple). The best rates are offered by Kasikorn (green). Note that banknotes that are damaged, look old, or have writing on will be refused. Thai banks don't like Scottish banknotes. They will often refuse them
Thai banks are open from 8.30 – 15.30 Monday – Friday, except for public holidays. Branches in shopping malls are open 7 days a week including holidays from 10.00 to 19/20.00.
Best Money Exchange in Bangkok
Where to change money in Bangkok? – The best money exchange in Bangkok is…
Superrich Orange
Superrich Green
Happy Rich
Twelve Victory
Value Plus
SuperRich Thailand – Best Money Exchange Bangkok
The best money exchange in Bangkok is an independent money changer called SuperRich Thailand. Their booths are orange colored and should not be confused with another exchange called Superrich who has green booths. However, both of them usually offer the same rate.
There are several SuperRich clones, SuperRich Green, Happy Rich, Value Plus & Twelve Victory who will offer similar rates depending on location. SuperRich will also let you withdraw money at SuperRich rates using a credit card though there is a 3% charge.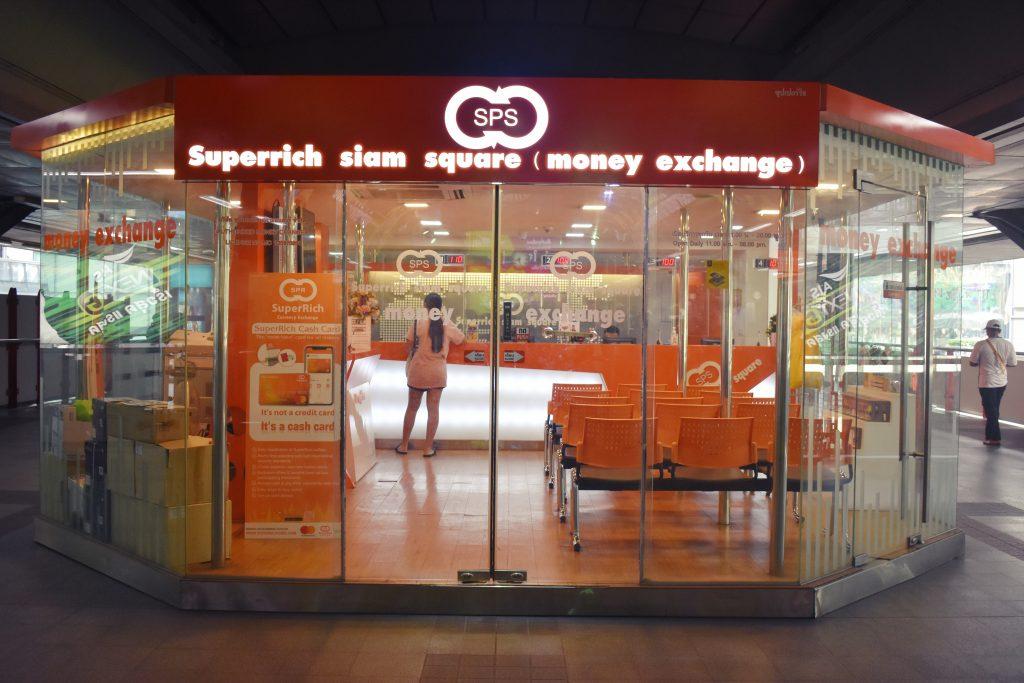 You can check the latest SuperRich rates at different branches & convert currencies here …
Click Here for the SuperRich Currency Converter & Latest Rates
SuperRich Bangkok Branches
You can find SuperRich (Orange) exchanges at the following locations ….
BTS Stations – Chit Lom, Siam, Asoke, Nana, On-Nut & Victory Monument Stations.
MRT Stations – Sukhumvit, Phra Ram 9, Khlong Toei, Chatuchak Park Stations.
Malls – Icon Siam, Central Embassy, Central World, Silom Complex, MBK, Gaysorn Tower, IconSiam, Pantip Plaza, Central Ladphrao, Big C Rajdamri
Airport Rail Link Stations – Phaya Thai, Suvarnabhumi Airport
Silom (near Chong Nonsi intersection)
Chinatown Station One, Yaowarat
Hualamphong Railway Station
Interchange 21 Tower at Asoke
Bangkok Hospital
Phloenchit at Lang Suan.
The SuperRich Thailand Head Office branch is at (Rajdamri Road, Opposite Central World). This the best money exchange in Bangkok and is where you will get the best Superrich Thailand rate. The difference with the exchange booths is negligible but if you are changing a large sum it is worthwhile. If you are traveling on to other countries after Thailand or back to your home country you will get a good deal exchanging currencies here compared to when you arrive at your next destination. You will need your passport. They do not exchange traveler's checks. There is a second head office, take a left at the end of the soi. This branch is quieter and you will get served quicker.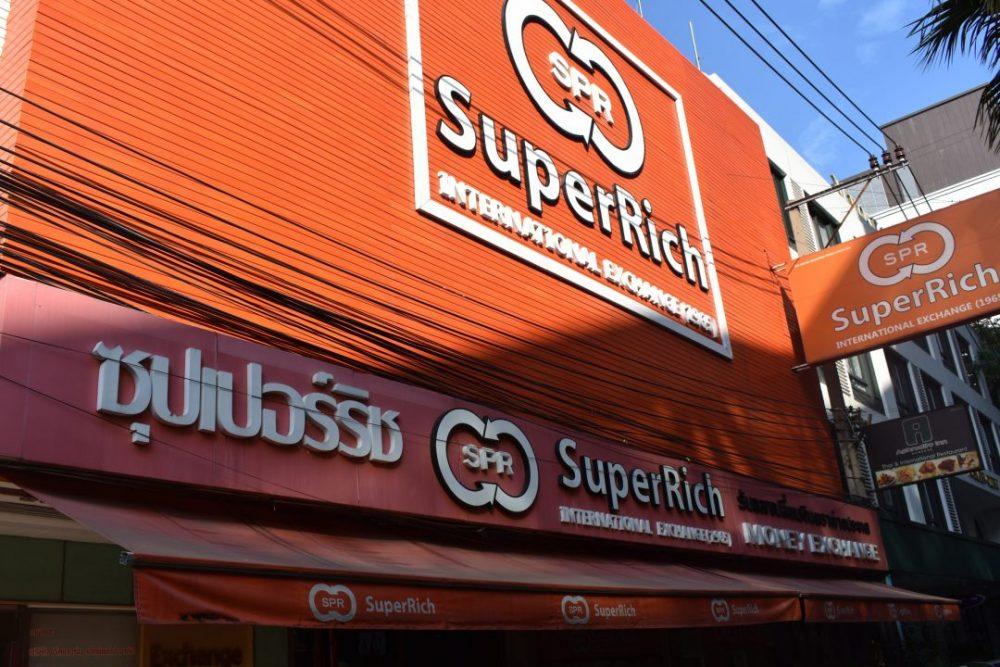 SuperRich Thailand Branches
Outside Bangkok, there are SuperRich Thailand branches in
Khon Kaen
Phuket
Hua Hin
Korat
Udon Thani
Aranyaphrathet
Ubon Ratchathani.
Check here for exact locations & maps of SuperRich Thailand branches.
Thailand ATM Fees 2020
Bangkok has thousands of ATM machines that should accept foreign debit/credit cards issued by International banking networks such as Plus and Cirrus etc. On many Thai bank ATM machines, you will see a sign informing you that you can "get Thai baht here"! What they don't advertise is the fee they charge you which only crops up later in the transaction. The Thailand ATM fees in 2020 are now 220 baht and there are plans to raise it further to 250 baht. The high bank charges can be avoided by using AEON who has the cheapest ATM fees in Thailand 2020.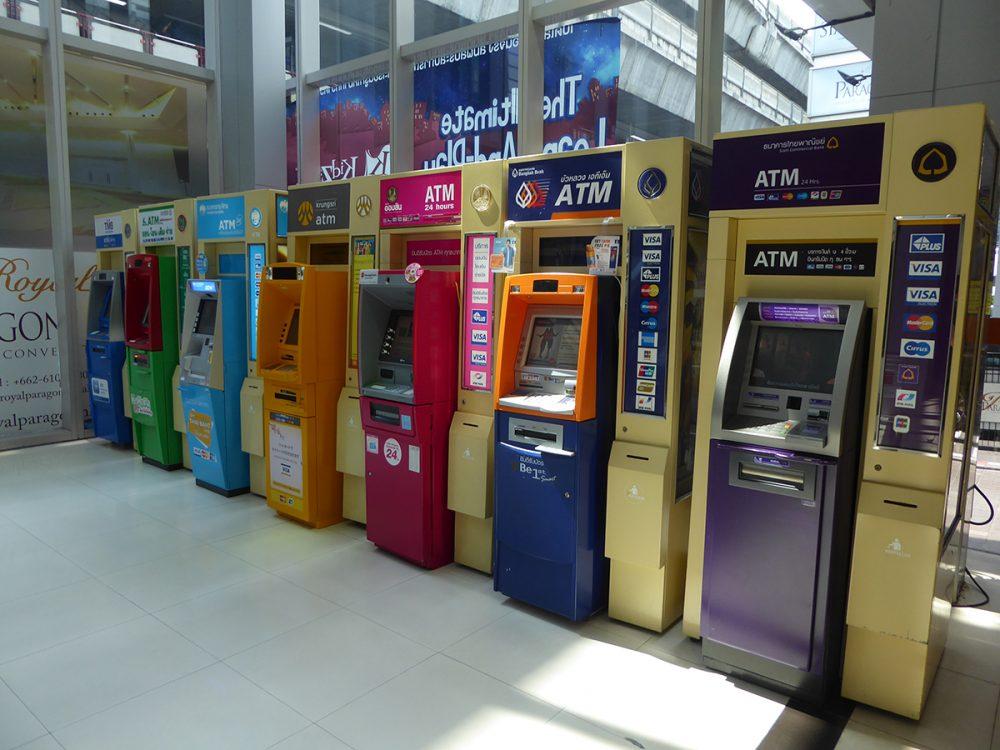 They also mostly limit any transaction to 20 notes which limits the amount you can withdraw in any one transaction. The withdrawal limit is also subject to your home bank's withdrawal limit.
The reason for the high charges seems to be greed as banks in other countries in the region such as Cambodia, Korea, Japan, Malaysia, Singapore, and Vietnam either allow free withdrawals or charge a fee that is a fraction of the Thai bank's fee. 
Cheapest ATM Fee in Thailand 2020
Citi Bank offers free withdrawals for Citibank cardholders with a 50,000 baht withdrawal limit. However, they only have three locations in Bangkok. The fee is 200 baht for non-Citi customers. This is the cheapest ATM fee in Thailand 2020 after AEON.
The cheapest ATM fee in Thailand 2020 is offered by AEON. AEON has a withdrawal fee of 150 baht. AEON is a credit card/personal loan provider, not a bank. They offer International withdrawals through their ATMs and charge 150 baht per transaction. The withdrawal limit is 20,000 baht. This depends on the limit that your home bank has on withdrawals & the exchange rate. Check the exchange rate first. If you cannot withdraw the limit then you need to keep trying by going down 1000 baht a time. You only get charged when you make a successful withdrawal.
?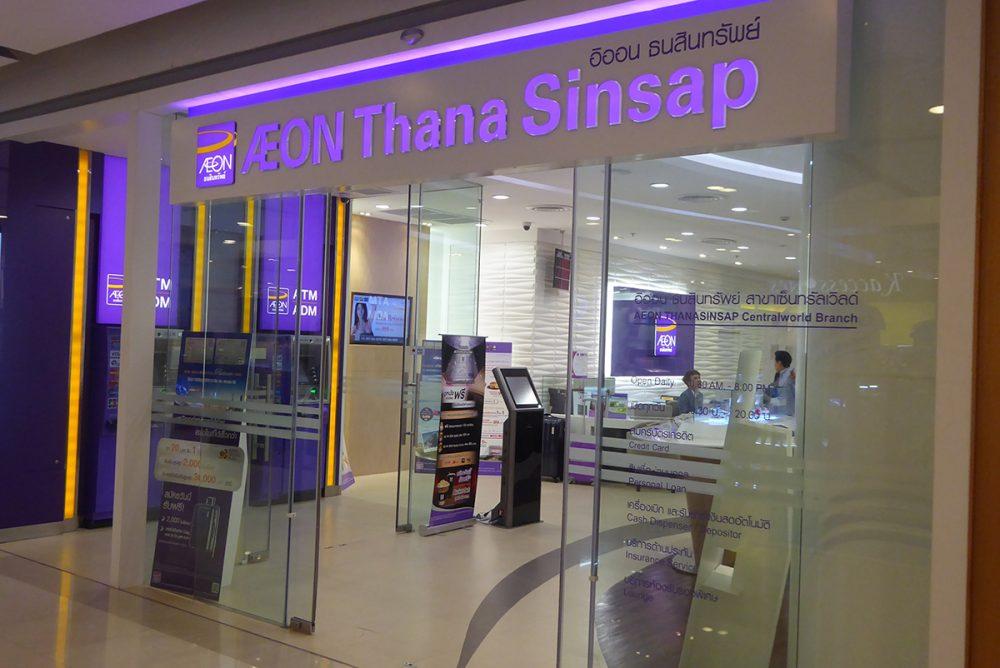 AEON ATM in Bangkok
There are AEON ATM in tourist areas at the following locations. AEON also owns the MaxValue chain of convenience stores. They all have AEON ATM.?
Siam Paragon
Central World
Pinklao Central Plaza?
Central Plaza Rama 9
Big C Ratchadamri
Big C Ratchada, Big C?
Chidlom Soi 19
Rama 4 Big C
Big C Saphan Kwai
Big C Chaengwattana (near immigration office)
Fortune Town (Tesco)
MBK Mall
Terminal 21,
Tesco Lotus Sukhumvit Soi 50
Gateway Ekkamai, Silom Complex
Queen Sirikit Center
Max Valu Ekkamai
Ratchada Glass House Max Value
Max Valu Grand Diamond? Pratunam
Sukhumvit Soi 71 Max Value
Max Valu Sukhumvit Soi 81
MaxValu Tanjai Sam Yan (Ideo Condo)
Tang Hua Sen Banglumphoo (Khaosan)
Max Valu True Thonglor
Makro Sathorn
Union Mall
AEON has ATM all over Thailand. You can search here for your local branch and there is a map of each location. Check Here
?
Thailand ATM Fees 2020 – CitiBank Bangkok
Citibank – All Citi Bank cards get free withdrawals at Citibank ATM's in Bangkok. There is a maximum withdrawal of 50,000 baht depending on your home country withdrawal limit.  Citibank has the second-lowest Thailand ATM fees in 2020. The fee for other bank cards is 200 baht. ATM Locations are ….
Central World
Interchange Tower, at the Sukhumvit/Asoke intersection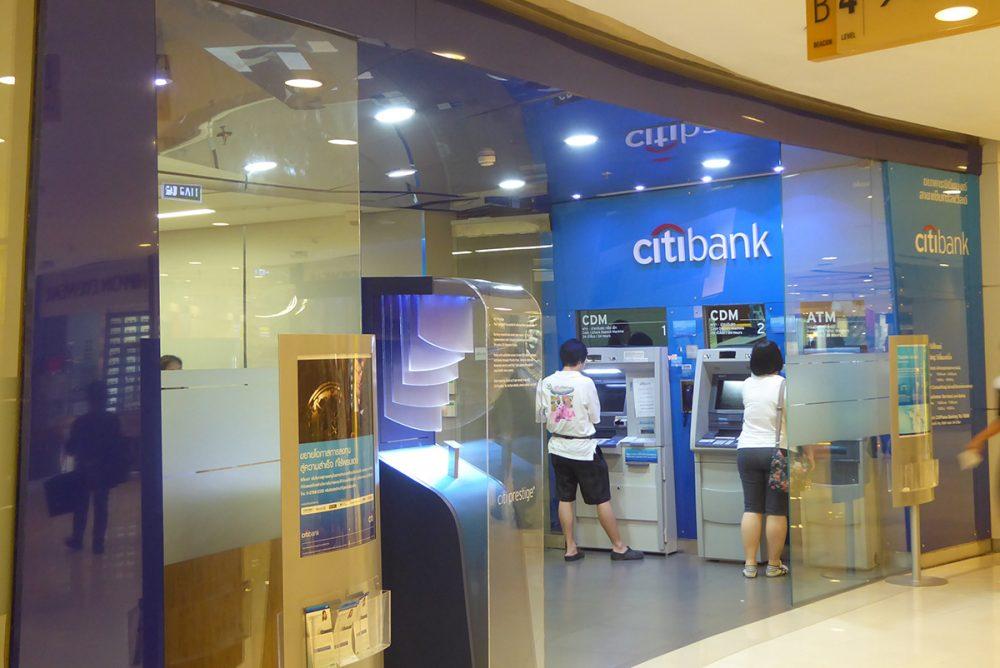 Counter Withdrawals Thailand
If you have a debit/credit card issued outside Thailand that allows you free withdrawals or cash advances you can try to withdraw money at a Thai bank counter. Some will refuse this and direct you to the ATM instead. If they do just try another bank. There will be a 3-5% charge for credit cards. Debit cards & travel cards will most likely be refused.

?
Credit/Debit Cards in Thailand
All major credit cards/debit cards such as Visa, MasterCard, and American Express can be used in almost all shops, restaurants, and hotels in Bangkok.
Watch out for Dynamic Currency Conversion (DCC) which is where when you pay by credit card you can choose to complete the transaction in Thai baht or your home currency. Always choose the Thai baht option as exchange rates are poor if you choose to pay in your home currency. If you plan on using a debit card make sure that your bank in your home country has authorized your card for use in Thailand.
?
Visit Thailand Travel Card
Visit Thailand Card is a cash card issued by the SuperRich FX company. The card is similar to prepaid travel cards that you can get in your home country except that you will get a much better exchange rate. You can load cash in any currency on the card at a special SuperRich booth when arriving at Suvarnabhumi Airport. The maximum loading amount is 150,000 Baht with maximum top-ups of 80,000 baht. The maximum spending limit per month is 300,000 baht. The currency conversion is at SuperRich exchange rates. It can be used as a debit card online or in shops & to make ATM withdrawals around Thailand. The card is backed by Mastercard. There are no fees for using the card online or in shops. If you use the card outside Thailand there is a 3% transaction fee.
?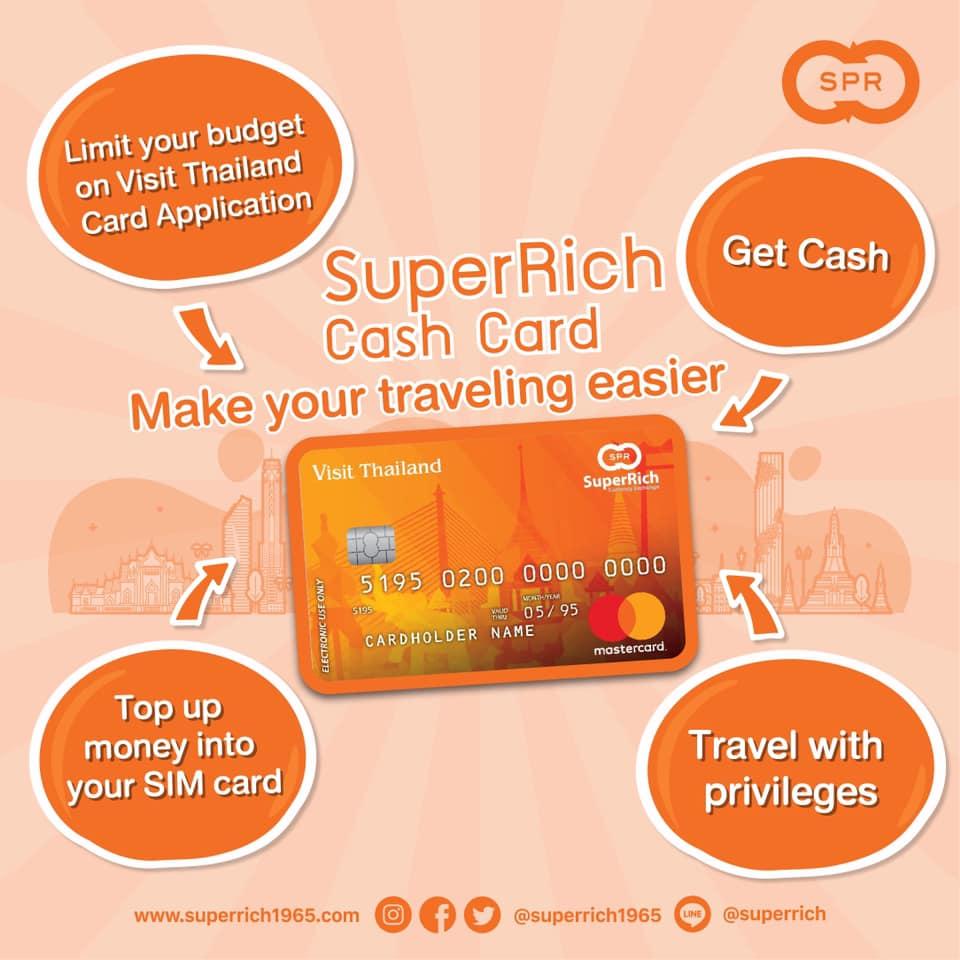 You need to register for the card and there is an issuing fee of 160 baht. The local ATM fee is about 20 baht per withdrawal (charged by Thai banks) plus a 50 baht fee from SuperRich from January 1st, 2020. If the card is used outside Thailand charges may apply. There is also a range of discounts available when using the card at participating merchants. There is a mobile app that you can download to keep track of your withdrawals & spending. The card can only be used with ATMs or merchants that accept MasterCard or Cirrus.
You can buy the card on arrival at Suvarnabhumi Airport. There is a dedicated counter in the basement railway station. Not all Superrich exchanges sell the card.?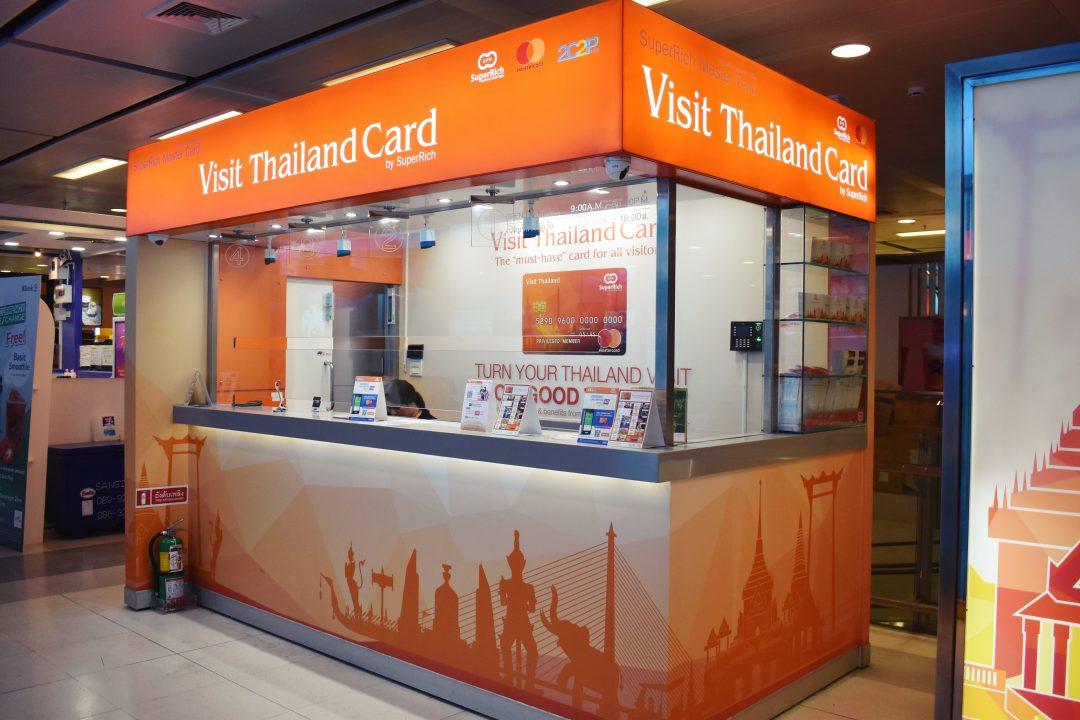 International Money Transfers
If you need money wired to you from friends or family, Thailand has two International money transfer agents, Western Union, and MoneyGram. Both have worldwide networks and multiple outlets in Bangkok where you can receive funds. You can check locations and fees at the links below.
https://www.westernunion.com/th/en/home.html
?
Opening a Thai Bank Account
It once was easy to open a savings account with an ATM card in Thailand to use while you were traveling. but in common with other countries, Thailand now has stricter anti-money laundering laws. Most banks now need a work permit or long-term visa. It may still be possible to open an account on a tourist visa with KTB if you take their shop smart pearl debit card which includes medical insurance. Try applying at the Krung Thai bank Nana branch at Sukhumvit, Soi 2, ask at the desks to the left as you enter the building. The staff can speak English.
?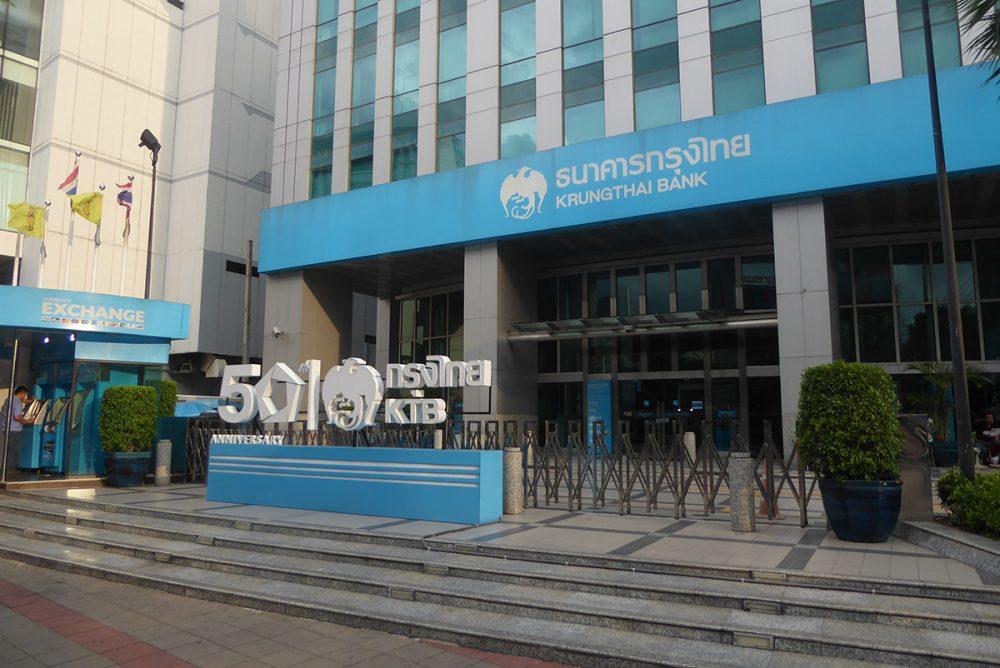 ATM Card
If they let you open an account you can get a passbook (optional), a visa debit card which you can use at retail outlets, online, and at ATM?s, both inside and outside Thailand, and Net/phone banking. The card comes with a 100,000-baht medical Insurance (within Thailand). The card issuing fee is 100 baht plus 599 baht for the insurance which is valid for one year. Higher levels of insurance are available for an extra fee.
?
ATM Fees
ATM withdrawals are free in Bangkok and 20 baht per transaction outside Bangkok. You will probably have to give an address. You will need to show your passport. The debit card is not available without purchasing the insurance. Please note that bank regulations change often about the opening of accounts so this may no longer be possible.
?