Bangkok River Transport
How to get around Bangkok by boat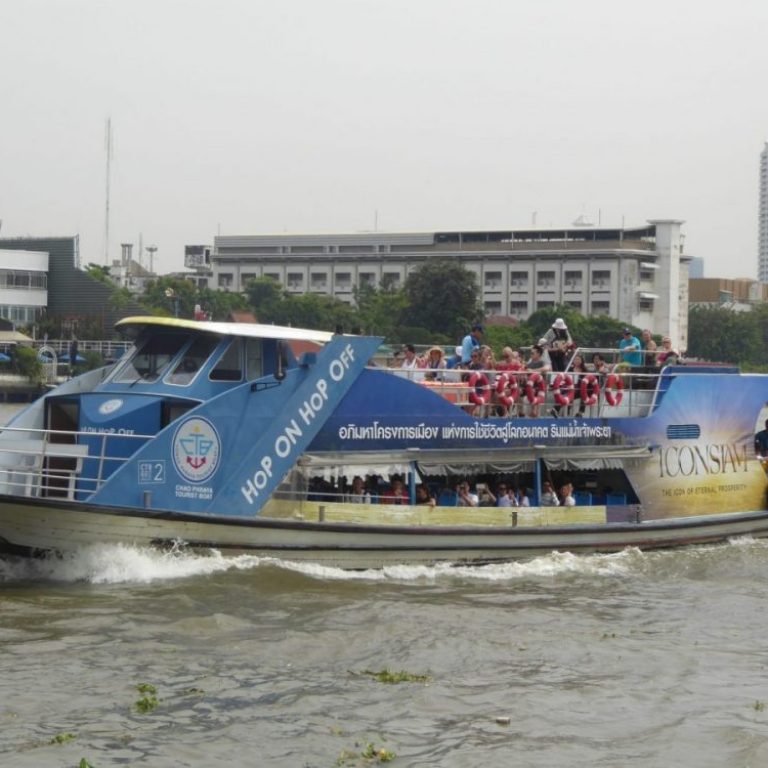 Bangkok River Transport
Bangkok River Transport consists of the Chao Phraya Express Boat, Bangkok Tourist Boat & the new Boat 4 U. They all run up and down the Chao Phraya River stopping at piers that give easy access to Bangkok's riverside Tourist Attractions. This includes the Grand Palace, Wat Pho, Wat Arun, Chinatown, National Museum and Khaosan Road. The Bangkok Tourist Boat also gives access to Bangkok's luxury riverside hotels and connects with the BTS Skytrain at Saphan Taksin. There are also, cross-river ferries, private long-tail boat, and shuttle boats operated by riverside hotels. If you get around Bangkok by boat you get to see the city's skyline & famous sights from a different perspective. 
Chao Phraya Tourist Boat (Blue Flag)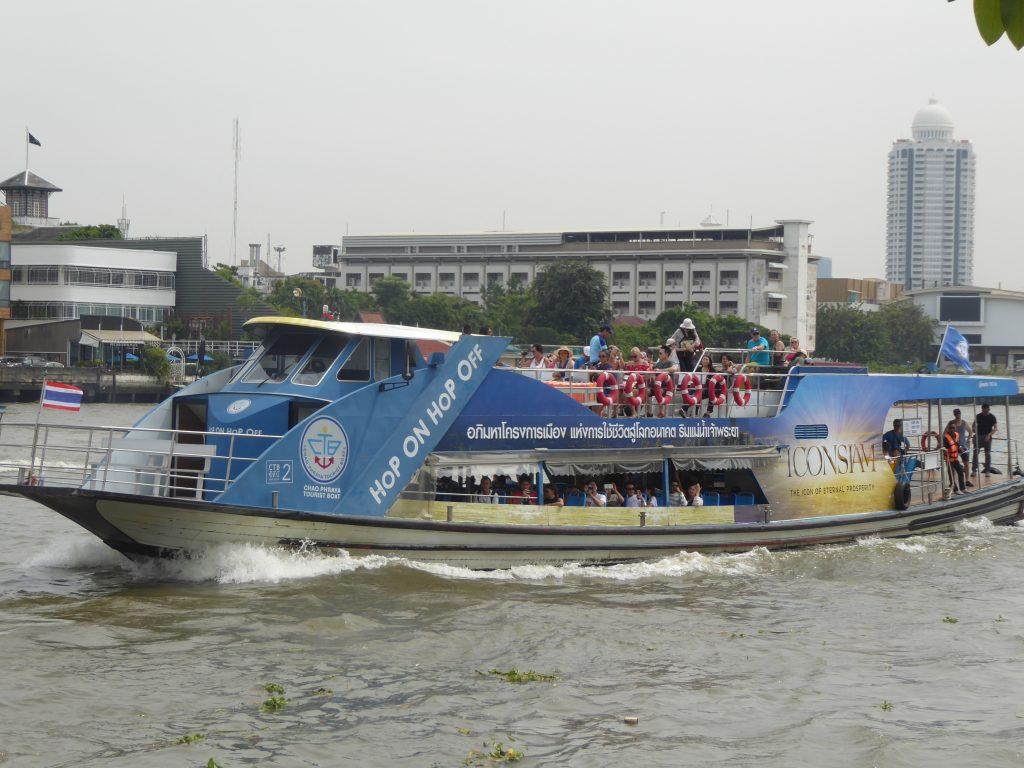 The Chao Phraya Tourist Boat or Blue Flag Boat Bangkok is a special tourist boat. It runs between Sathorn Pier (Saphan Taksin) and Phra Arthit Pier (Khaosan Road) stopping at 9 piers which give access to nearby tourist attractions.
Blue Flag Boat Fares
The Blue flag boat fare is 60 baht for a single trip ticket. There are three passes available. Number one is valid for a full day from 09.00 – 20.30. It costs 300 baht. Number Two is valid from 09.00 – 17.30 and costs 200 baht. Number three is valid from 15.00 – 20.30 and costs 200 baht. A Tourist Boat ticket counter is at each pier on the route. You get a free route map with your ticket. The Blue flag boat service operates daily between 09.30-20.30 and the frequency is every 30 minutes. The service extends to Asiatique between 16.30 and 20.30.
Chao Phraya Tourist Boat Route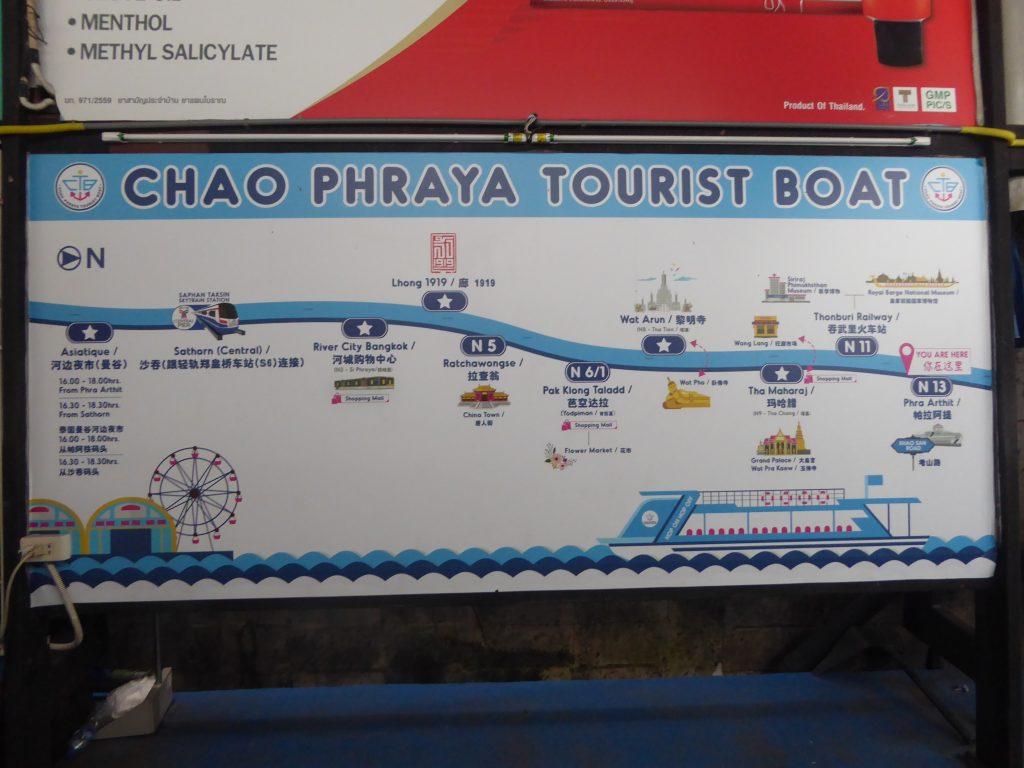 Bangkok Tourist Boat Timetable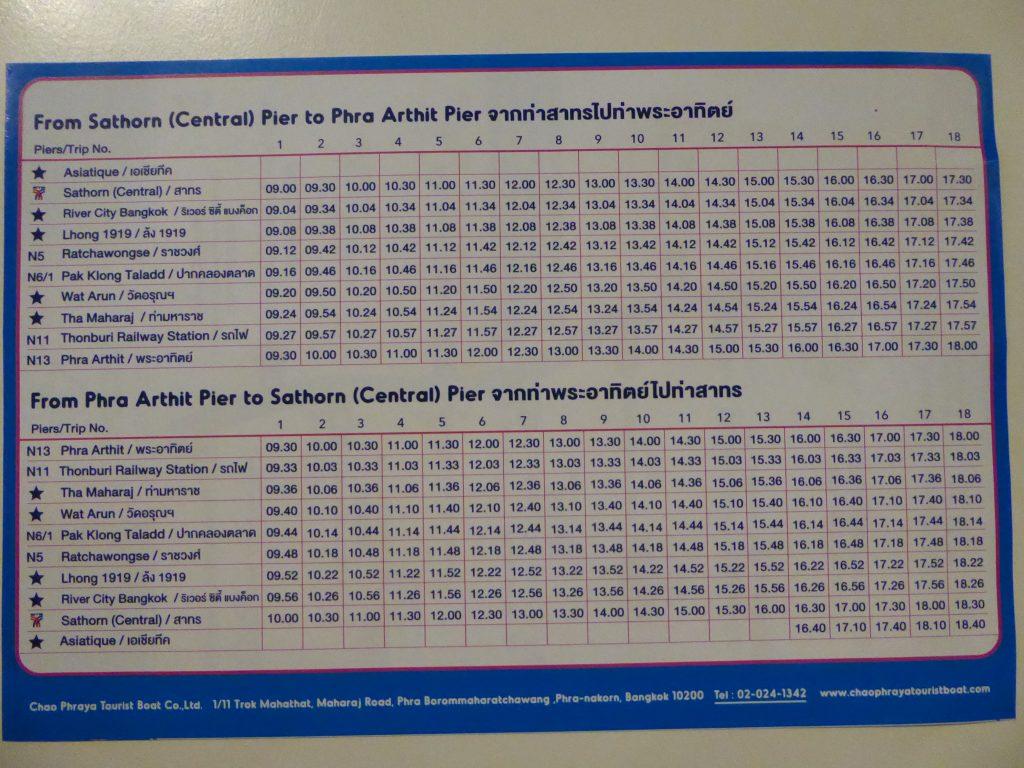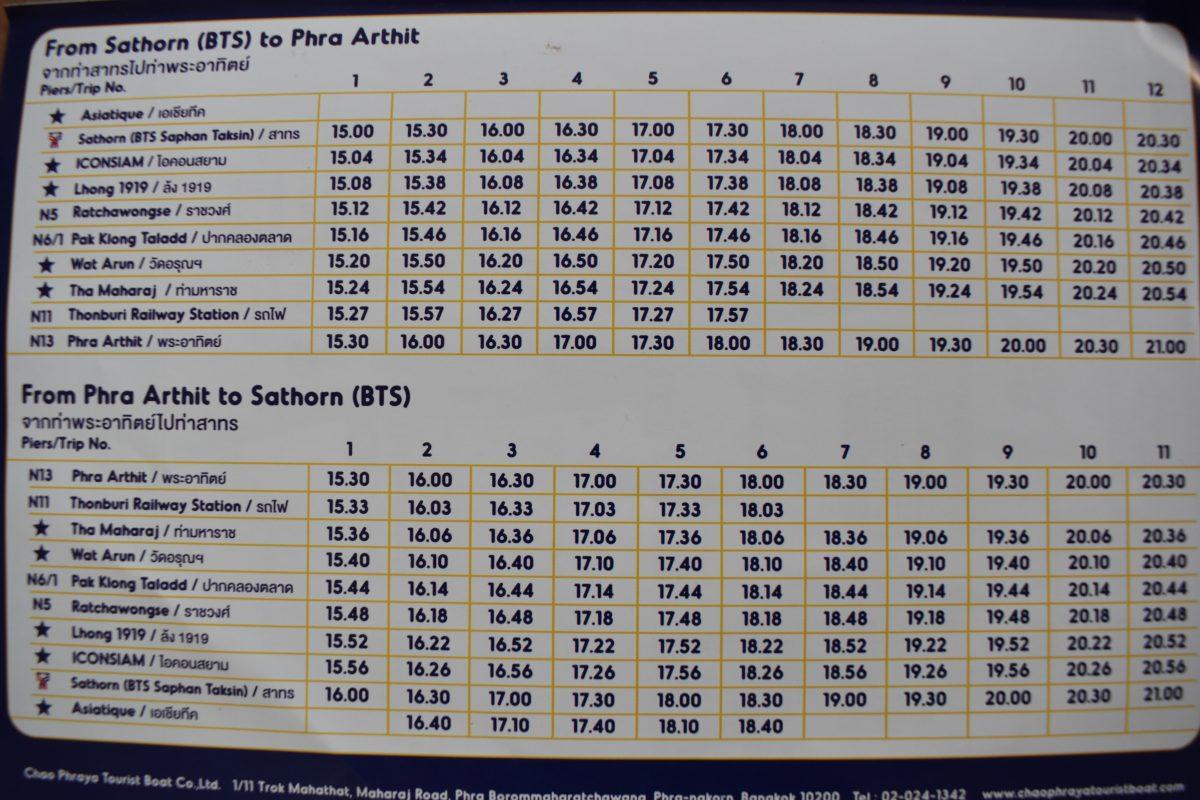 Boat 4 U – Hop On Hop Off
Boat 4 U is a Bangkok river transport service. It is a new tourist boat running in direct competition to the Chao Phraya Tourist Boat. The service is almost identical with similar boats, timetables & ticket prices.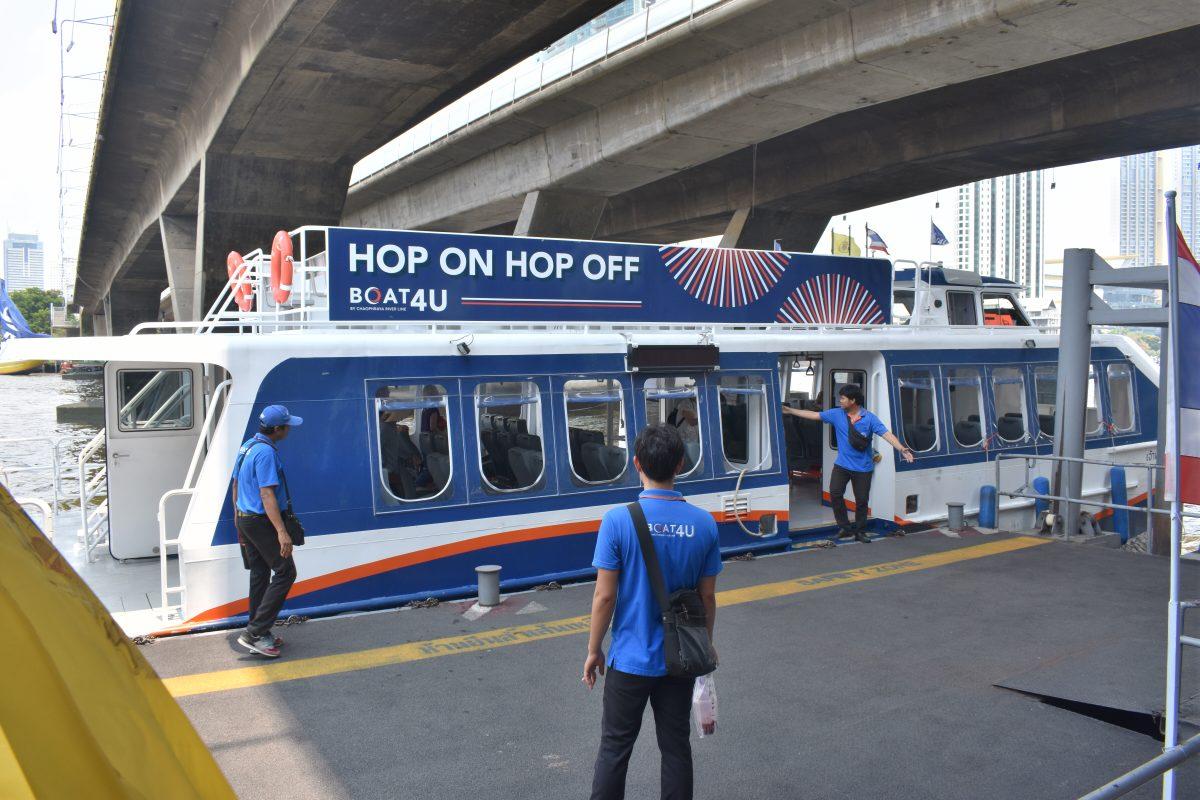 The service is operated by Chaophraya River Line. It runs between Sathorn Pier and Phra Pin Klao Pier, near Khaosan Road. The stops are Iconsiam, Llong 1919, Yodpiman River Walk (for Flower Market), Wat Arun, Tha Chang (Wat Pho & Grand Palace), and Prannok.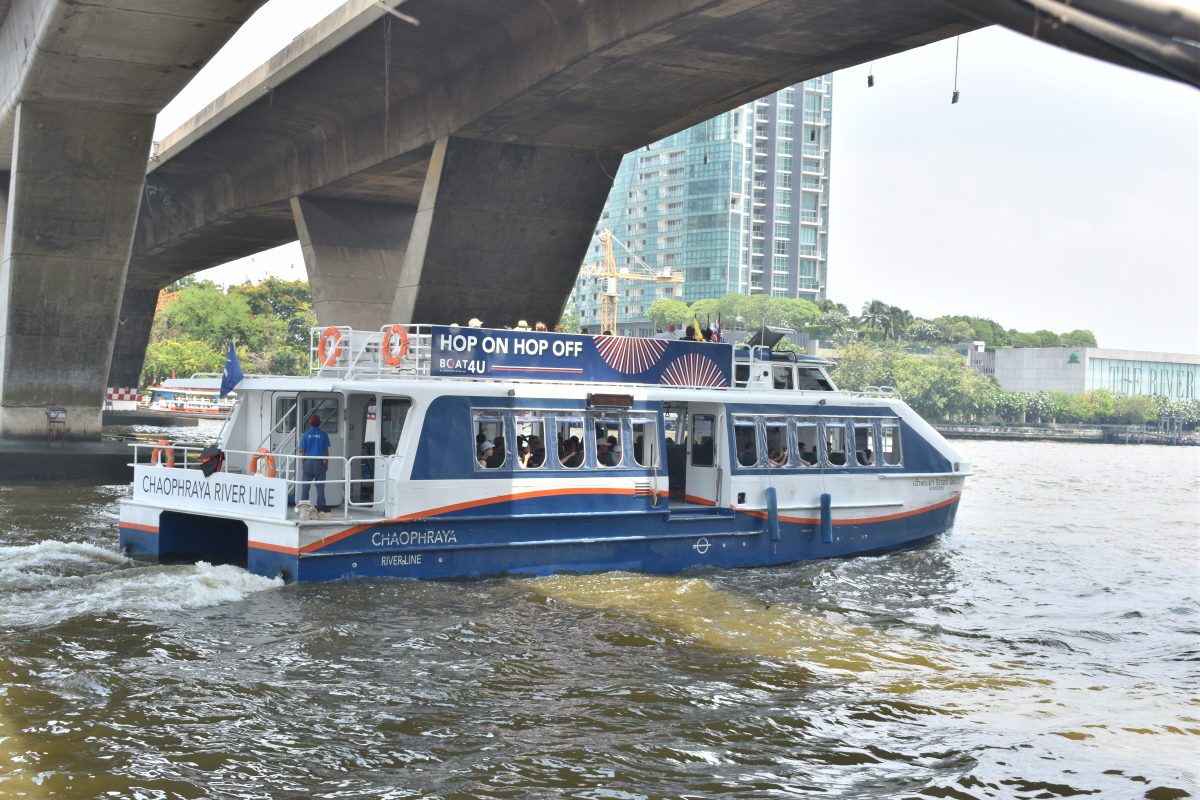 Tickets are 60 baht (single trip), 200 baht (24-hour pass), 300 baht (48-hour pass), 400 baht (72-hour pass). There are ticket booths at all of the route piers. The service operates every 30 minutes between 09.00 & 19.00 daily. The 72-hour pass is good value if you planning to spend a few days traveling up and down the river. The disadvantage is that it does not run to Chinatown or Phra Arthit Pier for Khaosan Road. You will have to cross the bridge to get there.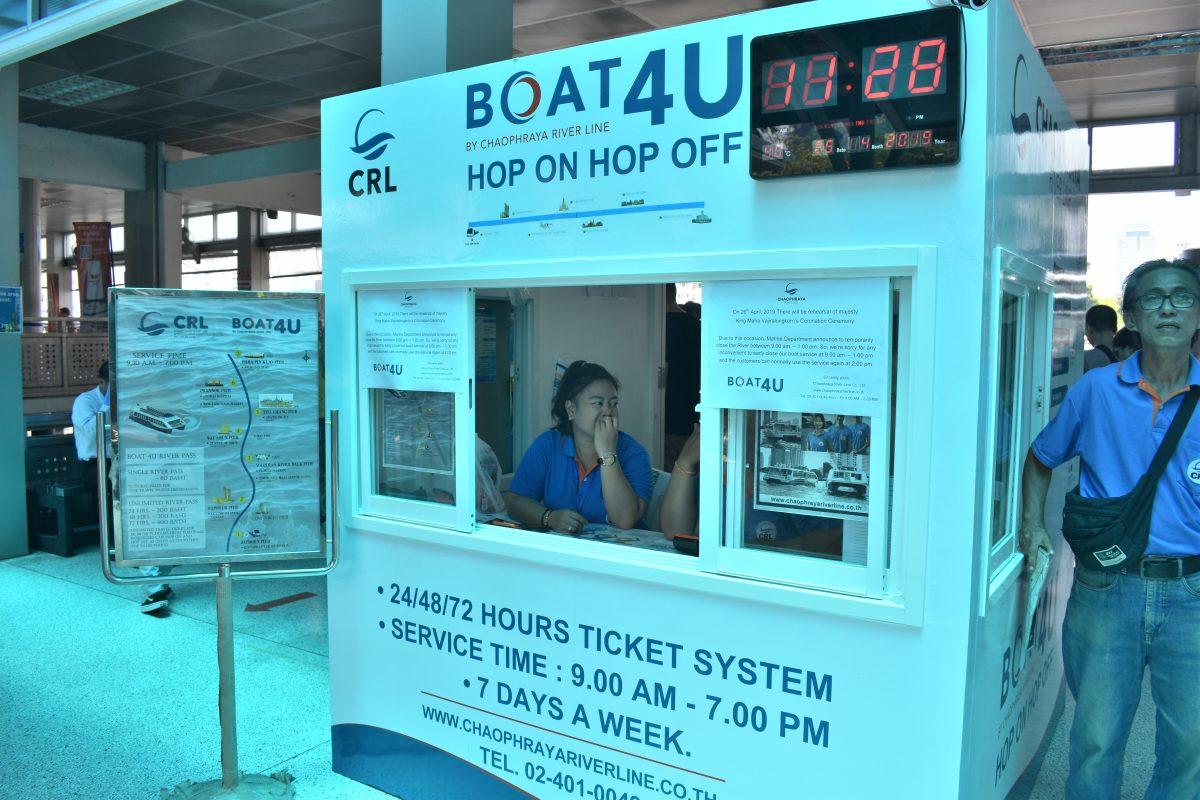 Chao Phraya Express Boat (Orange Flag)
The Chao Phraya Express Boat is the most used Bangkok river transport service. It is like a bus service on the water. It operates on the Chao Phraya River running up and down via different routes. There are five lines which are color-coded designated by a flag flying on the boat. The colors are Orange, Blue, Green, Yellow and no color which is known as no flag.
Chao Phraya Express Boat Map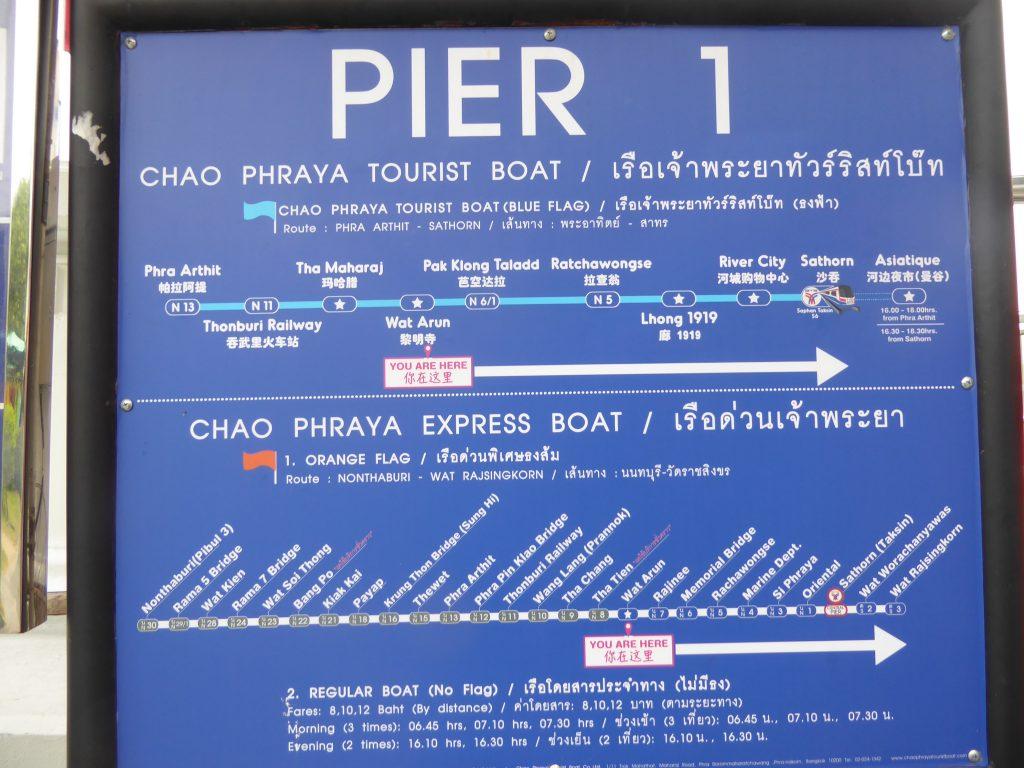 Orange Flag Boat
The best Bangkok river transport for tourists other than the Blue flag boat is the Orange flag boat which operates between 06.00-19.00 daily running between Nonthaburi (north) and Wat Rajsingkorn (south) and stops at all the major tourist areas. The Green, Yellow and no flag boats only run during morning and evening rush hours Monday – Friday and are mainly used by local commuters.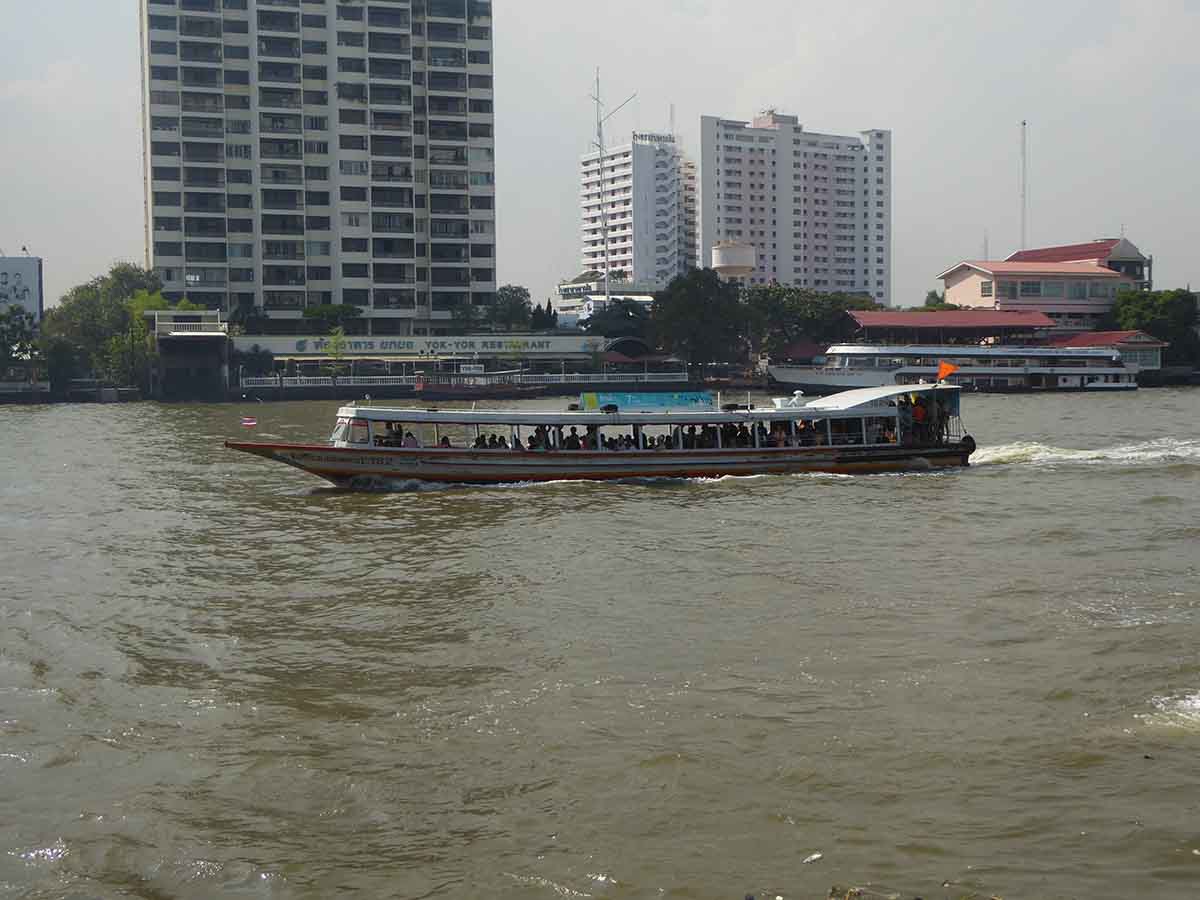 Orange Flag Boat Fares
Tickets are 15 or 20 baht depending on which pier you board at. You buy them either at a ticket counter/conductor at the pier or from a conductor on the boat. Keep your ticket for the entire journey. At all piers, you will find separate counters or tables selling tickets for the Orange and Blue flag boats. Service frequency is every 5-15 minutes depending on the time of day.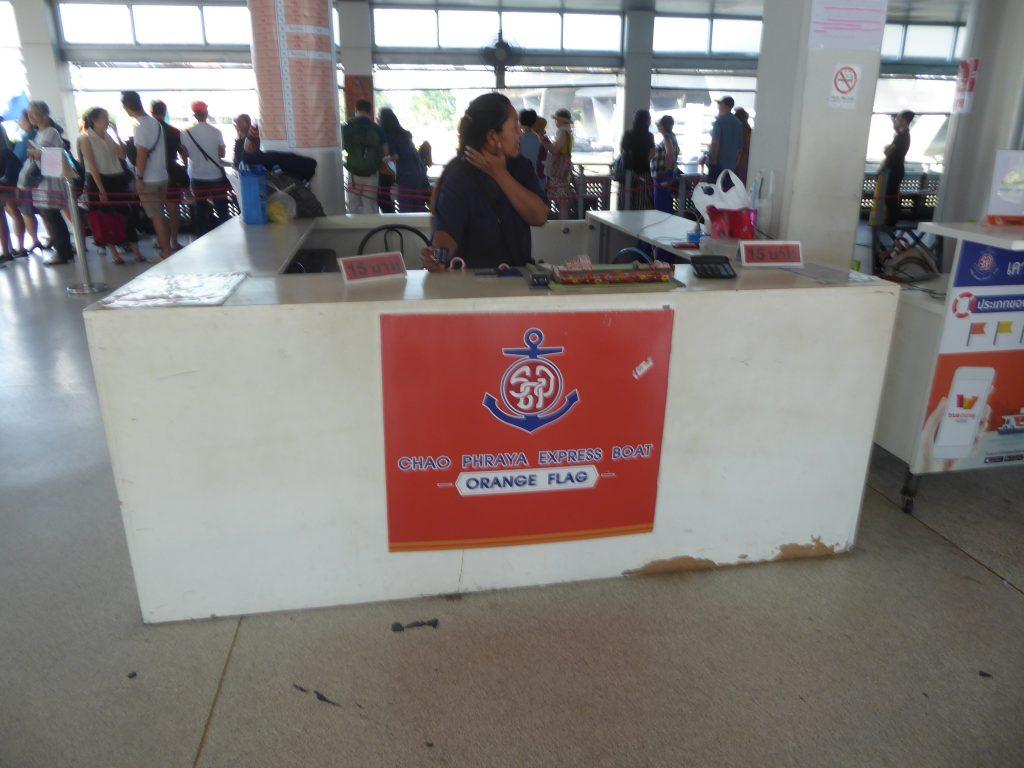 Bangkok River Transport – Blue Flag Boat vs Orange Flag Boat
The advantages of taking the blue flag boat are that it's more comfortable, operates longer hours, has more seats, an open upper deck & is less crowded. There is an English-speaking guide who points out sights along the route and announces each stop in English. There is also usually an open deck at the front of the boat where a limited amount of people may sit. Some boats also have an open upper deck.
Altogether a more tourist-friendly experience. The disadvantage is that it's more expensive, and the service is less frequent than the Orange flag boat.
Bangkok River Transport – How to use the Chao Phraya Express Boat
Bangkok River Transport Piers
Phra Arthit Pier
Phra Arthit Pier is a five-minute walk from Khaosan Road. The Chao Phraya Tourist Boat & Chao Phraya Express Boats stop here. Note that the Boat For U tourist boat does not stop here but across the River at Phra Pinklao Pier. When approaching Phra Arthit Pier note that each access point has a desk selling private boat tours who will try to fast talk you into hiring an expensive private boat rather than taking the tourist or orange flag boat. 
Phra Pinklao Pier
The Pier for the Royal Barge Museum.
Thonburi Railway Station Pier
Thonburi Railway Station is 600 meters from the Pier. You catch the train to Kanchanaburi from there. Siriraj Hospital with its famous Museum is next to the Pier. You can also walk to the Royal Barge Museum from here.
Tha Chang Pier
To take the Orange Flag Chao Phraya Express Boat to the Grand Palace, you will need to alight at Tha Chang Pier. Watch out for pickpockets, scammers, overpriced fruit stalls and dodgy tuk-tuk drivers offering 50 baht tours.
Tha Maharaj
The Chao Phraya Tourist Boat stops at Tha Maharaj. A Riverside Mall containing cafes & restaurants. The Grand Palace & National Museum are a 5-minute walk away. The Orange Flag boat does not stop here but at Tha Chang which is 400 meters away.
Wat Arun
The Pier for Wat Arun temple.
Tha Tien Pier
If you are visiting Wat Pho you use Tha Tien Pier. Tha Tien is also the stop for Museum Siam. There are several Riverside Boutique hotels & nice rooftop bars along the riverside. To get to Tha Tien you need to get off at Wat Arun and take the cross-river ferry.
Pak Khlong Talad
Pak Khlong Talad is the Flower Market. Yodpiman River Walk has cafes, restaurants, and some small shops.
Ratchawong Pier Chinatown
Ratchawong Pier is the Pier for Chinatown. It's a 5-minute walk to Yaowarat Road & Sampeng Market.
Lhong 1919
Lhong 1919 is a newly opened Chinese Heritage Center including boutique-style shops, cafes, restaurants, a museum, and The Mazu Shrine.
Nearby: The Mazu Shrine
River City Bangkok
River City Bangkok is the best place for Thai antiques & art. It is also the departure point for most evening Chao Phraya dinner cruises. The nearest piers to River City are Si Phraya Pier & Marine Department. 
Nearby: River City Mall. Holy Rosary Church. Siam Commercial Bank. Royal Orchid Sheraton Hotel.
IconSiam
Icon Siam is Bangkok's new riverside mega mall. Both the Bangkok Tourist Boat stop here as does the Orange Flag Boat. Icon Siam Pier provides free shuttle boats to Sathorn Pier, Ratchawong Pier Chinatown, & Si Phraya Pier next to River City.
Sathorn Pier
Sathorn Pier connects with the BTS Saphan Taksin Station & the free Asiatique Shuttle Boat. All of the hotel shuttle boats drop and pick up passengers at Sathorn Pier. 
Nearby. The Mandarin Oriental, Shangri-La hotel, Assumption Cathedral, OP Place
Bangkok River Transport – Combined Ticket
You can buy tickets for the Bangkok Tourist Boat at the pier. There is also an exclusive combined Bangkok Tourist Boat – Tuk-Tuk Hop ticket for exploring both on and off the river. You have to buy this one online.
Bangkok River Transport – Cross River Ferries
If you need to just cross the river using Bangkok river transport there are ferries that run as a shuttle between opposite sides of the river at certain piers.
Tha Chang to Wat Rakhang
Tha Chang to Wang Lang
Pak Khlong Talad to Wat Kanlayanamit
Tha Tien Pier to Wat Arun
Si Phraya to Klongsan
Sathorn to Tha Pepsi
The fare is 3-5 baht. Entrance is by a turnstile connected to a booth where you buy the ticket.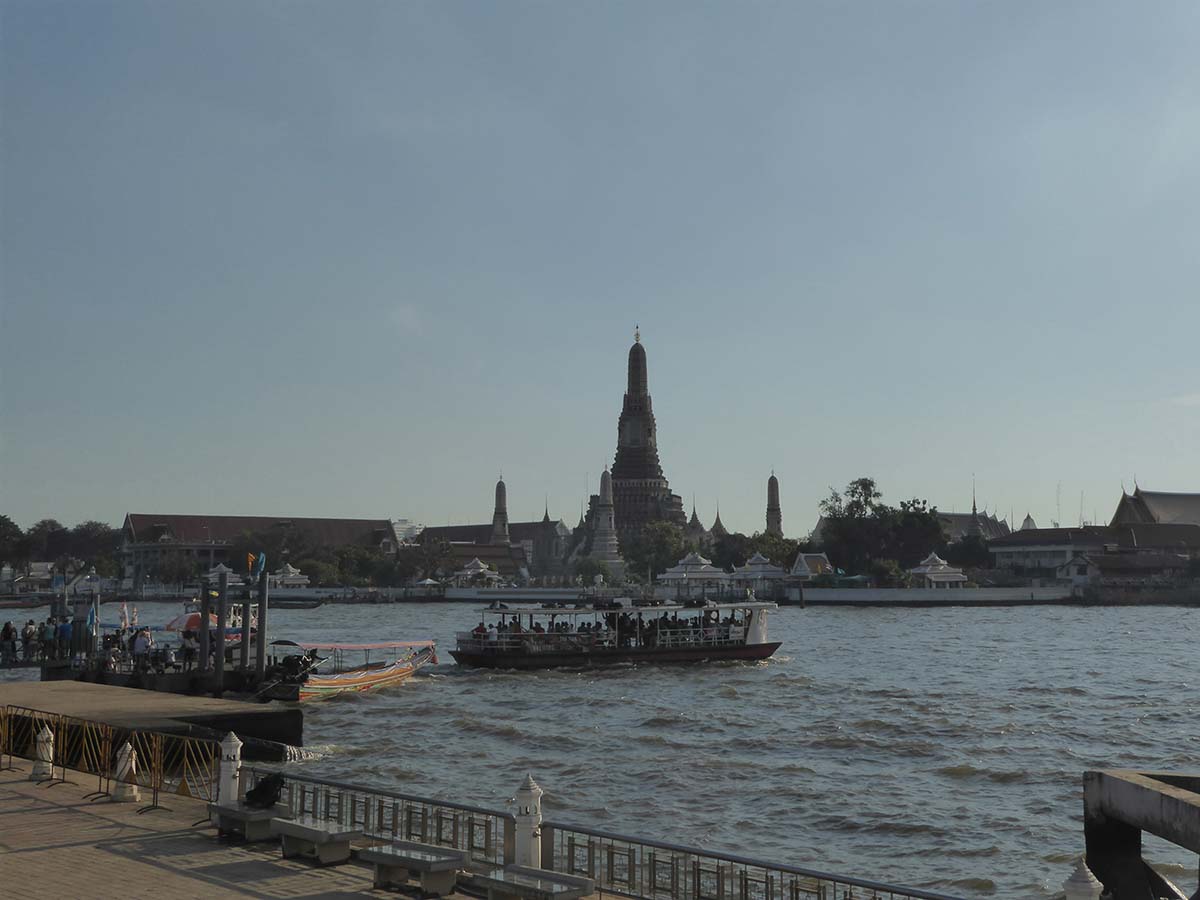 Long Tail Boat Bangkok
For private Bangkok river transport, you can hire your own long-tail boat for either a tour or a single trip. At most piers, you will find touts or official operators offering river and Thonburi side canal tours. You will need to negotiate the fare with the operator if they are not an official service.
Long Tail Boat Price
The long tail boat price can be expensive with hire rates between 1000 – 2000 baht for a 2-hour tour for a group of 4. Tha Maharaj and Yodpiman River Walk have permanent long-tail boat tour counters offering fixed prices. Smaller piers do not advertise prices so you will need to bargain. Watch out for touts who will try to overcharge you.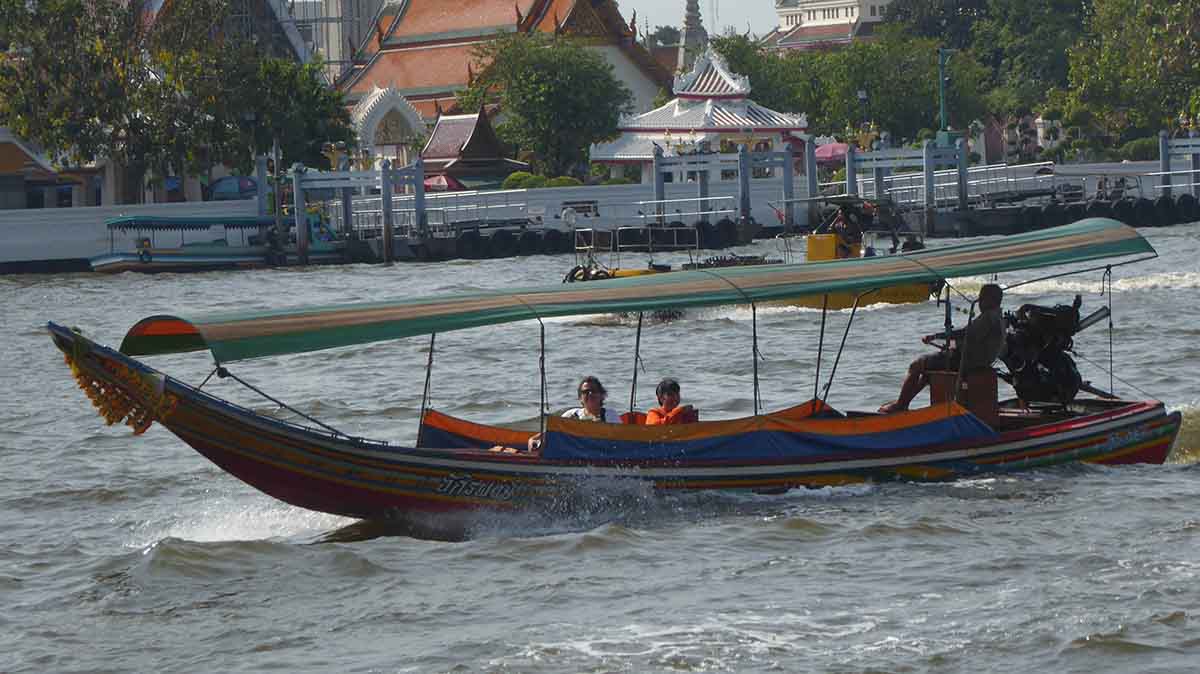 Sathorn Pier to Asiatique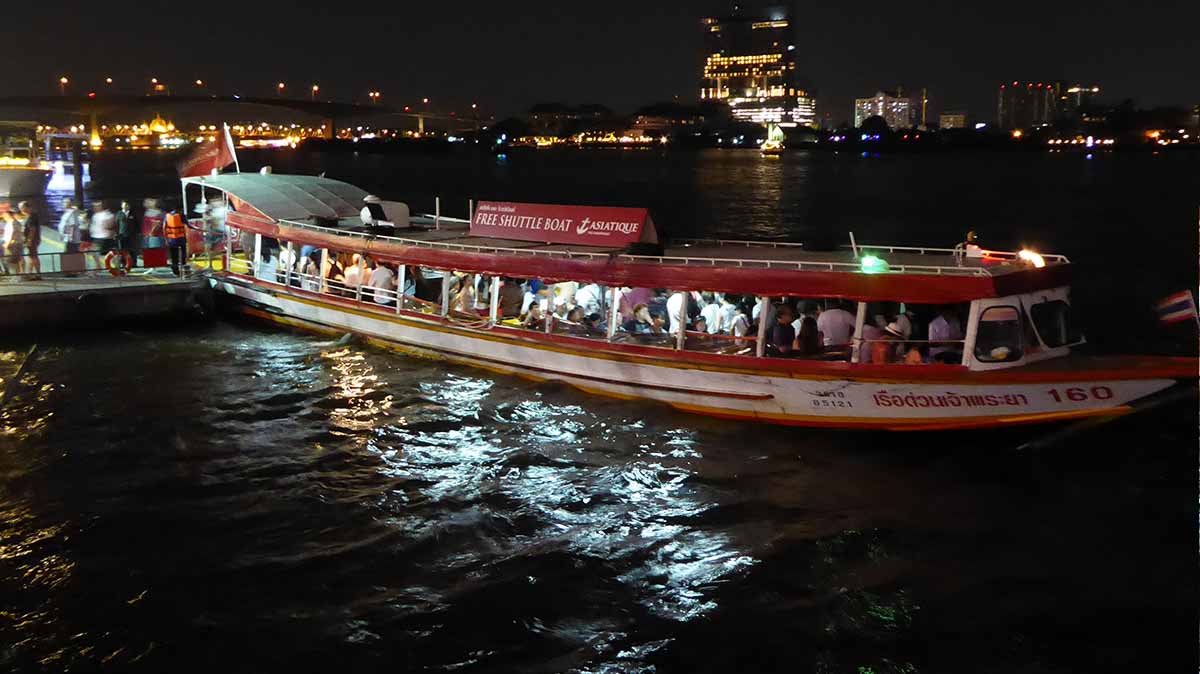 The Sathorn Pier to Asiatique shuttle is a free service that departs from Sathorn Pier next to Saphan Taksin BTS station to Asiatique every 15 minutes from 16.00 – 23.30 daily.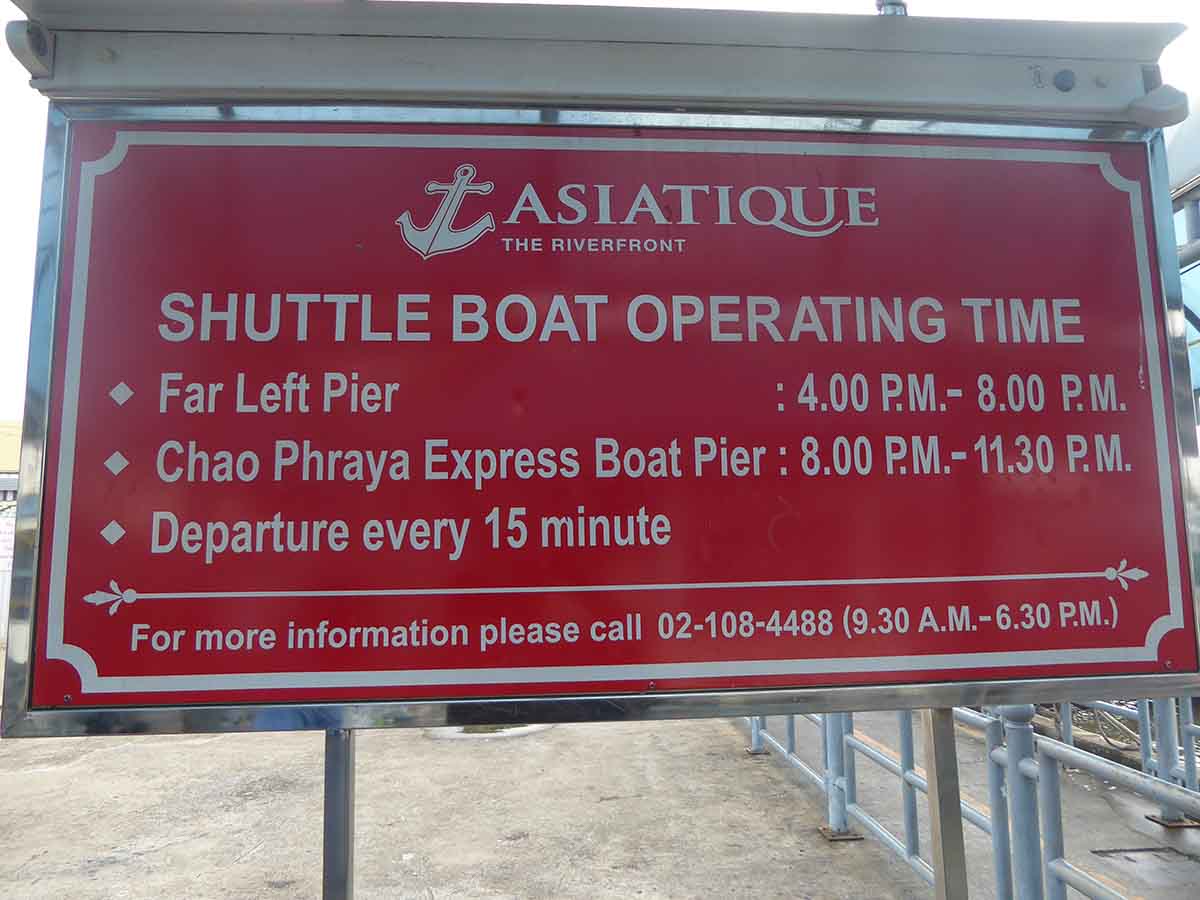 Bangkok River Transport – Hotel Shuttle Boats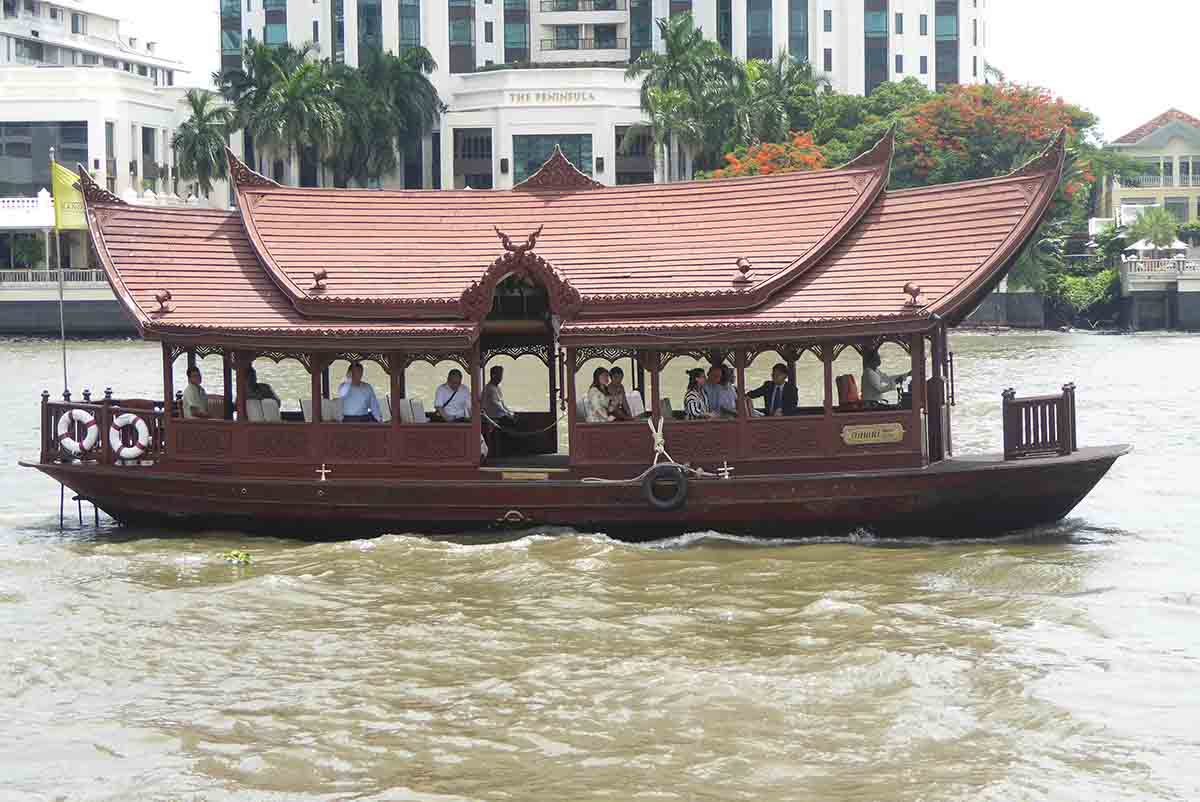 The Riverside area is home to many of Bangkok's finest hotels. The Mandarin Oriental, Peninsula, Shangri-La, Chatrium, Anantara, Siam, Sheraton, and Millennium Hilton are all on the riverside. They offer free shuttle ferry services to the Sathorn Pier connecting with the BTS Saphan Taksin station. After 16.00 they also run complementary boats to Asiatique.
The service is for hotel guests but anyone can use them. Check with your hotel for operating hours. Generally, they run from early morning until 23.00.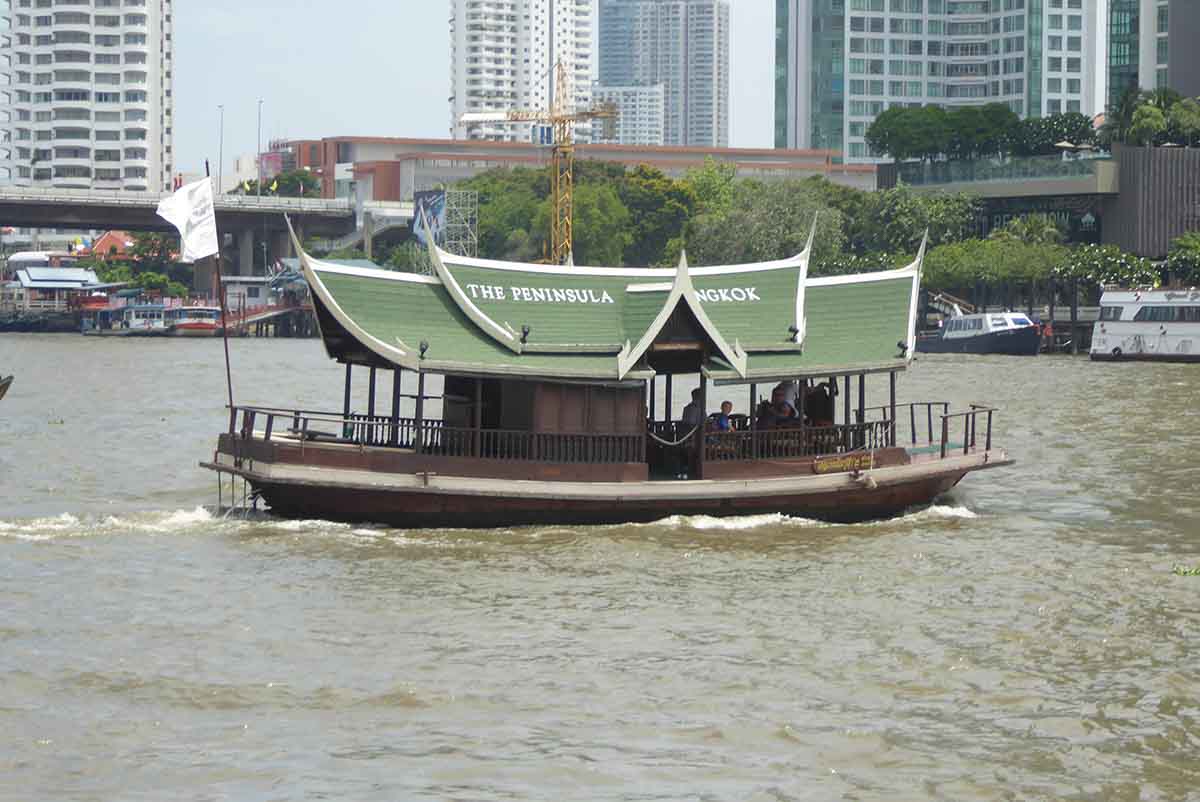 Bangkok River Cruise Daytime
If you would prefer to take a daytime luxury cruise along the Chao Phraya River there are several to choose from. Apart from a sightseeing cruise, there are sunset cruises and even a cruise upriver to the ancient capital of Ayutthaya.
Bangkok Dinner Cruise
Taking a Bangkok Dinner Cruise on the Chao Phraya River is a popular evening activity. There are a number of cruises to suit all budgets and tastes. Details below.
You May Also Like
Popular Pages on Tourist Bangkok