Motorcycle Taxi
How to get around Bangkok by Motorbike Taxi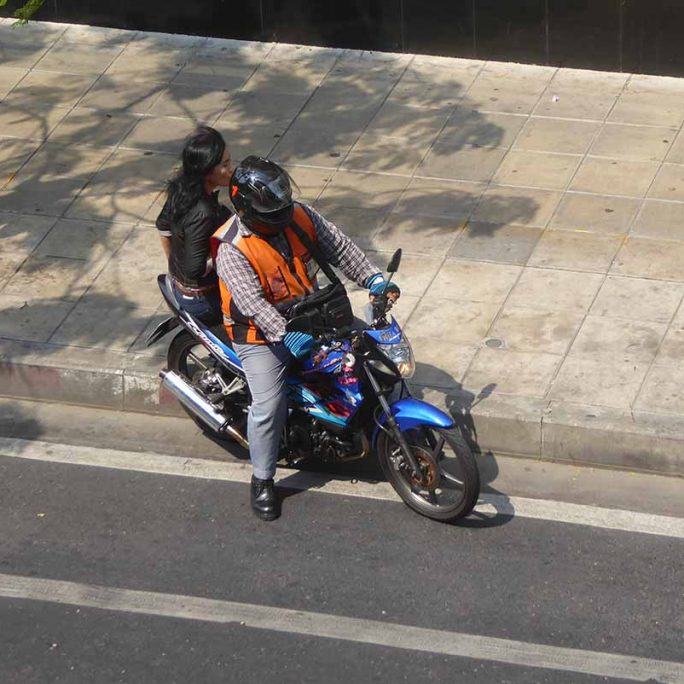 Motorbike Taxi Bangkok
One of the fastest ways to get around Bangkok is by Motorcycle Taxi. On the negative side, it is also the most dangerous, with the bikes weaving in and out of traffic. Motorcycle taxi drivers are easy to spot in their distinctive mostly orange jackets. You can hail them on the street or at their home stations, usually outside MRT & BTS Skytrain stations, office buildings, malls, and at the end of Soi?s (side streets).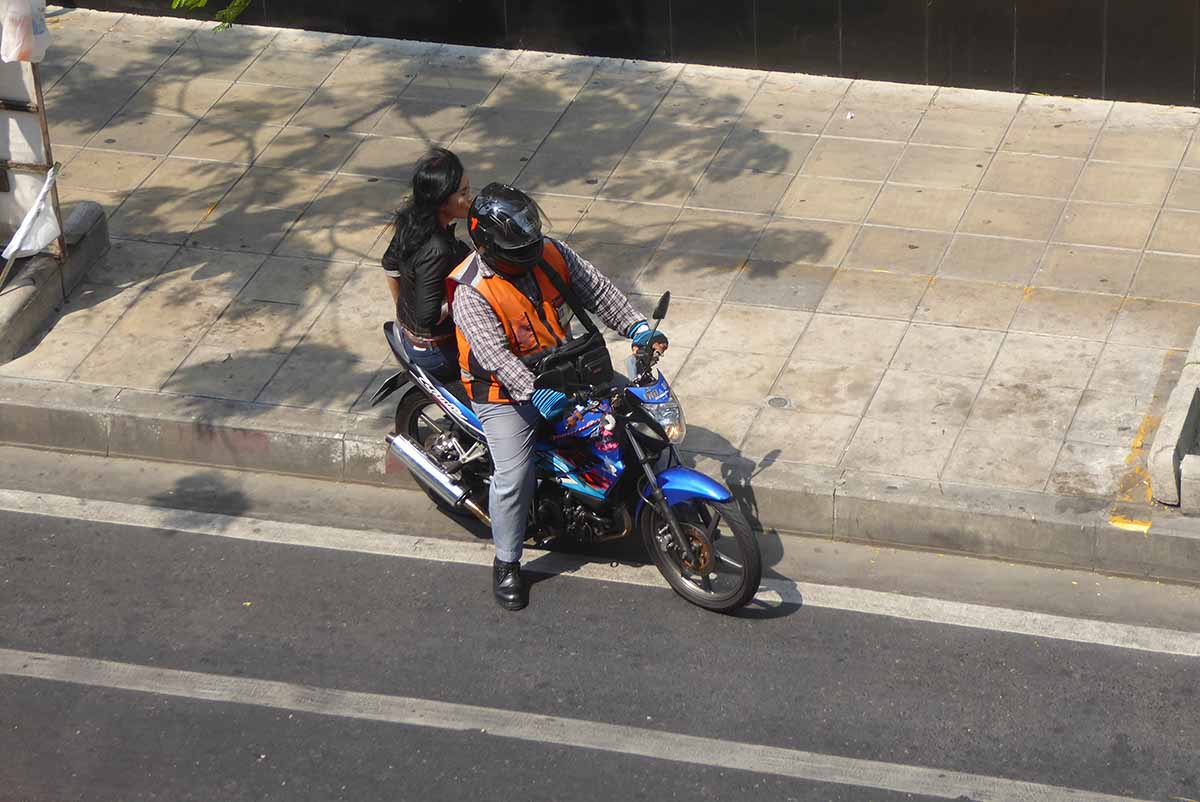 How to take a Motorcycle Taxi in Bangkok
You must negotiate a motorcycle taxi fare with the driver as fares are not always fixed. Sometimes there is a fare board with fixed fares but it?s usually written in Thai only. BTS/MRT is usually written in English. A motorbike taxi in Bangkok is not the cheapest way to get around unless you?re going a very short distance. Motorbike taxi fares start at around 10 baht and depend on the distance but usually works out to about 40 baht a kilometer.
?
?
You should always ask the Motorbike taxi driver for a helmet though don?t expect a clean shiny one. There is a 500 -1000 baht fine for not wearing one if you?re stopped by the police. When riding on a motorbike taxi hold on to the grip at the back of the bike. Keep, your knees tucked in, don?t lean back, and keep your feet on the footpegs.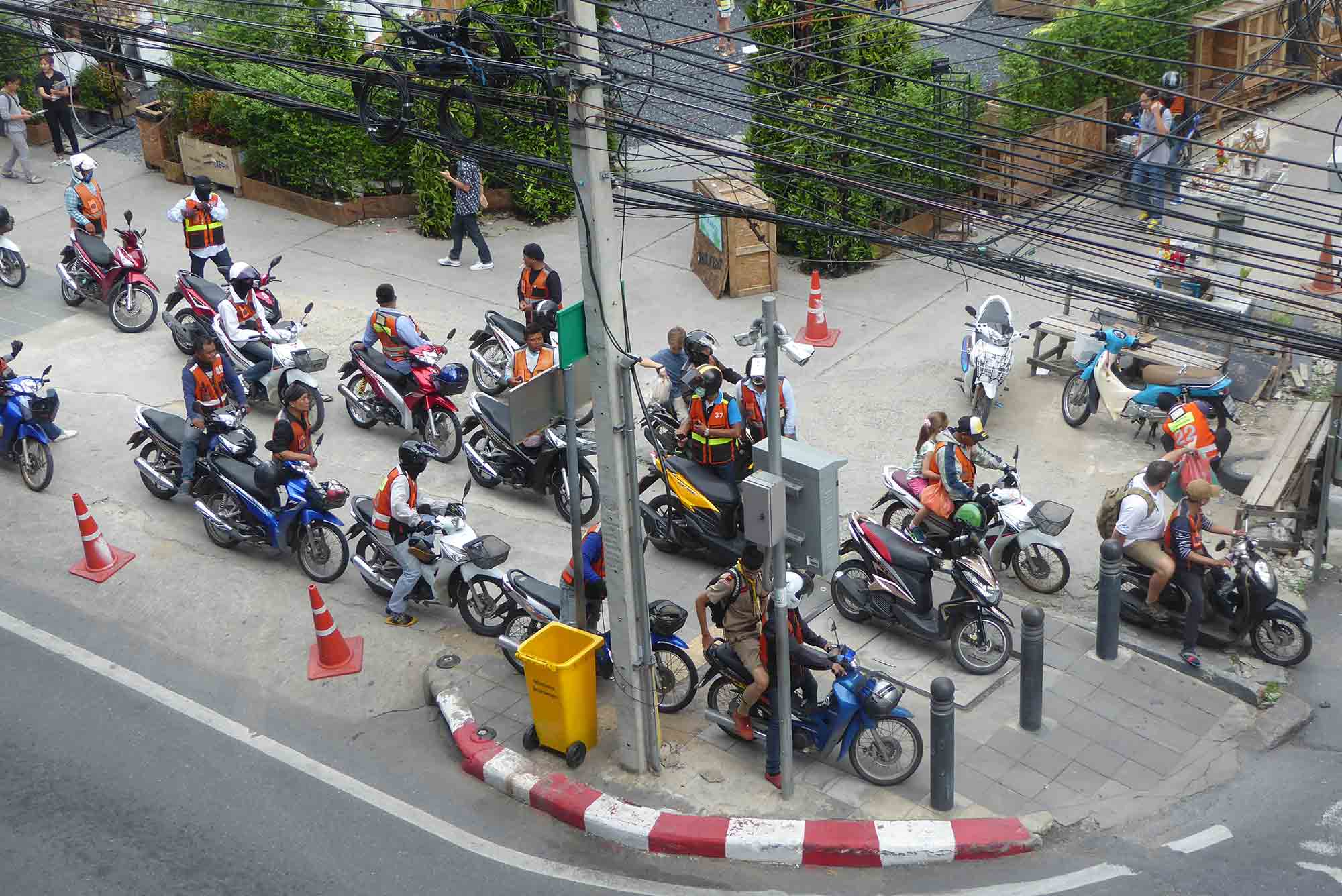 Grab Bike
Grab has a Bangkok bike taxi service called Grab Bike. It is an option on the Grab app. Note that Grab bike is not popular with regular Bangkok bike taxi drivers. Do not arrange to be picked up near a regular Motorbike Taxi stand as there have been confrontations in the past.
?

?
Bangkok Motorbike Taxi App
Just download the normal Grab app from the Play Store or Apple Store.
You May Also Like
Popular Pages on Tourist Bangkok