Bangkok Survival Guide
Everything You Need to Know
Bangkok A-Z of Useful Information
As locals, we know just about everything about the city we live in. This page has lots of information that you may find useful before and after you arrive. 
Alcohol
The legal age for drinking alcohol is 18. The sale of alcohol in shops is illegal during the hours of Midnight – 11.00 am, 14.00 – 17.00. This includes convenience stores. Bars and restaurants are not affected. Stock up and keep in your hotel fridge. Alcohol sales are illegal everywhere on the eve of elections until the morning after an election and on important Buddhist holidays such as Macha Bucha (February/March), Visakha Bucha (May/June), Asarnha Bucha (July), Buddhist Lent (July). The exact dates depend on the lunar calendar and change yearly. No drinking alcohol around the Grand Palace (10,000 baht fine).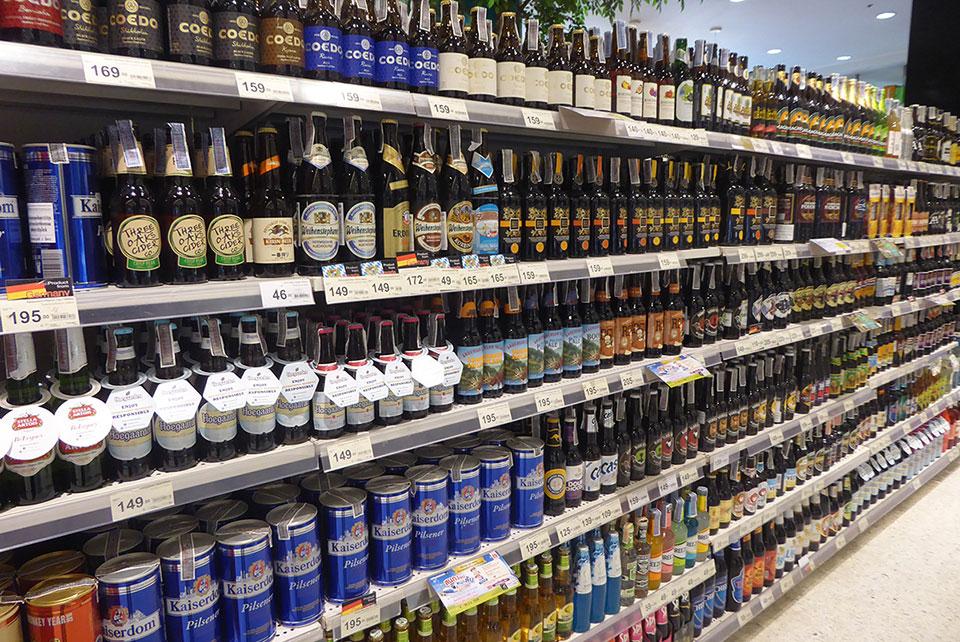 Climate
Thailand has 3 seasons. Rainy (June to October), Cool (November – February), and Hot (March to May). The best time to visit is the cool season though it is also the busiest season. The rainy season doesn't mean that it rains all the time. Usually, once a day at similar times for a short period, though downfalls can be extremely heavy leaving streets temporarily flooded. In the hot season, temperatures can reach as much as 38C.
 [do_widget id=weather_atlas-2]
Convenience Stores
Bangkok has six 24-hour convenience store chains. They are 7-11, Family Mart, MaxValu, Lawson 108, Tesco-Lotus Express & Big C Mini. You will probably never be more than a few hundred meters from one. All sell drinks, snacks, microwave meals, SIM cards, mobile top-ups, and useful everyday items.
7-11 is the most famous & ubiquitous. They sell just about everything for the hungry traveler including toasted sandwiches, burgers, sushi, crisps, bakery, water, beer, and fresh coffee. Other useful items include headphones, toiletries, sunscreen, toilet paper, batteries & sim cards.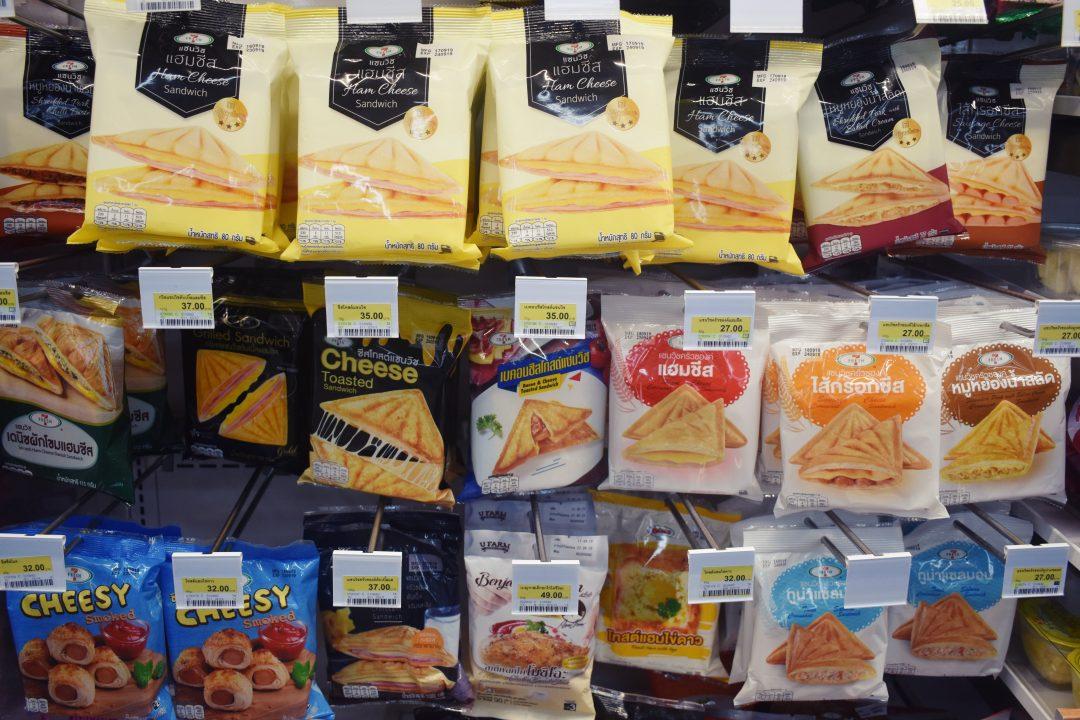 7-11 also sell flights for Air Asia and Nok Air. Some stores can book flights in store for you or you can book flights online and choose the counter payment option at check out, paying for the ticket at a 7-11 branch in cash within a given time frame using a reference number provided at the end of the booking process.
Costs
By International standards, Thailand is a cheap travel destination. You can spend as much or little as you want as there are accommodation and dining to fit all budgets.
Electric Plugs & Sockets
The mains electricity in Thailand is 220 volts AC. You should bring travel plug adapters with you or you can buy them in Bangkok cheaply. Plug sockets usually have 2 round, 3 round or 2 flat pins.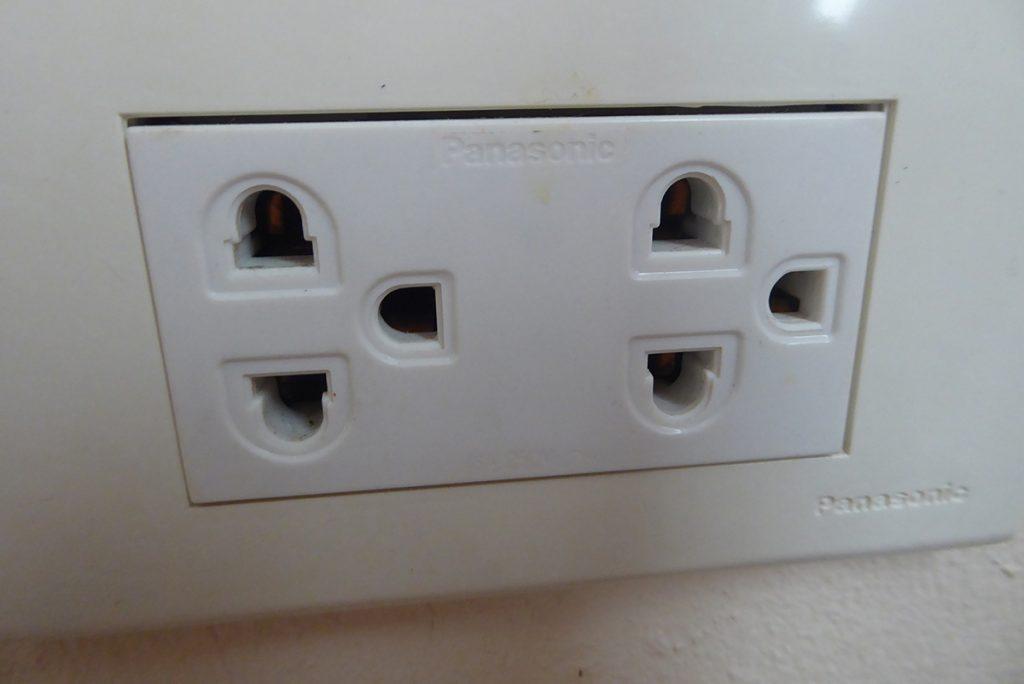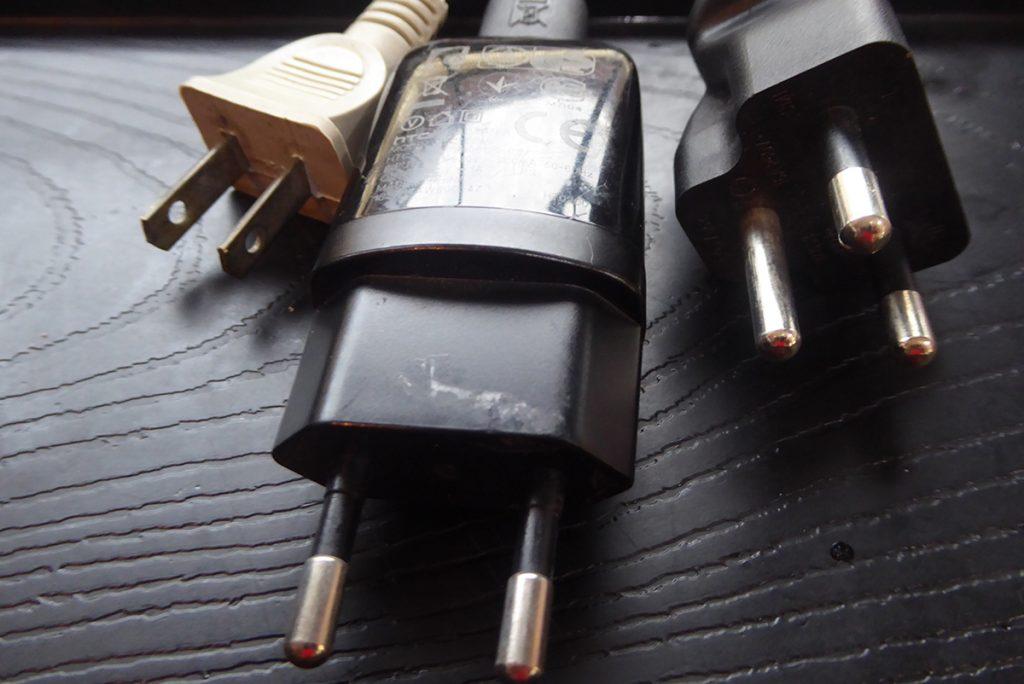 Cultural Etiquette Tips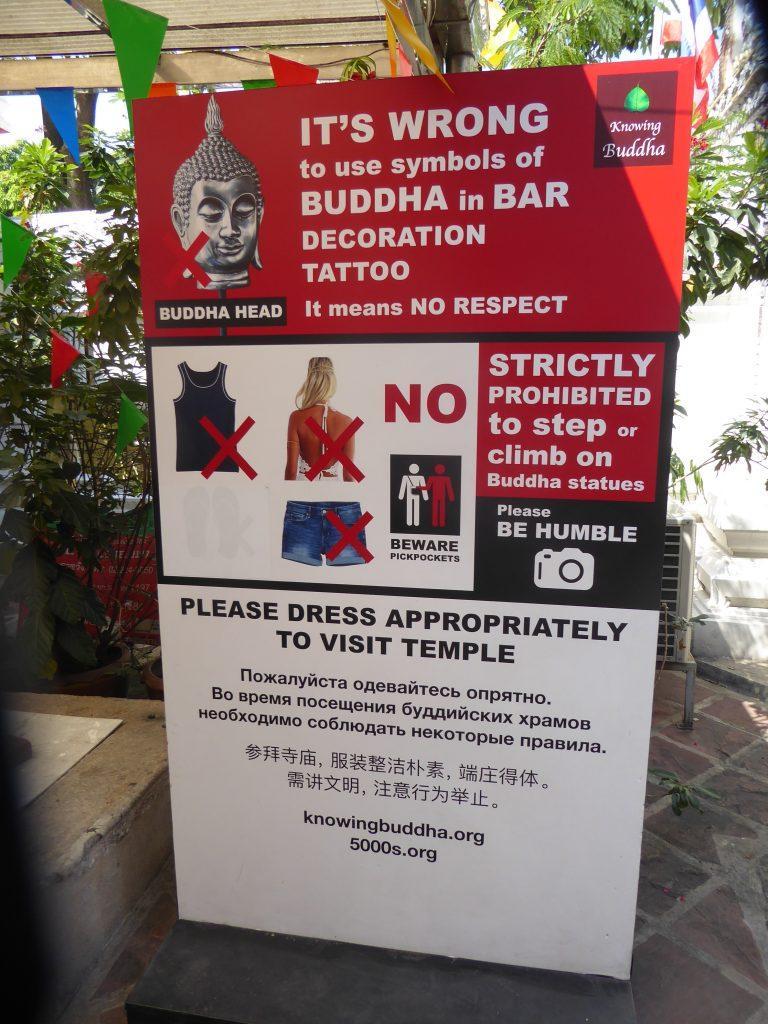 Buddha Images are held sacred. Don't climb on them in temples or get a Buddha tattoo. People with visible Buddha tattoos are denied entry to Thailand at the airport. Seriously!
Don't show disrespect to the King or any member of the Royal Family or criticize the Monarchy and stand respectfully for the national anthem when played in cinemas and at 8 am and 6 pm in some public places. Try not to step on money that features the king's head.
Dress properly when visiting a Temple. No Miniskirts or shorts. Legs must be covered. Take off your shoes when entering the hall of worship. Females must never touch a monk or give them anything directly.
Kissing in public and nude sunbathing is prohibited. Men should not take off their shirts in public in the city. At the beach it is OK.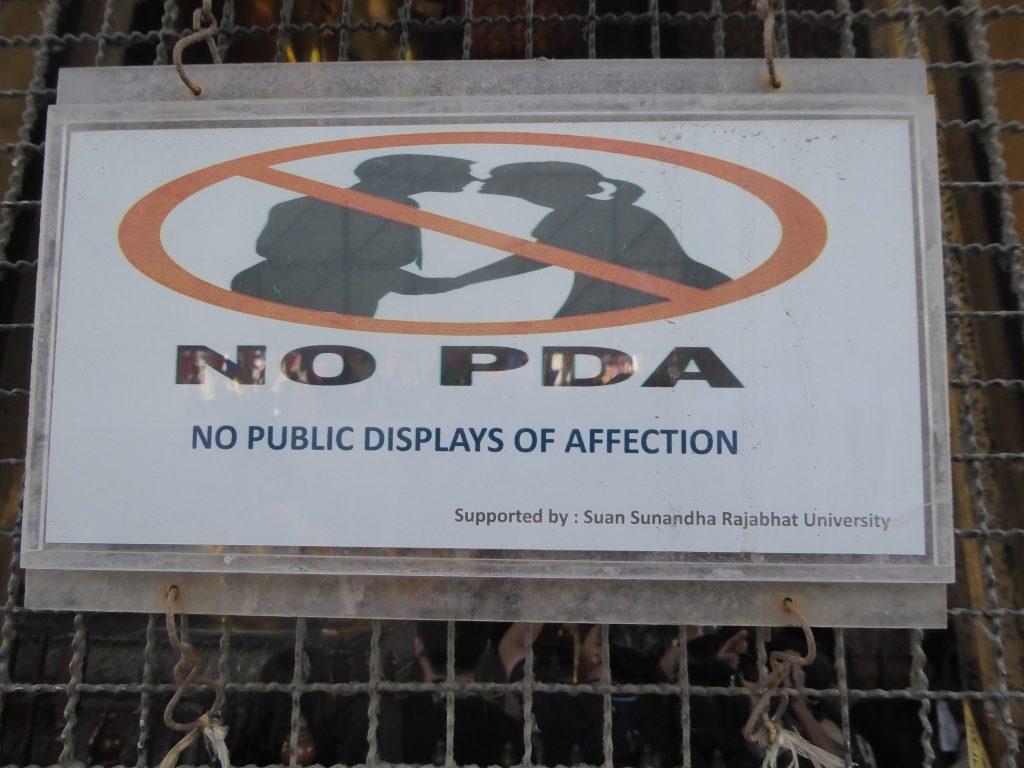 Don't put your feet up on tables or chairs or on seats on public transport. It is very rude. Don't step over someone or their personal belongings.
Don't touch Thais on the head. It is rude.
Disabled Visitors
Bangkok and Thailand in general does, not have very good facilities or access for people with low mobility. A lot of attractions don't have wheelchair access and the sidewalks are often uneven and blocked by obstacles. Crossing roads are a problem with steep stairs often the only access. Most malls have wheelchair-accessible toilets
and the BTS/MRT transport systems have lifts though you will need staff help to use them.
Drugs
Possession of drugs is a serious criminal offense in Thailand. Even possession of a small amount of Cannabis can get you jailed, fined and deported. Possession of stronger drugs can lead to anything from a year to life imprisonment. The police regularly carry out random stop and search inspections, particularly around Khao San Road and the Sukhumvit Road/Asoke areas.
Haircut – Where to get a haircut in Bangkok
Bangkok is home to thousands of salons and barbers. Here's our guide to places where you can get a good cut and your hairdresser will understand some English. It's advisable to always take a picture of the haircut you are expecting as a printout or on your phone to avoid misunderstandings.
Easy Cut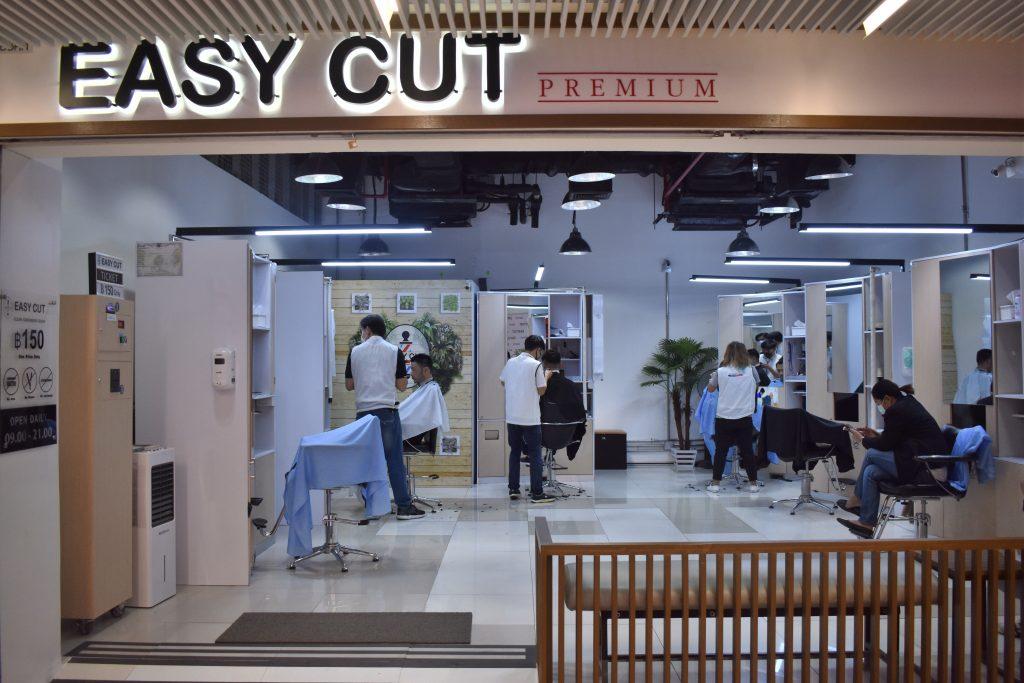 Easy Cut is the home of the 150-baht express haircut. Don't be put off by the cheap price as the cuts are good and the staff understands English. You can only get a cut here and they serve both men and women. You need a 100 baht note and a 50 baht note to put in the ticket machine which then spits out your ticket which you then hand to a stylist who will cut your hair as you want it in about 15 minutes. They will finish off by vacuuming your head with a nifty little suction machine.
: Metro Mall, Sukhumvit MRT Station, Bangkok.
: Thaniya Plaza, 2nd floor, (near the BTS Sala Daeng exit), Silom Road.
: Metro Mall, Pha Ram 9 MRT Station, Bangkok.
Opening Hours: 10.00-20.00 daily.
Just Cut also offers a 120-baht haircut with the same method.
Just Cut: BTS Thong Lo Station, (at the top of the escalator), Sukhumvit Road, Bangkok.
Opening Hours: 10.00-20.00
Never Say Cutz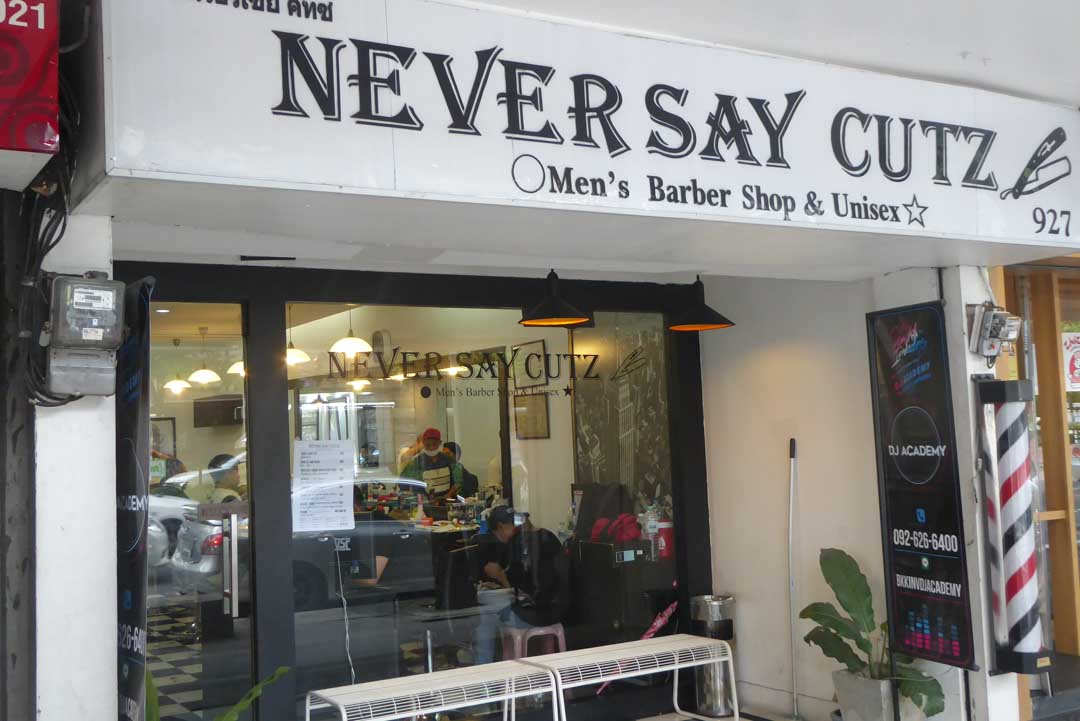 Never Say Cutz is a New York-style barbershop chain. They offer urban styles and modern cuts. This is the place to come if you want a hip-hop style cut or some crazy patterns in your hair. Cuts start at 350 baht. They also trim beards and mustaches. A range of hip-hop merchandise is available to go with your new haircut. They have several branches in central locations.
Never Say Cutz: Siam Square Lido, Siam Square One Mall, Sukhumvit Soi 51, Thonglor, Thaniya Plaza (1st floor) Silom.
Opening Hours: 10.00-21.00 daily.
Chalachol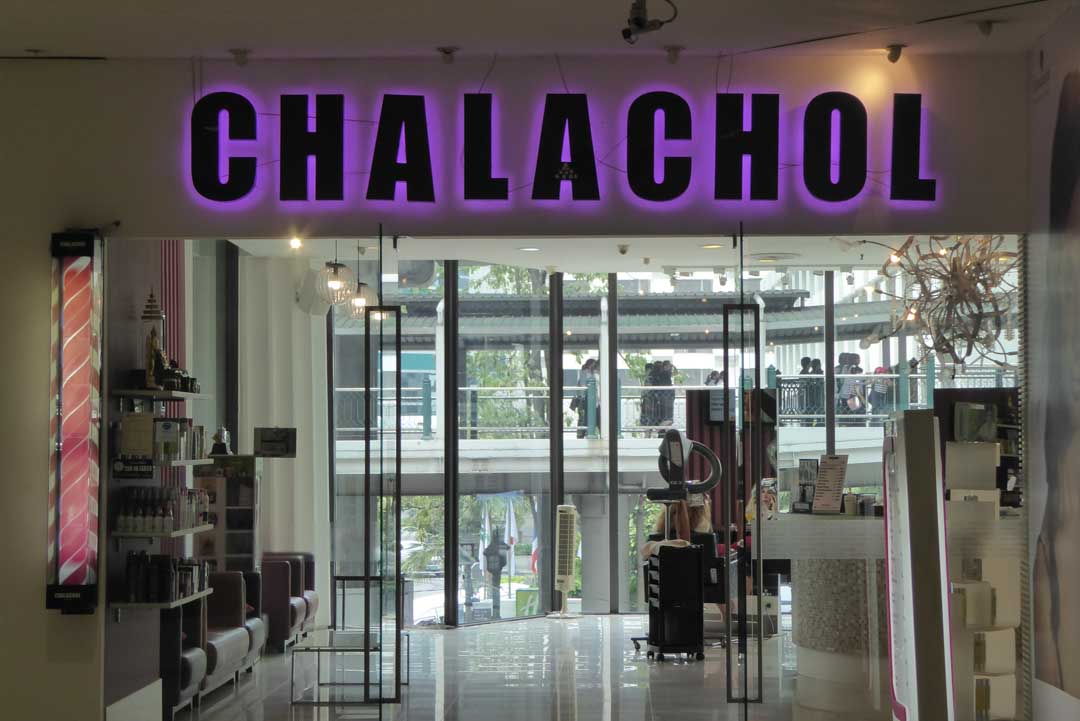 Chalachol is a long-established (since 1988) chain of salons owned by a celebrity hairdresser. This is more suitable for women though they do men's cuts as well. A simple cut will cost from 750 baht with prices rising for hair coloring, straightening, and perming, etc. There are several centrally located branches.
Chalachol: Siam Center, Amarin Plaza, Terminal 21, Central Rama 9,.
Opening Hours: 11.00-20.00 daily.
Moga
Moga is a more upmarket chain of hairdressers with Japanese and Korean stylists as well as Thai. Prices start at 1500 baht for a cut, wash, and blow-dry. Other treatments such as coloring, straightening, and perms are more expensive. Service is first class here with good English speakers. Moga runs its own hairdressing academy.
Moga: Siam Paragon 2nd floor, Central World 2nd floor@Isetan, 3rd floor@ Zen, EmQuartier 4th floor, Emporium 1st floor, Central Embassy 4th floor.
Opening Hours: 10.00-21.00 daily.
The Pop Up Barber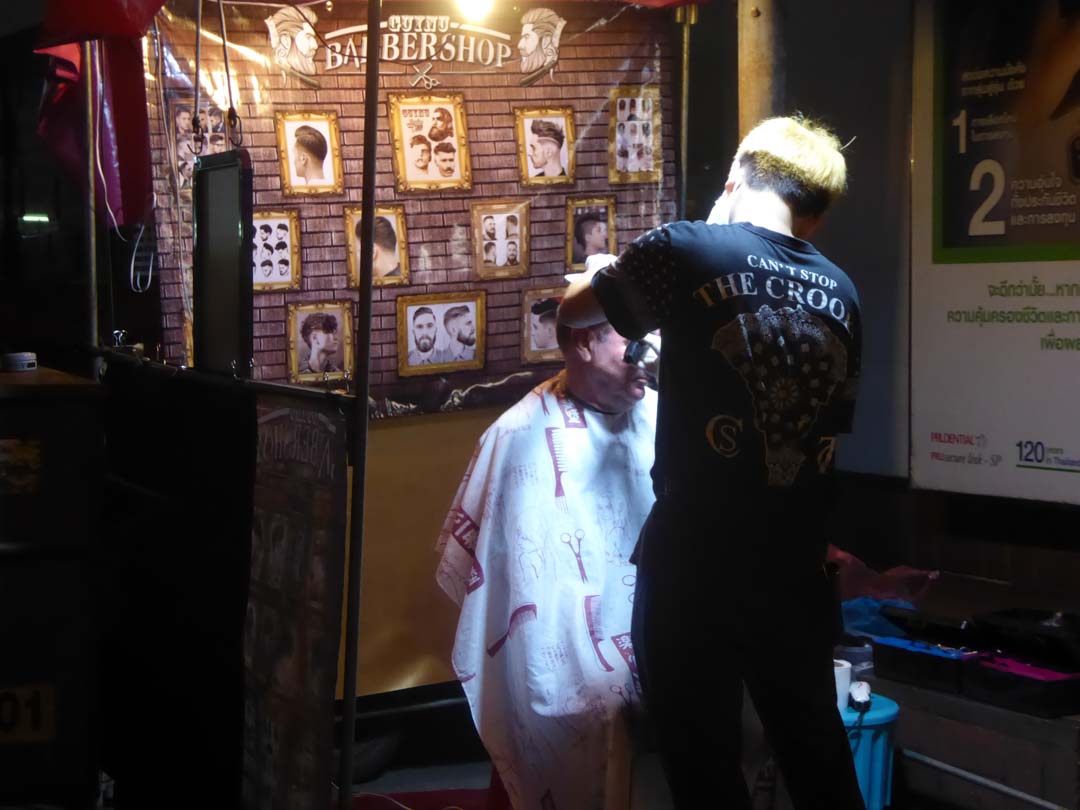 Last but not least is the Silom Pop Up barber who can be found somewhere along Silom Road though usually at the mouth of Silom Soi 6 in the evenings. At 100 baht, this is the cheapest haircut in town.
ID
Under Thai law, you must carry an ID on you always. A passport is an acceptable ID for tourists. However, nobody wants to carry their passport around with them all the time so a photocopy of the photo & entry stamp pages of your passport is usually acceptable. Before you leave home it's a good idea to make a few photocopies of the picture page and always carry one with you in your wallet when you are out and about in Bangkok and leave your passport in a secure place at your hotel. Also, you should take a photo with your mobile phone including your arrival card and the page with your entry stamp. You are very unlikely to ever be stopped by the police but there is a 2000 baht fine for not be able to produce ID if you are ever stopped.
Internet Cafes
Free WiFi is available in most hotels, restaurants, bars, cafes, and malls. Some have free access to broadband terminals. If you have Thai pay as you go internet SIM you will be able to use your Thai service providers network anywhere in the city. Old style Internet cafes are now hard to find. True coffee at Siam Paragon (3rd floor) have high-speed terminals and offer printing and DVD burning service.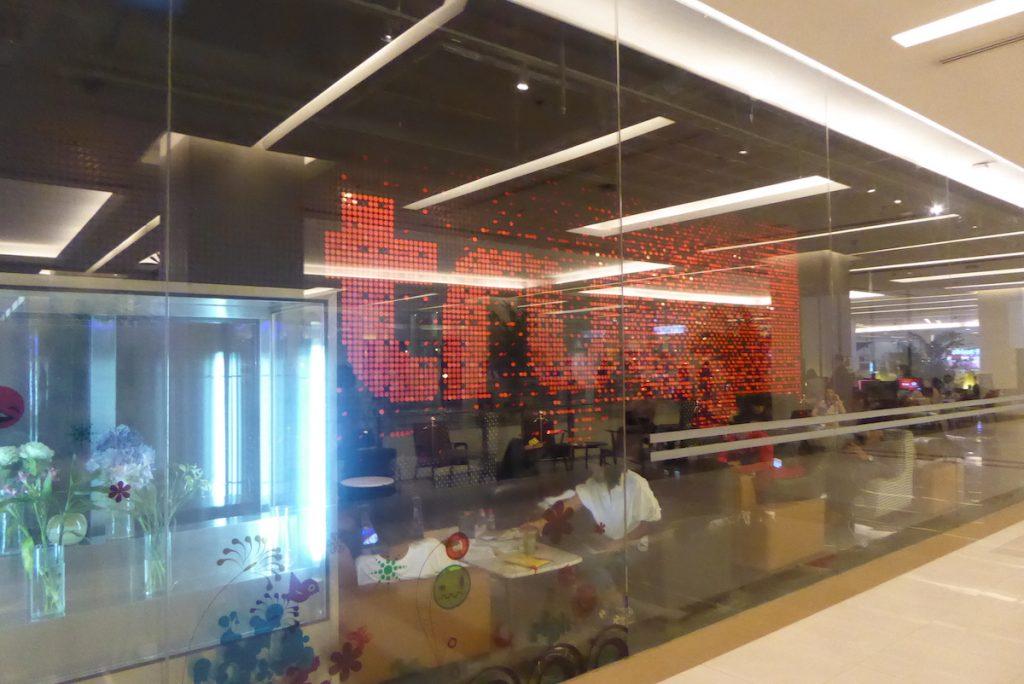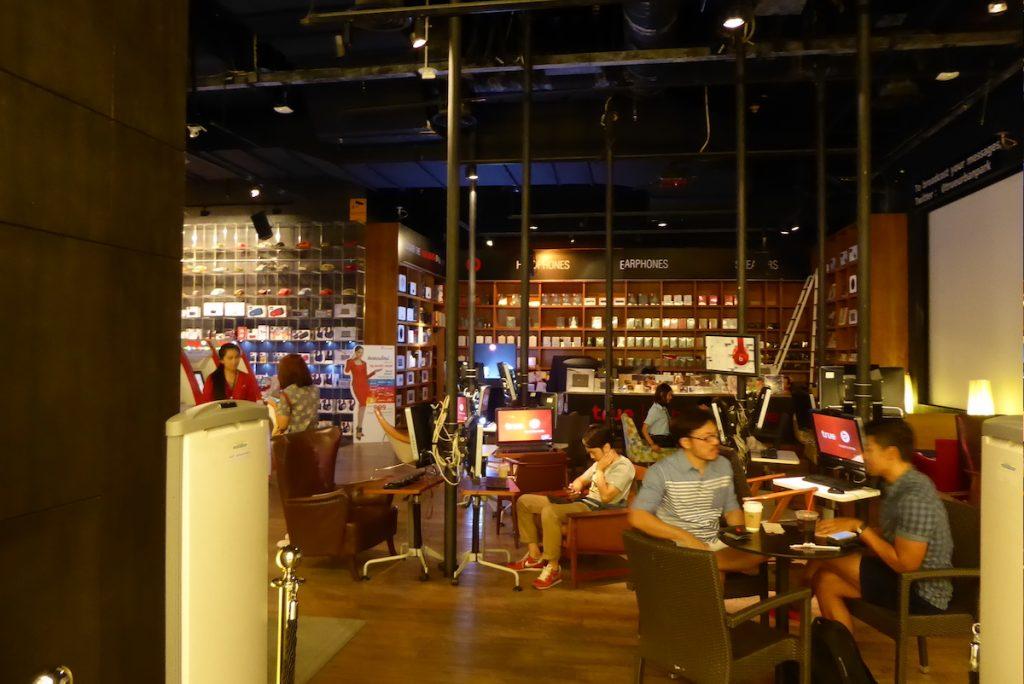 Important Phone Numbers
Thailand Country Code 66
Bangkok Area Code 02
Tourist Police 1155
Tourist Information 1672, 022815051
Ambulance 1669
Suvarnabhumi Airport Help Desk 021323888
Language
The national language is Thai. English is often spoken in Tourist areas and businesses that serve tourists. Most restaurants, bars, and shops have dual language menus and signs.
LGBT Bangkok
Bangkok is an extremely gay-friendly city with many hotels, guest houses, bars, and restaurants catering to LGBT visitors from all over the world. Thai people are very tolerant of homosexuality. The gay scene in Bangkok is mostly situated around the Silom area with many bars, hotels and massage places in the area. Silom Soi's 2, 2/1, and 4 have many gay orientated bars and clubs. There are gay go-go bars on Patpong Soi 2.

Losing Your Passport
Take good care of your passport, losing it in Bangkok will cause you much hassle, time and money. Make sure your travel insurance covers loss of passport and related expenses. If you lose your passport the first thing you should do is report it at a police station and get a copy of the report. Then you need to go to the embassy or consulate representing your country and report the loss. You will need to give proof of your identity. Always keep a photocopy of your passport ID page. The procedure from then on is determined by your home countries requirements. Check on your consulate's website for more details, but generally, you can then apply for a new passport or a temporary travel document.
If you are on an extended vacation and wish to continue your travels you will need a new passport. This can take between 10 days and 45 days depending on your nationality. Some countries will issue a new passport in Bangkok, others will issue it in your home country and send it to Bangkok. If you are only on a short holiday and are returning home soon you can get a temporary travel document which is valid only for flying back to your home country. After you receive your new passport/travel document you will need to visit the Thai immigration head office to have your entrance stamps/visa re-entered in your new passport or in the case of the temporary travel document, get an exit document that allows you to clear Thai immigration at the airport. Take good care of your passport!
Luggage Storage
Lockbox has Japanese style lockers inside or outside most MRT stations in Bangkok as well as in the basement at Suvarnabhumi International Airport. The largest number of lockers at one location is outside Siam Paragon by the exit from the car park. There are 129 lockers.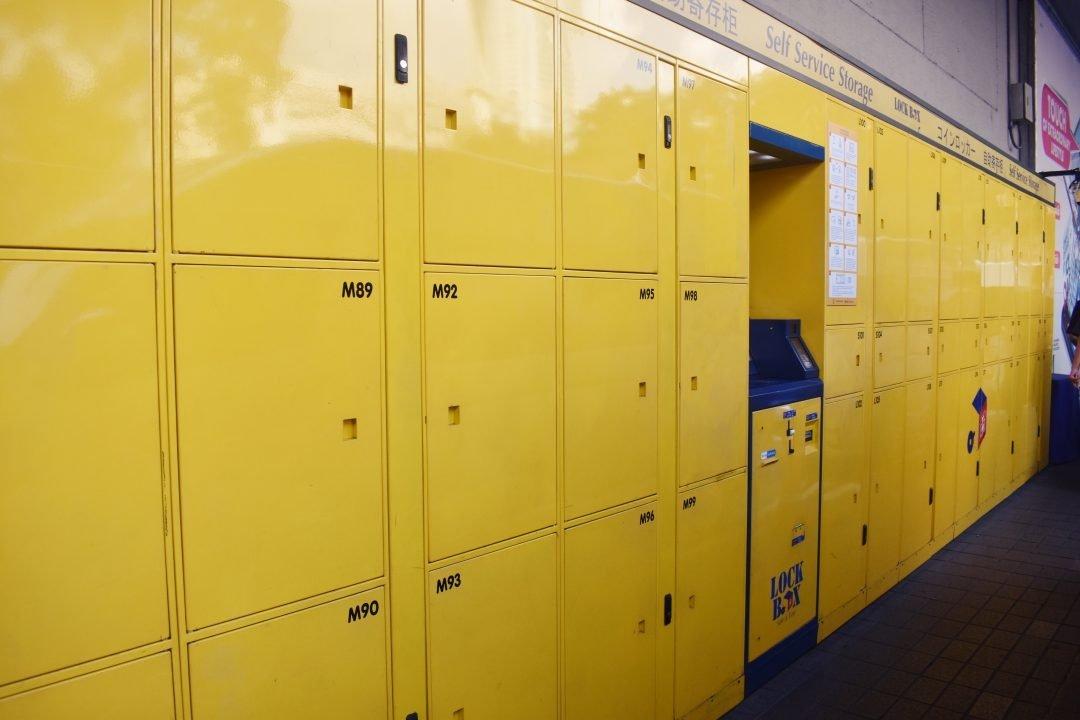 Prices are: Small – 30 baht per hour / 180 baht a day (24 hours), Medium – 40 baht per hour / 240 baht per day, Large – 50 baht per hour / 300 baht per day, Extra Large – 60 baht per hour / 350 baht per day. Minimum of 2 hours.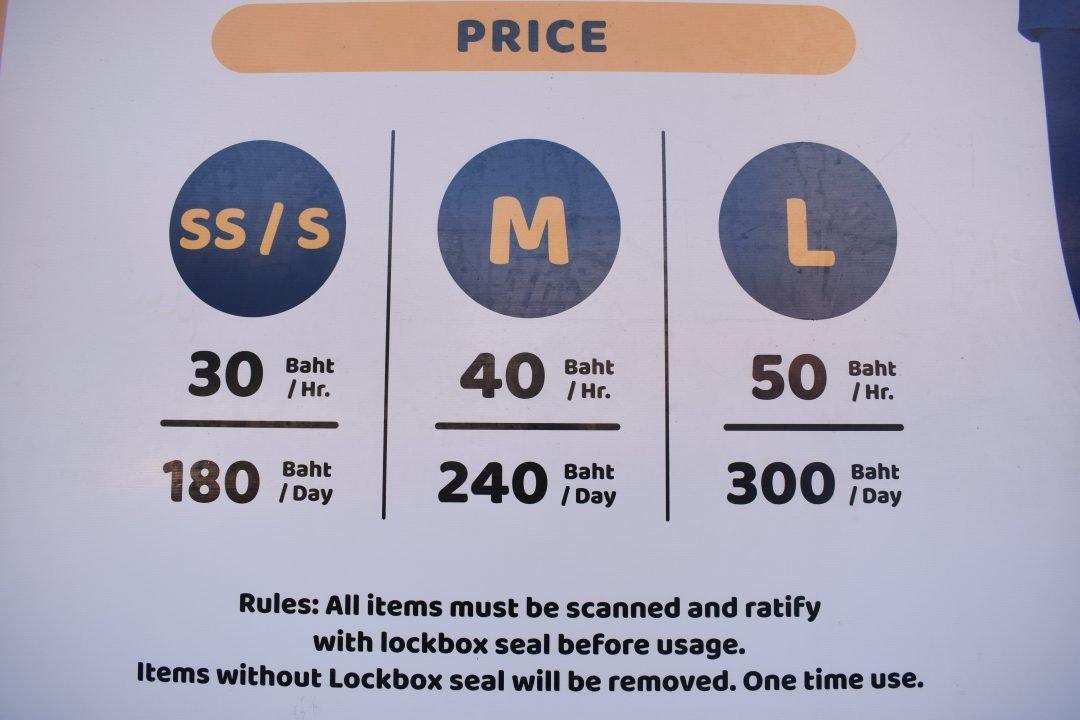 Lockbox Locations – MRT Kampaengphet (next to the exit inside Chatuchak Market), Chatuchak Park, Phahonyothin, Lat Phrao, Suttisan, Huay Khwang, Thailand Cultural Center, Phra Ram 9, Phetchaburi, Sukhumvit, Sala Daeng, Sam Yan, Hualamphong. Also, JJ Mall & Siam Paragon.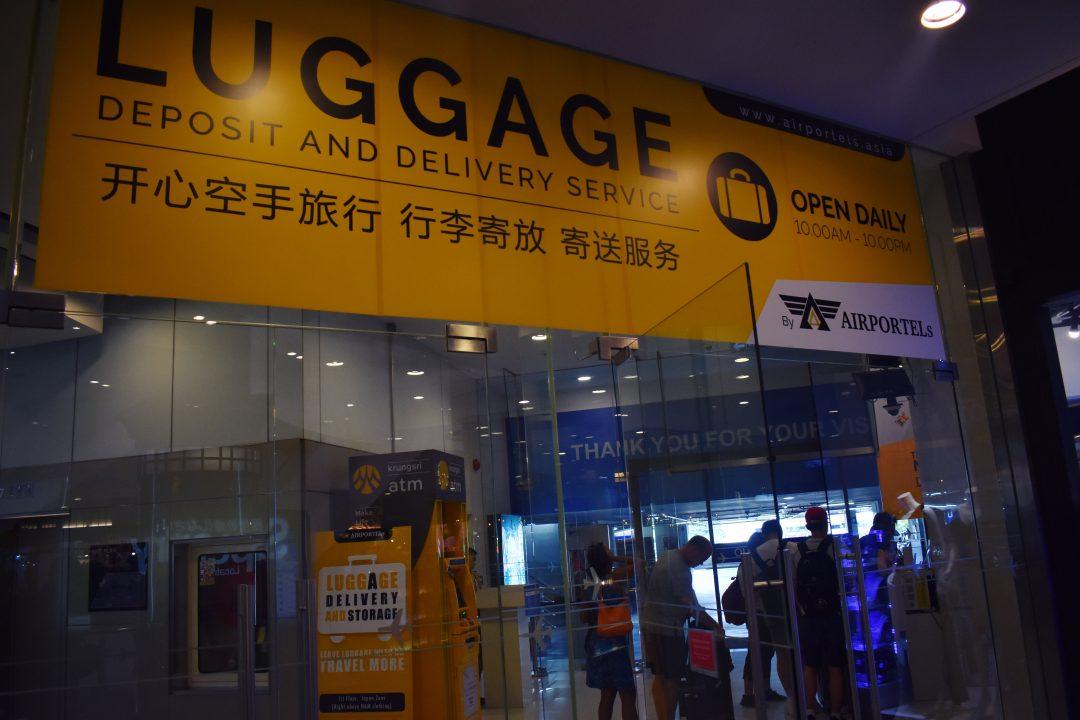 Limited free or low-cost luggage storage is available with AIRPORTELs at MBK, Central World and Terminal 21 as well as at both airports. There are no restrictions on size or weight. You can store sports equipment, bicycles, golf bags, and laptops. Items will be kept in secure units and luggage can be delivered to any hotel in Bangkok for an extra charge. Insurance up to 100,000 baht included.
MBK – 6th floor B Zone.  4 hours free per bag or 100 baht per day. Open 10.00-22.00.
Central World – 1st floor, Groove Zone. 2 hours free per bag or 100 baht per day. Open 10.00-22.00.
Terminal 21 – 1st floor, Tokyo Zone. 3 hours free per bag or 100 baht per day. Open 10.00-22.00.
Suvarnabhumi Airport – Airport Rail Link, basement floor. 100 baht per bag per 24 hours. Open 24 hours.
Don Mueang Airport – Terminal 2, 1st floor, gate 9. 69 baht per bag per 24 hours. Open 24 hours.
Media
Thailand has two national English-language daily newspapers. The Bangkok Post and The Nation. They are easy to find in Bangkok at most news-stands and bookstores. Most western-style coffee shops, restaurants, and bars have copies available for customers to read free of charge. Some Western pubs have printed copies of daily UK, Australian and American newspapers for customers to browse.
BK Magazine is a useful weekly free magazine with listings, news of coming events, restaurant and bar reviews. It is published every Friday and is free from many outlets around town. The branches of Starbucks are usually a good place to pick up a copy.
Most hotels have cable TV with a selection of English language channels usually including BBC World and CNN along with sports and movie channels. World sporting events are best watched at one of the cities sports bars where English language commentary is usually available.
Mobile Phones
If you bring your mobile to Thailand, check the roaming rates before you leave home as these can be very high. It may be better for you to use a pay as you go Thai SIM card. These can be obtained at the airport on arrival and are sometimes available free of charge. Details here. You will need an unlocked phone to use a Thai SIM card. If you don't get one at the airport they can easily be bought all over the city. Bringing an old phone with you is a good idea or buy a cheap Thai model. Many phone vendors across the city offer phone unlocking service for a small fee. MBK shopping center is a good place for this and to get a cheap new or 2nd hand, phones.
Calls are cheap both within Thailand and Internationally. For example, on the DTAC network using their 004-access number, you can call European countries for as little as five baht per minute and 5 baht per text. Domestic calls/texts are between 1 and 3 baht per minute/text. It's easy to top up your credit online using your debit card via the service provider's English website or over the counter at 7-11 convenience stores. Thai landline numbers have an area code that you must dial, before the number. Bangkok is 02 and you must include this even if you are dialing from inside the city.
Monarchy
Thailand has a constitutional monarchy with the King as head of state. You should be very careful not to show any disrespect or criticize the current king, past kings or any members of the royal family. It is illegal and can result in a harsh prison sentence. You should also be careful when handling Thai currency which features the king's head, stand for the King's anthem when it is played in cinemas before the showing of a movie, and stand still when the national anthem is played in a public place at 8 am and 6 pm. The current monarch is King Maha Vajiralongkorn or Rama X.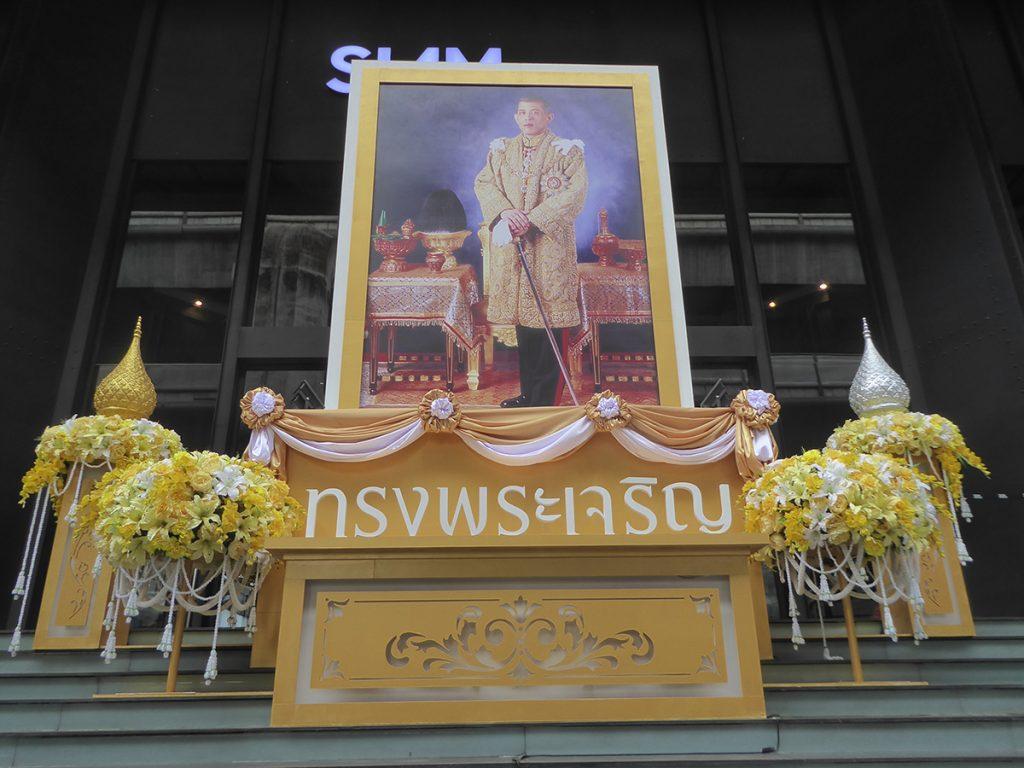 Thailand suffered a great loss on the 13th of October 2016 when King Bhumibol Adulyadej died. At the time of his death, he was the world's longest-reigning monarch. He was widely loved by the Thai people and respected around the world. A year-long period of mourning was announced after his death.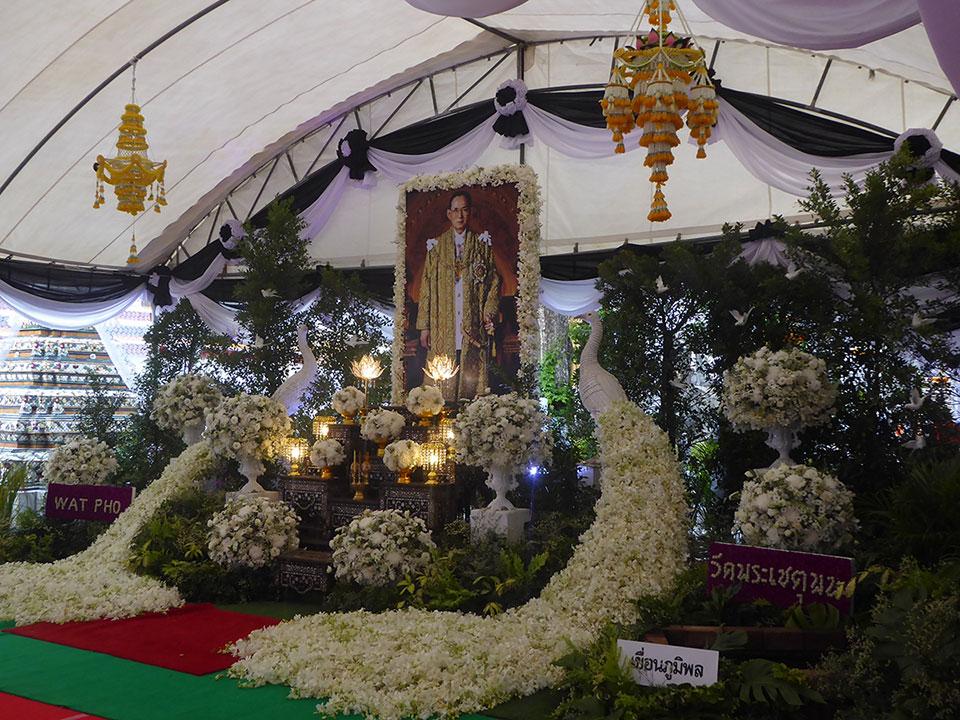 Monks
Monks are a familiar sight on the streets of Bangkok and are highly respected in Thai society. They are forbidden contact with women so you should not sit or stand next to, touch or hand things directly to a monk. Note that certain seats must be given up for monks on public transport.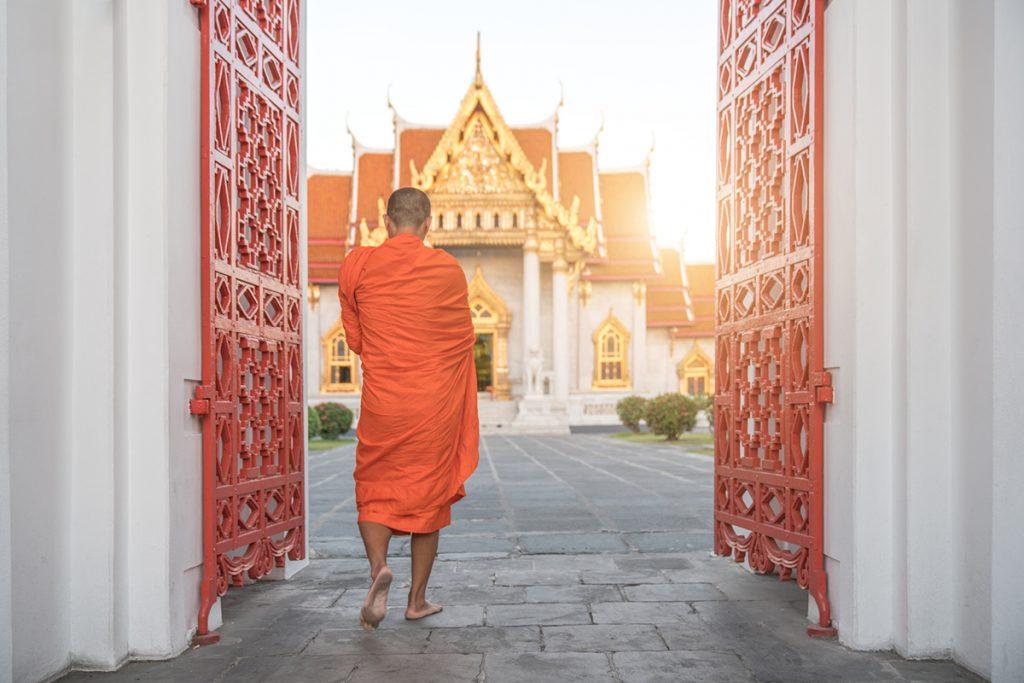 Opening Hours
Most shopping malls are open from 10.00 until 21.00 7 days a week. Shops not in malls usually close around 20.00. Government offices are open 08.30 – 16.30 and close one hour for lunch.
Police
Always be polite when dealing with the Thai police. They have the right to stop you anywhere and ask to see your ID. Failure to produce it can result in arrest and a 2000 baht fine. The English speaking Tourist Police can be contacted by phoning 1155 or by email at 1155@touristpolice.go.th
Post Offices
Post office opening hours are generally 08.30 – 17.00, usually closing earlier at 12.00 on Saturdays and closed on Sundays. Branches in malls are open later till 20.00 and are open 7 days a week. They offer a range of postal services, Western Union money transfers, bus tickets, and souvenirs. International postal rates are not expensive. Send a postcard home! Fed-ex, DHL, and UPS also have offices in Bangkok.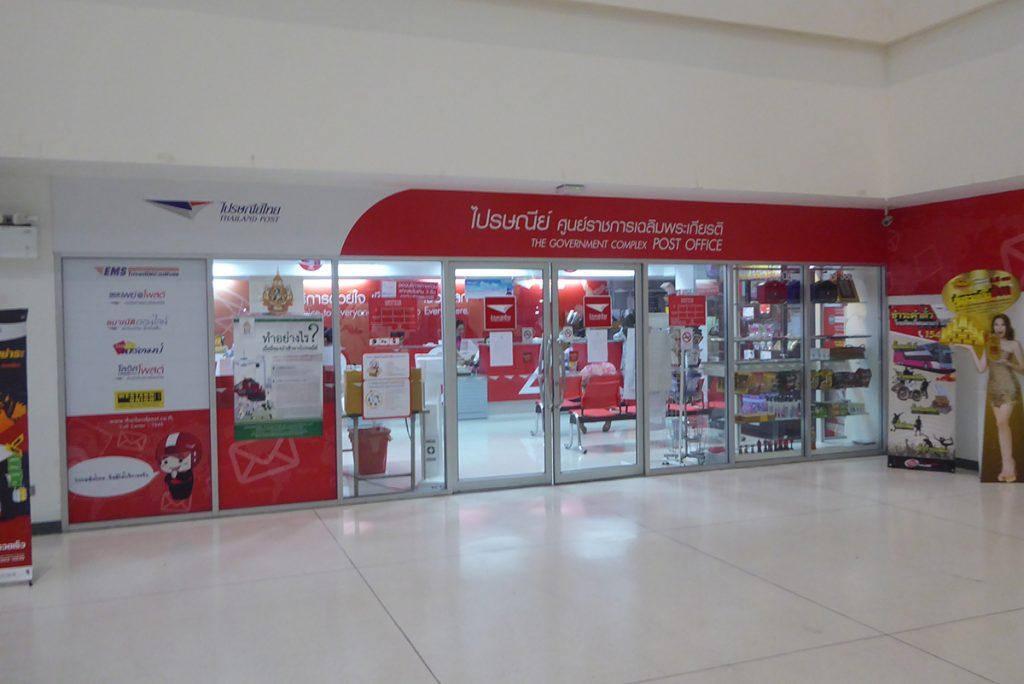 Thailand Public Holidays 2021
All offices and Government buildings are closed on these dates. Shops are open and transport runs as normal on these days. Banks/Foreign Exchange in malls are open as usual. The Royal Ploughing Ceremony is not a public holiday.
January 1 New Year
February 12th Chinese New Year
February 26th Makha Bucha Day, 
April 6th Chakri Memorial Day
April 12-15th Songkran
May 3rd National Labour Day,
May 4th Coronation Day,
May 26th Visakha Bucha Day
June 3rd Queen Suthidas Birthday
July 26th Asarnha Bucha Day
July 27th Khao Phansa Day 
July 28th – King's Birthday (Rama X)
August 12th Queens Birthday
September 24th Prince Mahidol Day
October 13th King Rama IX Memorial Day,
October 23rd Chulalongkorn Memorial Day
December 6th King Rama IX Birthday,
December 10th Constitution Day,
December 31st New Year's Eve
Thai school holidays run from early March to early May and for the whole of October.
Religion
Thailand has no official state religion though 85% of Thais are Buddhists. The rest of the population comprises of Muslims, Sikhs, Hindus, and Christians. You will find places of worship for all religions in Bangkok.
Road Safety
When crossing roads always look both ways as motorcycles often drive against the flow of traffic. In Thailand, pedestrians do not have right of way on zebra crossings. Thai drivers will not stop for you, they will run you over. There have been several fatalities over the last few years. Zebra crossings at intersections with pedestrian Green and Red lights are usually safe but be cautious. Thai drivers speed up at amber lights rather than slow down, to beat the lights. Use pedestrian footbridges wherever possible. Always wear seat-belts on long-distance coaches and mini-vans.
Personal Safety
Bangkok is generally a safe city, especially in Tourist areas. Avoid deserted areas at night. Pickpocketing and bag snatching are the most common crimes. Drug mugging (spiked drinks) by sex workers is also common. Avoid unlicensed taxis. Beware of over-friendly Lady-boys in the Sukhumvit area late at night (pickpockets). Don't get into arguments with Thai men in Soi Cowboy, Nana or Patpong which can result in gang beatings.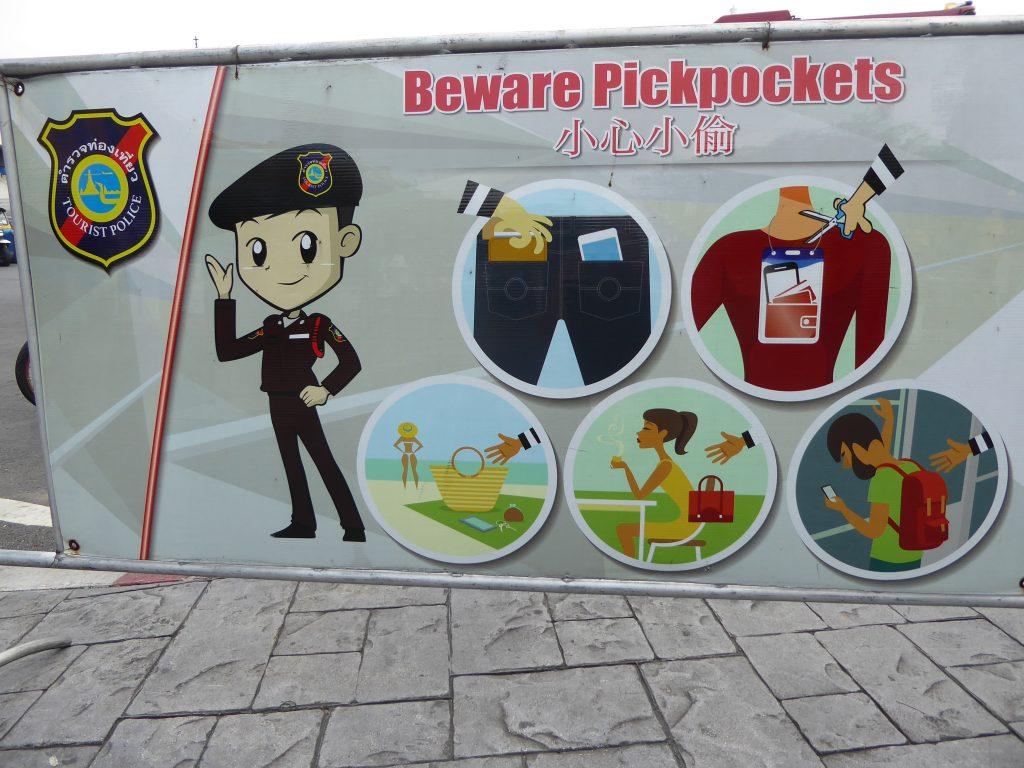 Always keep your passport and valuables in a secure place even in your hotel room. If you need help or need to report a crime it's best to contact the English-speaking Tourist police on 1155, which is a 24-hour toll-free number. They can take you to the nearest police station and liaise on your behalf with the generally non-English speaking Thai police.
Pigeons
Pigeons are a health hazard and Bangkok is cracking down on pesky tourists who keep feeding them and taking selfies with a pigeon standing on their head. Before you get friendly with pigeons, check out the photo below.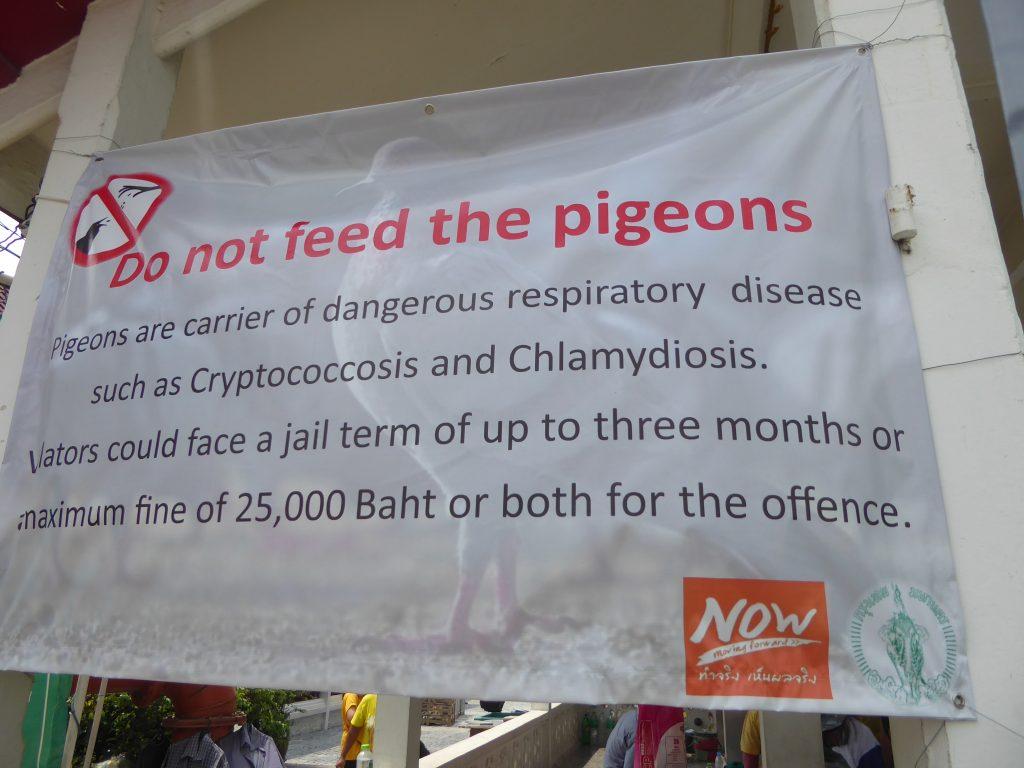 Smoking
Smoking not allowed inside and outside all public buildings, on public transport, in open-air markets, inside bars, restaurants, shopping malls, public parks, sports stadiums, and Airports unless there is an enclosed smoking area. Vaping, Electronic Cigarettes and Shisha are officially banned. Dropping cigarette butts in the street can incur a 2000-5000 baht fine if seen by a Thetsakij, who are official litter inspectors. They patrol the Sukhumvit, Siam, Rattanakosin and Silom areas looking for offenders.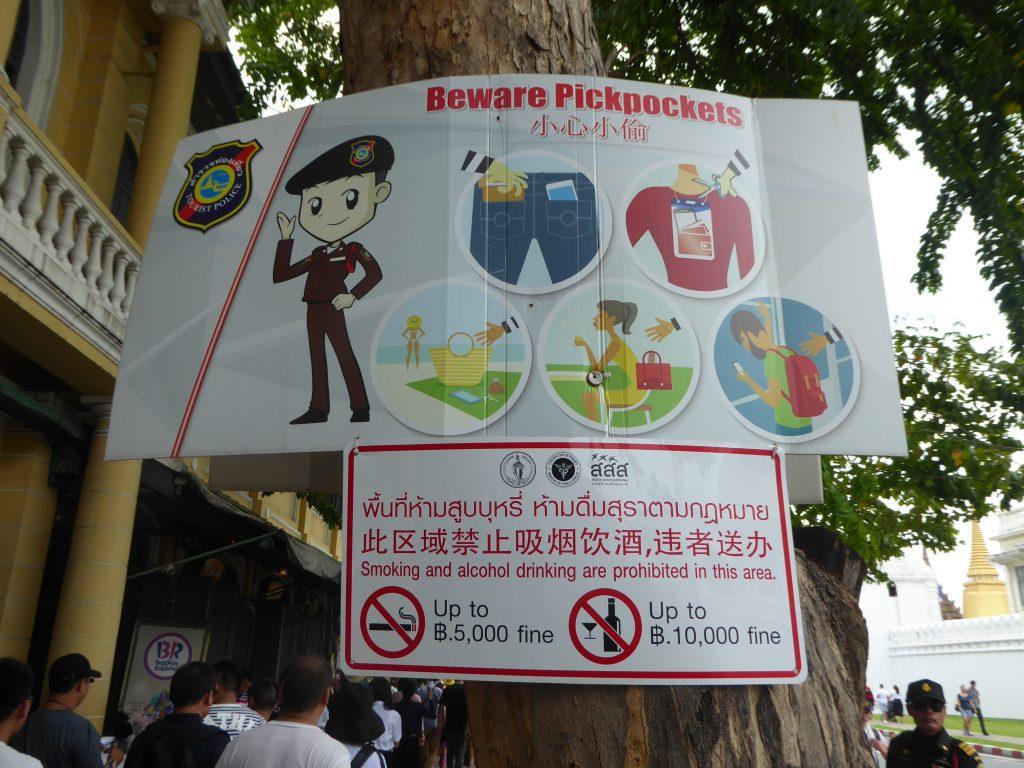 Vaping
Vaping is illegal in Thailand as is possession and importation of e-cigarettes, vaping devices, and equipment. If caught they can be confiscated and you can be fined from 6000 baht upwards or receive up to 10 years in prison! However, in practice, this is selectively enforced and you will see westerners openly vaping in some places. Shisha pipes are also illegal but can also be seen in use. Just be aware of the law.
Time
Thailand is 7 hours ahead of GMT and uses the 24-hour clock system. There is no daylight-saving time in Thailand. Thai's use both a western and Buddhist calendar. For reference, the year 2018 = 2561. The year 2019 will be 2562.
Tipping
Tipping is not common in Thailand and nobody expects you to. You don't need to tip taxi or Tuk-Tuk drivers. Tipping can be right in mid or high-end restaurants if you feel the service was good.
Toilets
Public toilets can be found in shopping malls, bus and train stations. They are free in most shopping malls but there is often an entrance charge of 5 baht, particularly at bus stations. Toilet paper is not always in toilet stalls but there are machines dispensing paper outside which you may have to pay for. Most toilets in shopping malls are western style.
Tourist Information
There are official tourist information kiosks on the city streets in tourist areas that can give you maps, brochures and help with directions. The staff speak good English and can help you with any questions you may have. They are open 09.00 – 17.00, 7 days a week though they often seem to be closed
You can recognize them by the green on a white symbol of a mahout on an elephant. There is one on the sidewalk directly outside Siam Paragon and one outside the Grand Palace. Other locations include Sukhumvit, Silom and outside Wat Bowonniwet near Khaosan Road.
The Tourism Authority of Thailand (TAT) head office is at 1600 New Phetchaburi Road and has a large choice of brochures for Bangkok and all regions of Thailand. They will give you a map and booklet for free. There is also a great walking map guide-book but you will have to ask for this specifically. English speaking staff are usually on duty.
They do not sell tours or book tickets for you. Opening hours are 08.30-16.30 daily. They also have sub-offices at Suvarnabhumi Airport on the arrival floor (24 hours) and at the Ministry of Sport and Culture on Ratchadamnoen Nok Road near Khaosan. 
Watch out for non-official tourist information offices that have a sign saying tourist information, they are not official and just want to sell you tickets and tours and can provide inaccurate information to meet that goal. Official information kiosks do not sell tickets or tours. Beware of people who hang around outside official tourist offices especially the TAT who tell you it's closed or that it is not the official office and offer to take you to an official office. The offices mentioned above are the only official ones.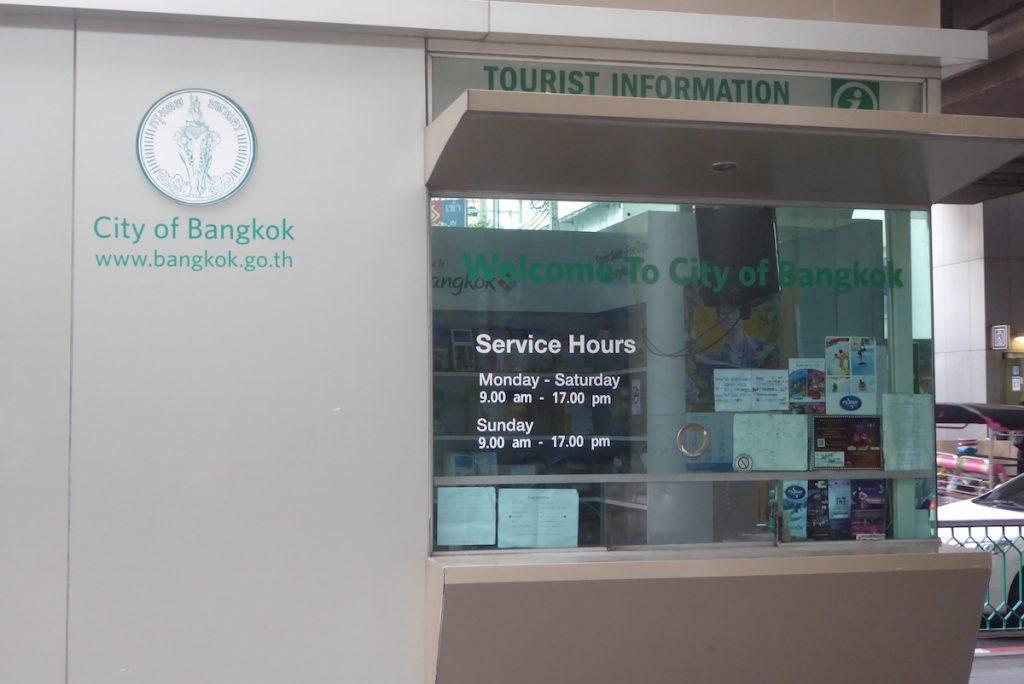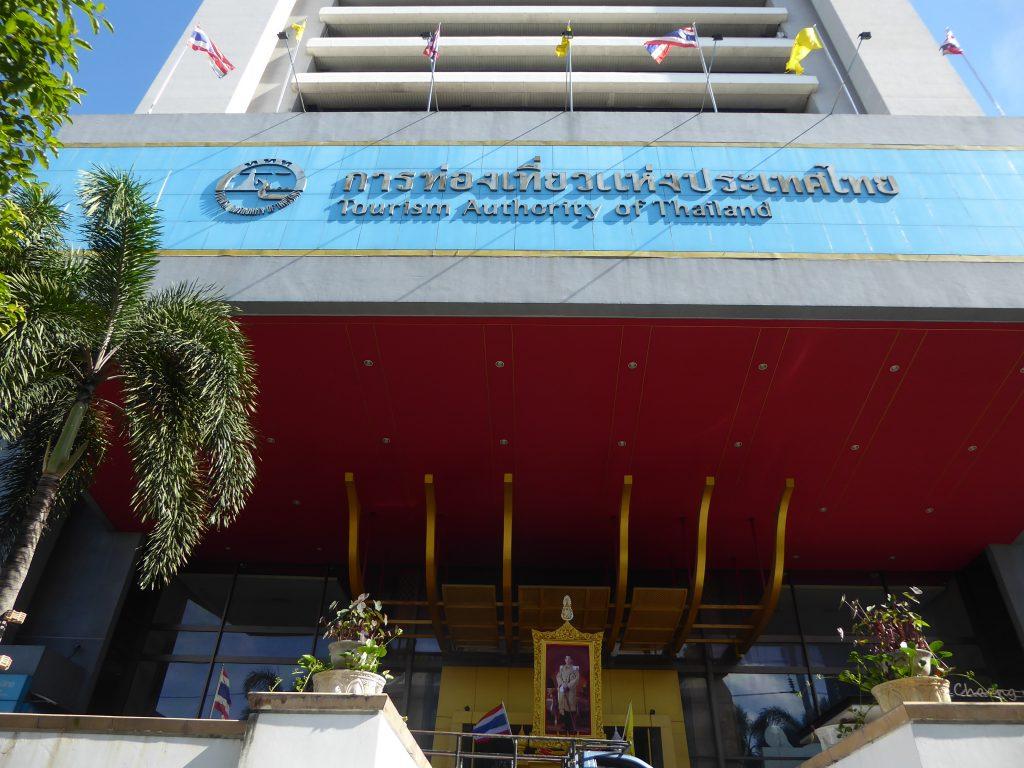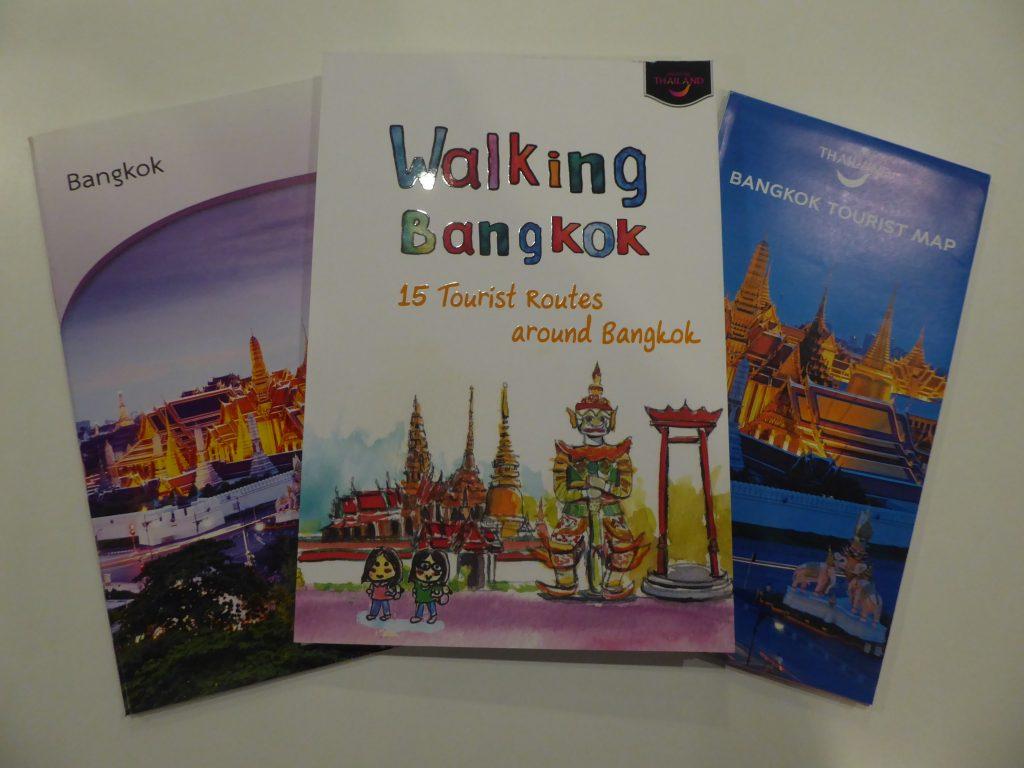 Map – Tourist Authority of Thailand 

Tourist Police
The English-speaking Tourist Police can be contacted by phoning 1155 or by email at 1155@touristpolice.go.th
Water
Drink only bottled or boiled water even if you see locals doing otherwise. Bottled water is cheap from 5 baht small to 17 baht large. Western brands such as Evian are expensive. Ice cubes are usually safe. Some street food outlets use ice blocks which are unsafe.
You May Also Like
Popular Pages on Tourist Bangkok