Mediterranean Restaurants in Bangkok
Pastel Rooftop Bar and Restaurant
Pastel rooftop bar and Restaurant is one of the best Mediterranean restaurants in Bangkok serving up tasty authentic French, Spanish, Italian, Greek, Moroccan, and Lebanese cuisine. Its a fairly new restaurant quickly making a name for itself among Bangkok food lovers who are looking for a fine dining experience. Located on the 22nd floor of the 4-star Aira Hotel in the busy nightlife center of Sukhumvit Soi 11 Pastel enjoys stunning views of the neighborhood making it an amazing venue for watching the sun go down.
The Restaurant
The restaurant is half covered half open-air. The beautiful Mediterranean-inspired decor is classy and elegant. The large floor space is divided into three distinctive areas, large seating booths, bar middle, and an outside terrace. The terrace tables have great views of the city. The space is made for big gatherings which creates an amazing lively atmosphere. The bar is located at one end which transforms into a dancefloor late at night. An elevated DJ booth is suspended above the bar. An open-plan kitchen is located at the opposite end. The staff is dressed in Greek-influenced blue and white T-shirts to give a nautical theme.
The Food
The food is delicious and full of flavor. The menu is heavy on seafood though you?ll find some meaty dishes as well. Vegetarians are well catered for with nine choices on the menu. The menu is divided into small plates (tapas-style dishes), and a raw bar featuring oysters, caviar, scallops, hamachi, tuna tartar, and prawns. Share it platters, main courses, and salads. There are also a number of side dishes such as truffle fries and vegetables.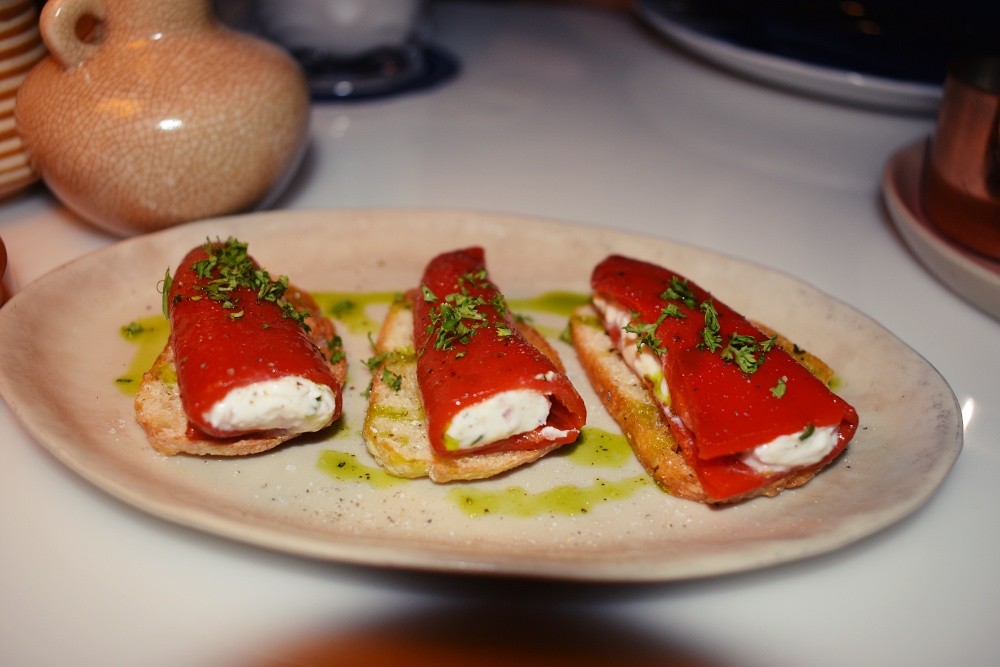 Highlights of the menu include Pastel on the Yacht, a selection of seafood including a whole Maine lobster served on ice on a mini model yacht, lobster fettuccine, and flambeed seabass. For meat eaters, there is whole baby chicken, pork chop, rib eye steak, and tenderloin beef. Everything is made from fresh seasonal farm-to-table ingredients. We started with the small plates ordering piquillos de la mama (marinated bell pepper filled with goats cheese), Octopus Galician style (grilled octopus leg with paprika and smashed potato), and Grilled Carabineros. Everything was outstanding.
For the main course, we chose Lobster Fettuccine from the share it menu. The whole lobster was served on a bed of fresh fettuccine with Pomodoro sauce. The lobster meat was fresh and succulent. This dish was quite filling so we had to abandon any thought of ordering another main course.
For dessert, my partner managed to squeeze in Ice Tropezienne (a brioche roll with vanilla cream and ice cream with a red fruit coulis). The service was fast and our server made sure we had everything we needed during our meal.
Prices
The small plates menu runs from 290 baht to 1640 baht. The raw bar costs from 490 to 2990 baht (Caviar). Share it platters are from 1290 to 5990 baht (pastel on the yacht), main courses 490 to 1990 baht, salads 370 to 690 baht, and sides 190 to 250 baht. Desserts are 280 to 890 baht. All prices are ++. Pastel is not cheap but is good value for money considering the quality and when compared to other high-end rooftop bars.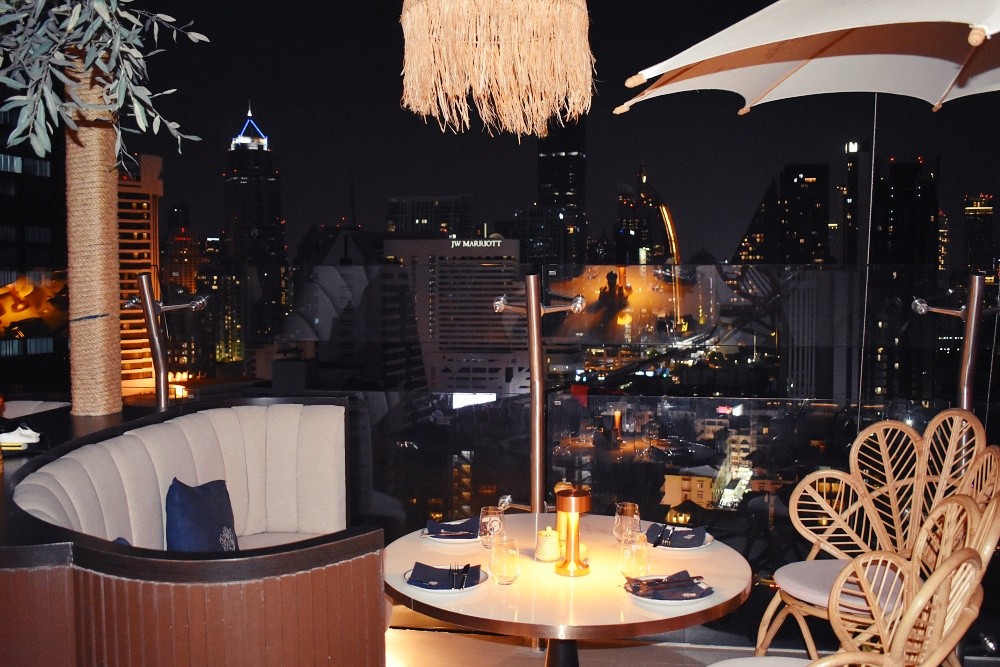 Drinks
The drinks menu is extensive. Cocktails (360 to 940 baht) are strong and creative and created by a mixologist. There is also a short mocktail menu for non-drinkers (220 to 260 baht). We sampled a very sexy martini (590 baht) and a sweet sunset (260 baht). The martini was made from premium grey goose vodka, triple sec, and rose and was strong and well-presented in a classic martini glass. The sweet sunset was a mix of pineapple juice, popcorn syrup, lime juice, coconut milk, and soda. It was light and refreshing. The drink menu is strong on champagne (3090 to 34,990 bottles or 590 glasses). Magnums are also available. The wine list is extensive featuring red, white, rose, and sparkling (1390 to 1990 bottles or 280 to 490 glass. Beer is good value with Singha bottles at 150 baht or Peroni drafts at 360 baht (50cl). Spirits are 3990 to 59,990 (grey goose) baht per bottle, 290 to 1500 glass. Water is 70 baht. Soft drinks, tea and coffee are also available.
Sunset
Pastel is a great place to watch the sunset from the roof terrace. There is a special sunset menu featuring French oysters, sparkling wine, and special sunset cocktails.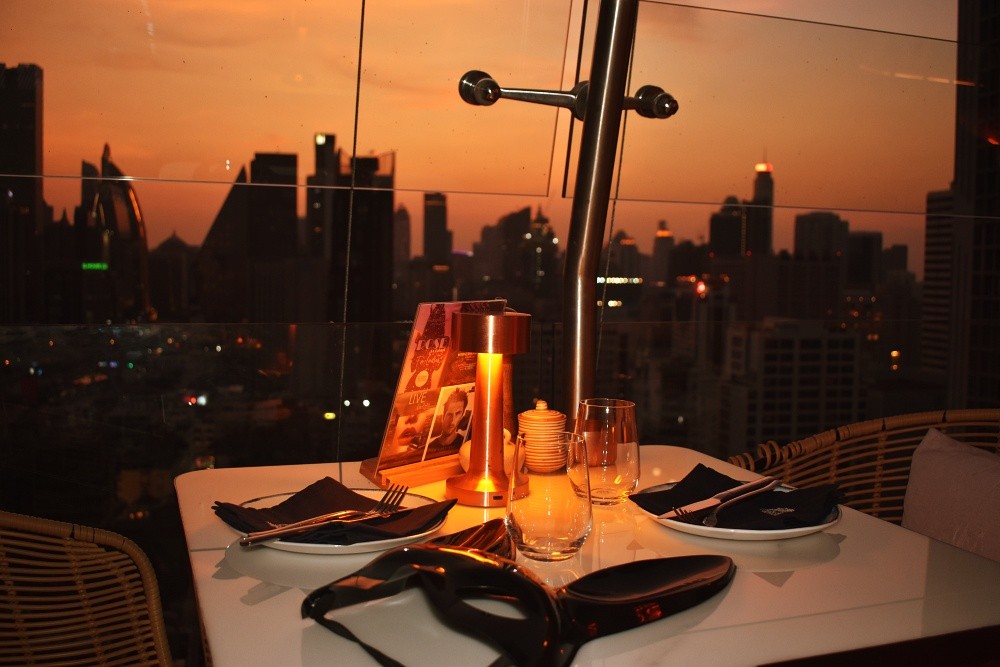 The Entertainment
After 21.00 the lights go down and a DJ takes to the decks playing a mixture of electro house, deep house, and vintage house. The DJ booth is above the bar and the area in front of the bar transforms into a dance floor. There are also musicians including a sax player, a drummer, and a jazz band on certain nights. On our visit, there was a roving sax player moving around the room serenading guests at their tables. There are also themed nights. Friday is the yacht club while Saturday is Scandal featuring a masked party. All guests get masks on their tables. There are also regular special events.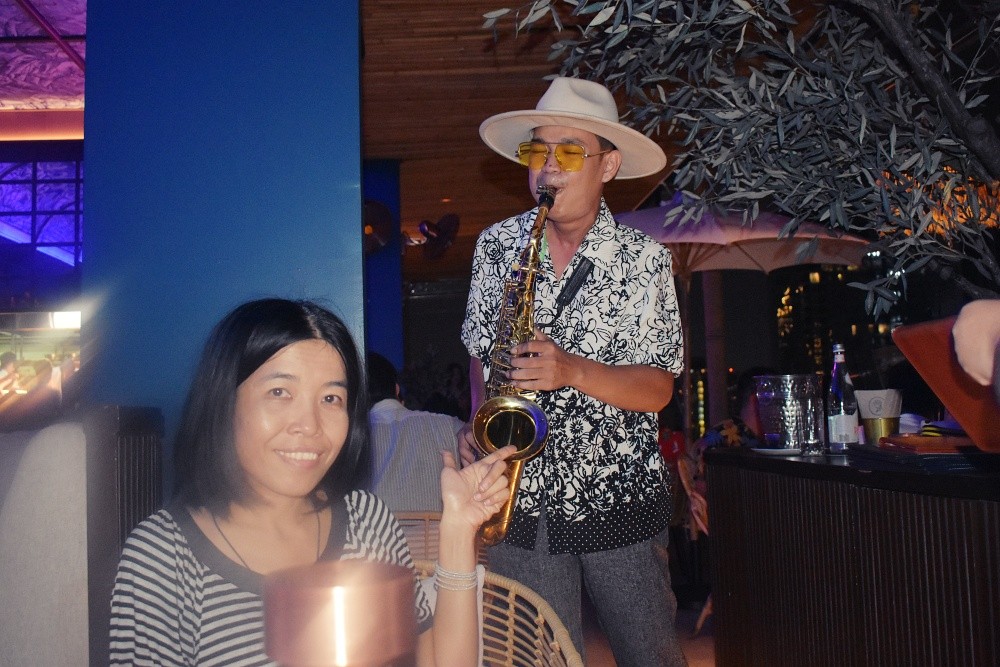 Pastel is great for a romantic dinner, a celebration, or a night out with friends. You?re sure to have a unique and memorable experience.
Reservations
Reservations are essential particularly if you want a table on the terrace overlooking the city. Walk-ins can sit or stand at the bar and there is some counter seating near the bar.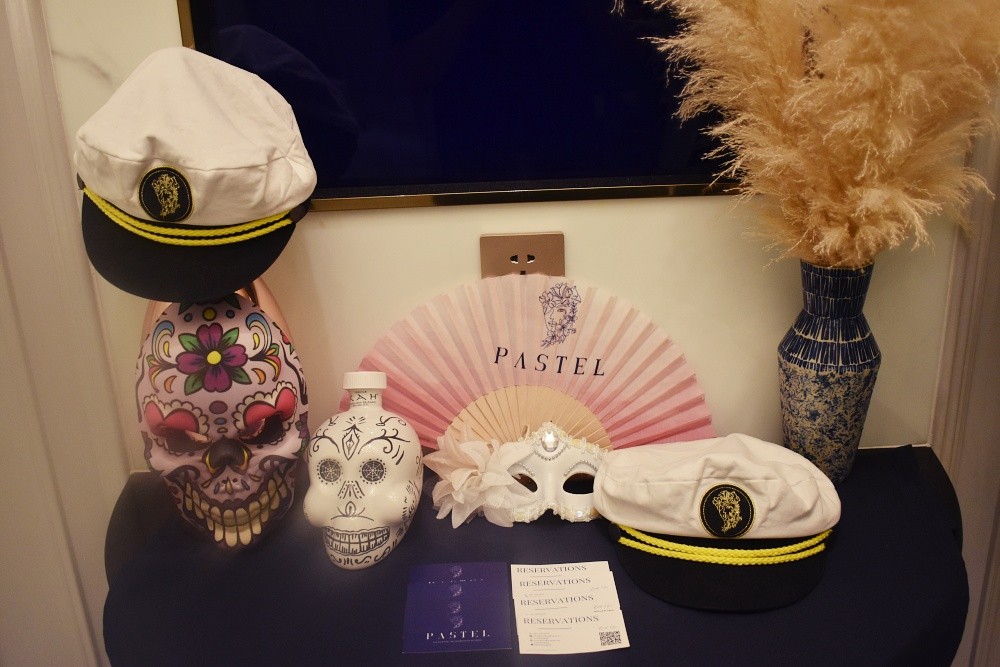 Where is Pastel?
Address 22nd floor, Aira Hotel, 14 Sukhumvit Soi 11, Bangkok
Opening Hours17.00 to late 7 days a week
Getting There BTS Nana Station
Website;https://www.pastelbangkok.com/
Map