American & Burgers
The Best Burgers in Bangkok + Cajun, Creole & BBQ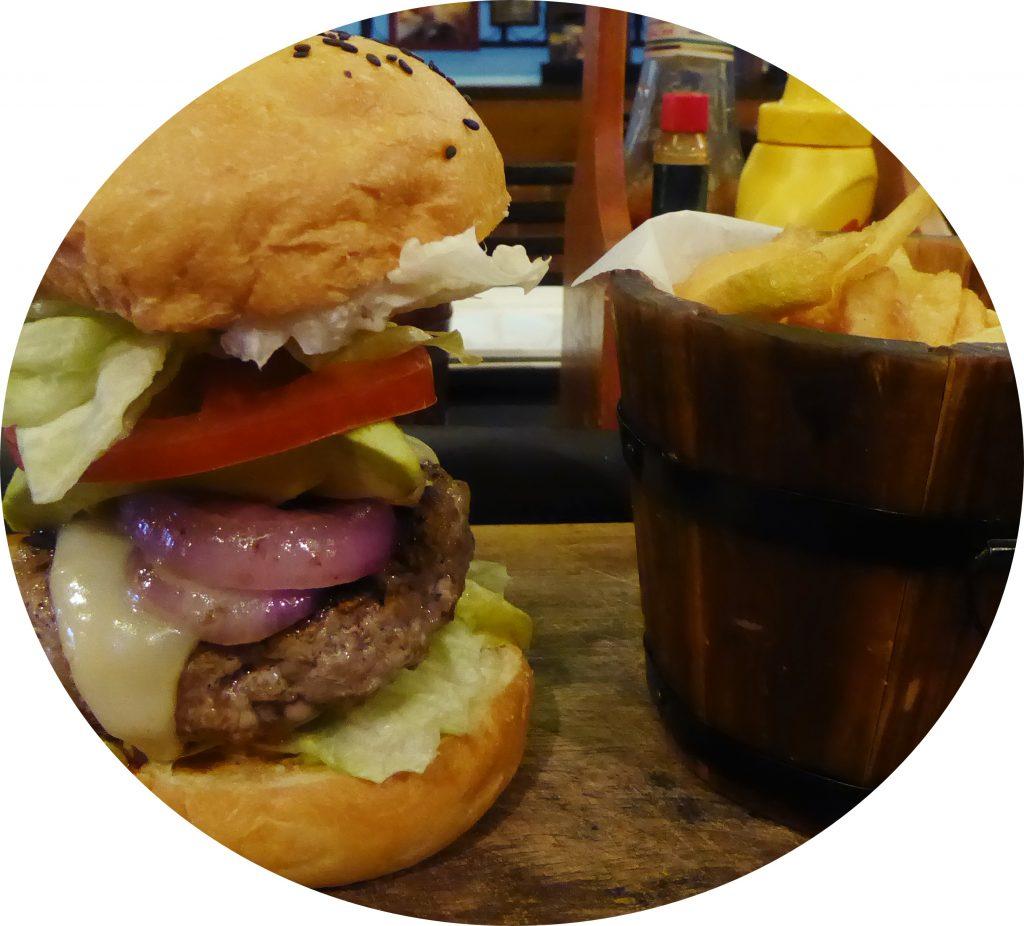 American Food & Burgers
If you are craving for some good American Food in Bangkok there are some great restaurants serving up burgers, ribs, dogs, cajun, creole and even poutine. Read on for where to find the best burgers in Bangkok and more.
Daniel Thaiger
Daniel Thaiger is the name of one of Bangkok's most popular food trucks serving handcrafted burgers. The burgers are freshly made daily and not frozen.
Daniel Thaiger Menu
The menu is limited to four burgers with a choice of beef or pork, Thaiger (150 baht), Mr Steve (180 baht), Sumo Oat (160 baht) and Cowboy (200 baht) though you can build your own burger from a list of toppings that include lettuce, tomato, onion, cheese, bacon, jalapenos, teriyaki sauce, spicy mayo, barbecue sauce or Thaiger sauce. The burger comes in a toasted brioche bun. The Sukhumvit 11 branch serves Lamb & Wagyu Beef as well as Pork.
You can also order regular fries or animal fries (diced jalapeno, bacon, onions and spicy sauce topping). There are also Tuna Melt (80 baht) and grilled cheese (50 baht) sandwiches. Drinks are also available.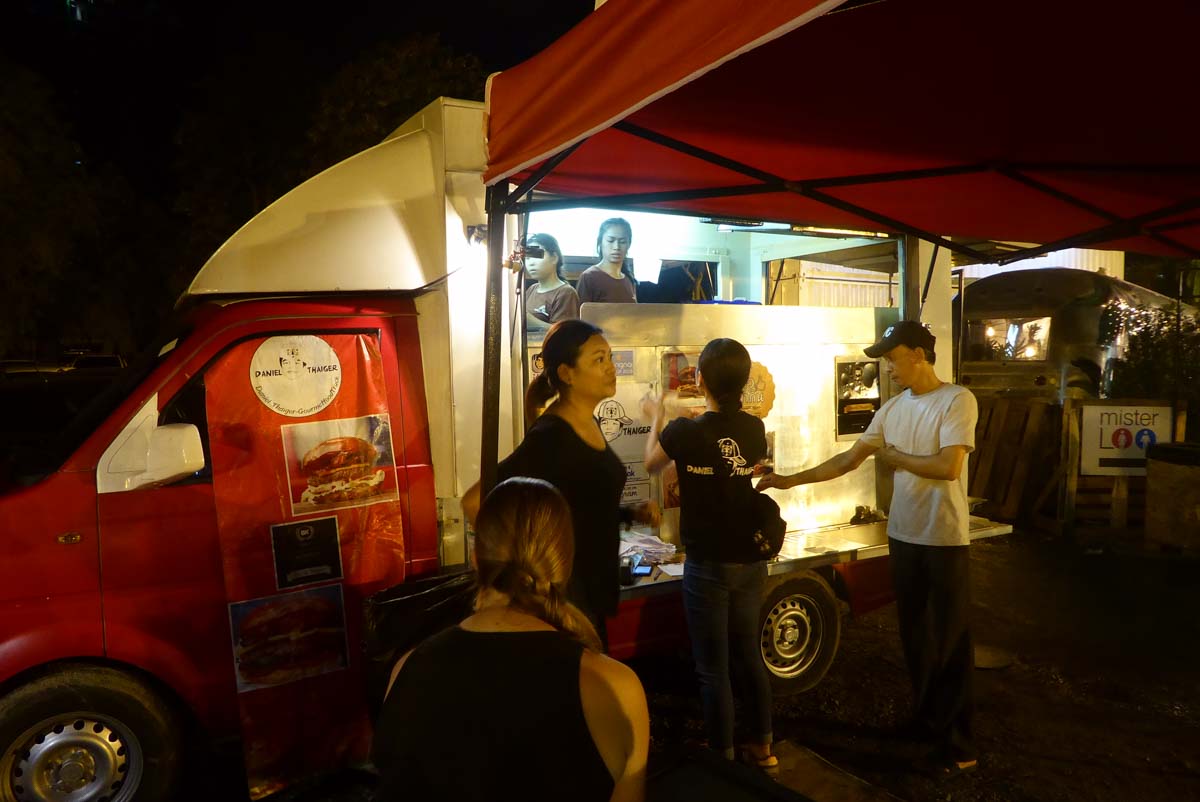 Daniel Thaiger Outlets 
Brew
There is a permanent booth next to Brew on Sukhumvit Soi 11 serving more upmarket Lamb and Wagyu beef burgers from 260-330 baht. There is also a small side dish menu. The booth is open daily from 16.00-01.00. Eat-in at Brew or Take-Away. 
Map: Sukhumvit Soi 11
The Commons
A new branch has opened at the Commons community Mall on Thonglor Soi 17. It's on the 2nd floor next to the Beer Cap. The menu is the same as at Brew with the classic burgers and side dishes. Communal seating outside or seating at the Beer Cap. Opening hours are 12.00-24.30 daily. 
Map; The Commons 
Daniel Thaiger Food Truck
The food truck is parked on Sukhumvit 30/1 Tuesday to Sunday, 16.00-21.00. At Sathorn Square in front of Chong Nonsi BTS Station every Wednesday and Friday from 11.00-14.00. Check the trucks facebook page to confirm.
Escapade Burgers & Shakes
*Escapade has permanently closed*
Escapade is a popular burger joint in the Warehouse 30 art complex near River City on the waterfront. The spacy interior has shared communal seating. Also within Warehouse 30 are cool cafes, bars & art galleries.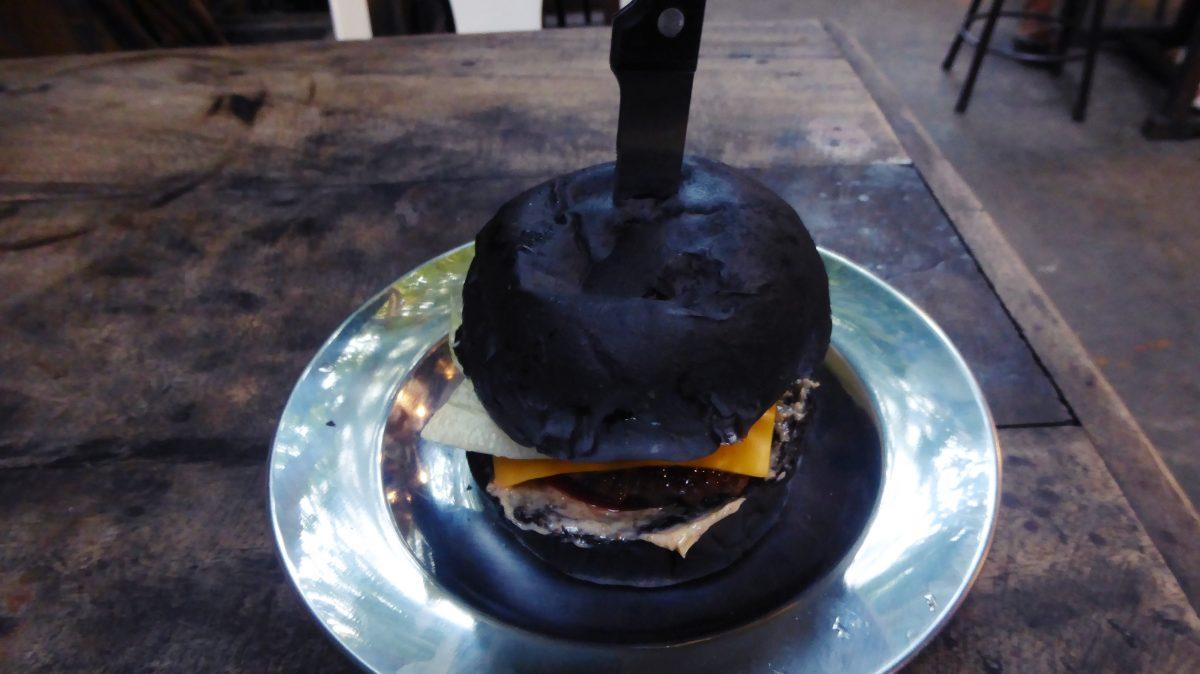 The Escapade Burgers
Escapade is all about quality handcrafted burgers with a small select menu featuring a choice of beef, pork, lamb or chicken in either a regular bun or its famous chocolate infused black bun.
The choice of add-on sides is fries, onion rings or hash browns. You won't find the obvious burger accompaniments here, no tomatoes, ketchup or mustard, no forks either. Instead, a black truffle mayo accompanies the burger along with a knife. The burgers arrive medium rare with plenty of red meat so don't forget to tell your server if you desire it more well done. Burgers are available in assorted sizes ranging from 250-350 baht.
The Bar
Unfortunately, the bar only stocks expensive craft beer at 200 baht a bottle while cocktails that are available in different alcoholic strengths start at 350 baht. There is also a range of tasty creative shakes. Escapade is on Charoen Krung Road and is your best option in the area if you want a quality burger.
Where is Escapade Burgers?
Location: Warehouse30, Charoen Krung Rd, Bang Rak, Bangkok 10500
District: Charoen Krung
Opening Hours: 15.00-21.00 
Getting There: Chao Phraya Express Boat to Si Phraya Pier. Turn right from the pier exit & Warehouse 30 is 50 meters on your right. 
Map: 
Fatty's Bar & Diner
Fatty's is a grungy shophouse bar and a restaurant serving some of the best American food in Bangkok. The American co-owner hails from Wisconsin and the classic diner-style menu includes hot dogs, burgers, wings, ribs, hot & cold sandwiches, salads, fish n' chips, and even jalapeno poppers and poutine.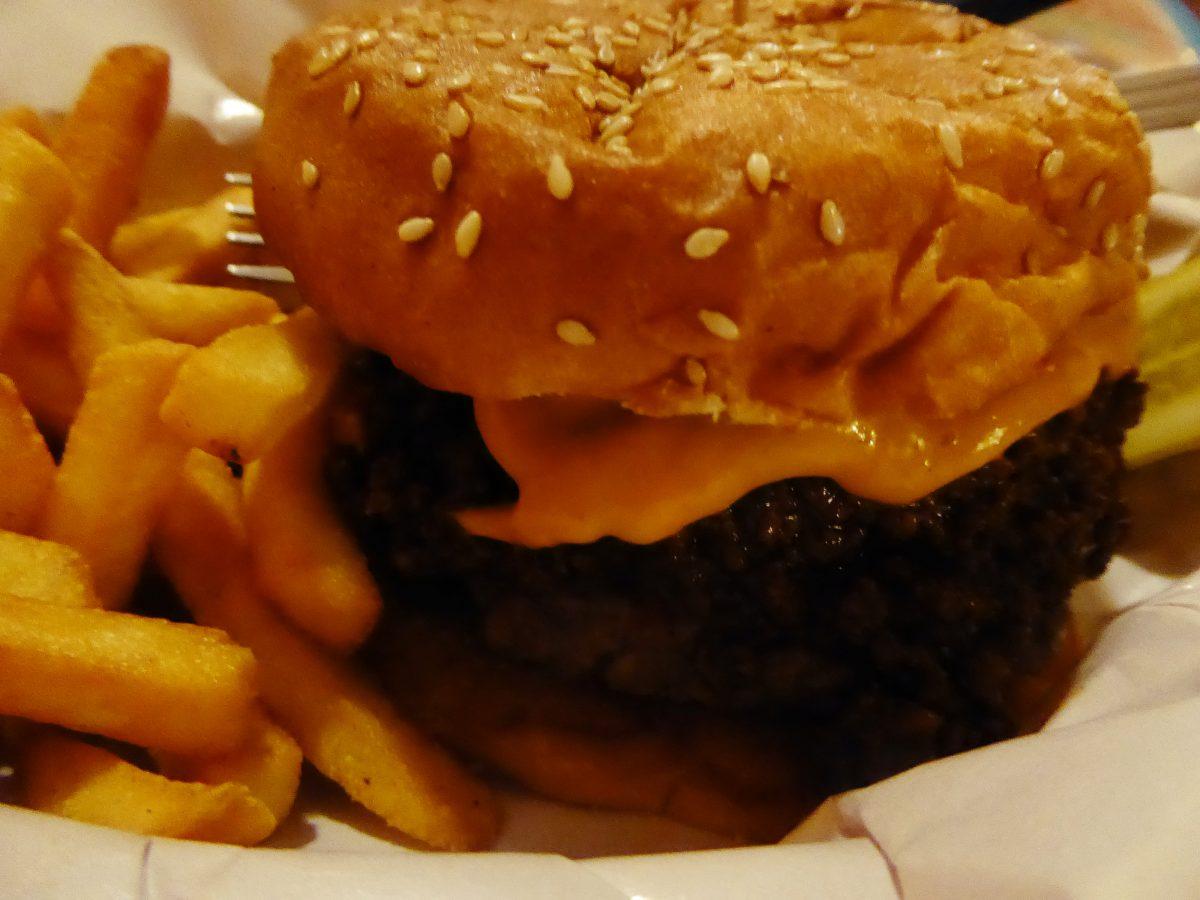 Fatty's Menu
The food is inexpensive with nothing on the extensive menu over 300 baht, hot dogs are 120-170 baht while burgers are 150 grams of Thai-French beef and range from 190-260 baht and are served with fries, salad or coleslaw. Cheese is imported from Wisconsin. Beers start at 80 baht, cocktails from 190 baht, and wine is 120 baht a glass. There's a large selection of craft beers mainly bottled and some on tap including some obscure Thai brews.
Check the menu: https://www.facebook.com/fattysbardiner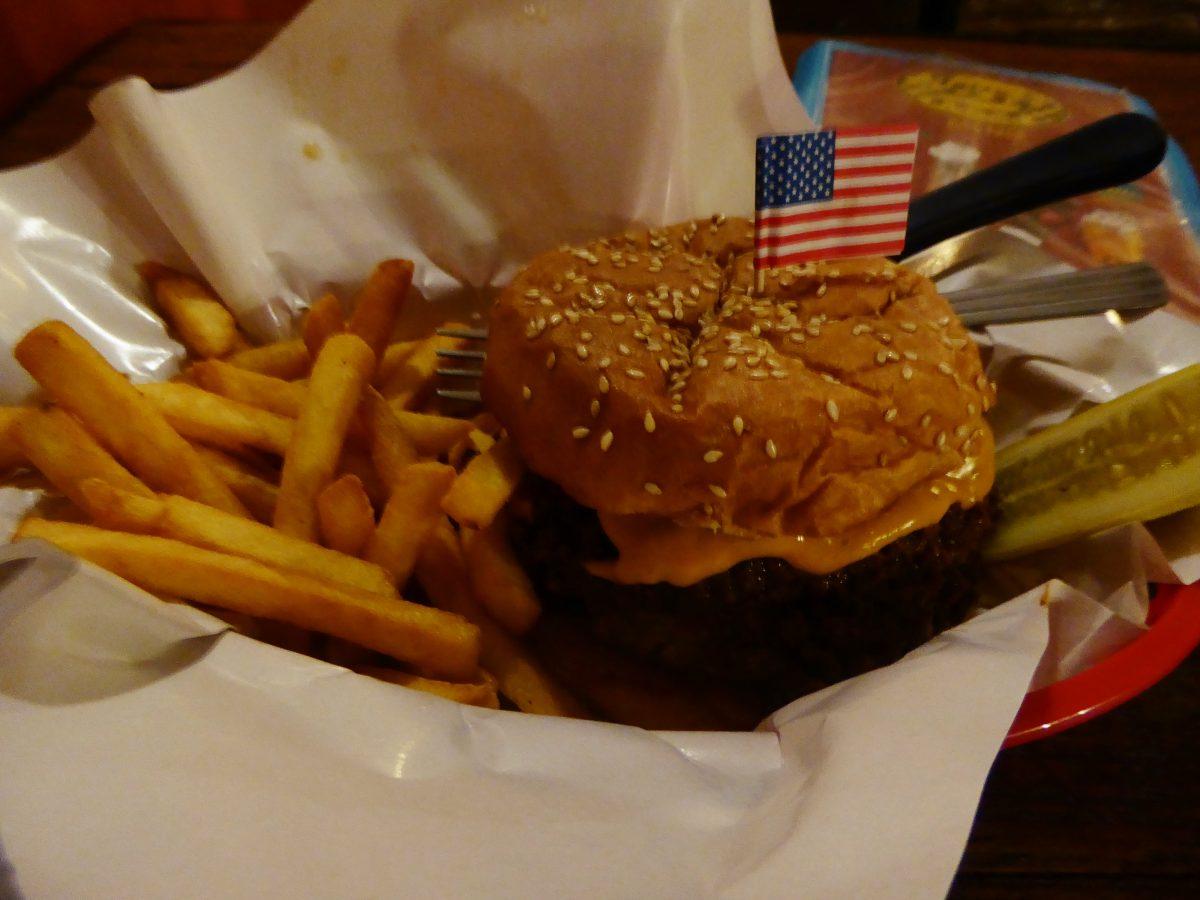 Fatty's Specials
There are daily lunch and evening specials. Wing Wednesday has 10-baht wings while Thirsty Thursday has 40 baht off all craft beers. Fatty's music soundtrack is classic, heavy & alternative rock with occasional live bands (check the bars Facebook for gig news) and an open mic night on Tuesdays. The crowd is mostly ex-pats with a few locals. Fatty's isn't in one of the main tourist areas but it's an easy 15-minute walk from MRT Phra Ram 9 station and is worth the trip. If you're feeling homesick for some good old western comfort food without the tourist hordes this is the place to go for authentic American food in Bangkok
Fatty's Phone (help with directions for taxi driver) 02 245 2965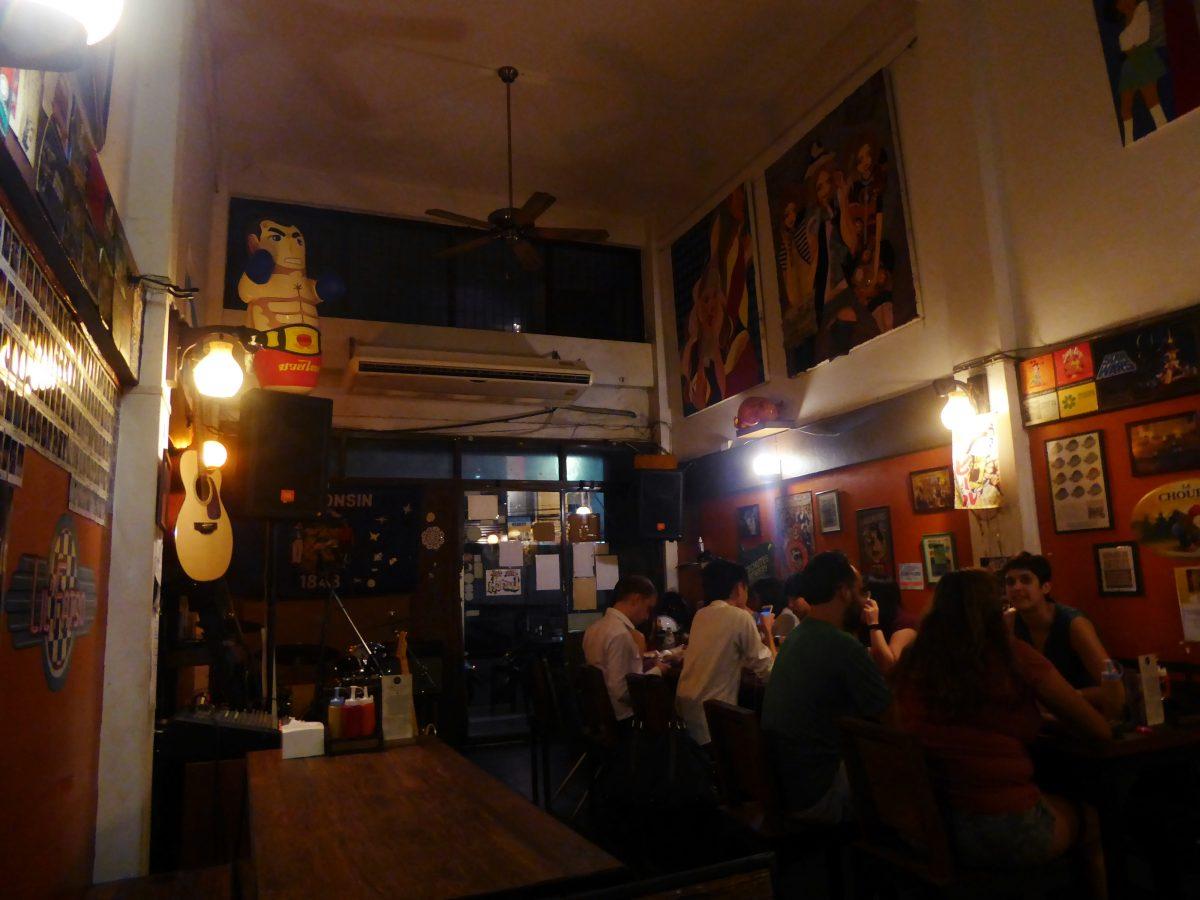 Where is Fatty's Bar & Diner?
Location: 598/66 Asoke-Dindaeng Road, Bangkok.
District: Ratchada
Opening Hours: 11.00-24.00 Tuesday-Sunday. Closed on Monday.
Getting There: MRT Phra Ram 9 (exit 1). Walk straight and turn right into Asoke-Dindaeng road. Keep walking and Fatty's is on the right-hand side. About 15 minutes' walk. Take a taxi if coming from areas not served by the MRT.
Map
Bad Burger & Witchcraft
Bad Burger & Witchcraft is a burger and craft beer restaurant on Sukhumvit Road near the Asoke intersection.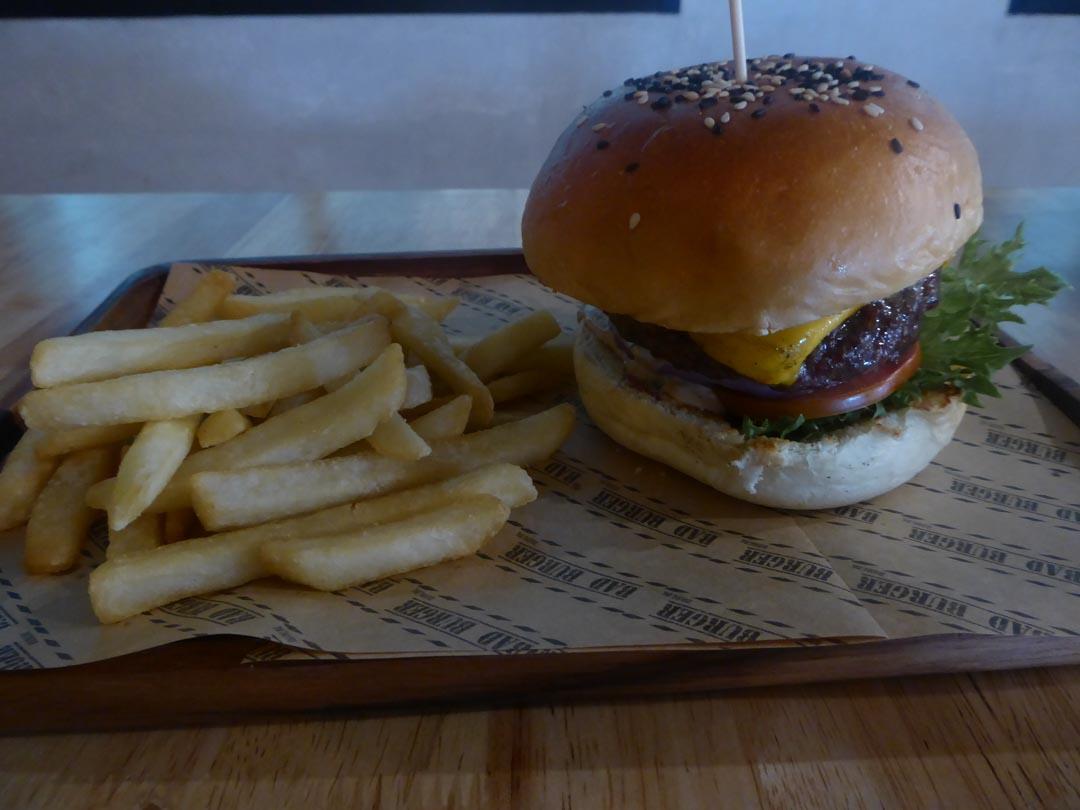 Bad Burger Menu
It serves a selection of burgers, ribs, brisket and fish n' chips. Burgers and ribs come in pork or beef options and there are two veggie burgers including a jackfruit burger and a chicken burger. There are also vegan and gluten-free buns. There's a selection of sides, extras, and even dessert. The burgers are made from Australian beef. Burgers range from 199 baht to 399 baht (triple), ribs from 359 baht, brisket at 599 baht. Burger and ribs/brisket combos are available.
Witchcraft Bar
Witchcraft has 8 beers on tap and there is a daily happy hour between 18.00-20.00 with a 50% discount on a selection of the taps. There is also a small section of local bottled beers starting at 85 baht.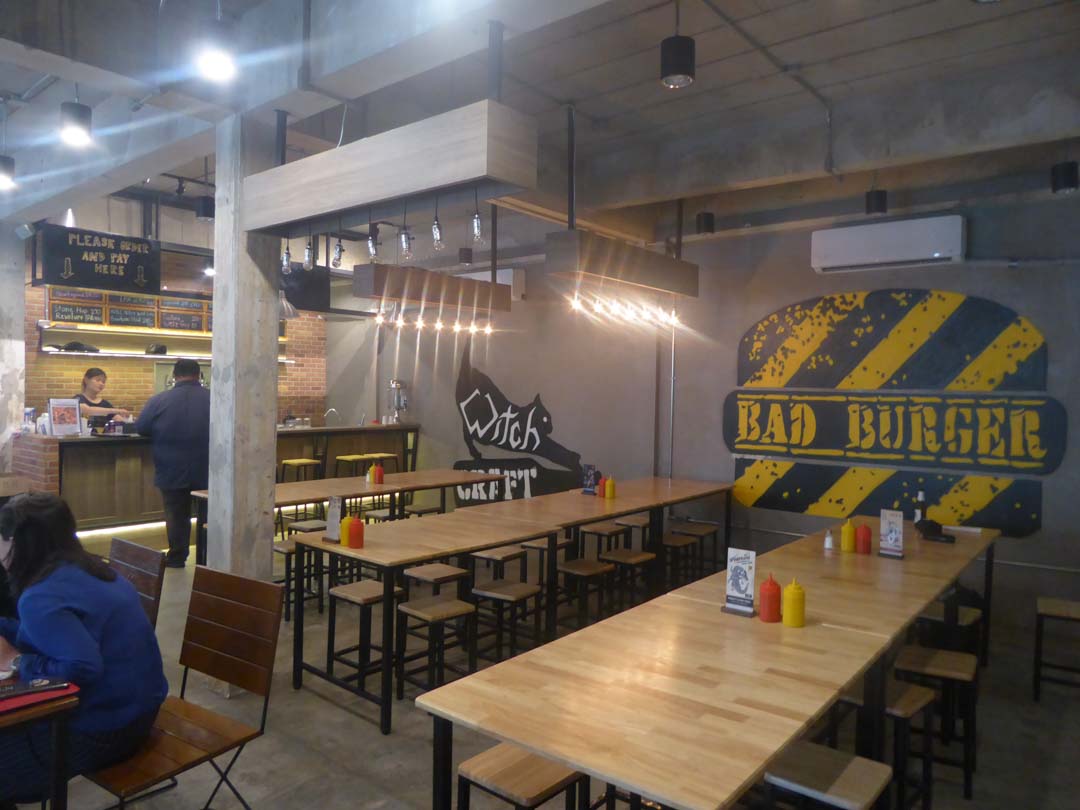 Where is Bad Burger?
Location: 2nd floor, 392/9 Sukhumvit Road, Bangkok. (between Soi's 18-20).
Opening Hours: 12.00-23.00 Monday-Saturday, 12.00-22.30 Sunday.
Getting There: BTS Asoke Station (Exchange Tower exit). Walk up Sukhumvit Road and Bad Burger is on your right between Soi's 18-20.
MRT Sukhumvit (exit 2). Walk up Sukhumvit Road and cross the pedestrian bridge outside Jasmine building. Continue up Sukhumvit Road and Bad Burger is on your right between Soi's 18-20.
Map: 
Buddy's Bar & Grill
Buddy's is a small cozy bar and grill on Sukhumvit Soi 22 sporting an American diner décor. The bar food is excellent and specializes in burgers and dogs as well as serving Mexican, pizza, Thai food, and a range of bar snacks.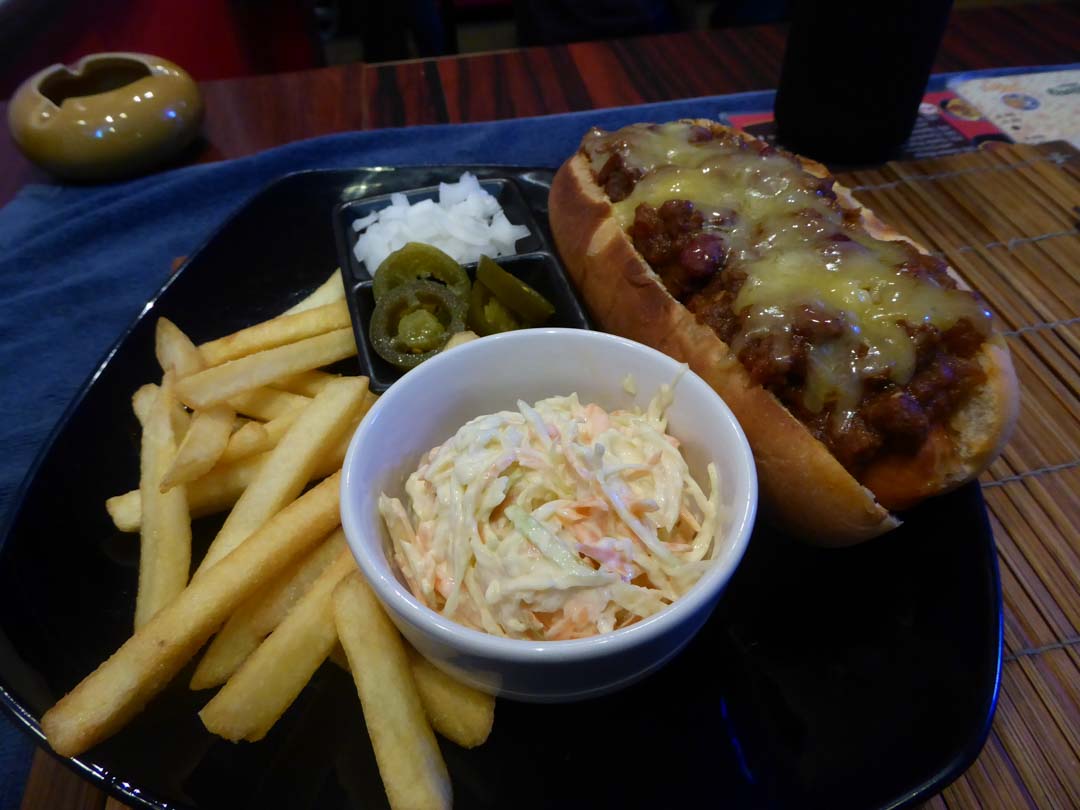 Buddy's Bar & Grill Menu
Burgers and dogs range from 195-215 baht and pizzas at 280 baht and all-day breakfasts at 195 baht. Drinks are inexpensive with beers from 85 baht, spirits, and cocktails from 120 baht, and wine 130 baht. The atmosphere is good with friendly staff and a crowd of ex-pat regulars. There is live sport on TV and a dartboard. The bar is a short walk from the mouth of Sukhumvit Soi 22. There is also another branch on Silom and an out of center branch at Sukhumvit Soi 89.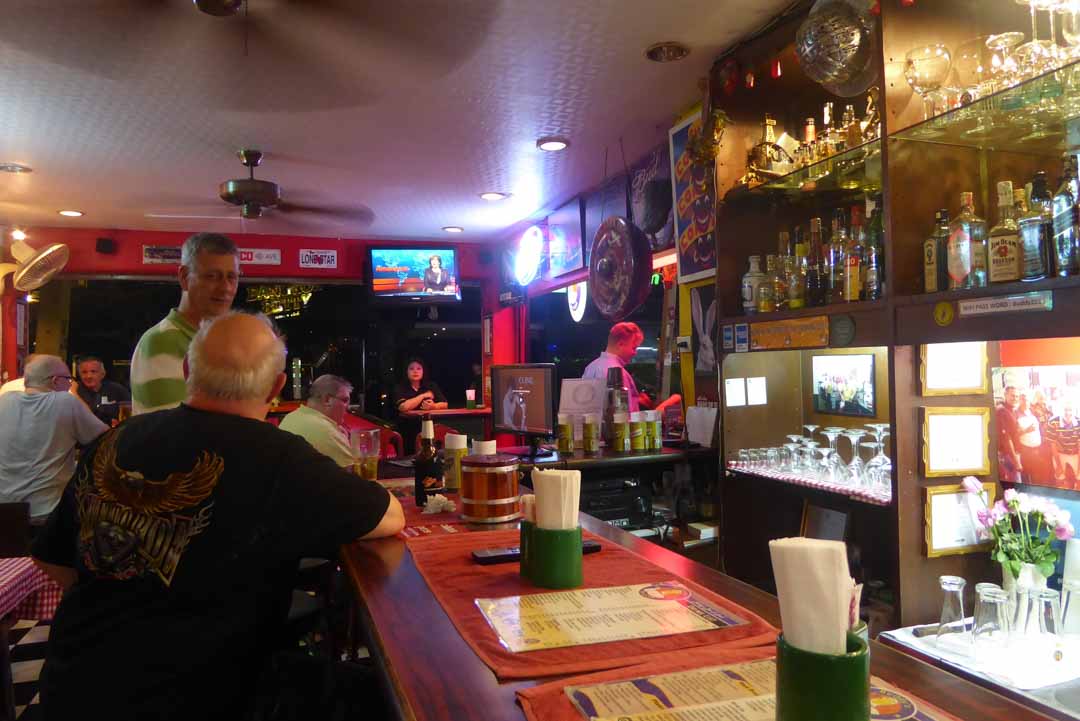 Where is Buddy's Bar & Grill?
Location: 2/5 Sukhumvit Road Soi 22, Bangkok.
District: Sukhumvit
Opening Hours: 09.00-01.00
Getting There: BTS Asoke (exit 6), BTS Phrom Phong (exit 6), MRT Sukhumvit (exit 2)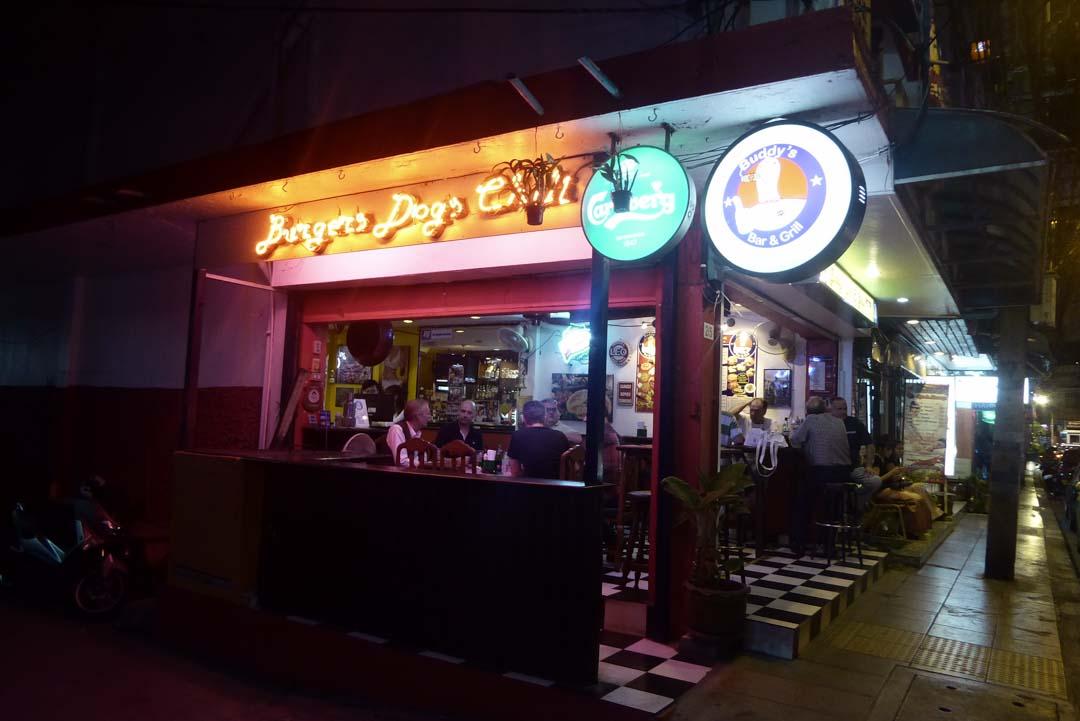 Location: 76/6 Silom Road (corner Silom/Decho Road), Silom, Bangkok.
District: Silom
Opening Hours: 09.00-01.00
Getting There: BTS Chong Nonsi Station (exit 3). Turn left onto Silom Road. Buddy's is on the right-hand side.
Map: All 3 branches 
Street Fourth Burger & Drinks
Street Fourth is a smallish burger joint on the corner of Samsen Soi 4, a short walk from Khao San Road serving up one of the best quality burgers in the area.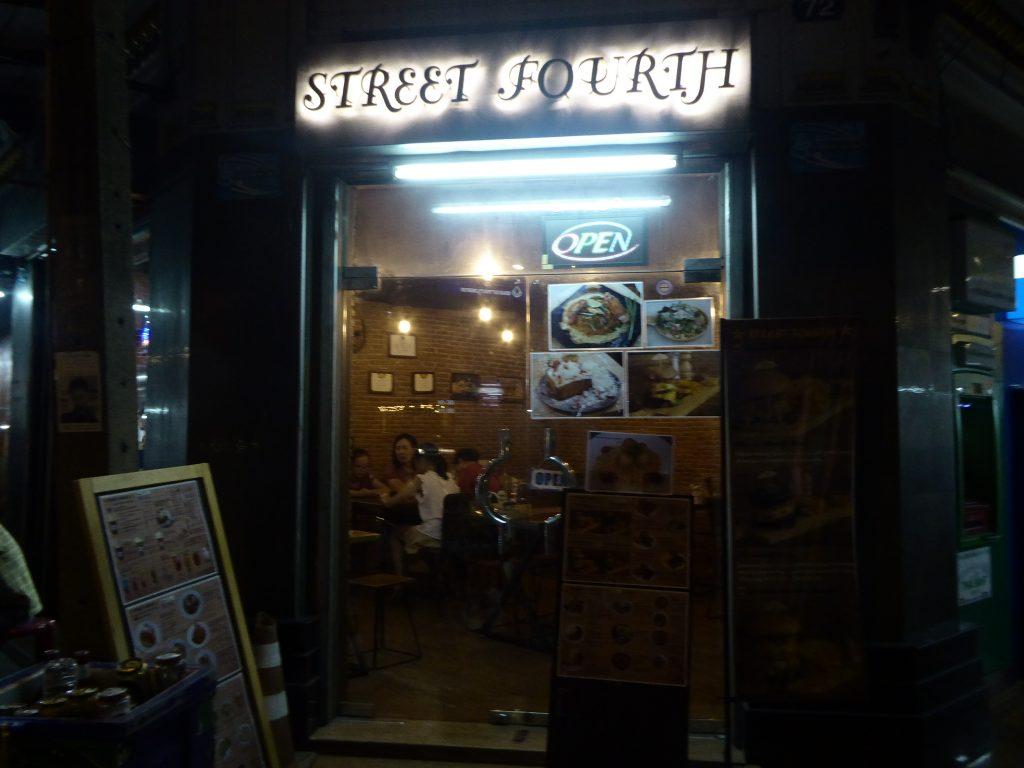 Street Fourth Burgers
The burgers are tasty, use Australian beef and are reasonably priced. There is a choice of beef, chicken, pork, Canadian lobster tail, Korean bulgogi, sliced rib-eye beef or pork, and vegetarian. Fries are included and there is a choice of either whole wheat or charcoal bun.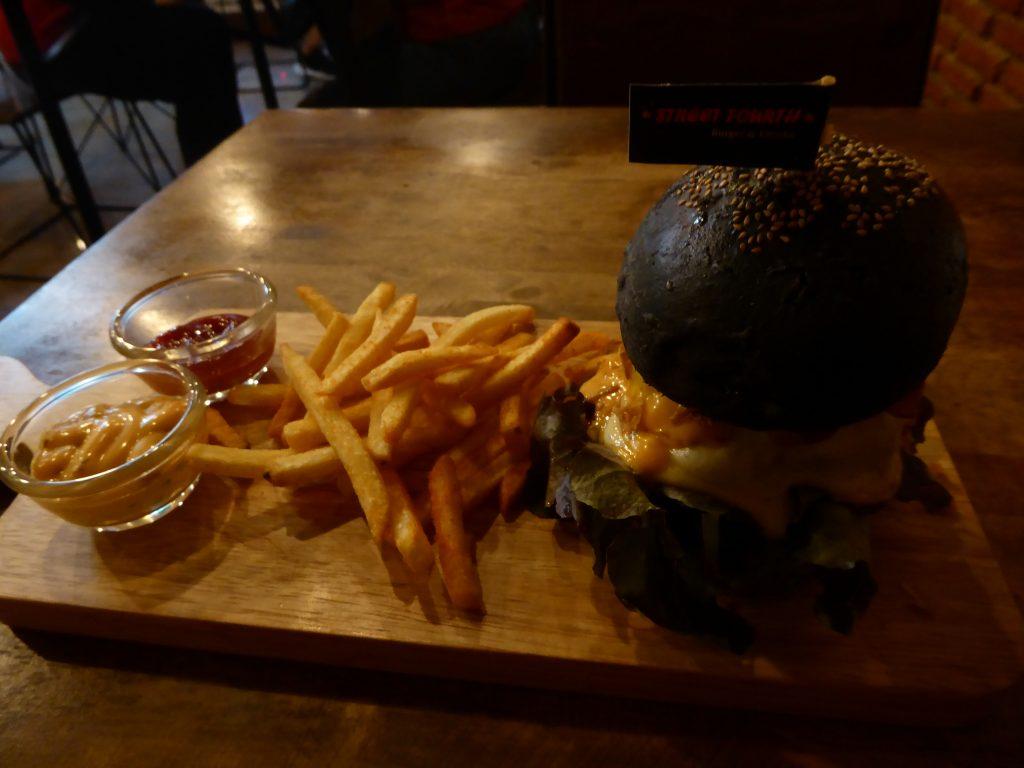 Street Fourth Menu
Burgers are priced from 169 baht for a single up to 269 baht for a double except for the lobster tail burger which is 449 baht. The menu also includes steaks and ribs (139 ? 339 baht), pasta (129 ? 189 baht), salads and a Thai food menu (69 ? 169 baht). There is a great drinks menu including a selection of local craft beers.
Check the menu:?https://en-gb.facebook.com/Streetfourth
Service is friendly and there is free WIFI.
Where is Street Fourth?
Location: 72 Samsen 4 alley, (corner of Samsen Rd), Bangkok.
District: Khaosan
Opening Hours: 11.00 ? 21.00 daily.
Getting There: A short walk from Khao San Road.
Map:
Cajun, Creole, Mexican & Burgers
Bourbon Street
Bourbon Street is an American restaurant and bar that was established in 1986 and specializes in authentic Cajun and Creole Cuisine. It is one of the best places for classic American food in Bangkok.
The Food
The extensive menu includes Blackened Fish, Gumbo, Jambalaya, Boiled Crawfish, Shrimp Remoulade, Shrimp Bisque, Andouille Sausage, Red Beans & Rice, and Po-boy Sandwiches. Also on the menu are Steaks, Burgers, Ribs, Seafood, fresh imported Oysters, Pizza, Pasta, and Mexican food.
Bourbon Street Menu
The food is excellent quality and value with most main courses in the 150-400-baht range. Steaks range from 730 baht for French-Thai beef up to 1600 baht for imported prime. There is also a large Thai menu with most dishes 100-200 baht. An all you can eat Mexican buffet is on Tuesday evenings (18.00-22.00) for 319 baht.
Check the menu or make a reservation:?https://bourbonstbkk.com/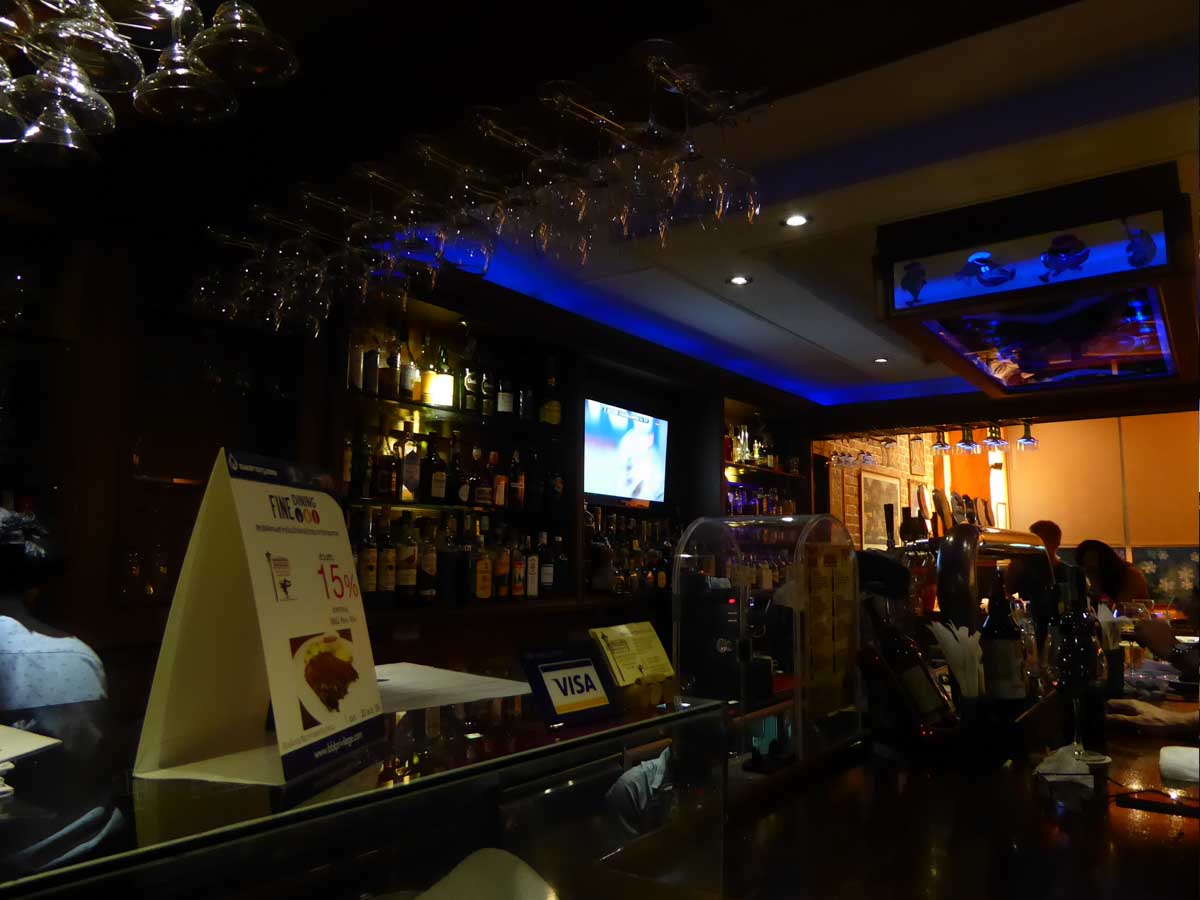 The Bar
The bar is well stocked with Imported, local, and craft beers on tap at average prices. American sport is shown on TV and there is a rooftop bar on the 7th floor.
Bourbon Street is also a boutique hotel with rooms starting at 1200 baht. Bourbon Street is an easy 5-minute walk from BTS Ekkamai station.
Where is Bourbon Street?
Location: 9/39-40 Soi Tana Arcade, Sukhumvit Road Soi 63.
District: Ekkamai
Opening Hours: 07.00-01.00
Getting There: BTS Ekkamai (exit 1). Turn right into Sukhumvit Soi 63 and Bourbon Street is 200m on the left-hand side.
Map:
American BBQ, Ribs & Burgers
The Smokin' Pug
The Smokin' Pug is an authentic American-owned Texas-style smokehouse BBQ restaurant on Langsuan Road in the Chidlom district and near Lumphini Park. It is one of the most popular restaurants for American food in Bangkok.
Smokin Pug Menu
The meats are smoked in-house daily and the house specialty is baby back ribs at 575-825-baht a half/full rack. Also on the menu are burgers, nachos, quesadillas, tacos, chili, wings, smoked chicken, sandwiches and salads ranging from 275-625 baht. The portions are big and the full rack of ribs is enough for two to share.
Check the menu: https://www.smokinpugbbq.com/
The Bar
The bar which stays open later than the restaurant serves Vedett Belgian beer on tap from 225-245 baht a pint, local beers & imported craft bottles from 125-285 baht, cocktails from 275 baht, wine by the glass from 250-350 baht, and a selection of imported Bourbon and Rye whiskeys from 325-575 baht, all to a soundtrack of blues music.
Reservations
The Smokin' Pug has recently moved to new premises due to its popularity. A reservation is essential if you want a table. There is seating at the bar on a first come first served basis and is your best option without a reservation. 7% VAT is added to bills.
Reservations – email:phone: 083 029 7598 between 11.00-16.00
Where is Smokin Pug?
Location: 105 LangsuanRoad, (next to Luxx XL Hotel). Bangkok.
District: Chidlom
Opening Hours: 17.00-24.00. Tuesday-Saturday. The restaurant closes at 23.00.
17.00-23.00 Sunday. The restaurant closes at 22.00. Closed on Monday.
Getting There: BTS Chit Lom (exit 4). Smokin' Pug is a 10-minute walk down Soi Langsuan on the right-hand side or take a taxi from the mouth of Soi Langsuan.
Map:
You May Also Like
Popular Pages on Tourist Bangkok