Best Indian Restaurant Bangkok
There is plenty of great Indian food in Bangkok. The best Indian restaurants in Bangkok are Patiaala House, Indus, Mrs. Balbirs, Indian Hut, Royal India & Dosa King.  All are good value at reasonable prices compared to western countries. The quality of the food is excellent as is the service.
Indus
Indus is arguably Bangkok's finest Indian restaurant. It has been serving exceptional quality authentic royal Mughalai style Indian cuisine for over 12 years. It is now Michelin rated with a plates award.
The Restaurant
The setting is a 1960's art deco house within a large tropical garden complete with an outdoor dining area. After entering through the large wooden doors there is a long corridor with sandstone brick walls leading to the main dining room. There is also a lounge bar and a private dining room. The interior walls are decorated with Indian tapestries. The main air-conditioned dining room features subdued lighting and candlelit tables. The lighting is not so dark that you can't read the menu.
The Food
Indus serves up some of the best Indian food in Bangkok. Indus uses high-quality local ingredients, mostly organic produce grown on the restaurant's own farm. Spices are imported whole from India and ground daily by hand. Healthier rice bran oil rather than ghee is used in the cooking process giving the food a lighter feel. The food is served in traditional Indian copper and brass dinnerware.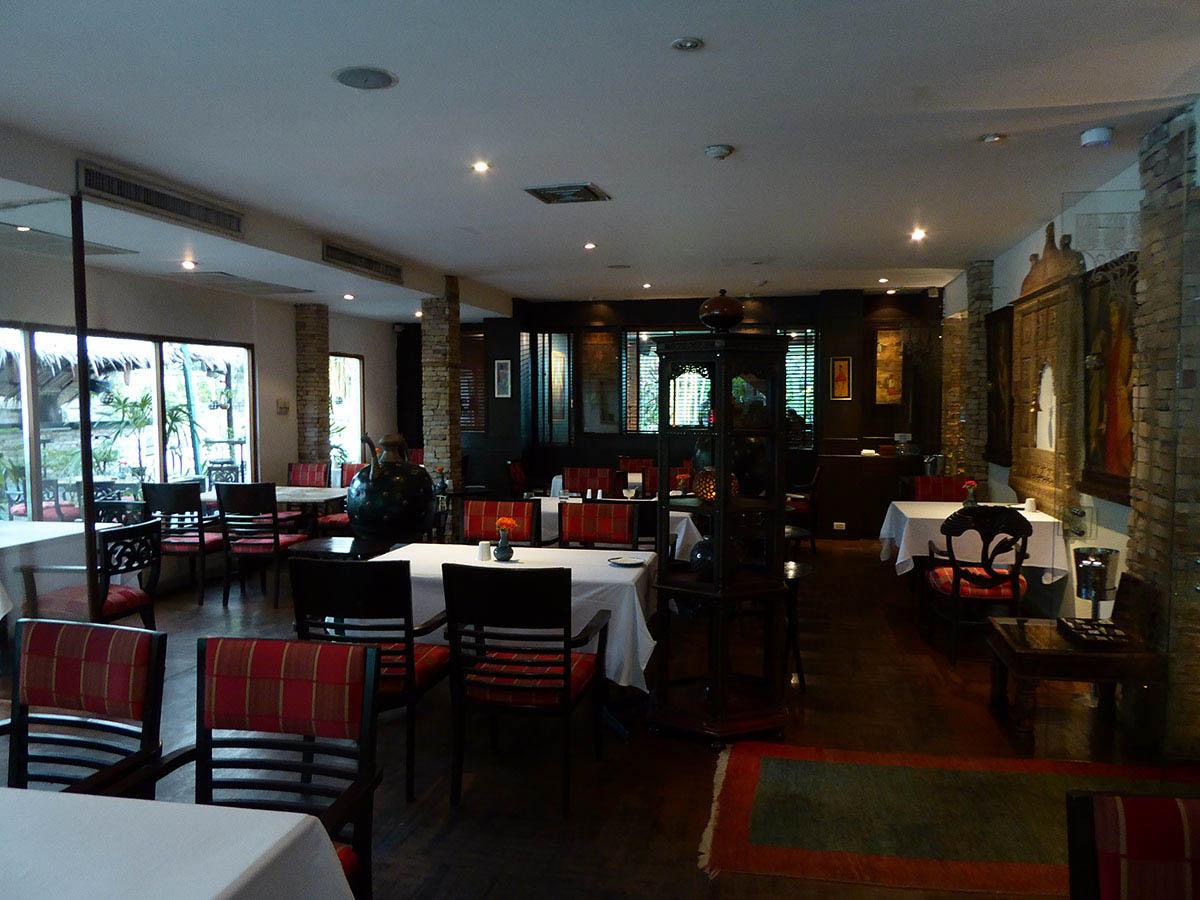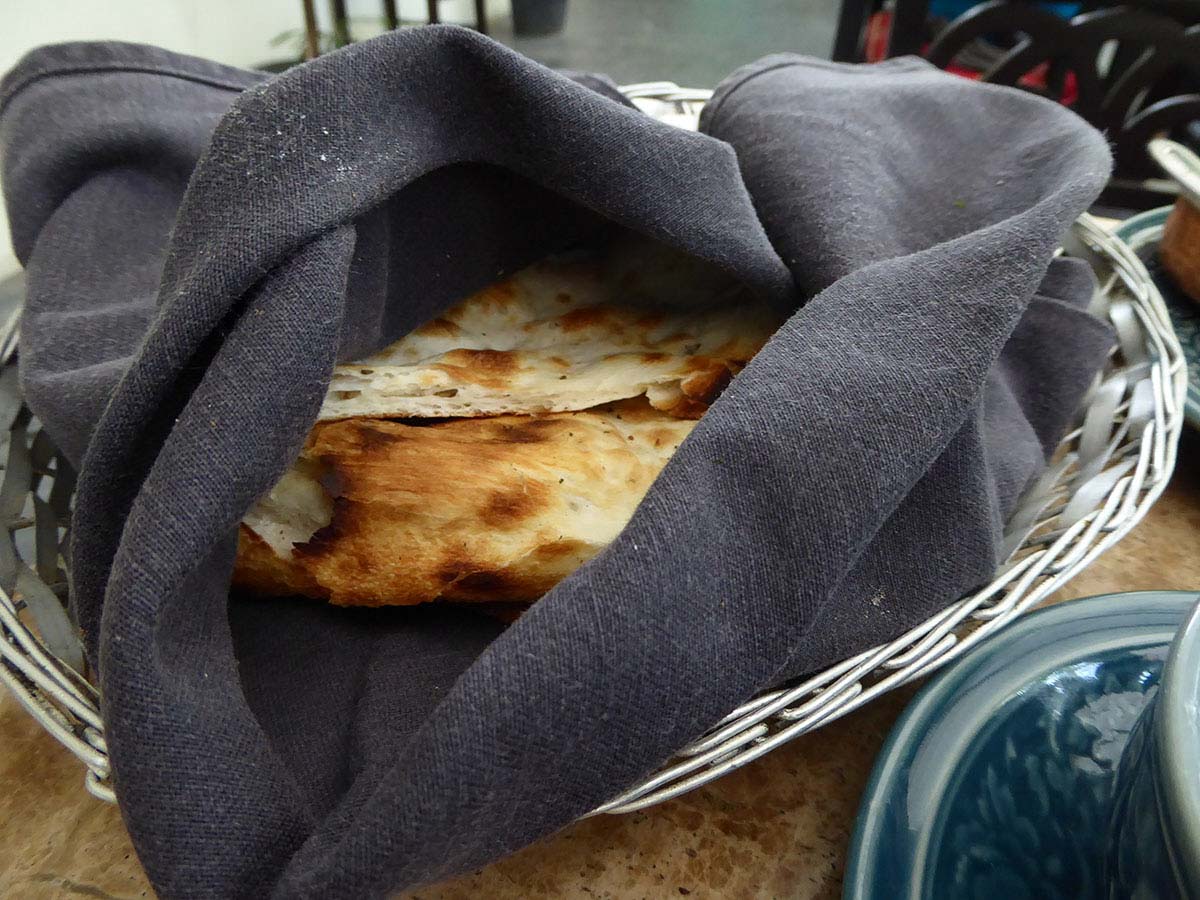 The Menu
The contemporary menu features a range of starters, soups, kebabs, mixed grills platters, and curries. Also biryanis, side dishes, salads, bread, and desserts. Vegetarians are well catered for. Signature dishes include the 7-hour, slow-cooked pulled leg of mutton. Australian lamb chops marinated in yogurt, coriander, ginger, garlic, and mustard oil. Grilled lobster marinated in crushed coriander, chili flakes, Tawa gravy, and young ginger.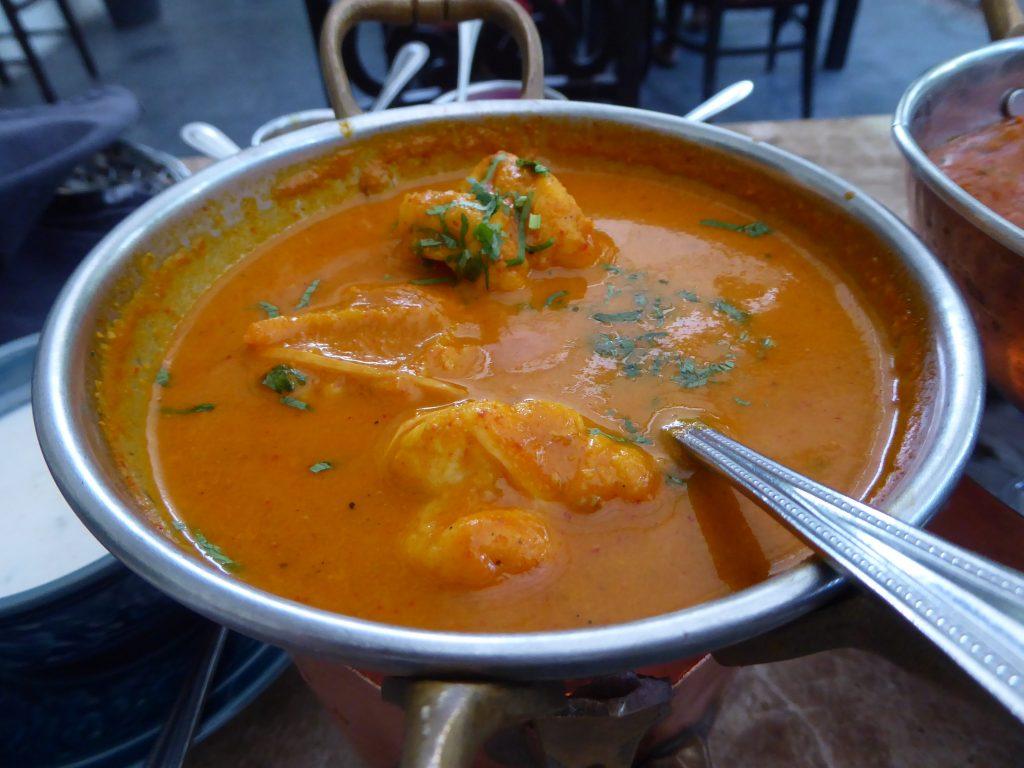 Starters range from 200-550 baht and most mains from 260-550 baht. Signature dishes are 760-1690 baht. There are also non-vegetarian and vegetarian tasting menus. The 7-course menu is 1800 baht and the 4-course menu is 1400 baht with paired wines. The Signature 6-course tasting menu is 1500 baht or 4 courses for/2500 baht including paired wines. Tax and service (17%) are added to all bills. Beers start at 160 baht for Singha while Indian Kingfisher beer is available. Wine by the bottle starts at 1300 baht.
A La Carte menu: https://www.indusbangkok.com/alacartemenu
Set Dinner menu: https://www.indusbangkok.com/dinnerset
Set Lunch menu; https://www.indusbangkok.com/weekdaylunchset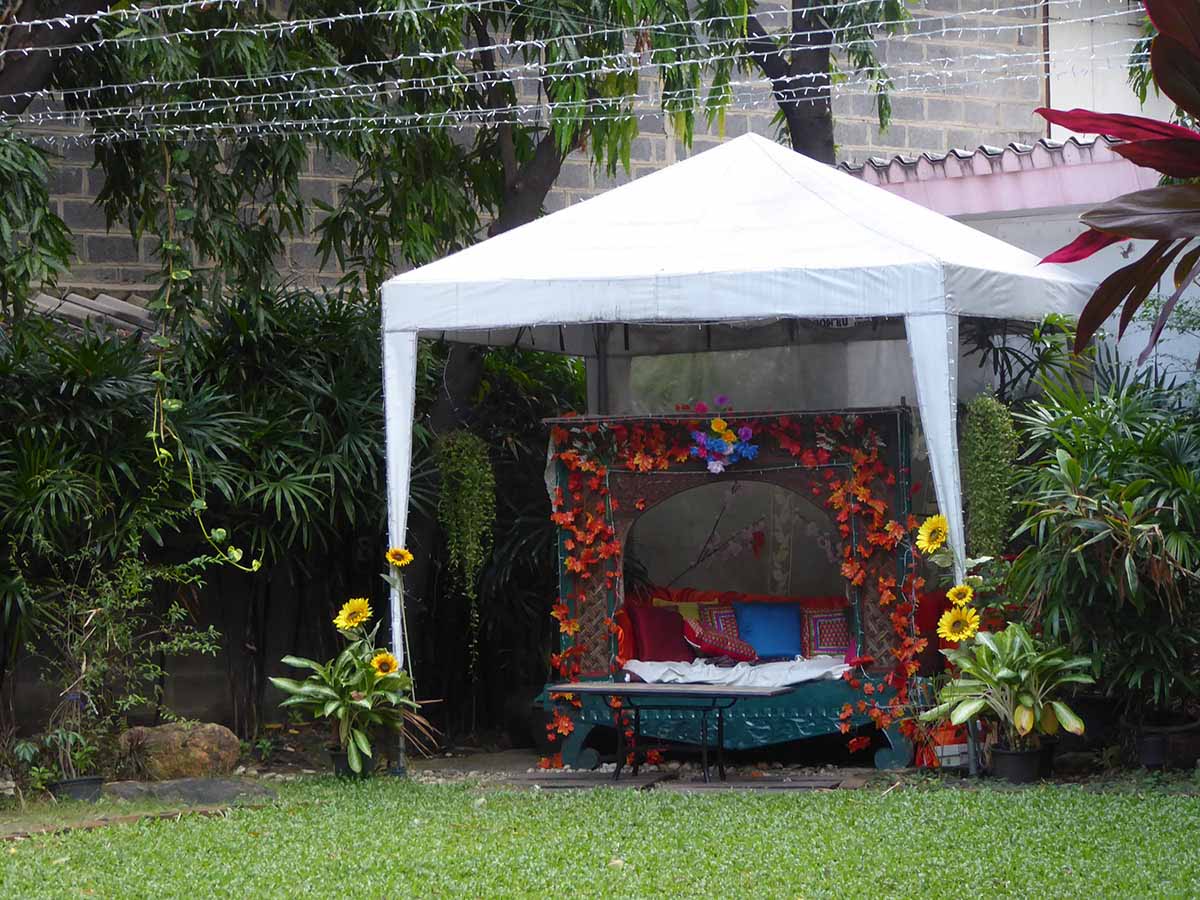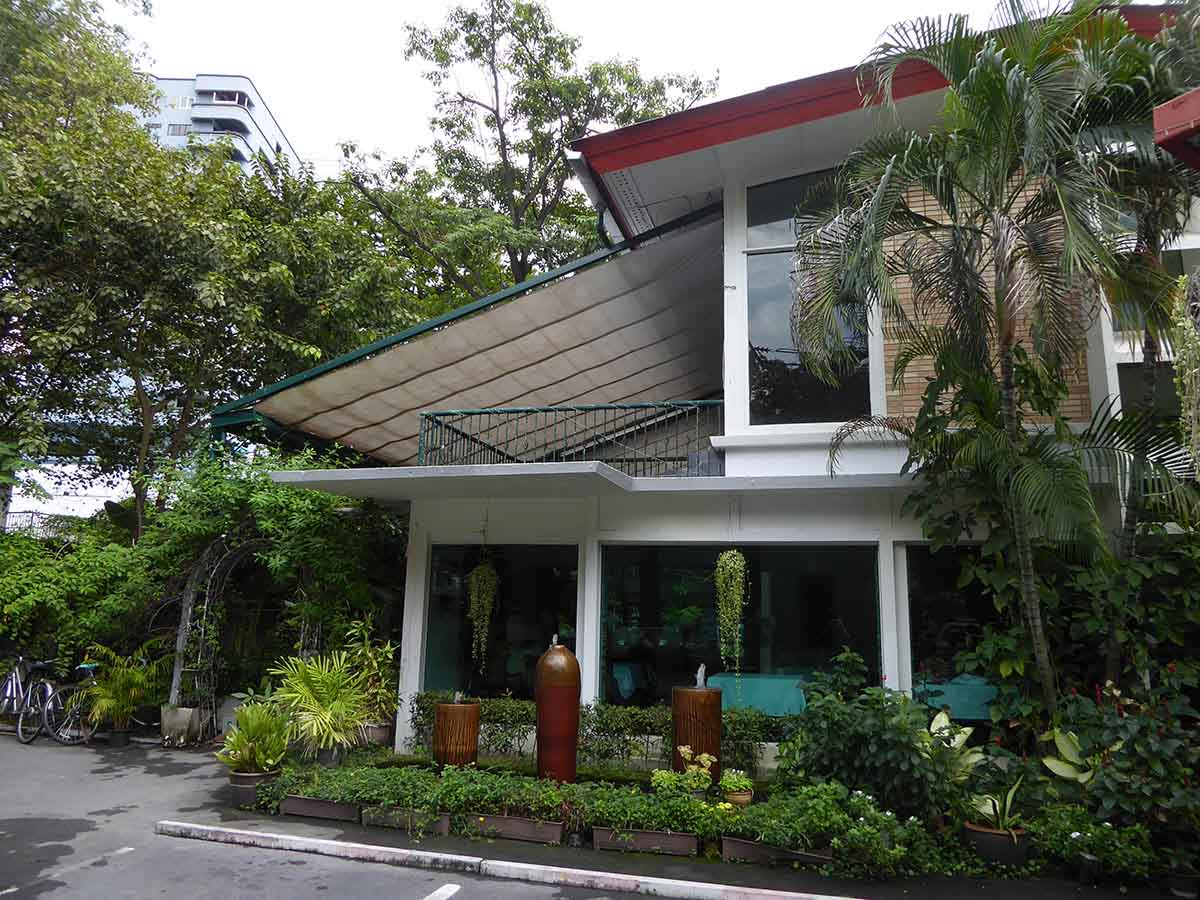 Lounge Bar
There is a separate lounge bar with music and cocktails for after dining chill-out. The service is friendly and efficient. Although Indus is a bit more expensive than some other Indian restaurants in Bangkok the food quality and setting are unbeatable and represent good value for money when compared price-wise with Indian restaurants in western countries. Note that there is a smart casual dress code (no shorts).
Weekend Brunch
Indus also offers an incredibly good value all you can eat weekend brunch for 950 baht + tax & service (17%) on Saturday and Sunday lunchtime. Children from 5-12 years 50% discount. It starts from 11.30 until 15.00. Last order at 14.45.
Check the menu: https://www.indusbangkok.com/buffetmenu
Online reservation:
https://bookv5.chope.co/booking?rid=indus1503bkk&source=rest_website.indus
Phone reservation: 02-258-4900 or 086-339-8582
Where is Indus?
Location: 71 Sukhumvit Soi 26, Bangkok.
District: Sukhumvit
Opening Hours: Lunch 11.30-14.30. Dinner 18.00-22.30 daily.
Getting There: BTS Phrom Phong (exit 2). Walk to Soi 24 and take a taxi down Soi 24. Don't go to soi 26 as it's a one-way traffic system.
Map: 
Patiaala House
Patiaala House is one of the best Indian restaurants in Bangkok serving up excellent authentic Regal Punjab & North Indian cuisine in a bright contemporary setting. It is a fairly new restaurant quickly making a name for itself amongst Indian food lovers in Bangkok who are looking for a fine dining experience.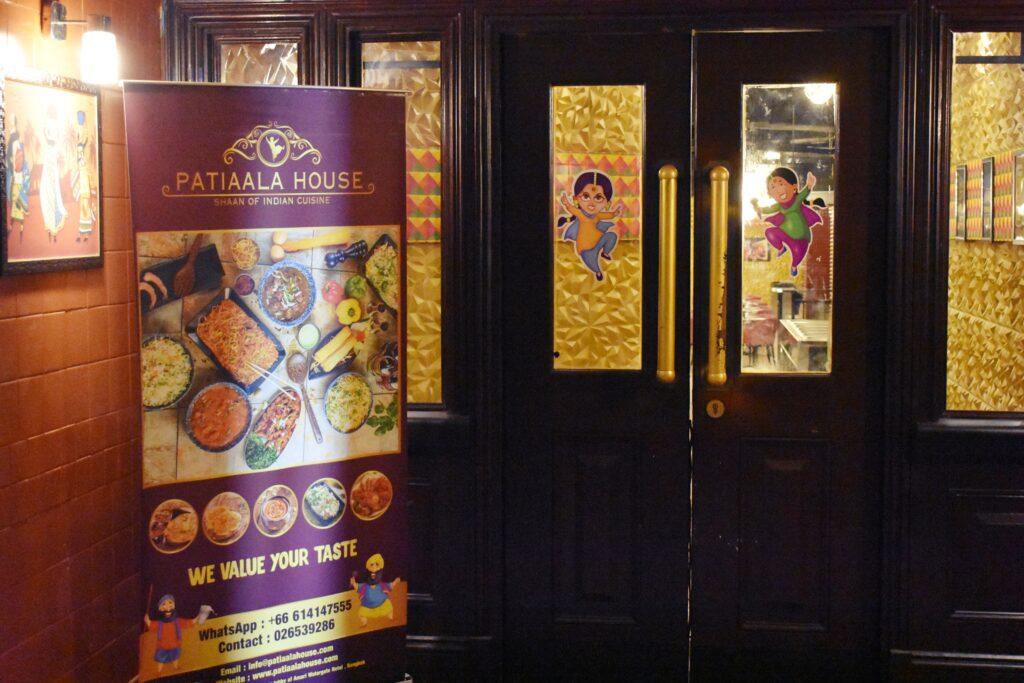 The Restaurant
The large dining room is well spread out to give your table plenty of private space. Conventional dining tables mix with comfortable booth seating to convey a relaxing ambiance while a small music stage features occasional acoustic or Indian musicians. There is a bar with draft beer on tap and a full range of cocktails, spirits & wines.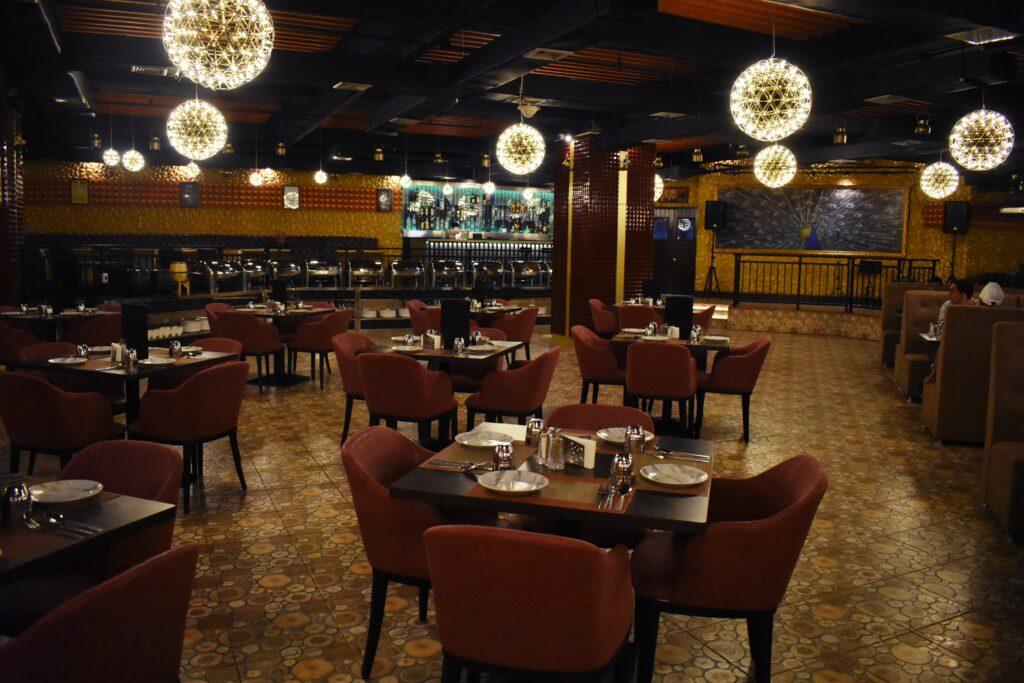 Patiaala House Menu
The extensive menu is full of surprises! Apart from the usual Masala & Korma, there are some great recipes many of which I had never seen before. Some examples are "Lababdar", (similar to Butter Chicken), "Handi", (a mild & creamy Yoghurt based curry), "Kali Mirch", (a peppery curry), & "Patiaala" (made with cashew nut paste). There are also some special "Amritsari" dishes. Amritsari being a city in Punjab famous for its street food. One is Amritsari Kulcha (a special bread made from white flour & another is Pav Bhaji (soft bread rolls with a selection of dips) perfect for dunking! The menu does not give descriptions of the dishes but the staff offers help when you are browsing the menu.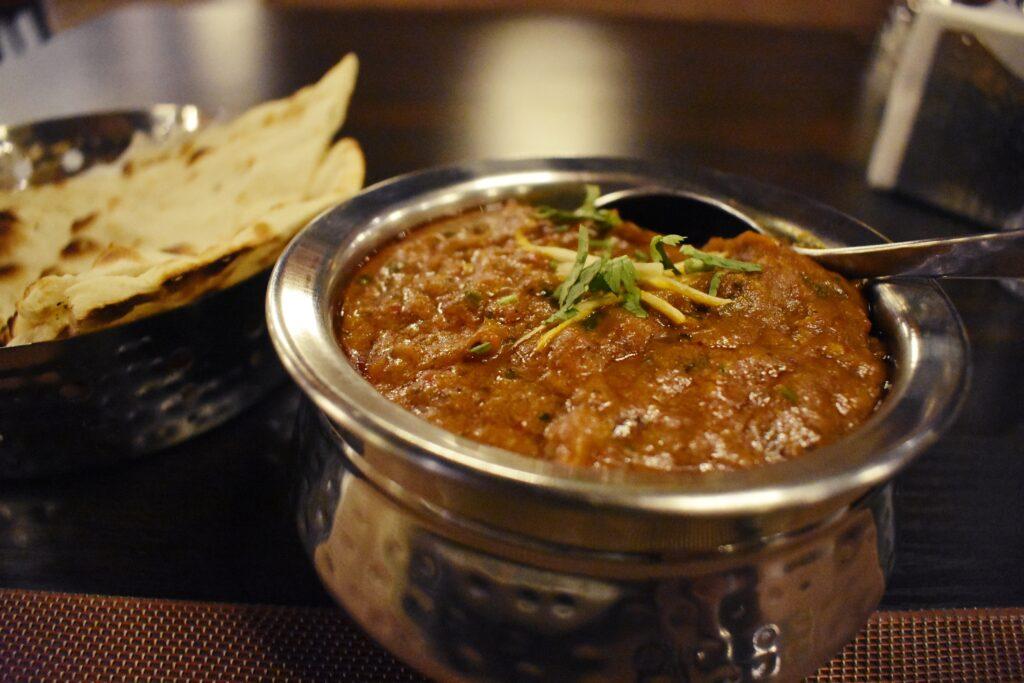 On the mutton side, the brain (Bhesa Masala) & liver (Kaleji) are also on the menu. There are also lots of vegetarian options. Prices are average for a restaurant of this caliber. Mains are 240 to 420 baht, beers from 100 baht, cocktails from 250 baht. Tax & service are added to the price. 
The Food
The food was top-notch, some of the best Indian food that I have ever tasted in Bangkok. Every dish had a spicy kick which suits me perfectly, even the green sauce that accompanied the poppadoms!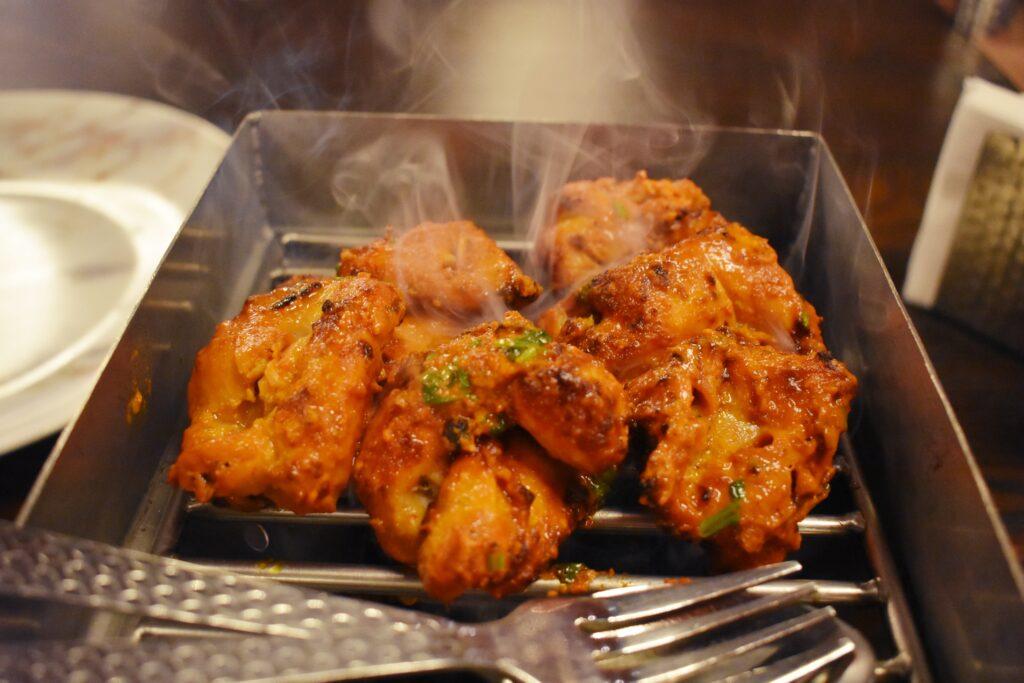 The Chicken Tikka was delivered still smoking on a mini grill while the Amritsari Fish Curry came in a thick, tasty masala sauce. The accompanying naan was light and fluffy. Everything about the meal was perfect. Service was excellent with the food delivered quickly with a small interval between dishes. 
Online Orders
Patiaala House also does home or hotel deliveries to anywhere in Bangkok. There are generous discounts for take-away orders. You can order online or by phone. 
Phone: 0614147555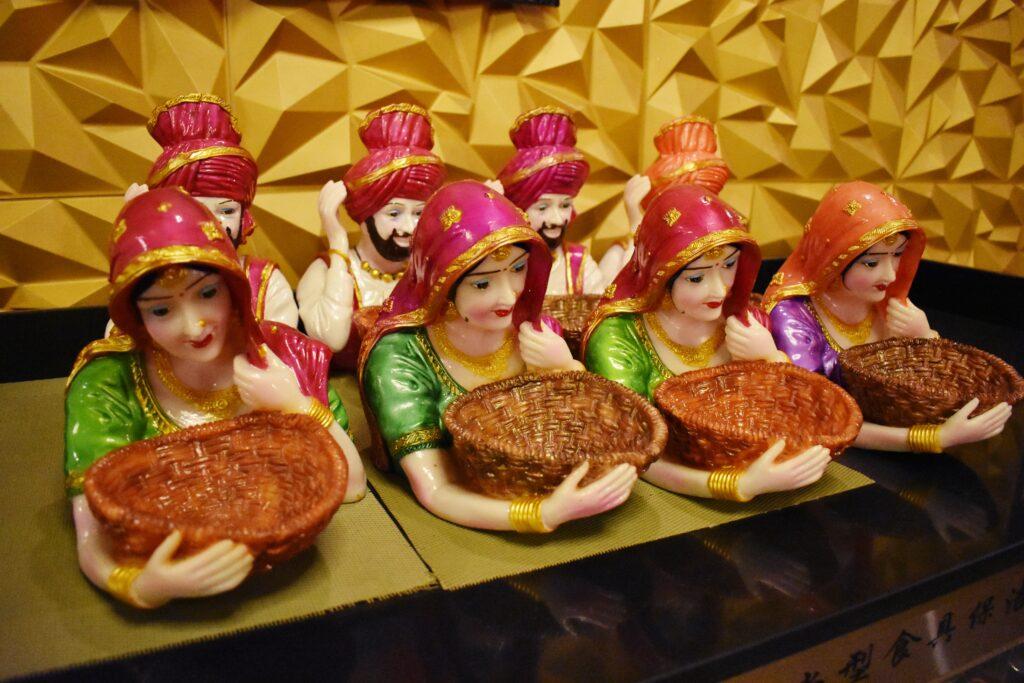 Where is Patiaala House?
Patiaala House in the basement of the Amari Watergate Hotel in Pratunam. The entrance is directly in front of the hotel. 
Address: Amari Watergate Hotel, 847 Petchburi Road, Pratunam, Bangkok 10400
Opening Hours: 10.00-24.00
Map
https://bit.ly/2TsQwjQ
Mrs Balbir's
*Mrs Balbirs is closed permanently*
Mrs Balbir's is an Indian Punjabi style restaurant that was established in 1975 and is still going strong today. The vegetarian owner Mrs Balbir is a world-renowned Indian chef and has her own cooking show Bombay Spice on local cable TV. The restaurant also runs a popular cooking school.
The Restaurant & Food
The restaurant has a bright classy contemporary style décor with high ceilings and floor to ceiling glass giving lots of natural light. The food is excellent though the menu isn't as extensive as some sticking to the most popular Indian classics as well as incorporating some interesting experimental fusion dishes such as roti bruschetta, stuffed tomato curry, and chicken tikka masala Pasta.
The Menu
The main courses range from 150-420 baht and are a good value considering the quality and the decent size portions. There are plenty of vegetarian choices and a full bar menu. The service is friendly and efficient.
Check the menu: https://www.mrsbalbirs.com/menu
There is also a daily set Thali lunch at 320 baht non-vegetarian and 280 baht vegetarian. The menu changes every day.
Branches
Mrs Balbir's also has food court outlets around the city including Robinson at Sukhumvit 19, Central Silom Complex, Platinum Mall, MBK, and Central Plaza Rama 9, Central World, and Asiatique though the menu is more limited.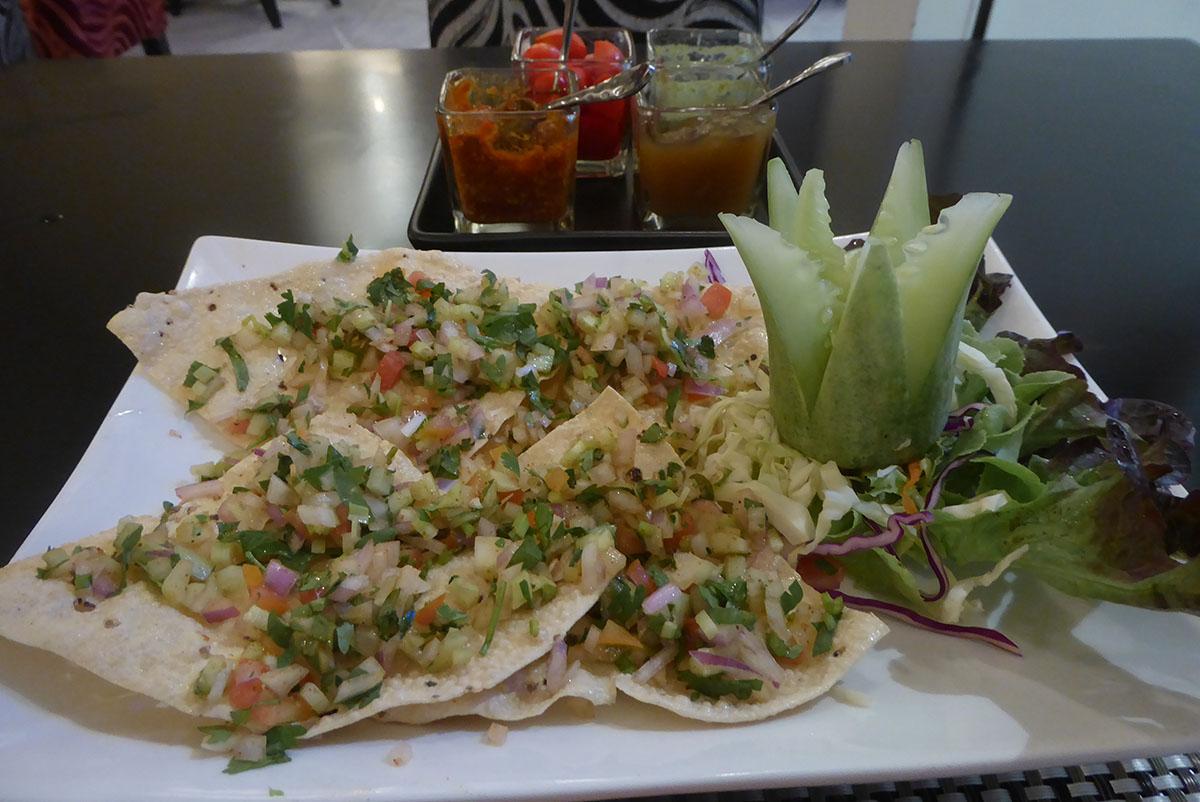 Where is Mrs Balbirs?
The restaurant is a short walk from BTS Nana station at Sukhumvit Soi 11/1.
Location: 155/1-2 Sukhumvit Soi 11/1, Bangkok.
District: Sukhumvit
Opening Hours: 11.00-23.00 Tuesday-Sunday. Closed on Monday.
Getting There: BTS Nana (exit 3).
Map: 
Indian Hut
Indian Hut is a long-running Indian restaurant in Bangkok serving excellent quality North Indian and Indian Chinese fusion cuisine. It was established in 1995 and is still going strong.
The Restaurant
From outside the first thing you notice is the logo with the hut bit conjuring up images of a certain pizza chain but once inside you notice how posh everything is from the classical European style décor with high ceilings, walls adorned with mirrors, Italian frescoes, carvings and a striking portrait of one of Thailand's most loved ex monarchs King Rama V. Add to that the low key classical music, spotless white tablecloths, high backed chairs, and polite service and you realize that this is a classy restaurant.
The Menu
The menu is extensive with all the usual Indian favorites as well as an unusual egg curry section and an extensive Indian-Chinese section with over 30 choices. There are a large vegetarian section and a full bar menu. Main courses run from 225-500 baht but are a good value considering the quality of the food and how much something similar would cost in a western country.
Check the menu: http://www.indianhutbangkok.com
Indian Hut is in a quiet area at night but is popular without ever being too crowded and is a 10-minute walk or short taxi ride from many nearby hotels such as the Oriental, Shangri-La, Peninsula, Royal Sheraton, Lebua, and Holiday Inn and a good choice if you fancy a curry before heading to Maggie Choo's or after watching the sunset at the Sky Bar.
Where is Indian Hut?
Location: 414-420 Surawongse Road, Bangkok. (next to Manohra Hotel).
District: Silom- Riverside
Opening Hours: 11.00-23.00 daily.
Getting There: BTS Saphan Taksin (Exit 3). Turn left onto Charoen Krung Road, continue and turn right into Surawongse road. Indian Hut is on the left just past the elevated tollway. A 15-minute walk.
Map: 
Royal India
Royal India is the oldest Indian Restaurant in Thailand, established over 50 years ago. It's still going strong at its original location in Phahurat, Bangkok's "Little India". The restaurant has won several awards and critical acclaim over the years for the quality of its food. The chefs are Indian.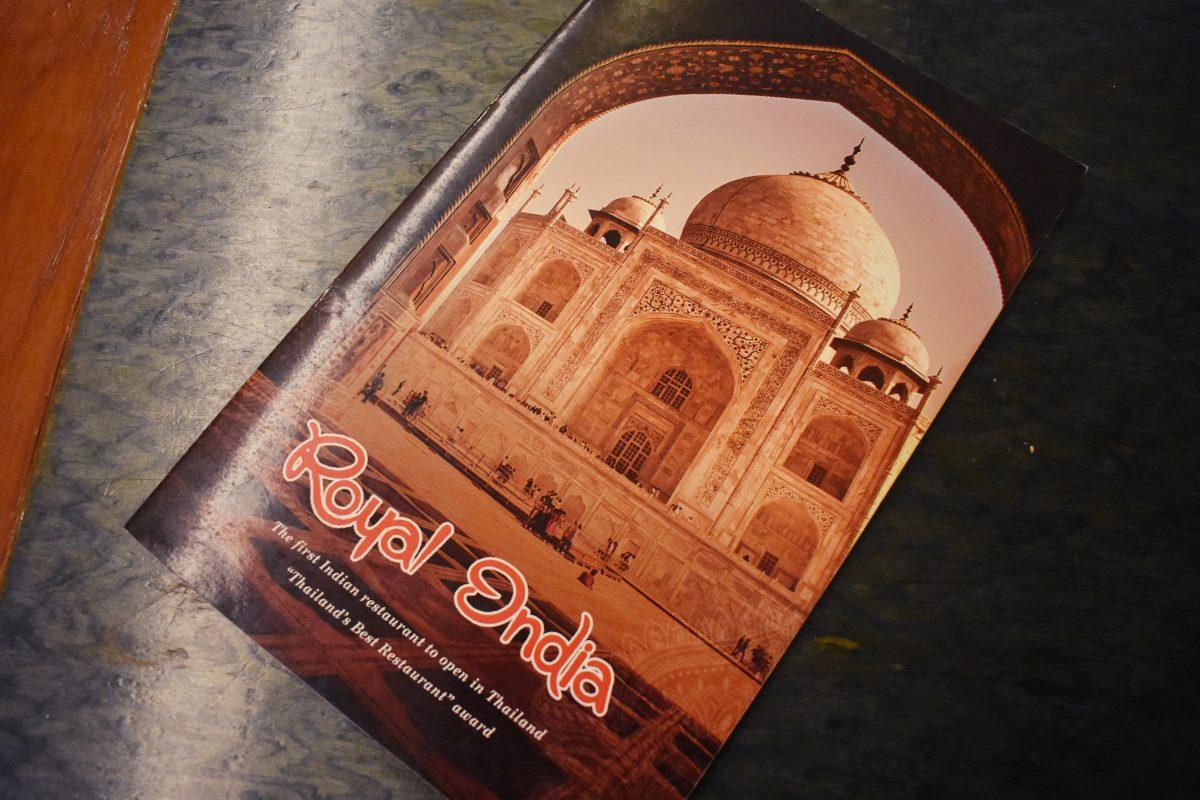 The Restaurant
The food is authentic and the restaurant is popular with the local Indian community as well as expats and travelers. The food is excellent, and good value for money. Fast service. Prices are lower than most Indian restaurants in Bangkok. Royal India is small with only 7 tables. The decor is simple and homely without the flashy decor you find in some Indian establishments. Note that Royal India accepts cash only, no credit cards.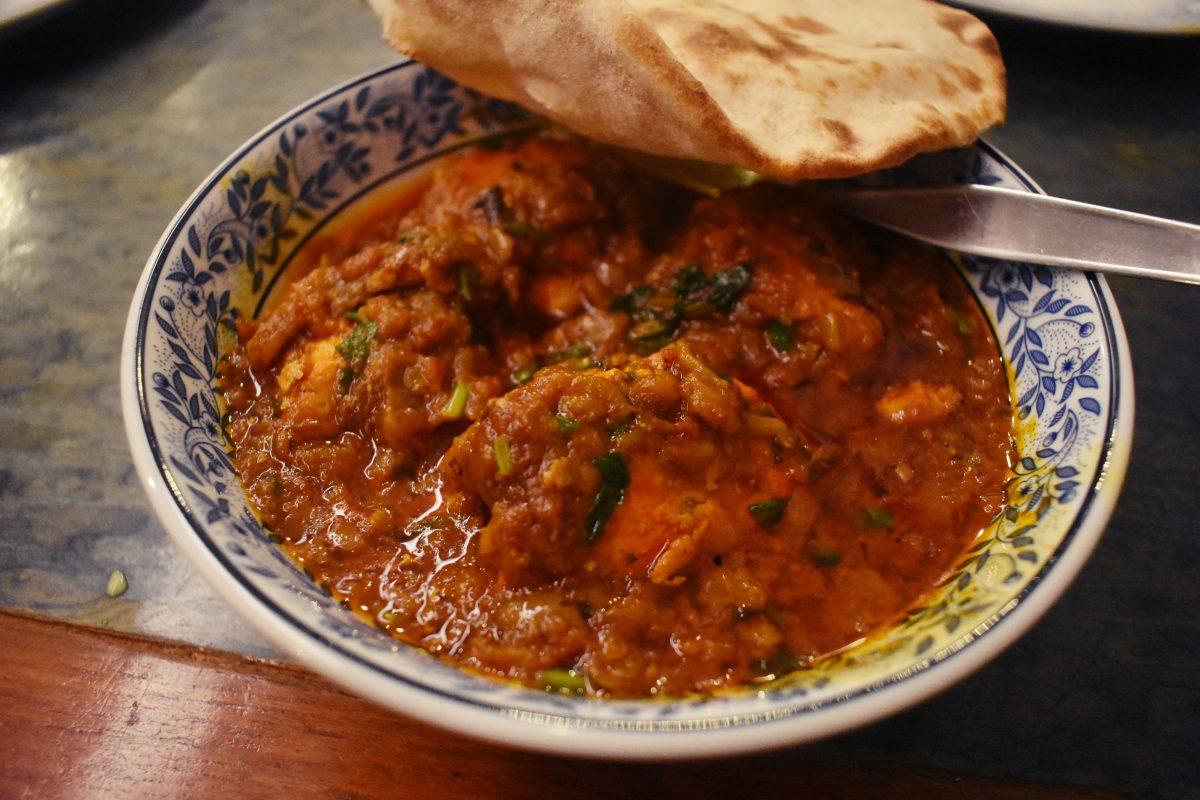 Royal India Menu
The menu includes the usual Chicken, Lamb, Seafood, Vegetable dishes, bread, and desserts. You can choose the level of spiciness. Prices are reasonable starting from 180 up to 250 baht for a curry. Vegetable dishes from 160 baht. Big beers from 110 baht. Try the chicken tikka masala, chunky, soft pieces of breast meat in a rich tomato gravy. Dishes are served with white rice but the yellow saffron rice is much nicer. Nans are perfectly cooked and come with a variety of fillings.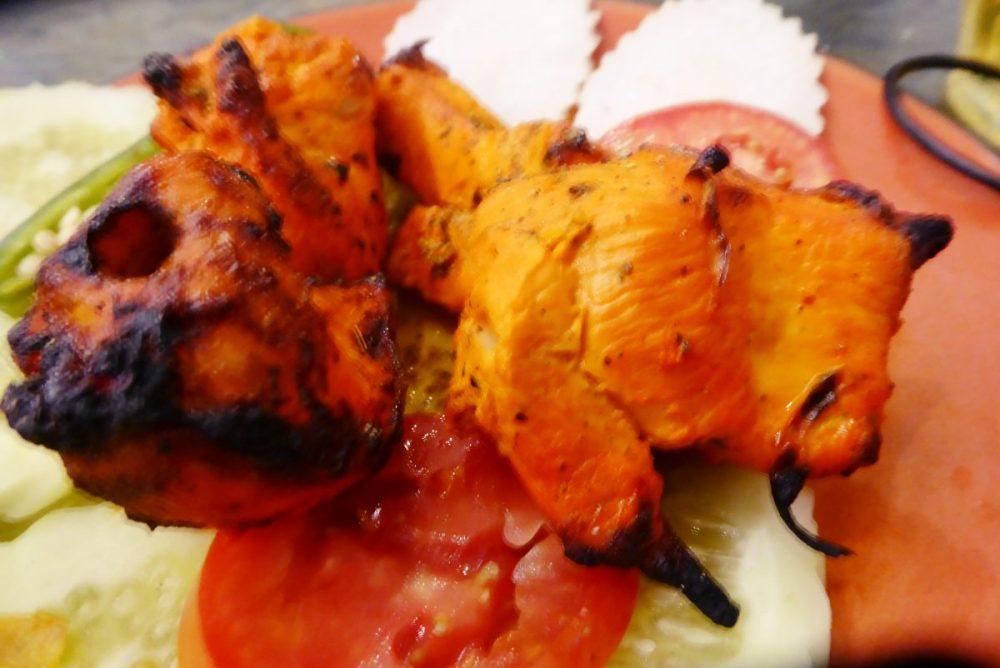 Indian Sweets
Royal India has a stand outside selling a selection of enticing Indian sweets which you can eat inside or take-away.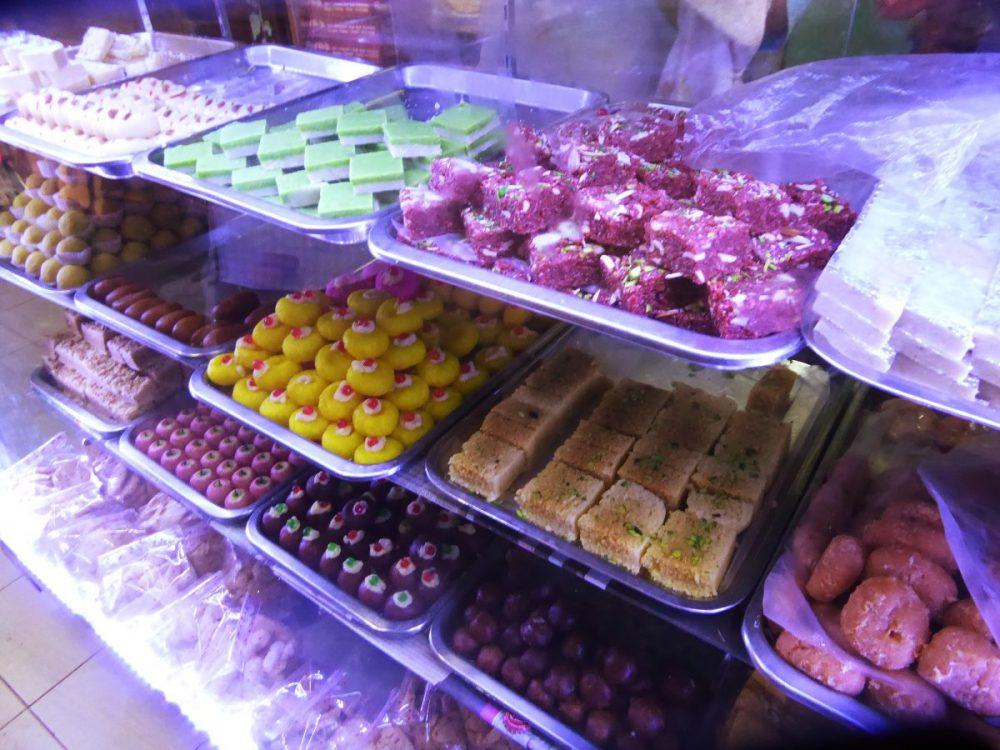 Branches
Royal India has recently expanded to open outlets in some of Bangkok's top malls. Branches are now open at Siam Paragon, Emporium & the EMQuartier. There is a shortened menu and prices are higher but the quality is the same. 
Siam Paragon – Ground Floor Food Hall, Emporium – 4th Floor Food Hall, EMQuartier – Basement Food Hall. Opening Hours 10.00-22.00 daily.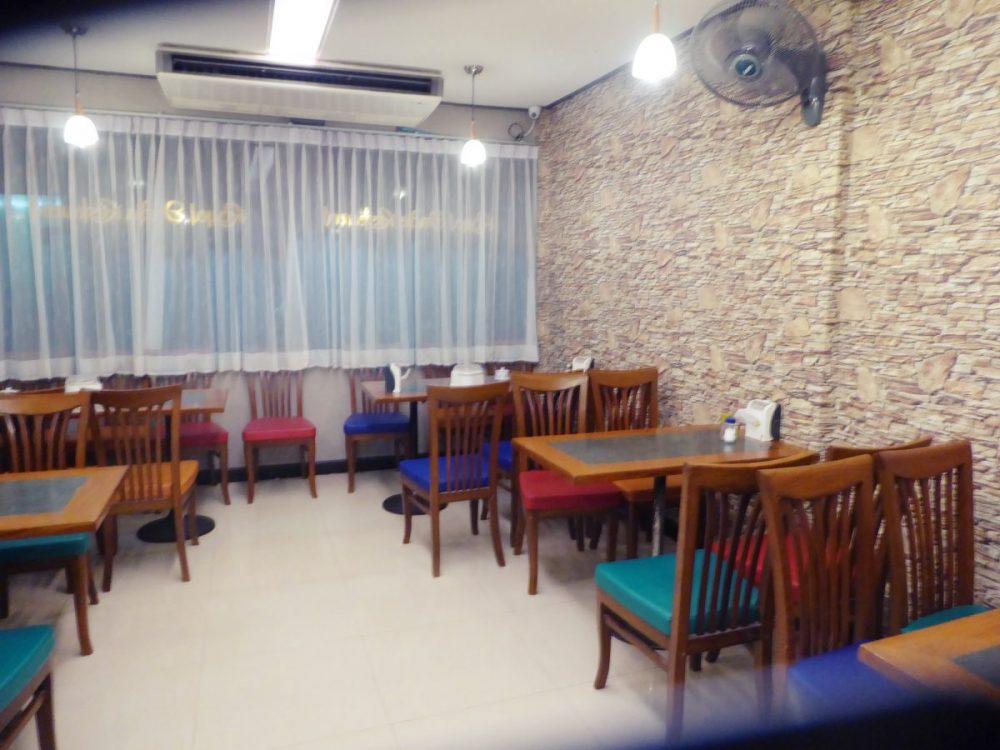 Where is Royal India Restaurant?
Location: 392/1 Chakkraphet Road, Phahurat, Bangkok. In an alley opposite India Emporium.
District: Phahurat/Chinatown
Opening Hours: 10.30-22.00
How to get to Royal India Restaurant: 
Bus: 4, 37, 40, 85, 529
Boat: Chao Phraya Express Boat to Memorial Bridge. Walkthrough the park opposite to Chakkraphet Road. The restaurant is on the right-hand side. Look for the yellow sign.
Map:
Bombay Blues Khaosan
Bombay Blues is an Indian Bar & Restaurant at the quiet end of Rambuttri Road near where it meets Chao Far Road. It's not as good as the restaurants above but it's your best bet in the Khaosan Road area.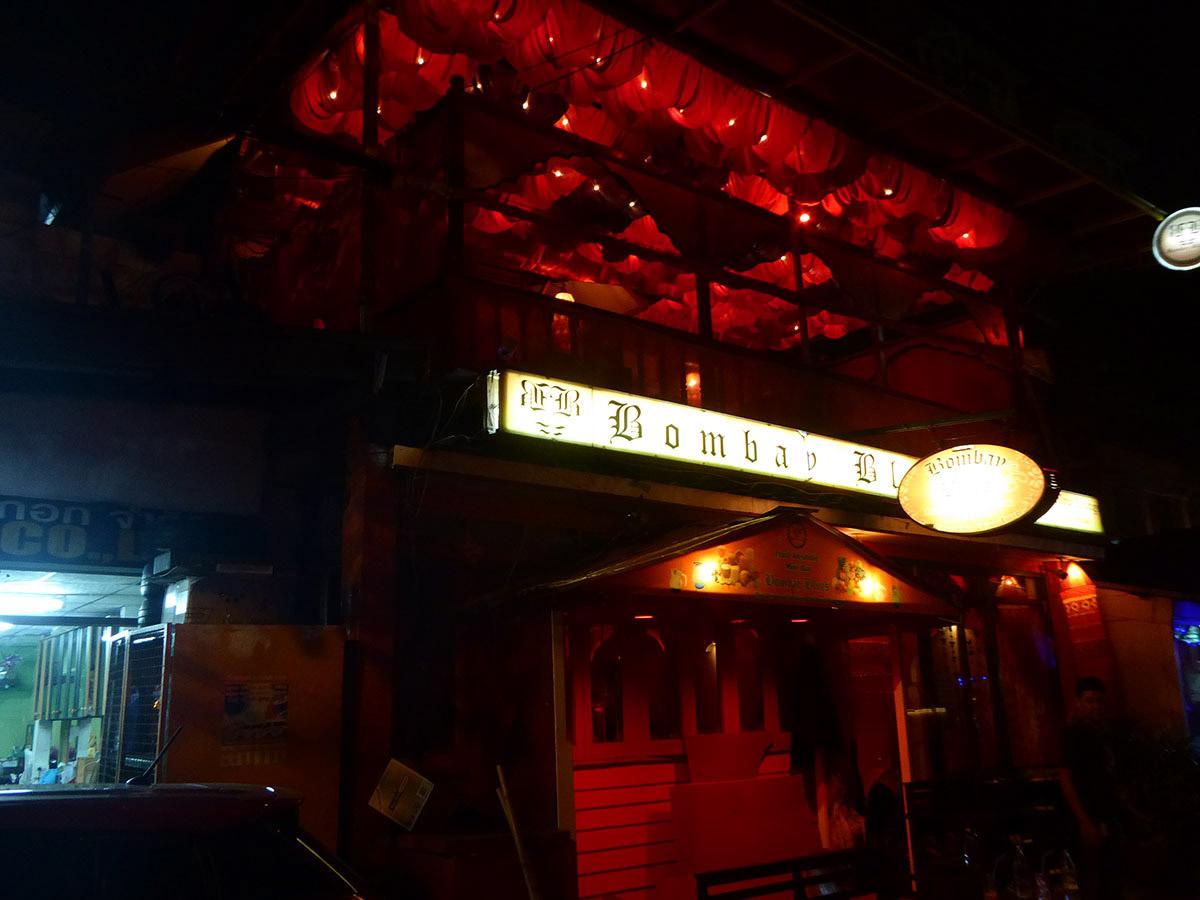 The Restaurant
The whole restaurant is bathed in dim red lighting while seating consists of floor cushions and low tables making it a good place to chill out. There are air-conditioned dining lounges on the ground and first floors. An open-air upstairs balcony has great views of the street below. There are some outdoor Salas on the street opposite the restaurant.
The Bar & Food
A good bar is on the ground floor with a good selection of cocktails while big beers cost from 140 baht. There is an Indian food menu and the food is tasty though it's not the best Indian food in Bangkok. Also, the dark lighting makes it difficult to see what you're eating. Prices are reasonable for Khaosan. There is Western and Indian music with DJ's at the weekend.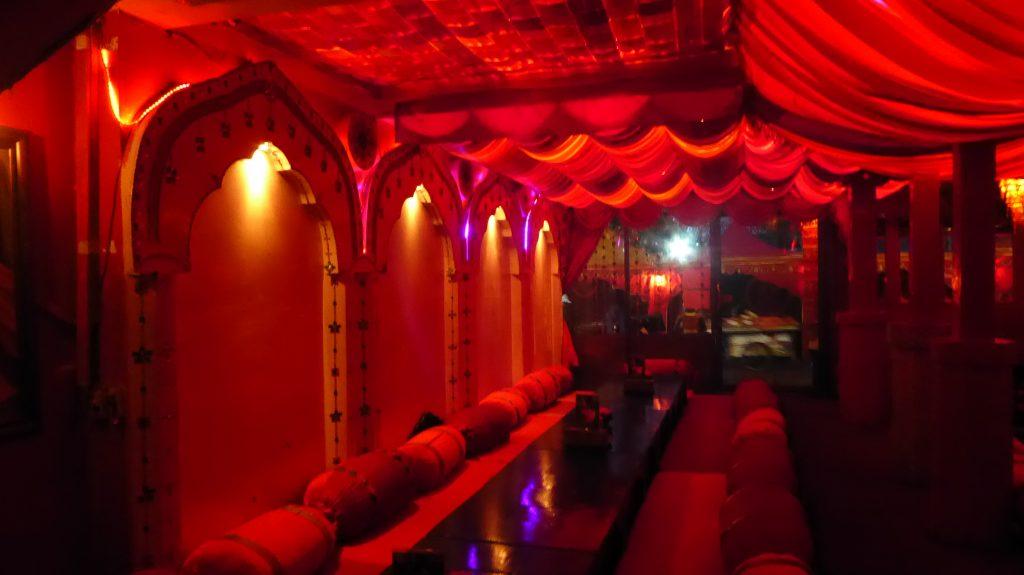 The crowd is mostly young travelers. You will have to remove your shoes before entering. Bring a plastic bag to put them in and take inside with you as a sign outside warns of theft. Good late night hang out for a drink or a late-night curry.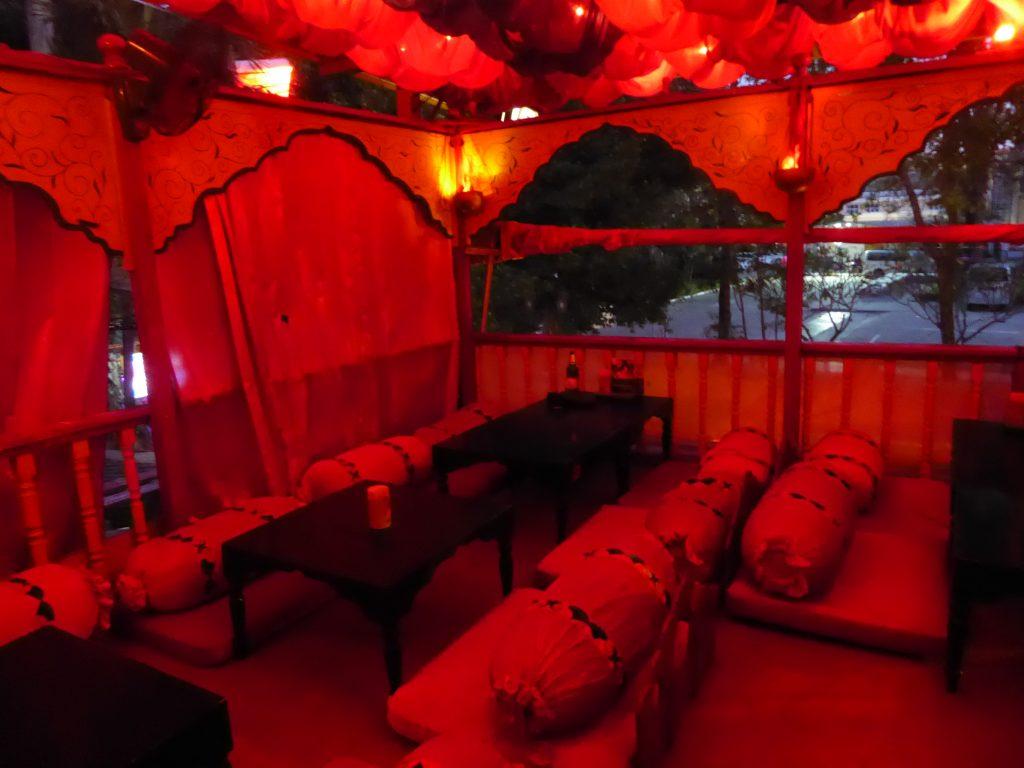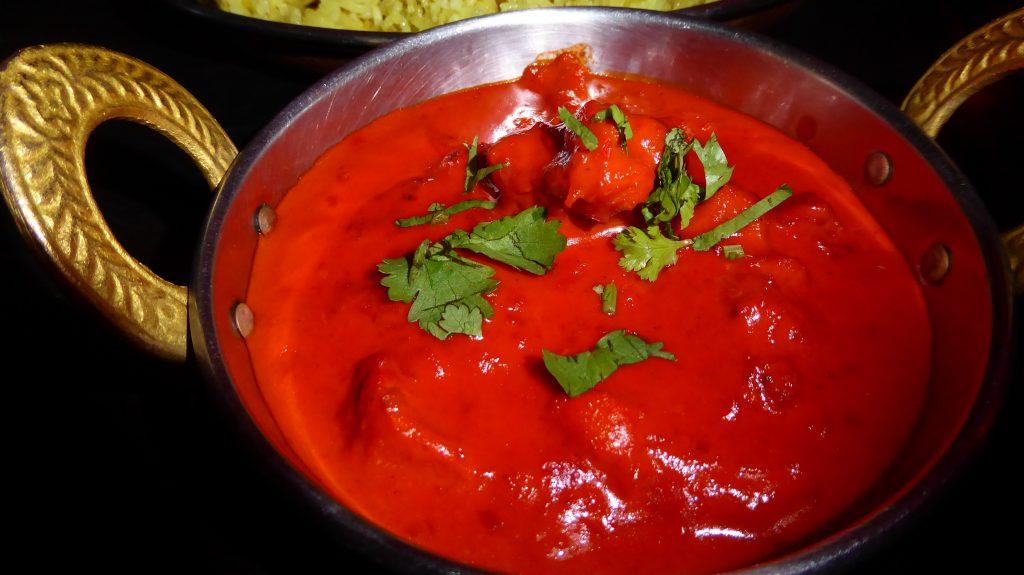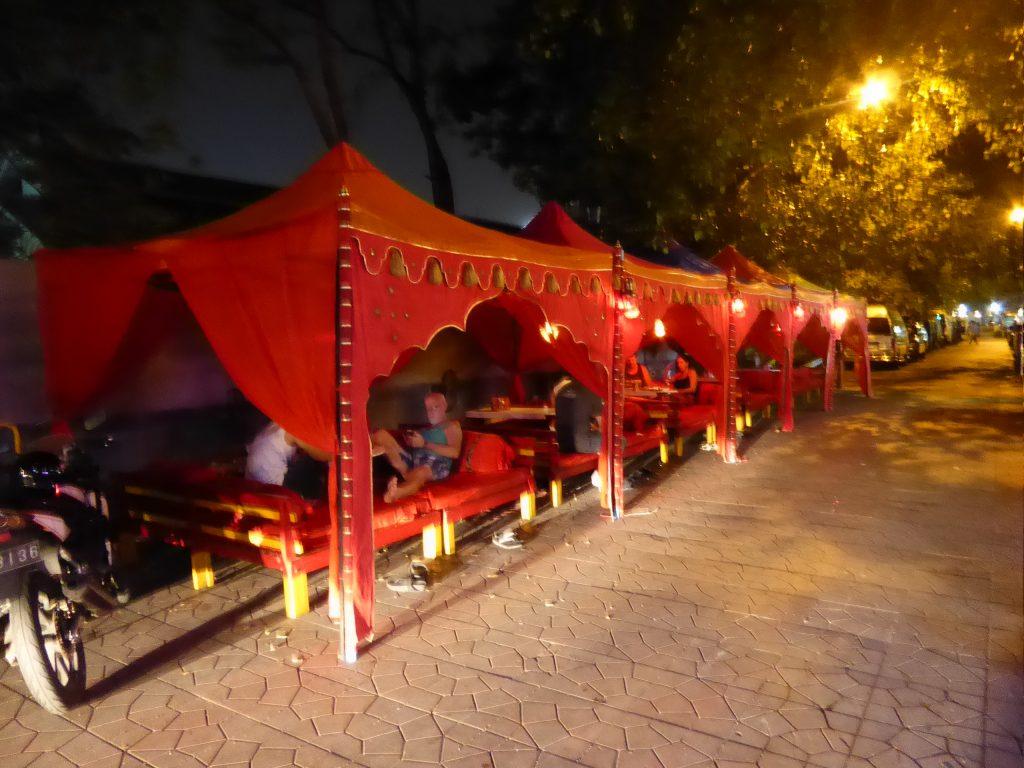 Where is Bombay Blues?
Location: 51 Soi Rambuttri, off Chao Far Road, Banglamphu, Bangkok.
District: Khaosan
Opening Hours: 19.00-02.00 daily.
Getting There: Taxi or walk from Khaosan.
Map: 
Dosa King
Dosa King is an excellent long-running (since 2002) vegetarian Indian restaurant in Bangkok, on Sukhumvit road serving tasty authentic Punjabi, and north and south Indian vegetarian food.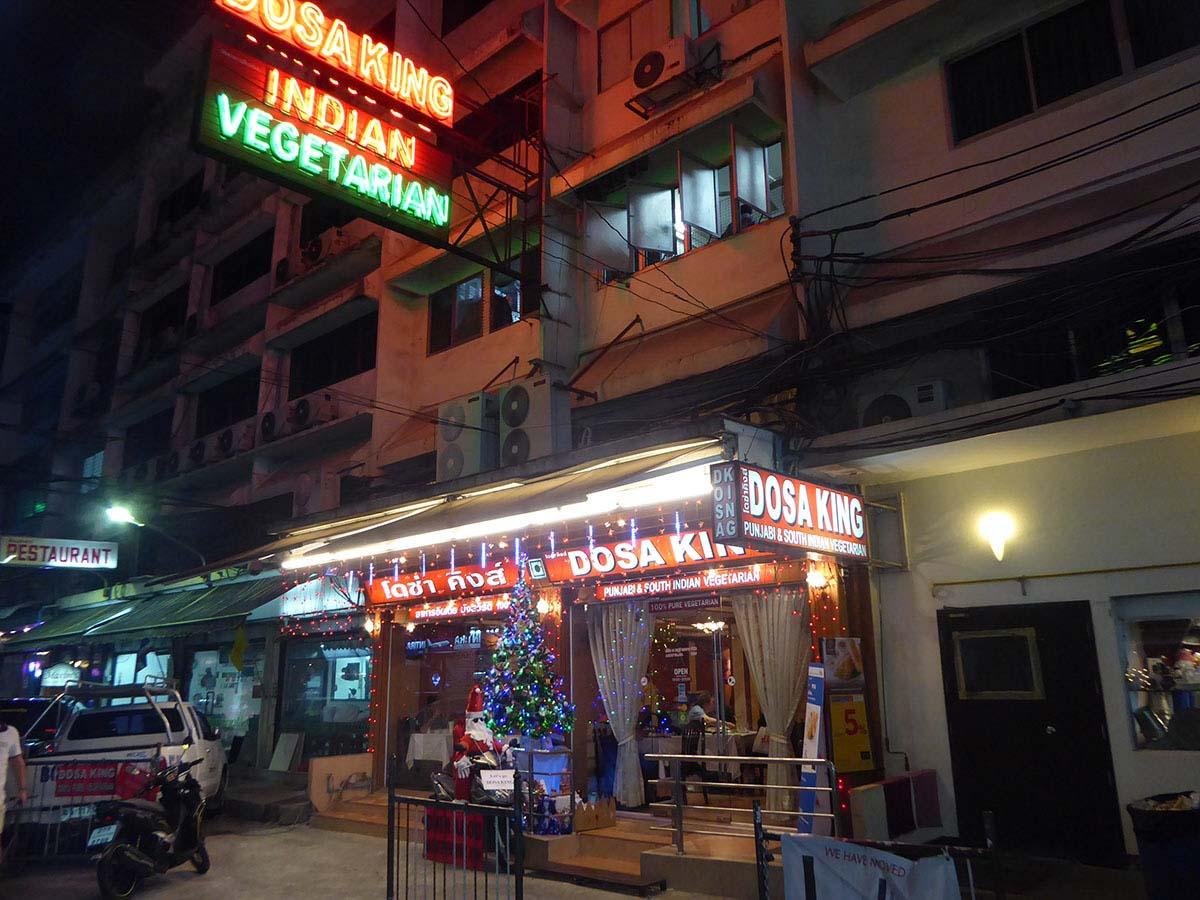 The Menu
There are also vegan dishes specified on the menu. The 130 item menu is 100% vegetarian with appetizers, tikkas, dosas, curries, bread, & rice. There are also desserts, lassis, shakes, fresh juices, Indian tea, and coffee. The restaurant specializes in dosas which are a thin crispy pancake with filling. The restaurant does not serve alcohol. It is conveniently located a few minute's walking distance from BTS Nana station. Good staff and service.
Check the menu: http://dosaking.net/menu/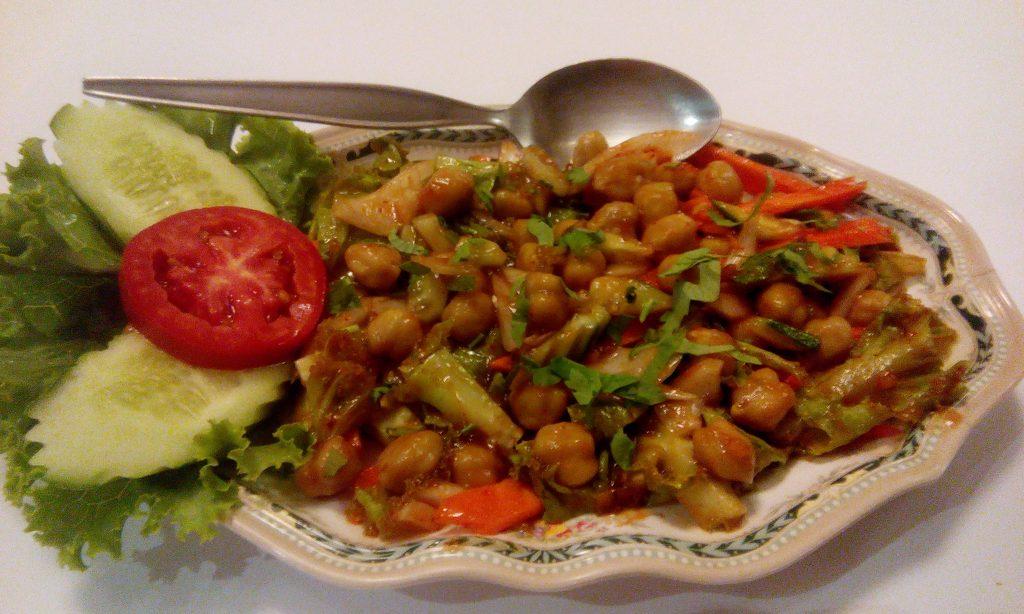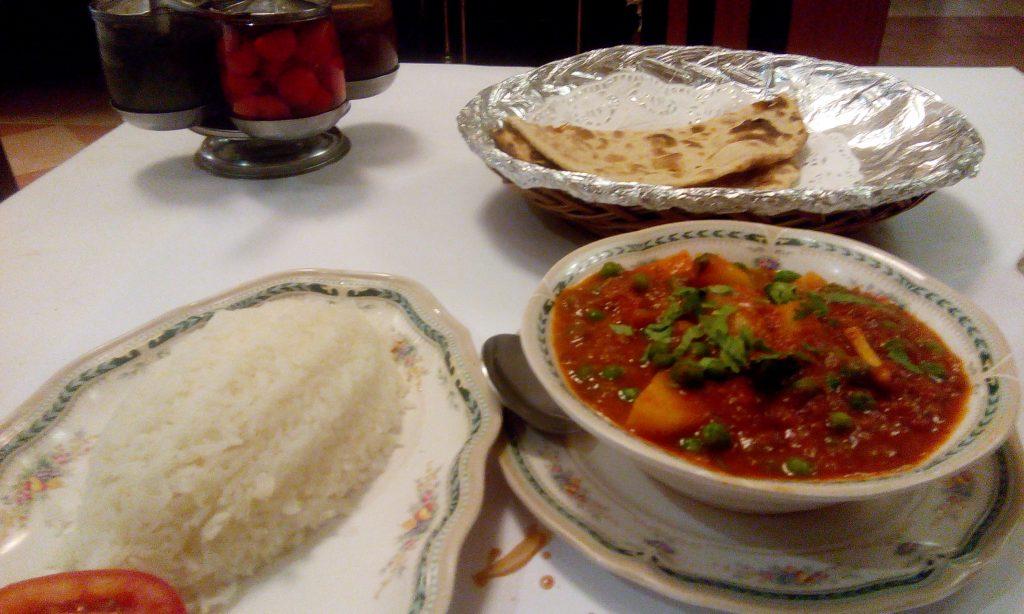 Where is Dosa King?
Location: 153/7 Sukhumvit Soi 11/1, Bangkok.
District: Sukhumvit
Opening Hours: 11.00-23.00 daily.
Getting There: BTS Nana (exit 3).
Map: 
You May Also Like
Popular Pages on Tourist Bangkok