Bangkok and Thailand in general does, not have any major health risks. There are no infectious diseases that you should actively worry about. Some vaccinations for Thailand are recommended but not mandatory. Health risks are only present in remote areas that tourists rarely visit. There are some excellent pharmacies in Bangkok. The quality of hospitals is of International standard in major tourist destinations such as Bangkok, Phuket, Chiang Mai & Pattaya.
Prevention
Important vaccinations like Tetanus, Hepatitis A + B should always be up to date wherever you are traveling or not. Malaria tablets are not required for a trip to Bangkok or anywhere else in Thailand. Make sure you bring mosquito repellent with you or buy some after you arrive. You should apply it to exposed legs and arms if you are outside after dark. Mosquito bites are not usually dangerous but can be irritating. Local brands of mosquito repellent work very well despite what you might read elsewhere.
Travel Insurance for Thailand
You should make sure that your travel insurance has adequate health/accident coverage as hospital bills can be expensive if you have any medical issues. One of the most common causes of injury to tourists is motorcycle accidents. [/vc_column_text][/vc_column][/vc_row]
Thailand Travel Health ? Common Health Problems
The most common problems are heat exhaustion, sunburn?and stomach upsets. Thailand can be very hot, try to avoid excessive activity in the heat, and drink plenty of water to prevent dehydration. Apply sunscreen when you are sightseeing or on a beach. Stomach upsets can be caused simply by the spicy food or by picking up bacterial infections from food or water. Drink only bottled water.
?
Thailand Travel Health ? What to bring with you
You should bring any prescribed medications with you that you take for pre-existing conditions. If you forget, run out or lose them there are some good pharmacies in Bangkok. It is possible to buy replacements for some things over the counter without a prescription. Bring your own brand of birth control pills.
?
Things that you can buy in Thailand
antibiotics
antihistamines
anti-diarrhea tablets
antiseptic cream
antifungal cream
antidepressants
sunscreen
decongestants
Insect repellent creams & sprays
Insulin (Novo Nordisk) + Insulin Pens
low strength aspirin (Aspilets is the local brand)
antacids (Miracid is the local brand)
statins (Bestatin is the local brand)
antiseptic wet wipes/hand gel
PM 2.5 air pollution face masks
oral rehydration solution
ibuprofen
paracetamol
migraine medication
antiseptic throat lozenges
steroid cream
?
Some western brands may also be available but can be expensive. Things worth buying on arrival and carrying with you during your stay are antiseptic cream, mosquito repellent, antibacterial/ diarrhea tablets. Antiseptic cream is essential for applying to any cuts or scratches as these can easily become infected.
?
Thailand Travel Health ? Mosquito Bites
Mosquito repellent should be applied to exposed parts of the body when going out after sunset to avoid getting bitten. Bites are not dangerous in Bangkok but can be extremely irritating. Local brands are cheap and work well. You can buy cream sachets for 5 baht in 7-11. There are also sprays and an aerosol brand named OFF. Sprays cost from 50 baht while OFF is about 120 baht.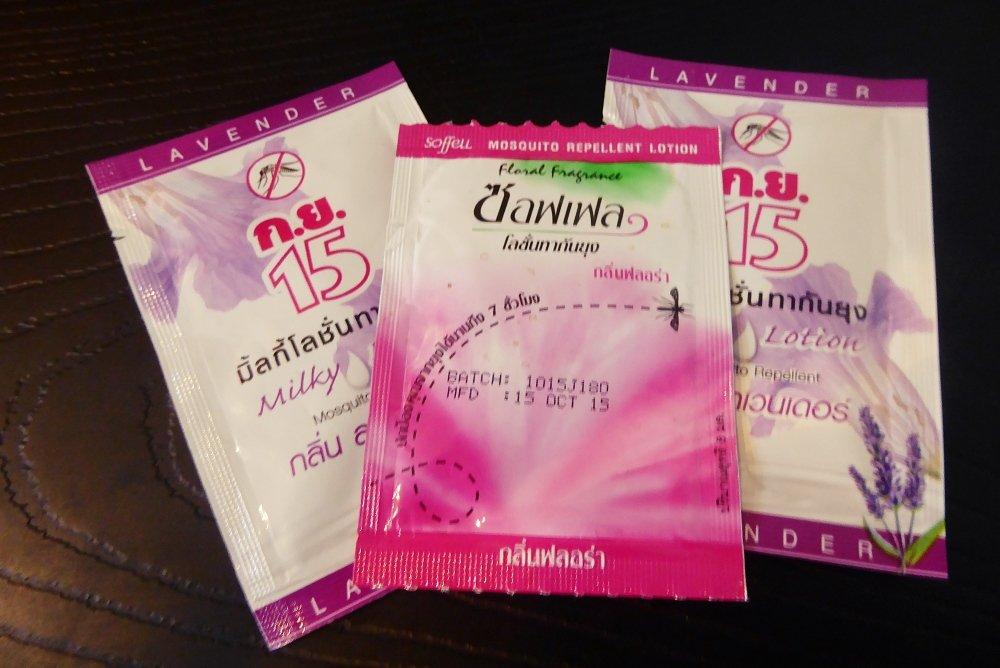 Thailand Travel Health ? Food Poisoning
Most food poisoning cases concern bacterial infections from parasite contaminated food or water. Tinidazole is a strong antibiotic that is extremely effective at killing bacterial infections such as giardiasis & amebiasis quickly. We recommend it as does the lonely planet Thailand guide book. A pack contains 4 tablets which are taken as a single 2000mg dose. It usually starts to clear up your infection after a few hours though it suppresses your appetite for food temporarily.
Where can I buy Tinidazole?
You can buy generic Tinidazole in most Thai pharmacies. The TM Dazole brand is most common along with Tinazole. It is cheap at about 40 baht for a pack of four tablets. It is worth buying a couple of packs to accompany you on your travels as when you do fall ill it can be difficult to get out to buy them. Note that, Boots pharmacists will only recommend milder cures such as charcoal tablets & Flagyl which take longer to cure you if at all.?
As with all drugs check the enclosed literature for whether it is suitable for you. Imodium is an anti-diarrhea drug that slows down your bowel movements allowing you to travel but doesn?t kill the infection.?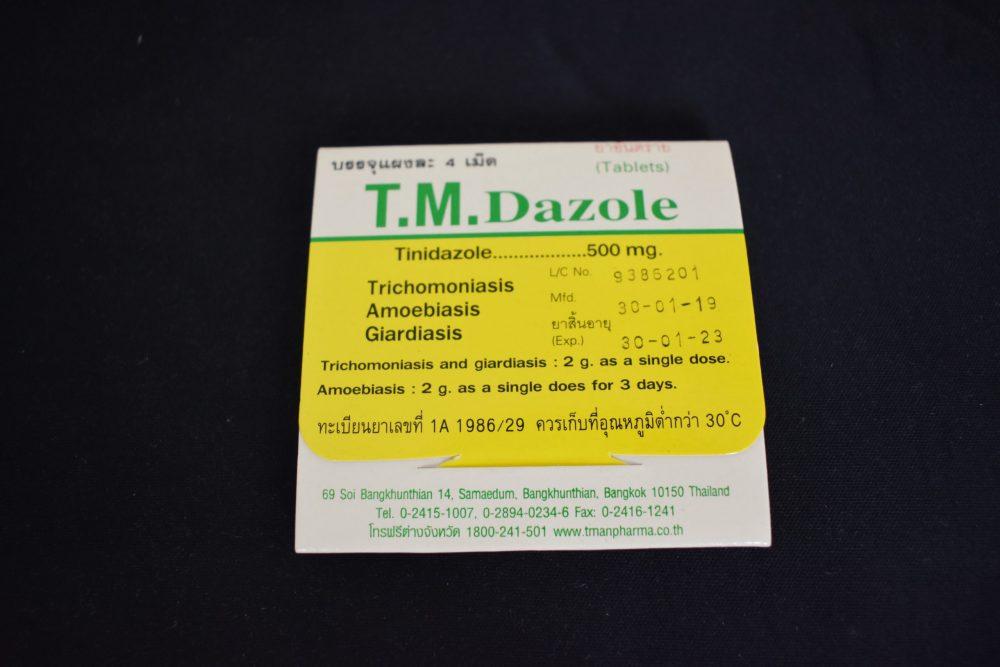 ?
Pharmacies in Bangkok
Boots will be a familiar name to visitors from the UK. You will find many branches of Boots Pharmacy in Bangkok, mostly in Malls. Each branch has a pharmacist on duty. Boots do not stock a large range of drugs but many general products are imported from the UK.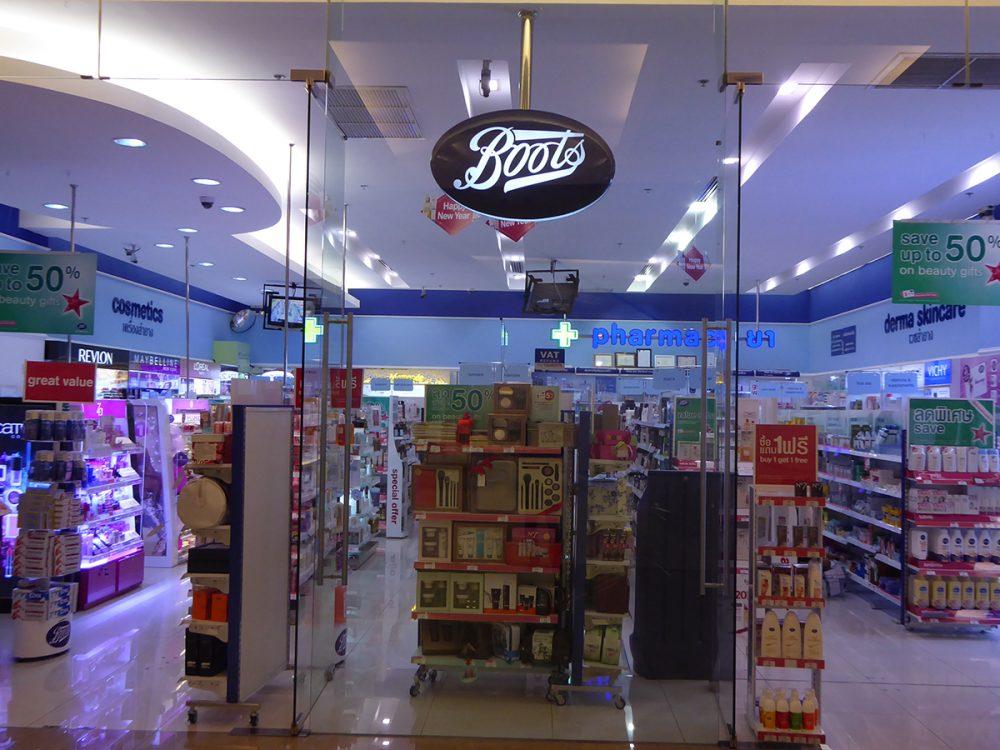 If you are looking for something more specialized there are a few good independent pharmacies in Bangkok. Many tourists buy medical supplies in Bangkok as it is cheaper than in their home countries. You also do not need to visit a doctor or show a prescription. Brand name meds are imported from western countries or there are generic alternatives.
Bangkok Pharmacy Prices
At some pharmacies in Bangkok, you can save up to 90% on western prices. A bottle of Insulin is about $18. Check the customs regulations for your country and if you need any documentation such as a prescription. Check the alternative names for your meds as some brands are marketed under different names in different territories.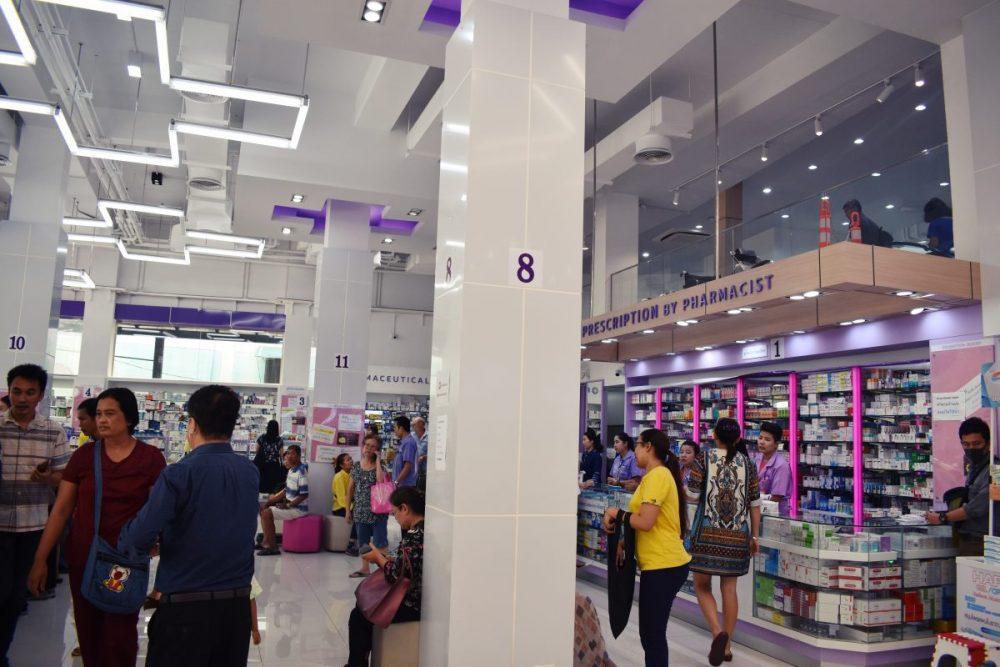 One of the best pharmacies in Bangkok is Diamond Pharmacy next to Siriraj Hospital on Thanon Wanglang. This is convenient if you are staying near Khao San Road, Thonburi, or on the riverside. It?s a few minutes from Prannock Pier and it has the best prices for meds in Bangkok. You can buy everything at Diamond Pharmacy including Insulin.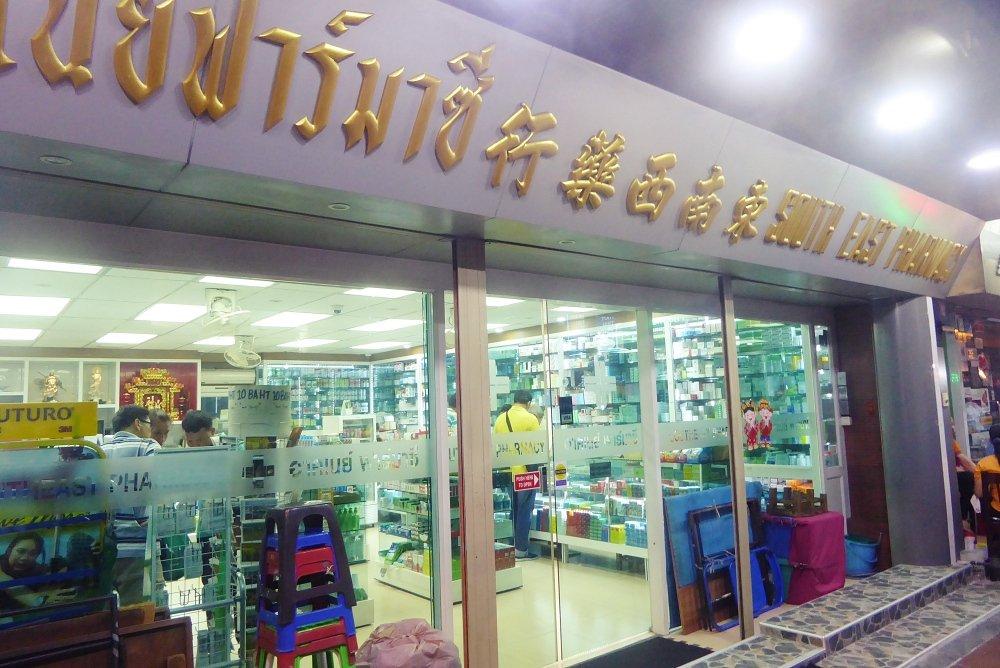 If you are staying near Sukhumvit Road (by Soi 15) another of the best pharmacies in Bangkok is South East Pharmacy. South East stock a wider range of products than Boots but less than Diamond and are a bit more expensive.
Vaccinations for Thailand
Thailand does not require you to have any vaccinations to enter the country. The only exception is Yellow Fever, but this only applies if you are traveling from Africa or South America or have been there in the last six days. You should check that all routine vaccinations that you have received in your home country are up to date. They are ?
Hepatitis A + B
Tetanus
Typhoid
Polio
Vaccinations that you should consider are?
Japanese Encephalitis
Dengue Fever
Dengue Fever is spread by mosquitos and is present in Thai cities. The best prevention is to avoid being bitten by applying mosquito repellent. Dengue mosquitos bite in the daytime but cases of travelers being infected are rare. The worst places for Dengue Fever are the southern Islands. Japanese Encephalitis is only an issue if you are going to remote jungle areas. Again this disease is spread by mosquitos.
Thailand Vaccinations Cost
A course of vaccinations before a trip to Thailand can be expensive. The vast majority of travelers don?t bother and infections are rare. However, if you consult a western doctor they will recommend you are fully vaccinated. You can get vaccinations before you leave or when you arrive in Thailand at a clinic or hospital. In Thailand, the vaccinations cost a lot less. Here is a comparison of Thailand vaccination cost to prices in the USA & UK, for some of the most commonly requested vaccinations.?
?
Dengue? ? ? ? ? ? ? ? ? ? ? ? ?Thailand $87, USA $207, UK N/A
Japanese Encephalitis? ?Thailand $16, USA $292, UK 180GBP
Hepatitis A + B? ? ? ? ? ? ?Thailand $32, USA $104, UK 89GBP
Rabies? ? ? ? ? ? ? ? ? ? ? ? ? ?Thailand $11, USA 280, UK 60GBP
Typhoid? ? ? ? ? ? ? ? ? ? ? ? ?Thailand $16, USA $50, UK 56GBP
?
As you can see Thailand vaccination cost is much cheaper in Bangkok. If you want to get vaccinated in Thailand we recommend you visit the Thai Travel Clinic at the Hospital for Tropical Diseases in Bangkok (BTS Victory Monument Station).
Thailand Travel Health ? Rabies
Rabies is present in South-East Asia but it is very rare that a traveler gets infected. To stay safe avoid all contact with stray dogs and cats. They may look cute and healthy but a lick or bite could be deadly. There are lots of monkeys in Thailand at temples, beaches, mountains, and forests. Don?t taunt them or tease them with food. Monkeys will attack you for food.
Rabies symptoms may not appear till weeks later and treatment can be costly and painful. There have been a few cases reported in western media over the last couple of years regarding rabies deaths after interaction with stray puppies & kittens. Stay safe!
Hospitals in Thailand
There are some first-class International hospitals in Thailand. Thailand has become a major international medical tourism hub. Most international hospitals are in Bangkok, Phuket & Pattaya but you will also find good ones in Hua Hin & Chiang Mai. All doctors in International hospitals are English-speaking. Other languages are also spoken. A visit to a doctor will cost 300-500 baht.
?
Thailand Medical Tourism
Many visitors come to Bangkok to seek medical treatments at a lower cost than is available in their home countries. Apart from surgery, health check-up packages and dental treatment are popular and, good value for money. General health check-up packages run from around 3000 baht to 18000 baht depending on the content. Specialist packages such as cancer screening are also available. Dental treatment is cheaper than in western countries.
Hospitals in Bangkok for Tourists
If you need to see an English speaking doctor in Bangkok the following hospitals are tourist-friendly and are located in convenient locations in tourist areas.?
Bumrungrad International Hospital ? Lower Sukhumvit
Bangkok Hospital ? New Phetchaburi Road
BNH Hospital ? Silom/Sathorn
Samitvej Hospital ? Upper Sukhumvit & Thonburi
Phaya Thai Hospital ? Phaya Thai
Siriraj Hospital ? Khao San Road
Thai hospitals are not expensive by international standards and treatment at all of the above should be covered by your travel Insurance policy. There are cheap hospitals in Bangkok but they usually lack English speaking staff. Siriraj Hospital is a public hospital and prices are cheaper than at an International hospital & they have plenty of English speaking doctors.
?
Dental Hospitals in Bangkok
Bangkok Hospital Dental Center is recommended for good service & reasonable prices.
Thailand Travel Health ? Travel Insurance
Bangkok is generally a safe travel destination, though accidents, & sickness, are not uncommon. Traveling without Insurance is risky as you can never tell what may happen and you could be left with a large bill or financial loss. The following are all Thailand travel health essentials.
?Medical Expenses due to illness/accident. If you intend to ride a Scooter or taking part in adventure activities such as rock climbing, check the details of your policy carefully to check if you are covered.
?Evacuation to your home country
?Repatriation of your body if you die
Read more detail about Thailand Travel Insurance?
or get a quote with World Nomads who is one of the best travel insurers for travelers. Get a quote.
Top 10 Thailand Travel Health Tips
Drink plenty of water. Bottled only.
Wear sunscreen
Avoid excessive activity in the heat
Apply antiseptic cream to cuts & scratches
Only eat freshly cooked food in clean surroundings. Avoid raw or undercooked food.?
Apply mosquito repellent when outside after dark
Clean your hands regularly
Carry medications for bacterial infections with you?
Make sure your standard vaccinations are up to date
Avoid contact with stray dogs, cats, pigeons & monkeys. Don?t let them lick or bite you
?
Stay safe & enjoy your trip to Thailand!