Skytrain Bangkok
Public Transport in Bangkok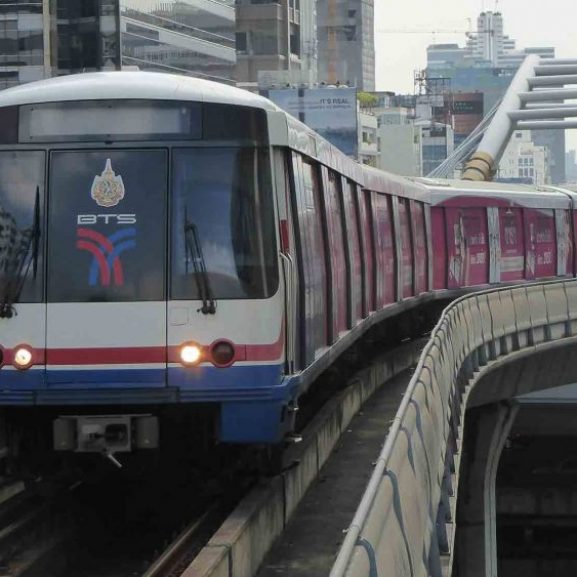 Skytrain Bangkok
Skytrain Bangkok (BTS) is the best public transport in Bangkok. There are two lines for getting around Bangkok, the Sukhumvit Line (light green), and the Silom line (blue). There are 52 stations in all. The Sukhumvit line runs between Khu Khot and Kheha, and the Silom line runs between the National Stadium and Bang Wa. There is also a new monorail line, the Gold Line that runs between Krung Thonburi station and Khlongsan providing easy access to IconSiam & the riverside. Operating hours are 05.00-24.00, 7 days a week. The frequency is every 3-5 minutes. The trains are air-conditioned and comfortable but can be crowded during morning and evening rush hours Monday to Friday.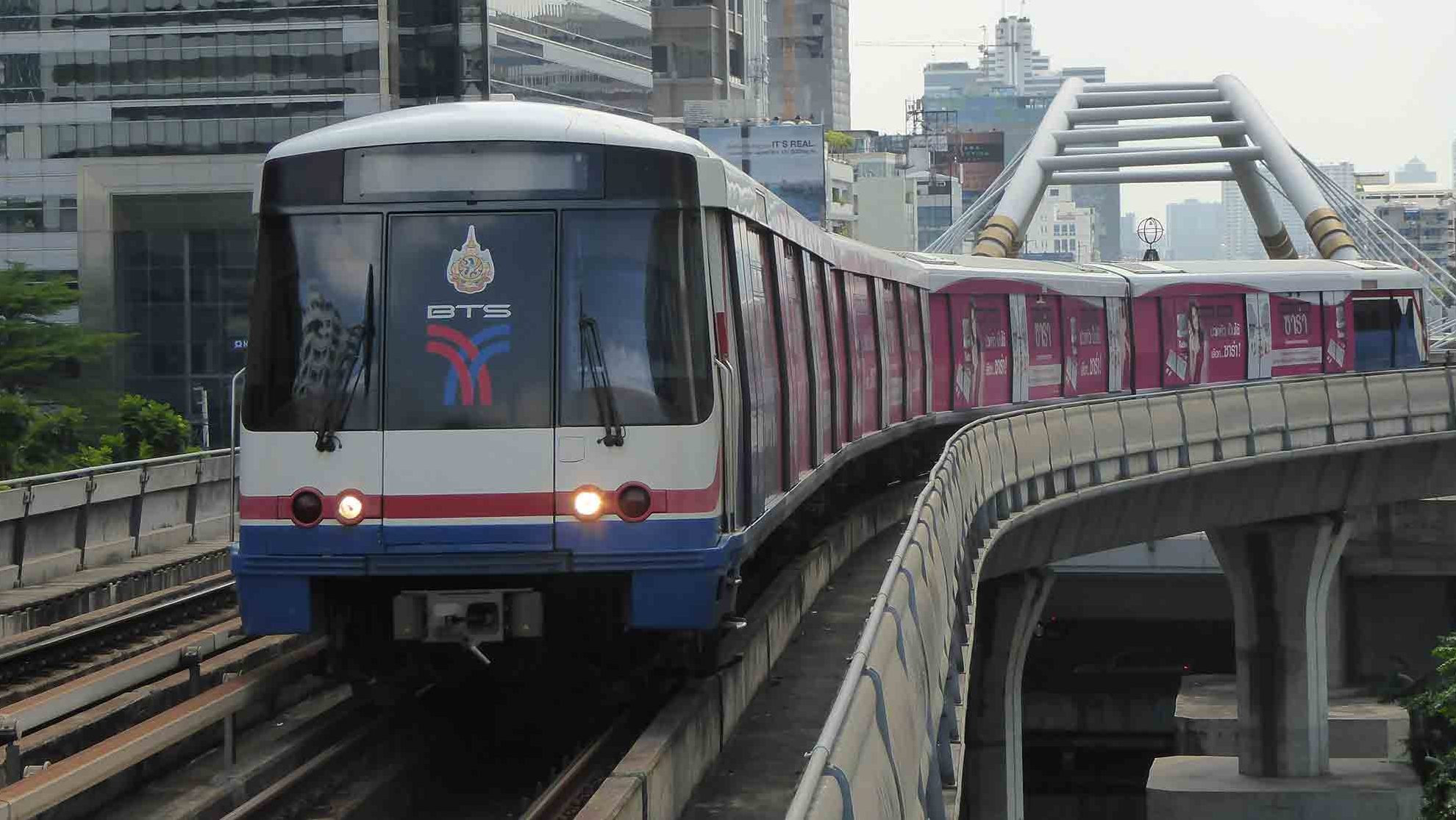 BTS Bangkok Map 
Please note that the Skytrain Bangkok green line has now been extended from Mo Chit to Khu Khot and from Bearing to Kheha.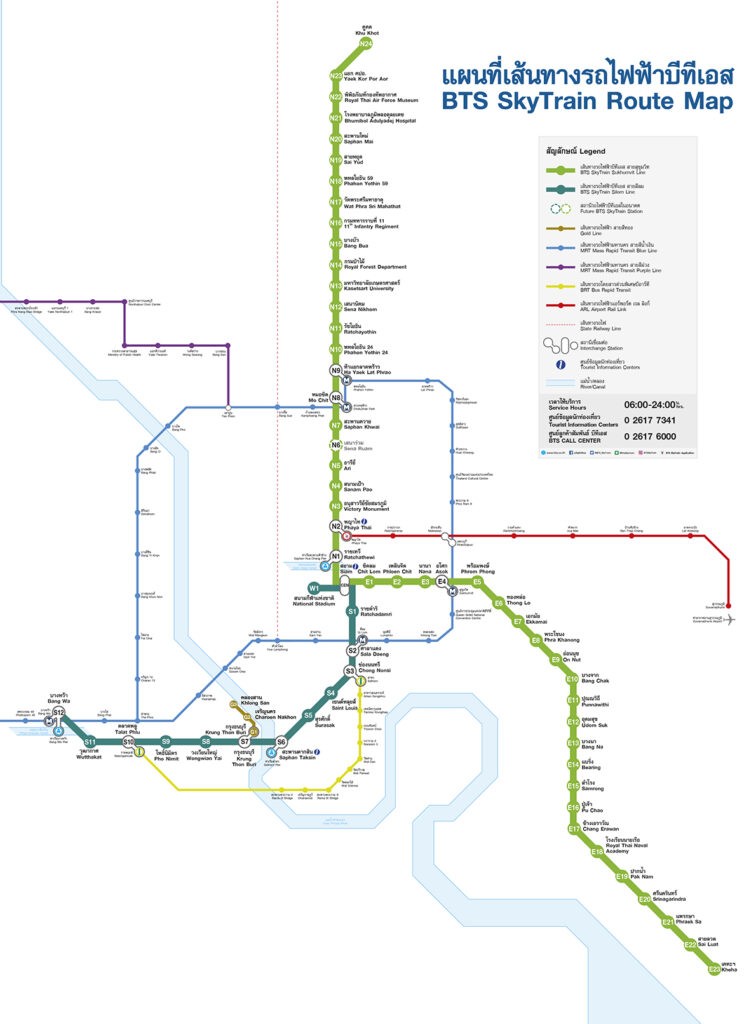 Bangkok BTS Fare
Skytrain Bangkok fares are not cheap, being among the most expensive in Asia, though still cheaper than a city like London. Single journey tickets cost 16-65 baht depending on destination. There are a variety of passes available. The good news is a one-day pass covering the network costs only 140 baht and gives unlimited rides, the bad news is you are only allowed 120 minutes of travel time in the paid area which limits how much you can travel in one day!
Mangmoom Card
There are plans to introduce a combined ticket for public transport in Bangkok. The card is named Mangmoom and should be launched sometime in 2021. At first, only the BTS, MRT & Airport Rail Link will be included & you will be able to buy it at the airport on arrival.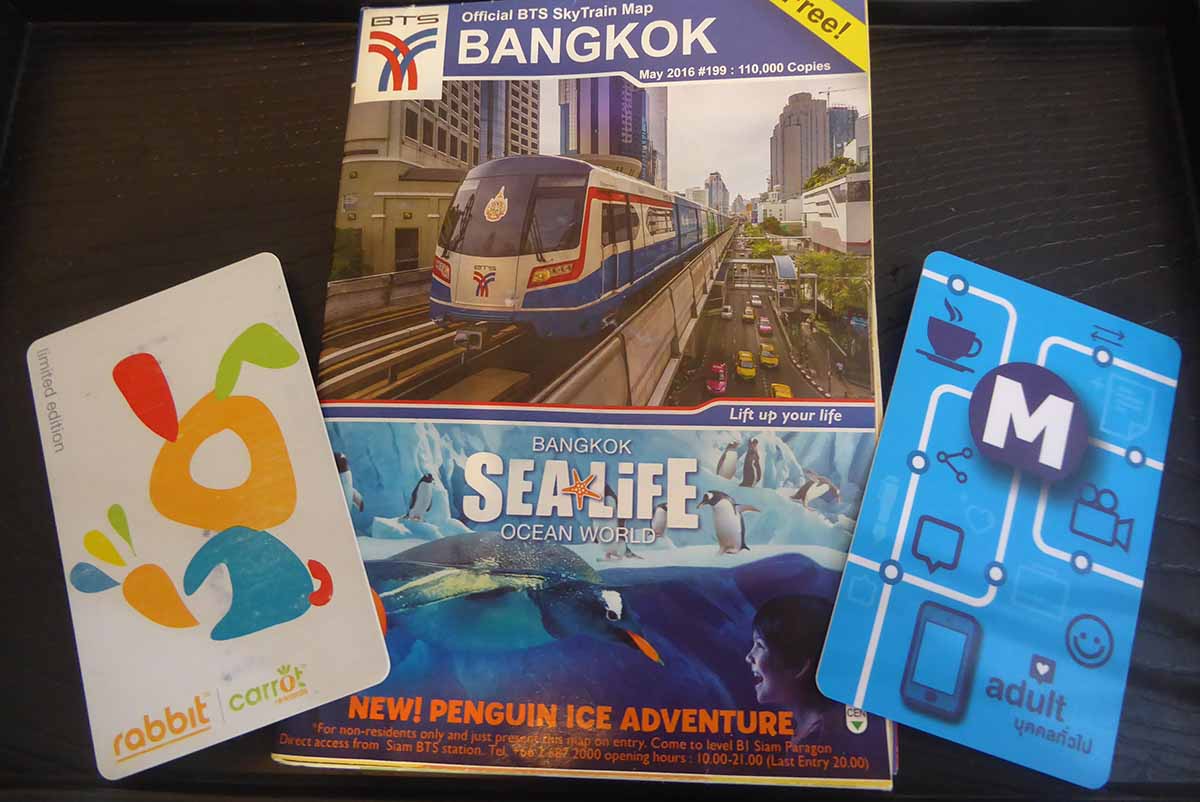 Bangkok Rabbit Card
The Rabbit Card is a stored-value pass. It has a 50-baht issuing fee and a 50-baht refundable deposit. The card gives you a 1 to 2 baht discount on Skytrain Bangkok fares. You can add credit to the card or buy up to 30 single journey trips at a discounted rate. However, the Single Journey pass is currently only valid between Mo Chit & On Nut on the Sukhumvit Line. and between National Stadium & Wongwian Yai on the Silom Line. There is a surcharge on stations outside these limits. The Single Journey pass is valid for 30 days while stored value credit is valid for 2 years and the card for 5 years. Children under 90cm travel free while those over pay full fare.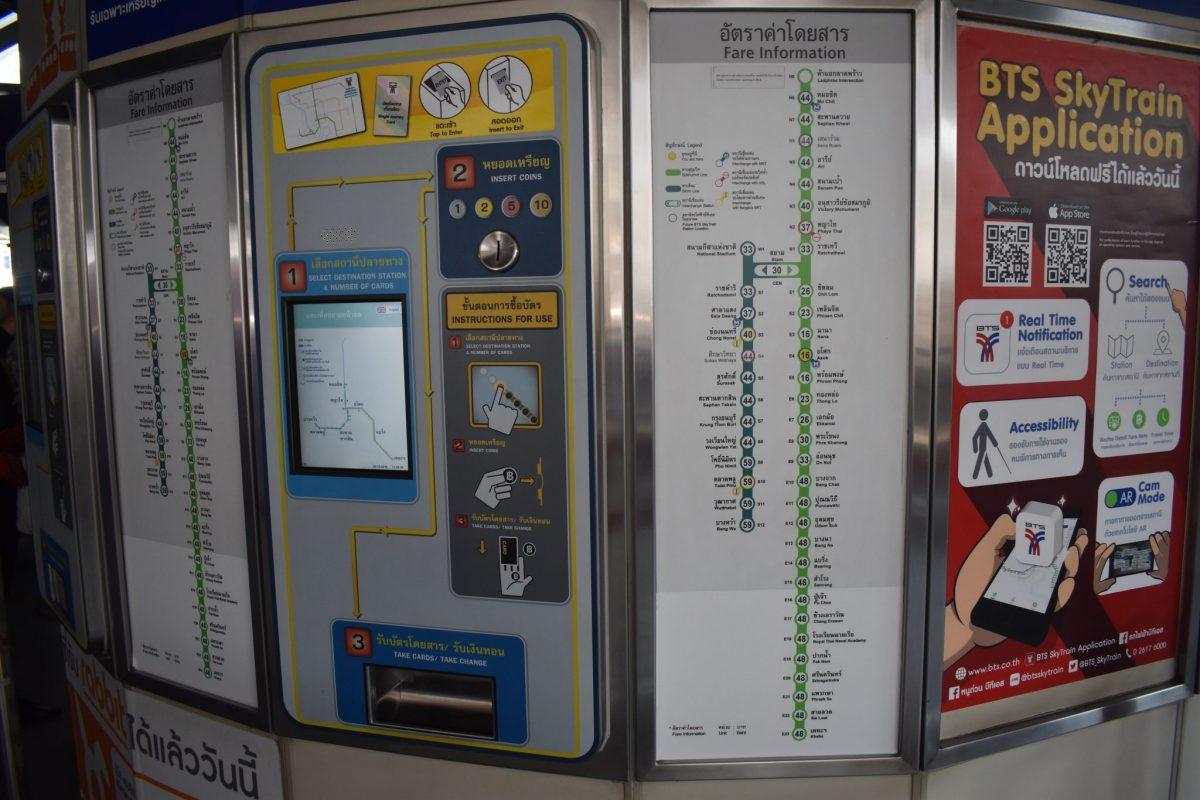 How to buy a Skytrain Bangkok Ticket
Skytrain Bangkok ticket offices also sell single tickets, passes, credit top-ups, and give change for the ticket machines. The BTS is now installing automated ticket machines that accept notes & coins, though you won't find these at all stations yet. If you have a stored value pass you tap in and out of the electronic gates. If you have a single ticket you insert it in the slot and retrieve it as you pass through the gate. Same procedure when exiting though you don't get the ticket back.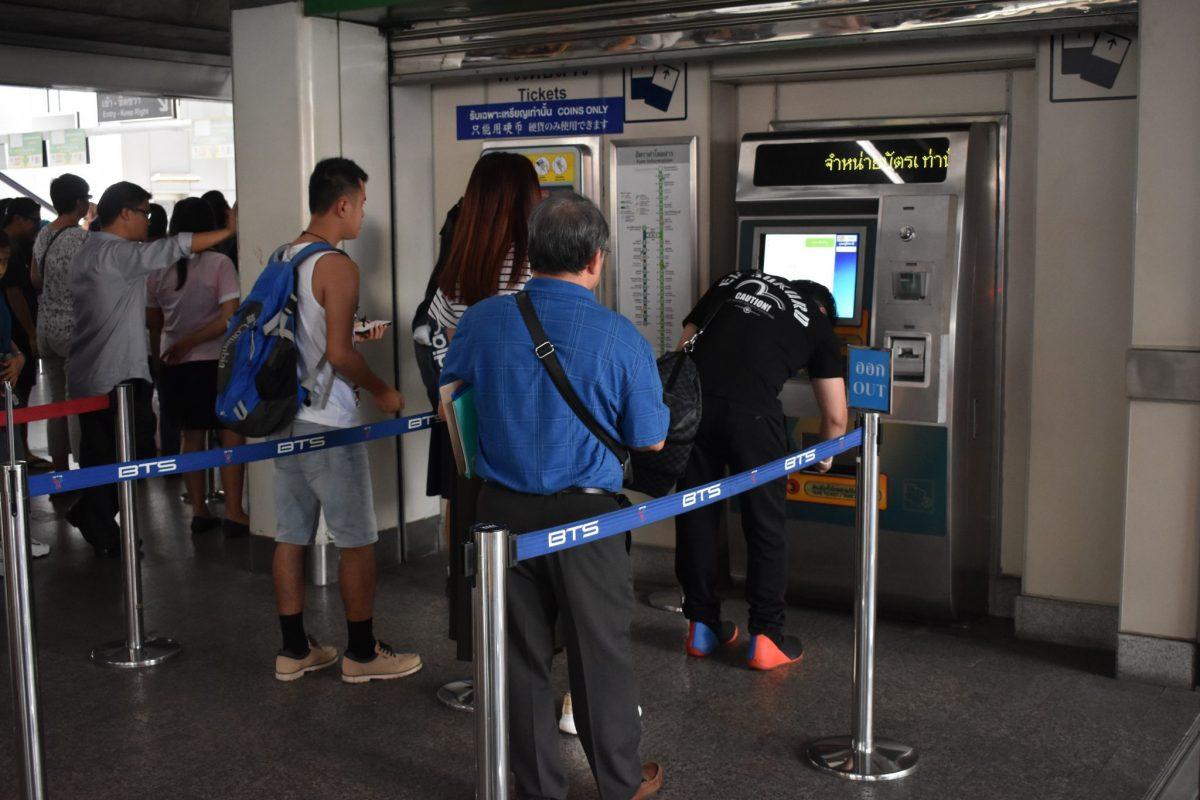 Phaya Thai Station – Airport Rail Link Interchange
The BTS connects with the Airport Rail Link at Phaya Thai station. The stations are linked by a walkway that contains coffee shops, and a Superrich currency exchange. 
Saphan Taksin Station – Chao Phraya Express Boat Interchange
You can change from the BTS to the Chao Phraya Express boat & the riverside hotel shuttle boats at Saphan Taksin station. The Sathorn pier is linked to the station by an escalator and walkway.
Skytrain Bangkok BTS Tip
When catching, the Skytrain Bangkok, make sure you're going in the right direction. The platforms have signboards with the terminus station names which are Khu Khot, Kheha, National Stadium, and Bang Wa. The BTS intersects with the MRT at Mo Chit, Asok, Sala Daeng, Ha Yaek Lat Phrao, and Bang Wa.  Saphan Taksin station connects with the Chao Phraya Express & Tourist Boat. Krung Thonburi connects with the Gold Line.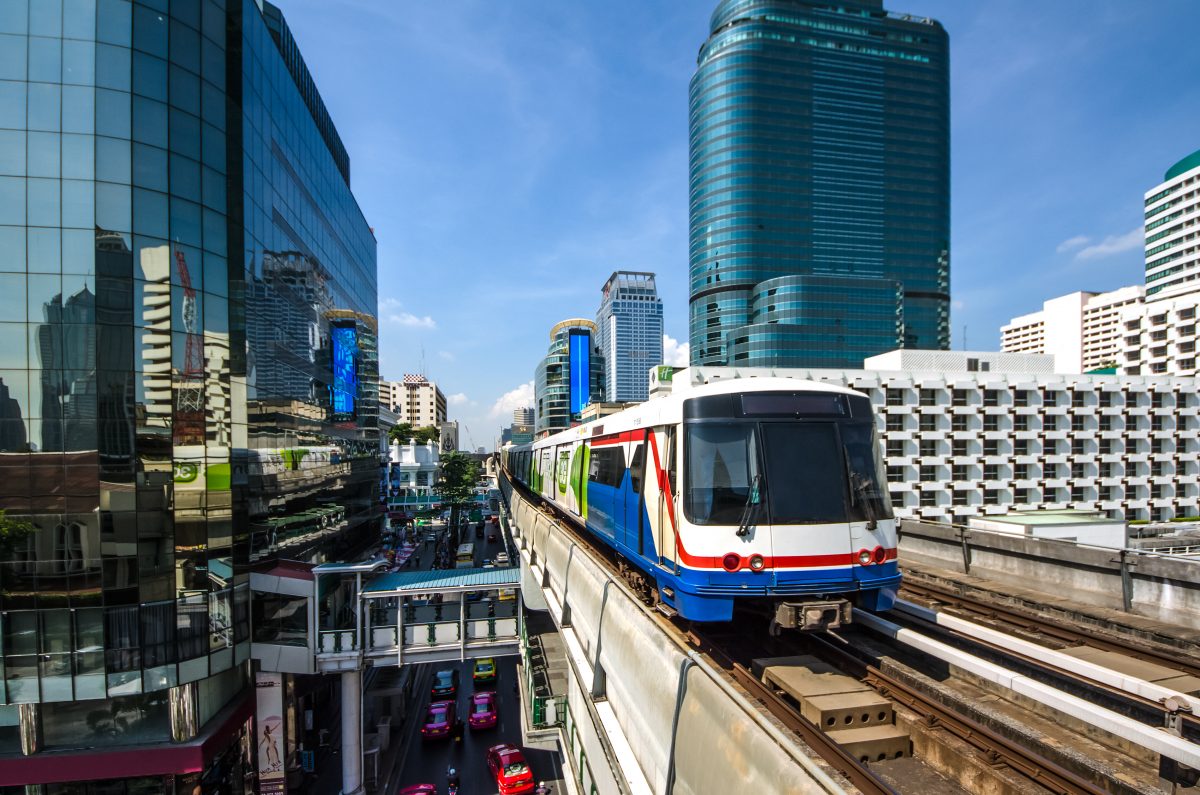 Bangkok BTS Station Maps
All Skytrain Bangkok stations have wall maps showing the station exits and the local area. Don't lose your ticket as you will need it to exit. Check the correct exit for your destination. No eating or drinking on the trains or platforms. You may have your bags searched after entering the paid area.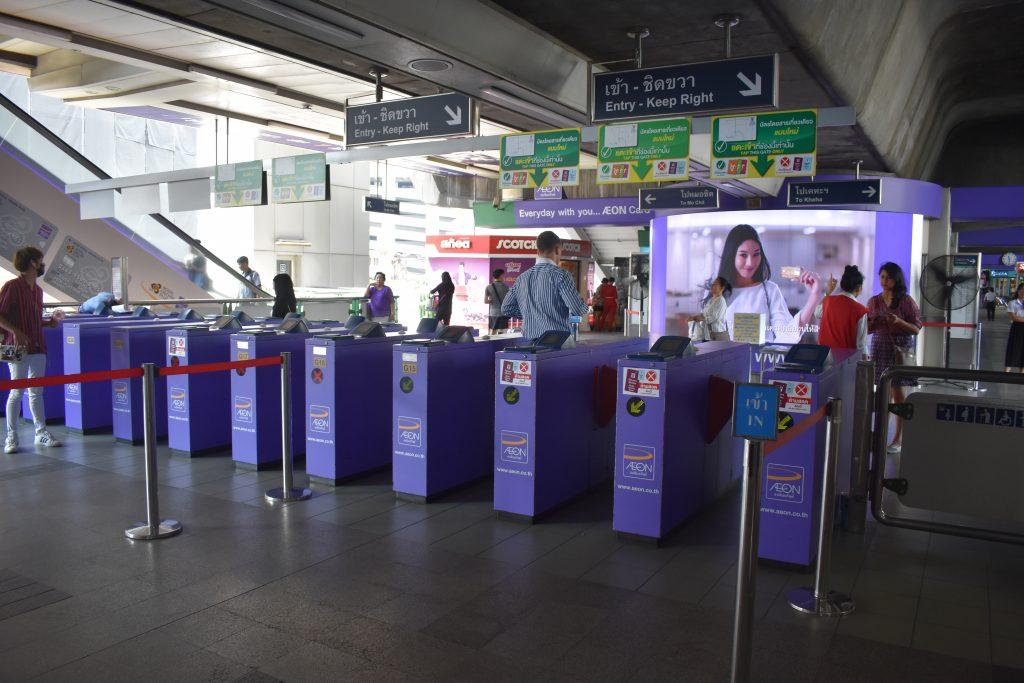 BTS Bangkok Timetable
The first trains depart from each end of the Sukhumvit line at 05.15 and at 05.30 on the Silom line. Trains run every 5-6 minutes between 06.00-07.00, and every 3 minutes between 07.00-09.00. Between 09.30-16.00, the service interval is every 6 minutes and every 3 minutes between 16.00-20.00. After 21.00 the service is every 5-6 minutes. On weekends & holidays services run every 4-8 minutes depending on the time of day.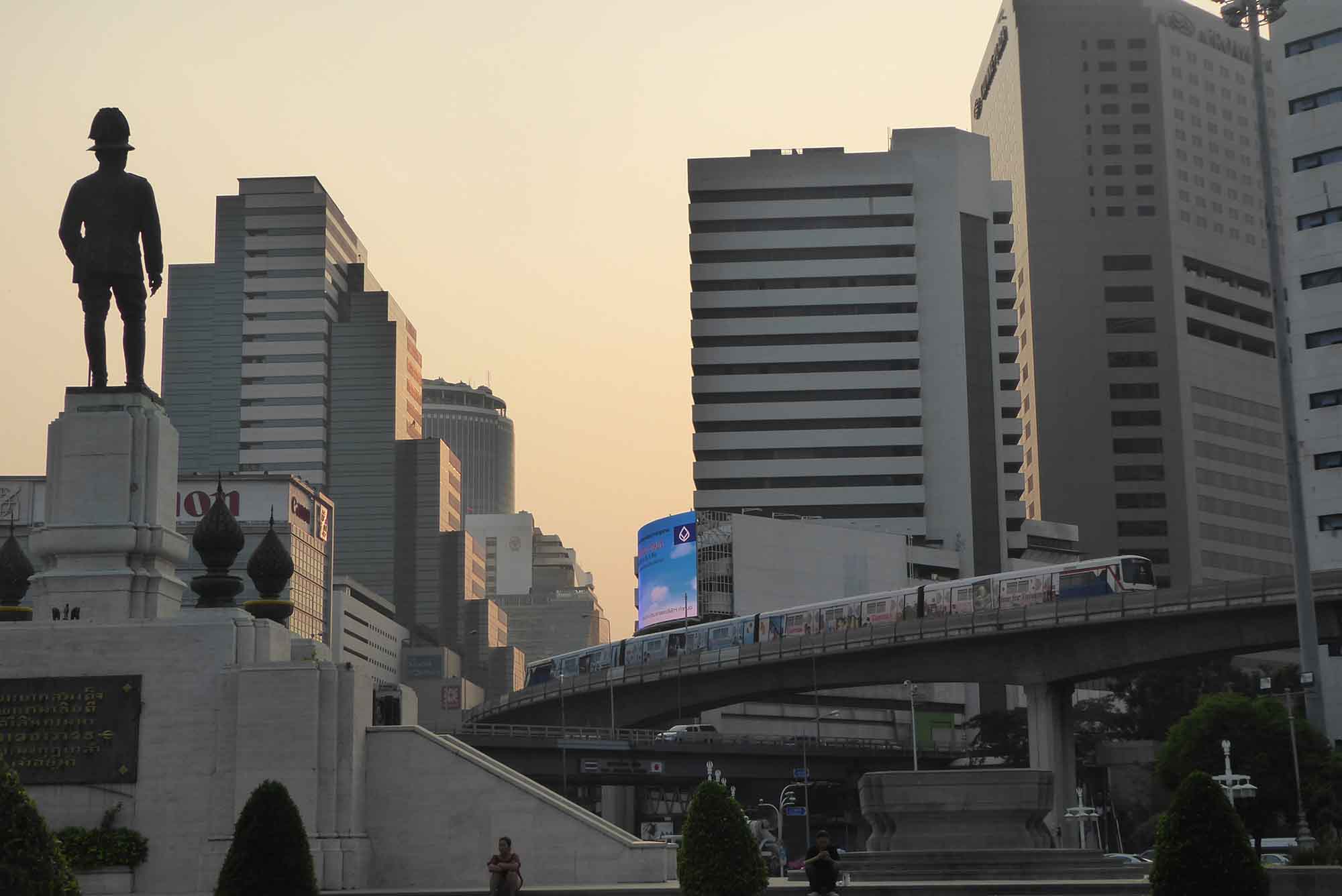 What time does the Skytrain Bangkok stop running?
The last train departs Kheha on the Sukhumvit line at Midnight while the last train departing from Mo Chit is 24.12. On the Silom line, the last train departs Bang Wa at Midnight and from National Stadium at 24.24. Allow extra time if interchanging between the two lines at Siam. 24-hour public transport in Bangkok is limited to taxis, night buses & tuk-tuks.
Skytrain Bangkok Stations
Some useful Skytrain Bangkok stations are ….
Lat Phrao for Union Mall & Central Plaza Lat Phrao
Mo chit for Chatuchak Weekend Market
Phaya Thai for Airport Rail Link
Siam for Siam Square and Ratchaprasong Shopping Malls
Chit Lom for CentralWorld and Erawan Shrine
Nana/Asok for Terminal 21, Sukhumvit hotels and nightlife
Phrom Phong for The EmQuartier
Thong Lo for Nightlife
Ekkamai for Eastern Bus Station
Chang Erawan for Erawan Museum
Kheha for Ancient Siam
Krung Thonburi for IconSiam(monorail)
Saphan Taksin for Riverside hotels and Chao Phraya Express Boat
Sala Daeng for Patpong and Silom
National Stadium for MBK and Jim Thompson House
BTS Gold Line
The BTS Gold Line is a new driverless monorail line connecting Krung Thonburi Station with the riverside & Icon Siam.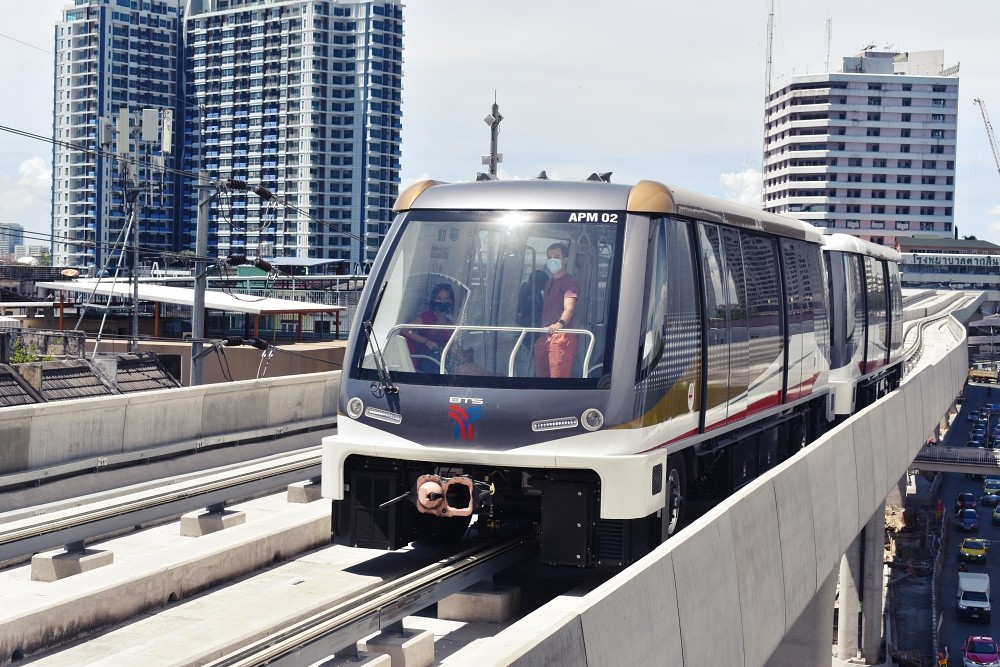 There are only three stations, Krung Thonburi, IconSiam (for Millennium Hilton, the Jam Factory, Khlongsan Plaza) & Khlongsan. The train is small with only 2 carriages. The fare is a flat 15 baht & tickets can only be bought at the three stations. You can not buy a ticket from anywhere else on the BTS network. Rabbit cards are valid. The service operates every 6-12 minutes from 06.00 to 24.00 daily.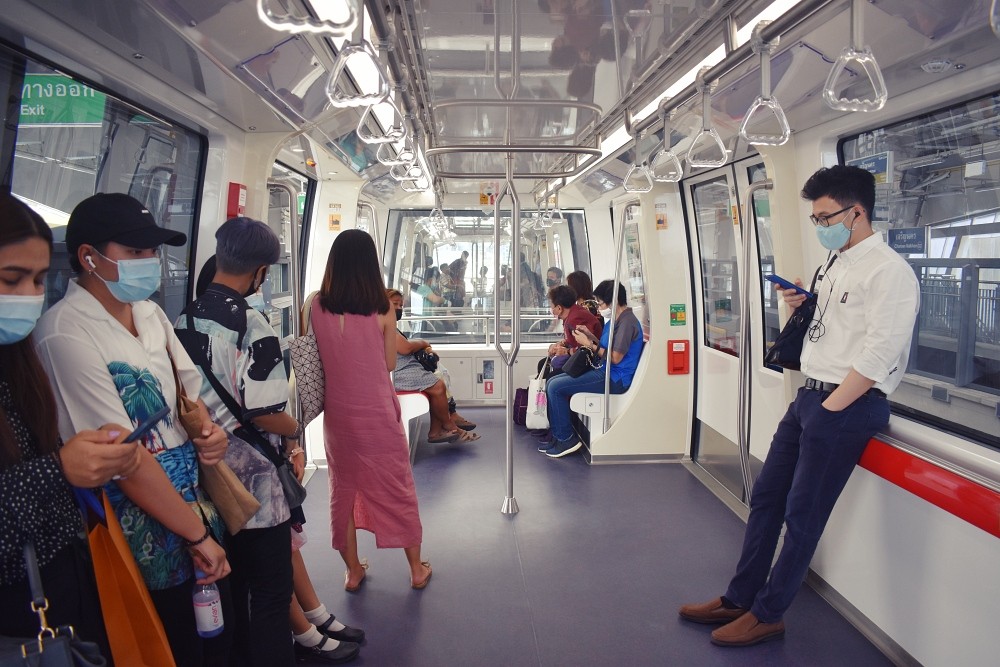 Make Sure you have Travel Insurance
World Nomads is one of the leading most trusted travel insurance providers, recommended by Lonely Planet, National Geographic & Nomadic Matt. Get a quote.
You May Also Like
Popular Pages on Tourist Bangkok