Don Muang Airport
All you need to know about Don Muang Airport (DMK) in Bangkok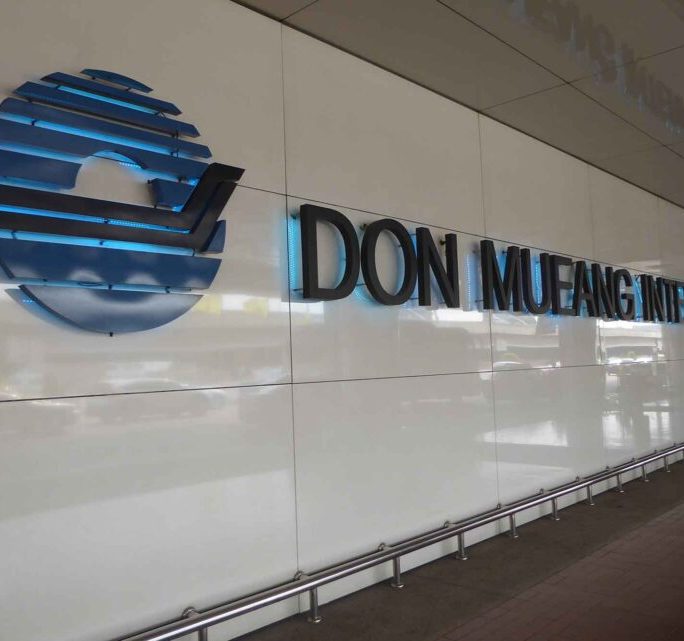 Don Muang Airport
Don Muang Airport Bangkok has two terminals. Terminal 1 is for international flights and Terminal 2 for domestic flights. Terminal 2 has recently been refurbished and is shiny and modern. The world airport code for Don Muang Airport is DMK. Don Muang Airport Bangkok is the city's 2nd airport and is a hub for domestic flights in Thailand. There are also International departures to regional destinations. and domestic services of low-cost airlines. Air Asia, Nok Air, and Thai Lion Air all arrive and leave exclusively from here.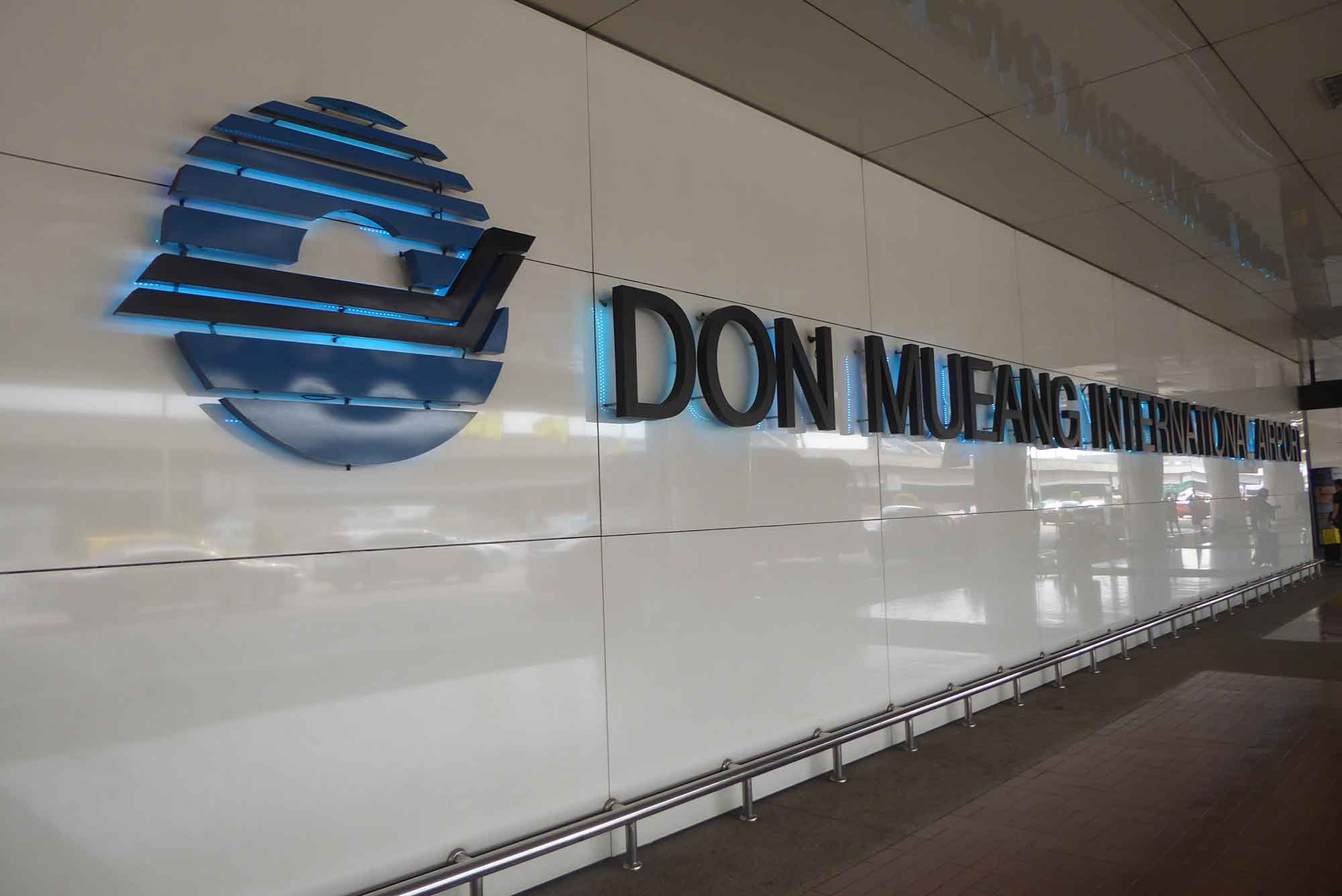 International Arrival at Don Muang Airport
Don Muang Airport is a lot smaller than Suvarnabhumi Airport which handles the majority of long haul flights. The immigration process is a lot quicker with a much shorter wait. You should receive a landing card on the flight which you should fill before arrival. Remember to carry a black or blue pen in your carry on bag.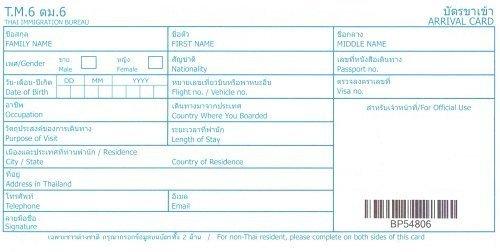 Where the card asks for your address in Thailand, you write the name of your hotel or hostel. If you leave this blank, you will not be able to proceed so make sure you have a name prepared even if you have not booked accommodation. You don't need to fill in the departure card until you depart Thailand. When you reach the immigration counter hand over your passport & arrival card. Your picture will be recorded by a camera on the desk.
Collection of Biometric Data
Thailand now collects your biometric data on arrival. The data for all of your fingers & both thumbs will be recorded by a fingerprint scanner. Biometric facial recognition will be introduced sometime during 2020.
The arrival card will be stapled in your passport. Try not to lose it! Check the stamp in your passport to make sure you receive the correct number of day's stay. You can then proceed through customs using the green or red channel.
Proof of funds required for tourists
Thailand has official regulations regarding the financial requirements for visiting tourists. You may be asked to provide proof of funds, however, in practice, this is rarely required. It is up to the immigration officer's discretion & people are selected at random. This is not aimed at genuine tourists but at people & certain nationalities that are considered a risk of staying in the country for illegal purposes such as working without the correct permits.
Financial Requirements
The requirements are 10,000 baht per person or 20,000 baht per family for a 30-day visa-exempt entry or 20,000/40,000 for a 60-day tourist visa. The requirements for a visa on arrival are 10,000 & 20,000 baht. Only cash & not credit cards are accepted. The amount can be in any currency. If you are worried about this just bring the amount in your home currency and change it to Thai baht after exiting immigration. It will provide you with spending money for the first part of your stay. 
You can also be asked for proof of a flight ticket for departing Thailand. Proof of leaving via a land border is not acceptable. 
Domestic Arrivals
Arriving on a domestic flight is hassle-free & your main worry is how long you have to wait for your checked baggage. There are no immigration or customs checks. 
Don Muang Airport Foreign Exchange 
Once you exit immigration there are several Thai banks with exchange booths in both terminals. Rates are slightly lower than what you will get outside the airport but are better than those offered by the major Thai banks at Suvarnabhumi Airport.
Where to get the best exchange rate
There is no Super Rich exchange at Don Mueang Airport. The best exchange rate is at Happy Rich which is at Don Muang Railway Station, a short walk from the terminal. The rate is about 5% better than the exchange rates in the terminal. A recent example for the British Pound is 39.00 baht at Happy Rich to 37.25 in the terminal. To get to Happy Rich take the exit for the Amari Airport Hotel in Terminal one. Cross the bridge to the Railway Station and Happy Rich is on Platform 1. Opening hours are 06.00-22.00 daily.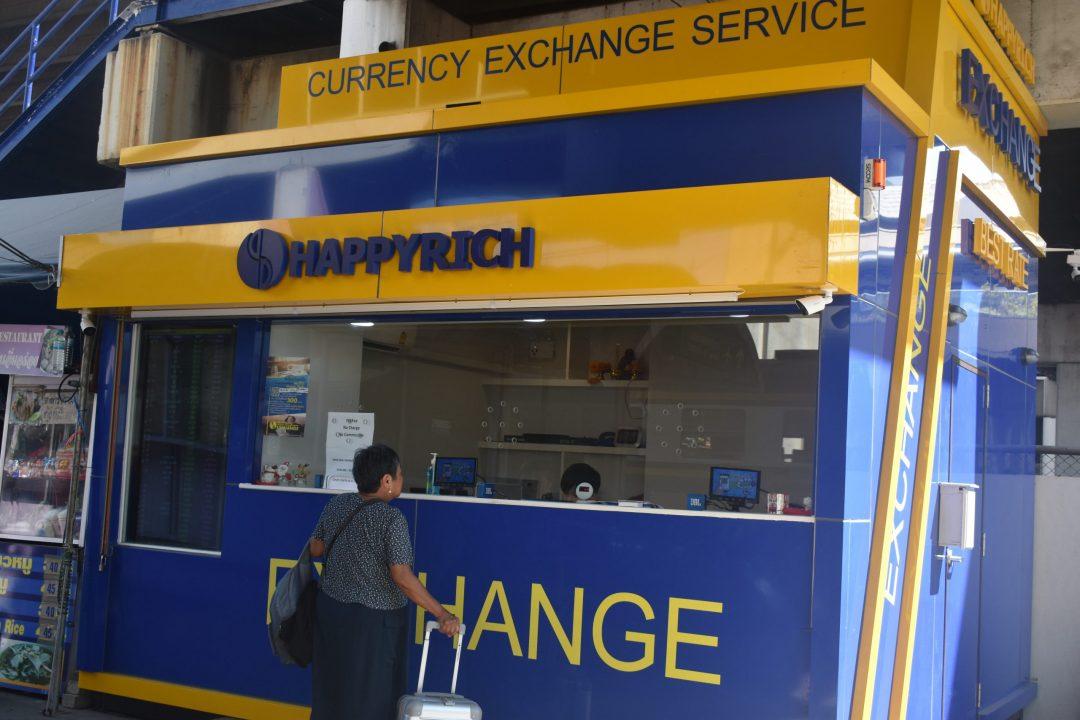 There are branches of Krung Thai, Bangkok and Kasikorn banks just outside the ground floor arrivals in Terminal 1 where you will get a slightly better rate than the exchange booths inside. Kasikorn always has the best rate, about 1.5% better than the exchange booths. Opening hours are 08.30-15.30 Monday to Friday only. Turn right when exiting International arrivals.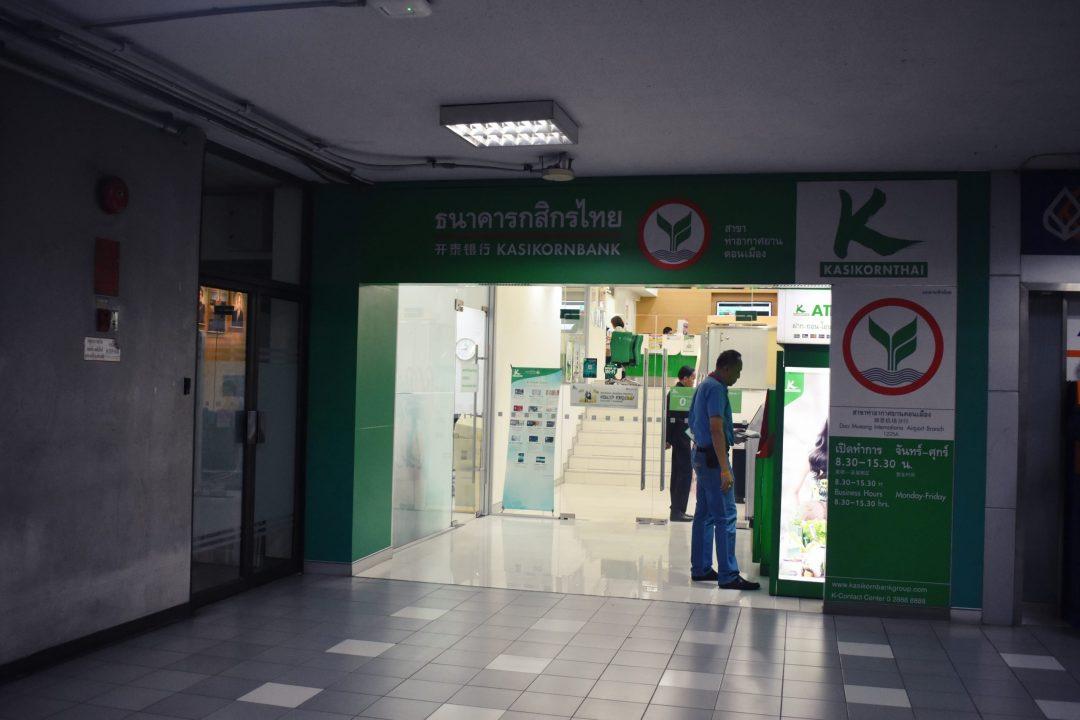 There are several exchange counters throughout the Don Muang airport terminals. The rates are not all the same. The best rate is offered by the Kasikorn Bank followed by Krung Thai. The worst rates are always those offered by SCB and Bangkok banks.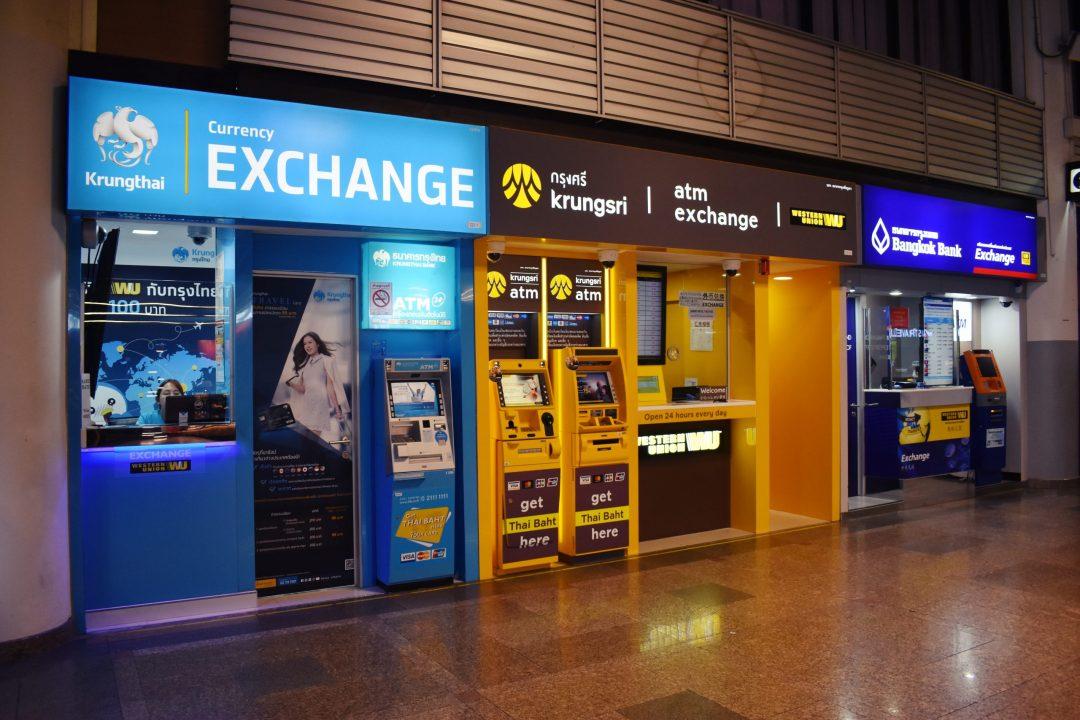 Don Muang Airport ATM's
You will find ATM machines throughout the airport terminals once you have exited immigration and customs.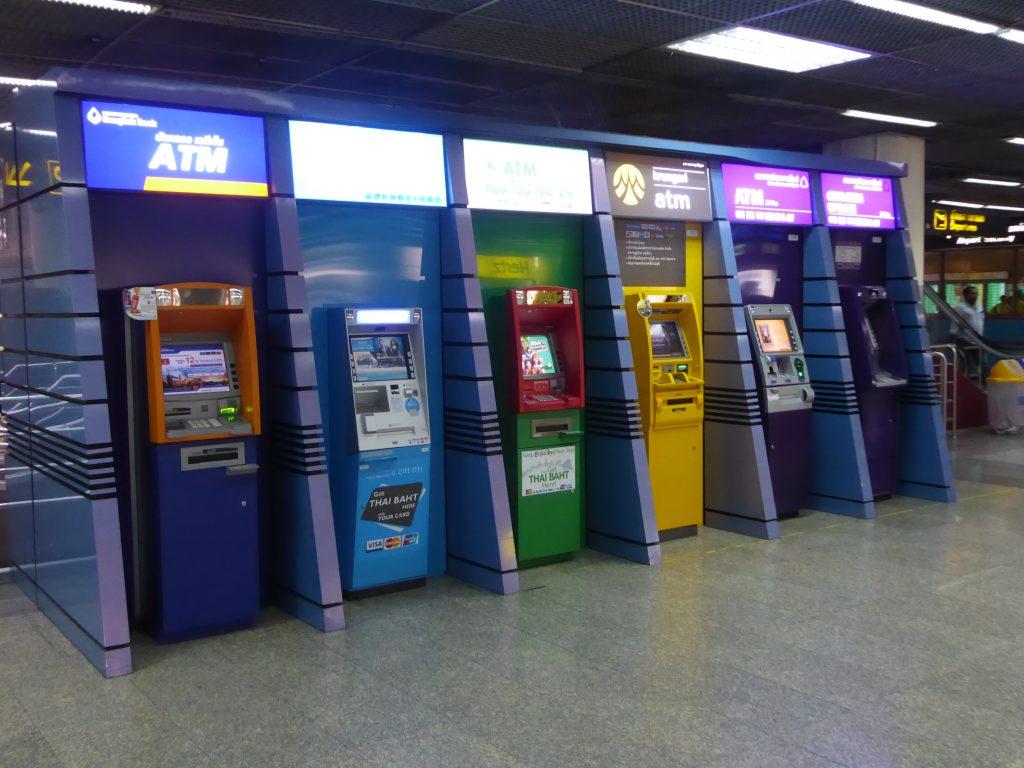 Where to buy a Thai Sim Card
You can buy an International tourist sim card after you exit immigration and customs. There are three local service providers. DTAC, True Move, and AIS. AIS and DTAC have counters on the ground floor of Terminal 2 in the passageway connecting Terminals 1 and 2 and on the ground floor of Terminal 1 along with True Move.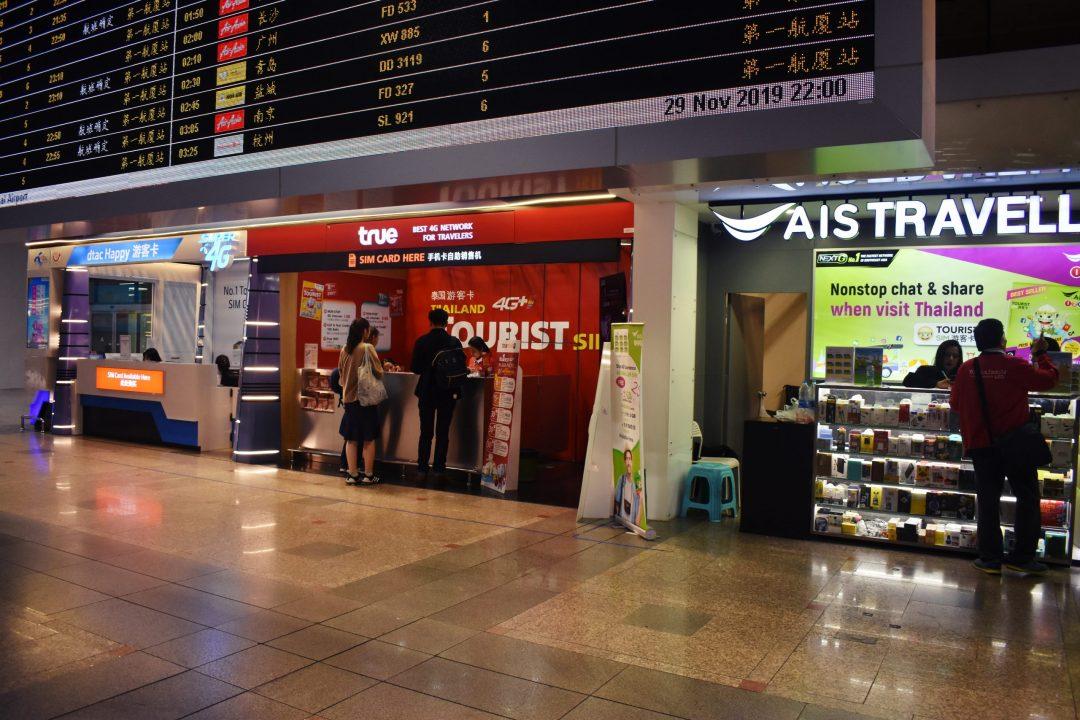 The deals on offer are similar but watch out for flash deals which the operators list on boards outside the shop. The validity of the cards is from 7 to 30 days. Prices depend on the amount of data, the number of days, and speed. Some come with call credit. An example of 15 days of unlimited Internet 30GB data at 4G max speed is 599 baht.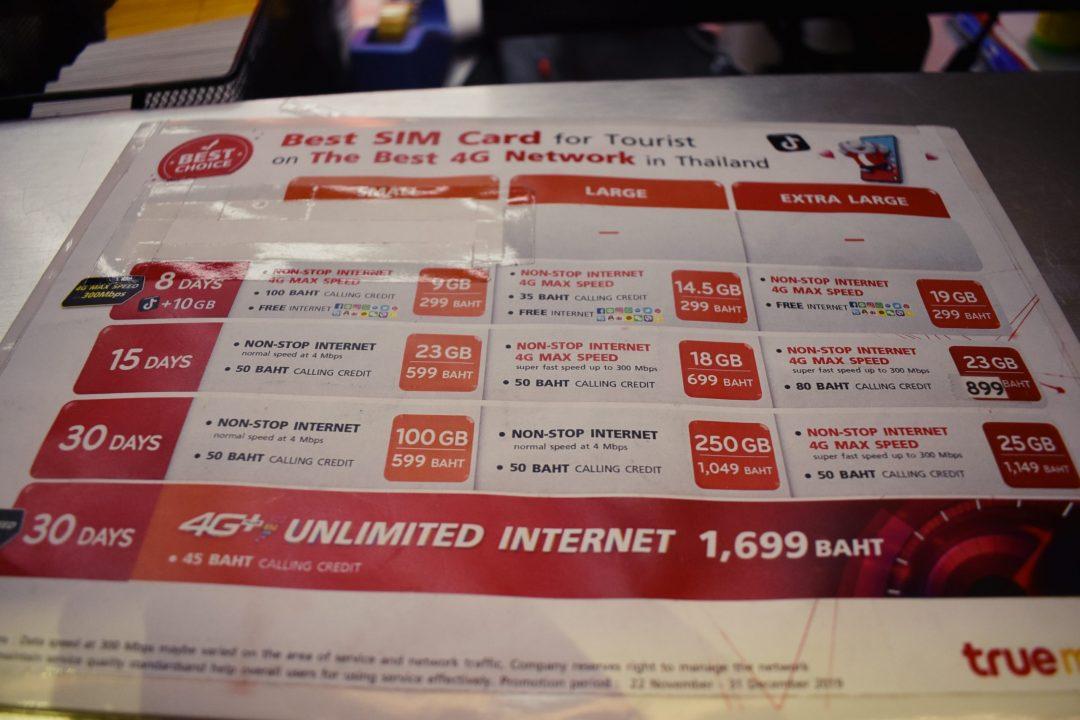 If you like to watch the English Premier League football the True Move sim includes a True Sports package allowing you to watch matches free. If you want Pocket Wifi there is a counter in International arrivals offering unlimited 4G from 150 baht per day. True also sell USB dongles for around 1200 baht.
Don Muang Airport Information & Services
There are Bangkok Airport Information Counters in both terminals in the arrivals hall.  If you need medical help there is a Medical Center on the 1st floor of Terminal 1. There is a Pharmacy on the fourth floor of terminal 2. A Post Office is on the 3rd floor of Terminal 1 near the Air Asia check-in desks. Free WiFi is available within the passenger terminals and there is a Co-Working space featuring a lounge, buffet, cafe and fast internet on the 4th floor of Terminal 2 open from 06.00-22.00. The cost is 350 baht for 2 hours (not including food).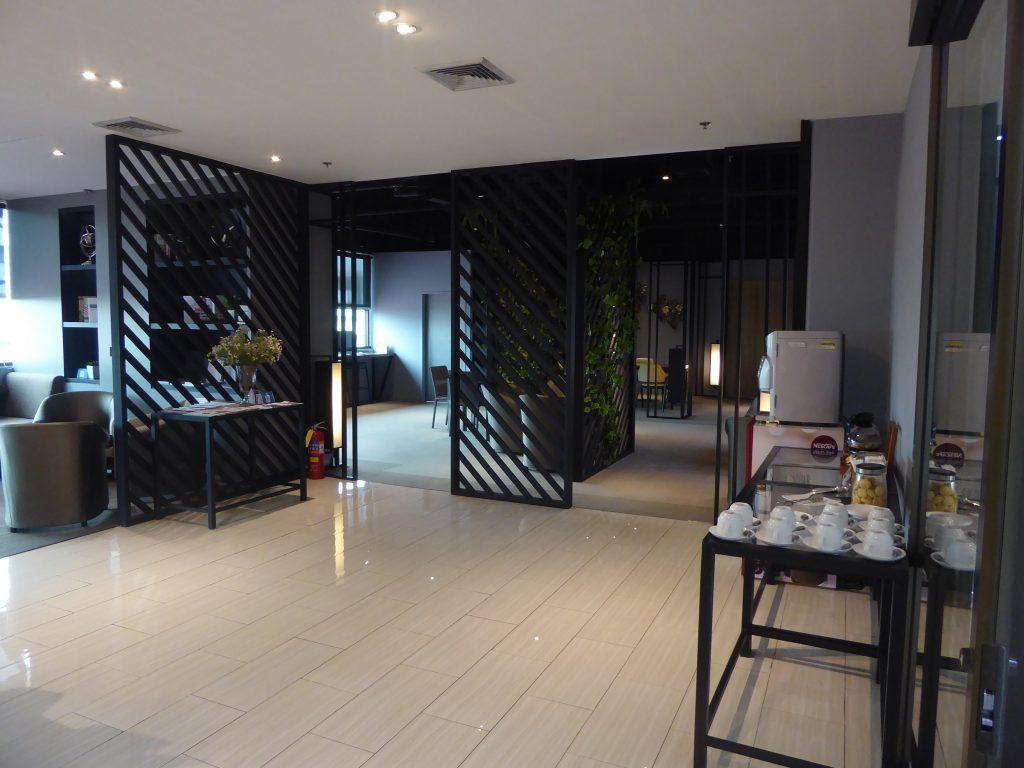 There is a Muslim Prayer Room on the 3rd floor of terminal 2 near to the passageway that connects to terminal 1. A Children's playground is on the 3rd floor of terminal 2.
Don Muang Airport Left Luggage
There is a left-luggage office on the 2nd floor of Terminal 1 charging 150 baht per piece per day or 75 baht if less than 24 hours and an AIRPORTELs left-luggage office on the ground floor of Terminal 2 charging 69 baht per day.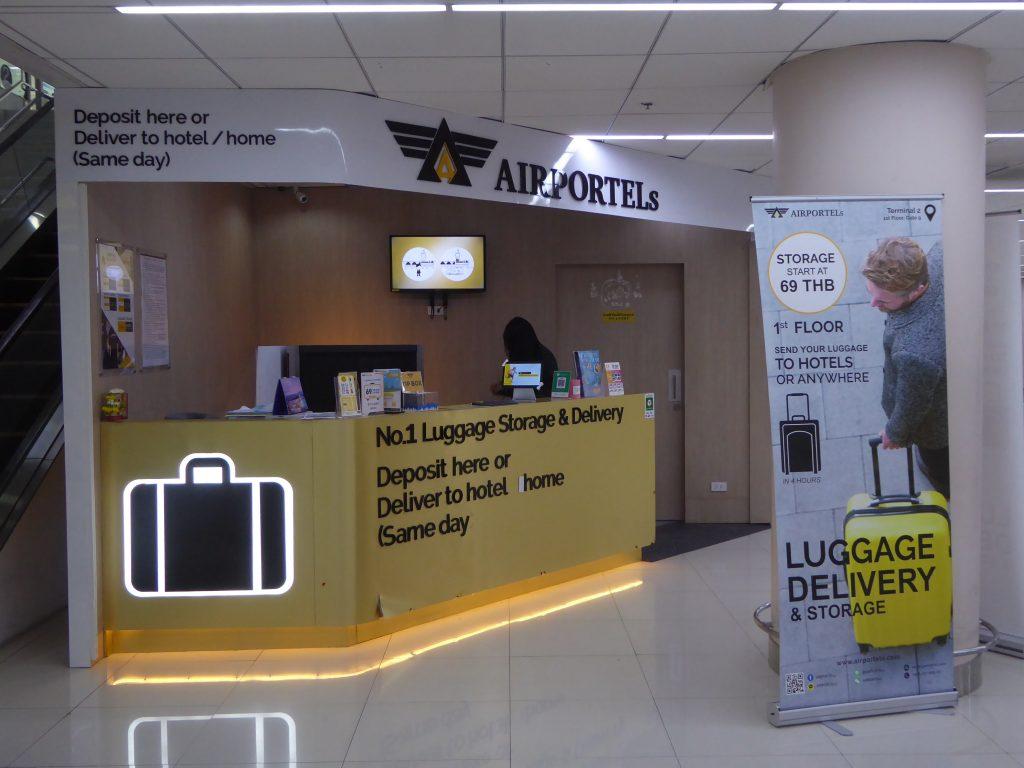 How to get from DMK to Bangkok 
There are several ways to get from DMK Airport into the city. There are taxi services, airport buses, city buses & overground trains.
Don Muang Airport Taxi
Don Muang Airport Taxis depart from gate 8 in Terminal 1 and from the parking building on the ground floor of Terminal 2. The Airport has a queue management system. You will need to take a Queue ticket from the machine and go to the booth when your queue card number appears on the overhead screen. You will then be directed to your taxi.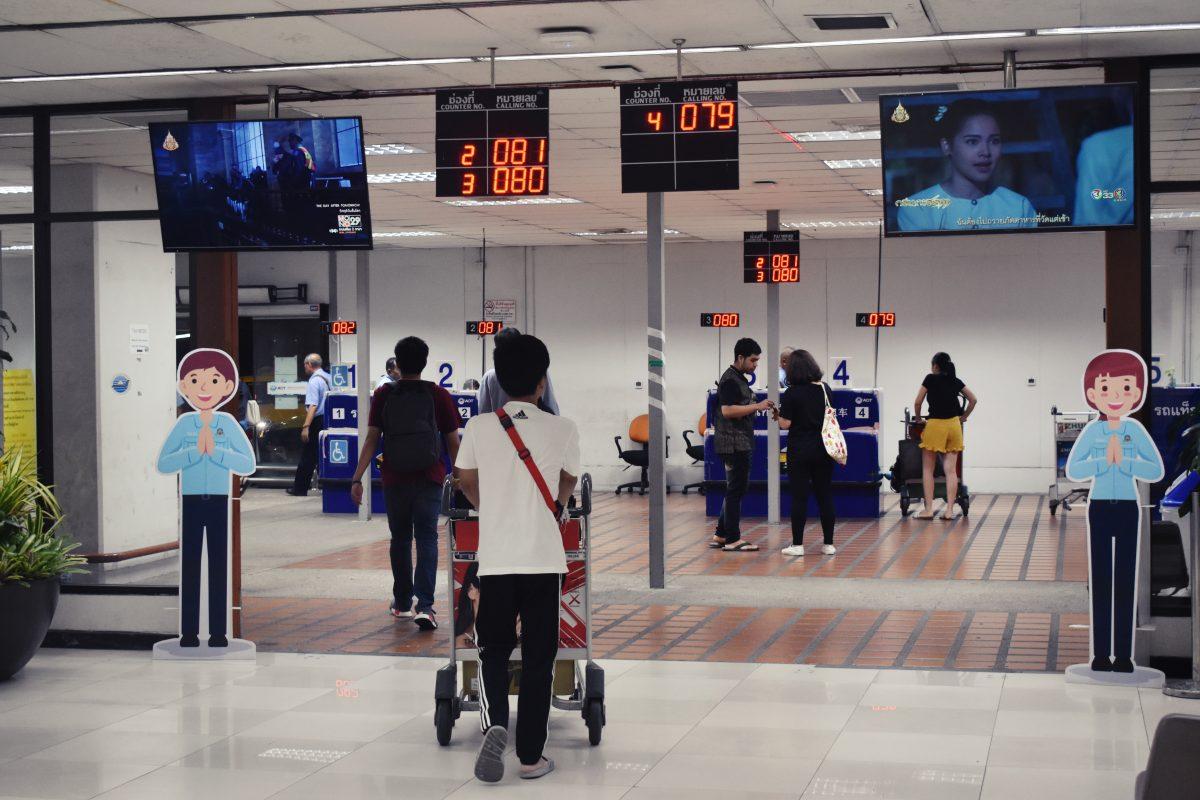 The taxis have meters and the fare depends on the distance traveled. There is a 50-baht surcharge added to the fare and the passenger must pay any tollway fees. The service is 24 hours. Make sure the taxi driver turns the meter on and keep your receipt from the taxi stand if you need to complain later.
How much is a taxi to central Bangkok?
Most taxi drivers are honest but some are not. The rough cost of a taxi from Don Mueang to central Bangkok is 250 – 350 baht including surcharge and tollway fee. Don't ask the driver "How Much is the fare" when you get in. This is an invitation for the driver to not use the meter. It means you want to negotiate a price. That price will be more than the meter. The rough cost is quoted above.
Taxis from Don Mueang are regulated and must use the meter. Only use the official taxi rank and ignore offers from unofficial touts in the terminal who will try to overcharge you. Grab taxis can not pick up at the official taxi rank. You will have to arrange to meet them somewhere.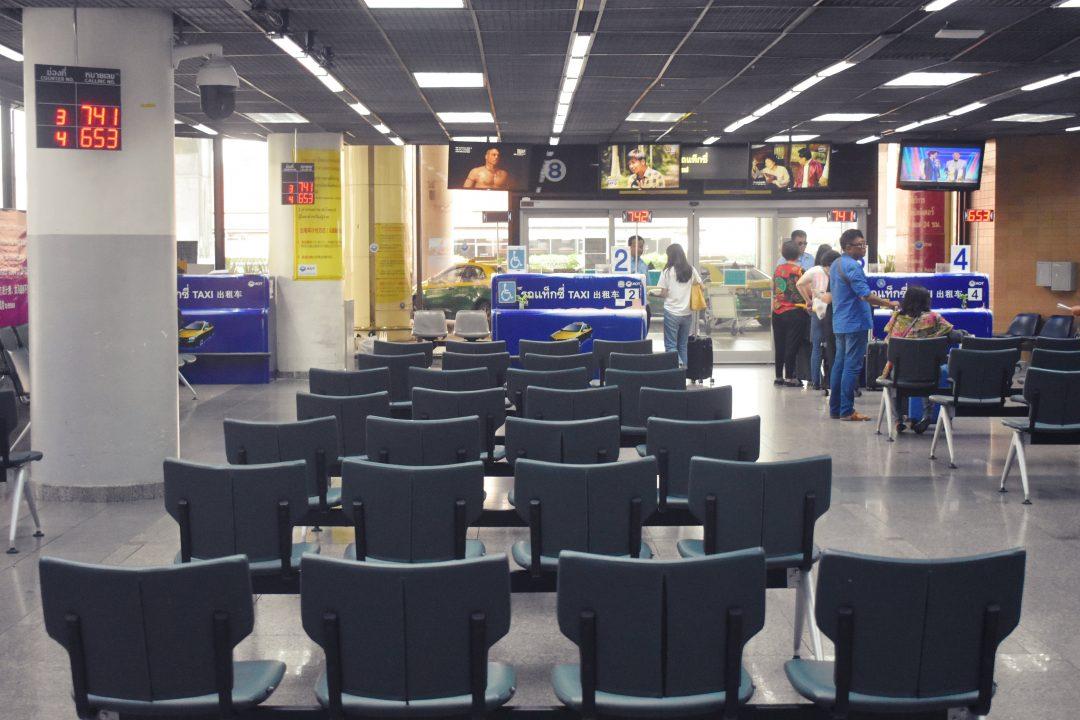 Taxi from Don Muang to Pattaya
You can book a direct taxi to Pattaya, or Hua Hin, online in advance. Your taxi will be waiting for you on arrival. For taxi bookings to another destination, you can book online here
Don Muang Airport Electric Taxi
Don Muang Airport now offers a zero-emission electric taxi service. There is a booking counter on the ground floor of International arrivals. The service runs to destinations in the city and as far as Pattaya, Hua Hin, and Rayong. They are metered though It is not cheap with fares starting at 75 baht compared to 35 baht for an ordinary taxi. The airport taxi surcharge of 50 baht is added as is the tollway fee and a luggage fee of 25 baht. Longer distance journeys are available at a set price.
Don Muang Airport Bus
The Don Muang Airport Bus has 4 routes. Don Mueang to Morchit Bus Station (A1), Don Mueang to Victory Monument (A2), Don Mueang to Lumphini Park (A3), and Don Mueang to Khao San Road (A4). Travel is direct via the tollway and is quick. The fare is 30 baht on the A1, A2 and 50 baht on the A3 and A4. You buy your ticket on the bus. Departures are from gate 6 at Terminal 1 and from gate 12 at Terminal 2. The buses are modern, air-conditioned and have plenty of room for luggage. They are easy to spot as they are blue colored.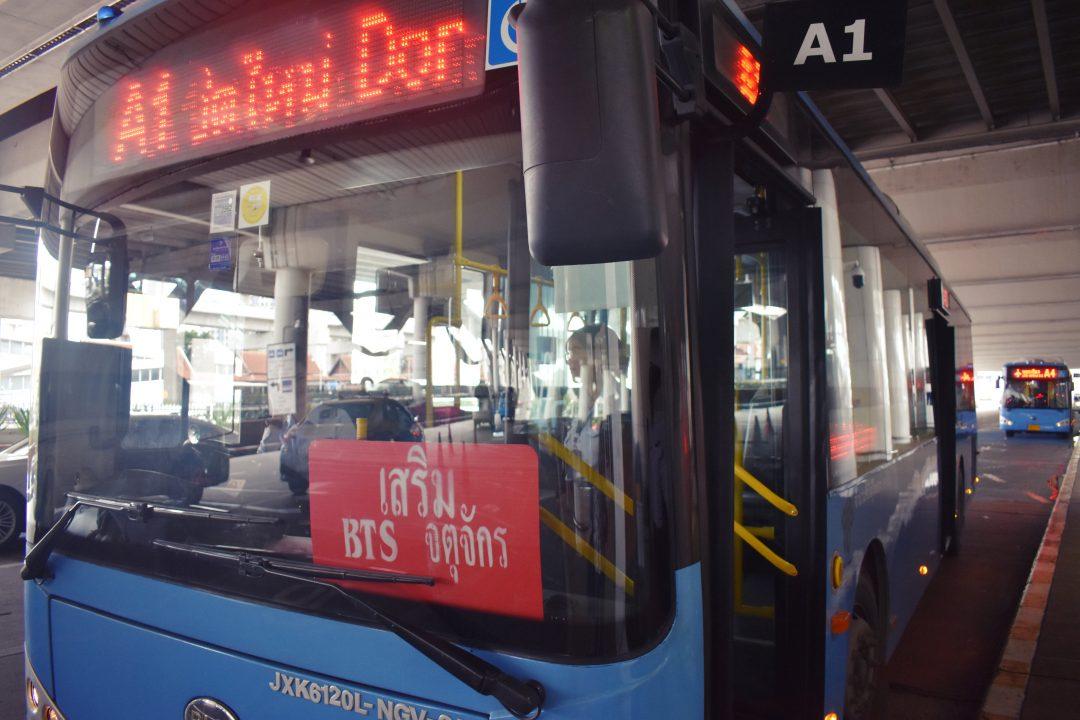 Don Muang Airport Bus A1
Don Muang Airport Bus A1 – Don Mueang Airport – Mochit BTS/Chatuchak MRT – Morchit Bus Terminal leaves every 5 minutes from 06.15-24.00. 
Take this bus to connect with the BTS Skytrain & MRT Subway, Sombat Tour Bus Station & Morchit Bus Station. The journey time is about 20 minutes. Note that buses with a red board in the front window of the bus only go to BTS Mochit. If you want to go to the Morchit 2 big bus station take a bus with no red board.
Don Muang Airport Bus A2
Don Muang Airport Bus A2 – Don Mueang Airport – Victory Monument leaves every 15 minutes from 06.30-23.00.
Take this bus to connect with the BTS at Victory Monument, Saphan Kwai, Ari & Sanam Pao. The journey time is 40 minutes to Victory Monument. 
Don Muang Airport Bus A3
Don Muang Airport Bus A3 – Don Mueang Airport – Pratunam – Ratchaprasong – Lumphini Park leaves every 30 minutes from 07.00-23.00. The journey time is unpredictable due to traffic conditions but should be about 40 minutes.
Take this bus if you are staying in the Pratunam, Siam, Silom or Sukhumvit area. The bus passes the Baiyoke Sky, Ratchaprarop Airport Rail Link Station,& Central World. Silom is a short walk from the last stop at Lumphini Park. Get off opposite Central World to connect with the BTS at Chit Lom. Get off at Ratchaprarop Station if you going to Suvarnabhumi Airport. 
Don Muang Airport Bus A4
Don Muang Airport Bus A4 – Don Mueang Airport – Yommarat Railway Crossing – Khaosan Road – Sanam Luang leaves every 30 minutes from 07.00-23.00. The journey time is about 45 minutes.
Take this bus if you are staying in Khaosan Road. There are several stops including Phan Fa (for Wat Saket),  Democracy Monument, & Wat Bowonniwet.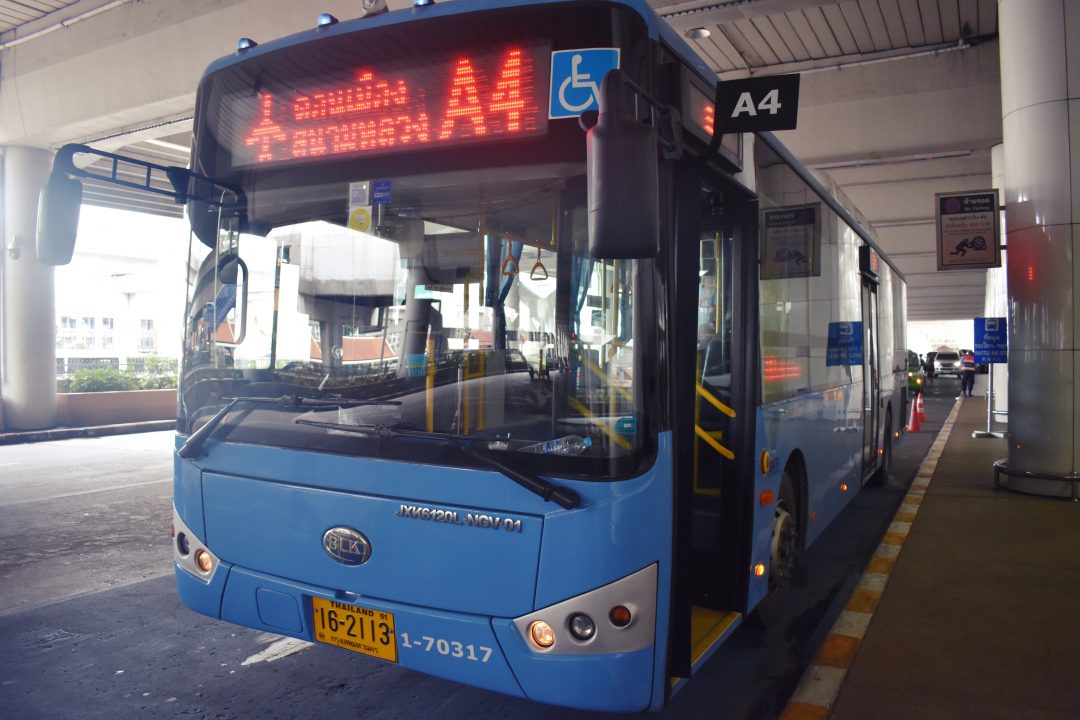 Don Muang Airport Limobus
The Don Muang Airport Limobus runs to Khaosan Road & continues to Silom. The bus travels via the expressway. Limobus is more expensive than the airport bus but runs slightly later at night. If you just miss the last A3 or A4 take the last Limobus which is cheaper than a taxi.
The fare is 150 baht. Buses leave every 20 – 30 minutes from 09.00 until 24.00. The bus departs from between gates 6 and 8 on the ground floor of Terminal 1 and from gate 14 of Terminal 2. Ticket booths at the gates. Free WiFi on the bus. Click here to book advance tickets for Khao San Road & Silom.
Terminal 1 Counter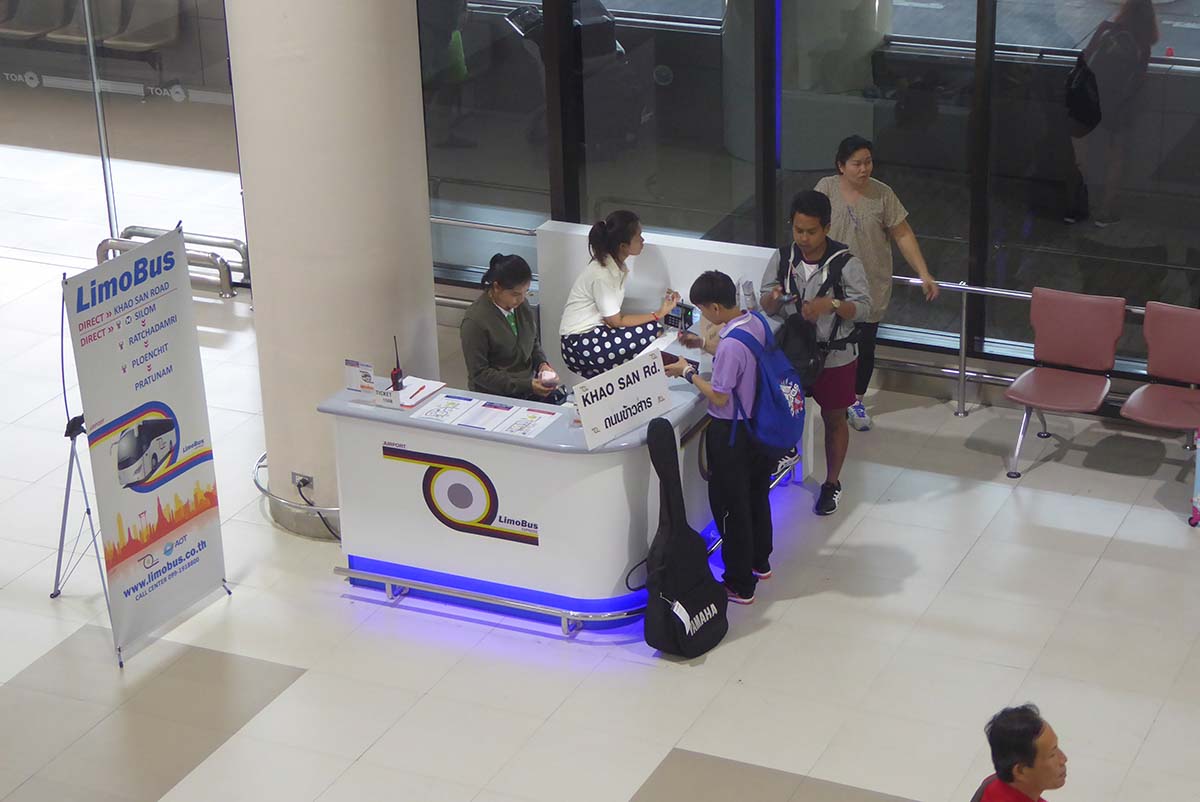 Don Muang Airport City Bus
City buses do not run directly from the airport but stop on the main road outside the airport, next to Family Mart. This is the next cheapest way to get into Bangkok after the train. 
Bangkok Bus 29 Don Muang to Hualamphong
Bus 29 runs to Hualamphong Station. It passes BTS/MRT Mochit, Ari, Victory Monument, BTS Phayathai (for Airport Rail Link), BTS Ratchathewi, & MBK. There are both air-con (20 baht), & Red non-air bus (8 baht). The 29 bus runs 24 hours.
Bangkok Bus 59 Don Muang to Sanam Luang
Bus 59 runs to Sanam Luang. It passes BTS Ha Yaek Lad Phrao Station, BTS/MRT Mochit Stations, Ari, Victory Monument, BTS Phaya Thai (for Airport Rail Link), & Democracy Monument (for Khao San Road). There are both Air-Con (20 baht) & Red Non-Air (8 baht) buses. The Air-Con service runs from 05.00 to 22.00 while the Red Non-Air is a 24-hour service.
Bangkok Bus 554/555 DMK Airport to BKK Airport
Bus 554 & 555 are Air-Con only buses running between Bangkok's two airports. The buses run mainly on the highway terminating at the Suvarnabhumi Transport Center. From there you take a free Airport Shuttle Bus to the terminal. The fare is 37 baht. The journey takes about 1.5 hours depending on the traffic. The 554 bus runs 24 hours while the 555 bus runs from 05.00 to 21.30.
Bangkok Bus 510 DMK Airport to Victory Monument
Bus 510 is an Air-Con only bus that runs to Victory Monument via BTS/MRT Mochit from 04.30 am to 22.00. The fare is 20 baht. The journey time is 45 minutes depending on the traffic.
Bangkok Bus 504 DMK to Asiatique
Bus 504 is an Air-Con only bus that runs to Asiatique on Bangkok's riverside. The 504 passes Pratunam, Central World, Lumphini Park, Silom, & Saphan Taksin (for BTS & Sathorn Pier. The service runs from 05.00-22.00. The fare is 20 baht. The journey time could be from 1 to 1.5 hours depending on the traffic.
Don Muang Airport Limousine
There are Limousine service booths in the arrivals hall of both terminals. They will approach you as you exit customs. This is not the Airport taxi service but the official airport Limousines that are more expensive than a taxi.
Don Muang Airport Train
You can catch a train to Hualamphong Station from the Don Muang Railway Station which is opposite the airport. It's accessed via a bridge from floor 2 of Terminal 1. This is useful if you are staying in the Hualamphong, or Chinatown districts. Khaosan Road can be reached easily by bus 53 from Traimit Road near Hualamphong or by a short metered taxi ride (tuk-tuk will be expensive!). Avoid taxis parked on the street, hail a passing one.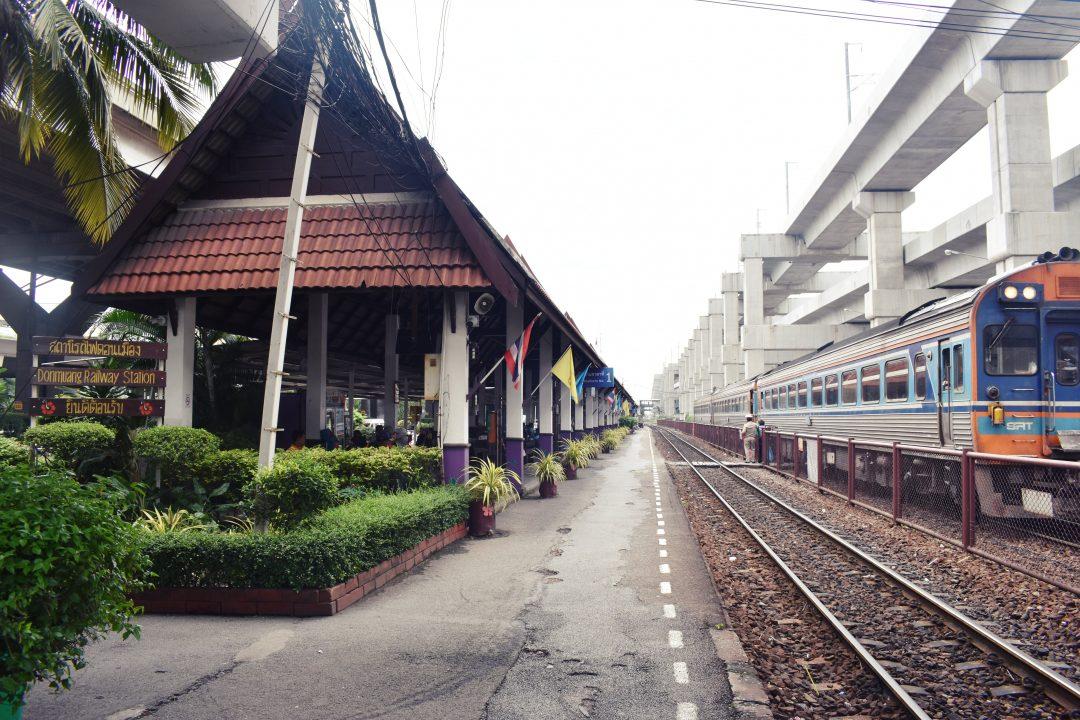 The fare is ultra-cheap at 5 baht if you take an Ordinary 3rd class train. The first departure is at 06.30 & the last at 19.47. A Rapid train will cost you 25 baht with departures throughout the day. Express & Special Express trains cost 150-350 baht. You must buy your ticket from the ticket office before boarding the train.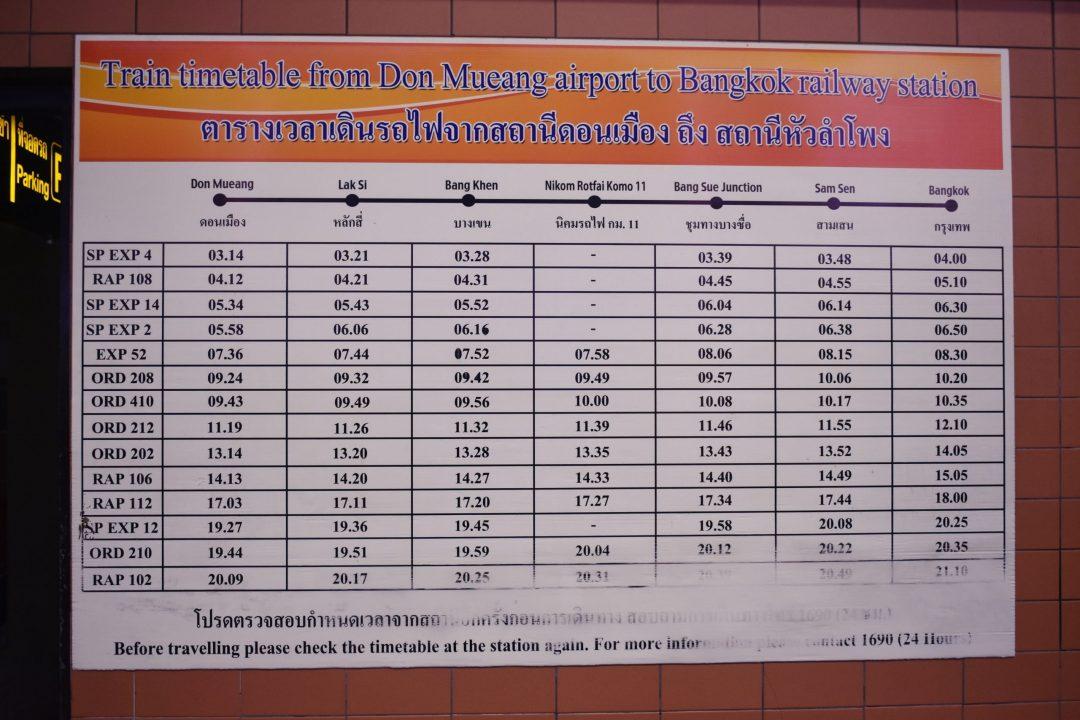 Another popular destination is Ayutthaya & there are multiple departures. The Ordinary & Rapid train fares are 11 & 31 baht. You can also catch direct trains to Chiang Mai and other destinations in North and North-Eastern Thailand. For these trains, you can check timetables, fares, check availability and make online reservations here. 
Click here for detailed information on train travel in Thailand
Don Muang Airport Skytrain
You may well notice an elevated railway opposite the airport. This is the new Red Line Airport Skytrain. However, it will not open until early 2021. There is no BTS or MRT linking to Don Muang Airport. The nearest BTS/MRT Stations are at Mo Chit.
How to get from DMK to BKK 
If you have a connecting flight departing from Suvarnabhumi Airport there is a free shuttle bus departing every 30 minutes from exit gate 5 on the ground floor of Terminal 1. You must show your flight ticket from Suvarnabhumi to use this service. Service hours are 05.00 to 24.00. Outside these hours, taxis from Don Muang Airport to Suvarnabhumi Airport can be booked online here.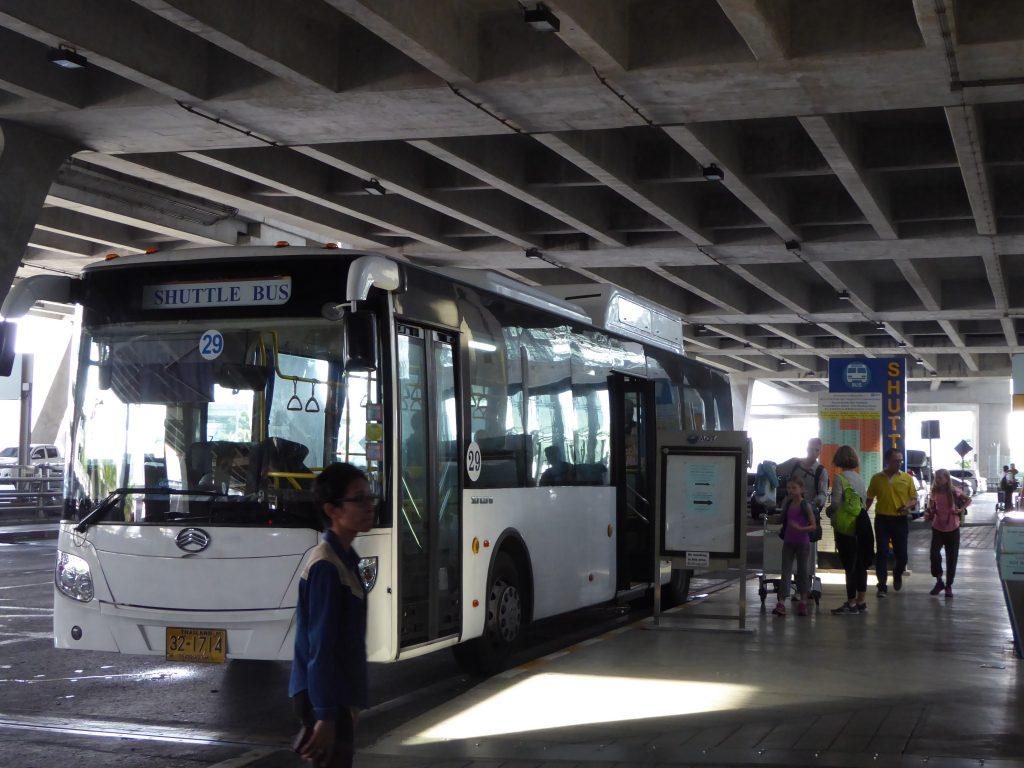 DMK to BKK Minivan
There is a public Minivan service from Don Muang Airport to Suvarnabhumi Airport. It departs from just inside the airport entrance near family mart and opposite the airport banks. The fare is 60 baht and takes about 45 mins.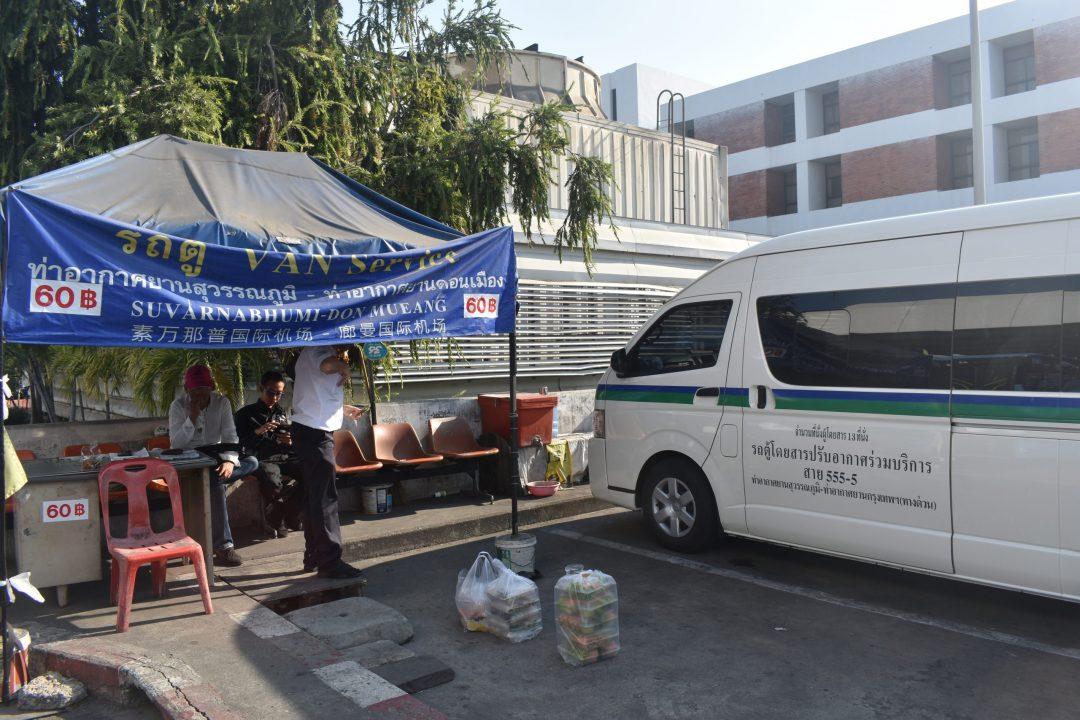 Long-Distance Bus Services
There are no bus services from Don Muang Airport. If you want to travel on by bus to destinations outside Bangkok including Chiang Mai, Phuket, and Hua Hin you can check schedules, fares and make online reservations here. The nearest Bus Station to Don Muang Airport is the Sombat Tour terminal on the road into Bangkok. Sombat Tour is one of the best bus companies in Thailand. They operate a fleet of VIP 20-27 seater buses with a seatback entertainment system & extra legroom. You can check routes, availability & make bookings using the form below.
To get to the Sombat Tour terminal you will need to take an airport taxi. The fare will be about 100 baht. Alternatively, you can take city bus numbers 29 or 510 to Horwang & cross the road via footbridge to the terminal. The next nearest Bus Station is the government bus station, Morchit 2. To get there take the A1 Airport Bus. Morchit Bus Terminal is the last stop. There are bus services to all destinations in Thailand. You can search & book tickets for buses from Morchit using the form below. 
Click here for detailed information on bus terminals in Bangkok
There is only a Passenger Van Service from Don Muang Airport to Suvarnabhumi Airport. If you want to hook up with a Minivan for other destinations you will need to take the A1 airport bus to Morchit 2. The Minivan Terminal is opposite the Bus Station. Take the footbridge to get there. Click here for detailed information on services from the minivan terminal.
Car Rental
All the car rental companies have booths in the arrivals hall of Terminal 1 and between gates 10 & 11 on the ground floor of Terminal 2. Thai's drive on the left. You will need a valid International driving license. Check that you are fully insured for any vehicle that you hire.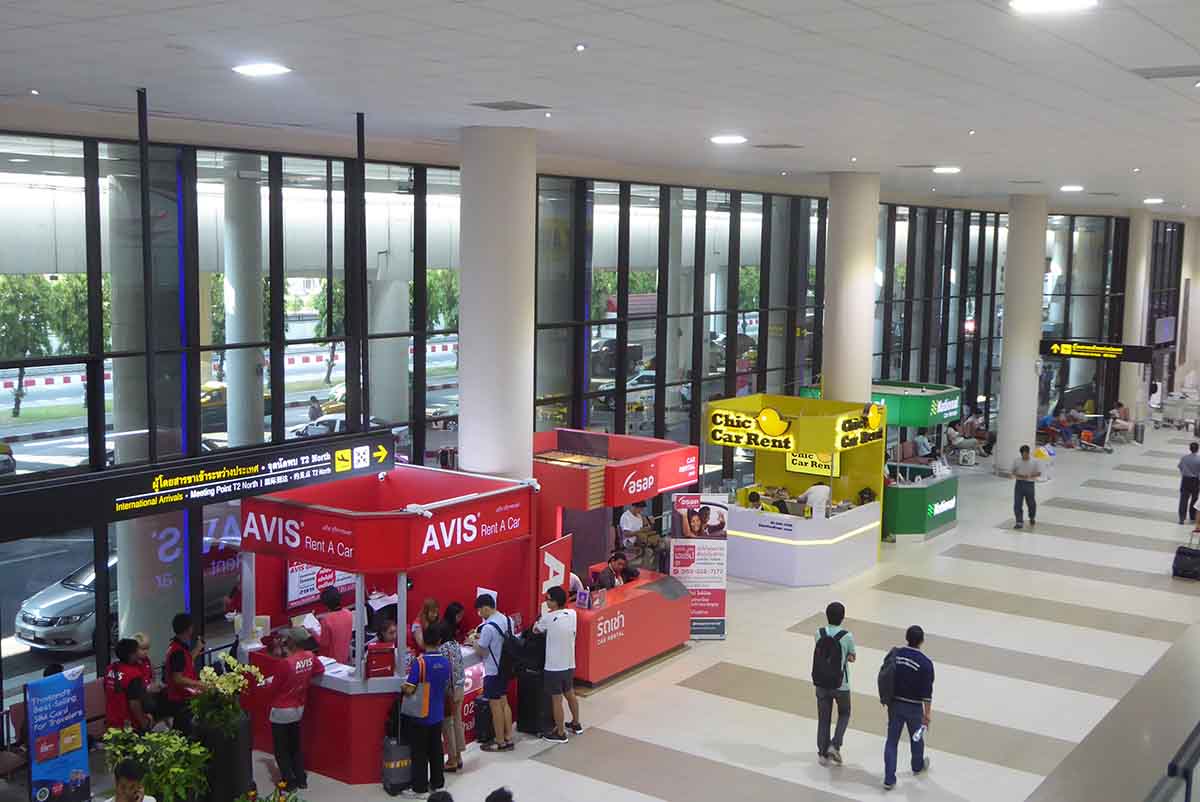 Don Muang Airport Food
There is a good choice of shops, cafes, and restaurants such as Starbucks, Burger King, Subway, Coffee Club and McDonald's. There are more restaurants on floor 4.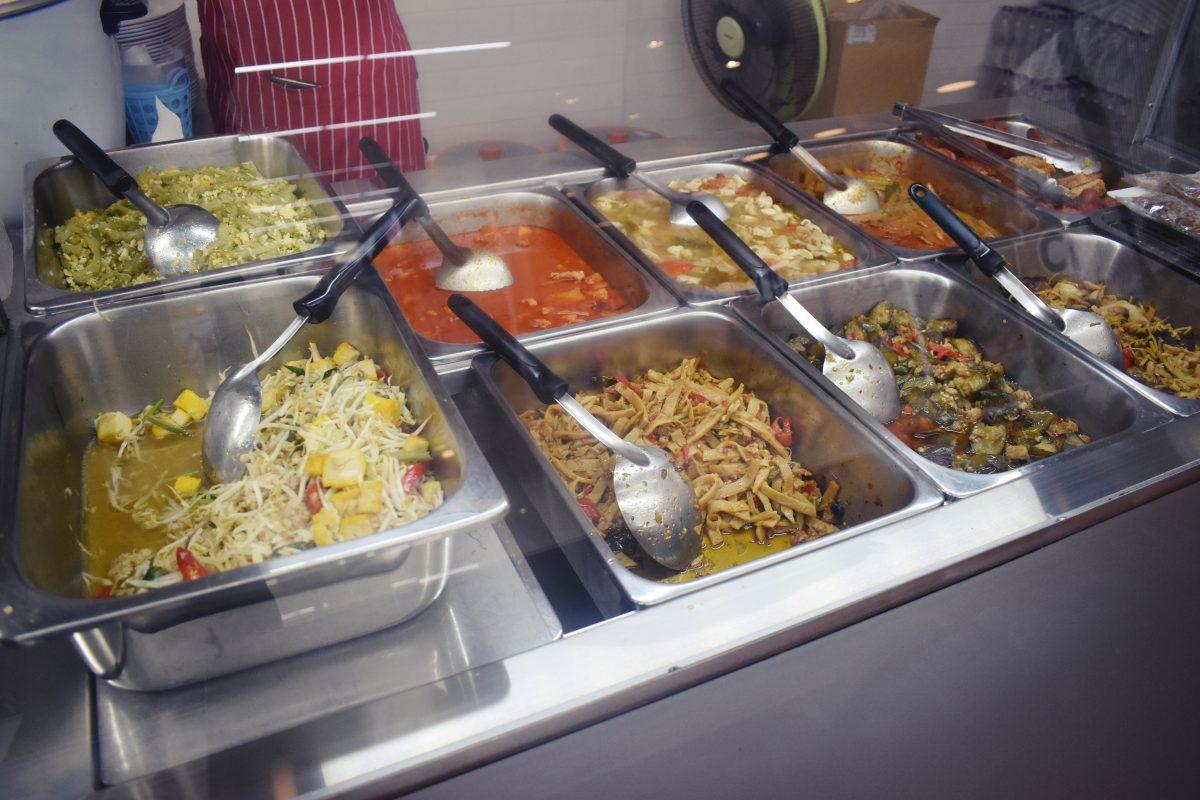 Don Muang Airport Food Court
The Don Muang Airport Food Court is called Magic Garden. There are three branches, a 24-hour international food court on the 2nd floor, between Terminal 1 & 2. It has a cheap Thai street food style section as well as more expensive fast-food brands.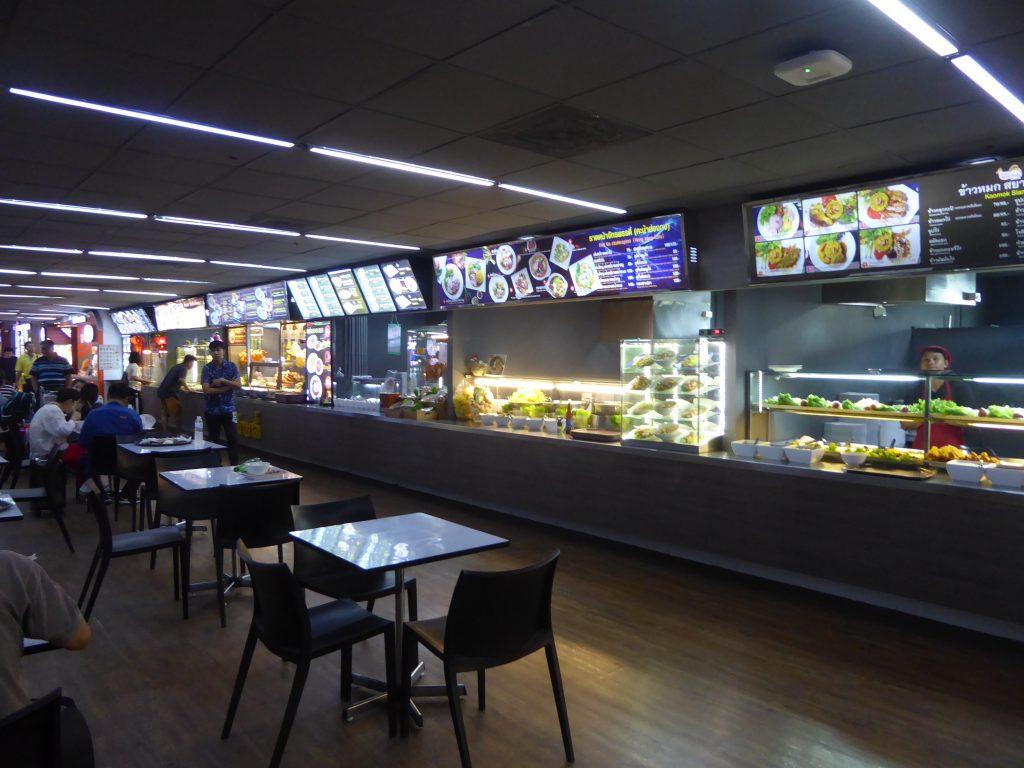 The second Don Muang Airport food court is called Magic Garden 1. It's in Terminal 2 on level 3 just inside the car park building past the 7-11 though it is only open from 06.00-22.00. Meals cost 50-80 baht and coffee is 30 baht. It's the cheapest place to eat at the airport.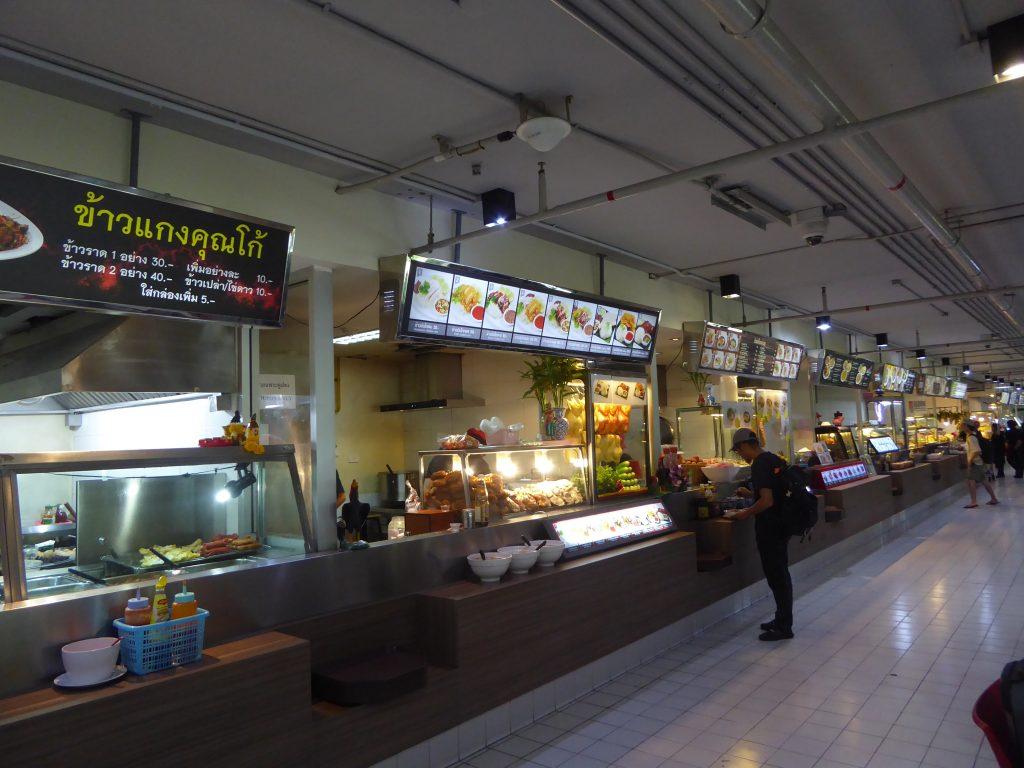 Magic Curry is a small food court with a single counter exclusively serving pre-cooked dishes with rice. It is 40 baht for one item, 50 baht for two items or 60 baht for three. Water is 10 baht on a par with 7-11 prices. Good value! It is on level 4 of Terminal 2.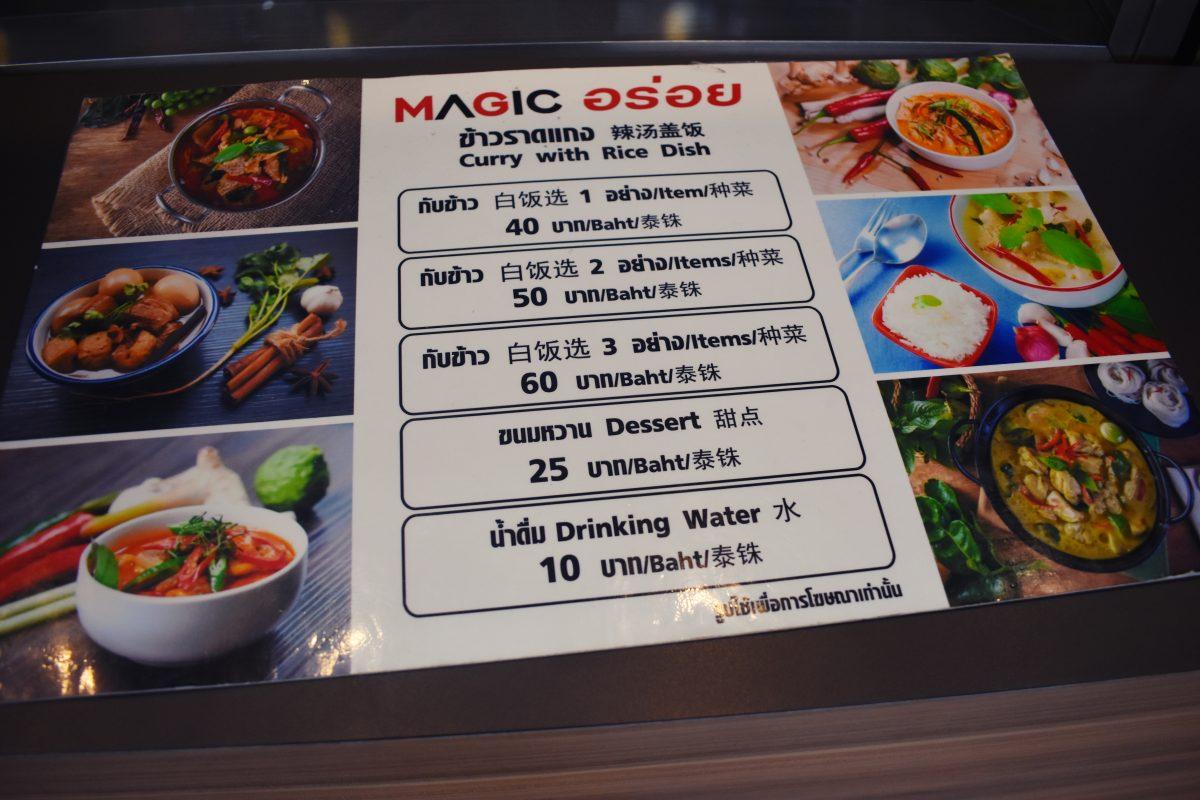 Magic Zaap Classic
Magic Zaap is an Isan food cafe on the 2nd floor of Terminal 2. It specializes in Somtam, grilled chicken & cold beer!. Prices are reasonable from 100 baht.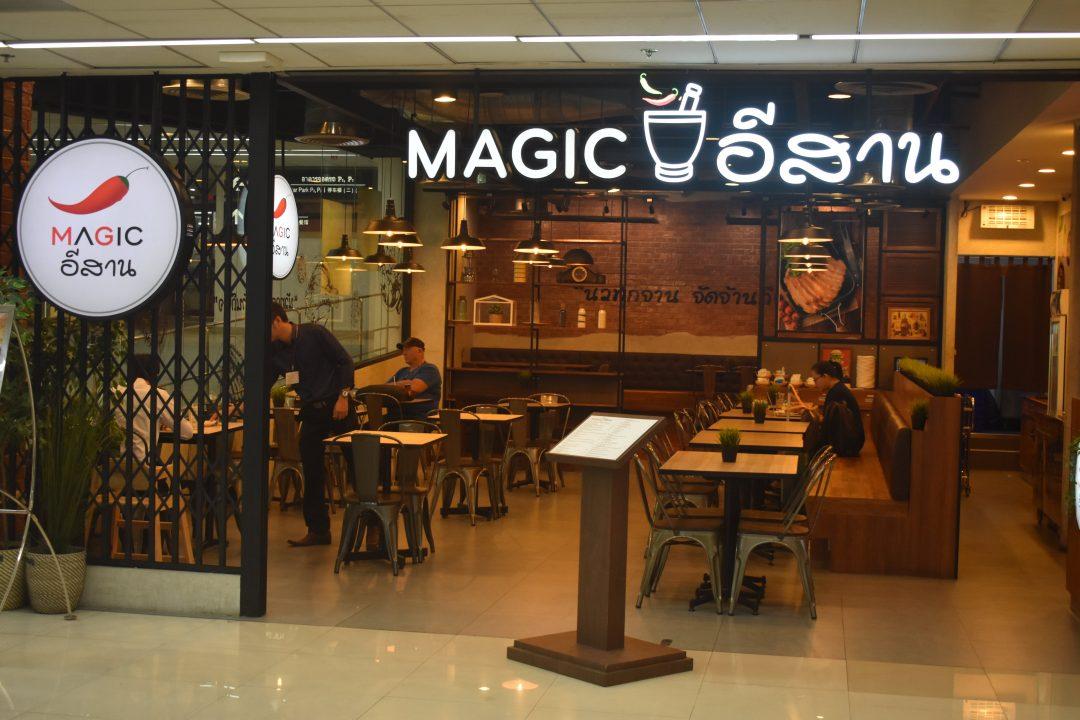 The Bridge at Amari Hotel 
If you don't want to eat at the Airport Terminal, the Bridge at the Amari Hotel is located on the sky bridge linking the hotel with the airport. Coffee & hot meals are available as is a small buffet.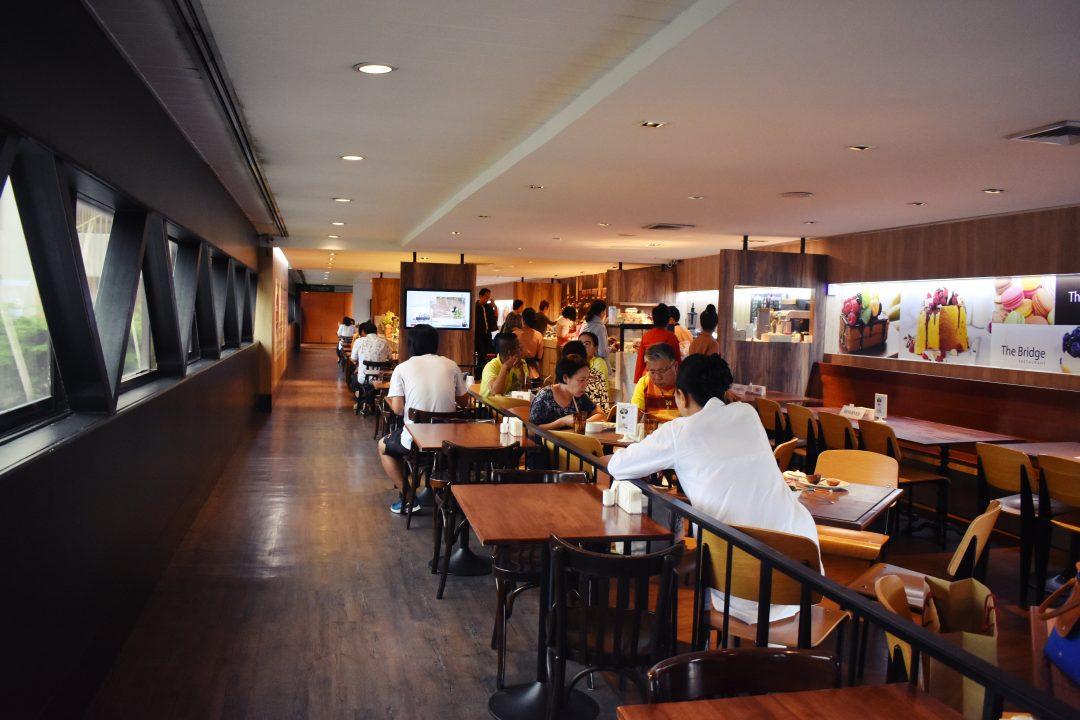 Don Muang Airport Shops
Don Muang Airport 7-11
There are two 24 hour 7-11s, one in each terminal. The shop in Terminal 2 is on level 3, just before Magic Garden 1. There are two in Terminal 1 at either end of ground floor arrivals.
Don Muang Airport Hotel
Don Muang Amari Airport Hotel
The Amari Airport Hotel is opposite the airport and connected to Terminal 1 by a walkway from level 2. The hotel has day rooms, a Swimming pool, a coffee shop, a Fitness center, and a few restaurants.
Click here to check availability & make a booking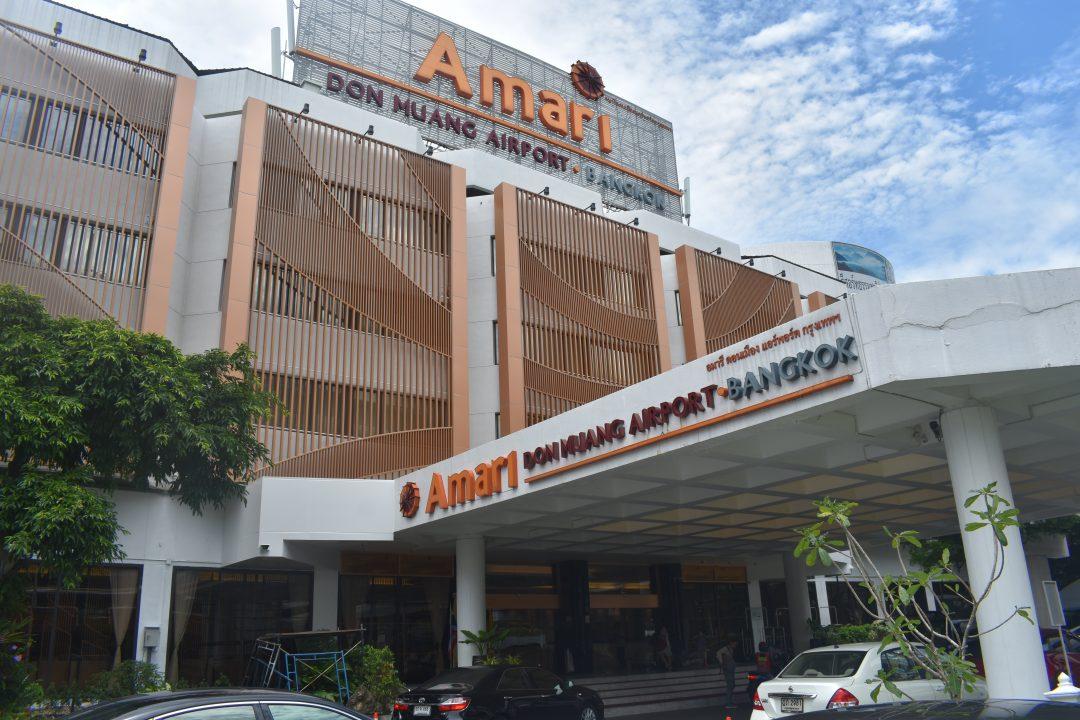 Don Muang Airport Sleep Box
The newly opened Sleep Box is on the 4th floor of Terminal 2 and offers 15 square meter rooms which include air-conditioning, a bathroom, TV, and WiFi.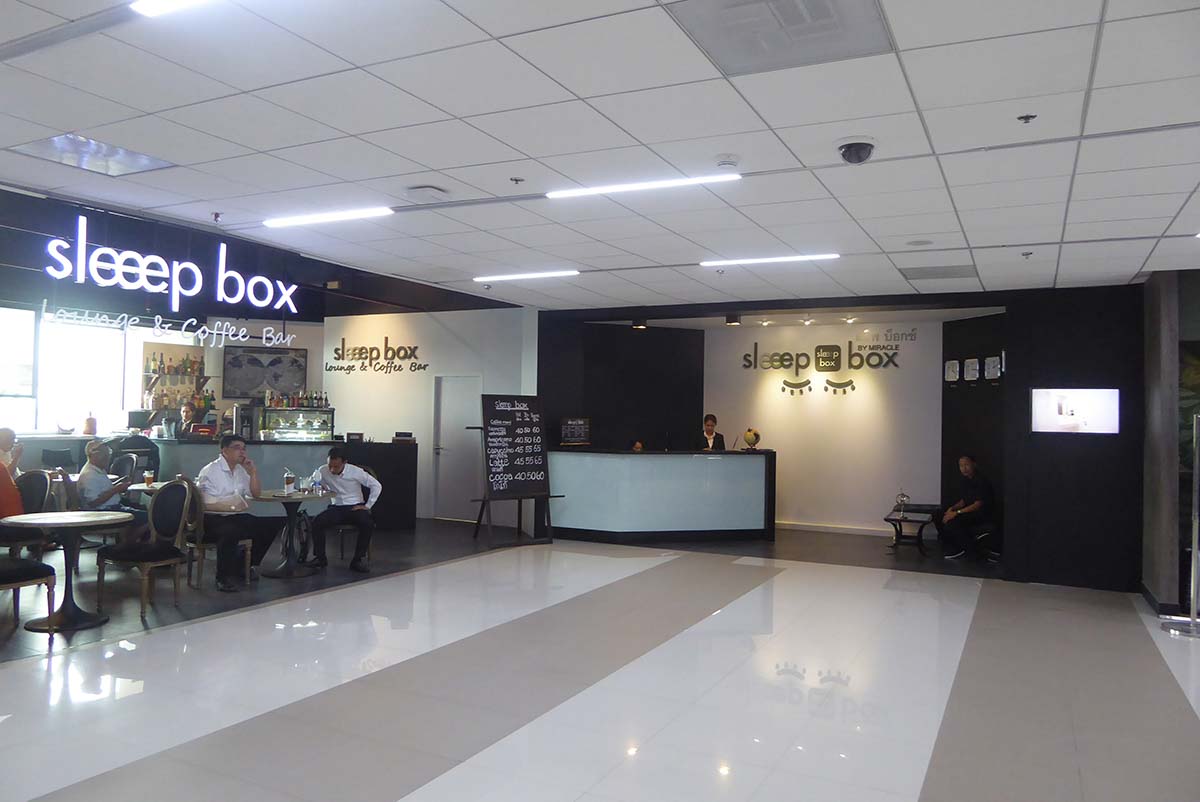 Room rates are 2700 baht per room for a 10-hour stay or 1000 baht for 3 hours and 200 baht for each extra hour and there is a 24-hour cafe. You will also receive a 200-baht food voucher. Two children under 13 can stay free. Agoda has a 20.00-06.00 am deal for 2400 baht.
Click here to make a booking with Agoda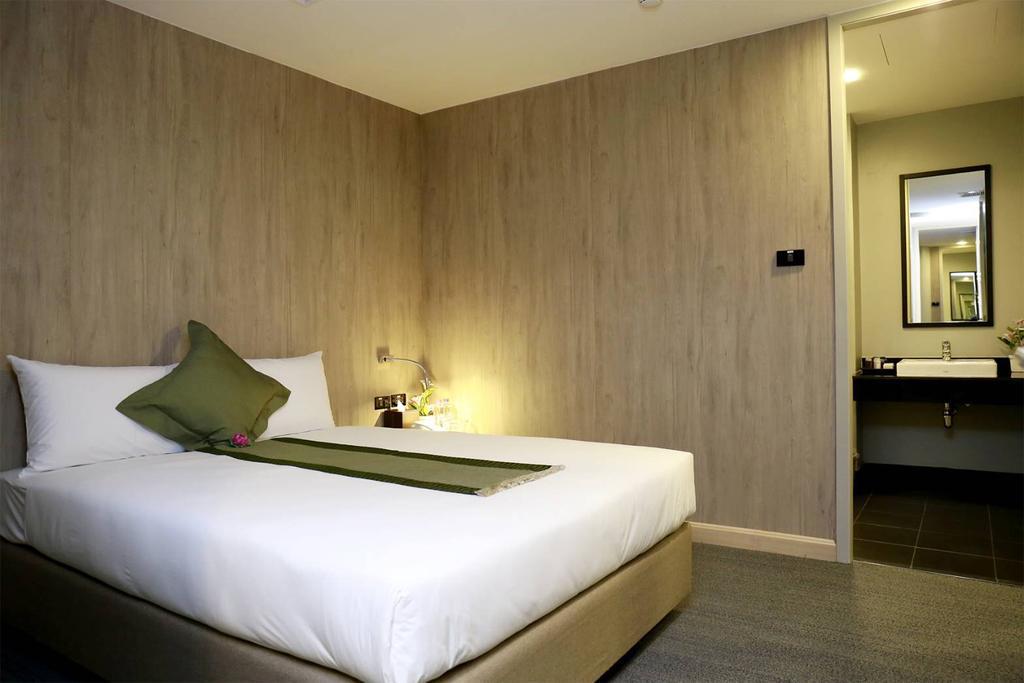 Don Muang Airport Hostels
There are several hostels on the other side of Vibhavadi-Rangsit Road opposite the old domestic terminal. On Choet Wutthakat Soi 9 are Sleep Owl, Sloth, and Ruan Ben Ja.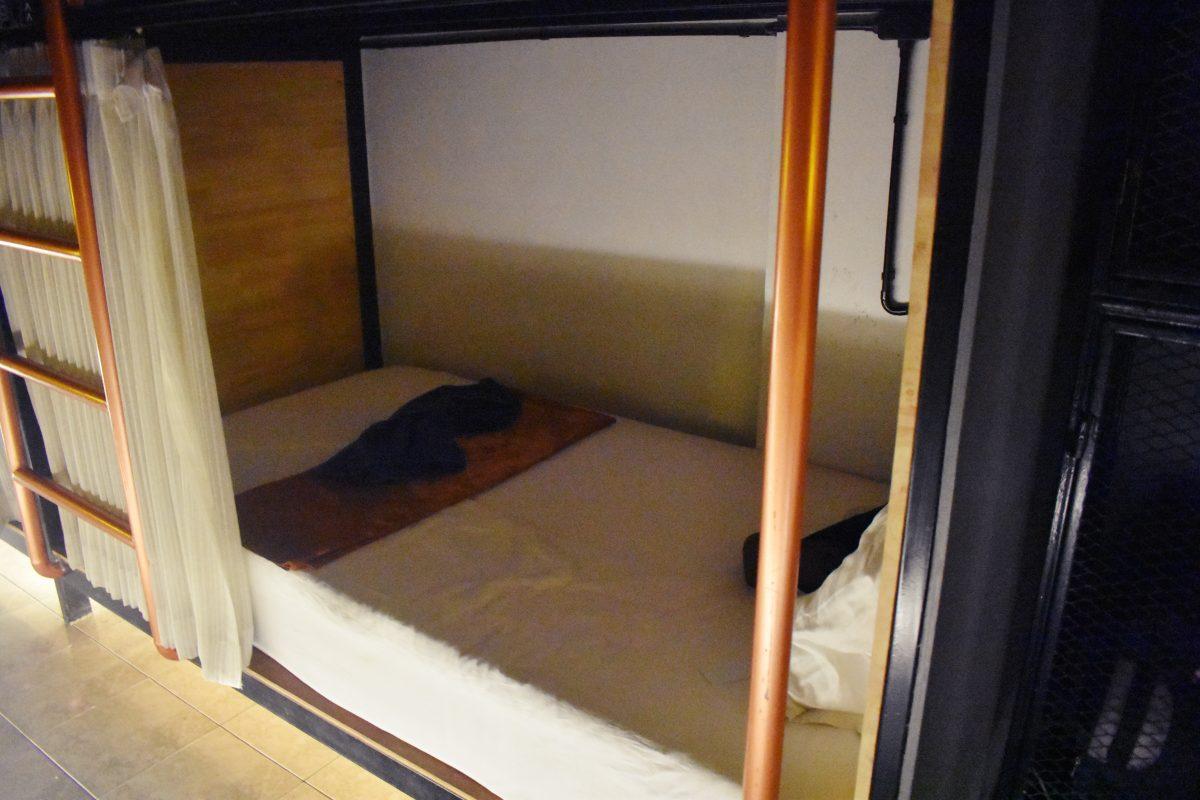 Sleep Owl Hostel
It's a 10-minute walk to the terminals. I stayed at Sleep Owl and found it to be a good value for money. Curtained bed, big lockers for luggage, lounge with TV, outdoor deck, free WIFI, free snacks, and coffee. Beer was 50 baht a can. Unlike other hostels in the area, they have check-in until 02.00 am and no deposit which is convenient if you are arriving on a late flight or departing early morning. There is a 7-11 a few minutes walk away and some basic street food.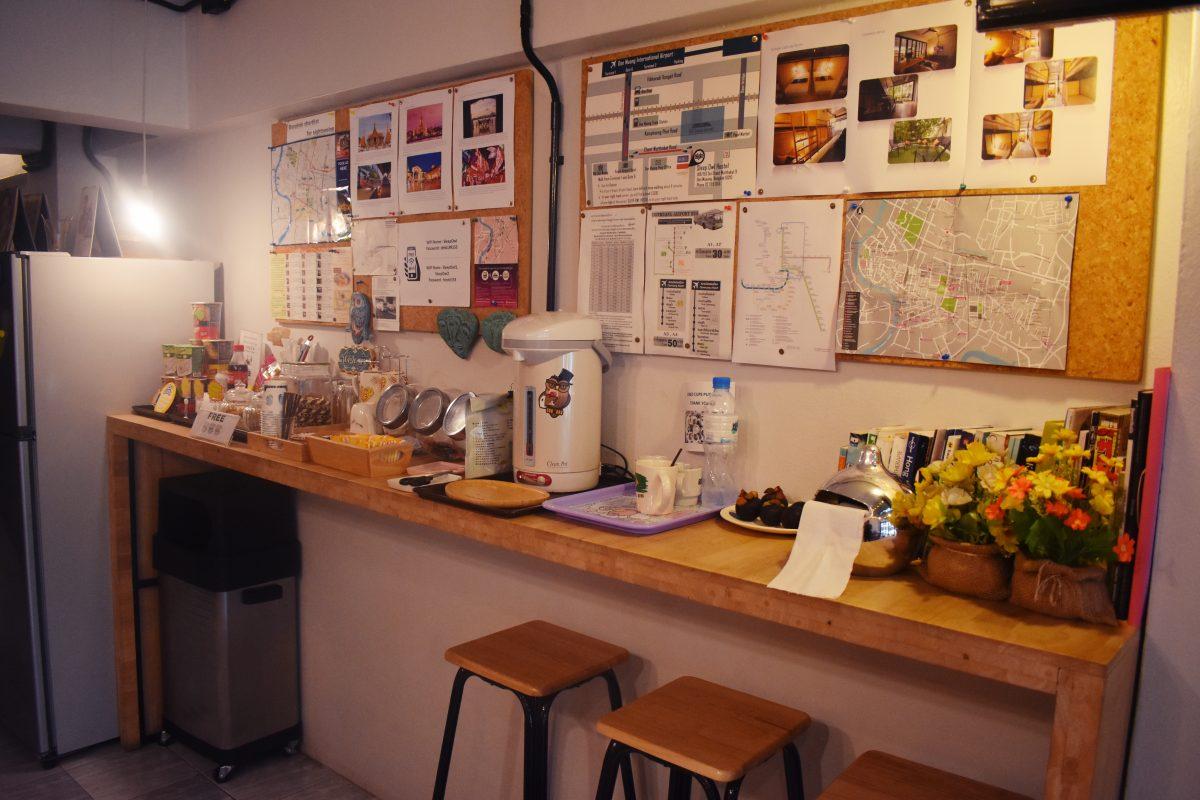 Click here to check availability & make a booking at Sleep Owl
There are other hotels & hostels near the airport within walking distance, though Sleep Owl is the nearest one. 
Don Muang Sightseeing
If you have a long wait for a flight, there is nothing of interest in the immediate area except for Wat Don Muang temple. It is opposite the airport to the right of the Amari Airport Hotel.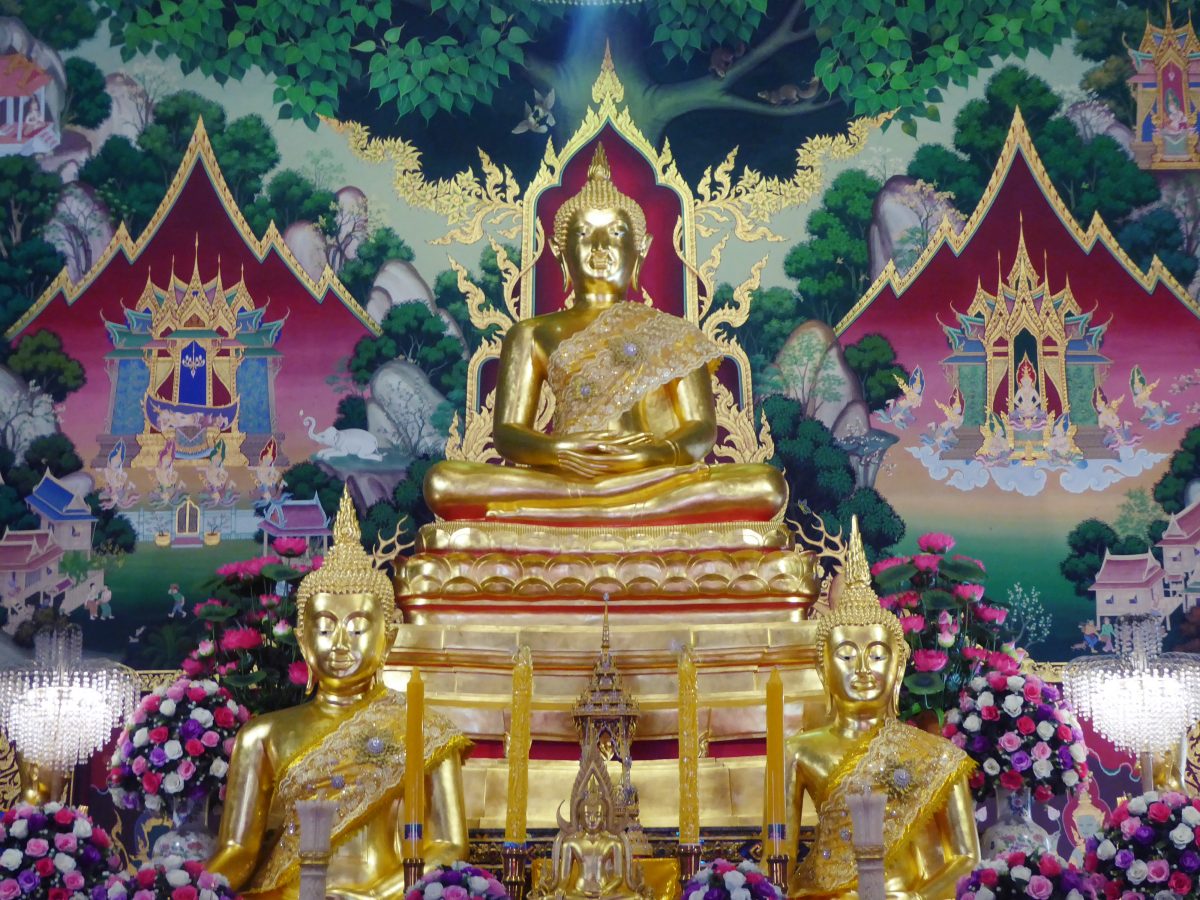 Don Muang Airport Map: 

You May Also Like
Popular Pages on Tourist Bangkok