Bangkok Cinemas
Bangkok Cinemas are some of the most modern in the world. Most cinemas in Bangkok are in large shopping malls or as mini Cineplex malls which also contain bowling alleys, karaoke, and a choice of small shops and chain restaurants. Several luxury cinemas in Bangkok include day beds, blankets & pillows, free snacks, and even bar service. The two established chains, Major and SFX both show first-run Hollywood movies often long before they arrive in Europe. There was a vintage cinema in Bangkok, the 70's art deco Scala which showed first-run Hollywood movies. However, it recently closed and the fate of the building is currently unknown. A couple of Independent cinemas show exclusive International and art-house films. There are also several IMAX theatres showing mostly "new release" Hollywood blockbusters on the Imax screen.
Tickets
Ticket prices are cheap by western standards. Expect to pay 50-60% less than you would do in Europe or Australia. Normal prices are 200 baht up to 260 baht. Most cinemas have a first-class theatre where prices start at around 300 baht and sometimes a luxury theatre where prices can be over 1000 baht.
Cheap ticket day is Wednesday where prices are 50% cheaper. Tickets are cheaper at the Independent theatres such as the Scala who charge 100 – 160 baht all day, every day. Drinks and popcorn are also much cheaper. Some cinemas have an attached lounge with alcohol on sale. Tickets can be bought at the cinema box office or from ticket machines (credit or debit cards only). They can also be booked online.
Cinema Tips & Etiquette
Hollywood movies are usually shown with the original English soundtrack and Thai subtitles. On the electronic show time board, look for soundtrack or ENG to signify the movie is in English. Some western movies are sometimes dubbed into Thai, TH/- or Thai Sound means Thai language only.
Always stand for the Thai national anthem which plays before all screenings. It is rude and insulting to Thailand not to.
Thai cinemas have vicious air-conditioning. If you feel the cold, consider bringing something that can cover exposed shoulders or arms.
If you want extra legroom, most theatres have an aisle about halfway down the auditorium with a row of seats removed. Select a seat facing the aisle here and you will have ample space to stretch out.
Don't put your feet on the seat in front of you. It is extremely offensive to any Thais who are sitting in it or next to it.
Turn your mobile phone off or put it on silent.
The film usually starts about 20 minutes after the official Showtime due to adverts and previews. Where to watch a movie in Bangkok? Read on.
Where to watch a movie in Bangkok?
Multiplex Cinemas
Major Cineplex
Major Cineplex has several central locations. The Siam Paragon Cineplex has 15 screens. Normal ticket prices range from 200 – 300 baht while the luxury cinemas are 900 baht. Both Paragon and CineArt have luxury and IMAX theatres.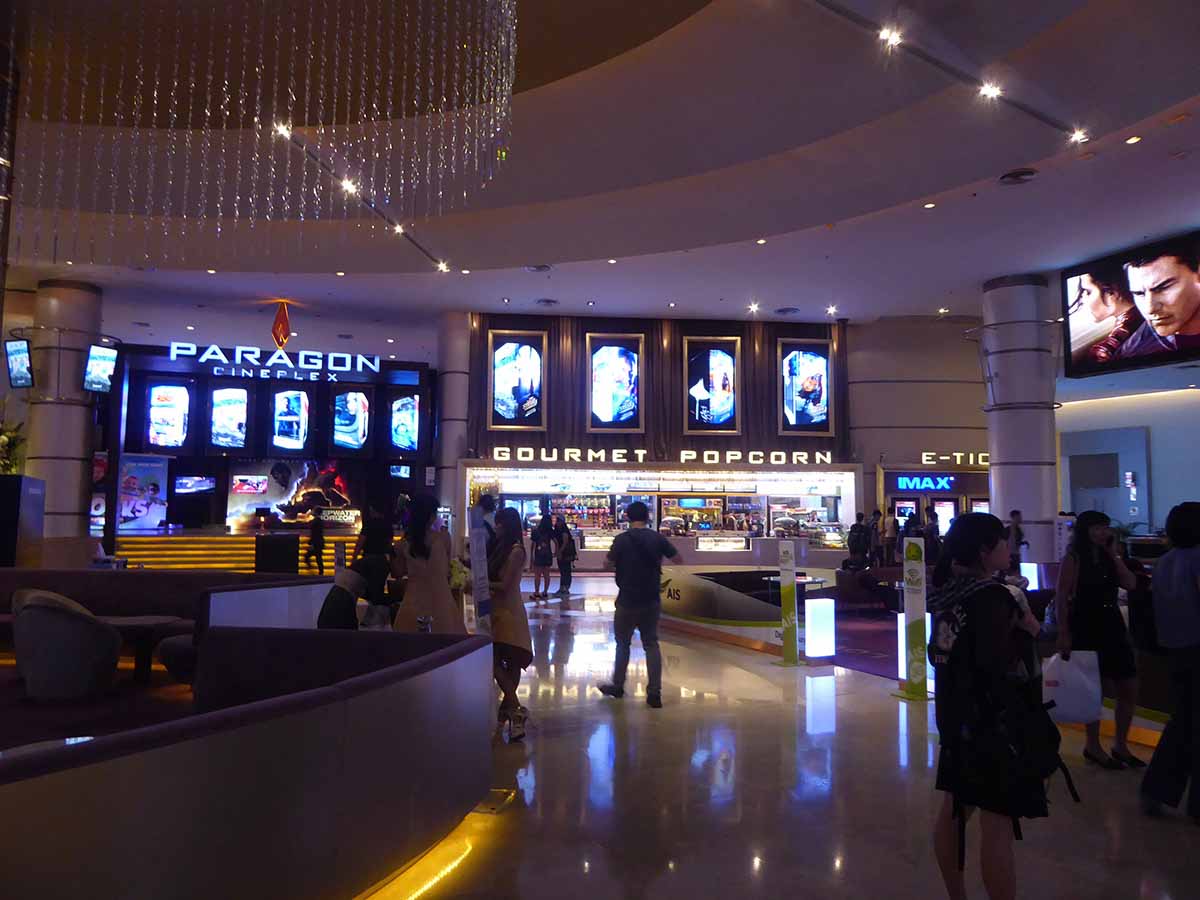 Where is Major Cineplex in Bangkok?
Paragon Cineplex, 5th floor, Siam Paragon. BTS Siam.
Quartier CineArt, 4th floor, EmQuartier. BTS Phrom Phong.
Major Cineplex Sukhumvit. Sukhumvit Road. BTS Ekkamai.
Esplanade Cineplex, 4th floor, Esplanade, Ratchadaphisek Road. MRT Thailand Cultural Center
Major Cineplex Samsen (for Khaosan), 4th floor, Supreme Building, 1024 Samsen Road. Bus No. 3, 51 from Khaosan Road – board on Samsen Road Soi 1.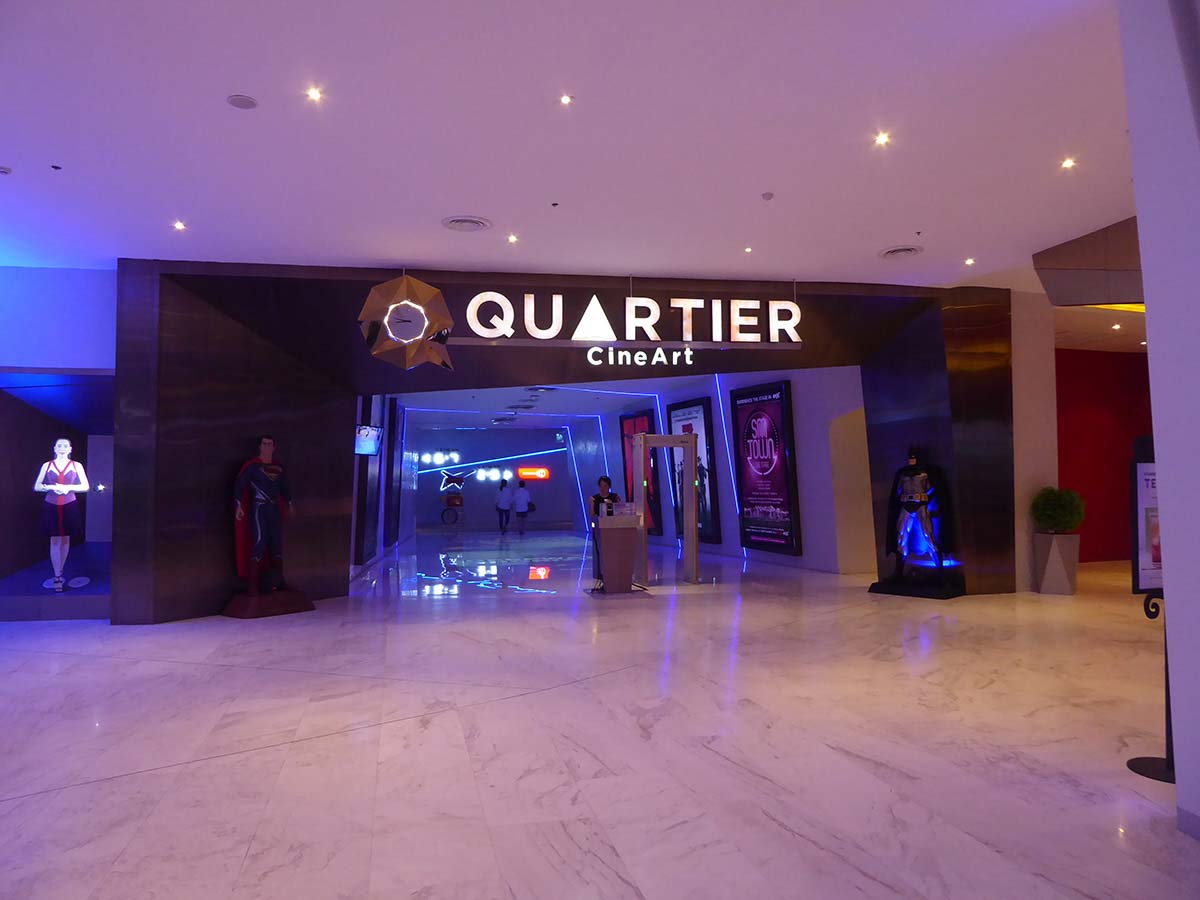 Showtimes and online tickets … http://www.majorcineplex.com/en/main
SF Cineplex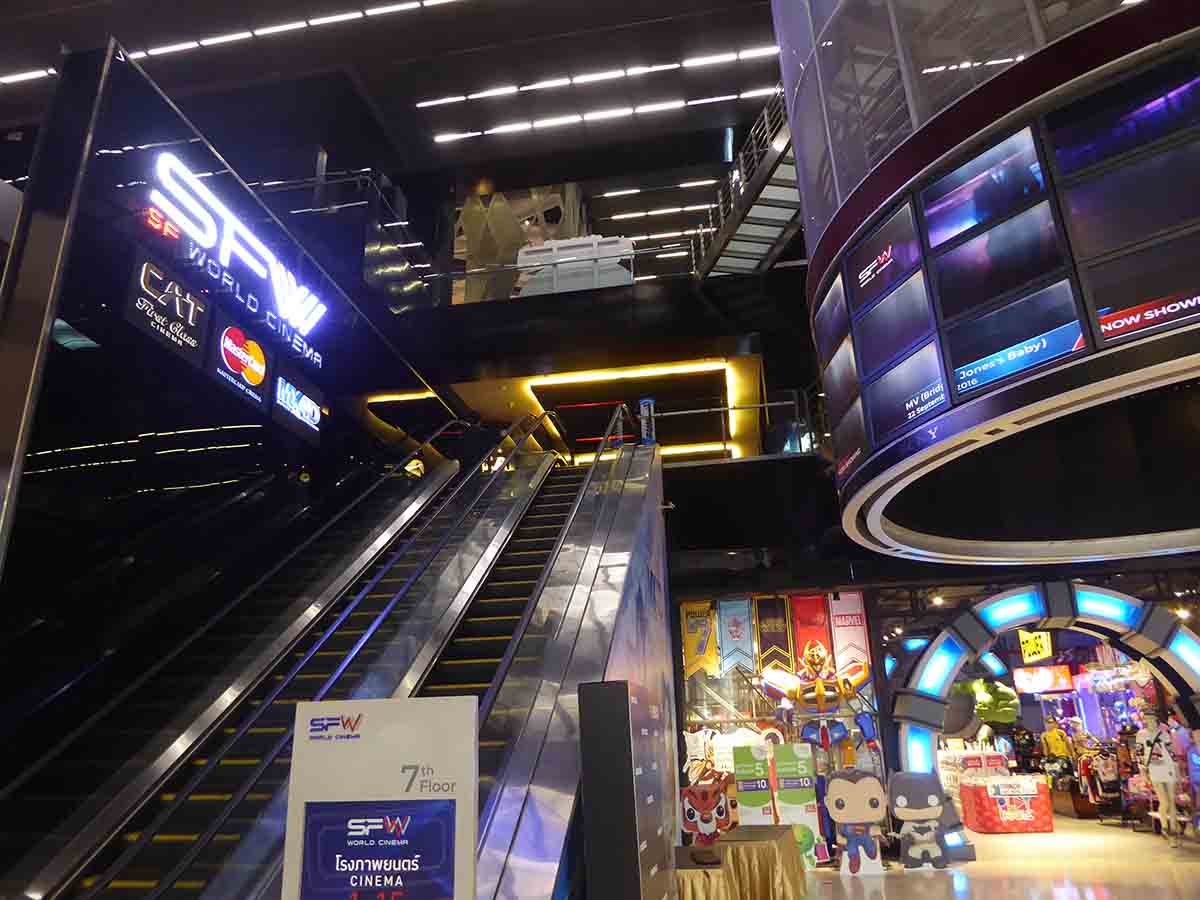 The SF Central World Cinema is the largest of the SF chain and has 15 screens. Ticket prices range from 200 baht – 260 baht for normal seats and are 700 baht for the two first-class theatres. SF central world often shows a few less commercial movies along with the blockbusters. There are regular exclusive showings and there are several film festivals held during the year including International, Asian and European events.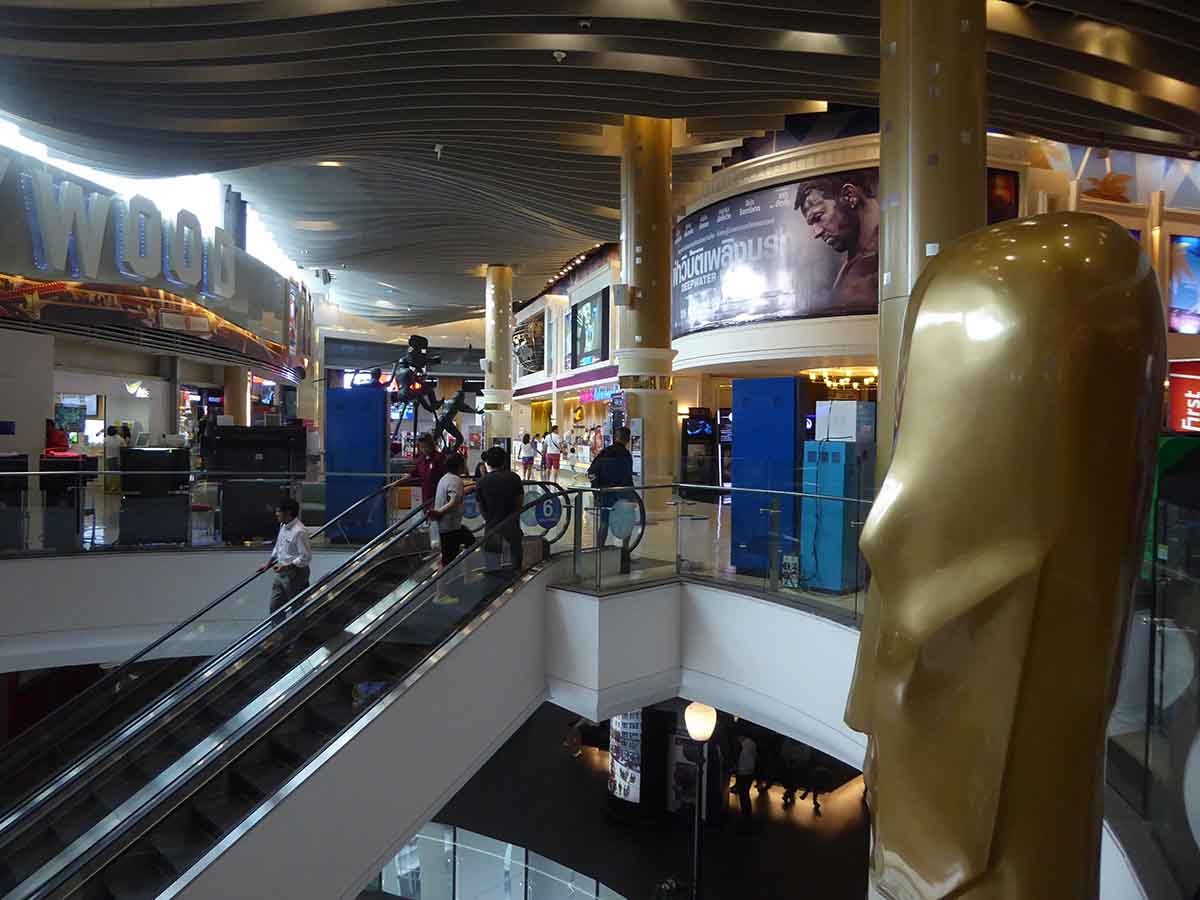 Where are SF Cinemas in Bangkok?
SF World Cinema, 7th floor, Central World. BTS Siam.
SF Cinema MBK, 7th floor, MBK. BTS National Stadium.
SF Cinema Terminal 21, 6th floor, Terminal 21, Sukhumvit Road. BTS Asoke, MRT Sukhumvit.
SF Cinema Central Rama 9, 7th floor, Central Plaza Rama 9, Ratchadaphisek Road. MRT Rama 9.
Showtimes and online tickets … https://www.sfcinemacity.com/

Vintage Cinemas
The Scala
*The Scala has now closed*
The Scala cinema opened in the late '60s and hasn't changed much in style since. It's a completely retro experience from the hand placed red letters displaying the current feature above the entrance, to the staircase leading to the classic art deco foyer with the giant chandelier, to the tickets with your hand-written seat number, to the ushers in bow ties who show you to your seat, to the old-style velvet seats.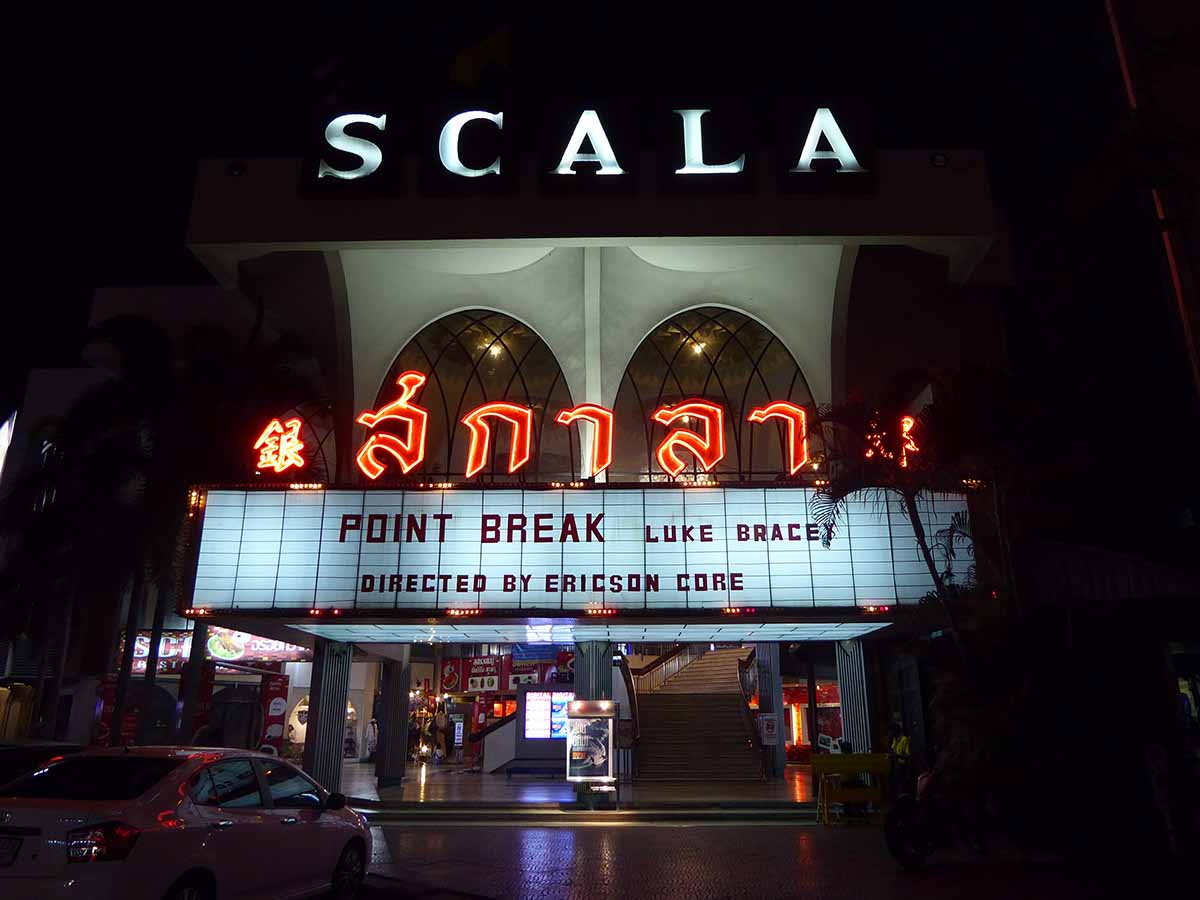 The only thing that's missing is the 1970's style pearl and dean adverts before showtime. Not everything is old, though, the theatre is air-conditioned, seats are comfortable and the sound and vision technology is bang up to date. Seating is in 3 zones with the cheapest tickets at the front and the most expensive at the back. Ticket prices range from 100 – 160 baht all day every day making it the best value ticket in Bangkok along with the 30-baht popcorn. A visit to the Scala isn't just about seeing a movie but experiencing a trip down memory lane to a time long past.
Showtimes …. http://www.apexsiam-square.com/
Where is the Scala Cinema in Bangkok?
Location: Siam Square, Soi 2.
Getting There: BTS Siam Station (exit 2)
Map: https://goo.gl/maps/7cNi8RF6dqu
Independent – Arthouse Cinemas
House Samyan
House Samyan is an Independent cinema in the centrally located Samyan Mitrtown mall. It shows art-house movies with an international flavor. There are three theatres each showing a different program of up to 3 different movies daily. All screenings feature the original soundtrack with Thai and English subtitles if needed. The cinema has a small snack bar and a shop/library featuring art and film books and DVDs. The theatres are small but comfortable with excellent sound and vision. Ticket prices are a low 160 baht. There are cafes, a food court & restaurants in the mall below some open 24 hours. Samyan Mitrtown is connected to Samyan MRT station by an underground walkway.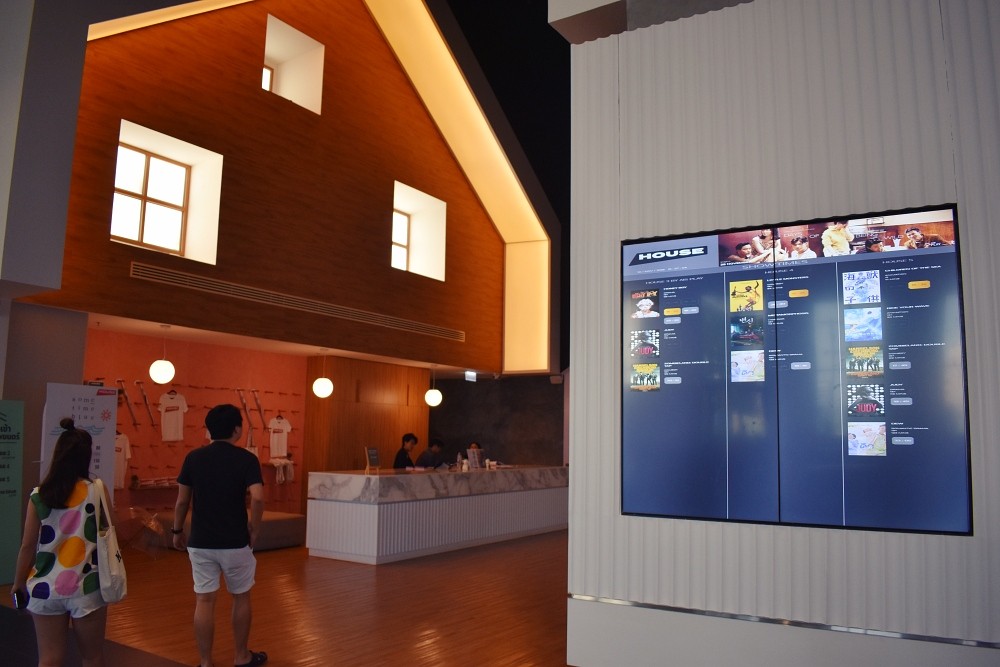 Showtimes/Online Bookings https://www.housesamyan.com/site/Movie
Where is House Samyan Bangkok?
Location: 5th floor, Samyan Mitrtown, Intersection of Rama 4 & Phayathai Road
Getting There: MRT Samyan Station
Map: https://goo.gl/maps/TvDwpx42mjHMCcS6A
Bangkok Screening Room
*Bangkok Screening Room will close permanently at the end of March 2021*
The Bangkok Screening Room is a small 50 seat screening room focusing on alternative and independent films, documentaries, retrospective classics, and specific themes and genres. The location is a four-story building a short 10-minute walk from the MRT. There is a lounge bar with food and drinks and a gallery next door. There are also a few good bars and restaurants just outside. Ticket Prices are Adults 300 baht, Children 250 baht.
Program and online tickets ….https://bkksr.com/
Where is Bangkok Screening Room?
Location: 2nd floor, 8-9 Soi 1, Sala Daeng Road, Silom, Bangkok.
Opening Hours: 15.30-24.00 Tuesday-Friday, 11.00-24.00 Saturday-Sunday. Closed on Monday.
Getting There: MRT Si Lom Station (exit 2). Walk up Rama 4 road and the Screening Room is on the corner of Sala Daeng Soi 1 opposite the 7-11.
Map: https://goo.gl/maps/t3bSvKLr2T22
Lido Cinema
Lido Cinema is part of an arts center named Lido Connect located in central Bangkok opposite the Siam Center. It features film, art & music including concerts and exhibitions. The Lido cinema shows independent art-house movies daily. There are 4 movies that are rotated over 4 screenings from 12.00 pm until 22.00. All movies are in the original language with subtitles.
Showtimes: http://lidoconnect.com/showtime/
Where is Lido Cinema?
Location: 256 Rama I Rd, Pathum Wan, Pathum Wan District, Bangkok 10330
Getting there: BTS Siam Station
MAP: https://goo.gl/maps/xo2cLGeVnXeZ7WAQ6
Luxury Cinemas
Emprive CineClub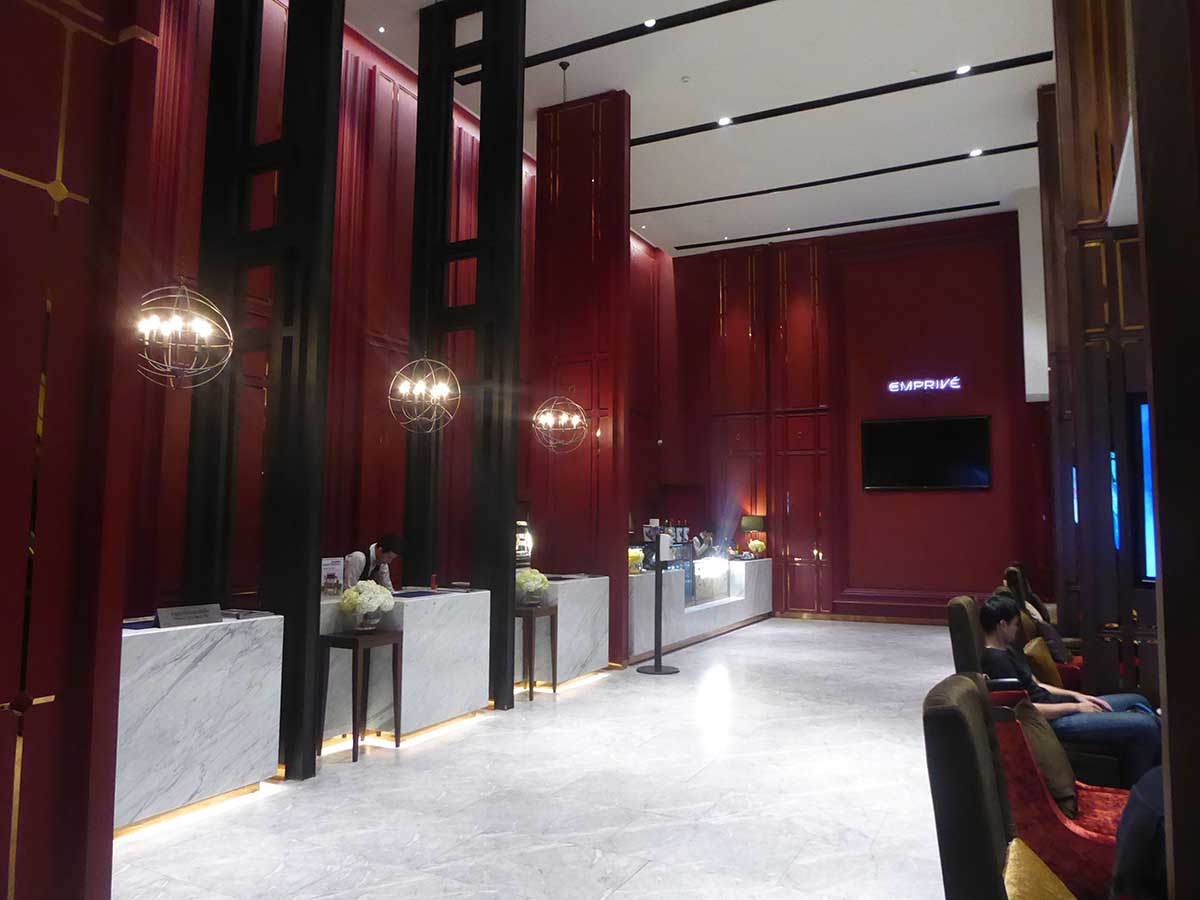 The Emprive CineClub is on the 5th floor of the Emporium Mall. It contains five small theatres with a choice of different class seats ranging from executive at 300 baht to first class at 950 baht. Tickets are cheaper on Wednesdays. There are blankets and pillows for all classes, though first-class ticket holders have access to a bar and lounge with a complimentary snack buffet.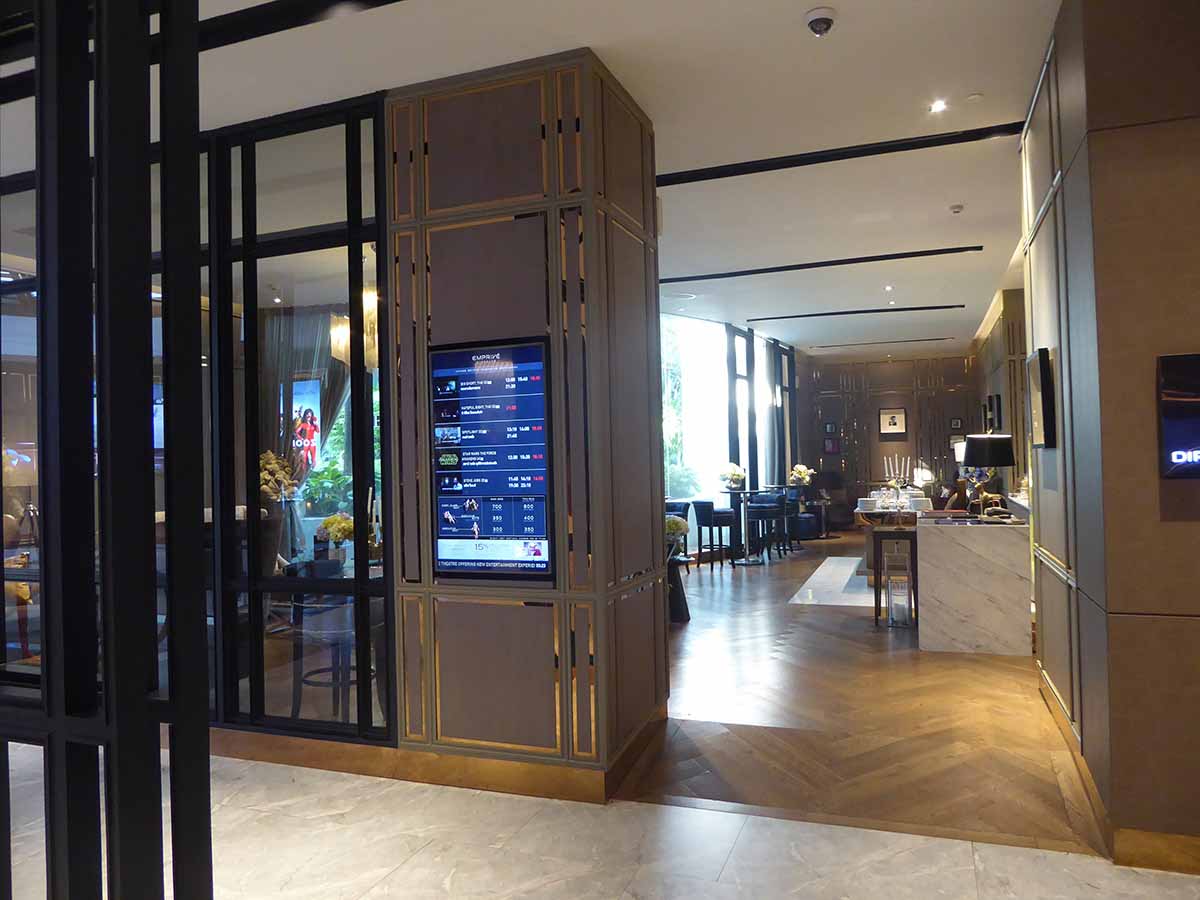 Showtime's & online bookings ……. https://www.sfcinemacity.com/
Where is Emprive CineClub Bangkok?
Location: 5th floor, Emporium Mall.
Getting There: BTS Phrom Phong (exit 2).
Embassy Diplomat Screens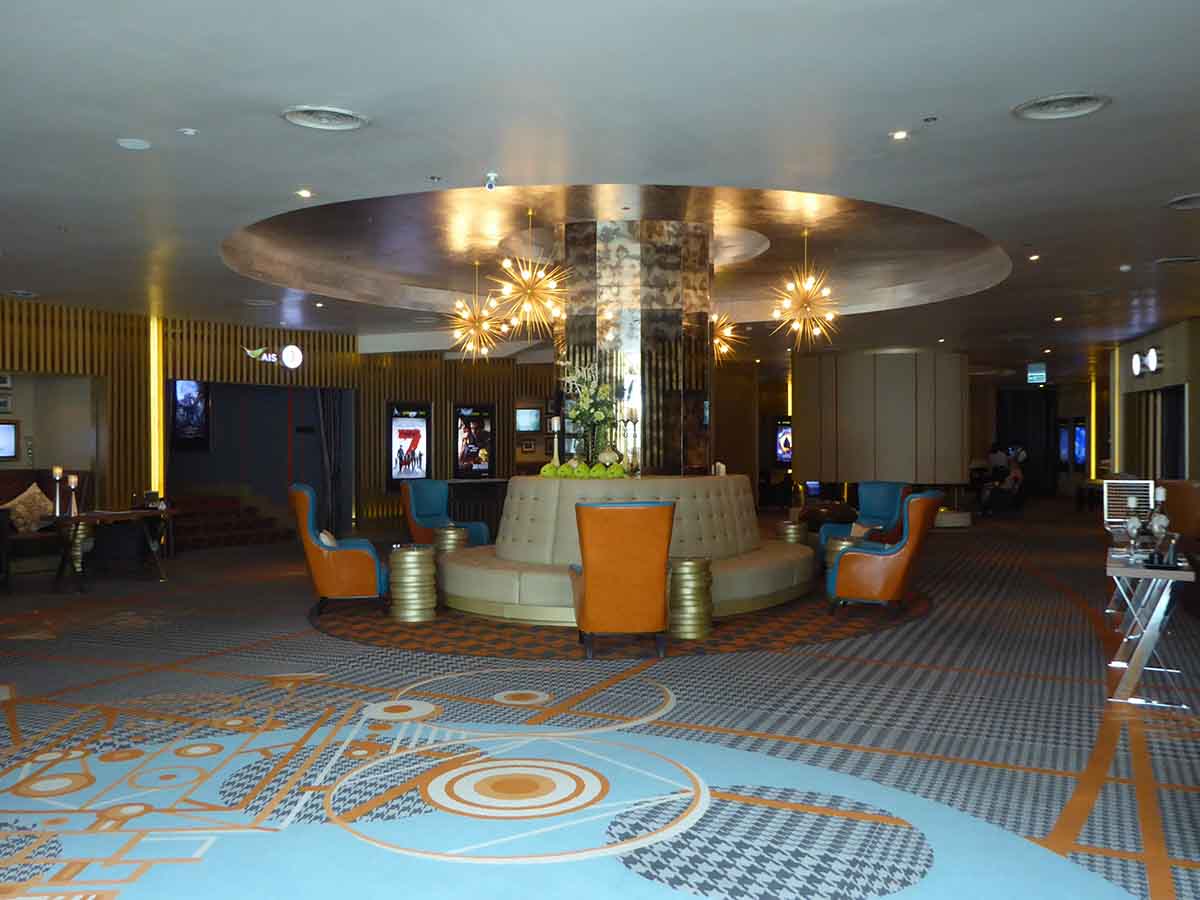 The Embassy Diplomat Screens are probably the most luxurious cinema experience in Bangkok. There are five theatres equipped with the most advanced projection and sound system. The seats come in different styles from first-class airline seats to 2 seater sofas and beds with a private bar, complimentary snacks, and a butler service. There are blankets and pillows for all classes as are multiple language headphones. The concept is to recreate an intimate living room experience. Tickets are 900-1200 baht per person.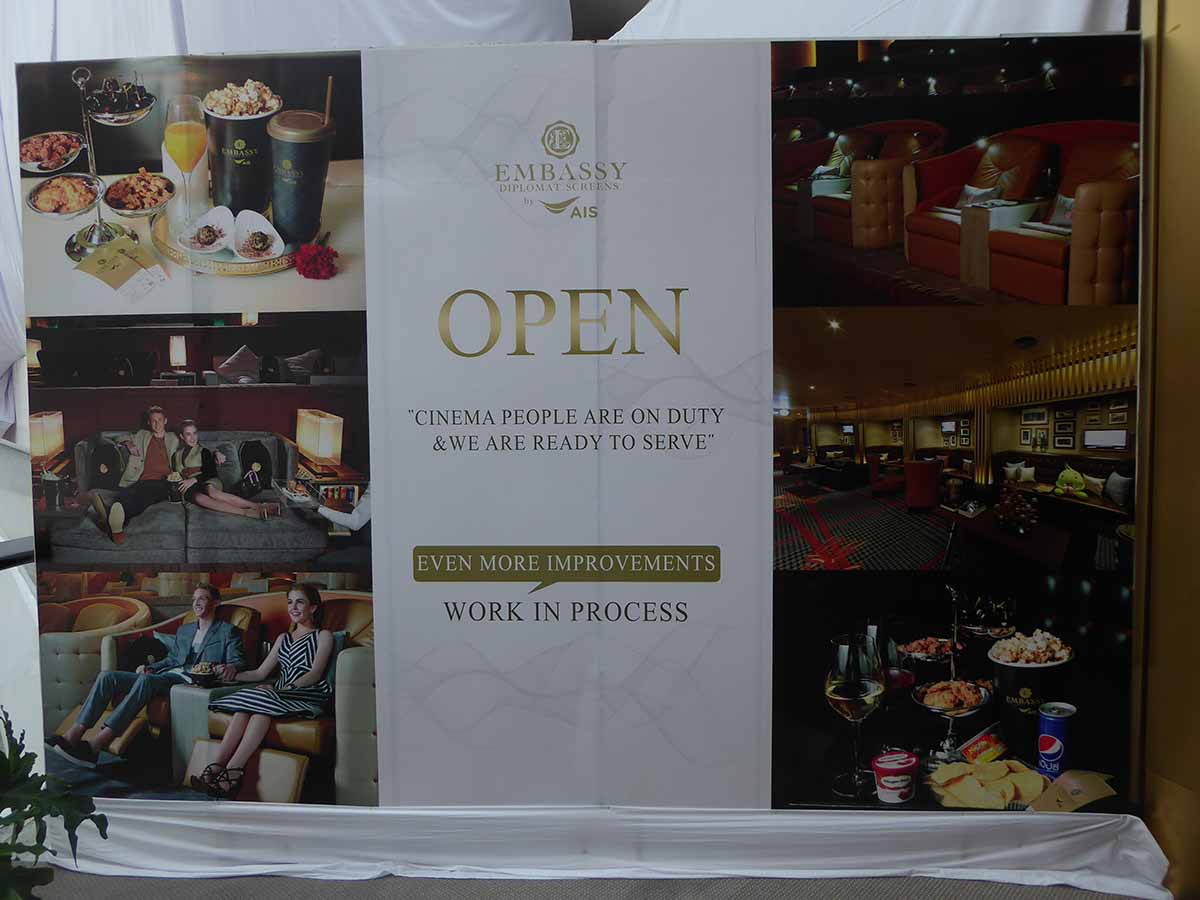 Showtime & online booking … http://www.embassycineplex.com/advancebooking
Where is Embassy Diplomat Screens?
Location: 6th floor, Central Embassy Mall.
Getting There: BTS Phloen Chit (exit 1). Follow the walkway to Central Embassy.