Football in Bangkok
Football is the most popular sport in Thailand. There are several grounds where you can watch football in Bangkok. Almost all Thai's of both sexes tend to support a European team as well as a Thai team. The most popular league is the English Premier League (EPL) whose matches are all shown live on local cable networks. The most popular teams are Liverpool and Manchester United though Arsenal, Chelsea, Manchester City, and Leicester City also have a following.
The best places to watch live EPL matches on TV in Bangkok
https://touristbangkok.com/bars-nightlife/sports-bars/
This popularity has also extended to club ownership with Leicester City, Reading, and Sheffield Wednesday all owned by Thai's. In fact, Leicester City belongs to Thailand's largest duty-free operator, King Power International. Leicester were EPL champions in the 2015-16 season and even did a victory parade with the trophy in an open-top bus through the streets of Bangkok.
The Thai Premier League
The Thai Premier League (TPL) is the Thai equivalent of the EPL. It is a professional league consisting of 16 clubs with most of the games played on Saturdays and Sundays with a few being played on weekdays. Match times are usually 4, 6, or 8 pm The top teams are Muangthong Utd and Buriram Utd. There are seven teams based in or close to the greater Bangkok area. Muangthong United, Bangkok United and Port all play in the Premier League. BG Pathum United, Police Tero, & Army Utd, all play in League 2. If you want to watch football in Bangkok, Muangthong and Port are both easily accessible from central Bangkok. The season runs from March to October.
Bangkok Football Teams
Port
Port Football Club is the most centrally located team, based in the Khlong Toei district of Bangkok. They have a large fanatical following and are one of the top clubs in the Thai Premier League. Port play at the PAT Stadium which is a short walk from a couple of MRT Stations. There is no running track around the pitch which brings the action closer to the fans. Port has a large fan base with groups of passionate Ultra fans who display banners, flags, and make a lot of noise using drums and megaphones.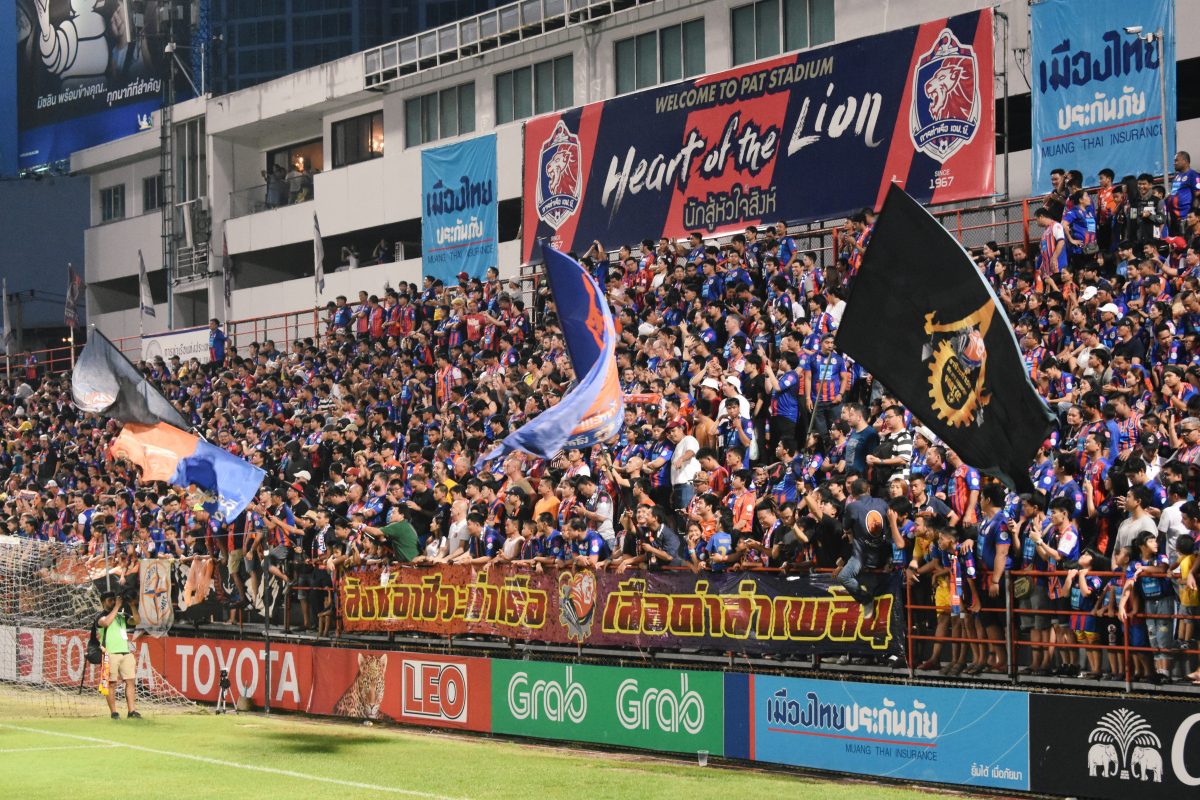 The Port Team
The team is mostly Thai but there are also players from Spain, Brazil, South Korea, Philippines & Montenegro. The local derby match is against Muang Thong United.
Eating & Drinking
Outside the stadium is an area full of vendors selling snacks, soft drinks, and beer Leo (Team Sponsor). The beer is cheap at 80 baht a big bottle. There is also a giant screen for those who can't get tickets.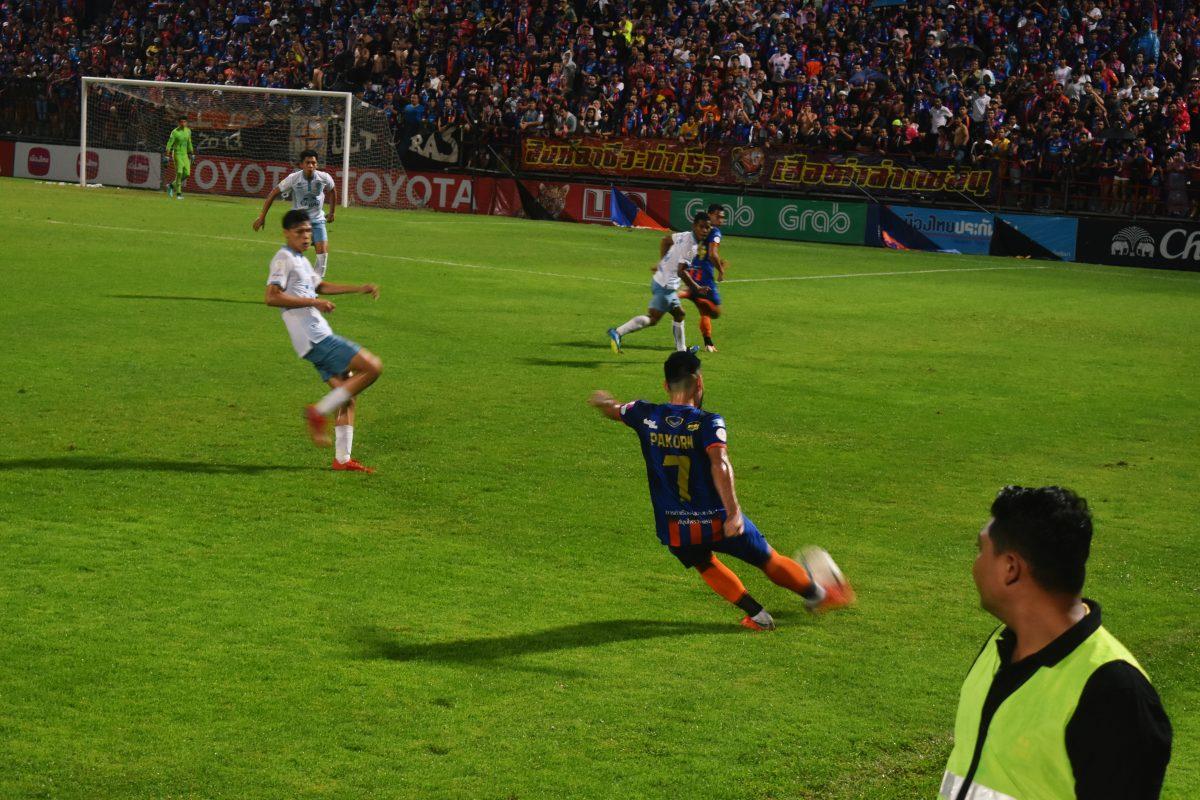 Port Tickets
Tickets are not sold online, only at the stadium ticket office from about six hours before kick-off. Tickets are 100 to 200 baht.

How to get there
Location: PAT Stadium, Sunthon Kosa Road, Bangkok.
District: Khlong Toei
Transport: MRT – Queen Sirikit Station (exit 1). Turn left out of the station. Walk down Rama III Road, crossing the intersection. Turn left into Sunthon Kosa Road. The stadium is on the right. BUS – 4, 13, 47, 74, 136, 141, 162, 185, 195, 205.
Map
Muang Thong United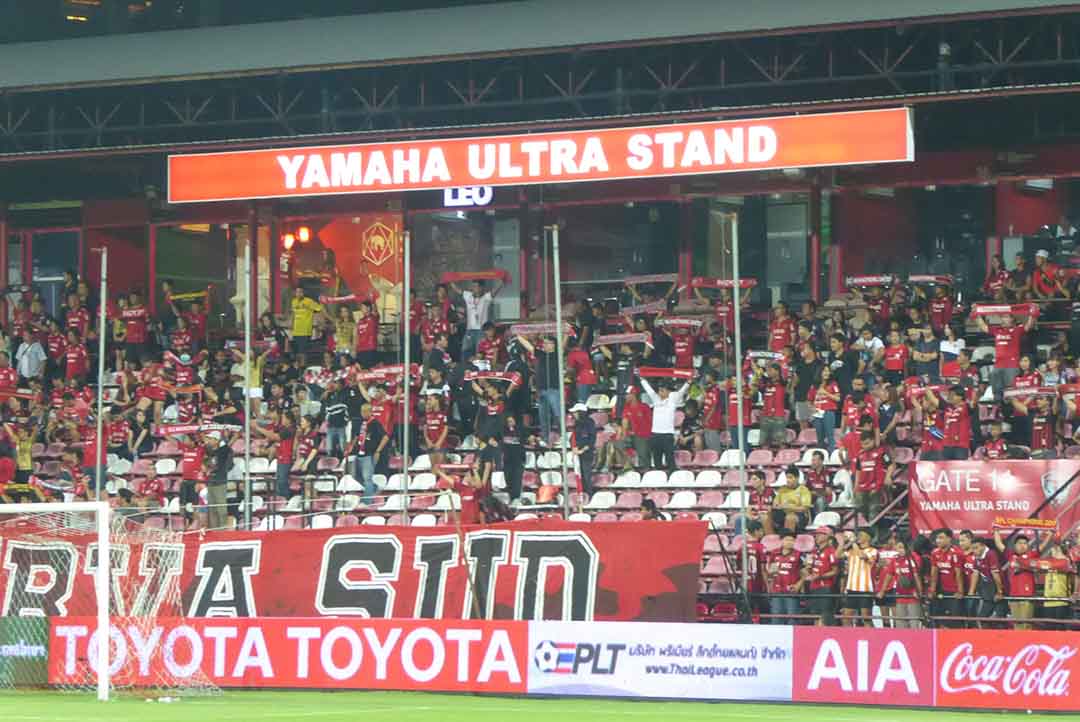 Muangthong United are one of the most successful and richest clubs in Thailand. They play at the SCG Stadium in the Muang Thong Thani district of Bangkok within the Impact Exhibition Complex. The stadium one of the best places to watch football in Bangkok. It is all-seater and covered on one side. There is no running track around the pitch which brings the action closer to the fans. Muangthong has a large fan base with the core being the Muangthong Ultras who gather behind the goal in the Curva Sud stand and display banners, flags, and make a lot of noise using drums and megaphones.
MuangThong Utd Team
The team which once featured Liverpool legend Robbie Fowler has an International flavor with Spanish, French, Japanese and Brazilian players as well as several Thai Internationals. Grudge fixtures to watch out for are against rivals Chonburi FC, Buriram FC and particularly Port.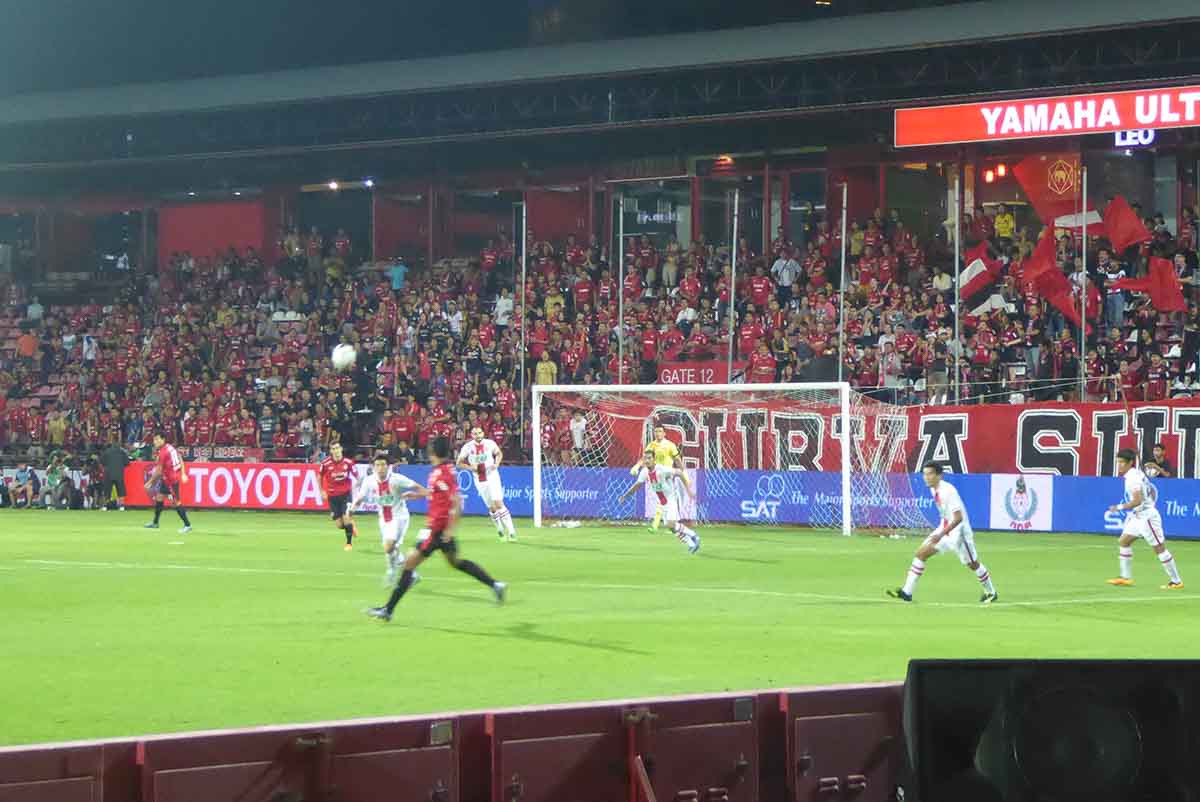 Eating & Drinking
There are snack stalls and bars at the stadium and the Impact Exhibition Complex has several restaurants, fast food outlets and a Flan O'Brien's Irish pub open until midnight with a convenient 4-8 pm happy hour.
Muang Thong Utd Tickets
Tickets can be purchased in advance online from Ticketme. Online orders can be collected from the stadium box office on match day. You can also buy tickets at the box office before the match if not sold out. Tickets: 150-1000 baht.
Where is SCG Stadium?
Location: SCG Stadium, Muang Thong Thani, Nonthaburi.
Getting To SCG Stadium
There is a shuttle bus from Mo Chit BTS Station to the Impact, or it's a quick taxi ride from downtown Bangkok.
BTS Mo Chit (exit 4), then Impact Shuttle Bus (30 baht) from the park and ride car park. A taxi from downtown Bangkok on the highway should cost no more than 300 baht including the toll-way fees.
Map:
Army United
Army United play at the Thai Army Sports Stadium on Vibhavadi Rangsit Road which runs from central Bangkok to out past Don Mueang Airport. The stadium has a roof on one side. The rest of the stadium has open terracing. There are stalls outside the stadium selling snacks and beer Chang (team sponsor) at cheap prices.
The Army Utd Team
The team have recently been relegated from the premier league and are not as well supported as other Bangkok teams with a fan base of soldiers who reside at the army complex. The stadium is very easy to reach from central Bangkok by taxi (60 – 100 baht). Tickets are only on sale at the door on match day. Tickets: 100 – 300 baht.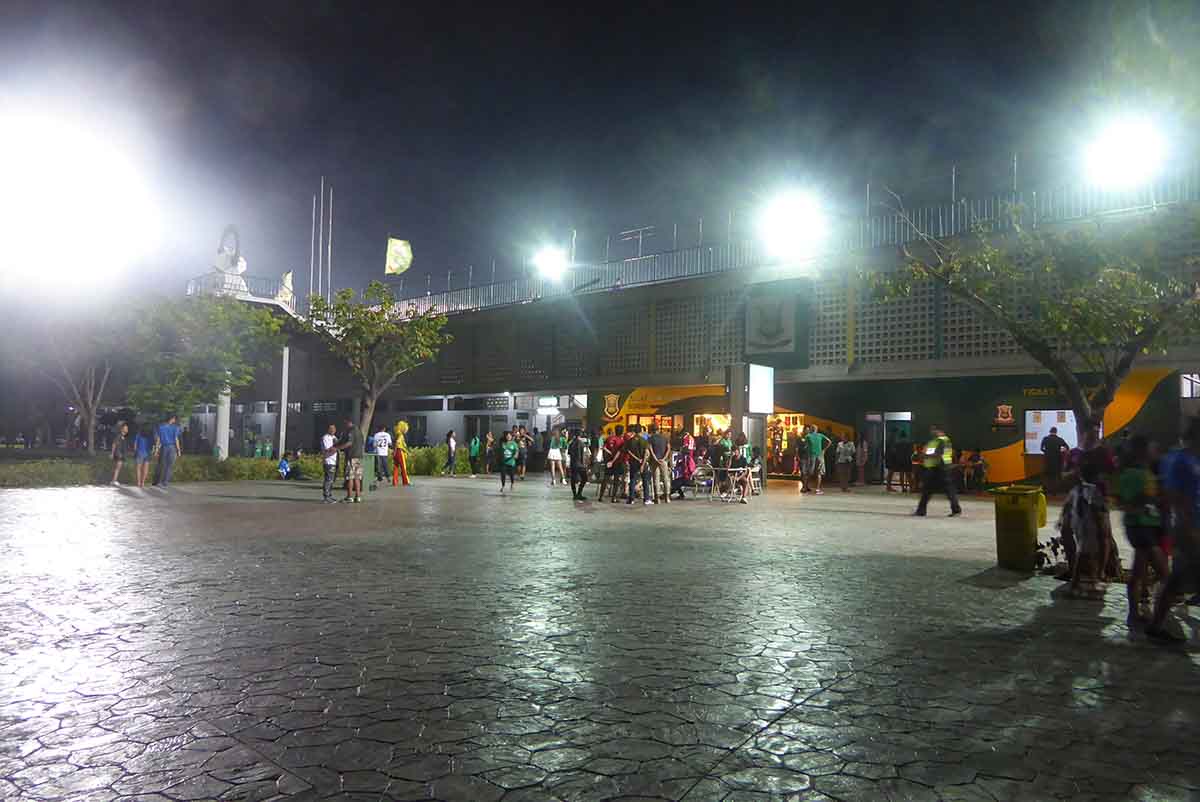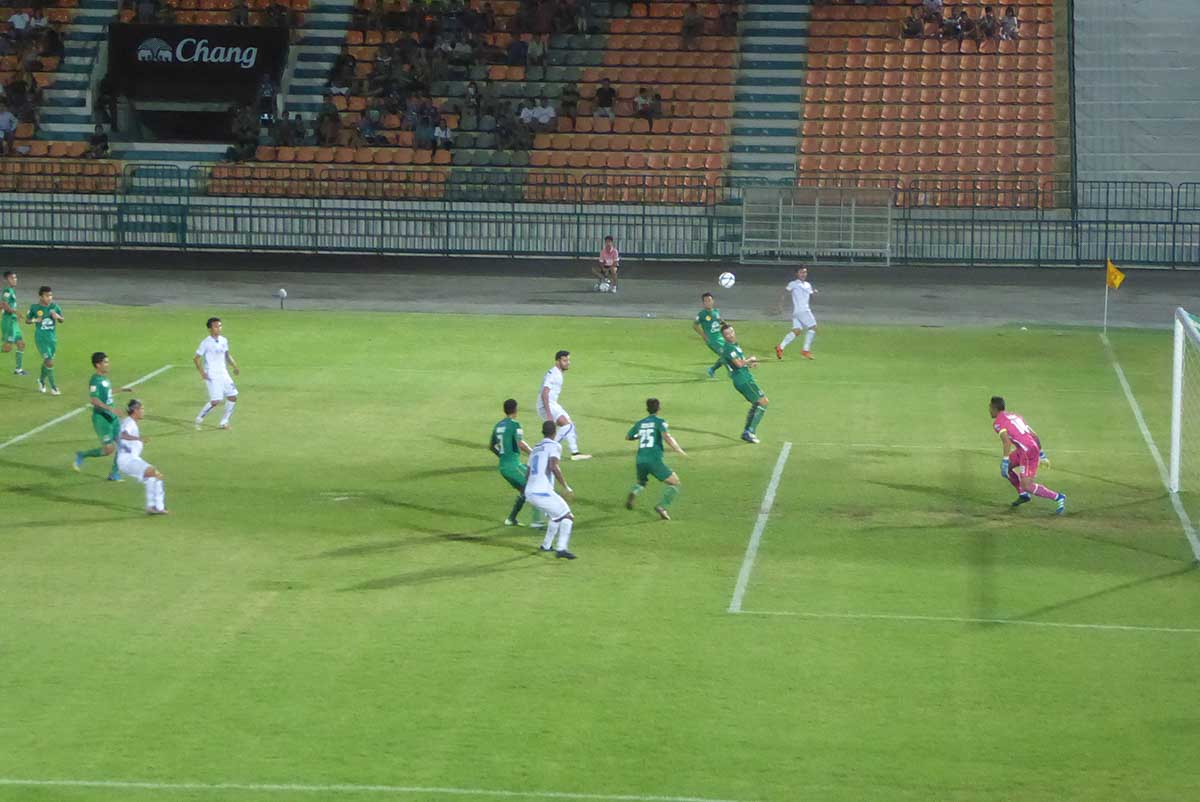 Where is Thai Army Sports Stadium?
Location: Thai Army Sports Stadium, Vibhavadi Rangsit Road, Din Daeng, Bangkok.
Getting To Thai Army Sports Stadium
Taxi is the best way to get there.
Map:
Rajamangala Stadium
Rajamangala Stadium is the venue for International football in Bangkok featuring the Thai national team and for visiting European super clubs. Tickets for fixtures at Rajamangala are usually sold via Thaiticketmajor. The stadium is in the Ramkhamhaeng district of Bangkok and getting to it is not easy.
Where is Rajamangala Stadium?
You can take the Airport Rail Link Train and get off at Ramkhamhaeng station. From there, take Bus No. 71 towards Ramkhamhaeng University, you can get off right in front of the stadium. Also, you can take the Khlong Saen Saep Express boat from Khao San or downtown Bangkok and get off at Ramkhamhaeng University Pier. Then walk down Ramkhamhaeng Soi 43/1 and turn left on to the main road. The stadium is a 5-minute walk further on the right-hand side. This is the quickest and cheapest way. Traffic is heavy on match days so taxis are not the best option.
Map: