Bus Travel in Thailand 2020
Getting Around Thailand By Bus
Bus travel in Thailand is extensive with hundreds of routes and destinations. You can travel by bus from Bangkok to anywhere in Thailand in less than 14 hours. The most useful services for getting around Thailand by bus are the night buses that leave in the evening and arrive early the next morning. These are perfect for budget travelers on long-haul destinations. This both helps save your daytime hours & also saves on accommodation costs.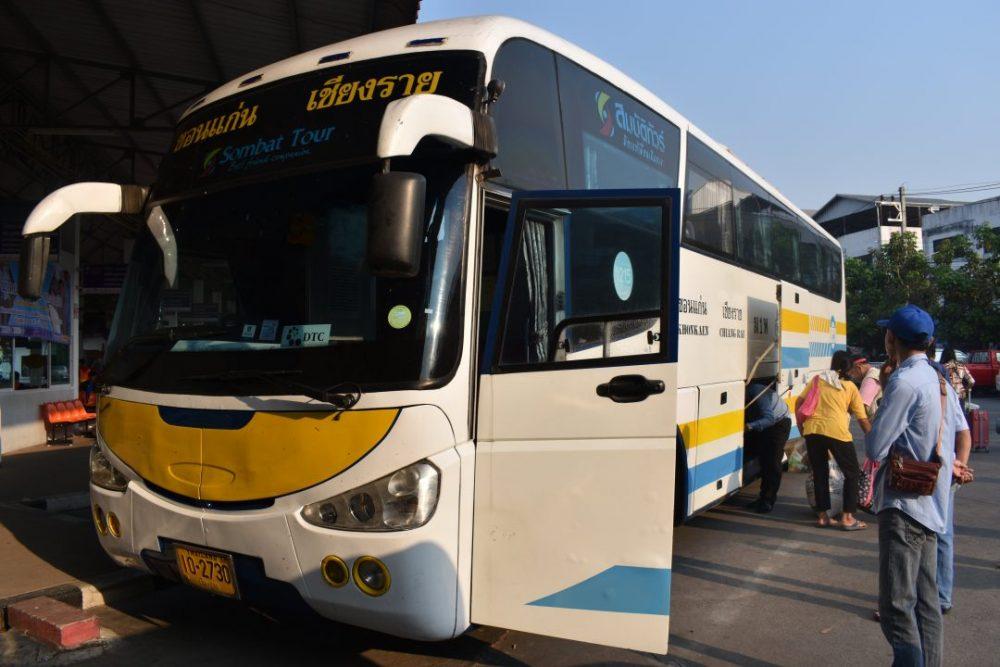 Bangkok Bus Station
There are three bus stations in Bangkok providing long-distance bus services. They are Mochit 2 for Northern services, Ekkamai for Eastern services, and Sai Tai Mai for services to the south. Mochit also offers International services to Laos and Cambodia. Most services providing bus travel in Thailand belong to the government-owned Transport Company, also known as 999. Buses come in three classes VIP usually with 24 seats, 1st class, and 2nd class. There are also sub VIP buses with 32 seats.
For detailed information on the Bangkok Bus Stations,Click Here
VIP 24 Bus
This is the most comfortable way of getting around Thailand by bus. It is also the quickest bus service as these buses do not make many stops en-route. There are a lot of ?VIP? bus services in Thailand. However, the only true VIP buses are the 20-27 seaters which are the most comfortable. The government bus Thailand 24 seaters are standard VIP & usually, depart early morning & evening to destinations throughout Thailand. The VIP 24 bus has almost fully reclining seats that help you get a good night?s sleep as well as extra legroom. The VIP 24 bus fares include a snack box, water & juice. There is also a free hot meal at a rest stop during the journey, though the meal is not of a high standard. A blanket & pillow is provided. There is an onboard toilet.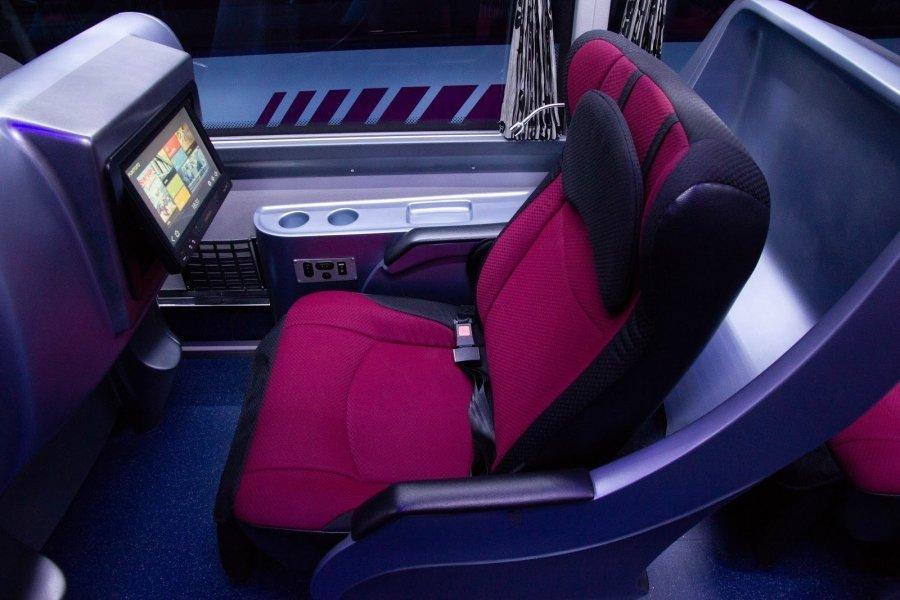 The most luxurious VIP bus is the 20 seater operated by Sombat tour. The seats are like business class on an airplane with a seatback entertainment system. Scroll down for more on Sombat Tour buses.
Thailand Bus Prices
Thailand bus prices are inexpensive. A bus ticket from Bangkok to Chiang Mai will cost you from 400-500 baht for second class, 500-600 baht for first-class & 800-900 baht for a VIP 24 bus. There are also 32 seat VIP buses for around 700 baht. The prices above refer to tickets bought directly from the bus station, through 12go Asia or Thaiticketmajor for departures from the bus station and notfrom Khaosan Road. Remember that all booking agents charge a booking fee. They don?t do it for free.
Where to buy bus tickets
You can buy tickets at the bus station ticket counters in advance or on the day. Bus tickets are very difficult to book during long Thai holidays such as Songkran & New Year. You are advised to book in advance if you want to travel on a Friday evening or return to Bangkok on a Sunday. Booking tickets online is the most convenient way to buy tickets in advance if you are not near the bus station. All agents charge a booking fee but that can be cheaper than the cost of traveling to the station and back. Also, you can pay by debit or credit card if you are short of cash. ATM withdrawal fees in Thailand are 220 baht per transaction.
12Go Asia Bus Tickets
You can make online reservations for safe, reliable buses in advance through 12go. 12go is a reputable ticket agent selling tickets all over Asia & even in Europe. You can pay in a choice of currencies & use a debit or credit card from your home country. They also offer an option to pay with PayPal. Most tickets can be downloaded straight to your phone. You can compare operators, schedules & fares to find a ticket that suits you best. It is also easy to make changes & you can cancel your booking before departure & receive a refund with certain tickets. There is also the bonus of being able to read reviews from previous travelers. Use the booking form below to search destinations, check fares, and make reservations for all classes of bus travel in Thailand.
[do_widget id=text-2]
Buying Bus Tickets on Khaosan Road
Khaosan Road tour operators may offer lower prices for private bus services. However, these buses can be substandard & have a reputation for theft from luggage. Some Khaosan agents also advertise bus tickets departing from Khaosan Road when in fact they are government bus services departing from Morchit, Sai Tai Mai, or Ekkamai. You will be taken by mini-bus from Khaosan to the bus station where you will be given your ticket usually for a 2nd class bus. If you are sharp-eyed you will notice that the price on the ticket is 50% less than the price charged by the Khaosan agent. Tourist Bangkok recommends you use government bus services or those run by reputable private bus companies that we recommend further down this page.
Thailand Bus Safety
Bus travel in Thailand is safe as long as you travel with reputable companies. Most buses are new, modern, and well maintained. Second class buses are often older & many look in poor condition on the outside. Buses on short-haul destinations around the provinces sometimes appear to be from a bygone age but are safe to travel in if not the most comfortable. Private bus companies who specialize in backpacker travel often use low-quality buses with poor drivers. Always remember to wear your seatbelt on a bus. Most fatalities or injuries in a bus crash are due to not wearing a seatbelt.
Bus Travel in Thailand / Scams
There are some travel agents selling cheap bus tickets on Khaosan Road for private bus services. Be warned that some of these are extremely sub-standard with poor quality buses, drivers, and theft from luggage is common. Keep all valuables on your person. This has been a problem in the past on the Bangkok ? Chiang Mai route where passengers are often dropped outside the city and forced to take over-priced tuk-tuks into the city which will only take you to certain low-quality guesthouses.
Bus Company Thailand
Government Bus Thailand
The government bus Thailand operates reliable services throughout Thailand under the name of the Transport Company or 999. All buses depart from Bangkok?s three bus terminals, Morchit, Sai Tai Mai & Ekkamai. The VIP & first-class buses are excellent. Tickets are sold at the bus stations or through 12go Asia.

Nakhonchai Air Bus
Nakhonchai AirBus is popular with locals who will tell you it is the best bus company in Thailand. It has a reputation for good service, it?s the food & modern buses. They offer services from Bangkok to 27 destinations in the North East & North of Thailand only. There is also a service from Chiang Mai to Rayong. The buses are all 21, 32, or 40 seaters with extra legroom. First-class buses have a personal touch screen TV Screen. The buses also have lady only zones. A decent hot meal is served onboard. You can buy tickets at Mochit Bus Terminal or over the counter at branches of 7-11. You can also buy tickets online though they only accept Thai debit cards. All credit cards are accepted.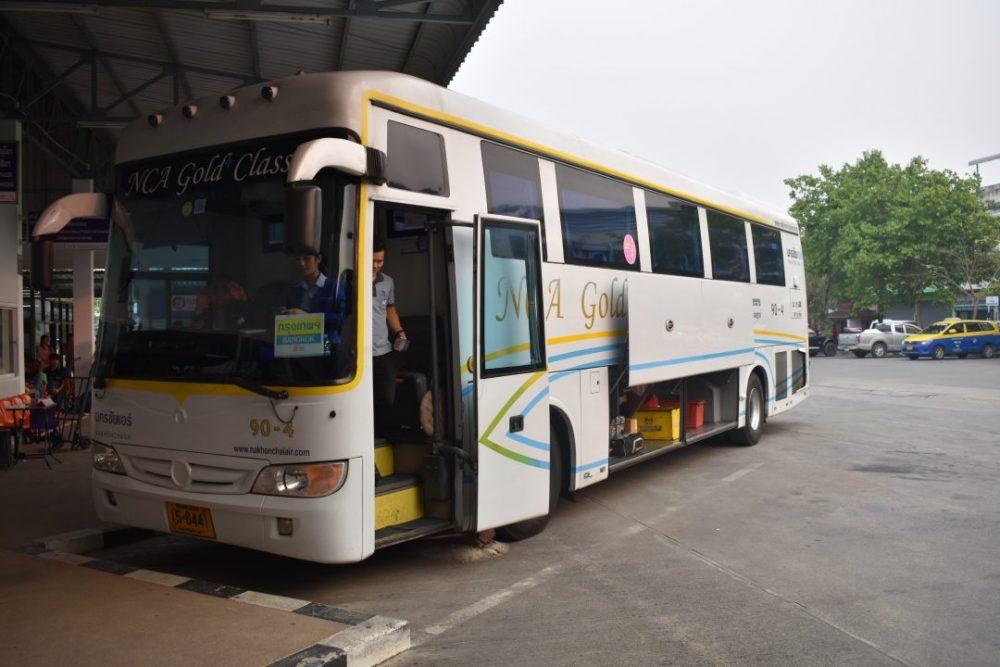 Sombat Tour Bus
Sombat Tour has its own bus terminal on Vibhavadhi Road, a 7-minute walk from MRT Phahonyothin Station or BTS Ha Yaek Lat Phrao Station. The company runs nationwide services to 26 destinations including Chiang Mai, Phuket, Surat Thani, Koh Samui & Hua Hin. The buses are clean, comfortable & safe. Sombat Tour operates a lady only bus that runs from Bangkok to Chiang Mai every Friday.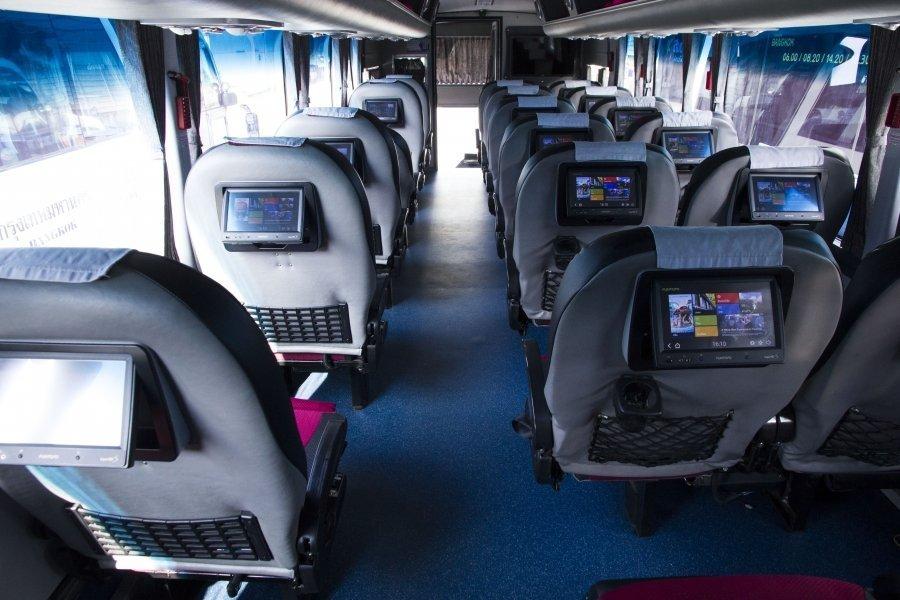 Their most popular service is a luxury VIP 20 seater coach from Bangkok to Phuket & from Bangkok to Chiang Mai. There is also a 27 seater version. Both have a seatback personal entertainment system. All Sombat Tour buses can be booked through 12Go Asia using the form below.
12Go Bangkok to Chiang Mai Bus
Online ticket agent 12 go run their own 32 seat VIP bus between Bangkok & Chiang Mai. The bus departs from the 12go office opposite Hualamphong Train Station daily at 20.00. It conveniently drops you at Thepae Gate in the old city at 07.00, rather than at the bus station saving you time and money. It is an express bus with no stops apart from a 20-minute food stop. Tickets are 715 baht and you can book tickets using the form below.
Green Bus Thailand
Green Bus Thailand is based in Chiang Mai and offers services all over Northern Thailand. They also run a bus from Chiang Mai to Phuket via Surat Thani. Popular routes from Chiang Mai include Chiang Rai, Golden Triangle, and Mai Sai. You can buy Green Bus Thailand tickets at Arcade 3 bus station in Chiang Mai. You can also book Green Line Thailand buses on 12Go Asia.
Sleeper Bus Thailand
Thailand does not have Vietnamese style Sleeper buses. Any bus referred to as a sleeper bus is just an overnight bus. The most comfortable buses to sleep on are the VIP 20-27 seat buses which have almost fully reclining seats. These are run by the government bus Thailand (Transport Company), Sombat Tour & Nakonchai Air.
Suvarnabhumi to Pattaya VIP Bus
Bell Travel operates a daily VIP bus service between Suvarnabhumi Airport Terminal to Pattaya. There are six departures a day to Pattaya from 08.00-18.00. You can buy tickets at the counter on the ground floor or reserve in advance on 12Go using the form below. The fare is 320 baht. This bus is very popular with travelers to Pattaya and you may have to wait a few hours before you can get a seat if buying on arrival.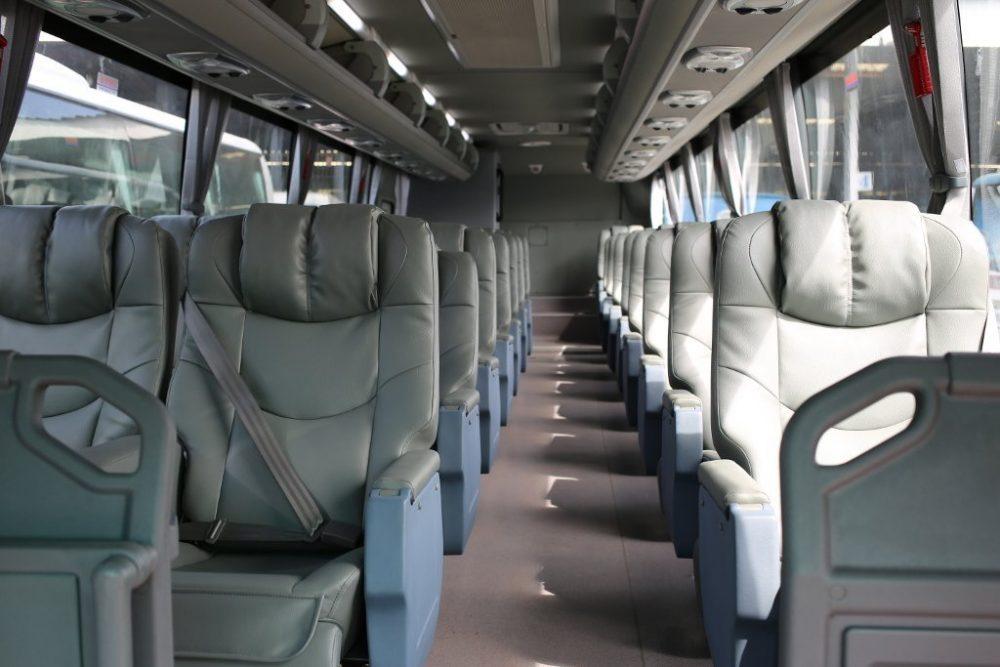 For more on Bus Services from Suvarnabhumi Airport Click Here
Lomprayah Bus & Ferry
Lomprayah Bus & Ferry operate a reliable combined bus/ferry service between Bangkok & the gulf islands of Koh Tao, Koh Phangan & Koh Samui. The bus departs from Rambuttri Road in Khaosan & picks up in Hua Hin. There are both morning 06.00 & evening 21.00 departures using a high-speed catamaran. The boat departs from Chumpon to Koh Tao, then Koh Phangan, then Koh Samui. You can book tickets for Lomprayah bus & ferry using the booking form below.
Thailand to Cambodia Bus
Traveling on a Thailand to Cambodia bus is the cheapest mode of travel between the two countries. There are direct services including a Bangkok to Phnom Penh bus & a Bangkok to Siem Reap bus both with daily departures. The downside is the long journey time of 7 hours Bangkok to Siem Reap bus & 11 hours Bangkok to Phnom Penh bus. Add to that the time it takes to cross the border which is up to 3 hours.
A cheaper but even longer way is to take a 40 baht third-class train to Aranyaprathet, cross the border, take a shuttle bus to Poipet bus station & take a Cambodian bus to your destination. Note that all bus services try to collect a $5 Visa processing fee from passengers who don?t have a Cambodian visa. This not a scam by the bus company but a demand from the corrupt Cambodian immigration officials who can hold your bus up if they so wish. For the $5 you get your visa processed quickly via the back door. If you already have a visa there is no need to do this.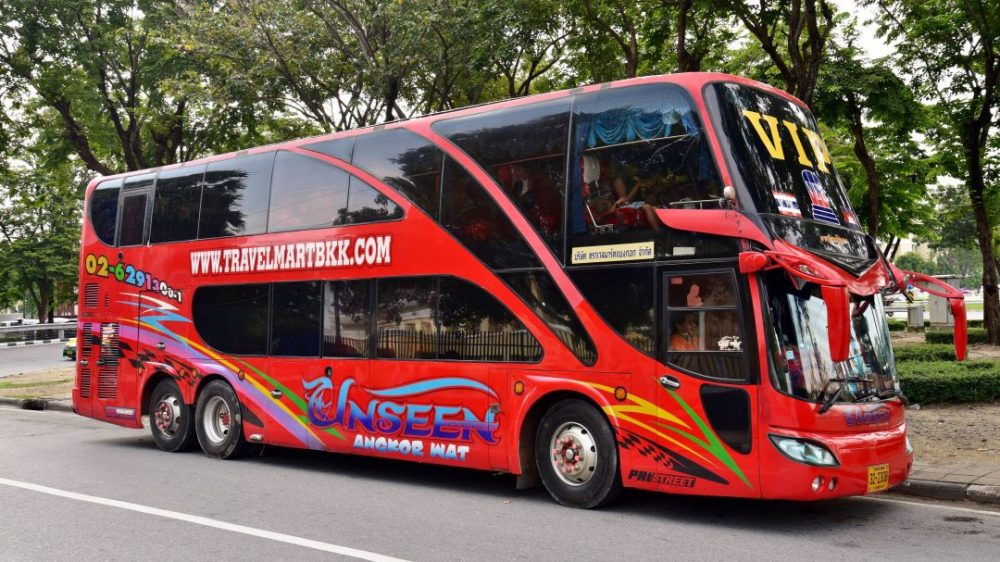 Bangkok to Phnom Penh Bus
If traveling to Phnom Penh we recommend using the government bus service. The Bangkok to Phnom Penh bus departure time is at 07.30 daily from Mochit 2 bus station. If you want to travel direct from Khaosan Road you can take the VBB bus which departs at 01.00 & 09.00 daily. We don?t recommend you take the travel mart bus as it goes via Siem Reap making a longer journey & changing to a less comfortable bus there. Tickets are 950-1100 baht depending on which bus & the time you depart. You can make advance online bookings with 12go using the form below.
Bangkok to Siem Reap Bus
If traveling to Siem Reap we recommend using the government bus service or the Giant Ibis bus. The government Bangkok to Siem Reap bus departure times are at 07.30 & 09.00 daily from Mochit 2 bus station. If you have ever traveled to Cambodia you will know that Giant Ibis is a good bus company. The Giant Ibis bus departs at 07.45 & 08.45 daily from Makkasan Airport Rail Link Station, convenient if you are staying in the Sukhumvit, Silom, Siam or Riverside areas. You receive a free lunch on the bus.
?
If you want to travel direct from Khaosan Road you can take the TMB bus which departs at 01.00 & 09.00 daily. Tickets are 720-970 baht depending on which bus & the time you depart. You can make advance online bookings with 12go using the form below. Note that the price reflects the quality of the bus. Buses to Siem Reap terminate at the bus station which is about 5k outside the city center. You will have to take a tuk-tuk from there to your hostel/hotel. Expect to pay from 3 to 5$. Make sure you have some small denomination US dollars or local currency to pay with as there is no ATM or exchange there.
Thailand to Laos Bus
The best way to travel to Laos by bus is by using government Transport Company Buses. There is a Bangkok to Vientiane Bus, & a Bangkok to Pakse bus. These are much better & cheaper than the Khaosan Road buses.
Bangkok to Vientiane Bus
The government Transport Company Bangkok to Vientiane bus departs from Morchit 2 bus station daily at 20.00 arriving in Vientiane at 07.00. We recommend you take this bus. It is a modern bus with toilet, free snacks, and a free meal coupon to spend at a rest stop on the way. Note that this bus goes all the way to central Vientiane. You can book tickets with 12go in the search box below. There are buses from Khaosan but they do not go all the way to Vientiane. They just drop you at the border.
Bangkok to Pakse Bus
The government Transport Company Bangkok to Pakse bus departs from Morchit 2 bus station daily at 19.00 arriving the next day at 07.00. You can book tickets on 12go using the form below.
If you want to travel from Bangkok to either Luang Prabang or Vang Vieng we recommend you go to Vientiane or Chiang Mai and continue using a bus service from there. Agents sell buses from Khaosan Road but they are best avoided as they are not the best buses, involve changing buses, & it is a 22-hour journey.
Thailand to Malaysia Bus
There are no buses to Malaysia from Bangkok. If you want to travel to Kuala Lumper or Penang you will need to go to Hat Yai and take a bus from there. Daily departure at 12.30 arriving in KL at 22.30 though, don?t rely on this timing. The fare is 660 baht. You can book through 12go on this page.
?
Is there a bus from Bangkok to Vietnam?
There are no bus services from Thailand to Myanmar or Vietnam. If you want to travel by bus to Vietnam you will need to take a bus to Phnom Penh and buy another ticket to Ho Chi Minh City. We recommend traveling Phnom Penh to Ho Chi Minh City on Giant Ibis.
?
Where are Bangkok Bus Stations?
[/vc_column][/vc_row]