8 Places to Take the Grandkids in Bangkok
Bangkok is the capital of Thailand and also a fantastic place to take the grandkids for your next family vacation. With a population of over 10.5 million, you know the city must have something good going on. The climate is tropical so water fun is popular, with activities from boating to water slide parks.
As one of the world's top tourist attractions, Bangkok boasts many parks from amusement parks to zoos and everything in between. And the kids will even get to learn while having fun. When you head out to see the sights, find a luggage storage locker in Bangkok to leave your bags and backpacks so you don't have to lug them around.
With 28 attractions including three roller coasters and a Land of Snow, Dream World really is a place where dreams come true. Kids can meet their favorite characters like Pocahontas, Cinderella, and Superman. The park has four zones: Adventure Land, Fantasy Land, Dream Gardens, and Dream World Plaza.
The plaza has shops and games to enjoy. Dream Garden is a nature-themed area with several rides like the Bicycle Boat, 7 Wonders of the World, Speedy Mouse, and Cable Car. Fantasy Land boasts eight rides such as the Spider, Hurricane, and Sightseeing Train. Adventure Land is the largest and features 20 rides and games.
For kids over six, the Zanook Wake Park is full of water activities. From the Aqua Park floating water world to cable skiing, paddleboarding, and wakeboarding, there is truly something for everyone to enjoy. And this place is where they hold the official Thailand Wake Park Championships annually.
This is the only cable park in the city too. Cable wakeboarding is much safer as the cable is over your head so you are not being pulled by a boat, which can be dangerous. The floating obstacle course aqua park is also amazing with enough activities for all ages. Climbing, sliding, and jumping are all included in the fun.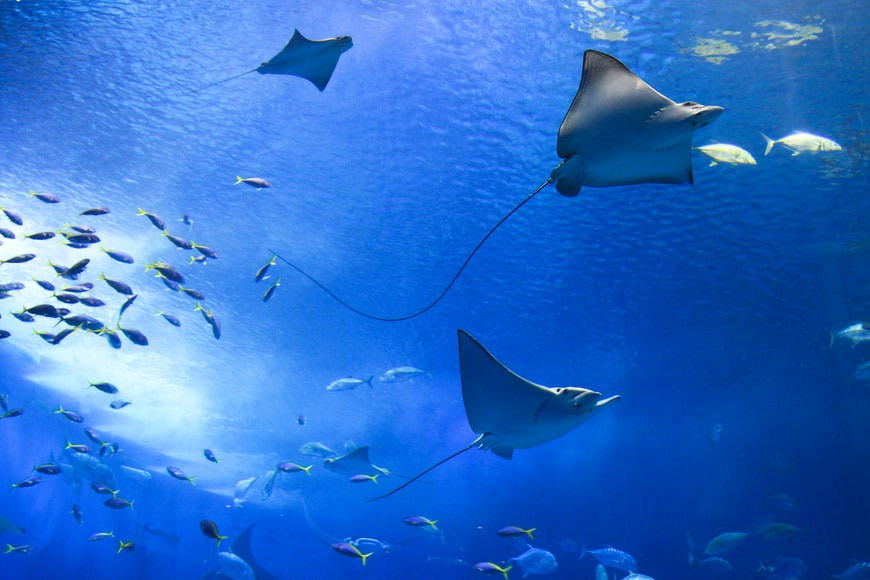 Sea Life Bangkok Ocean World
Whether you and the kids want to dive with the sharks, feed the fish, or explore the rainforest, you can do all that and more at Sea Life Bangkok. The Aquarium Zone features a giant Pacific octopus that weighs about 600 pounds as well as giant spider crabs 12 feet long, jellyfishes, starfishes, and sea turtles.
The shows are exciting too with a shark feeding frenzy, eagle ray playing, and penguin feeding. But the most popular is the Shark Dive for those 13 and up to get face to face with sharks and rays. The Ocean Walker is a trip through an underwater tunnel. And the Glass Bottom Boat is fun for all ages. They even have a 4D cinema.
Children's Discovery Museum
The grandkids (and you) will learn a few things while they play at the Children's Discovery Museum. There are three sections with two acres of indoor and outdoor exhibits to explore. The Taiwan Building is for kids 6 – 12, Rainbow Building is for those under six, and the outside is for everyone.
The Taiwan Building has three floors with dinosaurs, science, an inventor's club, a theater, an art room, and more. The Rainbow Building has two floors including a library, backyard exhibit, and Rainbow City. Outside, the kids can play on the playground and forest adventure and then

cool off in the water park

.
If you want to see more wildlife, head over to Safari World where there are two parks: Safari Park and Marine Park. The Safari Park is a drive-thru that takes you through herds of giraffe, zebras, wildebeest, rhinos, hippos, and ostriches. They also have a separate drive-thru for the lions, tigers, and bears.
The Marine Park features many different shows and experiences. You can see dolphins jump, orangutans boxing, and a spy war show. They even have elephants that dance together. The aviary has a variety of tropical birds as well as a section for kangaroos and wallabies. But don't miss the Tiger Kingdom.
Siam Amazing Park
Because Bangkok is warm all year, the parks are typically open all year and Siam Amazing Park is one of them. It includes both a theme park and a water park including the only suspended looping coaster in Southeast Asia as well as a seven-story waterslide and a humongous wave pool for everyone to play in.
The theme park section has 23 attractions from the Astrofighter to the Twin Dragon. And the Monster is an extreme thrill ride for those over 13. The Jurassic Adventure features a Jeep ride through a dinosaur park and the African Adventure is a train or boat ride around the island to see African wildlife.
Let the imagination run wild at Imaginia where your grandkids can explore, learn, and discover new things. Of course, they will not even realize they are learning because they will be having too much fun. Most of the exhibits and activities are geared toward those from one to 12 years old so everyone has fun.
What is really great about this playland is that it is indoors so you can get out of the heat for a while. There are 19 different zones with three themes including the Dream Jungle, Art Gallery, and the DJ Canopy Station. They can create their own car design, ride to the sky on a bike, and slide through the Time Tube Slider.
Everyone will love Madame Tussauds Wax Museum adventure. It is the only place in the country where you can walk the Red Carpet with Tom Cruise, sit at the president's desk in the Oval Office, strike a pose with Madonna, and hang out with Lady Gaga and Will Smith. And everyone will love the superheroes.
They can get photos with their own Captain America shield next to Captain America, hang around with Spiderman, and touch the sharp claws of Wolverine. Afterward, go see how these figures are made behind the scenes before grabbing some cool souvenirs from the gift shop.
When you are in an unfamiliar city, it can be hard to find kid-friendly restaurants. Try taking them to Grandma's Terrace in Watthana or the Hajime Robot Restaurant where a robot serves your food. And Melange has a variety of kid-approved dishes as well as a pool and playground.
For more on Kids activities in Bangkok click here