Train Travel Thailand
Getting Around Thailand by Train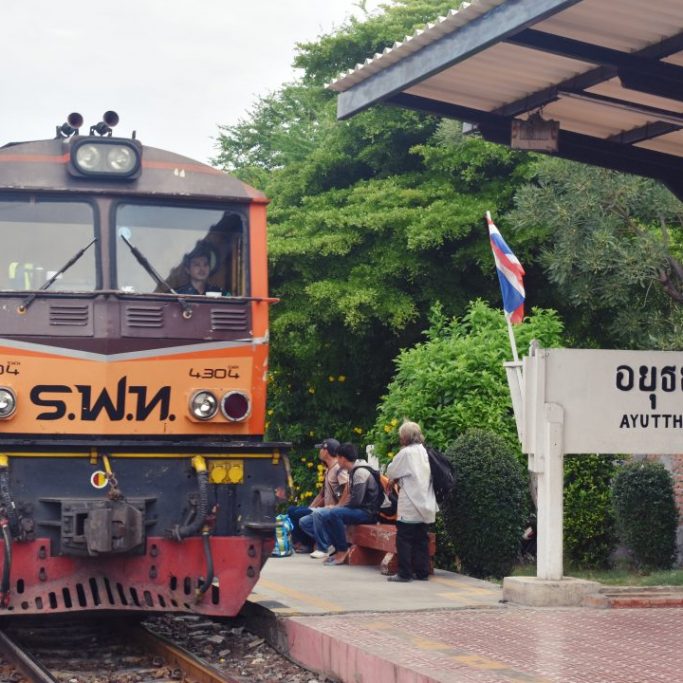 Train Travel in Thailand
Train travel in Thailand is a good way to see the country. Riding a train in Thailand is slower than bus travel but you get a more scenic view of the countryside. There is a good network and Thai trains are comfortable and fares are inexpensive compared to western countries. There are several lines originating from Bangkok Railway Station that cover most regions of Thailand.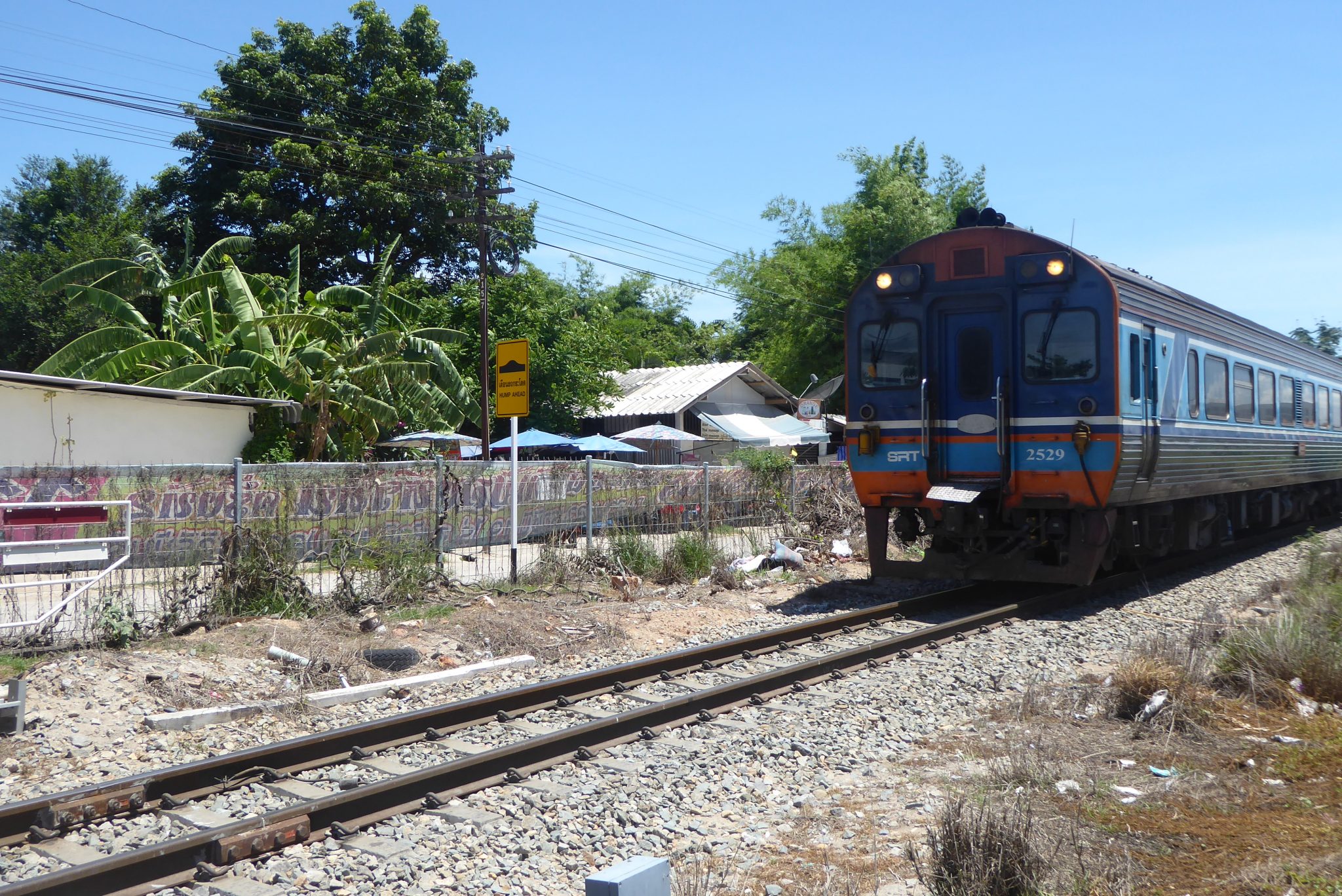 Destinations
Domestic routes leave to all regions of Thailand from Bangkok Railway Station. There are four main lines, northern, north-eastern, eastern and southern. Internationally Thai trains run to the borders of Malaysia, Cambodia, and Laos where you have to cross the border, buy an on ticket and change trains. The Eastern & Orient Express is the only truly International service going all the way to Singapore via Kuala Lumpur. 
Thailand Railway Map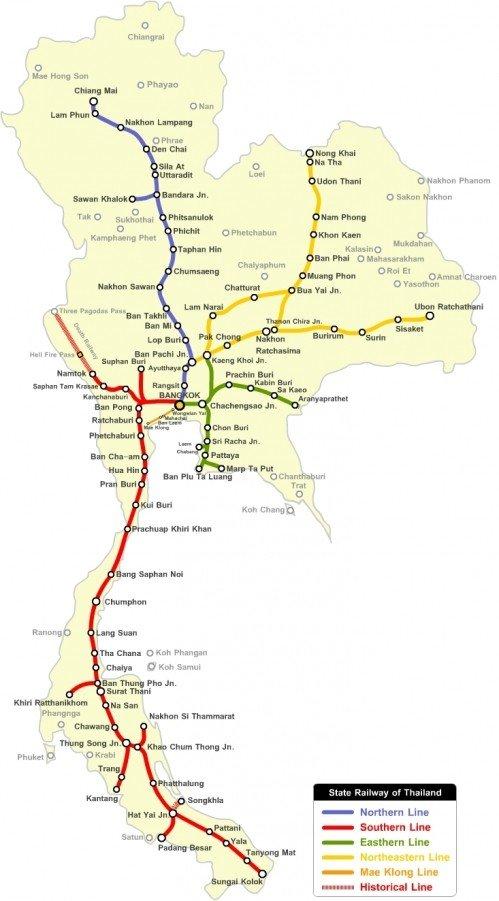 Popular Destinations
The most popular route is the overnight train Bangkok to Chiang Mai. This train is always sold out in advance for sleepers. For the Thailand sleeper train first-class tickets on all routes, you need to book a long way in advance. Click on the links below for schedules, ticket prices, & to make bookings
Other popular destinations from Bangkok are Ayutthaya, Kanchanaburi, Pattaya, Aranyaprathet & Mae Klong (for Railway Market). These are short journeys served by 3rd class trains. 
Click here to check timetables for all train services in Thailand
Thai Trains
Train Travel in Thailand comes in three different classes, first, second & third.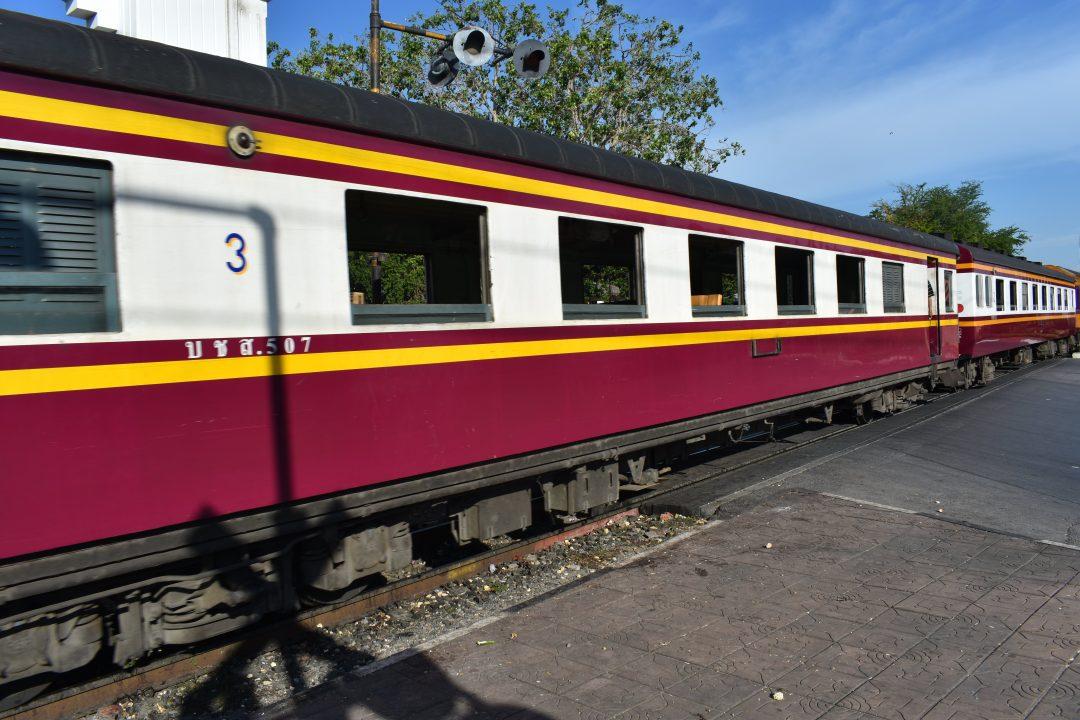 Thailand Sleeper Train First Class 
First-class train travel in Thailand includes a private air-conditioned compartment with private washing facilities. Two people per compartment. Bedding, towels, and soap included. There is a shared toilet and shower in each carriage. Single occupancy is the same price as for two people or you share with another person of the same gender. You need to book first-class tickets at least 30 days in advance and up to 90 days if you want to make sure of getting a seat.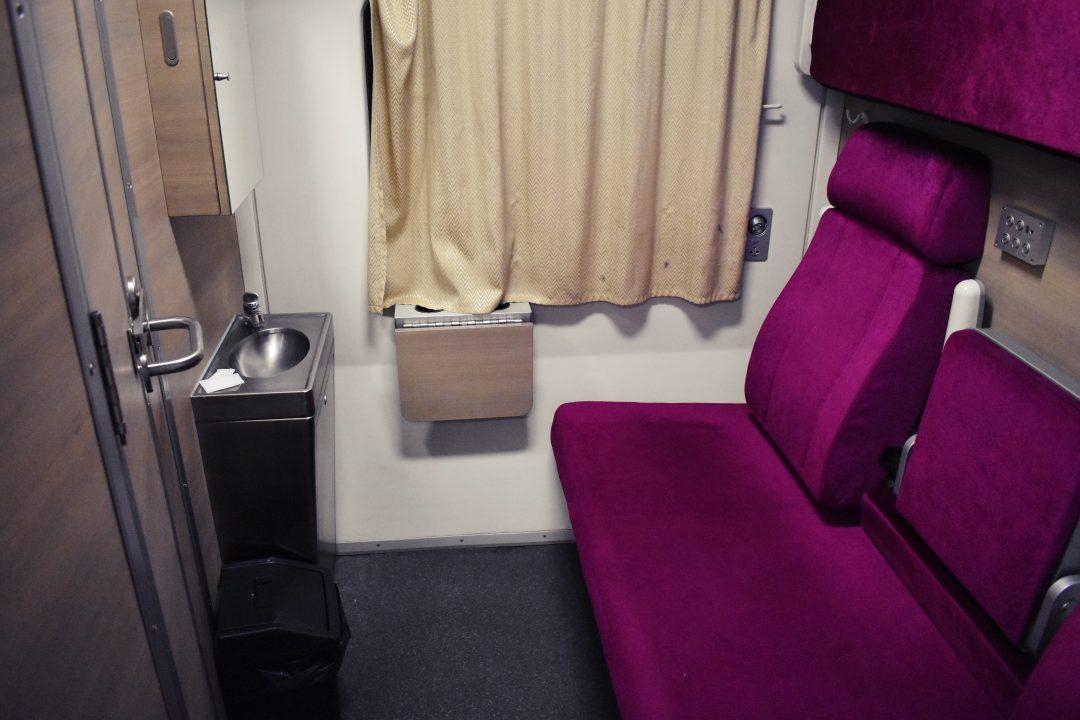 Thailand Sleeper Train Second Class
Second class train travel in Thailand is cheap and comfortable. There are both second class sleeper and non-sleeper carriages. The non-sleeper carriages have four aircraft-style seats in two rows. The sleepers have seats in two rows down the carriage with seats facing each other in the daytime and converted into sleeping bunks at night with an upper and lower berth. A curtain provides privacy and there is storage space for your luggage. The most comfortable trains are special express trains.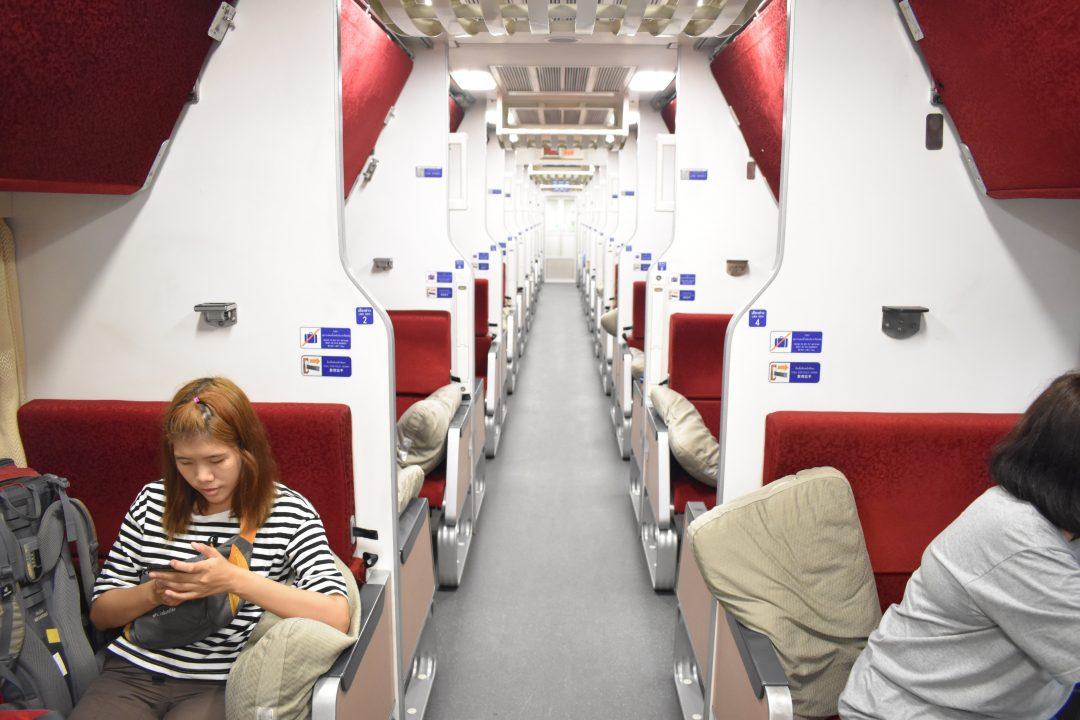 Lower berths are more expensive than the upper berths. There are both air-conditioned and fan second class carriages. There are also second class carriages for women only though. Male children up to the age of eight can travel with a parent or guardian. There are a toilet and washbasin in every carriage. Tickets are easier to get for second class though we recommend you book 30 days in advance for second class sleepers.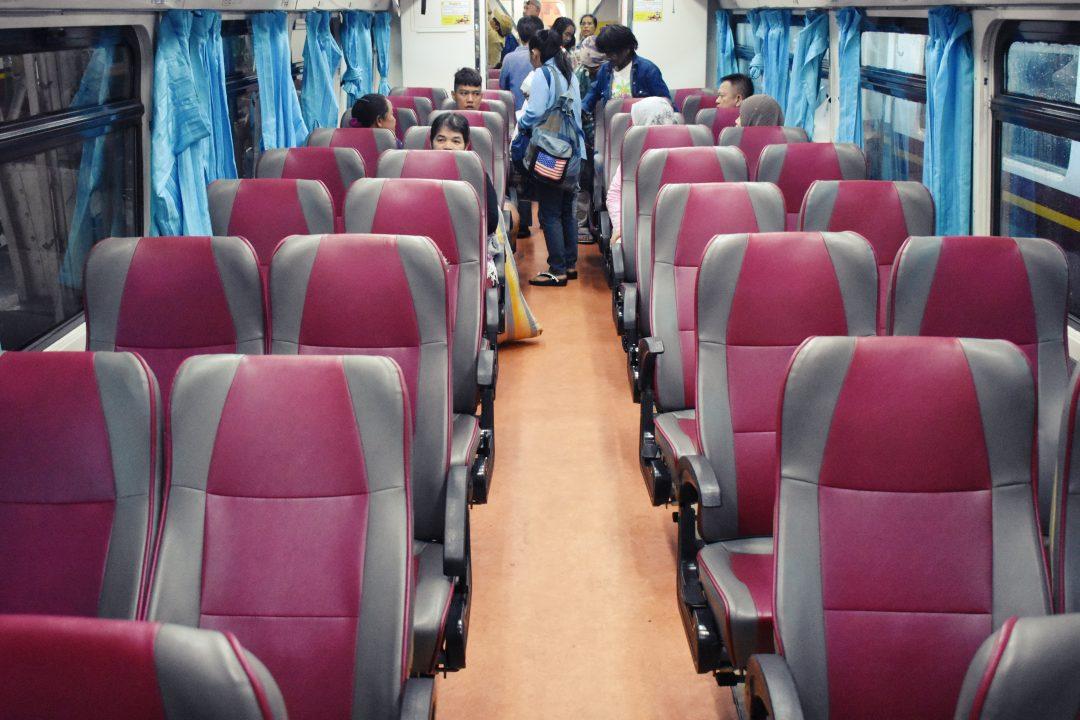 Third Class Train in Thailand
Third class train travel in Thailand is basic but ultra-cheap. The carriages have hard double seats in two rows down the carriage and are fan-cooled though, the open windows give a nice breeze. There are a toilet and washbasin in each carriage. The third class trains make many stops at small stations where vendors enter the train to sell snacks. The third class carriages are usually crowded but incredibly cheap. There are no free trains in Thailand. You buy your ticket on the day of travel. There is a seat number on your ticket but people tend to sit where they want. However, if you sitting in somebody else's seat they can ask you to move. In practice, this is only enforced when the train is full.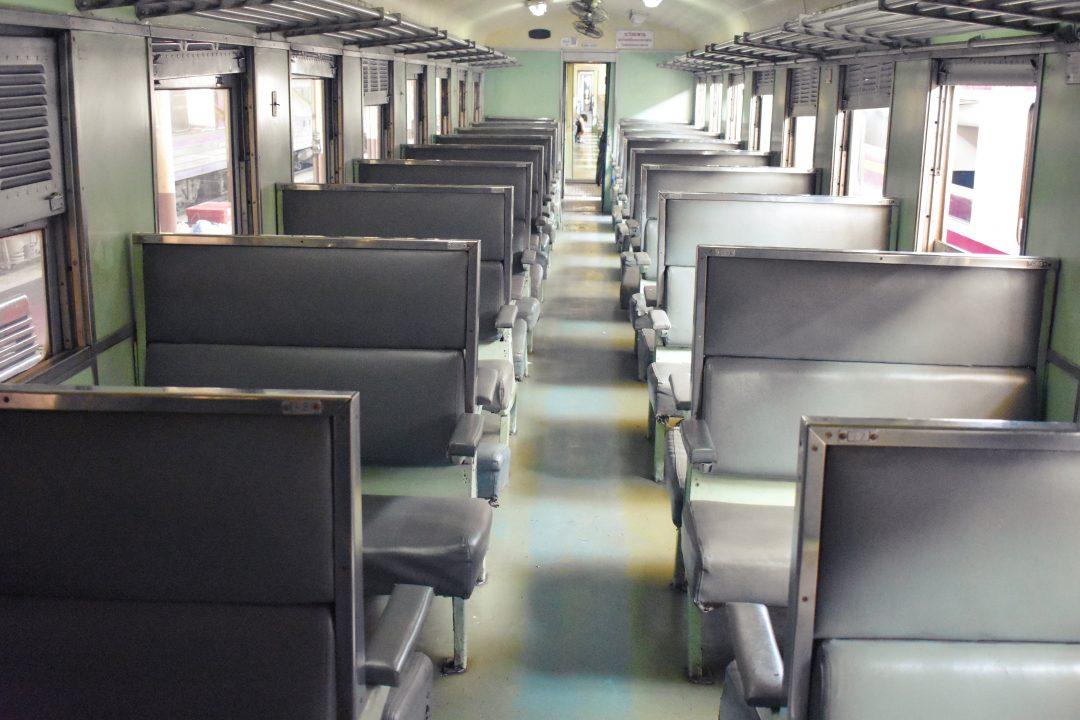 Thai Trains Services & Rules
The first and second class trains from Bangkok Railway Station to Chiang Mai, Hat Yai, and Nong Khai have restaurant cars where meals cost 100-200 baht. You can bring your own food but you can not consume alcohol on Thai trains. Pets are only allowed on Thai trains in second class fan & third-class carriages.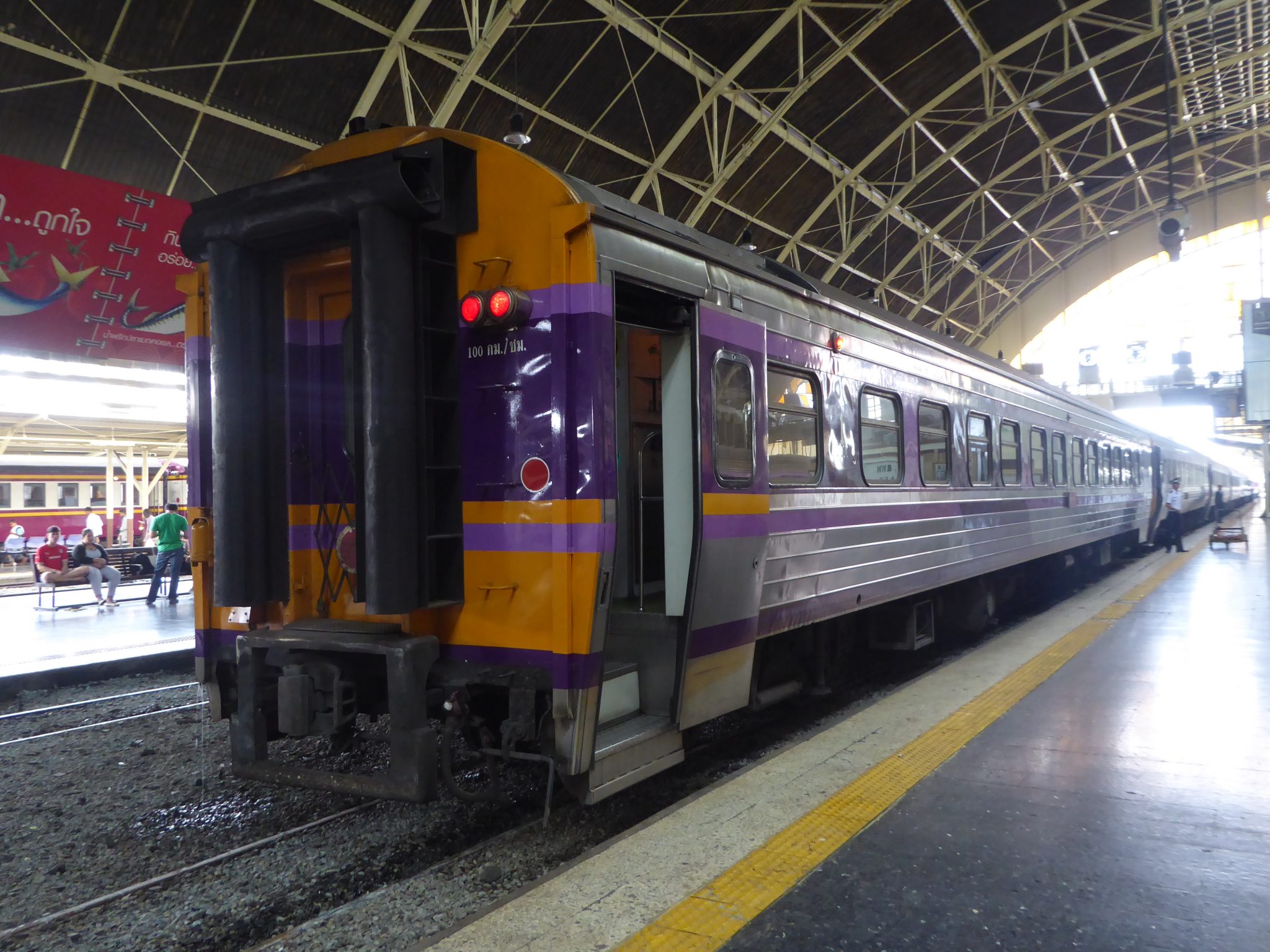 Thailand Train Ticket
The ticket windows at Bangkok Railway Station are either side of the departure board and are open from 05.00-23.00 daily. The staff can communicate in basic English and you can book advance tickets and buy same-day travel tickets. They accept Credit cards. You will need your passport to buy tickets.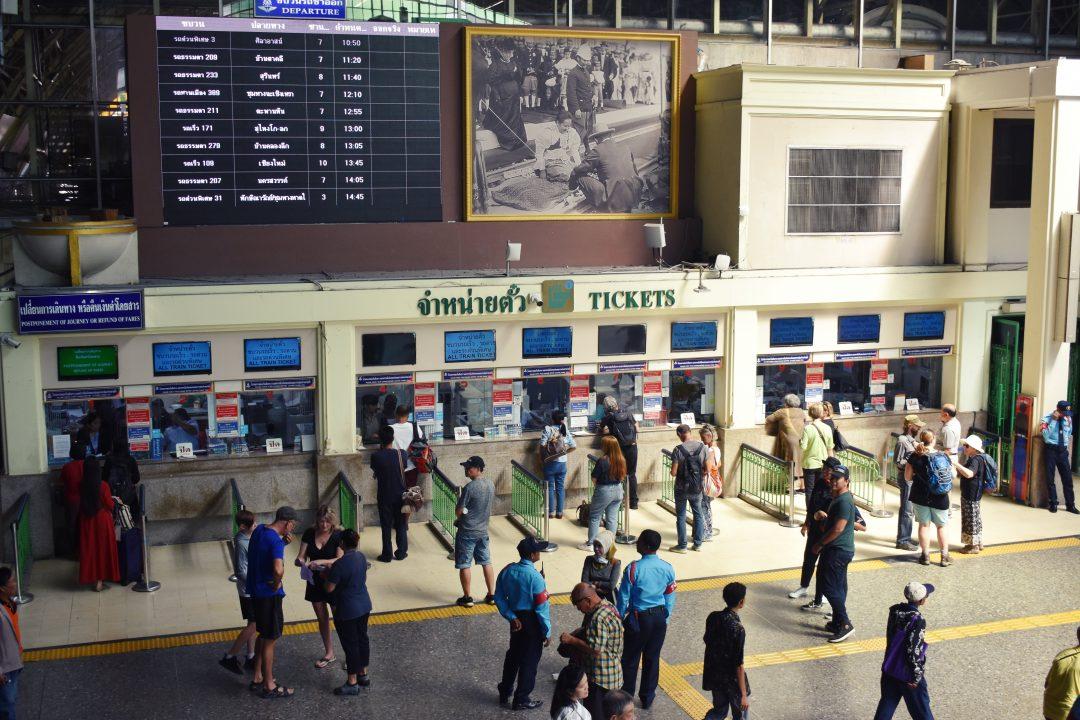 Book Thai Railway Ticket Online
Getting tickets for train travel in Thailand can be difficult. First-class tickets are usually booked up months in advance. Second class tickets are also usually booked up in advance during the peak season. If you want to book train tickets online you can search and make reservations with 12go Asia using the form below. You can book tickets for up to a year in advance compared to three months in advance at the ticket office. Accepted payment methods are debit/credit cards & PayPal. You can not buy third-class tickets online. As well as tickets for rail transport in Thailand you can also book tickets for rail travel in other Asian countries.
International Trains
Thailand to Malaysia Train
If you are traveling to Malaysia you can take a train to Sungai Kolok and cross the border to Kota Bharu on the eastern side. You can continue from there to Kuala Lumper by train.  On the western side, you can take a train to Padang Besar. The Thai train no longer crosses the border and on to Butterworth as in the past. You now can only buy a ticket to the border. You then have to cross the border and buy a new Malaysian railways ticket to your destination or you can buy one in advance online.
Train Thailand to Cambodia
There is no direct train service from Thailand to Cambodia at the moment. You can take a train from Bangkok Railway Station directly to the border. Trains depart from Hualamphong Station daily at 05.55 & 13.05 arriving at the border at 11.17 & 17.20. The fare is 48 baht. You will then have to cross the border on foot. Poipet Railway Station is just across the border on the right-hand side after the roundabout. 
Poipet Railway Station Map
The train from Poipet to Phnom Penh departs twice a week on Monday & Saturday. Departure time is 07.00, arriving in Phnom Penh at 18.40. The train stops at Pursat & Battambang. In the other direction, the train departs Phnom Penh on Friday & Sunday leaving at 07.00 and arriving at Poipet at 18.40. The fare is $7. The train has air-con & Wifi. You can only buy tickets at the station. 
Train Thailand to Laos
If you are traveling to Laos you can take a train to Nong Khai. At Nong Khai, you can change to a Laos shuttle train that takes you across the border to Thanaleng Station. The train goes no further and you take a minivan onwards to Vientiane. Only train 25 connects with the shuttle train. If arriving on other trains, you take local transport from the train station across the border and on to Vientiane. There are three overnight trains from Bangkok. The cheapest fare is by third class on train 133 which departs at 20.45 daily. Train 25 departs at 20.00 & Train 77 at 18.35. The journey time is 10 to 12 hours. You can check availability & book tickets using the form below.
The Eastern & Oriental Express
The Eastern & Oriental Express train runs between Bangkok & Singapore. It is a luxury train Tickets are from 3200-11400 US Dollars per passenger for a Bangkok-Singapore ticket depending on the class of cabin.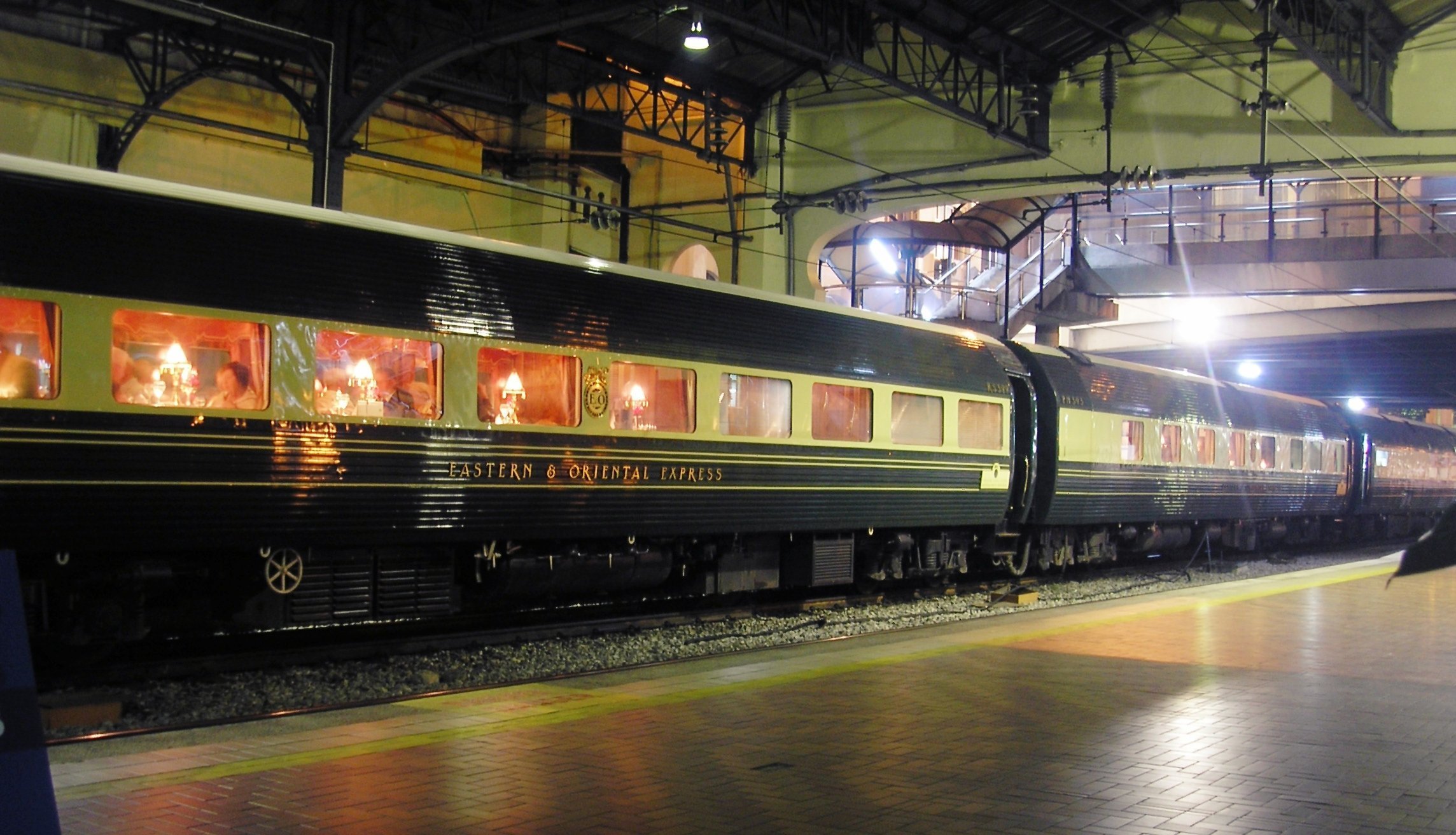 The Journey time is three days with various cultural tours on stopovers such as the Bridge on the River Kwai included. Breakfast, Dinner & Lunch are included as are all standard drinks. Champagne is 98 dollars per bottle. Bookings can be made here.
Bangkok Railway Station
All International and long-distance Thai trains depart from Bangkok Railway Station (Hualamphong Station) which is centrally located at the edge of Chinatown. Bangkok Railway Station connects to the MRT subway station of the same name by an underground walkway. If you're not traveling the 100-year-old Italian designed station is worth seeing to admire its classical architecture. A short walk from the station is the railway offices which have exhibits such as old train engines & carriages. Worth the short walk if you want to know more about the history of rail transport in Thailand.
Bangkok Railway Station Services
Inside Bangkok Railway Station, you will find foreign exchange kiosks, ATMs, fast food outlets, a cheap Thai food court, a minimart, shops, a 24-hour information booth, toilets, showers, a ticket office and left luggage facilities. There is a Muslim prayer room on Platform 4. You can also get a cheap haircut on Platform 12! The nearest 7-11 is just across the road from the main entrance.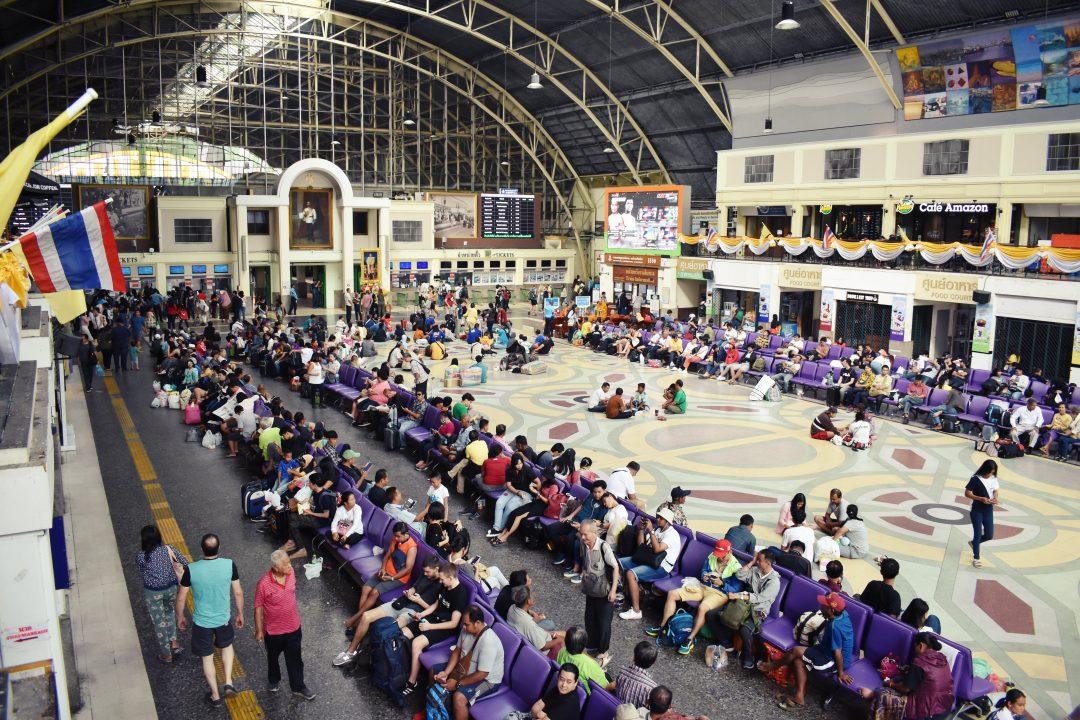 Bangkok Train Station Luggage Storage
The left luggage office is open daily from 04.00-23.00 and officially charges 20-80 baht per item (depending on weight/size), per 24 hours. However, many tourists report being overcharged, not being given receipts and rude staff. The office if just inside the main entrance on the left-hand side. As with any luggage storage place anywhere in the world secure your bag with a lock.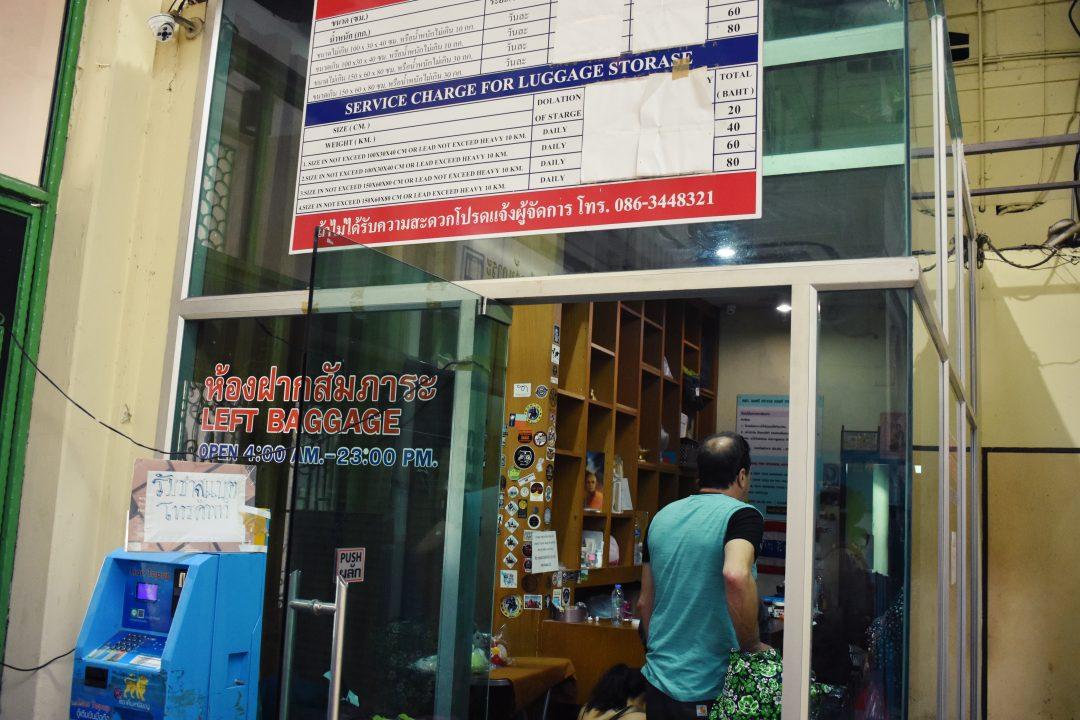 Bangkok Train Station Food
There is a cheap Thai food court in the station waiting area. It is on the right-hand side after entering the main station entrance. There is a selection of pre-cooked dishes with rice from 35-55 baht.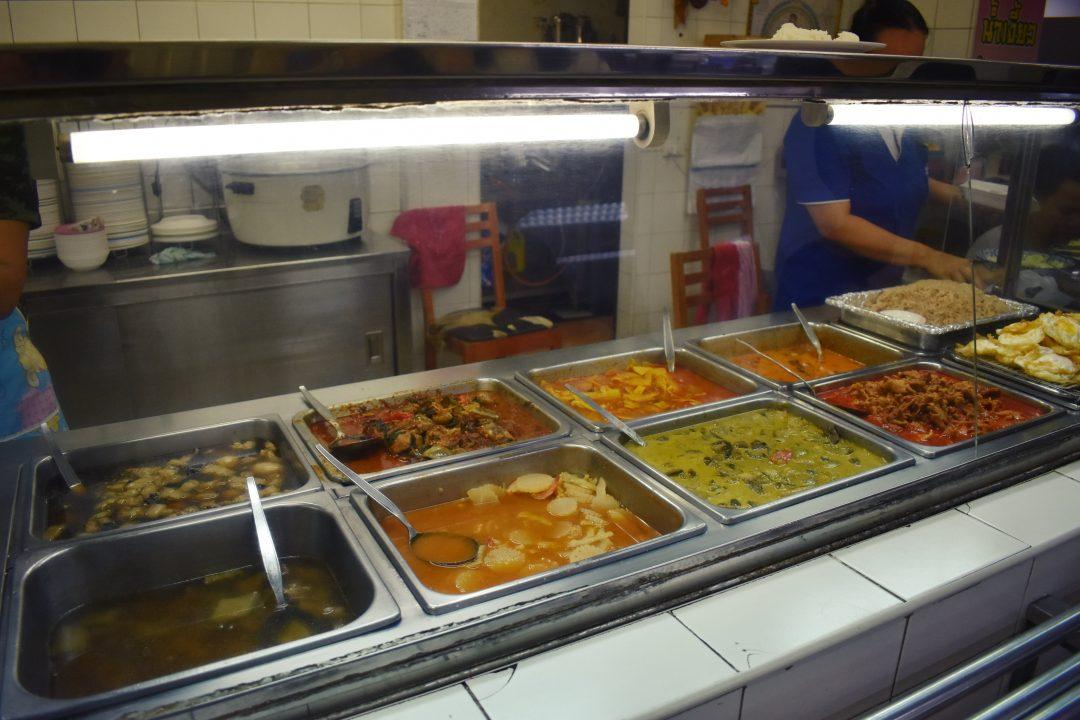 Bangkok Train Station Cafes
If you want a decent coffee or some western-style bakery head up to the first-floor balconies where you will find Cafe Amazon & Black Canyon facing each other. Cafe Amazon has excellent coffee at half the price of Starbucks. Black Canyon serves a small selection of hot meals & has a nice fresh bakery cabinet with croissants, pastries & pies. For junk food freaks there is a Dunkin Donuts stand underneath Black Canyon.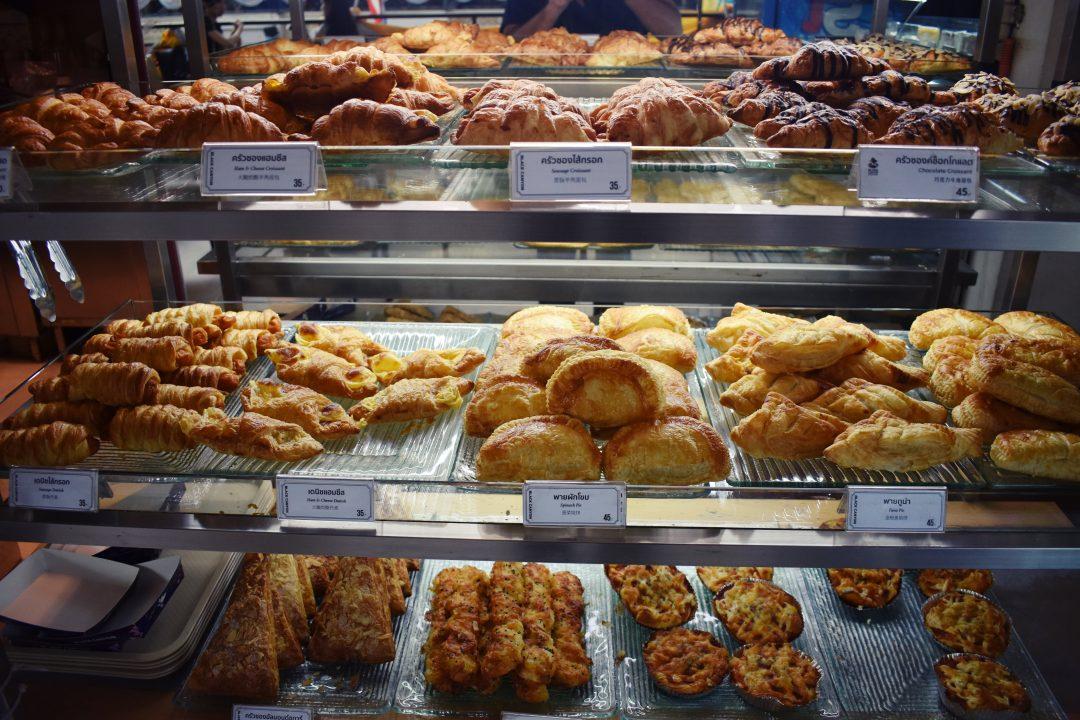 If you want a more substantial meal with a beer, there are a trio of small cafes & a Hong Kong Noodle joint just across the road from the front entrance next to the 7-11. Food from 70 baht. Just behind these is Zaap Paak, a bit nicer in a shady garden setting that serves spicy Thai food The entrance is next to the MRT. There is also a Starbucks on the ground floor of Chic Hostel which is just across the canal from the Station.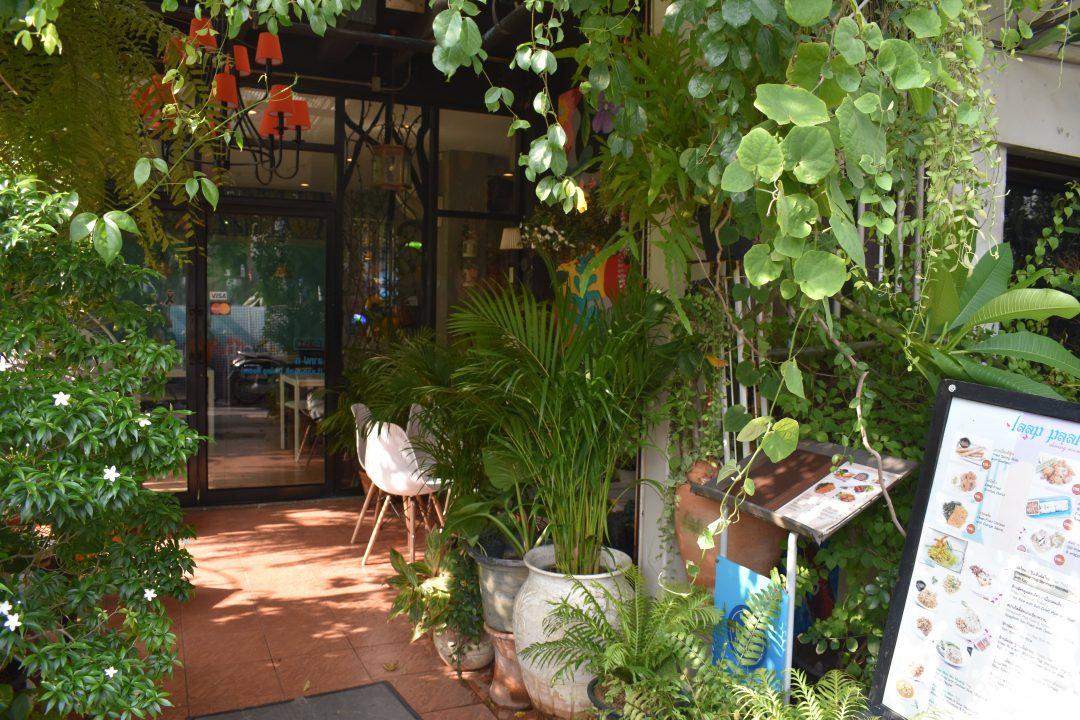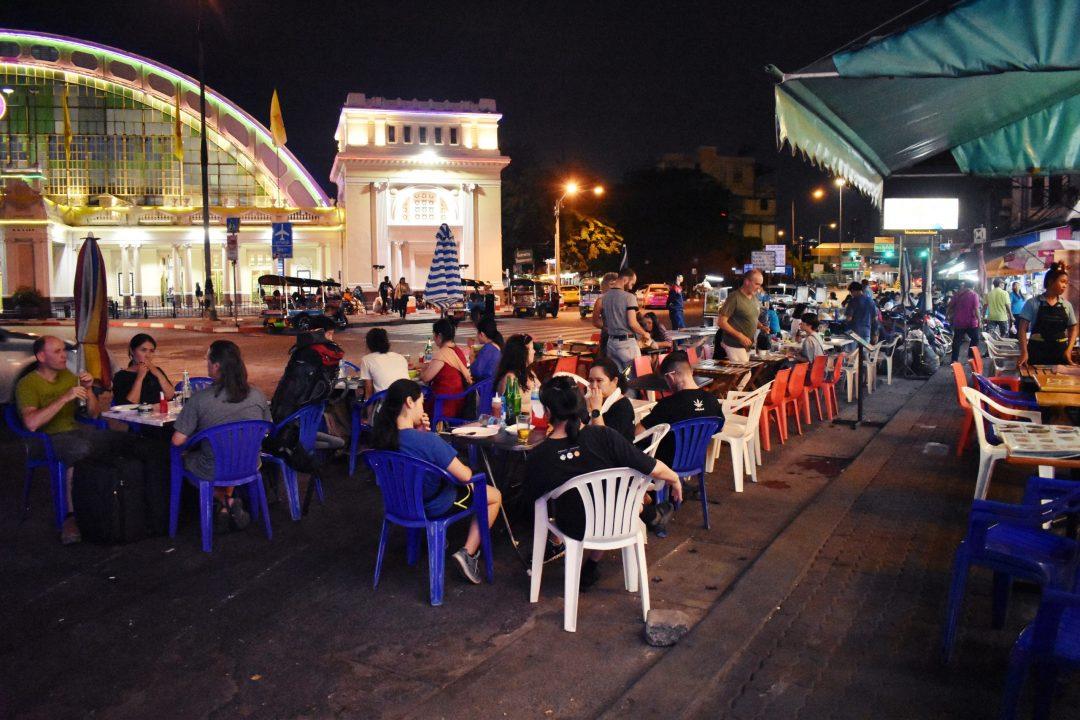 Haircut? Sir!
If you need a haircut before heading off to your next destination, you are in the right place. Platform 12 of Bangkok Train Station is an open-air barbers/hairdressers. This is where locals stop on their way to or from work or travel. It's cheap and quick. Basic cuts for both men and women.
Tourist Information
There is an official tourist information booth just outside the station. They can help you with information and a free Bangkok map. Opening times are limited. They do not have information on train travel in Thailand.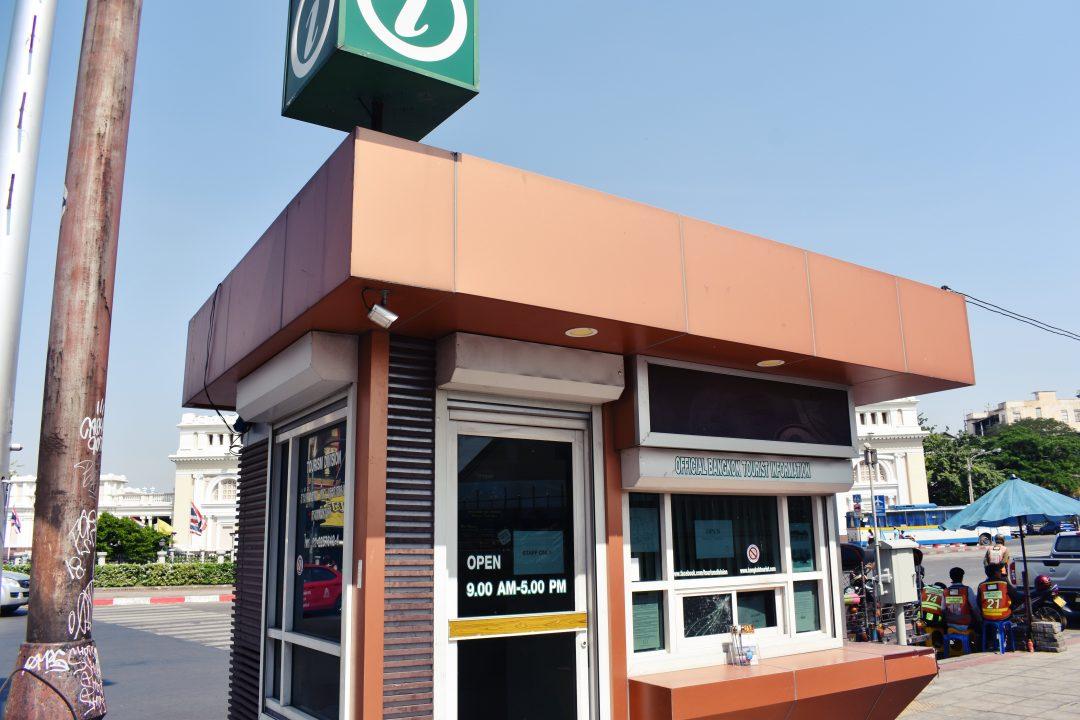 Train Travel Thailand Scams
Ignore official looking touts who may approach you inside or outside Bangkok Railway Station who try to redirect you to travel agent's offices to buy your ticket. It will be a lot more expensive or they will transfer you to a crappy bus. Only go to the official ticket office or buy online from a reputable booking agent.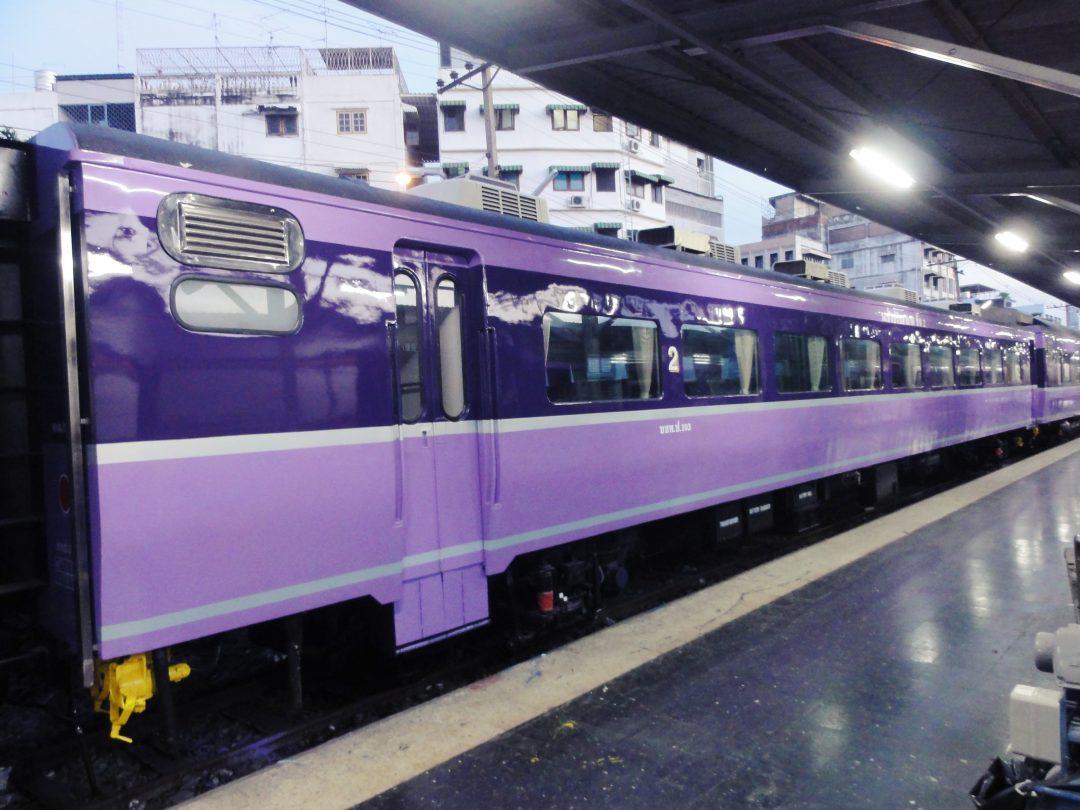 Hualamphong Station Hotels
There are five hotels & two hostels within a few minute's walk of Hualamphong Station. These are useful if you have an early morning departure or will arrive late in the evening. Click on the highlighted links below to check availability & latest prices with Agoda. Agoda price match & have free cancelation/free date change & pay later on most rooms.
What to do in Hualamphong?
If you are wondering what to do in Hualamphong before catching your train, there are plenty of nearby activities. There are several good restaurants near the station and Chinatown and its great street food are only a 10-minute walk away. Sightseeing wise Wat Traimit is a five-minute walk from the station and there are lots of Chinese style temples and shrines to explore. If you are looking for a shopping mall, the new Sanyan Midtown is one MRT stop away at Samyan.

Thai Railway Museum
The Thai Railway Museum is worth a look if you are a train enthusiast or have some time to kill before catching your train. The museum is not well advertised but can be found to the left of the station entrance opposite the entrance to KFC. Inside you will find displays of items up to a hundred years old charting the history of train travel in Thailand. There is no English language information though the museum attendant can explain some things. The displays feature a collection of old Thai train tickets, ticket machines, a working points machine, antique station furniture, ceramic dining plates used on royal trains, lanterns, telephones, model trains and more. The museum is open from 10.00-18.00 from Thursday to Saturday. Closed on Thai Holidays. Free admission.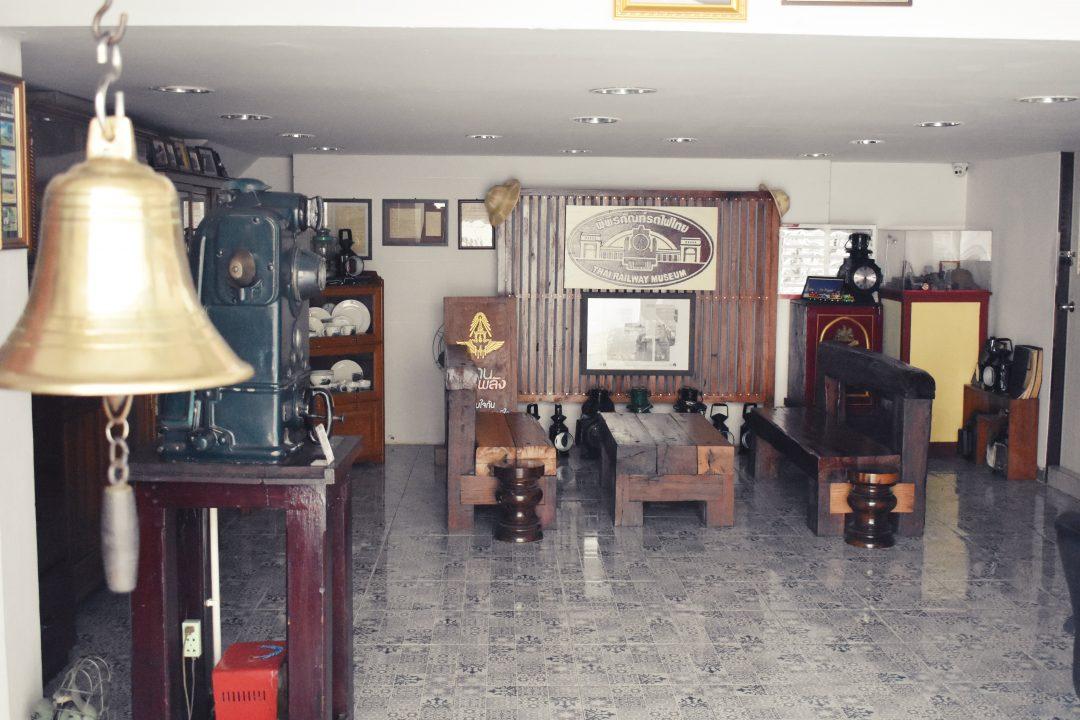 Thai Train Outdoor Museum
A short walk from the station is a small outdoor museum featuring some old train carriages while the State Railway of Thailand has a couple of old steam engines. 
There is a local community library & work center inside one of the carriages. The inside of the carriages is decorated with old photos, books & original train furnishings. One of the carriage exteriors has been painted with the national flags of all ten ASEAN countries along with figures saying "Hello" in each language. Another is decorated with well-known symbols of Thailand. One interesting item is an armored carriage resembling a tank on rails possibly Japanese from World War 2.  The setting is pleasant in a shady garden with lots of trees and some seating. The museum is open from 08.30-16.30 daily. Admission is free.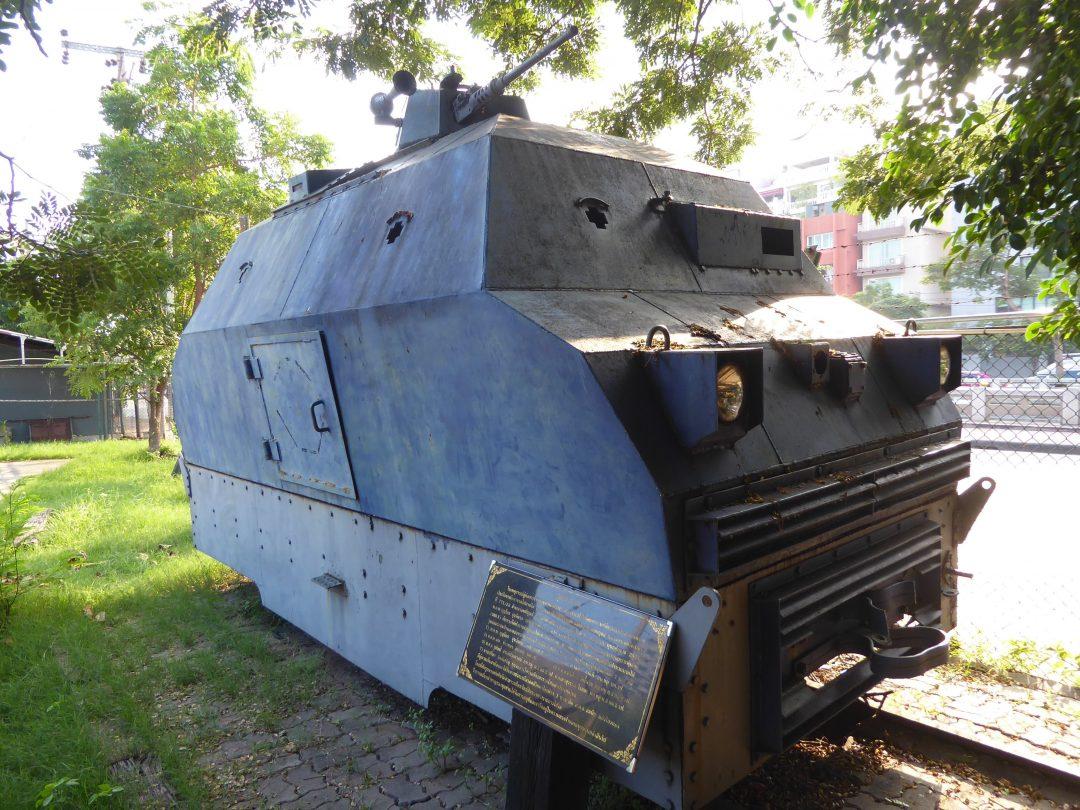 To get there, walk down Krung Kasem Road on the left-hand side of the station, with the tracks to your right. You will pass the State Railway of Thailand building, the museum is a short walk further on. The State Railway of Thailand Building has some old steam engine Thai trains on display in the courtyard.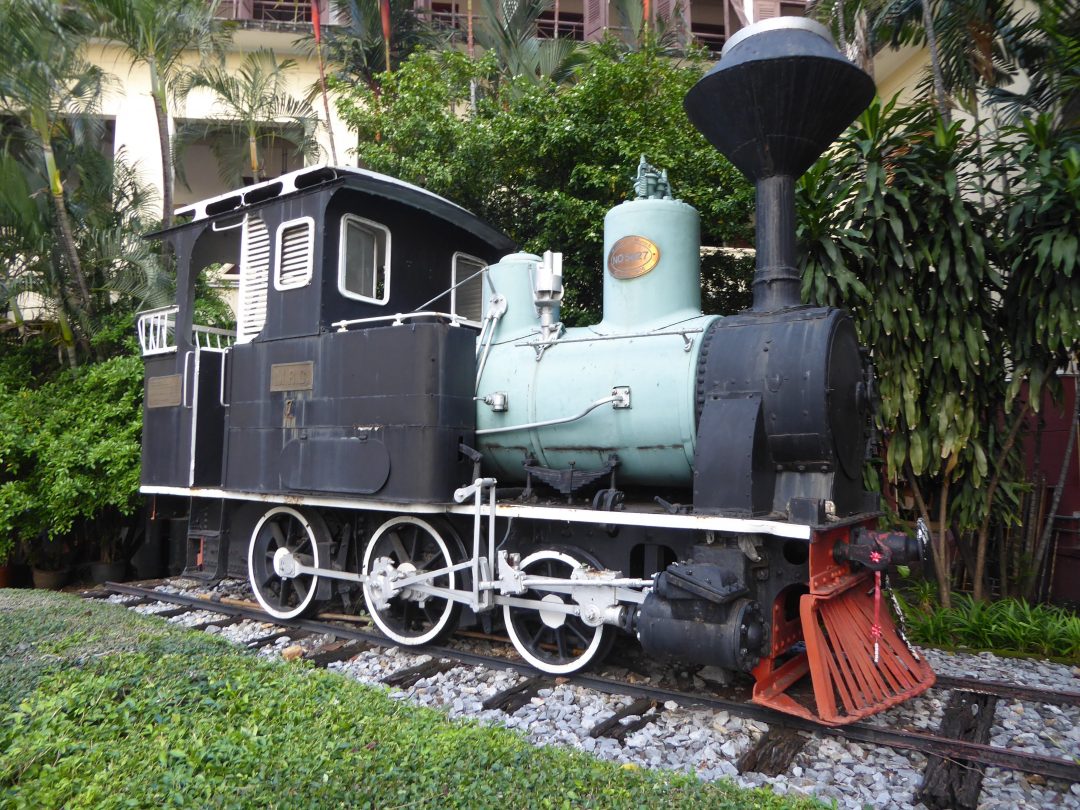 Where is the Bangkok Railway Station?
Address: Rama IV Road, Rongmuang, Pathumwan, Bangkok.
Opening Hours: The Bangkok Railway Station is open 24 hours, but not all of the facilities.
Getting There: MRT Hualamphong Station (exit 2). Bus, from Khaosan, take bus 53 from Phra Athit Road.
Getting Away: We recommend you take the MRT if possible. There are taxis & tuk-tuk at the side of the station just past platform 12. If you take a taxi make sure they use the meter. If they won't, walk out to the main road and stop a passing one. You have to negotiate the tuk-tuk fare with the driver.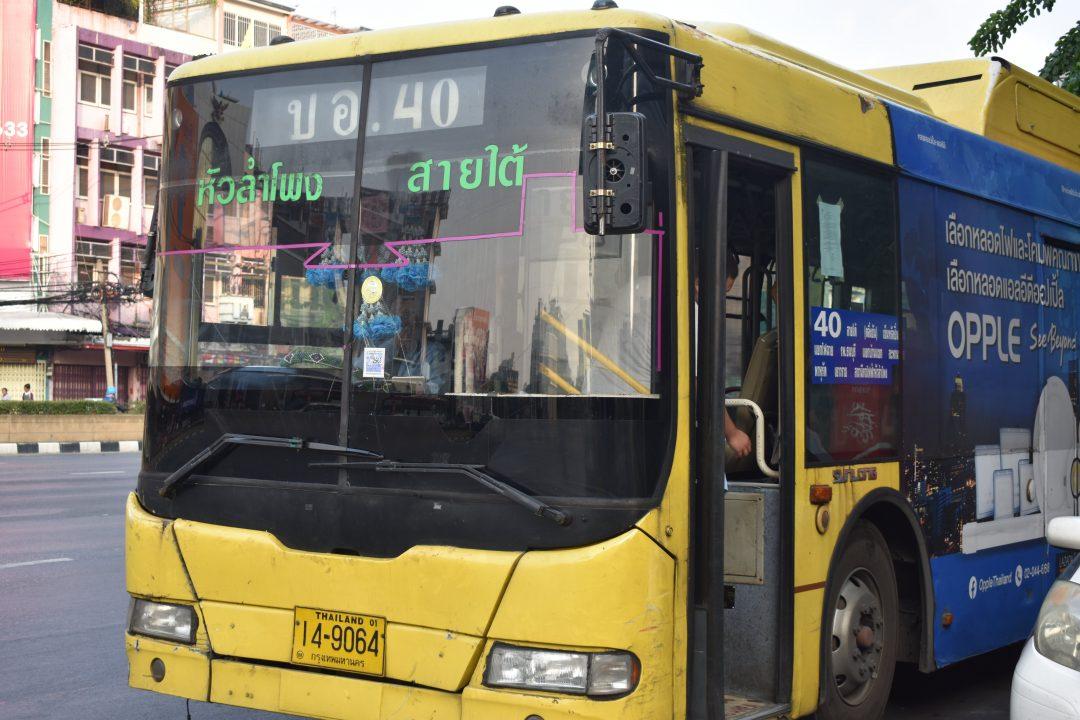 Bus: Take Bus number 40 if you want to go to Yaowarat Road in Chinatown. You catch this bus outside the SK Boutique hotel opposite the station. Bus Number 49 departs from a stop next to the canal at the side of the station. This bus passes Wat Saket from where you can walk to Khaosan Road in 10 minutes. Bus number 53 goes to Phra Arthit Road in Khaosan. You catch it from the bus stop at MRT Hualamphong exit 4 or opposite Wat Traimit. For Siam & Sukhumvit take bus number 40 from MRT Hualamphong exit 4. From the same stop take bus number 4 to Silom.
Bangkok Train Station Map: 
Don Muang Railway Station
The Don Muang Railway Station is opposite the International Terminal of Don Mueang Airport. The station is connected by a sky bridge from the departures level of the terminal.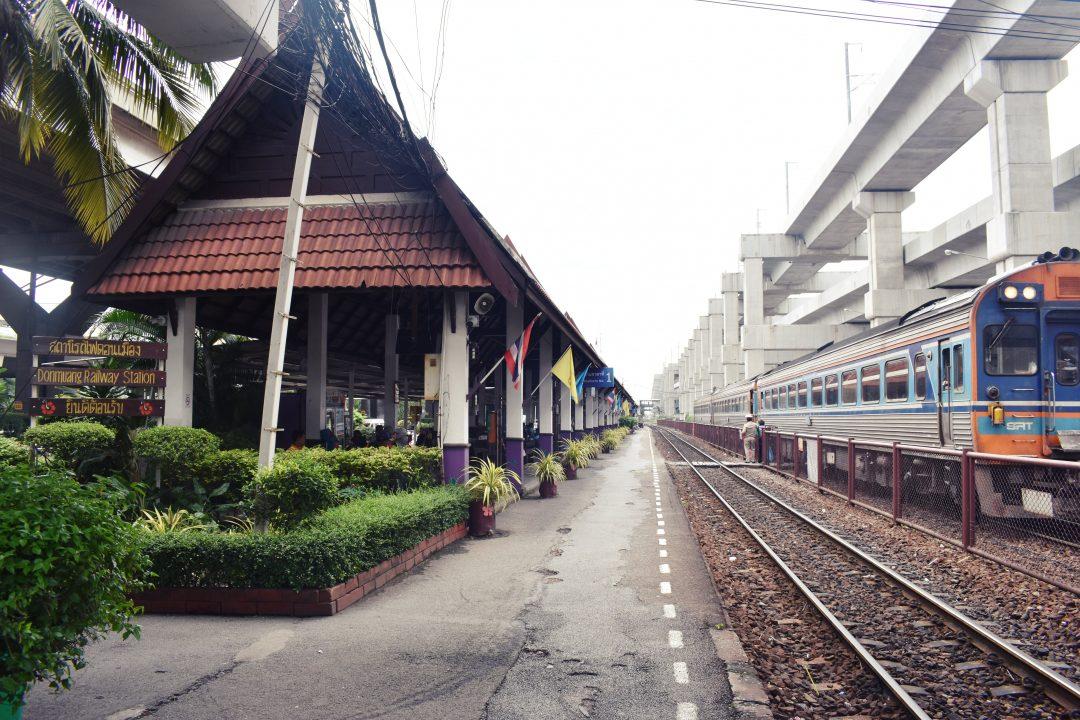 All Thai trains running on the northern & northeastern lines stop at the station. If you arrive at the airport and are planning to travel by train to Ayutthaya, Lopburi, Nong Khai or Chiang Mai, the station is a convenient place to board the train. There are two platforms, Platform 1 for trains to Hualamphong Train Station & Platform 2 for trains heading out of the city. Donmuang Railway Station has two ticket offices where you can buy tickets for immediate travel or make an advance booking. There is a small snack shop & a left luggage office at the station.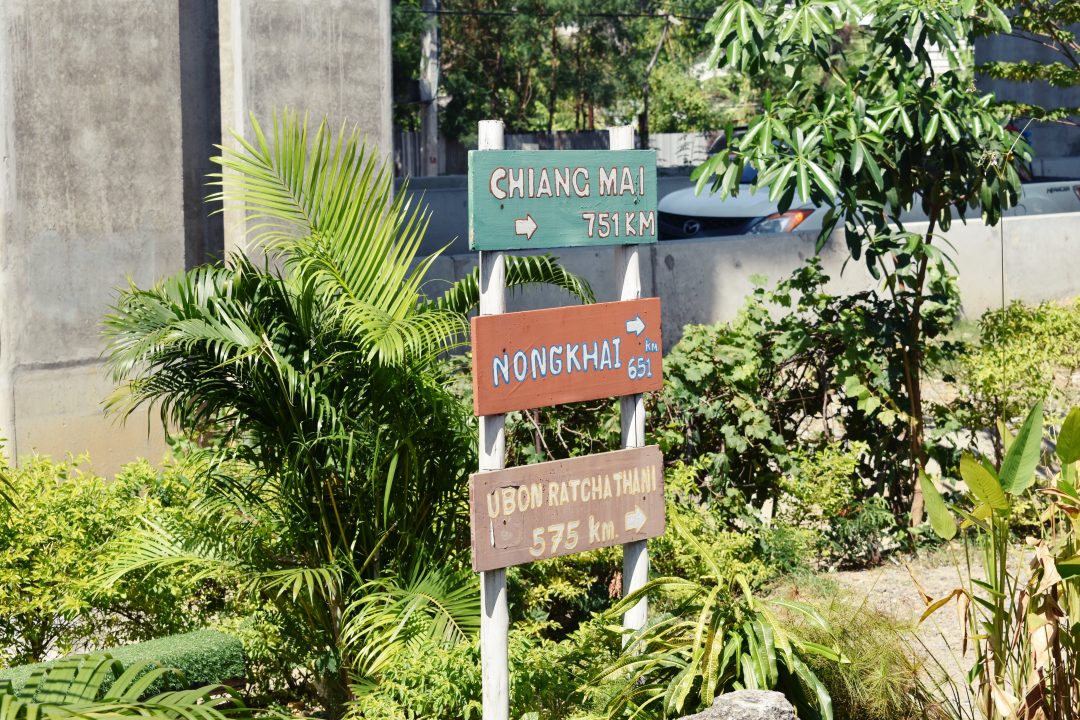 Don Muang Station to Ayutthaya
Bangkok to Ayutthaya is one of the most popular day trips by train from Bangkok. There are 32 trains a day to Ayutthaya with tickets starting at 11 baht for a 3rd class ticket on an Ordinary train, 24 baht for a Rapid train up to over 300 baht for the special express train.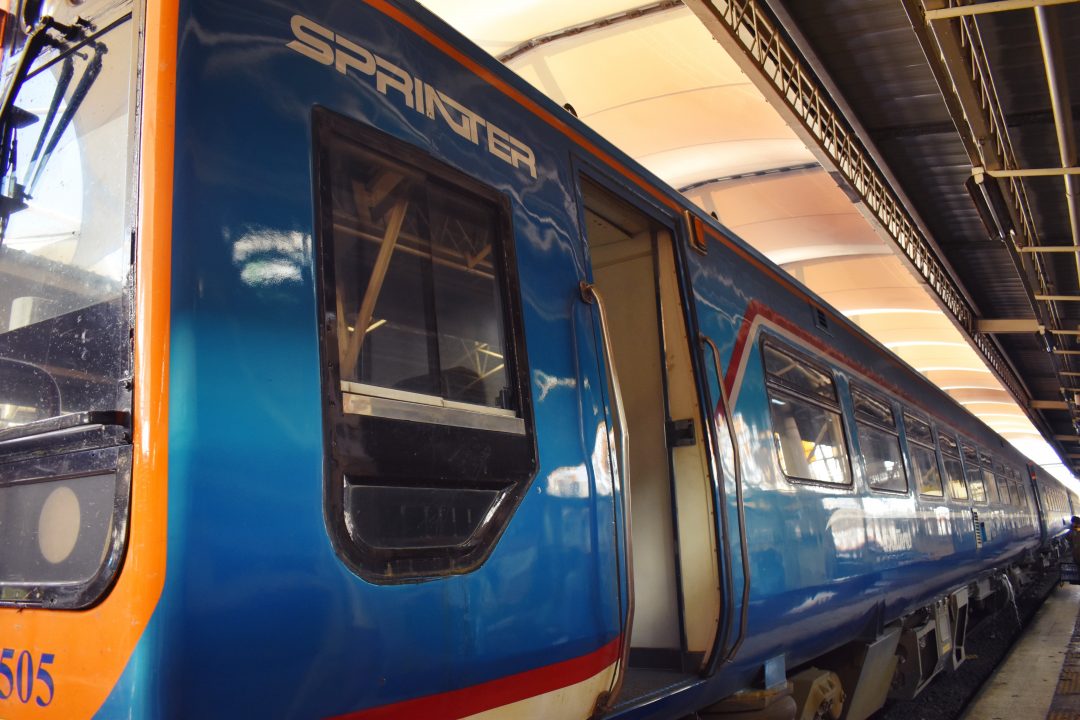 Don Muang Station to Hualamphong
There are 32 trains a day to Hualamphong with tickets starting at 5 baht for a 3rd class ticket on an Ordinary train making it the cheapest way to get into the city.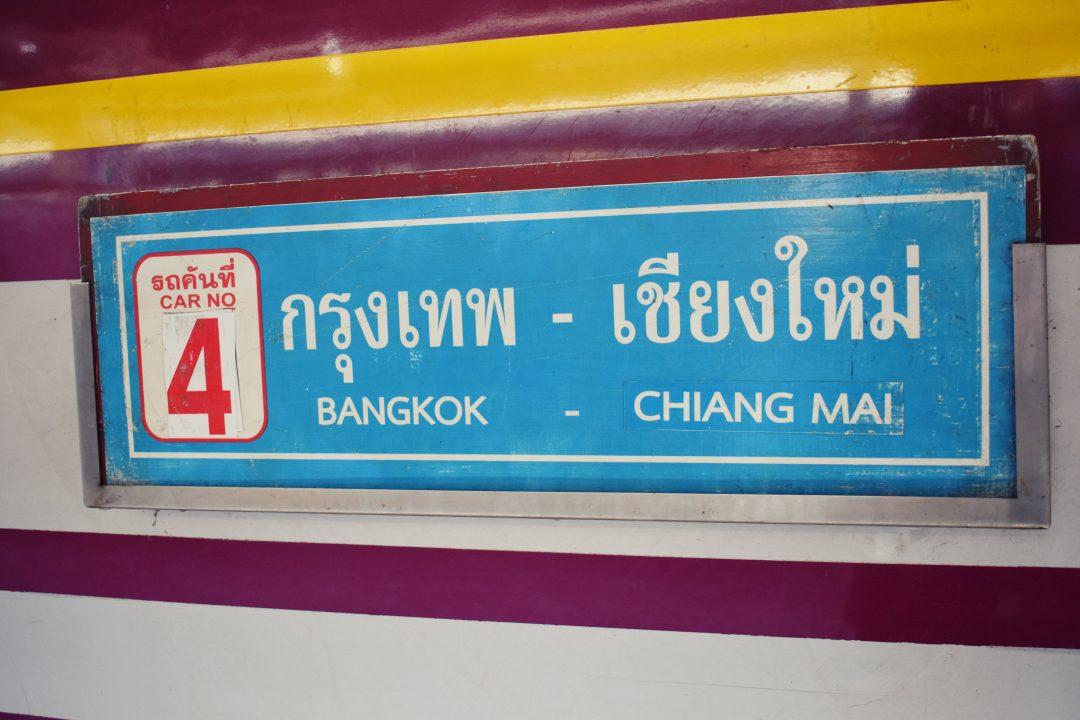 Don Muang Station to Chiang Mai
There is only one 3rd class train a day to Chiang Mai departing at 14.34, arriving at 04.05 the next day. The fare is 228 baht, but expect to have a long, uncomfortable journey. It is unlikely that you will be able to buy a first or second class ticket for the other departures without booking in advance. 
Click here to check timetables & fares
Thonburi Railway Station
Thonburi Railway Station is located on the Thonburi side of the Chao Phraya River just behind Siriraj Hospital. It is easy to get to from Khaosan Road, taking the Chao Phraya Express Orange flag boat from Phra Athit pier to Thonburi Railway pier. The station is also accessible by MRT. The new Bang Khun Noi station is 600 meters away but is only open from 10.00-16.00 at the moment.
There are only a handful of trains departing with services to Kanchanaburi, Nakhon Pathom, Ratchaburi, Namtok, Hua Hin, Chumphon & Prachuap Khiri Khan. 
Thonburi Railway Station to Hua Hin & Chumphon
There are two daily departures at 07.30 & 13.05. The journey takes 4.5 hours and calls at Nakhon Pathom, Ratchaburi, Phetchaburi, Cha-Am, Prachuap Khiri Khan & continues to Chumphon. The later journey terminates at Prachuap Khiri Khan. The trains are 3rd class only and a Hua Hin train ticket is just 42 baht. The fare to Chumphon is 80 baht but it's a 10-hour journey arriving at 16.55.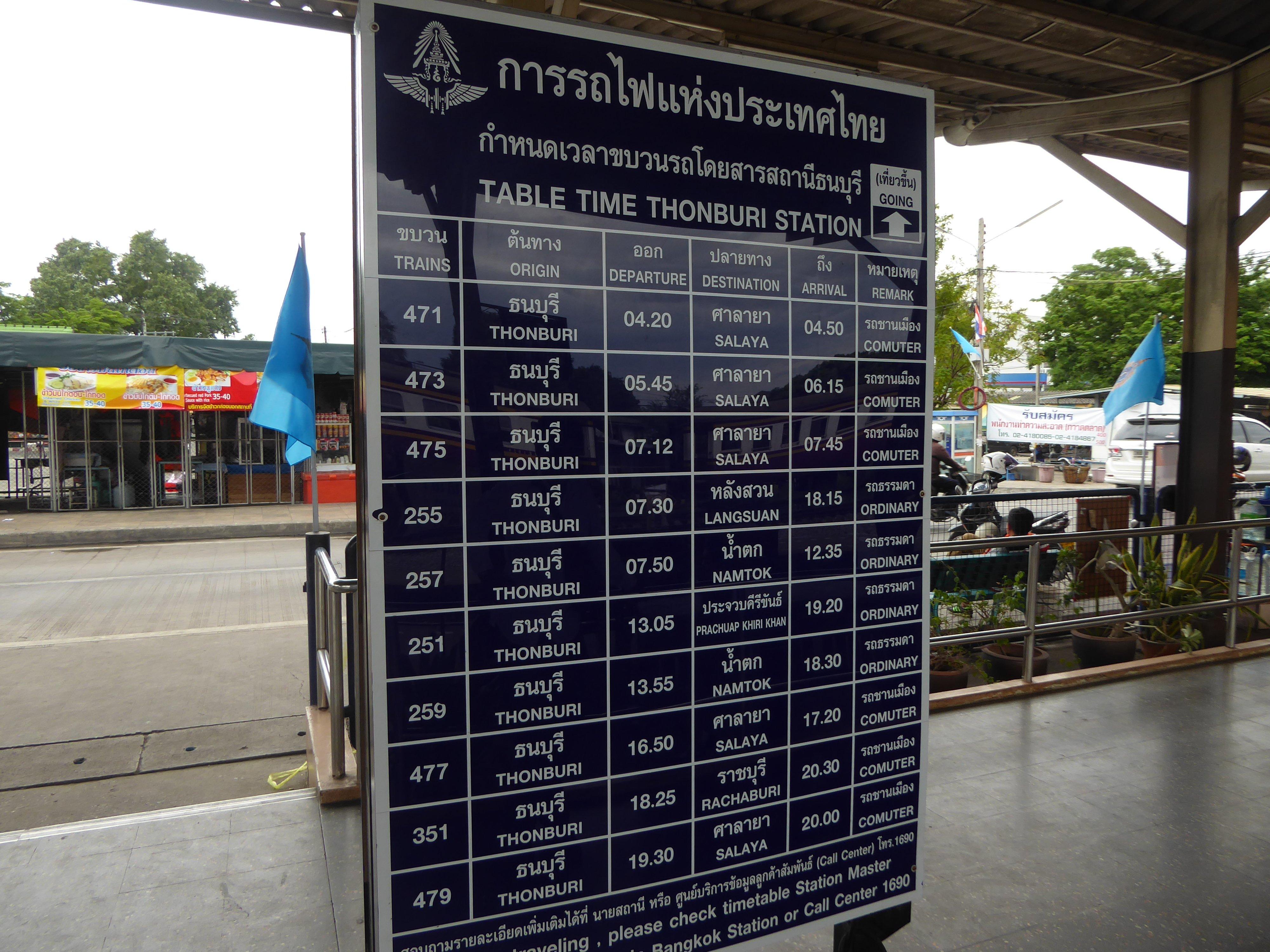 Thonburi Railway Station to Kanchanaburi
There are two daily departures at 07.50 & 13.55. The journey takes 2.5 hours and calls at Nakhon Pathom, & continues to Namtok. The trains are 3rd class only and a ticket to Kanchanaburi is just 25 baht. There is no advance booking. This is how to get to the death railway from Bangkok. The journey to Kanchanaburi & on to Namtok is one of the best train journeys in Thailand.
Thonburi Railway Station Map
You May Also Like
Popular Pages on Tourist Bangkok