Loy Krathong in Bangkok
Where to celebrate Loy Krathong in Bangkok 2020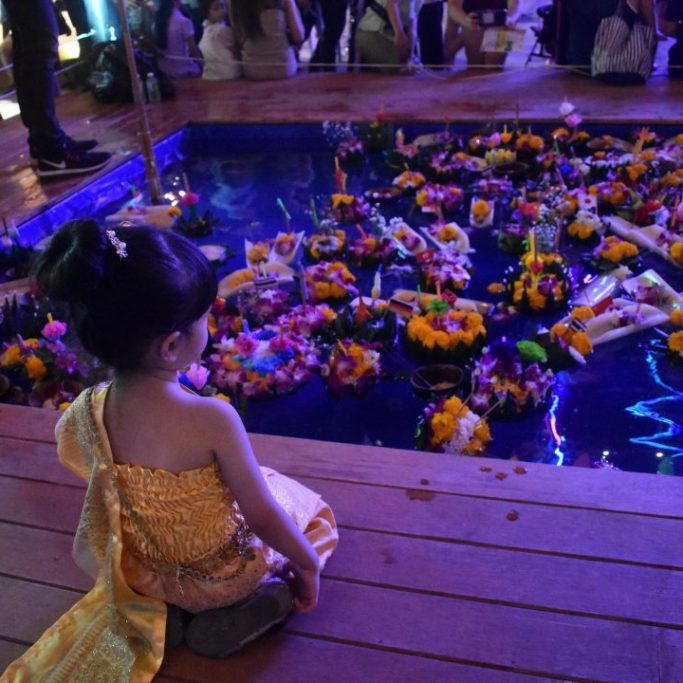 Loy Krathong in Bangkok 2020
Loy Krathong in Bangkok is one of the most charming festivals in Thailand. Loy Krathong sees city lakes, ponds, canals, rivers, and even inflatable paddling pools filled with beautifully decorated, candlelit boat like floats known as Krathongs. There are Loy Krathong festival venues all across the city & there is a fireworks display over the Chao Phraya River.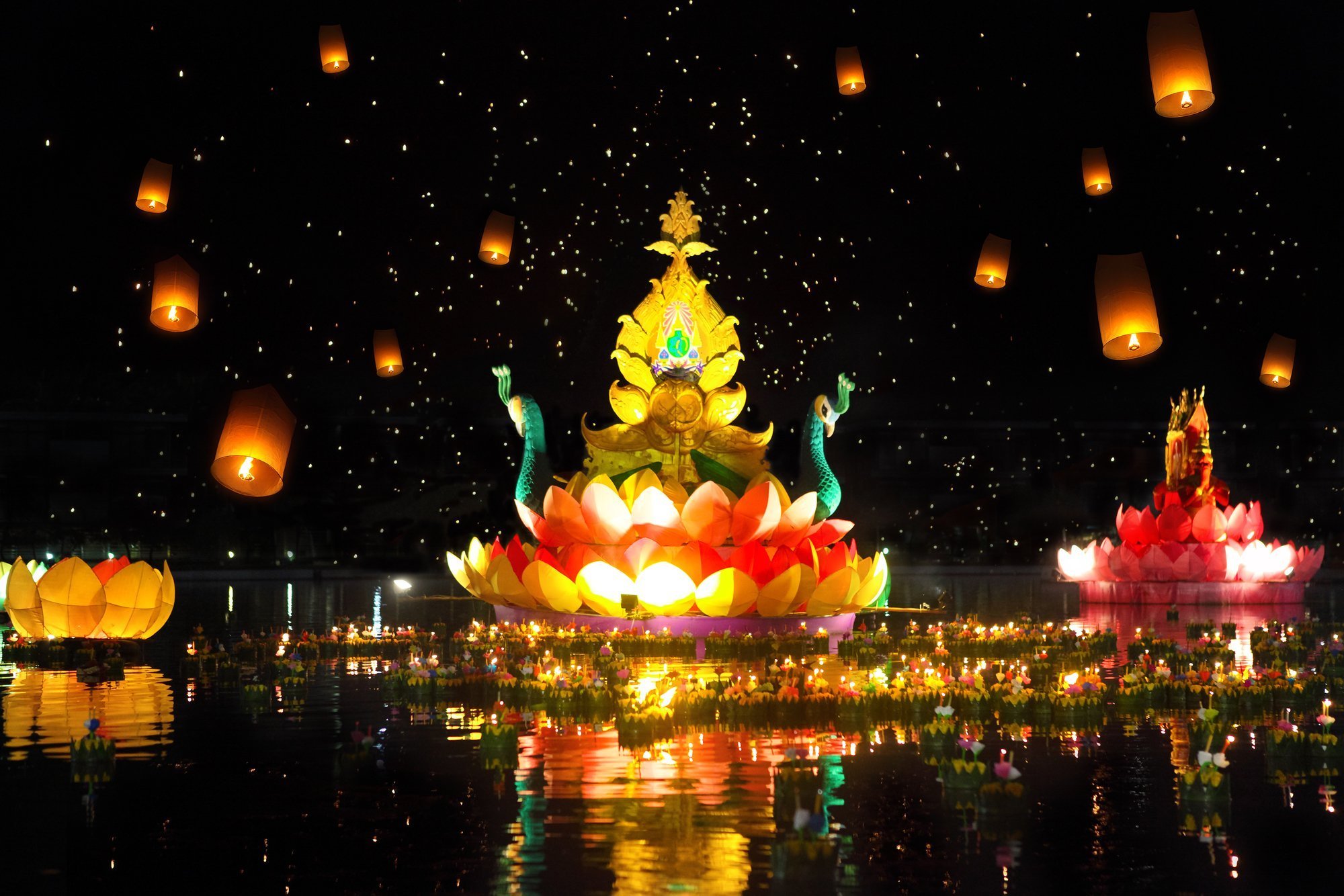 The Loy Krathong festival is held once a year on the night of the full moon of the twelfth month of the Thai lunar calendar. This year it falls on Saturday, October 31st. If you are visiting Bangkok Loy Krathong is a must-see spectacle that will leave a lasting impression of Thailand?s culture & will become a cherished memory.
?
What is the meaning of Loy Krathong?
On Loy Krathong day local people head for a local waterway to float their Krathong as a way of paying respect to the goddess of the water. Money in the form of a banknote or coin is placed on the Krathong for good luck. Strands of hair & fingernail clippings are also sometimes added as a symbol of abandoning negative thoughts. A wish is made as the Krathong is launched. It is believed that if the Krathong floats away it will take bad luck & misfortune with it.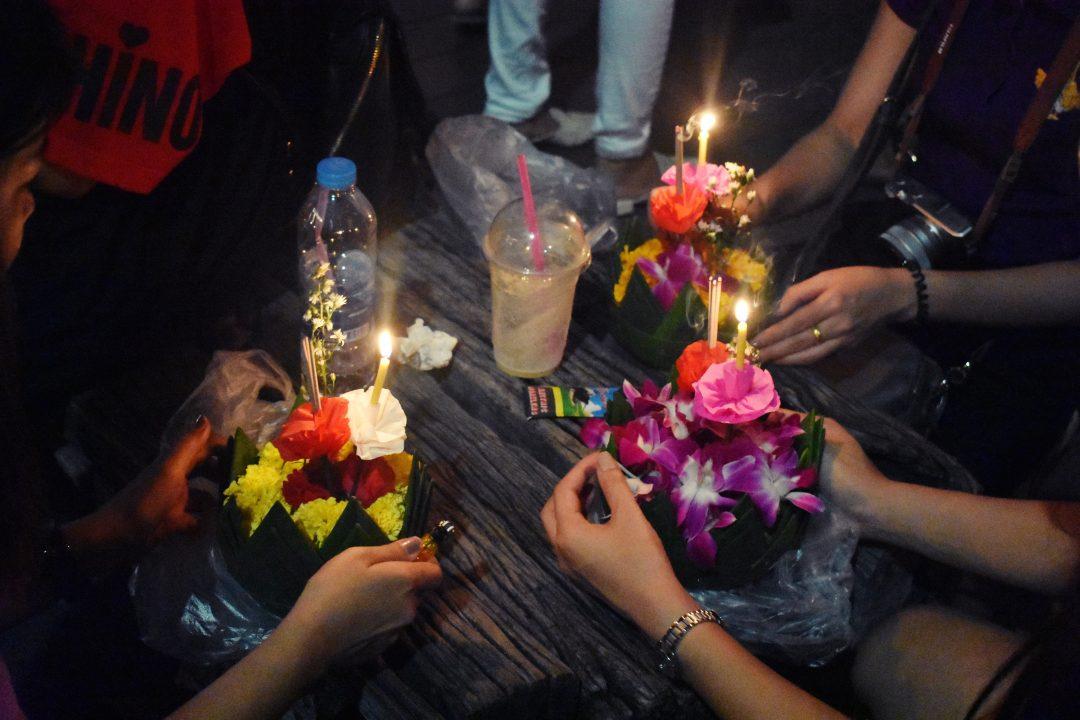 What is a Krathong?
A Krathong is a lotus-shaped float usually made from banana leaves & decorated with candles, incense sticks & flowers. More eco-friendly are Krathong made from bread as they are biodegradable and can be eaten by fish. A coin or banknote is usually placed on the float as it is launched. The word Loy means to float.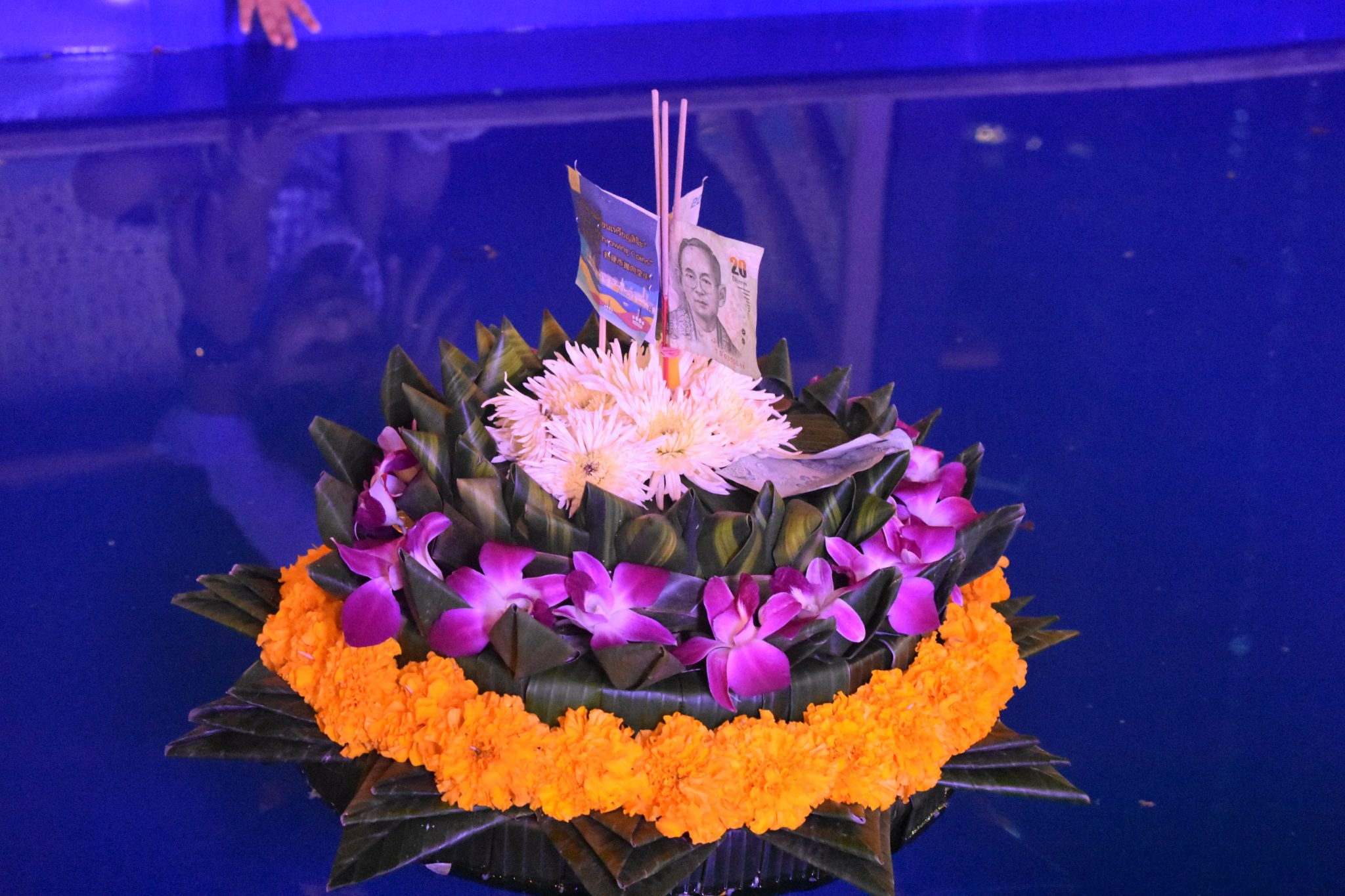 How to make a Krathong
Many people make their own Krathongs often reflecting their wishes for the coming year & there are workshops at some venues where you can design & make your own Krathong. Check out this video showing how a Krathong is made.
How much is a Krathong?
You will find Krathongs for sale on the street & outside venues. Prices depend on the size, decoration & exclusivity of the design. Expect to pay anything from 40 to 100 baht. Most stalls selling Krathongs display a fixed price.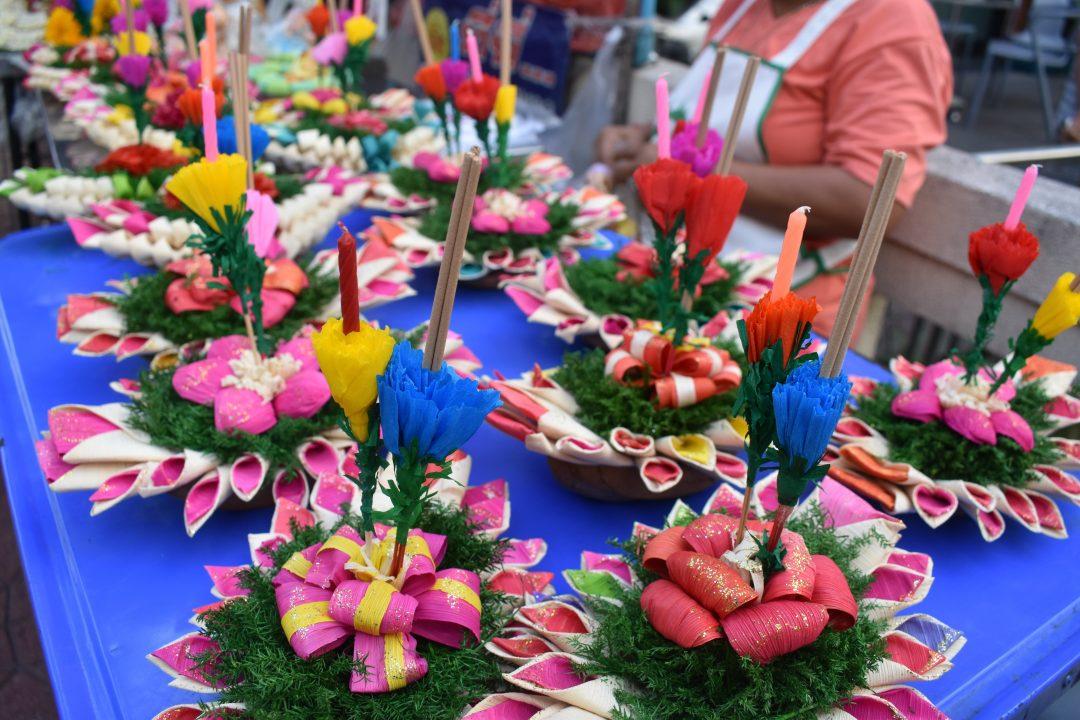 Where Can I Watch Loy Krathong in Bangkok?
You can watch and take part in Loy Krathong celebrations all over Bangkok. There are 30 parks open to the public which contain lakes. All along the Chao Phraya River and on the city canals are piers, malls & temples where people gather to float their Krathongs. At Loy Krathong in Bangkok 2020, many riverside hotels will have a Loy Krathong party which includes a special dinner as do cruise boats on the river.
Many Bangkok nightlife areas also celebrate the occasion with small inflatable pools outside the venue for the benefit of customers and staff. Soi Cowboy is a good place to see this.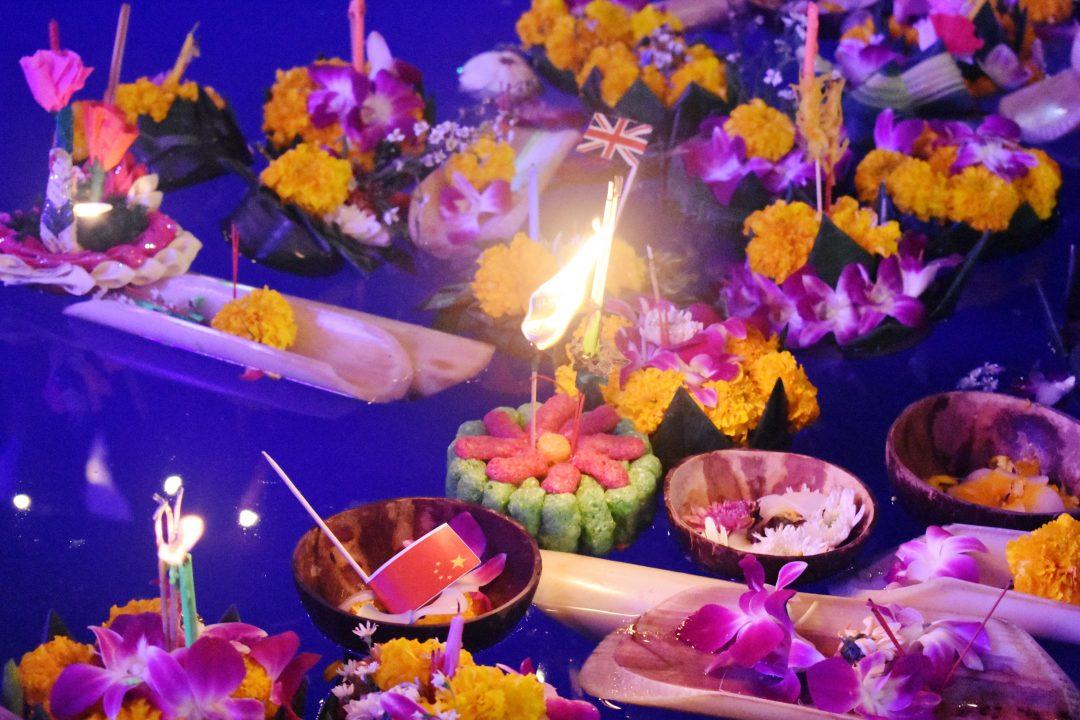 Loy Krathong at Asiatique
If you are interested in experiencing Loy Krathong in Bangkok 2020, Loy Krathong at Asiatique (the Riverfront) is a popular location with both tourists & locals. In addition to the usual Asiatique attractions, there is a special event space with food, seating, and activities. There is also a fireworks display.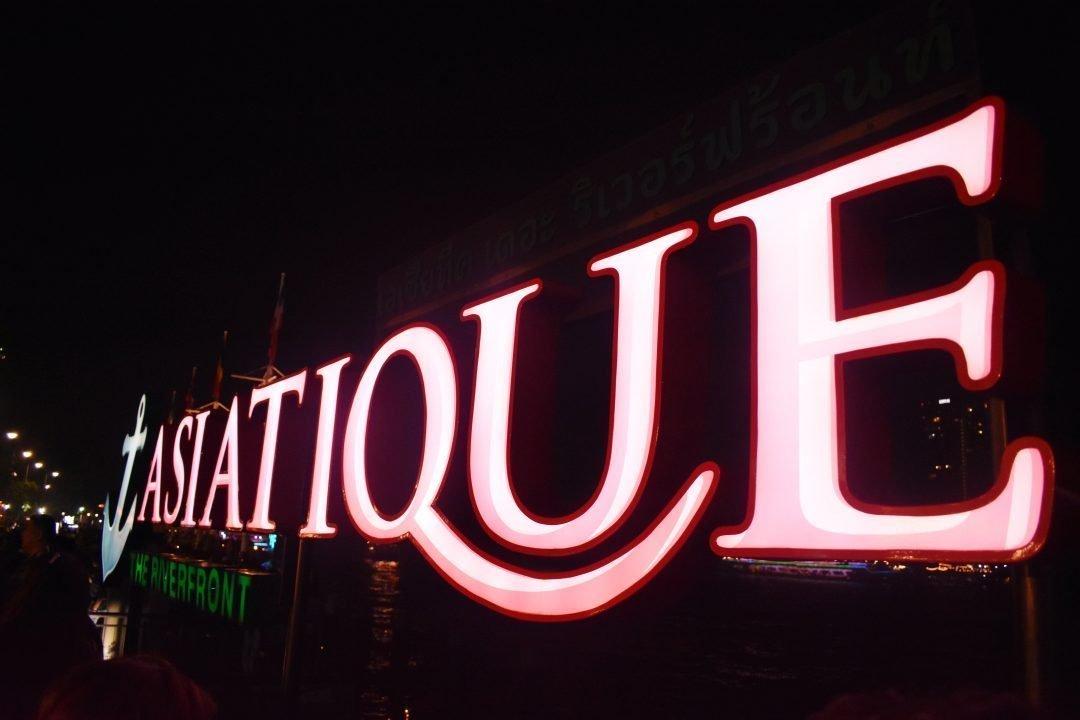 Loy Krathong at Asiatique features traditional dance shows, music, & a funfair in addition to the usual live music in the bars. Floating your Krathong in the river is not so easy but attendants will lower your Krathong into the river in a basket. There are also special temporary pools suitable for children.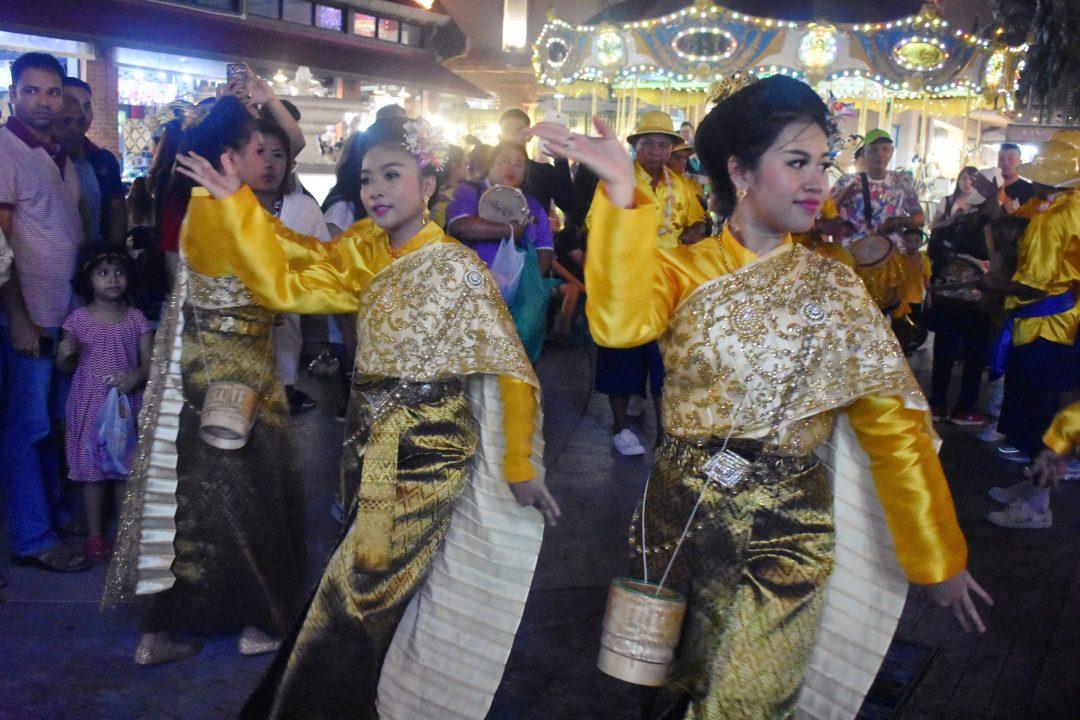 The event area has food stalls serving fresh seafood and a variety of Thai snacks and freshly cooked food. There is no alcohol in the Loy Krathong event area though all the bars in the Asiatique complex serve alcohol.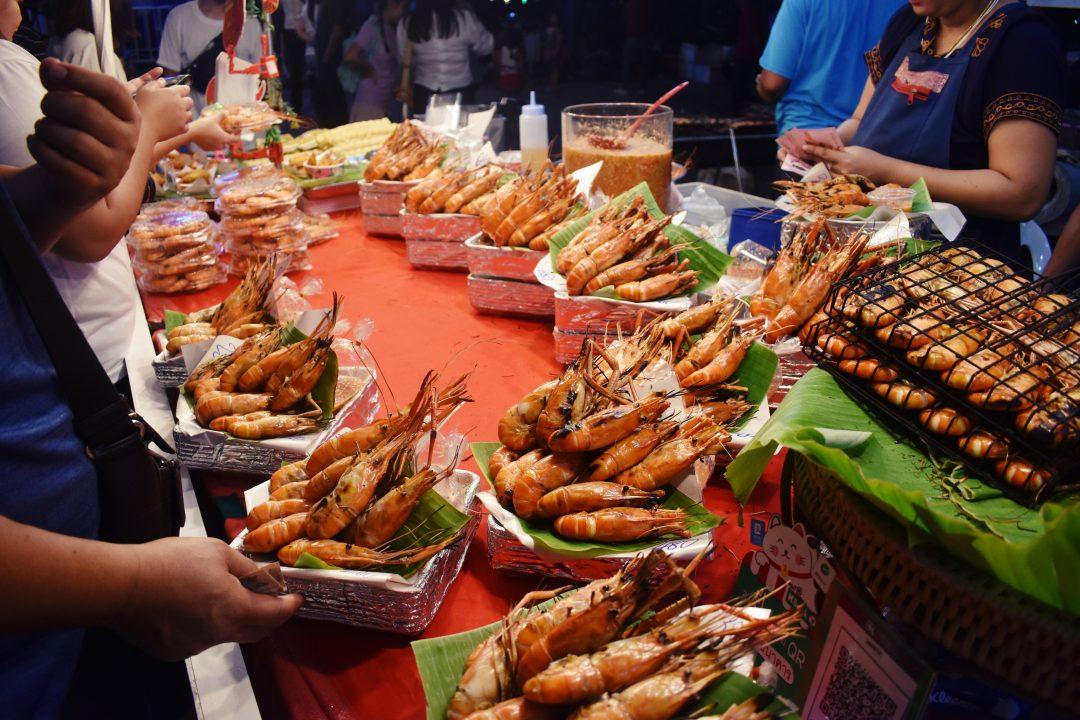 Inside Asiatique & outside on the street you will find many stalls selling Krathongs. There are also special workshops inside Asiatique where you can try your hand at making your own Krathong.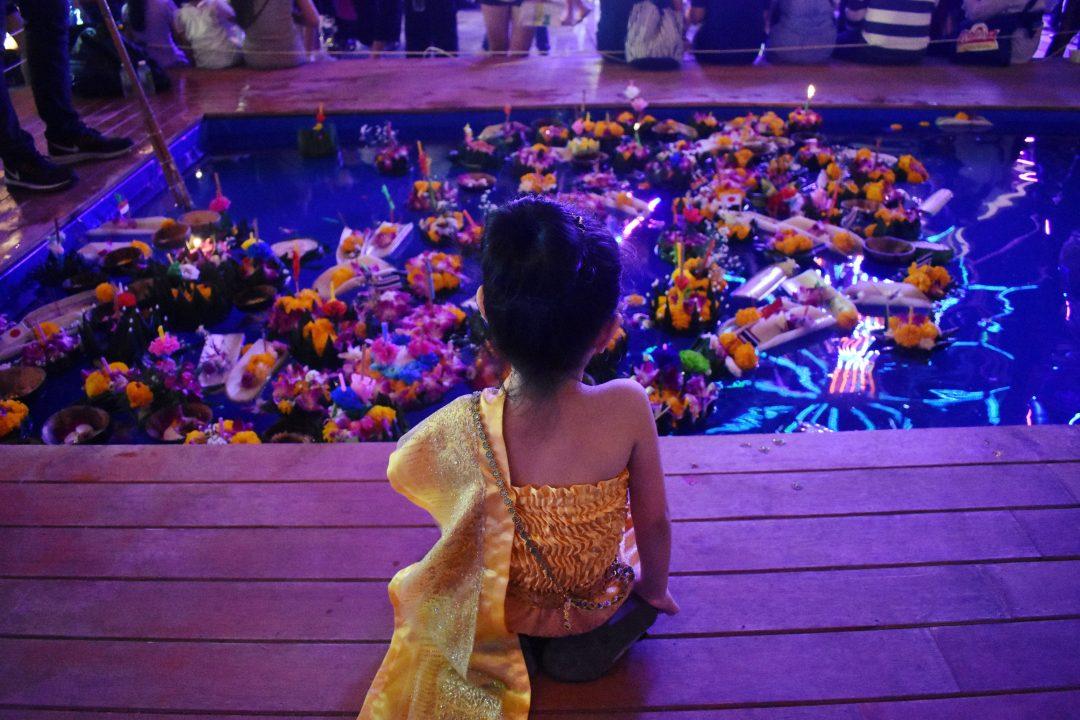 To get to Asiatique you can take the free shuttle boat from Sathorn Pier. The service starts at 16.00 and runs till midnight on Loy Krathong Day. You can also take the Chao Phraya Express Boats which operate beyond normal hours for Loy Krathong.
Top Riverside hotels offer a free shuttle boat service & there is also a special free Loy Krathong boat operating between Phra Athit pier near Khaosan Road to Asiatique. It stops at all piers and finishes around 11.30 pm. However, there are long queues for all services so we advise you to go to travel to Loy Krathong at Asiatique early in the evening. The alternative is to head for Saphan Taksin BTS and take a taxi or local bus from there.
Read more about Asiatique here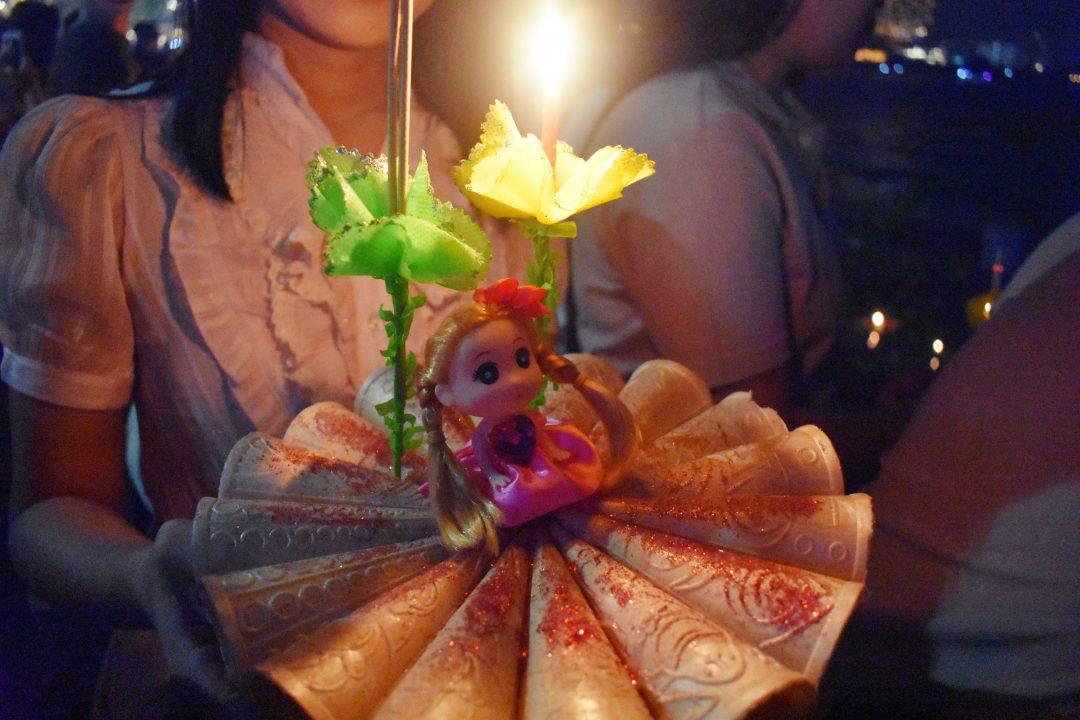 Loy Krathong at Iconsiam
Iconsiam is the latest Mega Mall in Bangkok. It has a beautiful location on the banks of the Chao Phraya River & features a special Loy krathong Day event at the malls River Park. This year it is called the Chao Phraya River of Eternal Prosperity Festival.
There are special cultural shows, a Krathong making workshop using eco-friendly materials, traditional music, and some great art exhibits. At the 2018 event, there was a giant lotus You also get a great view of the riverside firework display & there is Krathong floating from the pier.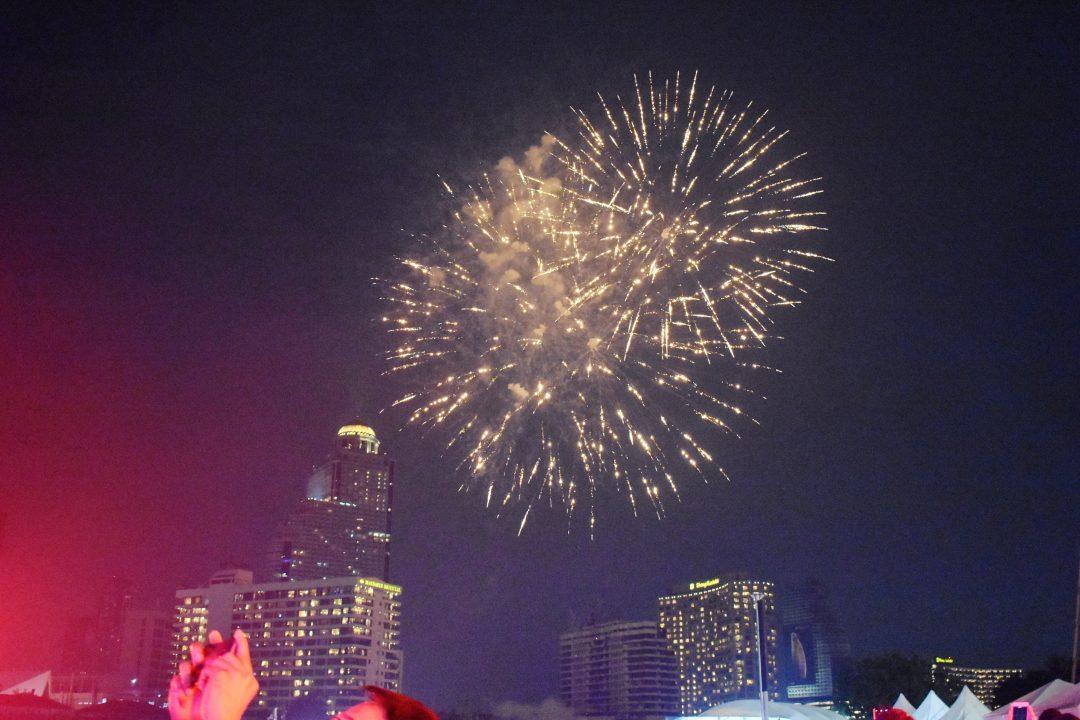 To get to Iconsiam you can take a complimentary shuttle boat from Sathorn, Si Phraya, and Ratchawongse Piers. Iconsiam is also a stop on the Chao Phraya Express Boat route & the special Loy Krathong Day free Phra Athit to Sathorn boat.
?
The Chao Phraya Riverside
All along the Chao Phraya River, there will be people celebrating & launching Krathongs. The river piers & riverside parks are the best places to head for. Other interesting places along the river that celebrate are Lhong 1919, River City, Wat Yannawa Pier, Tha Maharaj Pier, Yodpiman Riverwalk, Memorial Bridge, Lhong 1919, Wat Rakhang, Wat Arun & Wat Kalayanamit.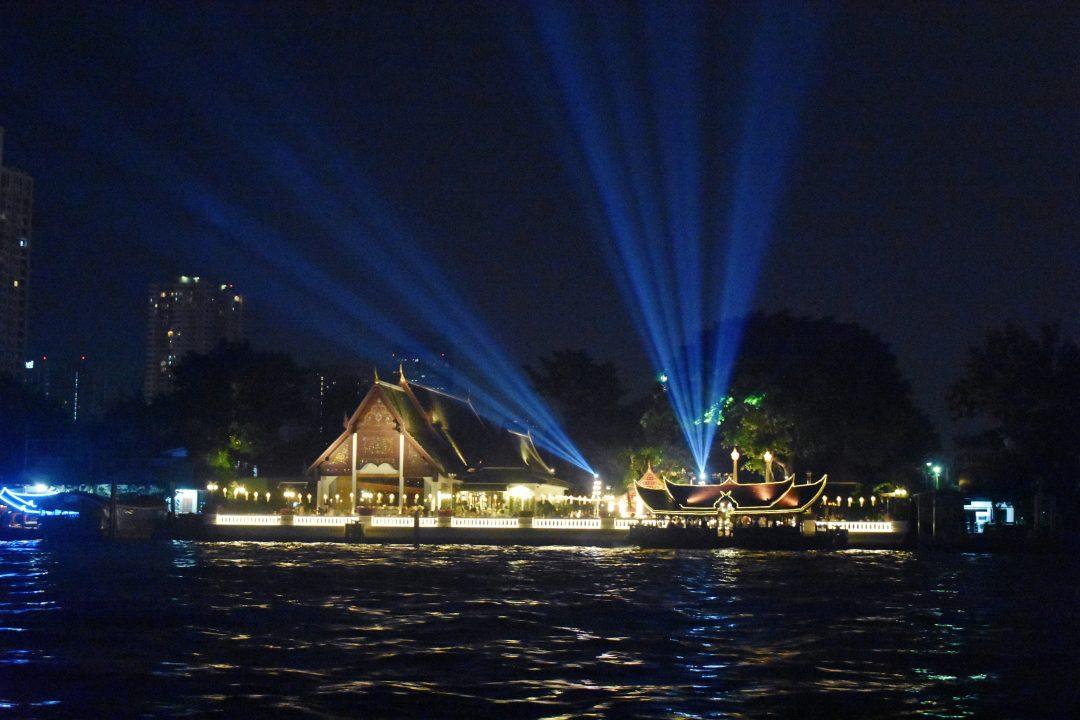 Loy Krathong in Bangkok Parks
Some of the most popular places to celebrate in Bangkok 2020 will be the city parks. Almost all parks in Bangkok have some kind of water feature where locals gather to float Krathongs. This year 30 parks will be open to the public. Floating your Krathong in a park is more environmentally friendly than the river or canals as the Krathong is easier to clean up the day after. The full list of parks is here.
If you are in the Sukhumvit area Benchasiri Park & Benjakiti Park are the places to head for. If you are in Silom or Siam then head for Lumphini Park. For Khaosan Road head to the riverside Santichai Prakarn Park. All 30 parks will officially be open till midnight and maybe a bit longer. Expect to find Krathongs on sale as well as food.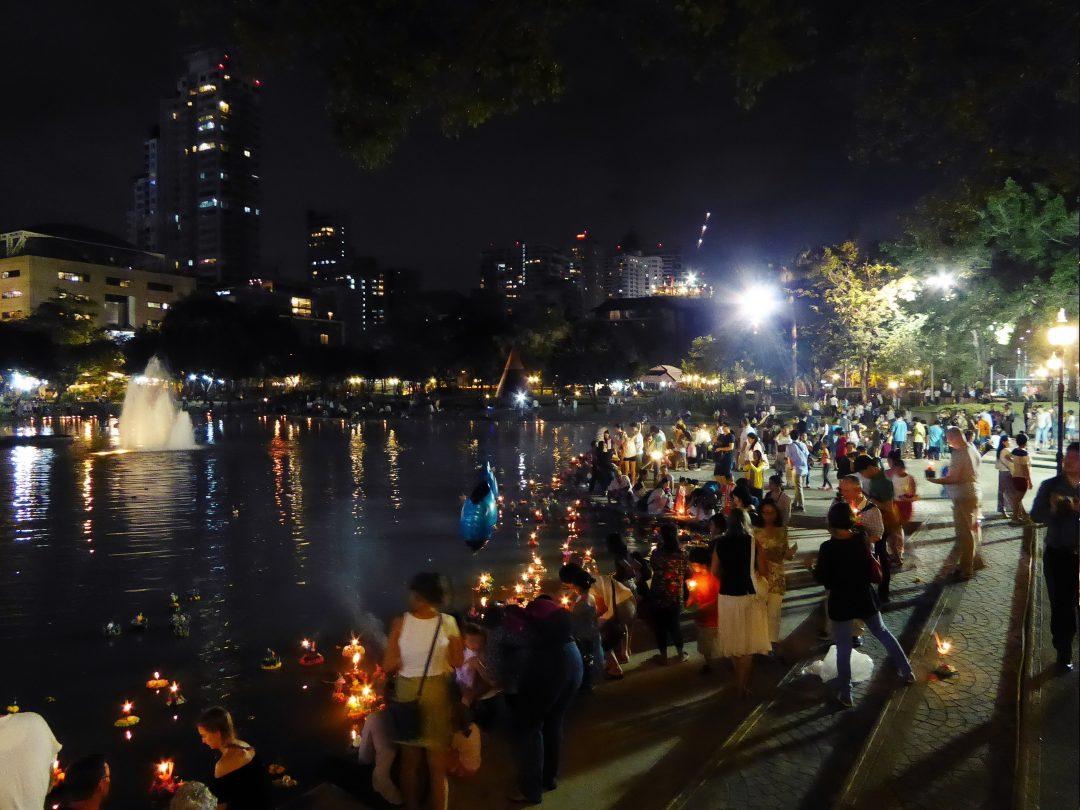 Chao Phraya River Cruise
One of the most popular evening activities in Bangkok is a Dinner Cruise on the Chao Phraya River. This is an extremely popular activity on Loy Krathong Day. The cruise involves dinner, a bar live music & a cultural show. Krathongs can be floated from the boat or stops are made at piers for Krathong floating. As this is a popular activity, boats are usually sold out in advance for this date but we have provided links for cruises that still have availability at the time of writing below. Prices run from 1000 to 4000 baht per head.
?
Loy Krathong in Thailand
If you are traveling outside Bangkok you will find celebrations all over Thailand. The most famous ones are listed below.
Loy Krathong in Chiang Mai 2020
The Festival is known as Yi Peng in Chiang Mai is unique as it features both water and airborne celebrations. The city's canals and lakes celebrate as elsewhere with the floating of Krathong as well as the launching of lanterns into the sky. Chiang Mai is one of the most popular places to experience Loy Krathong in Thailand.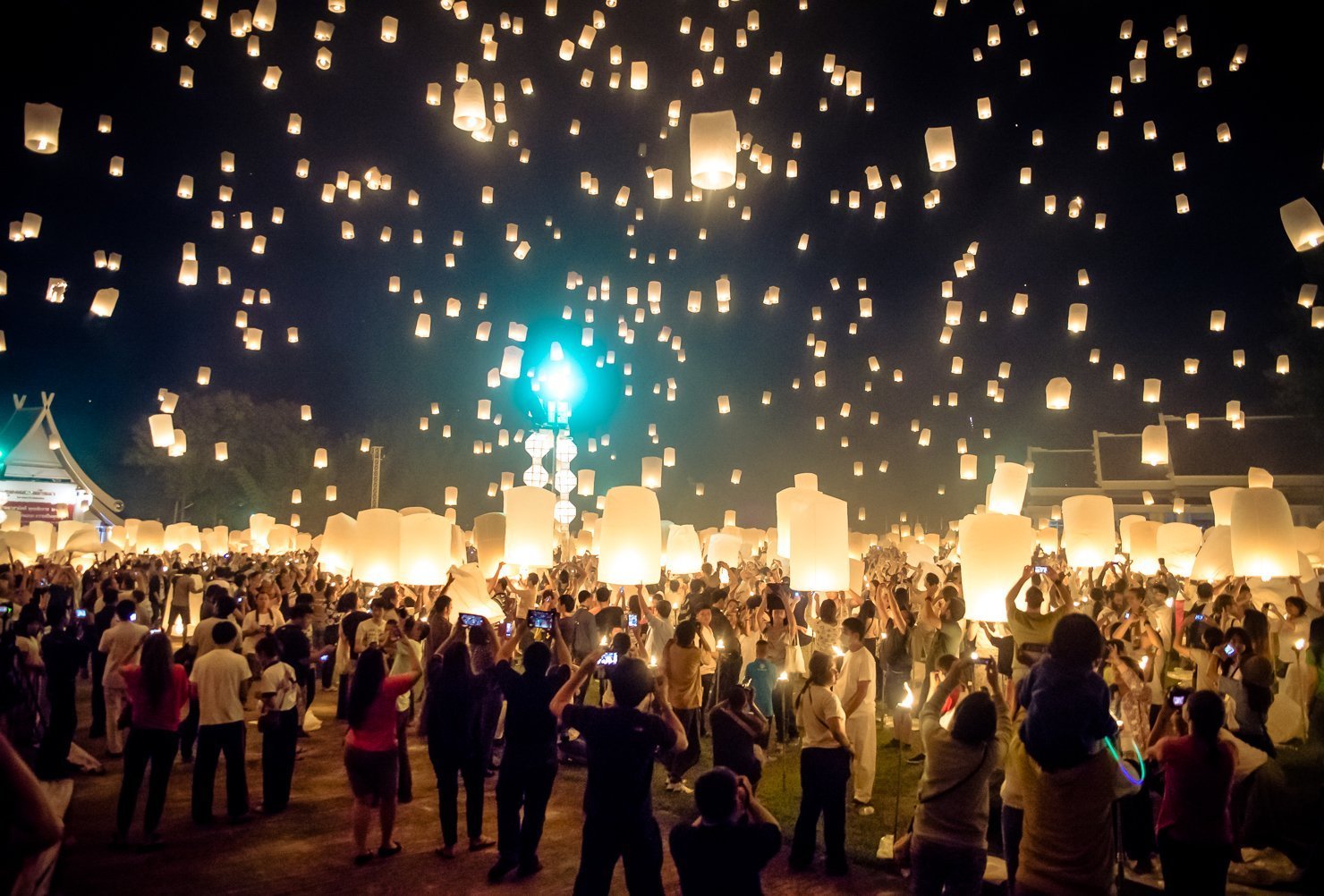 The festival in Chiang Mai is held from 31 October to 01 of November at various venues in the city center. & also features a parade featuring colorful Krathong floats, a Mr & Miss Yi Peng beauty pageant, Krathong & Lantern making competitions, exhibitions, cultural performances & live music. The centers of activities are Thepae Gate, the Mae Ping River & the city's canals, parks & temples.
Activities include grand Krathong processions in seven areas – Three Kings Monument, Tha Phae Gate, Chang Phuak Gate, Suan Dok Gate, Somphet Market Intersection, Chiang Mai Gate, and Chiang Mai Municipal Office; "Tam Phang Patit Song Fa Haksa Mueang" (Light the Lanterns to Guard the City) and a showcase of the lives, history, and culture of the local people, 28-30 October 2020, from 09.00-16.00 Hrs., at the Lanna Folklife Museum; "Tam Prathip" (Light the Lanterns) on 31 October 2020, from 18.00 Hrs. onwards at the areas around the old city moat, and releasing Lanna-style Krathong Sai and the Yi Peng Little Boys and Girls Contest at the Chiang Mai Municipality Office.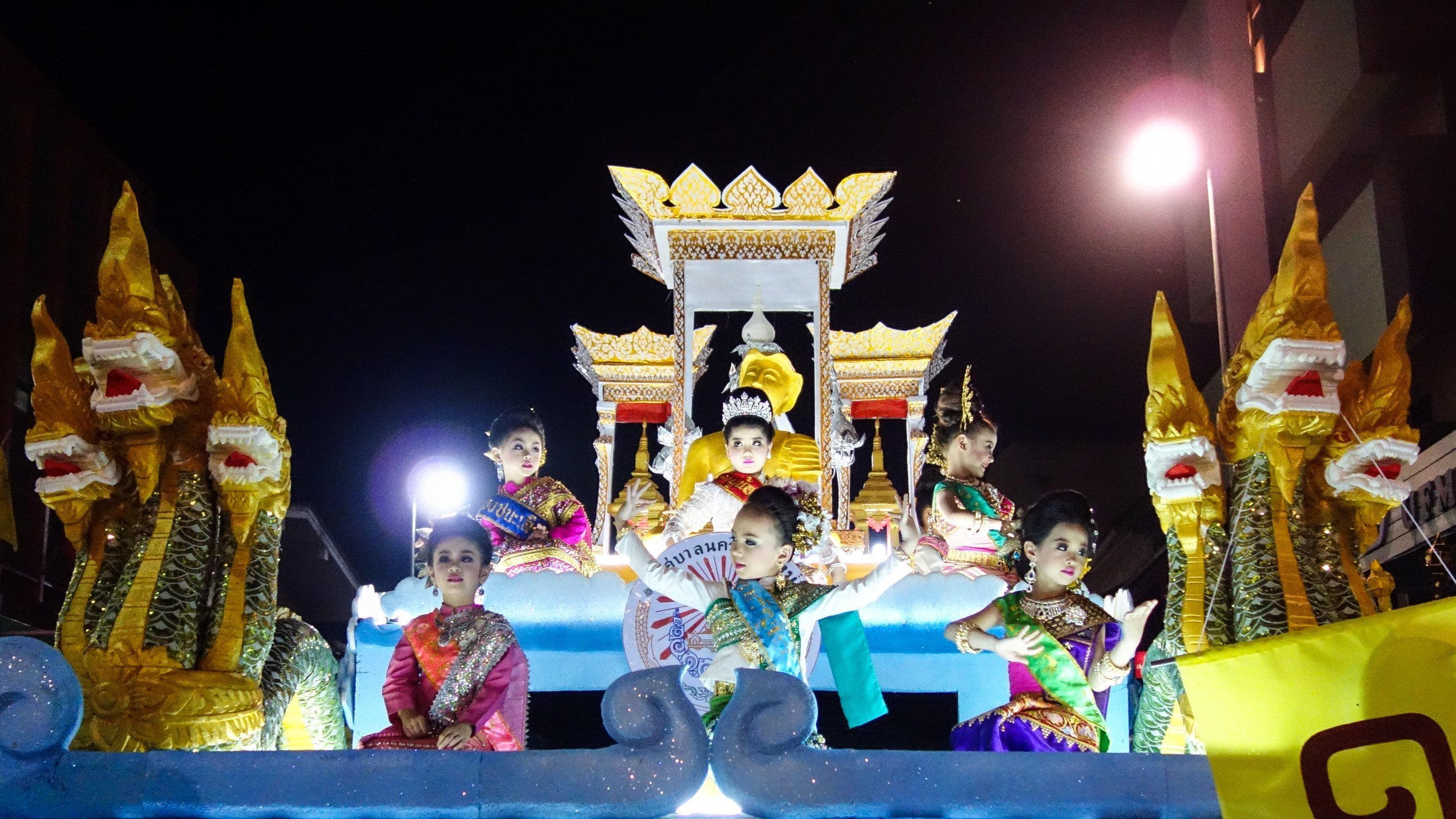 Be aware that some of the Yi Peng flying lantern events have been canceled or moved out of the city due to pollution & aircraft safety concerns.
Loy Krathong in Sukhothai 2020
Sukhothai Loy Krathong and Candle Festival 2020 is held from the 23rd of October to 1st November at the Sukhothai Historical Park. Sukhothai is one of the most popular places to celebrate Loy Krathong in Thailand. On Loy Krathong Day there will be a large cultural parade, a Miss Noppamas Beauty pageant, & a most beautiful Krathong & lantern competition, and the floating of Krathong.
There will also be arts and culture performances, traditional fireworks, an ancient market, a gala dinner, and a light and sound show,  The Legend of Thao Si Chulalak at Wat Mahathat. There will be many other activities from the 23rd until Loy Krathong day on the 31st.
Loy Krathong in Ayutthaya 2020
Ayutthaya Ancient Capital Loy Krathong Festival 2020, is held from 29-31 October 2020, at Wat Mahathat, Ayutthaya Historical Park, Ayutthaya
The event features the traditional way of Loy Krathong reflecting the glory of the Ayutthaya era. Highlights include rare cultural performances; traditional Krathong procession and fireworks display; 'Premium Craft' market, and performances by leading Thai artists and bands. Visitors are encouraged to wear traditional Thai costumes or fabric and must book their participation in advance with the QueQ mobile app.
There are also similar events in Tak, Samut Songkhram & Roi et. More details here 
If you like our content, Click here to check out our photo blog posts of events around Thailand
You May Also Like
Popular Pages on Tourist Bangkok