Bangkok by Bike
Getting Around Bangkok by Bicycle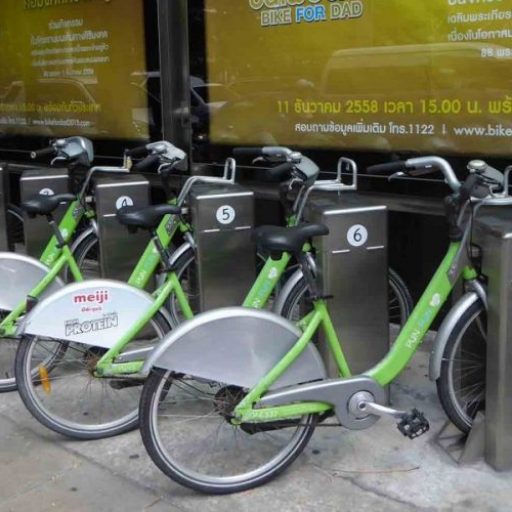 Bangkok by Bike
Exploring Bangkok by bike is a popular activity as it is in many other countries. Getting around Bangkok by bicycle can be a hair-raising experience with the city's constant traffic. However, Bangkok is making a big effort to be a bicycle-friendly city with a London style Boris bike-sharing scheme. It can save you money on travel, is good exercise & a good experience if you are interested in bicycling in Bangkok.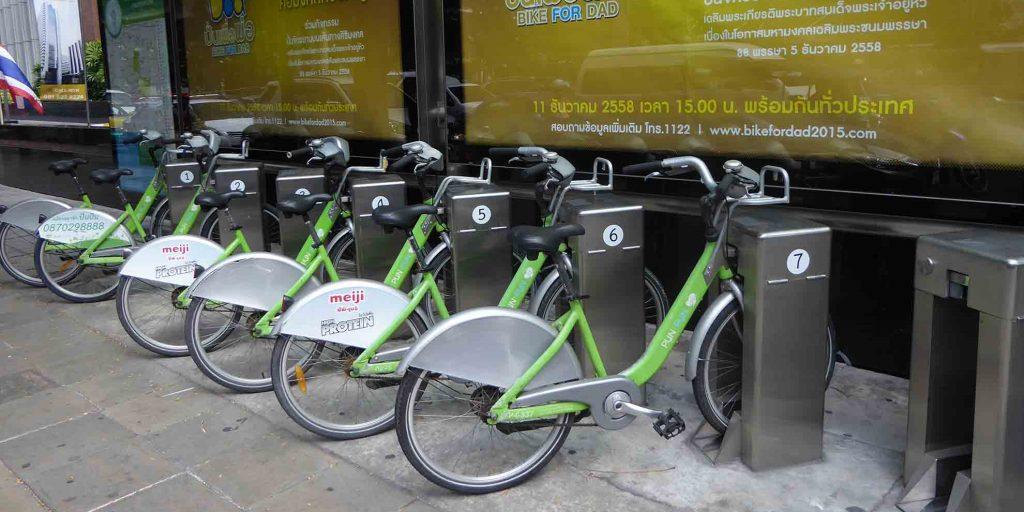 Its called Pun Pun bike share with 50 bike stations in the inner city. There is even a website of the same name but sadly only in the Thai language. This makes it useless for English-speaking visitors to Bangkok as you need to register to use the service. The Facebook page is partly in English and can be translated. There is an English helpline at 087-335-3285. To get a card & register you have to call 087 029 8888. They will deliver your card to you at the nearest bike station. You will need your passport details to register.

Pun Pun Smart Card
Once registered you can buy a Pun Pun smart card. The fee is 320 baht and includes 100-baht credit and insurance. You will need to have your own helmet and bicycle lock. Stations have free bicycle pumps. You cannot keep a bike overnight. There is a late return fine. Bikes are free for 15 minutes, 10 baht for 15-60 minutes, 20 baht for 1-3 hours, 40 baht for 3-5 hours, 60 baht for 5-7 hours and 100 baht for 8 hours or over.
Once you have your card you can pick up/return a bike from/to any station. You simply tap your card on a screen at the bike station and enter a 4-digit code, choose the bike you want and tap your card again to unlock it. You will receive a map of all the bike station locations when buying your card. There is an English helpline if you really want to use this service. It is 087-335-3285. Here's a you-tube video explaining how it works.
Road Cycling Bangkok
Bangkok has a growing number of bicycle lanes but sadly you will find many of them underused and blocked by parked cars, food vendors, and motorbikes. Be careful when road cycling in Bangkok as many Thai motorists don't show much consideration for cyclists.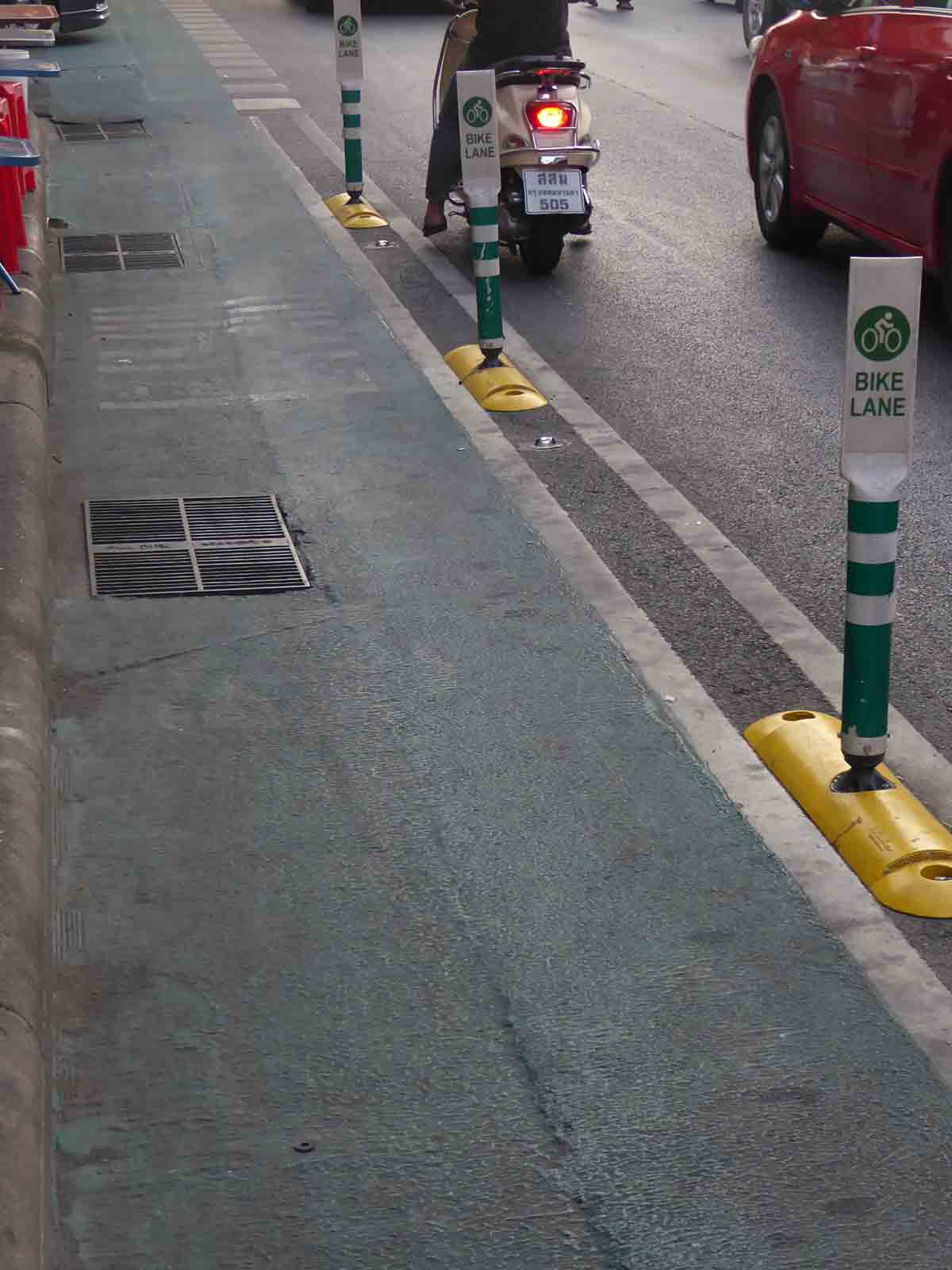 Bangkok by Bike – DIY Bicycle Tour
Rattanakosin old city neighborhood has an 8 KM cycling route that runs in a loop passing the area's top sites. The cycle lane is green and flanked with plastic bollards that are closely spaced to keep out encroaching vehicles. The route starts and finishes at Ratchadamnoen Avenue and you go in a one-way direction. Route maps are available from Bangkok tourist offices. If you are staying in the Khaosan Road area this is a good route if you fancy bicycling in Bangkok.
Bangkok by Bike Map – Rattanakosin Bike Tour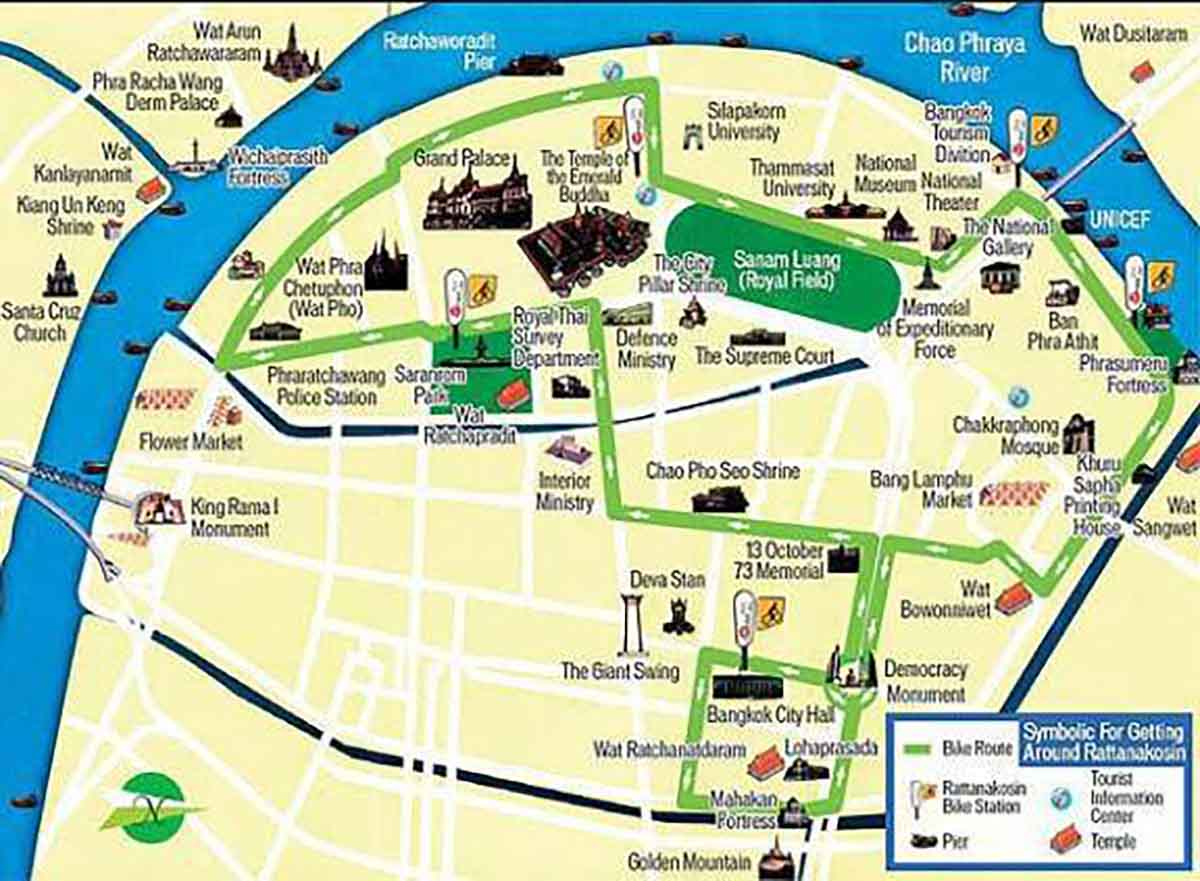 Bangkok Bicycle Tours
If you're interested in exploring Bangkok by bicycle, an organized, guided group bicycle tour is a good option. There is a whole host of Bangkok cycling tour, both day and night. The tours mainly keep away from busy roads and explore the lesser-known areas of the city. We have rounded up some of the most popular for you here.

Where can you buy cycling accessories in Bangkok?
If you want to buy helmets, pumps, lights, locks, bags and more at a reasonable price head for Khlong Thom Market in Chinatown. There are several shops and stalls in the market specializing in cycling accessories.