Bangkok City Transport
A guide to getting around Bangkok?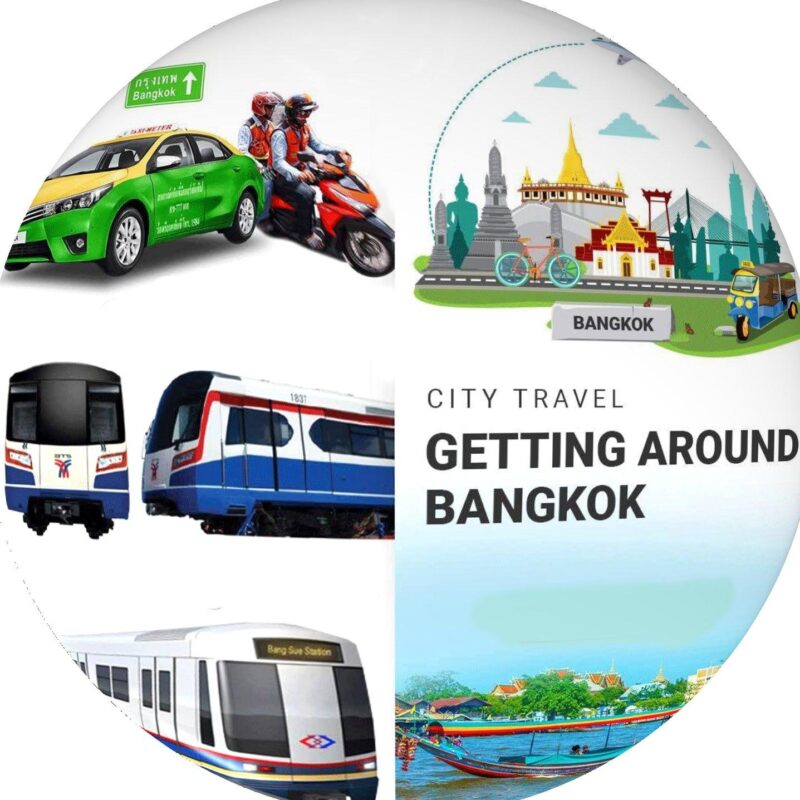 ?
Bangkok City Transport
At first, getting around Bangkok might seem a daunting task but it is really quite easy to navigate the city using public transport. The Bangkok city transport network includes trains, buses, canal boats, riverboats, taxis, tuk-tuks & motorbikes.?
Trains
Local train transport in Bangkok includes the efficient elevated Skytrain, the Subway & an Airport Rail Link. This is the best and safest way to get around in Bangkok. Check out the video below to see the local train network in action.?
Train Ride in Bangkok Thailand
The?BTS & MRT are both undergoing rapid expansion with extensions to the existing routes under construction.? More new lines have been scheduled for completion between 2020-2022. The Airport Rail Link will be extended to Don Mueang Airport & U-Tapao Airport in Pattaya.?
Buses
Bangkok has an extensive city bus network with over a hundred routes crossing the city. The Buses come in multiple colors and sizes from old bangers to modern air-conditioned beauties and are the cheapest, if not the fastest way of getting around Bangkok.
Boats
Bangkok is known as the ?Venice of the East? due to its large number of canals. Also, ?a river runs through it?, the Chao Phraya River or River of Kings. The river has an exceptionally good transport system with commuter boats, tourist boats, long-tail river taxis, cross-river ferries, and hotel shuttle boats. The canals (khlongs) have their own boat services which are fast and cheap though routes are limited.
Taxis & Tuk-Tuk
Bangkok Taxis are incredibly cheap compared to most western cities. An air-conditioned taxi is the most comfortable way of getting around Bangkok if you can avoid traffic jams. The Tuk-Tuk is a Bangkok icon, its image forever associated with the ?land of smiles? It?s quick but not the cheapest way to get around though it can be good value if you are traveling in a group. Unfortunately, Bangkok taxi & tuk-tuk drivers have a bad reputation for scams though don?t let that put you off using them. Do your research first so you know what to look out for. They prey on the unprepared & uninformed.?
Motorcycle Taxi
Motorcycle Taxis are for the locals rather than tourists. They are quick but not necessarily cheap. Also, not the safest mode of transport. Ask for a helmet.
How much is city Transport in Bangkok?
Nothing is expensive by western standards. Fares range from 5 baht to 62 baht for a boat, bus or train ride. Taxis start at 35 baht, tuk-tuk?s usually won?t go anywhere for less than 150 baht. Click on the pictures below for full fare information.
There are plans for an e-ticketing system (Mangmoom) to combine all of Bangkok?s public transportation?systems. Firstly it will start with a joint ticket for the BTS/MRT/Airport Rail Link networks, available before the end of 2020. City buses, Canal, and Riverboats will join at a later date.?
How safe is city transport in Bangkok?
Don?t worry it?s safe. Train systems are ultra-modern, Most taxis have seatbelts, riverboats have life jackets under or above the seat. Take care when getting on and off the river or canal boats & city buses. Taxi drivers are no worse than in other countries though they are usually armed with some kind of weapon. Solo Women should take care, late at night.
How late does Bangkok City Transport run?
The BTS, MRT, ARL run from 05.00 ? 24.00. Some bus routes have 24-hour service. River & canal boats run from 06.00-21.00. Taxis & tuk-tuk is available 24 hours. Click on the pictures below for timetables.
Click on the pictures below for the full info on getting around Bangkok by public transport.?
You May Also Like
Popular Pages on Tourist Bangkok