Siam Park City
Siam Park City in Bangkok is an amusement park in the city suburbs, a 45-minute journey from central Bangkok. It has two elements, a Water Park, and an Adventure Park. The Water Park is the largest in Asia and features the world's largest wave pool. The Adventure Park is a classic theme park with over 30 rides from standard to modern. The equipment is imported from Canada, Netherlands, Switzerland, and Germany.
The attractions in Siam Park City will appeal to both children and adults making it a great family destination if you want to cool down and take a break from sightseeing in the city.


Siam Park City Water Park
The centerpiece of Siam Park City is the Flowing Pool, a large circular pool surrounding an Island perfect for swimming or floating. The water level is waist-high for adults & older children and chest high for younger children. Around the pool, there are shady areas with beach chairs for relaxing. The Wave Pool is massive, like a big lake though it's shallow and good for swimming. Don't expect big waves.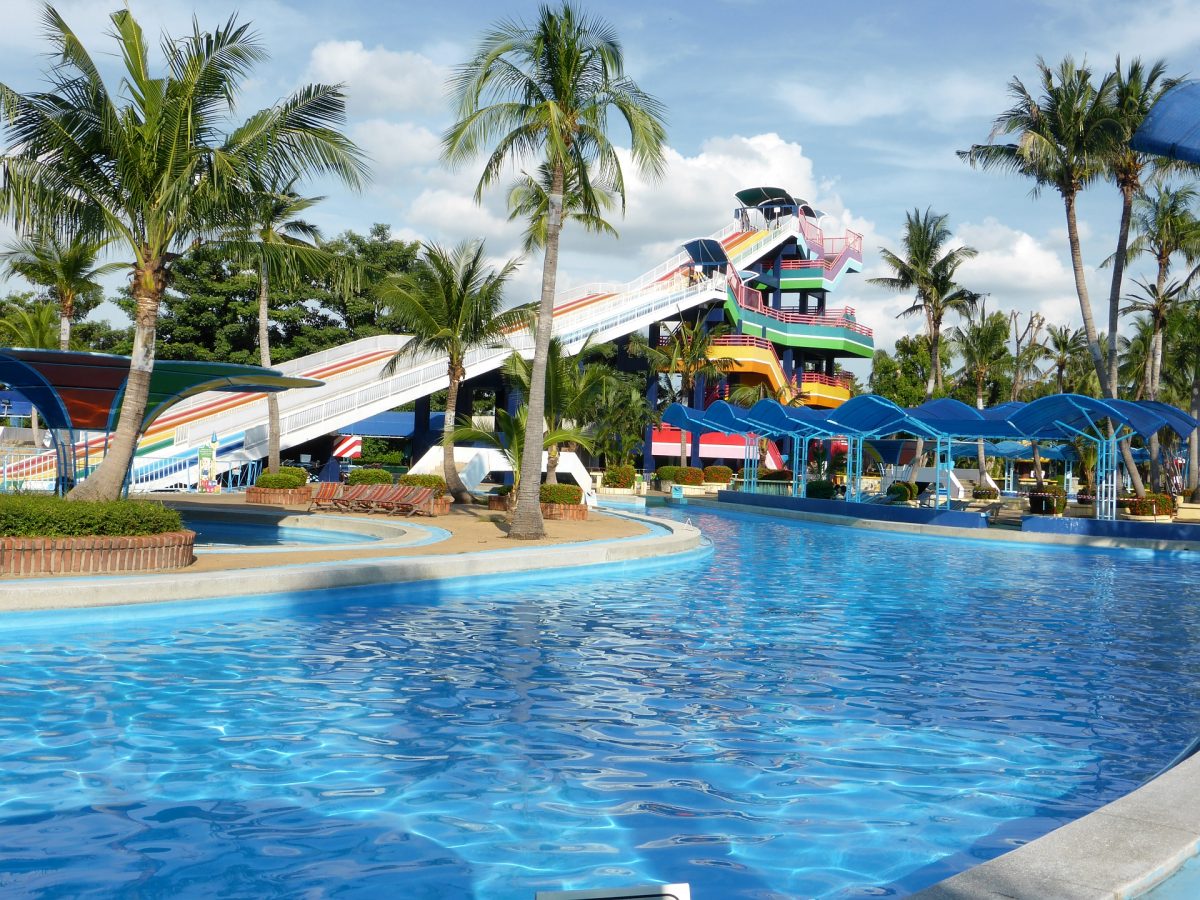 For thrill-seekers, there are two cool rides. The Speed Slider is the highest in South East Asia. It's also pretty scary as you speed down the slide picking up speed as you go before shooting into the pool. The Super Spiral is a tall spiral water slide where you twist and turn your way down an aqua tube to the pool below. These rides are only open to children over 121cm in height.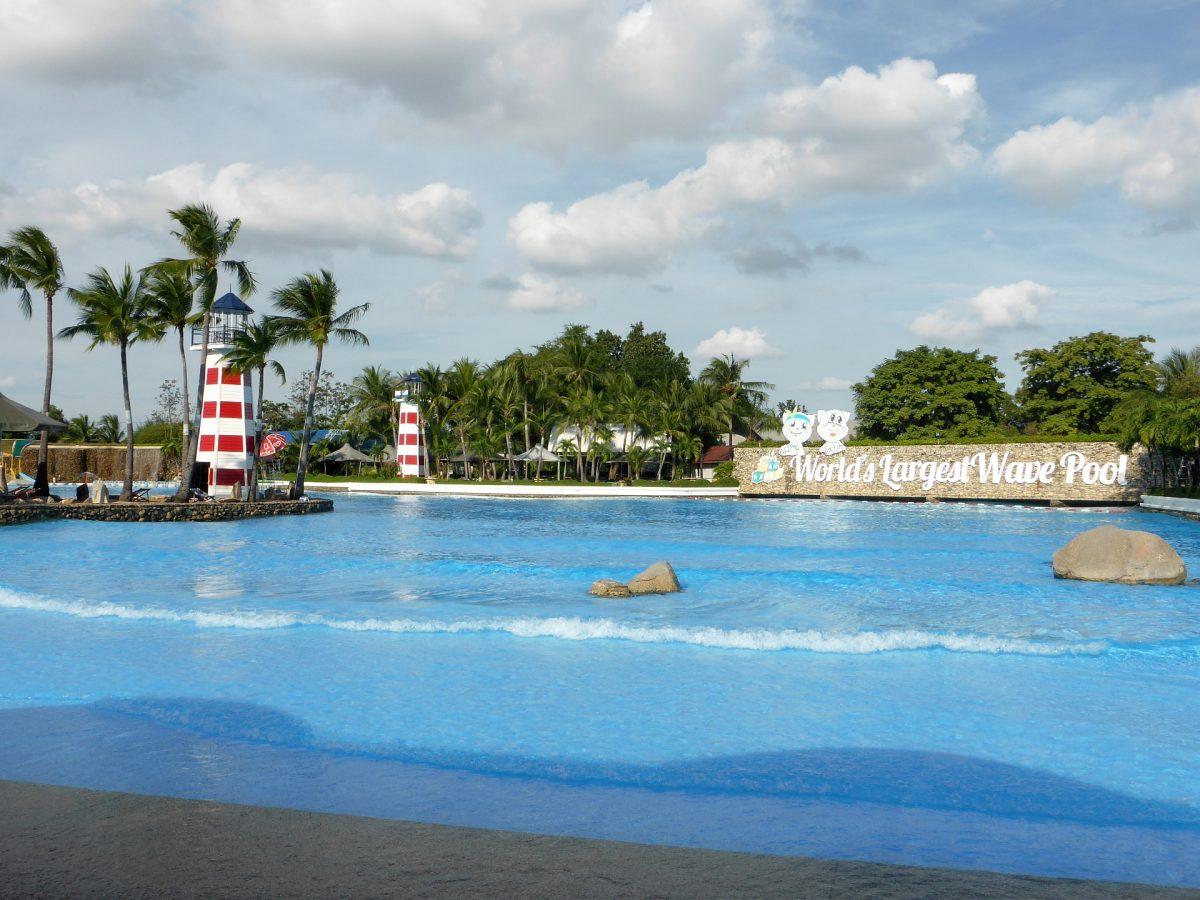 Si-Am Lagoon is a family fun zone with five mini-slides, a battle zone, giant water bucket, and three bigger slides. Fun-tastic for kids! For younger children, there is the Mini-Slide area which features three mini-slides and a waterfall. Adults will enjoy the Spa Club where you can relax in a Jacuzzi and get a massage. All of the water features have lifeguards on duty. You can hire swimwear, towels, beach chairs, tubes & inflatable's for the kids. Children must be accompanied by adults at all times when in the water.
Siam Park City Adventure Park
The Siam Park City Adventure Park features 30 classic theme park rides. The park has 4 zones. The X Zone where you will find the best rides. The highlights are Vortex, a looping coaster, one of two largest in the world. The coaster speeds around at up to 75km/hr letting you experience the sensation of g-force. Boomerang is a rollercoaster that travels up to 80km/hr twisting and turning in a triple loop. Giant Drop is a vertical free fall from 75 meters lasting for 3 seconds. Ranger is a 360-degree swinging pendulum ride. Other rides are Take Off, Condor, Mega Dance, Balloon Race, Enterprise, Break Dance, Top Spin and Aladdin. Be warned, some of these rides are not for the faint-hearted! Children must be over 131cm to go on these rides and over 141cm for Aladdin and Ranger.

Siam Park City Family World
The second Zone in Siam Park City is Family World which has a good choice of rides for younger children. Jurassic Adventure is a ride through a dinosaur park by Jeep or Train featuring 60 noisy animatronic dinosaurs. The Log Flume is one of the most popular at Siam Park City. You travel in a replica hollowed out log around a fast-flowing waterway before a last steep splash drop ending. Grand Canyon Express is a more sedately paced rollercoaster pulled by a giant horses head. Africa Adventure is a boat or train ride through an African Safari Park featuring 200 automated animals and a few real ones! Children under 130cm must be accompanied by an adult on some rides
Siam Park City Fantasy World
The third zone in Siam Park City is Fantasy World, a collection of smaller rides mainly for children over 131cm. The fourth zone is Small World featuring rides for very young children. This shaded area features Play Port Playground, Mini Motorcycles, Swan Boats, Mini Boats, and a Bouncy Castle.
Food
There are two restaurants, one exclusively serving an International buffet lunch with a choice of Thai, Chinese, Indian, Western & Vegetarian dishes. It's included on most tour packages. You can also buy tickets on the door. The second restaurant has a more extensive A La Carte menu. There is also a cafe, snack kiosks, and a convenience shop.
Services
There is free WiFi throughout the park. Lockers are 20-120 baht depending on size. Bring your own padlock or buy one for 120 baht.
Opening Hours
Open 10.00-18.00 daily
Tickets
Adult Day Pass 900 baht, Child 750 baht 101-130cm. Includes all rides.
Tours
The best way to visit is to take a day tour which includes a day pass, transport, and lunch.
Buy discounted tickets for Siam Park City here
Getting To Siam Park City
A taxi from central Bangkok will cost you about 300 baht each way. You could also get there by public bus. Numbers 26, 36ก, 60, 71, 73ก, 115, 178, 501, 519.
Where is Siam Park City?
203 Suan Siam Rd., Kannayao, Bangkok 10230
MAP
Good to Know
Don't expect all the rides at Siam Park City to be open if you visit as some things might be closed for maintenance. In high season, the best time to go is usually on a weekday as it is less busy. However, out of the main tourist season, it might be better to go on a weekend as some of the rides could be closed on quiet days.
Map of Siam Park City