Shangri-La Bangkok
The Shangri-La Bangkok is a luxury hotel with a perfect location on the banks of the Chao Phraya River The hotels two wings sit behind an attractive tropical riverside garden complete with swimming pools, a riverside dining terrace & an authentic Thai restaurant set in a traditional teakwood house. Shangri-la Bangkok blends classical Thai decor with contemporary design features to create a pleasant, soothing ambiance. The elegant Thai style rooms are individually decorated & most have magnificent views of the river. The Shangri-la Bangkok is renowned for its friendly & professional service.
Shangri-La Bangkok History
The Shangri-la Bangkok opened in 1986, as a one building hotel, the Shangri-la wing. The Krungthep wing was added in 1991 to complete the hotel as it is today. The word Shangri-la means "earthly paradise" & the hotels design was based on the Shangri-la, a mystical harmonious Valley in the Tibetan Himalayas as depicted in James Hiltons 1933 novel, Lost Horizon. 
"a harmonious place where all of the elements are aligned."
Shangri-La Hotel Location
The hotel is conveniently located next to the Chao Phraya River, adjacent to BTS Saphan Taksin Station & Sathorn Pier.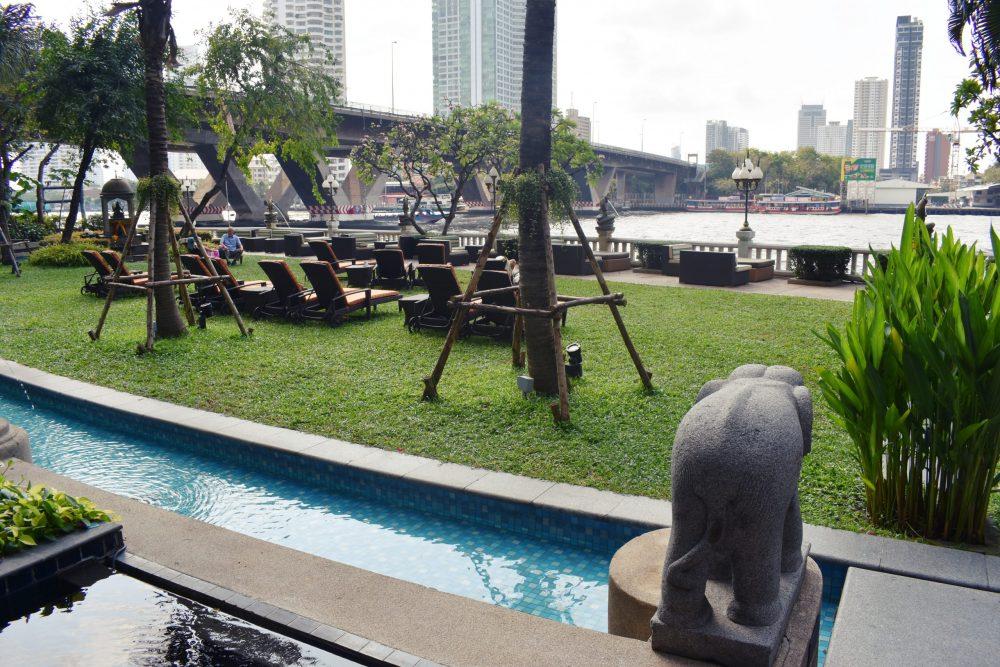 Shangri la Bangkok Rooms & Suites
The Shangri-la Bangkok rooms & suites are spread over two wings, the Shangri-la wing & the Krungthep Wing. The Shangri la Bangkok rooms have either river or city views, some with balconies. Each of the Shangri la Bangkok rooms is individually decorated in a classic Thai style with teak wood furnishings & Thai silk. There are 802 rooms & suites in 15 categories from deluxe double rooms to an ultra-luxury presidential suite.
Shangri la Bangkok Rooms ? Facilities
double or twin beds
shower & bathtub
large safe deposit box
broadband internet
large flat-screen satellite TV with movie library
IDD Telephone w/voicemail
writing desk
sitting area with sofa
refrigerator/minibar
tea & coffee maker
room service menu
hairdryer
bathrobes
slippers
towels & toiletries
Some rooms & suites have a private balcony with river views & seating. Suites come with a separate living room, the more expensive ones also include a kitchenette & dining area. Butler service is available if required.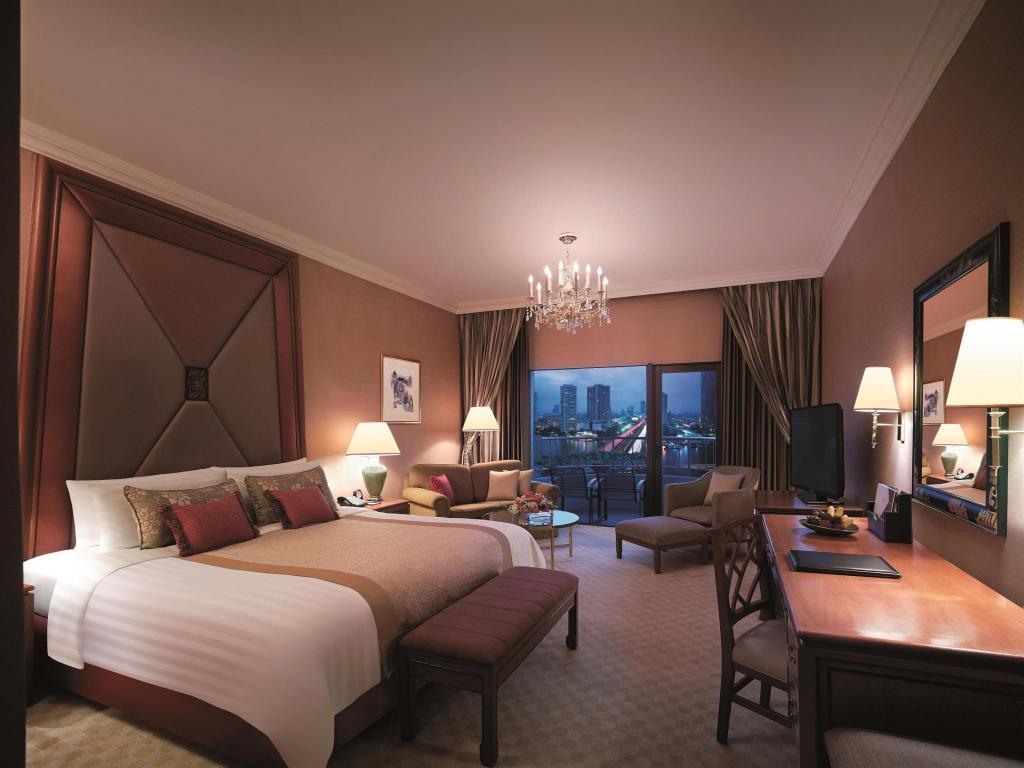 The Shangari-La Wing
The Shangri-la wing is the original hotel building where most of the guest rooms & suites are located. Most of the hotel facilities, restaurants & bars can be found in the Shangri-la wing.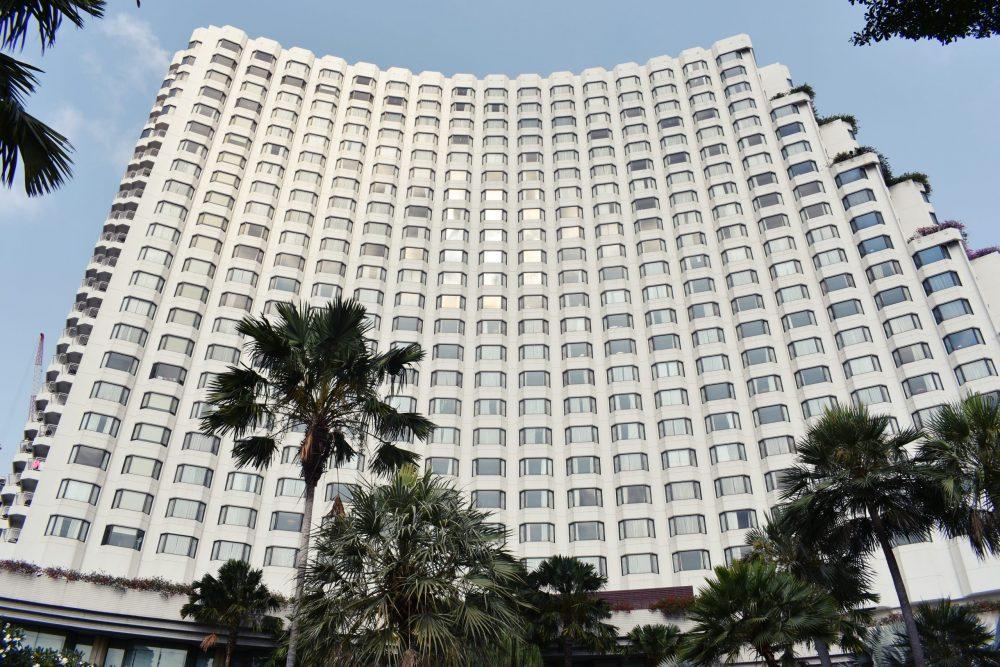 The Krungthep Wing
The Krungthep Wing is the newer part of the hotel, built-in 1991 & featuring its own entrance & lobby. Krungthep Wing is quieter & more refined than the Shangri-la Wing. It offers greater privacy & some exclusive features.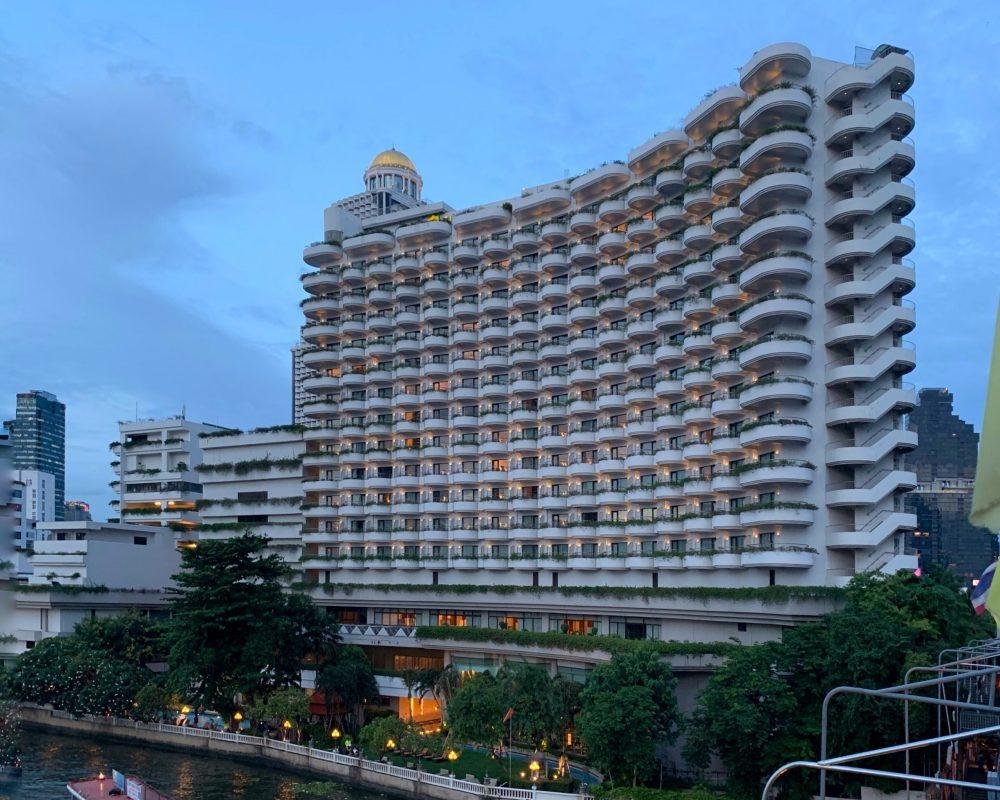 The Shangri la Bangkok Krungthep Wing rooms are larger than average & all rooms have a private balcony with either city or river views. The riverside lounge offers complimentary evening canapes & cocktails & all-day complimentary coffee, tea, juices & soft drinks.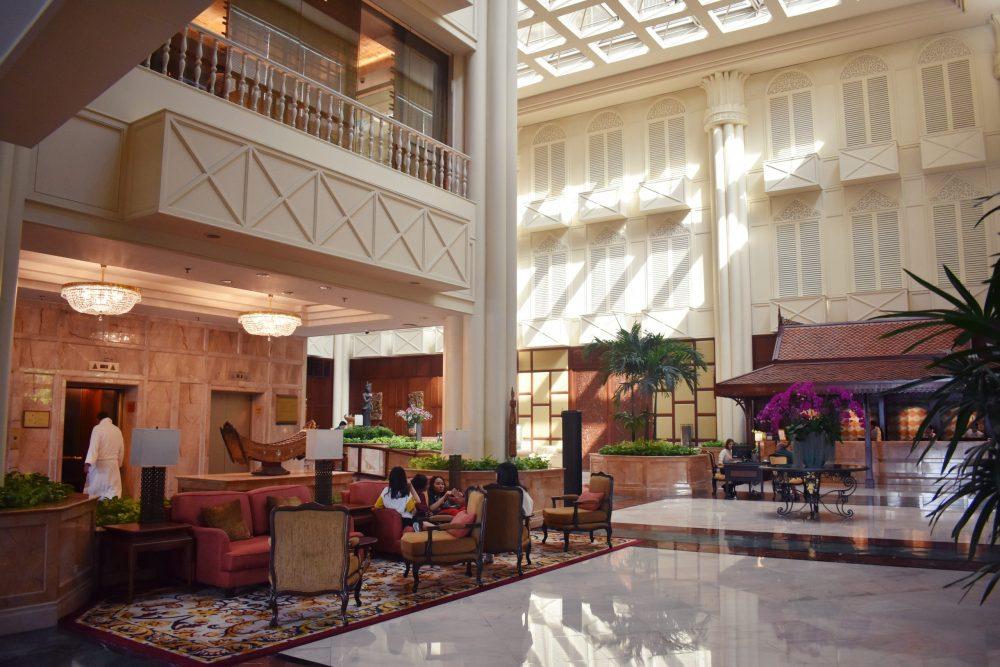 Other perks from staying in the Shangri la Bangkok Krungthep Wing are daily fresh fruit & newspapers & priority restaurant reservations. Private butler service is also available.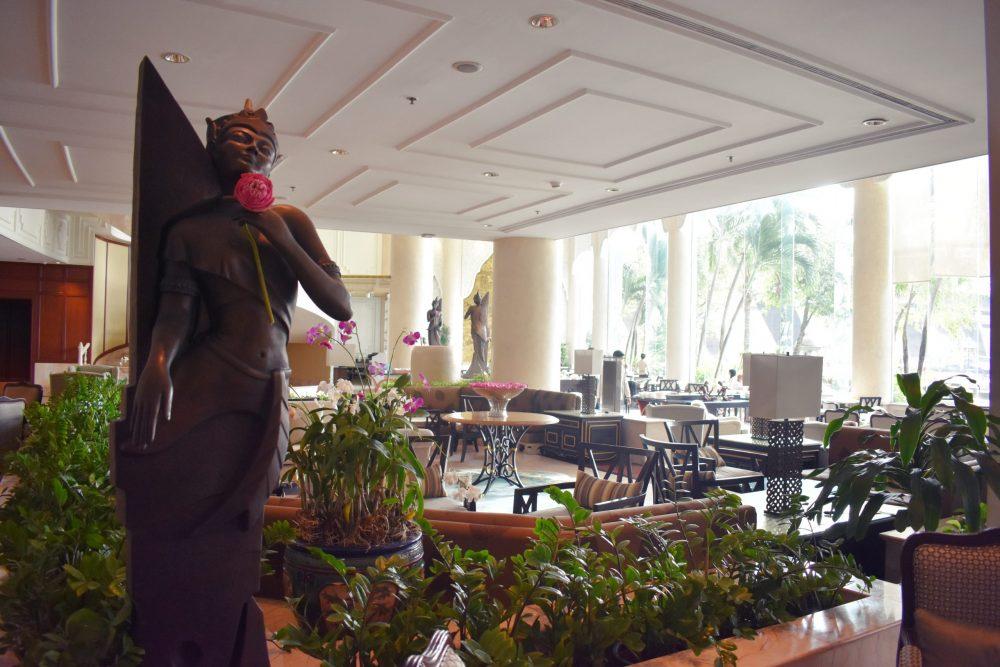 Shangri-La Hotel Bangkok Facilities
Shangri-la Bangkok has all of the facilities you could wish for in a luxury hotel. The staff speaks 4 languages, English, Chinese, Japanese & Thai.
Facilities include?
24-hour reception
2 Swimming Pools
Fitness Center
Sports Center
Spa
Clinic
Car Rental
Shuttle Boat & Tuk Tuk
Garden
Florist
Coffee Shop
Snack Bar
ATM
Luggage Storage
Wheelchair Access?
Business Center
Safe Deposit Boxes
Complimentary Shoe Shine Service
Beauty Salon
Laundry & Valet Service
Free WIFI
Pushchairs
Babysitting Service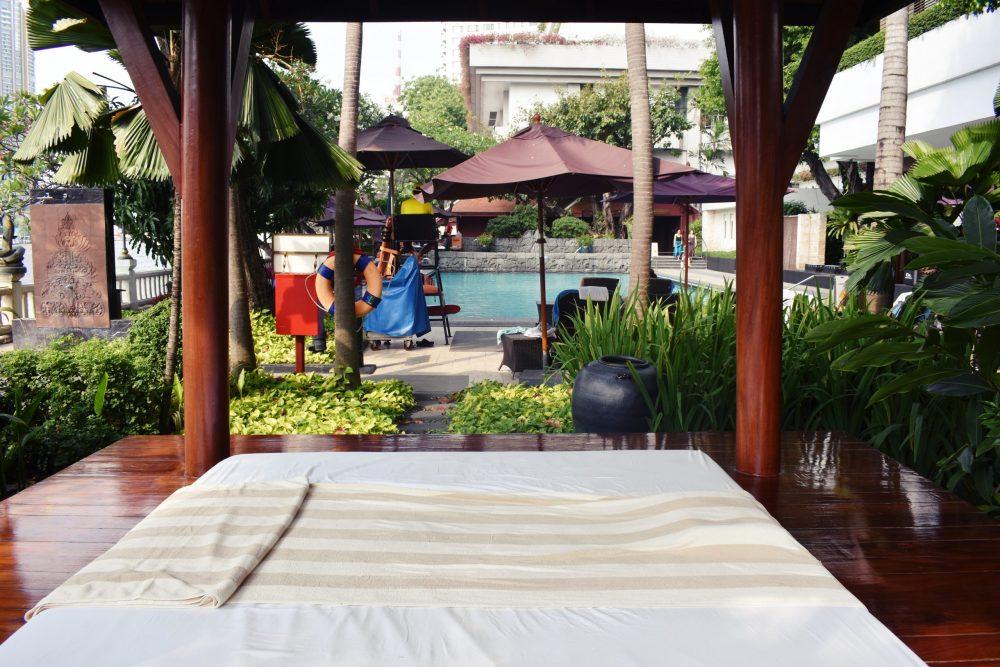 Shangri-La Bangkok Restaurant
There are 5 Shangri la Bangkok restaurant, serving Thai, Chinese, Seafood, Steak, Italian, BBQ & International Buffets. They are
Next 2 Cafe: International Buffet. Breakfast, Lunch, Brunch & Dinner 06.30-24.00.
Salathip: Authentic Classic Thai Food 18.00-22.30
Volti: Classic Italian – 18.00-22:30 
Chocolate Boutique: Chocolates, Cakes, Pastries & Pralines – 08.00-23.00
Shang Palace: Classic Cantonese cuisine – Lunch: 11:30–14:30 (Mon-Sat), 11.00-15.00 (Sun)
Dinner: 18.00-22:30 (daily)
A smart casual dress is required for dining at a Shangri la Bangkok restaurant & no smoking is allowed.
Shangri-La Salathip Thai Restaurant
The nicest Shangri-la Bangkok restaurant for a romantic dinner with great views of the river is the Terrace at Salathip & Next 2. Salathip is the hotels a la carte Thai restaurant serving authentic cuisine from all regions of Thailand. It is housed in two beautiful Thai-style teak wood pavilions in a tropical garden setting with an outdoor riverside terrace. One of the must-try signature dishes is Yum Som O, a delicious combination of grapefruit, shrimp, coconut & shallots. Dining is accompanied by a Thai dance performance commencing at 19.45 daily.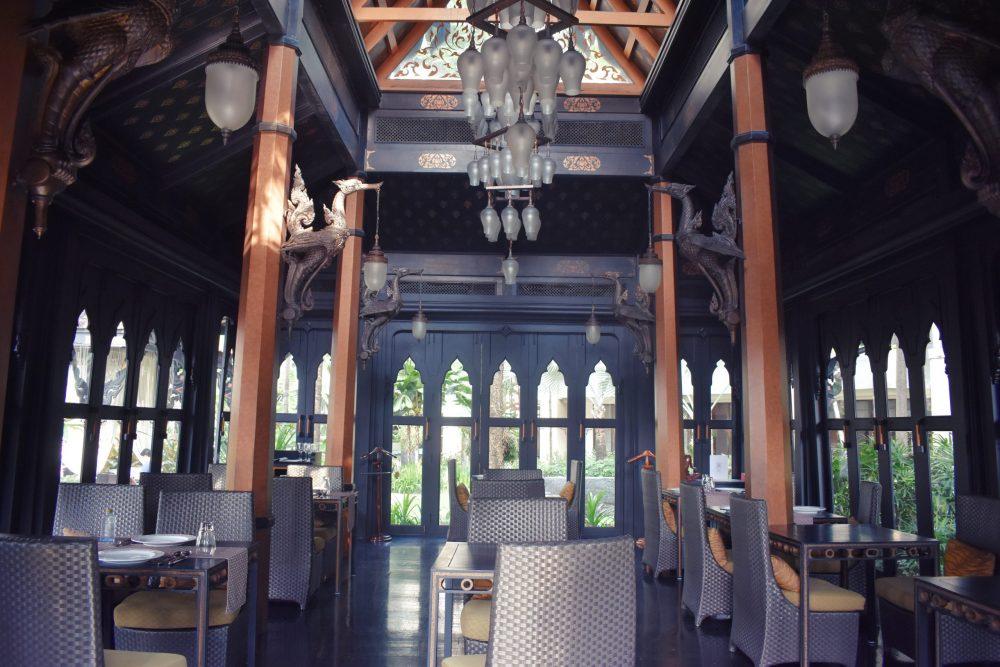 Next 2 is located by the riverside in the Shangri-la wing. It features an International Buffet displayed in a market setting. Selections include Thai, seafood, sushi, BBQ, pasta, salads, fruit, sweets & more. There are six cooking stations where chefs will cook your food to order. An a la carte menu is also available. Next 2 has a popular family-friendly brunch on Sundays from 12.00-15.00 featuring a host of activities for kids as well as one of the best Sunday brunch buffets in Bangkok.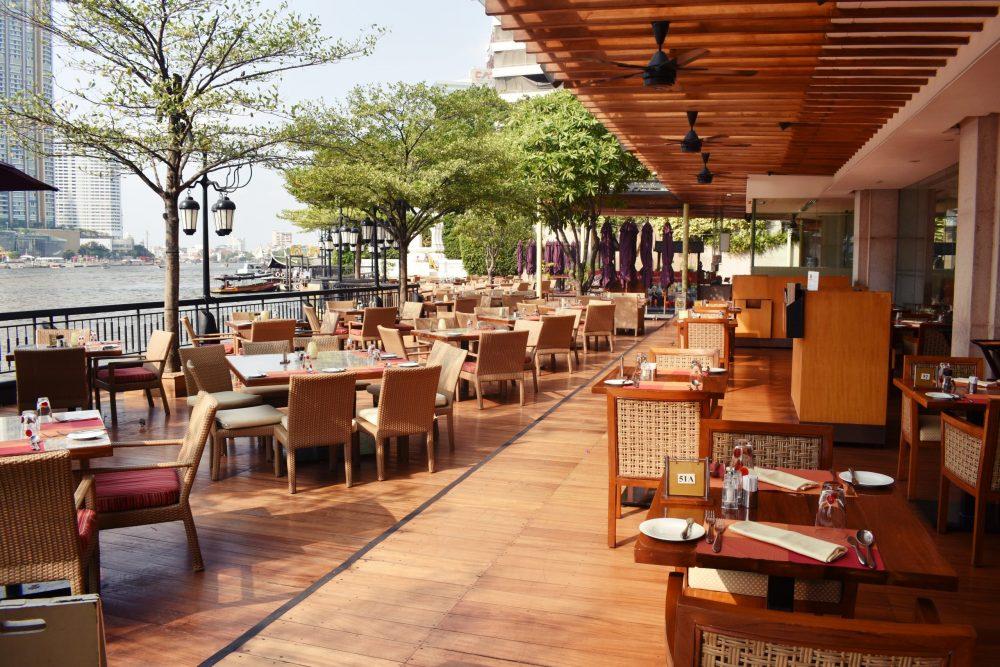 Shangri-La Horizon Dinner Cruise
The daily Shangri-la dinner cruise leaves the Shangri-La Pier every evening at 19.30. The 2-hour experience features an intimate 5-star dining experience on a smallish size luxury river cruiser. The food includes Thai & international dishes as well as seafood, sushi, cheese, some delicious desserts & full bar service. There is a choice of an air-conditioned cabin or open deck dining. The cruise passes Bangkoks most famous riverside monuments that look stunning when lit up at night. Highlights are Wat Arun, Grand Palace, Santa Cruz Church, Holy Rosary Church, Memorial Bridge, Kian Un Keng, Guan Yu Shrine & Asiatique.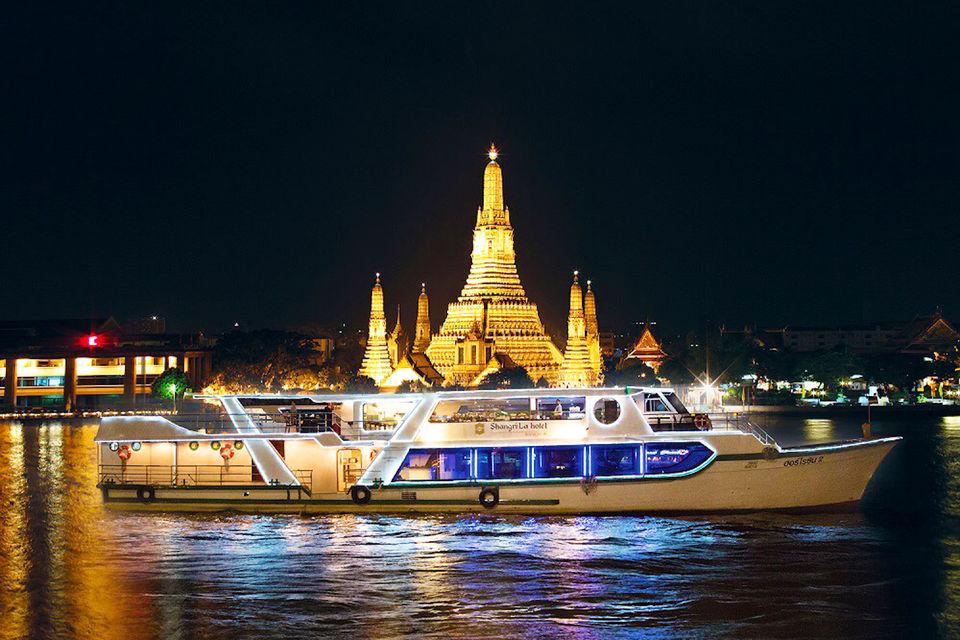 The normal price is 2500-3000 baht per person but you can book discounted tickets here
Shangri-La Hotel Long Bar
The Shangri-la Bangkok Long Bar is located in the lobby level of the Shangri-la Wing. Long Bar has wonderful river views, comfortable seating & a chilled ambiance. The bar specializes in classic cocktails & martinis with a prohibition theme.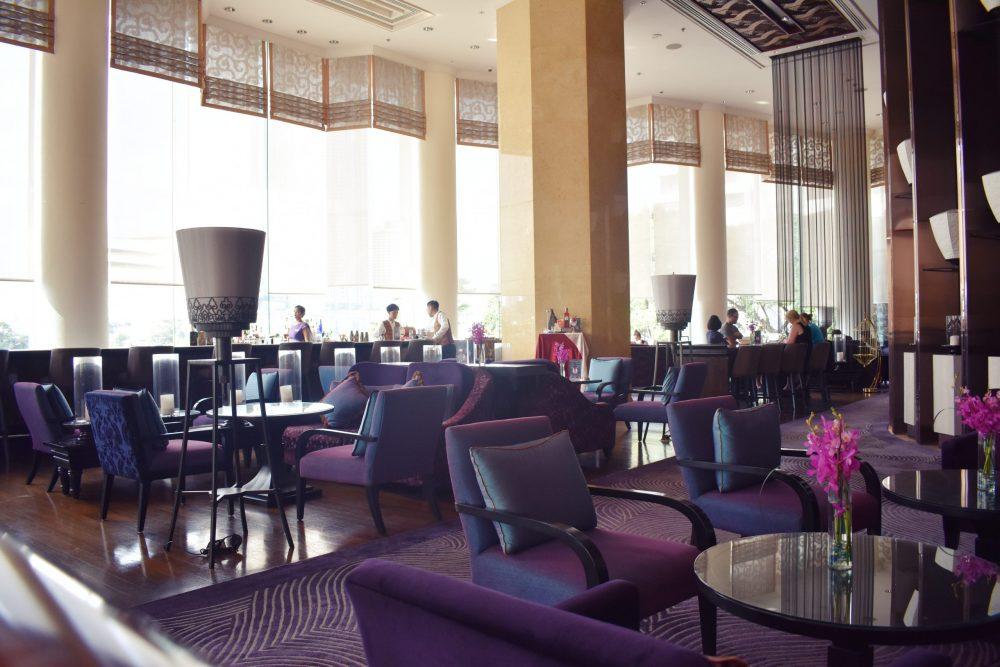 Drink Prices
Cocktails 250-420 baht
Wine/Champagne 320-600 baht per glass, 1900-22000 baht per bottle.
Spirits 260-18800 per glass
Beer 250-360 per glass
Soft Drinks 160-280 baht
A Tax & Service charge of 17% is added to prices.
Long Bar is open from 08.00 to 01.00 daily. No smoking. The dress code is smart casual.
Shangri-La Lobby Lounge
The Shangri-la lobby lounge is located in the Shangri-la wing & features food, drinks, traditional afternoon tea, a cafe & live entertainment. The highlight is the delightful harp player who sings in English & Chinese. There is also a pianist & a light band playing Jazz.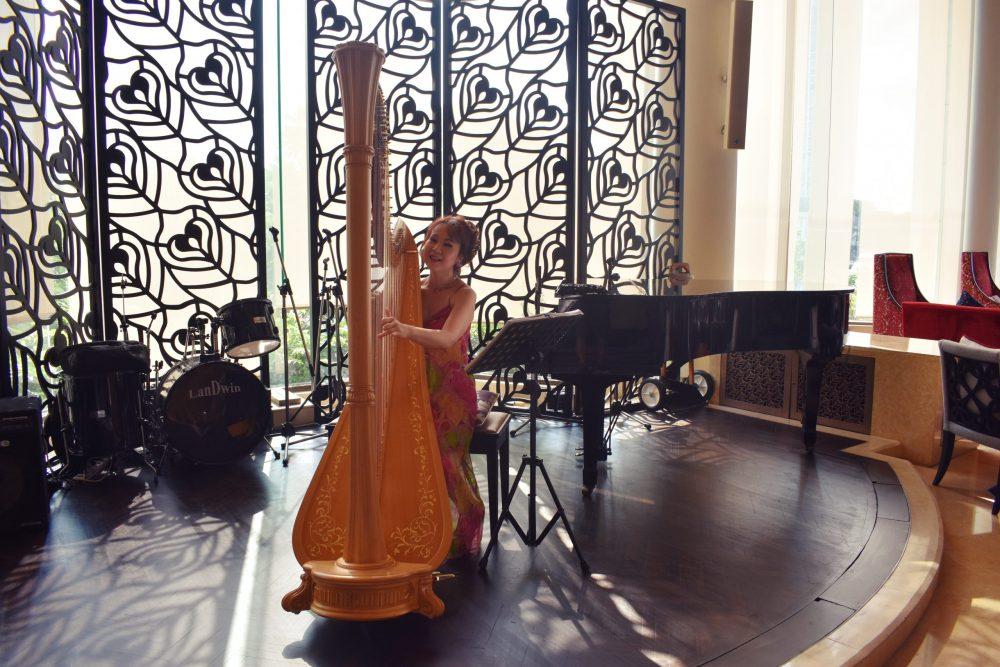 The lobby Lounge occupies a spacious area with comfortable seating & superb river views. The bar features an extensive menu of cocktails, wine, spirits, craft beers & some special Moutai, the national spirit of China.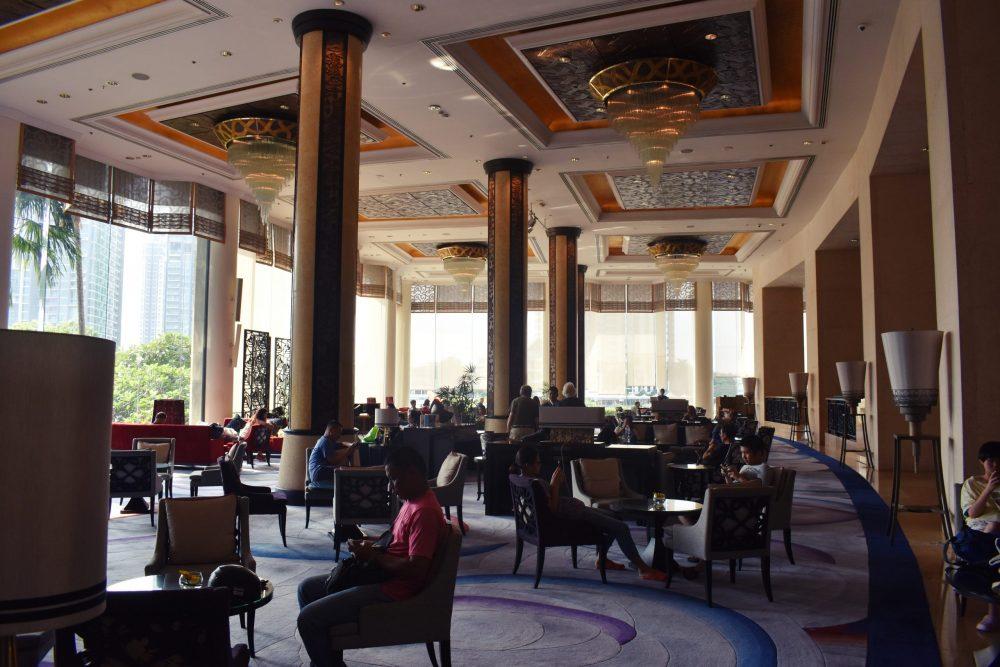 There is also a cafe corner offering some delicious bakery treats, ice cream & afternoon tea. A small a la carte food menu offers local & international ?light bites?.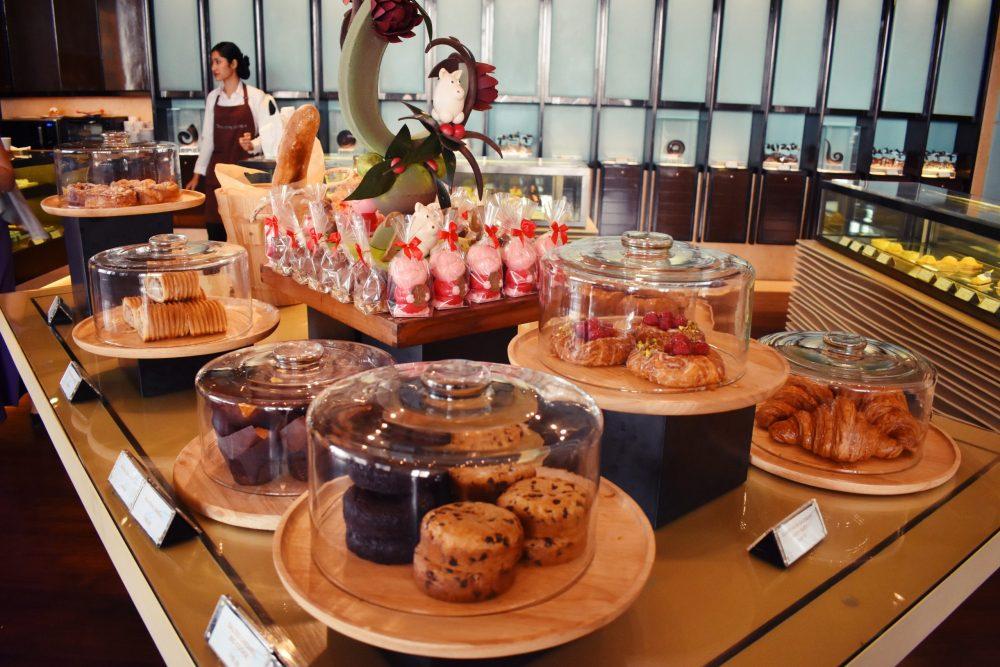 Shangri-La Bangkok Shopping Arcade
The Shangari-la has a small shopping arcade comprised of boutique-style shops selling a range of products including clothing, tailored clothes, jewelry, art, antiques, cigars, gifts & ceramics.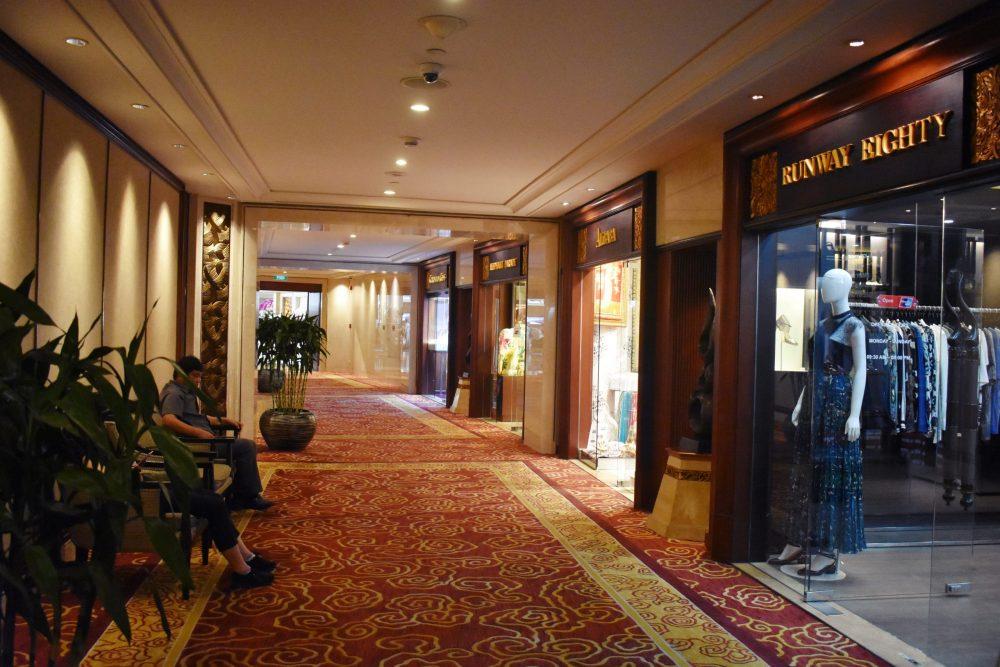 Elephant Parade is a charity that promotes & funds elephant conservation projects. The Elephant Parade shop sells wonderful painted ceramic model elephants in a large number of designs. They make lovely gifts & are a great souvenir of your trip to Thailand. The elephants come in several sizes & profits go towards elephant conservation.
Shangri-La Sport & Health Center
The Shangri-la has a large sport & health center. The fitness center is open 24 hours a day with instructors available from 05.00-23.00. The use of the fitness center is free. The Tennis Court is open from 06.00-22.00. There is a charge of 450 baht per person per hour. A hitting partner can be hired for 700 baht per hour. Daily activities are available as listed below. Check at the hotel during your stay for schedule, times & to make a booking. Some classes are free, there is a charge of 400 baht per person for afternoon activities between 14.30 & 15.30. Personal training is also available.
Aerobic Machines
Workouts
Weight Training Facilities
Yoga, Hatha Yoga, Vinyasa Yoga, & Gentle Yoga
Dance Fitness
Zumba
TRX
Tabata
Table Tennis
Cardio HIIT
Pilates
Tennis Court
Sauna
Steam Room
Jacuzzi
Chi Spa
The Shangri-la Chi Spa offers holistic Asian treatments to relax & heal your mind, body & soul. The Spa offers a range of facials, massages, body pampering & extra luxurious treatments.
Spa Services
Specialized Hydrasea Blue Facials
Anti-Aging Brightening Facial
Advanced Youth Revealing Facial
Active Men?s Facial
Intensely Hydrating Facial
Traditional Thai Massage
Back Massage
Siamese Massage
Relaxing Aromatherapy Massage
Deep Tissue Sports Massage
Back & Shoulder Massage
Foot Massage
Natural Herbal Compress
Chakra Cleansing Bath
Detoxifying Steam Bath
Eye Beauty
Detoxifying Back Treatment
Body Scrubs
Body Wraps
Spa treatments are available from 09.00 to 22.00 daily. Minimum age 18. Facials range from 2900 to 3900 baht. Massages from 1400 to 3600 Baht (60 or 90 minutes). Body Scrubs & Wraps are 2200 to 2400 baht. Extra luxury treatments from 900 to 1800 baht. There is also a 2-3 hour combination ?retreats? package featuring a choice of three treatments from the above. The cost is 3300 to 12000 baht. A 17% tax & service charge is applicable. Non-guests are welcome. Opening hours are 11.00-21.00.
Swimming Pool
There are two swimming pools that are exclusively for the use of hotel guests. The Shangri-La wing has the bigger, busier pool in a shady garden area flanked by palm trees & furnished with large comfortable sun loungers. A small cafe next to the pool provides waiter service. Yellow shirted lifeguards keep an eye on guest safety.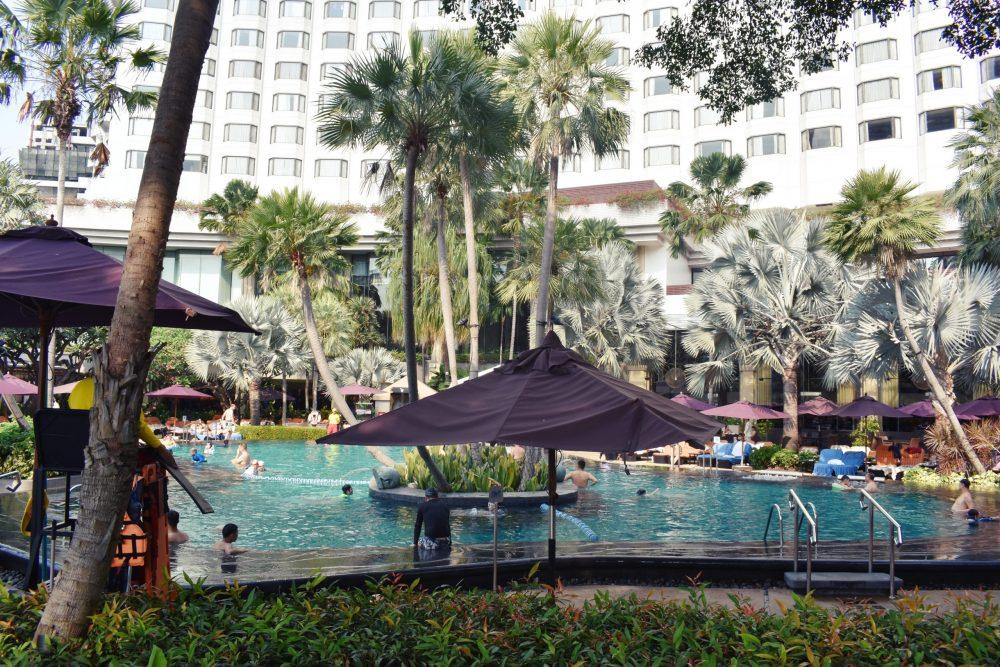 Krungthep Wing has a smaller pool next to the riverside in front of the hotel building. It is quieter than the Shangri-la Wing pool area & has sun loungers right next to the river under a canopy of shady trees. There is a waiter service & a lifeguard is on duty.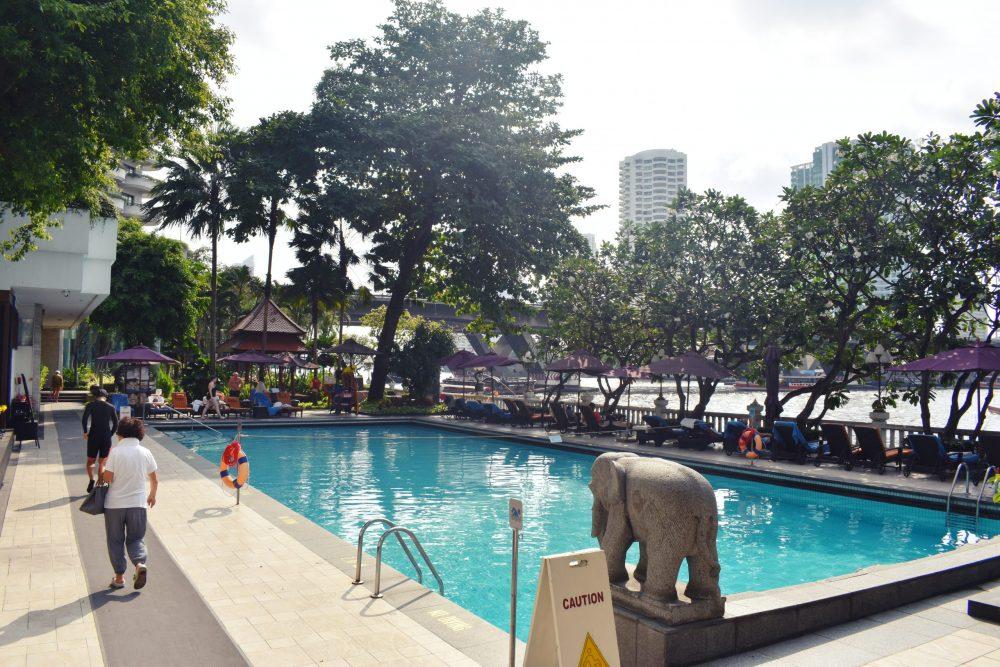 Bangkok to Chiang Mai by Train ? Travel in a First Class Sleeping Compartment?
Bookings available up to 1 year in advance
Shangri-La Shuttle Boat & Tuk Tuk
The Shangri-La runs a complimentary Shuttle Boat Service to the ICONSIAM shopping complex. Departures are every hour. A complimentary Shangri-la Tuk Tuk runs a shuttle service from the hotel to Saphan Taksin BTS Station.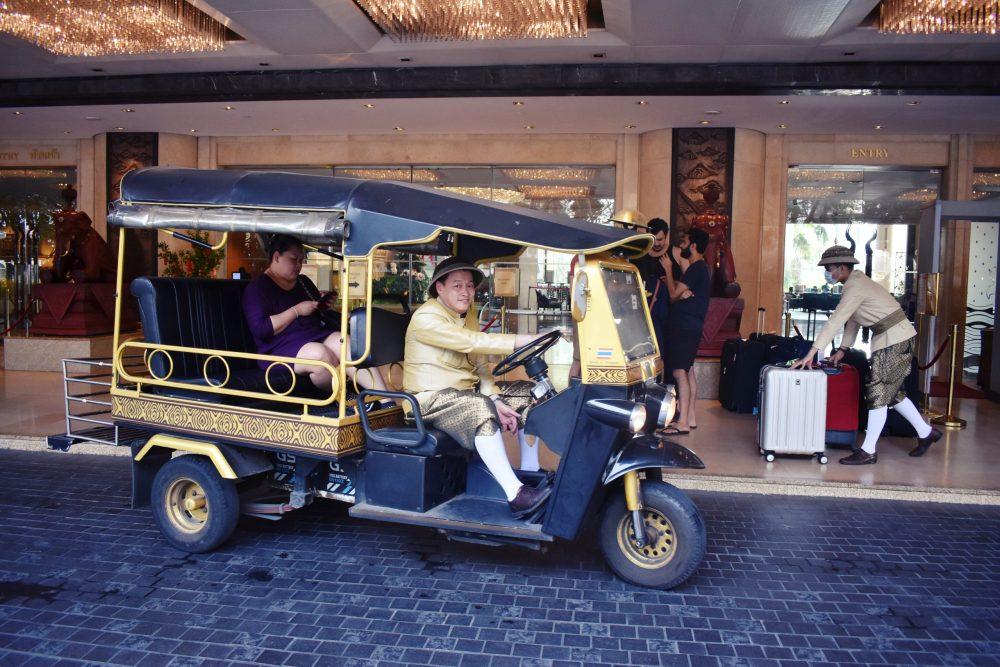 The services are for guests only though you may use the boat if you are going to & from the hotel for meetings, dining, drinking, or visiting the spa.
Landmarks Nearby
Video
Want to see more? Check out this video to learn more about one of the best hotels in Bangkok.
Book Your Stay at the Shangri-La Hotel Bangkok
Shangri-La is one of the best luxury riverside hotels in Bangkok. The rack rates for Rooms & suites are from 4500 to 13000 baht per room/suite per night. A tax of 17% is added to all prices. The more exclusive rooms & suites should be booked in advance. Check out the latest offers on Agoda & Bookingcom here
If you book through the link above, we receive a commission. Agoda or Bookingcom share their commission with us. You do not pay more. You pay the same as booking direct. If you have an account with Agoda or Booking you can log in at the confirmation stage and use Agoda cash, Genius discounts, coupons, or codes. We are an independent website. All revenues we make go to support, update, maintain & improve Tourist Bangkok.
How to get to the Shangri-La Hotel in Bangkok
Suvarnabhumi Airport (BKK) ? If you are staying at the Shangri-La, we recommend you take a private transfer from the airport. There are three classes to choose from. Click on the link for more information & booking.
A VIP Meet & Greet service is available that includes fast-track immigration clearance, a hostess to escort you to your waiting transport & a porter for your luggage. Check here for details & booking.
Don Mueang Airport ? From Don Mueang you can take a private or shared transfer. There are two classes to choose from. Click on the link for more information & booking.
?
Local Transport
Taxi ? The hotel can arrange a taxi for you or you can hail one on the street. Beware of taxis that hang around on the street near the hotel. These taxis do not use the meter, overcharge & will try to take you to fake gem shops & worse. Never ask a taxi driver for recommendations, they will only take you to places that pay them a commission.
Tuk-Tuk ? If you would like to use a tuk-tuk, walk up to Charoen Krung Road & hail a passing one. The same as for taxis, avoid ones that park & hang around near the hotel for the same reasons as taxis above.
BTS Skytrain ? Saphan Taksin Station is a 3-minute walk from the hotel or a 2-minute journey on the hotel shuttle boat. The BTS Skytrain is one of the most convenient ways to get around Bangkok.
Hotel Shuttle Boat ? There is a free shuttle boat from the hotel Pier to Iconsiam Mall.
Chao Phraya Express & Tourist Boats ? Both the Express (Orange Flag) & Tourist (Blue Flag) call at the Sathorn Pier, next to the hotel.
Asiatique Shuttle Boat ? The free Asiatique shuttle boat departs from Sathorn Pier between 17.00-23.00.