Chang Chui Plane Market
Chang Chui is a creative space that mixes shopping with pop/street art, bars & restaurants. The markets centerpiece is a full size decommissioned aircraft that has been converted into a restaurant.
Chang Chui Plane Market / The Airplane
The market has become known as the plane night market due to the presence of an old decommissioned airplane, a Lockheed L-1011 TriStar. The interior of the cabin has been converted into a restaurant, Na Oh Bangkok, also known as Noahs Ark. The restaurant is no cheap diner but more of a contemporary fine dining experience serving a set menu. The restaurant is accessible by stairs or by a classic antique lift with a red interior. A curly red slide leads from the emergency door to the ground.
The interior is full of antiques with a gothic twist. There is a large central long table with an attached bar & two chair window tables along the fuselage. The top table is in the raised cockpit with a view over the rest of the interior. It seats four. The presence of various stuffed animals is the source of the Noahs Ark theme while several church style angels complement the gothic architectural feel. The cost? 1500 baht for 5 courses, 2500 for 8 courses.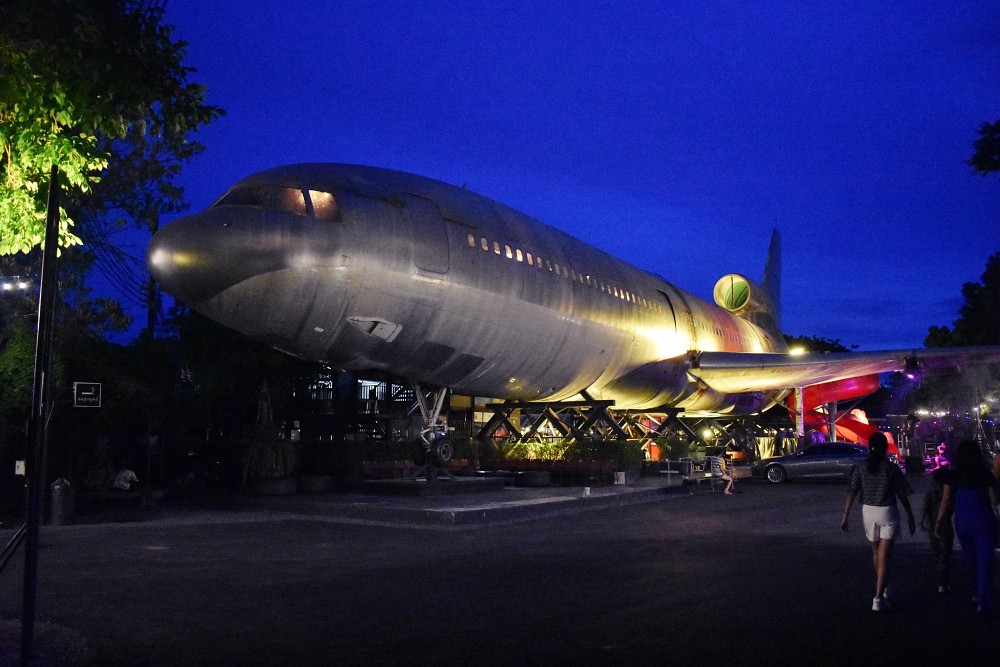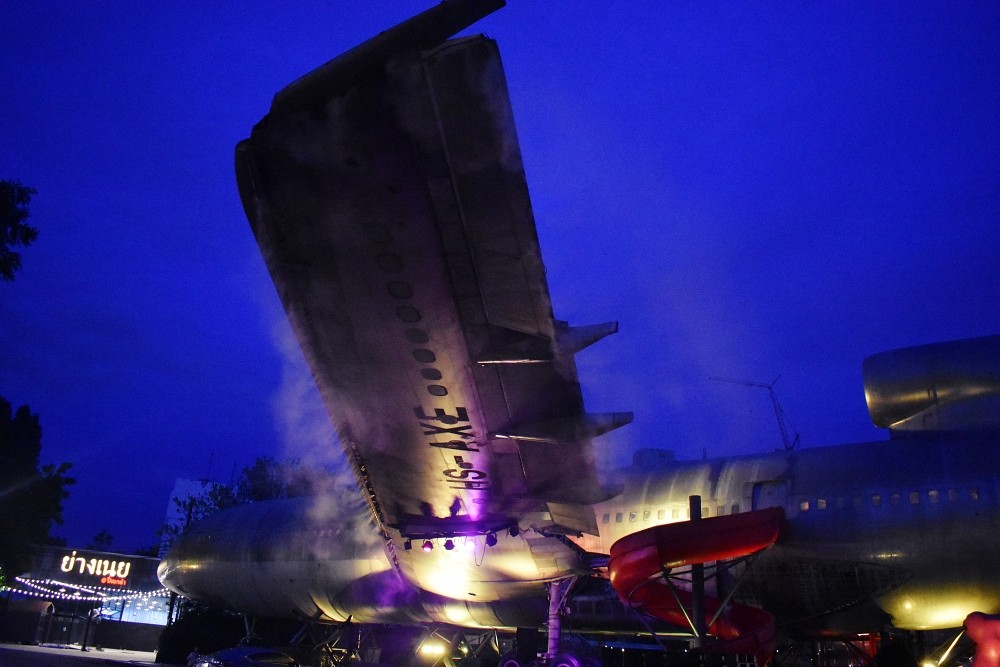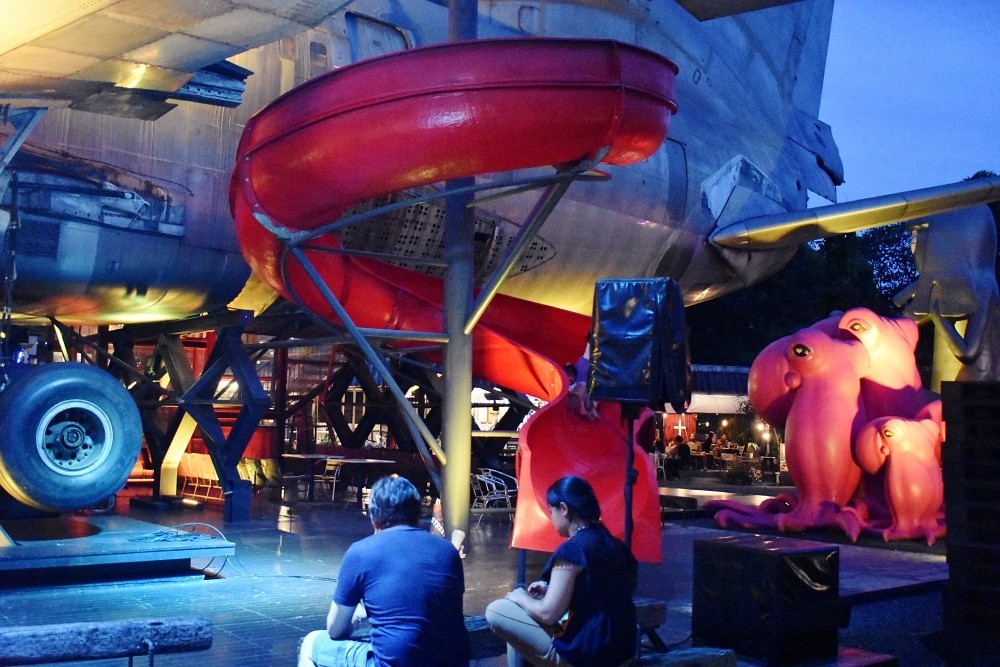 Chang Chui Plane Market / Art
All of the buildings in Chang Chui are eco friendly, made from recycled materials. The Chang Chui green zone features artist studios that are open during the daytime until early evening. Inside you will find artworks, designer furniture & home decorations, sculptures & more, mostly made from recycled materials.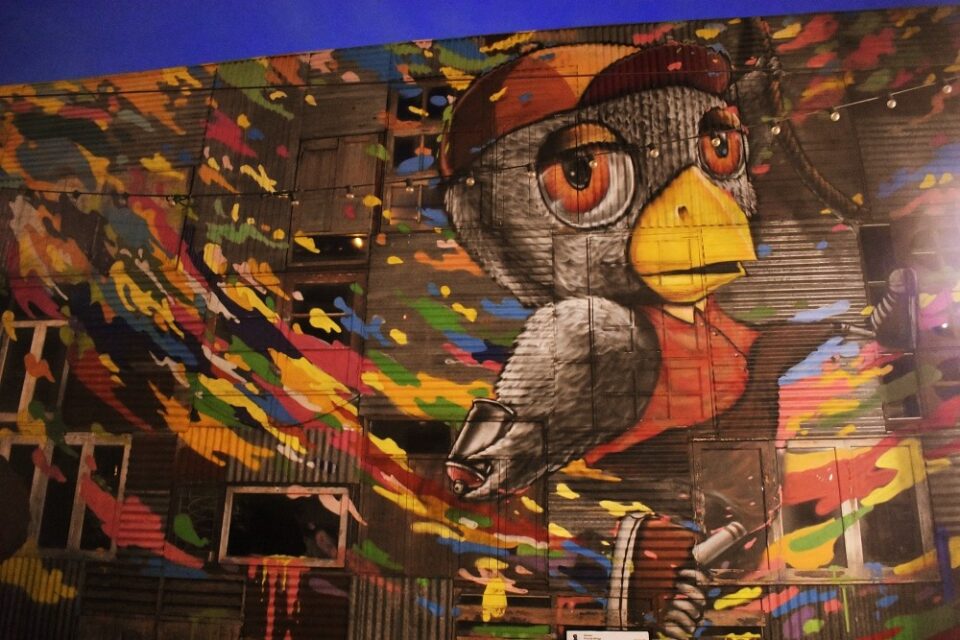 Various art installations adorn the park including a giant dinosaur head, a giant red skull, & alien themed creatures. The outside of the buildings is decorated with urban street art from popular Thai street artists such as Alex Face (the cute 3 eyed baby) & Mue Bon (the large bird).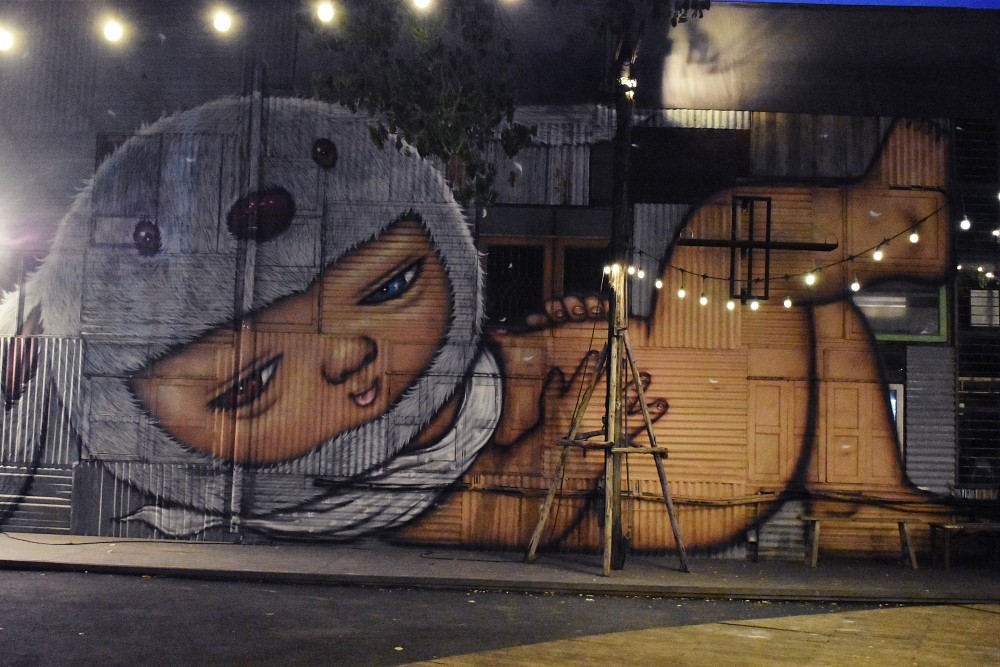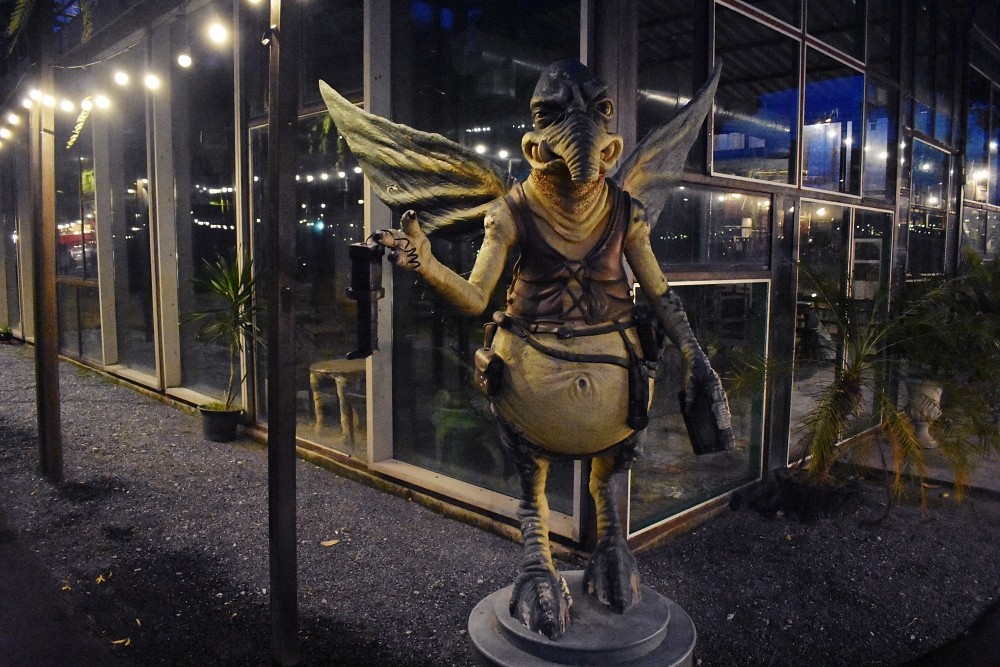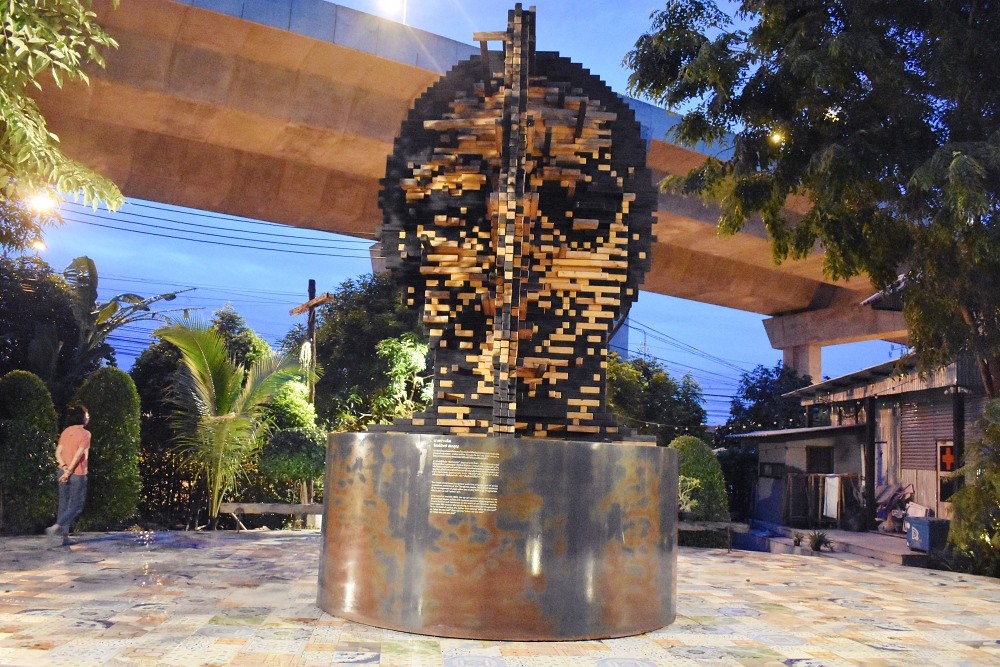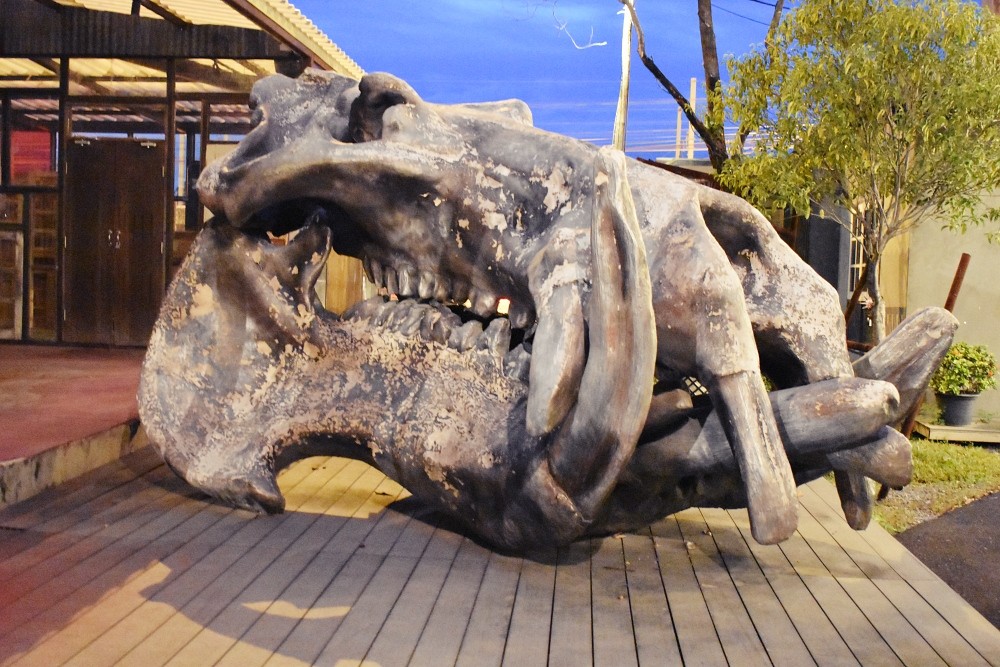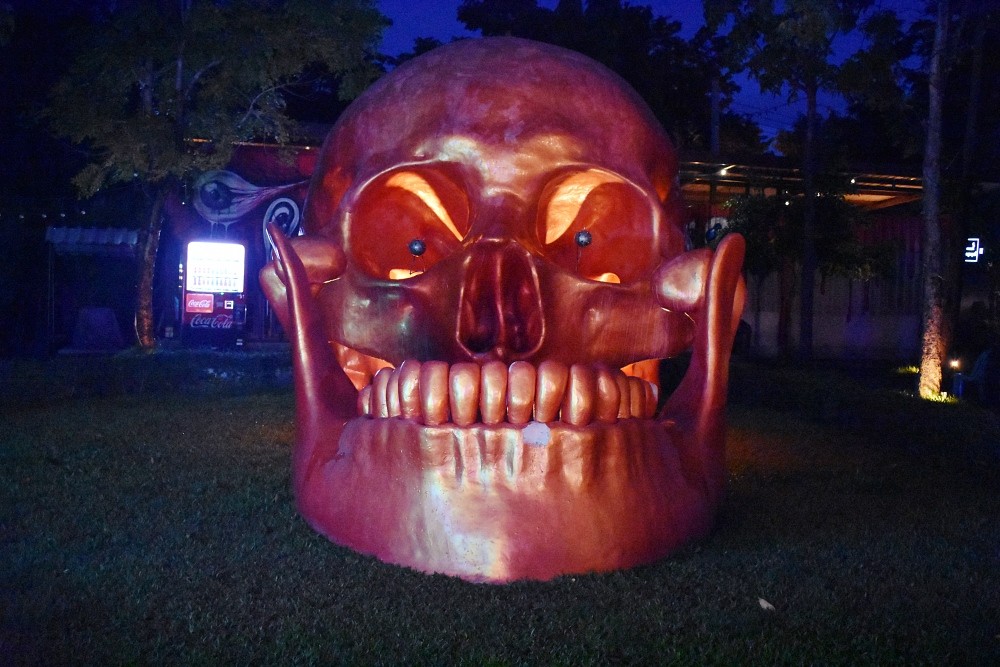 Chang Chui Plane Market / Shopping
Shopping at Chang Chui Plane Market focuses on stylish artistic designs. You will find shops selling a variety of products including vintage & contemporary clothing, handmade products, small gifts, books, stationery, leather goods, & art. Shops are small boutique style. There is a flea market at weekends.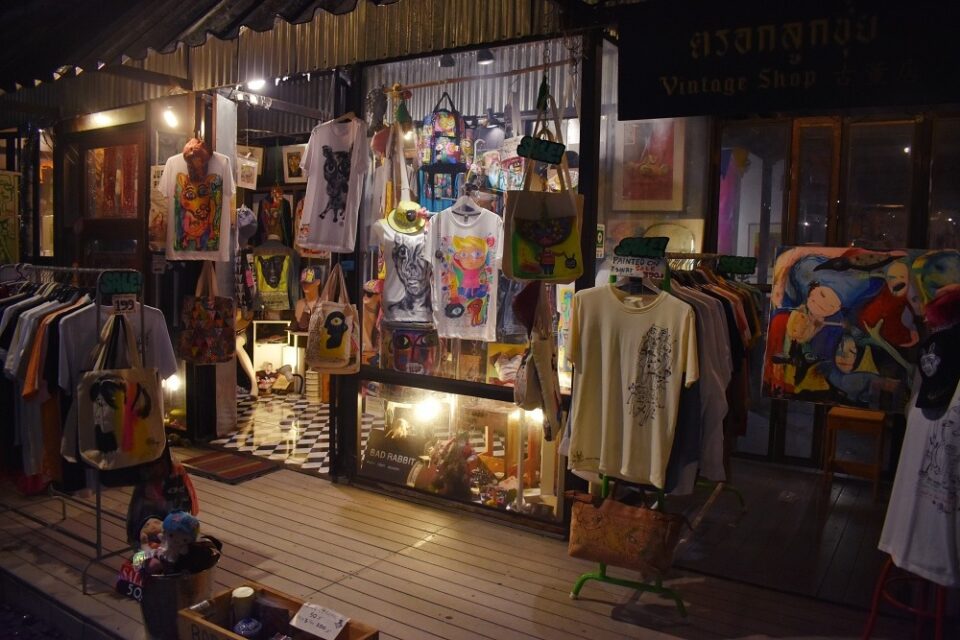 Chang Chui Plane Market / Food & Drink
Apart from the airplane restaurant, there is a good selection of small cafe-style restaurants serving up predominantly Asian & Thai street food style dishes though you will also find Pizza & Burger. We ate Kaprao Kung (spicy shrimp w/basil & chili) at Bucket, one of the small cafes next to the airplane. It was excellent as was the price of 80 baht. Bucket specializes in cocktail buckets though we ordered a large Chang at 100 baht. Buckets were 200 to 350 baht depending on the size. There is also a large craft beer bar made from recycled materials, also next to the airplane. In the evening there is live music in the area around the plane, either acoustic or Jazz.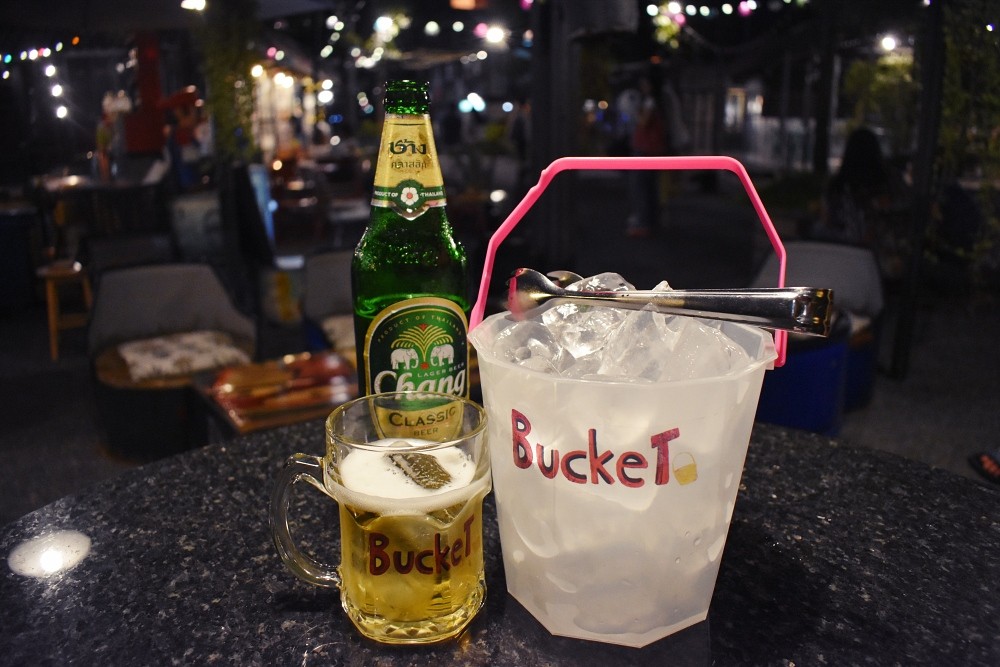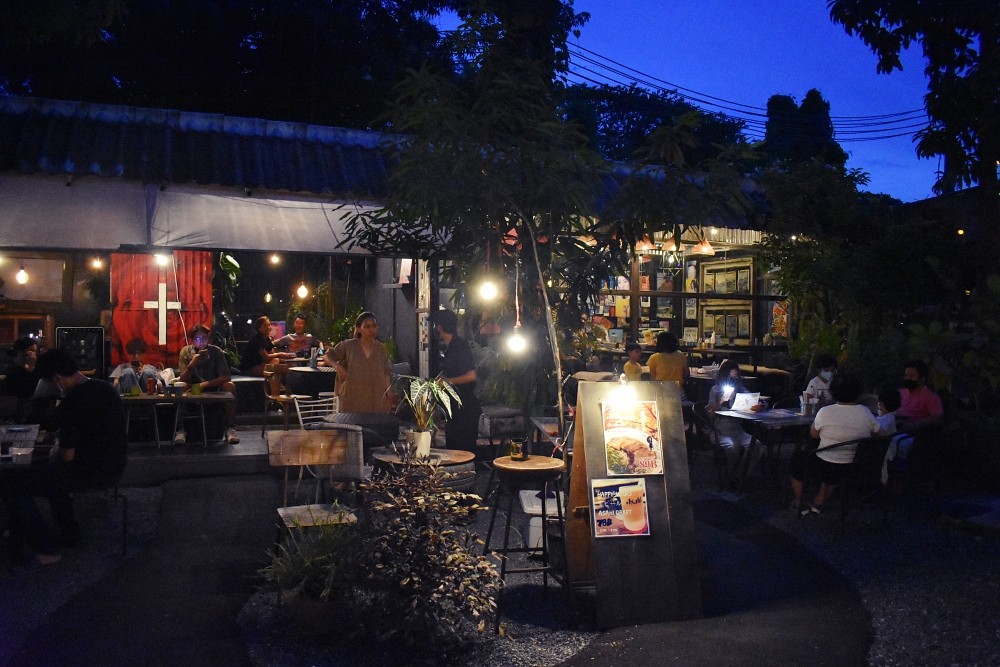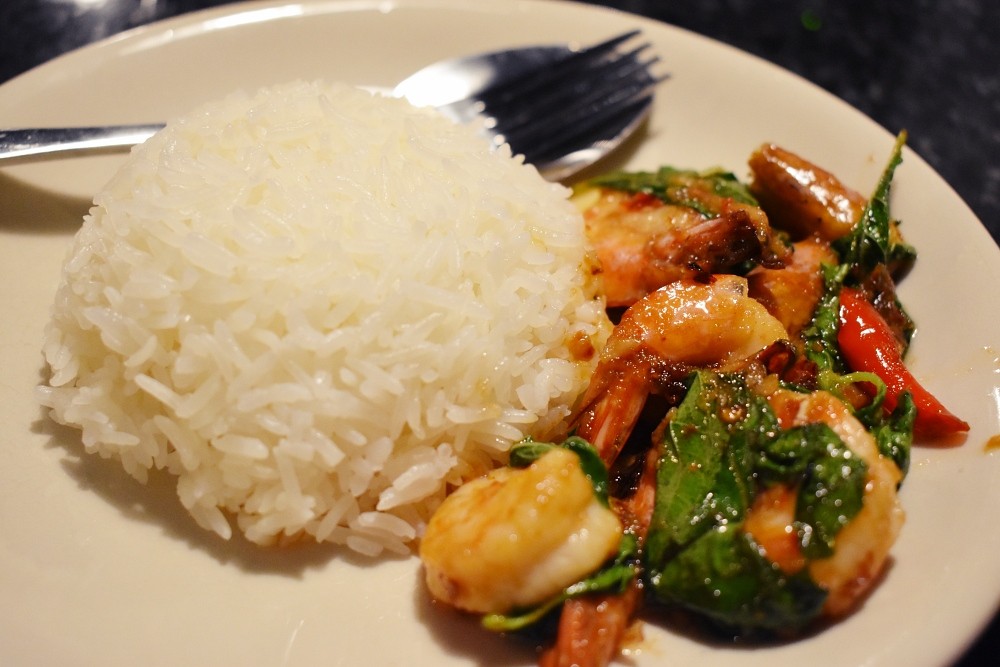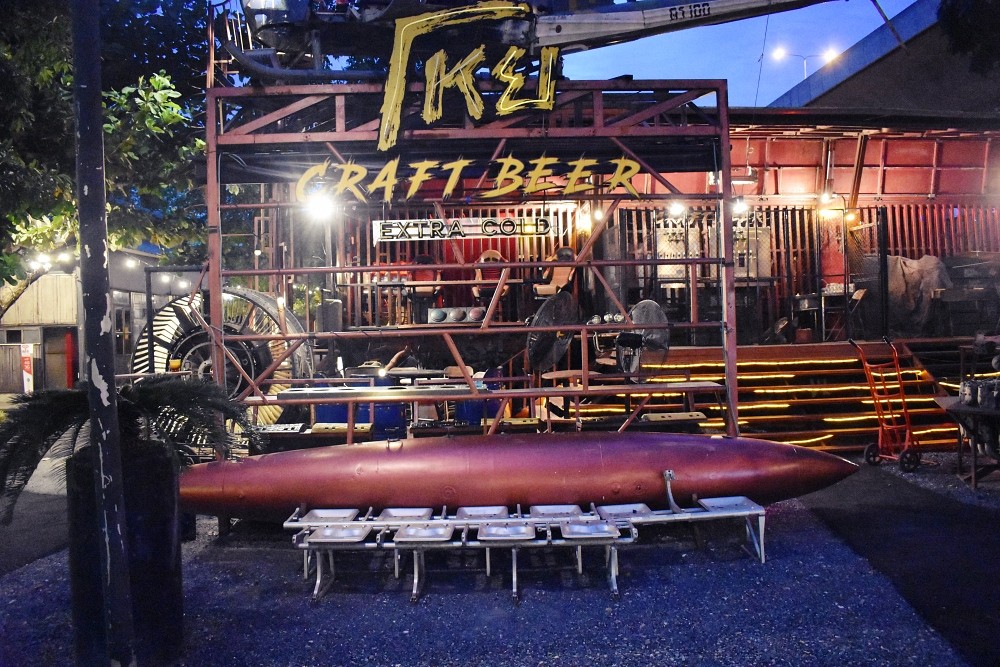 Chang Chui Plane Market is a great place to check out some cool art & partake in some relaxed shopping while enjoying inexpensive street food, beer & cocktails. We recommend you visit on a Saturday or Sunday from the early evening. There is no entrance fee.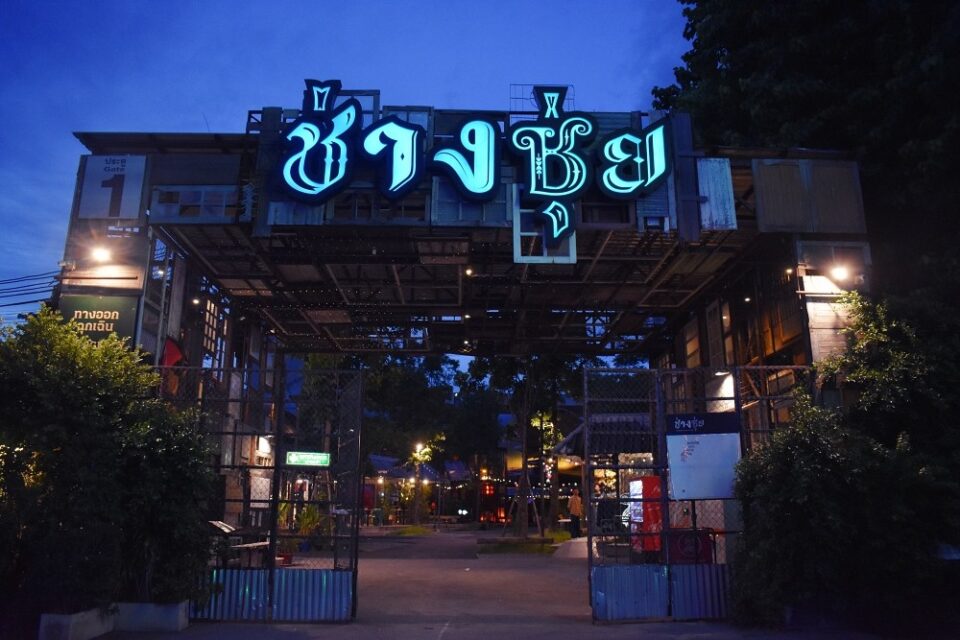 Where is Chang Chui Plane Market?
Location: Sirindhorn Road, Bang Phlat, Pinklao, Bangkok
Opening Hours: The complex is open all day but the night market operates between 16.00 & 23.00. Closed on Wednesday.
Getting There: Chang Chui Plane Night Market is not convenient for public transport so it is best to take a taxi. If you are staying in the Khao San area it will only be a 15 minute journey. Buses that pass Chang Chui Plane Night Market are 28, 125, 515, 539, 710. The Bus stop is 100 meters from the market. Bus 515 runs from Victory Monument. The nearest train station is Bang Bamru which is a 10 minute walk. There is a daily Ordinary train at 16.40 from Hualamphong arriving at 17.15, also at 18.30 arriving at 19.10. These are the only convenient trains. There are none returning.