Wat Rakhang 
Wat Rakhang is a royal temple and one of the oldest & religiously important temples in Bangkok dating back to the Ayutthaya period when it was known as Wat Bangwa Yai. It is also known as the temple of bells due to its large number in various sizes. Rakhang translated means bell, the temple got its name from the discovery of a large bell discovered on the grounds that had a beautiful tone. This was during the reign of King Rama I who moved the bell to the Temple of the Emerald Buddha. Five new bells were presented to the temple as replacements and can still be found in the temple belfry.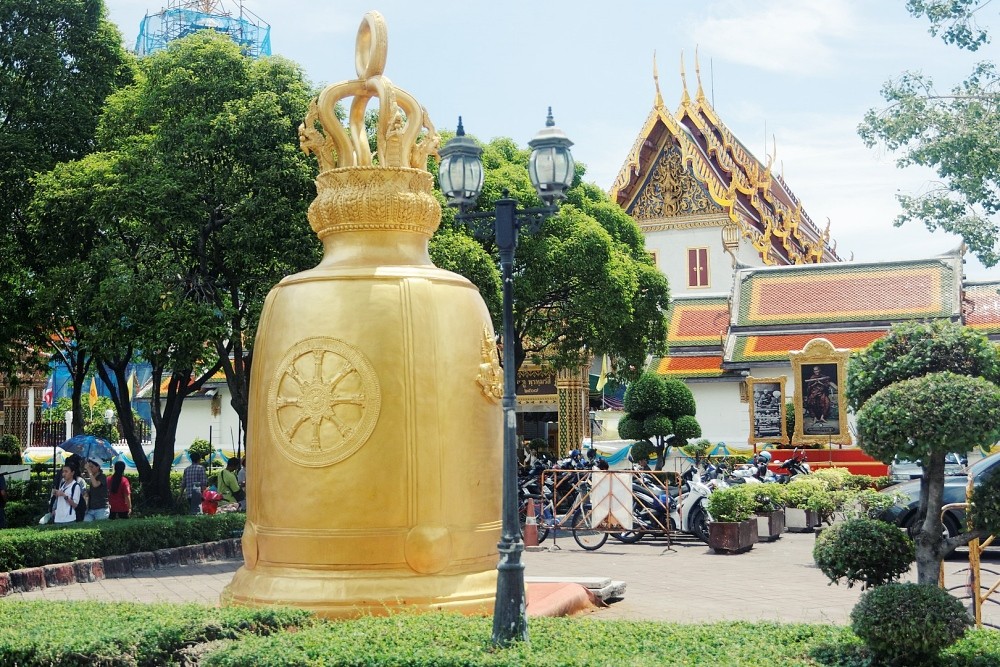 Wat Rakhang Ubosot
The ubosot features the main buddha image Phra Pratarn Yim Rabfa with praying disciples. There are also beautiful murals featuring scenes from the life of the buddha, depictions of Buddhist hell, scenes from ancient city life, and the royal barges on the Chao Phraya River.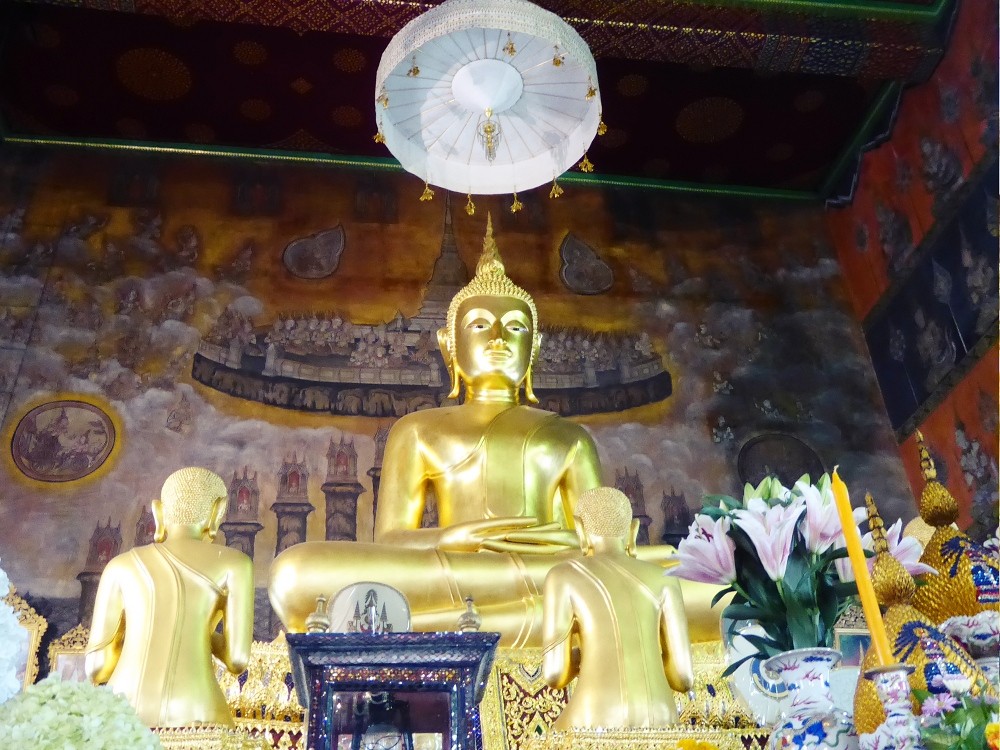 Luang Phor Toh
Wat Rakhang is also known as the temple of Luang Phor Toh, a very famous monk who was the temple abbot from 1852 to 1872 . Luang Phor Toh was an advisor to the king but is better known as the monk who performed an exorcism on the famous Thai ghost Nang Nak, sealing her spirit in a jar. In a small square in front of the temple is a large statue of Luang Phor Toh which is worshipped by Thai visitors to the temple.
The Scripture House
At the side of the temple in a small garden is a red teak stilt house where holy Buddhist scriptures (the teachings of the Buddha) are stored in black & gold lacquer cabinets. The house which dates back to the 1780s was once home to King Rama I, the founder of Bangkok & the Chakri dynasty before he became king when Thonburi was the capital. A statue of Rama 1 and a portrait are inside where Thai people pay their respects to the king.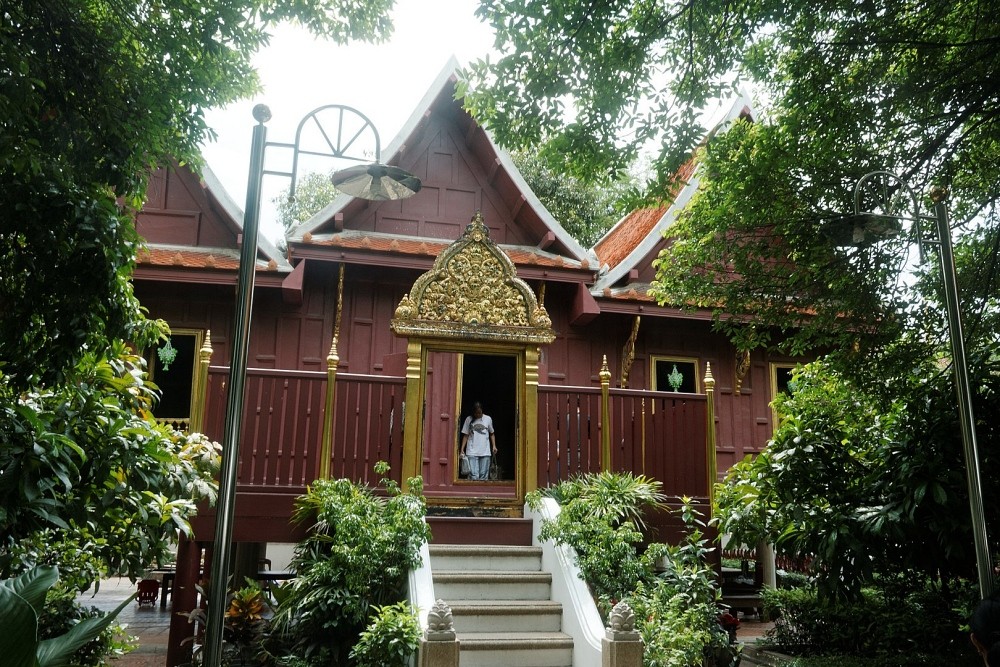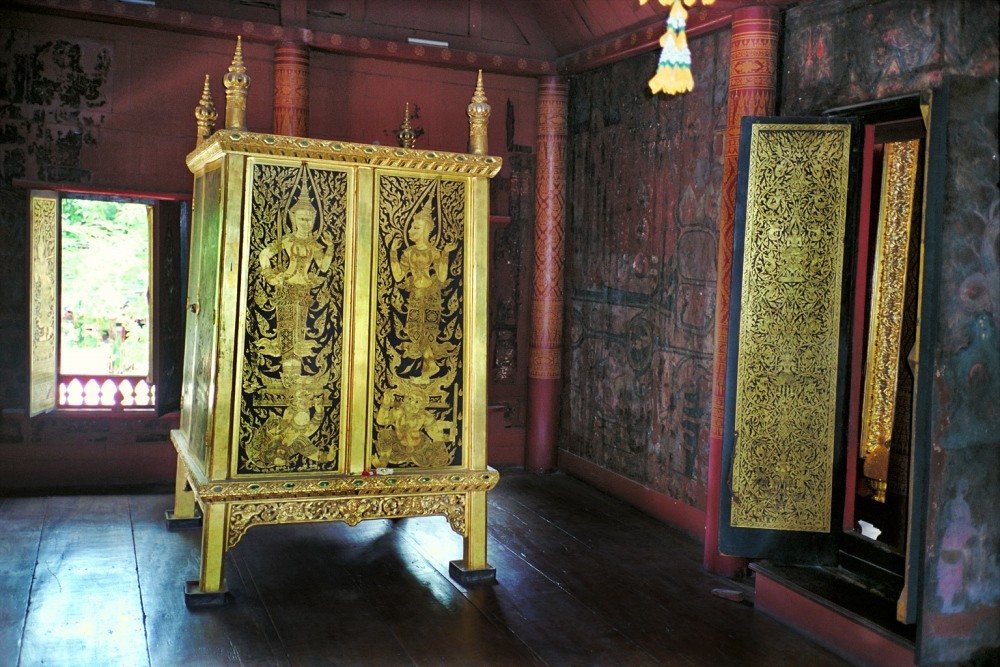 The area around the temple is known as Wang Lang with buzzing street life & a bustling market. The area was once Wang Lang Palace though there is no trace of the palace left. To get to the temple you can take a cross-river ferry to Wat Rakhang pier or the Chao Phraya Express to Prannock Pier. From Prannock pier turn left into the market and follow the lane which leads to the temple. Wat Rakhang Pier is a popular place to feed fish. Wat Rakhang is an important temple for Thai people and is regarded as an auspicious place to make merit. The temple is especially busy on weekends and holidays.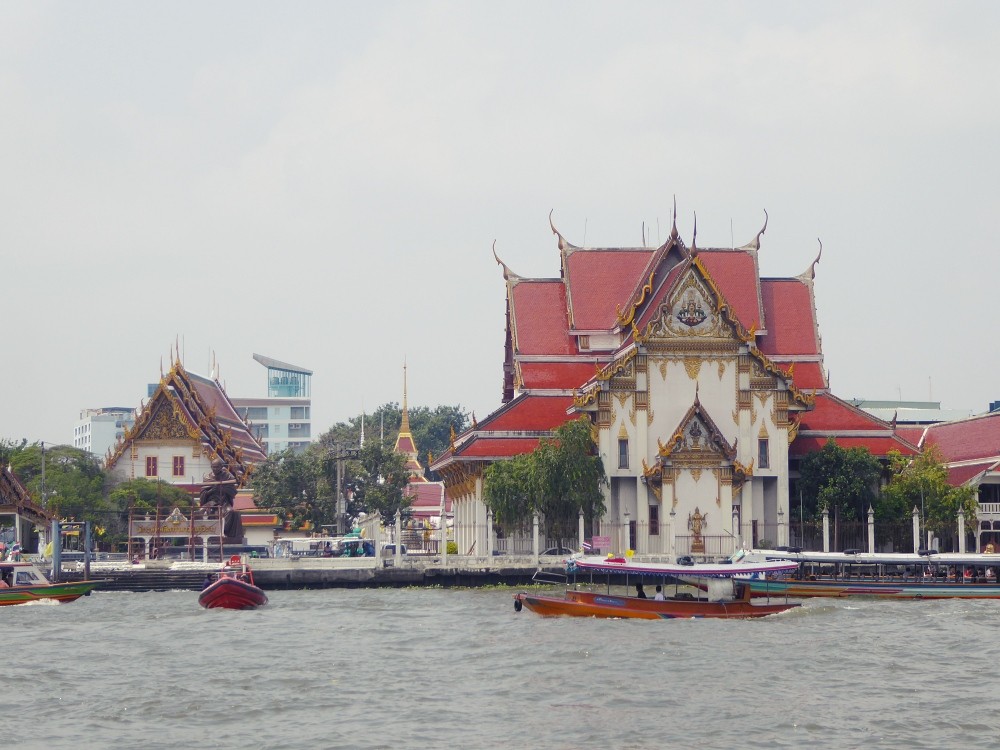 Where is Wat Rakhang
Location: Soi Wat Rakhang, Arun Amarin Road, Thonburi
Opening Hours: 08.00 – 17.00
Admission: Free
Getting There:
Bus: 57, 91, 146, 149, 157, 177
Boat: Tha Chang – Wat Rakhang (3 baht), Tha Chang – Prannock, Maharaj – Prannock, Tha Phra Chan – Prannock (3 baht), Chao Phraya Express Boat to Prannock Pier