Mazu Shrine
The Mazu Shrine at Lhong 1919 in Bangkok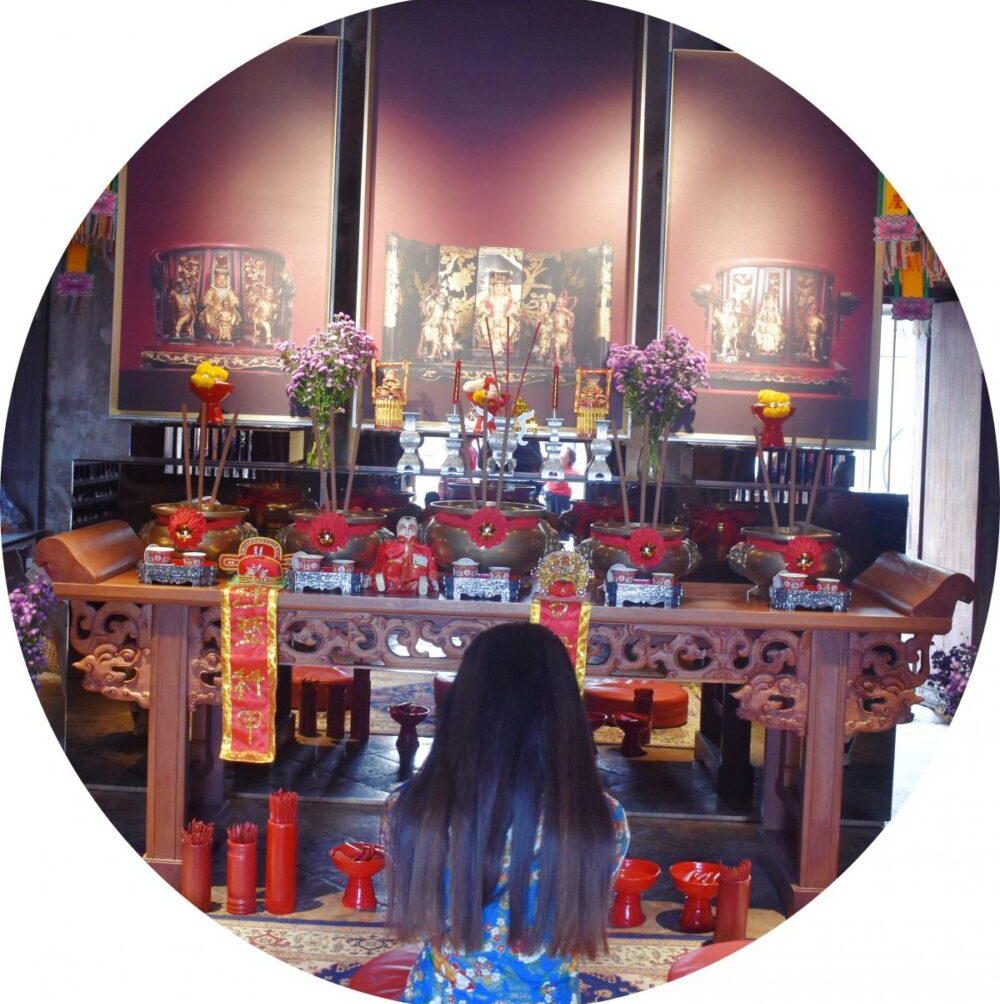 The Mazu Shrine Lhong 1919, is at a Chinese heritage center on Bangkoks riverside. The original Mazu shrine in Bangkok is 168 years old & was restored as part of the restoration of the site. The Mazu shrine Lhong 1919 consists of three statues brought by ship from China and installed with the buildings and pier. Mazu is the Chinese goddess of the sea traditionally worshiped by fishermen, sailors and those who have to travel by sea.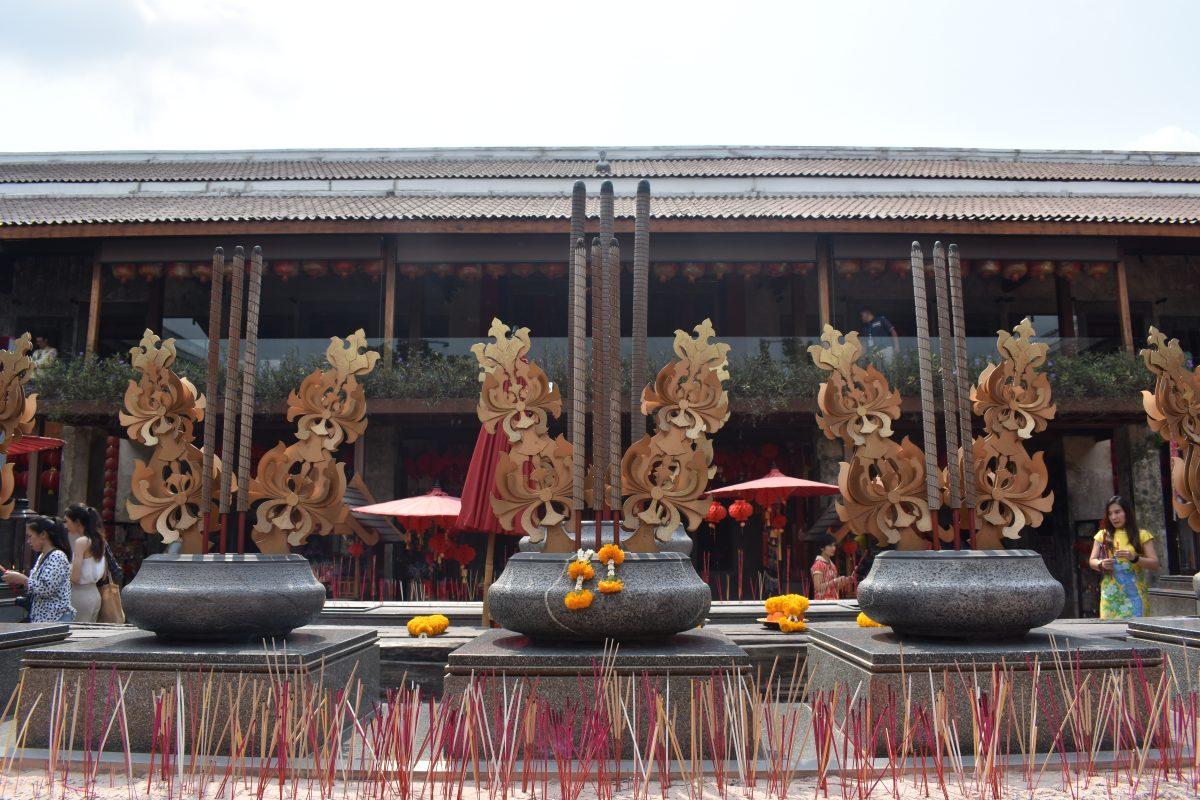 Mazu
Mazu, also known as the Queen of Heaven is the divine form of Lin Mo or Lin Moniang, a Fujianese shamaness who lived from 960 to 987. After her death, she became the guardian deity of seafarers and became popular with Chinese communities throughout South East Asia. They believe she roams the seas, protecting her believers. Mazuism is popular in Taiwan as the majority of Taiwanese are of Fujianese descent.
Mazu Shrine Lhong 1919
The Mazu Shrine in Bangkok is at the end of a U shaped courtyard at Lhong 1919. The ground floor shrine room is behind an altar. There are 3 wooden figures of Mazu at different stages of her manifestation. Firstly, as a girl who healed the sick and ensured safety during sea travel. Secondly, as the goddess Mazu who brings good fortune to businesses. Thirdly, as the empress in heaven full of kindness and compassion. Either side of each Mazu is guardian spirits. A second shrine to Mazu, the goddess of the sea is on the second floor.
Generations of sea travelers have prayed at this 168-year old Mazu shrine upon their safe arrival and for those who have to return to China, a safe journey home.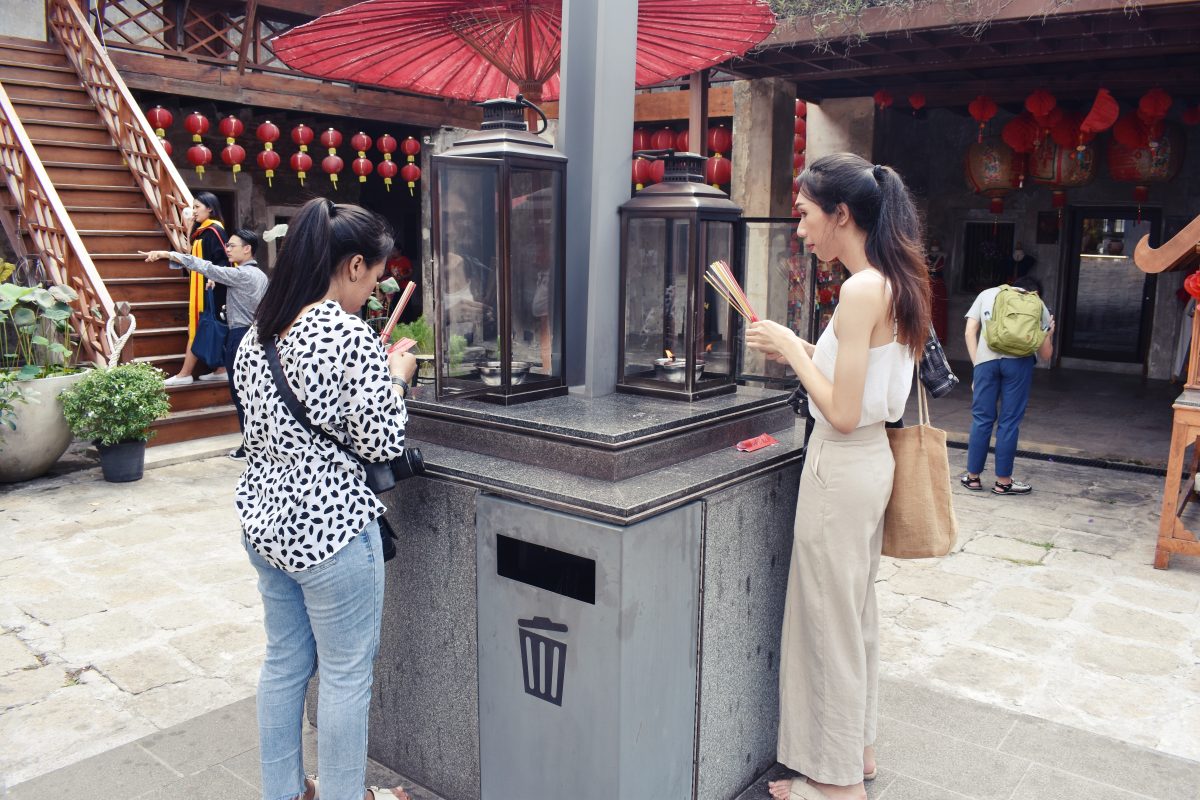 How to Worship at the Mazu Shrine
At the outside altar, face the river with three incense sticks & two candles. Secondly, face the Mazu Shrine and place three incense sticks in the five burners. Thirdly, place one incense stick for each spirit house. Worshiping kits featuring incense sticks, candles, oranges & a floral garland are available from shops in the courtyard. Offerings are left on the tables next to the altar.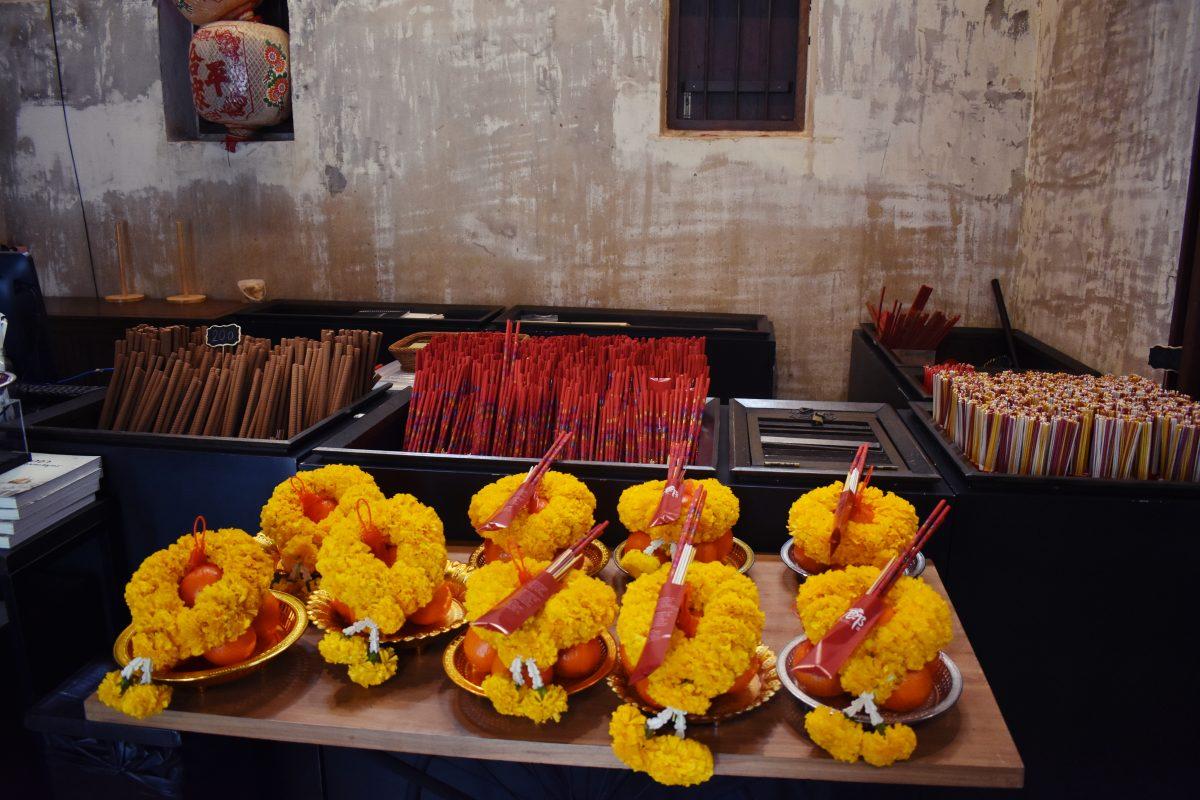 Mazu Shrine Lhong 1919 is easy to get to on the Hop On Hop Off Chao Phraya Tourist Boat or you can take a cross-river ferry from Tha Sawasdee Pier in Chinatown to Tha Wat Thong Pier. The ferry runs from 06.00-20.00 daily & costs 5 baht. Lhong 1919 is an attraction in itself with some cool shops, art, a museum, cafes & restaurants.
Where is Mazu Shrine Lhong 1919?
Location: Lhong 1919, Chiang Mai Road, Khlongsan, Bangkok.
District: Klongsan
Opening Hours: 08.00-20.00. Restaurants & bars are open till late.
Admission: Free
Getting There: Chao Phraya Tourist Boat to Lhong 1919 Pier or cross-river ferry from Tha Sawasdee Pier in Chinatown to Tha Wat Thong Pier.
Map
You May Also Like
Popular Pages on Tourist Bangkok