Dream World Bangkok
Dream World in Bangkok is Thailand's best amusement park. It's Thailand's Disneyland and proudly declares itself as "The World of Happiness". Dream World is on the outskirts of the city in the neighboring province of Pathum Thani. It's a large complex with a variety of rides, a water park, animal farm, a lake, gardens, & shows. There is also an indoor Snow Town. Dream World is an entertaining day out for all the family. Adults and older children will love the high adrenalin rides. For smaller children, there are lots of safe, slower rides & fun activities for them. Dream World attracts a mix of tourists and locals. The best time to visit is on weekdays when it is less busy.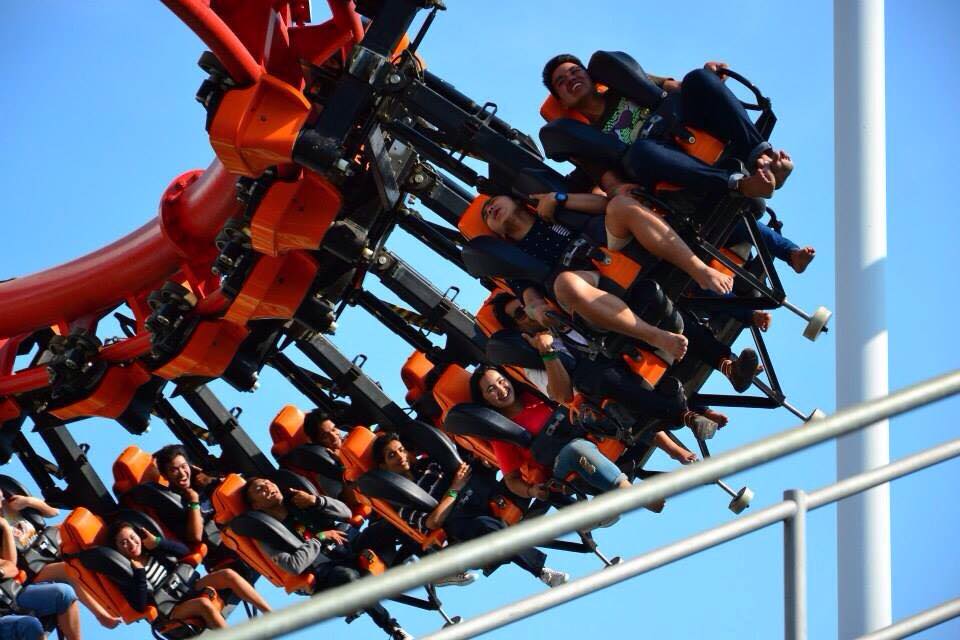 Dream World Highlights
The main attraction at Dream World is the rides. The most popular rides can be found in the Adventure Land zone. The flying Sky Coaster is a suspended rollercoaster which flies around a track transporting you through the air. The whole experience giving you the feeling of flying like a bird. Black Hole Coaster is a high-speed train ride through space in the pitch dark. Viking is a swinging pendulum in the shape of a Viking longboat. Tornado swings & spins at 75 km/hr while Hurricane lifts you 20m into the air before tossing & dropping you.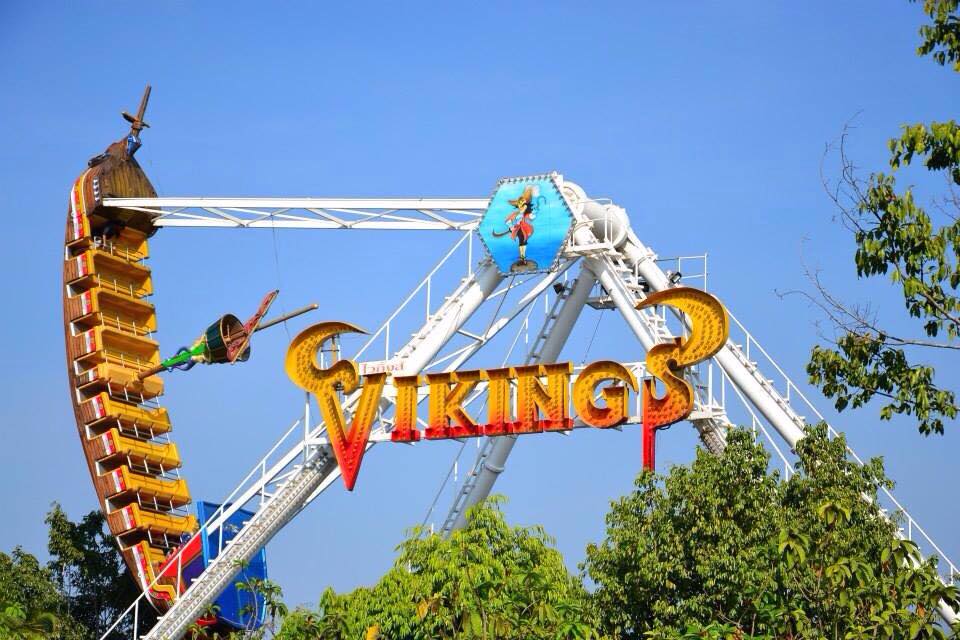 Water Rides
Dream World has two cool water rides. Super Splash is a water rollercoaster ride which plunges into a pool where you will get a good soaking. If you are a spectator don't get too near to this ride or you will get a good soaking too! The other water ride is Grand Canyon a log flume type ride down white water rapids in a circular boat. Again be ready to get wet!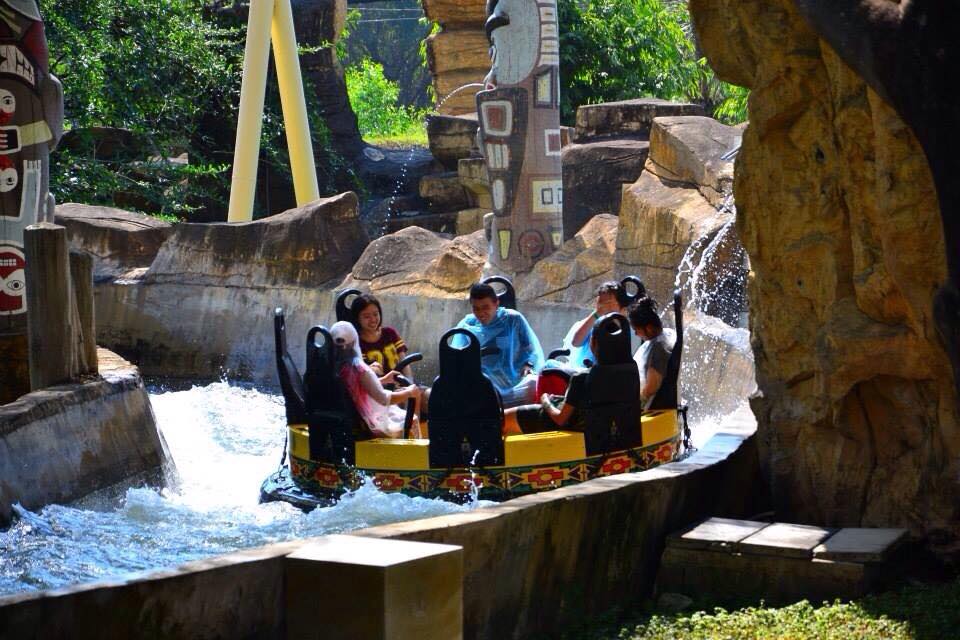 Note that restrictions based on height apply for the above rides. Children must be 140cm or above to get access to the scariest rides.
Other Rides
Other rides at Dream World include the spinning Raptor, the flying Crazy Bus, the Alien, a train ride with scary aliens. Thunderbird features flying cars which you control with a steering wheel while Speedy Mouse! is suitable for younger children.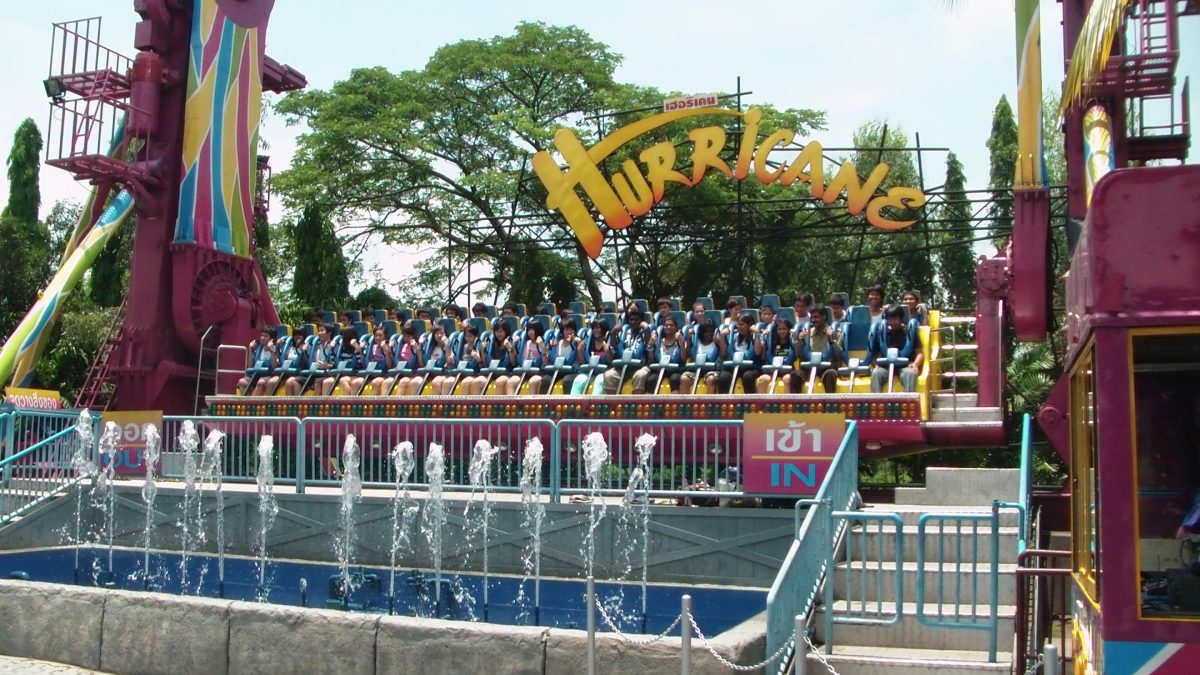 Snow Town
Snow Town is one of the most popular zones in Dream World, especially for younger kids. In Snow Town kids can sleigh, and make snowmen. Snow Town has powdery snow & a steep artificial slope for tobogganing. Sleighs provided. Be aware that Snow Town is very cold at -5c. Bring the right clothing or you can hire boots, coats, socks, and gloves.
Dream World Shows
Dream World has some entertaining shows including an animal show, an action show and a parade through the park. The Colours of the World Parade features famous cartoon characters in a Disney style parade around the park. This only takes place on Weekends and holidays. The parade starts at 15.45.
The Hollywood Action Show depicts a battle between a SWAT Team and a Terrorist Group. The show is all action with some impressive special effects. The show takes place daily. On weekdays there is one show at 14.30. On weekends, there are three shows at 12.30, 14.30 & 16.30.
The Animal Show features a variety of animals performing tricks and stunts. The show is held in a seated arena. The shows are held at 12.00 & 14.00 on weekdays. On weekends & holidays, the shows start at 12.00, 14.00 & 15.15.
There are also Street Performers such as clowns, mime artists and more who give spontaneous shows around the park.
Lakes & Gardens
The park has two pleasant lakes both with fountains. The bigger lake is near the entrance and has bicycle boats if you fancy some fun exercise out on the water. The second smaller lake has dodgem "bump" boats. A Fantasy Zone features several "photo spots" set in the park's gardens. Photopia features replicas of places & scenes from fantasy movies & fairy tales. The highlights are the Giant's House and Medieval & Disney Castles. Seven Wonders of the World features miniature replicas of the world's architectural wonders including the Sphinx, Taj Mahal, and Eiffel Tower. The romantically themed "Love Garden" has beautiful floral displays. The Crazy Zone has heaps of wacky photo ops with superheroes, animal models and even a flying tuk-tuk. You'll also find a massive half-buried giant with head, hands, and feet protruding from the ground.
Dream World
Elsewhere in the park, there are Go-Karts & Dodgems, and a Haunted Mansion. The Water Play area will appeal to younger children who want to play in the water. It has several rides including Slider & Tunnel Fountain. There is a small Animal Farm with exotic birds and small animals which children can feed. Last but not least you can watch a 4D Adventure Movie.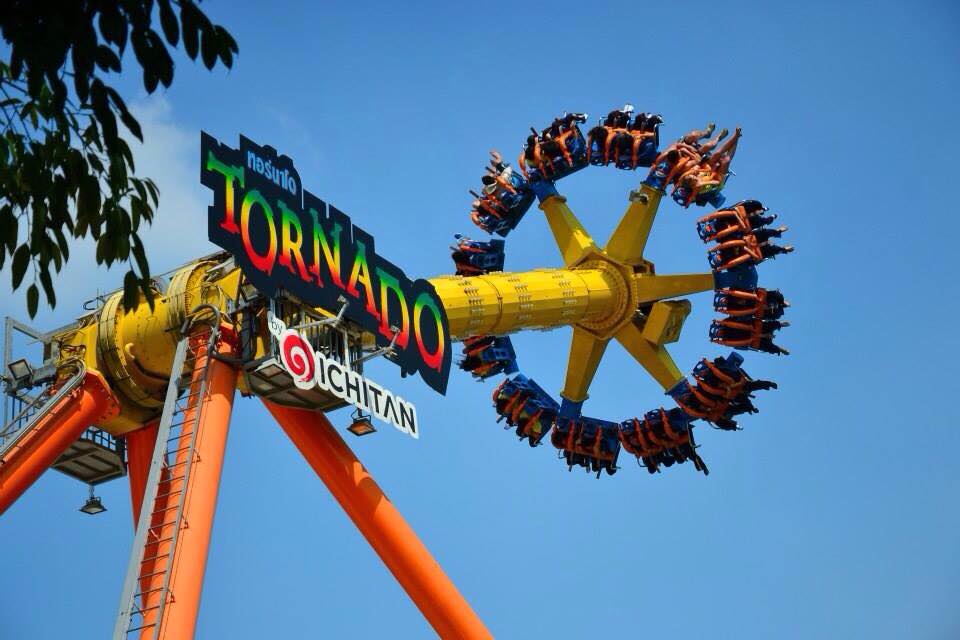 Getting around Dream World
Walking is probably the best way to get around the park. There are plenty of maps around the site to help you find your way around. If you have a young child the park is pushchair friendly. Other ways of getting around the park are by monorail, cable car or sightseeing train. An open window Monorail runs around the park on an elevated track. The Cable Car gives great views of the park scenery from above. There is also a Sightseeing Train that runs around the lake.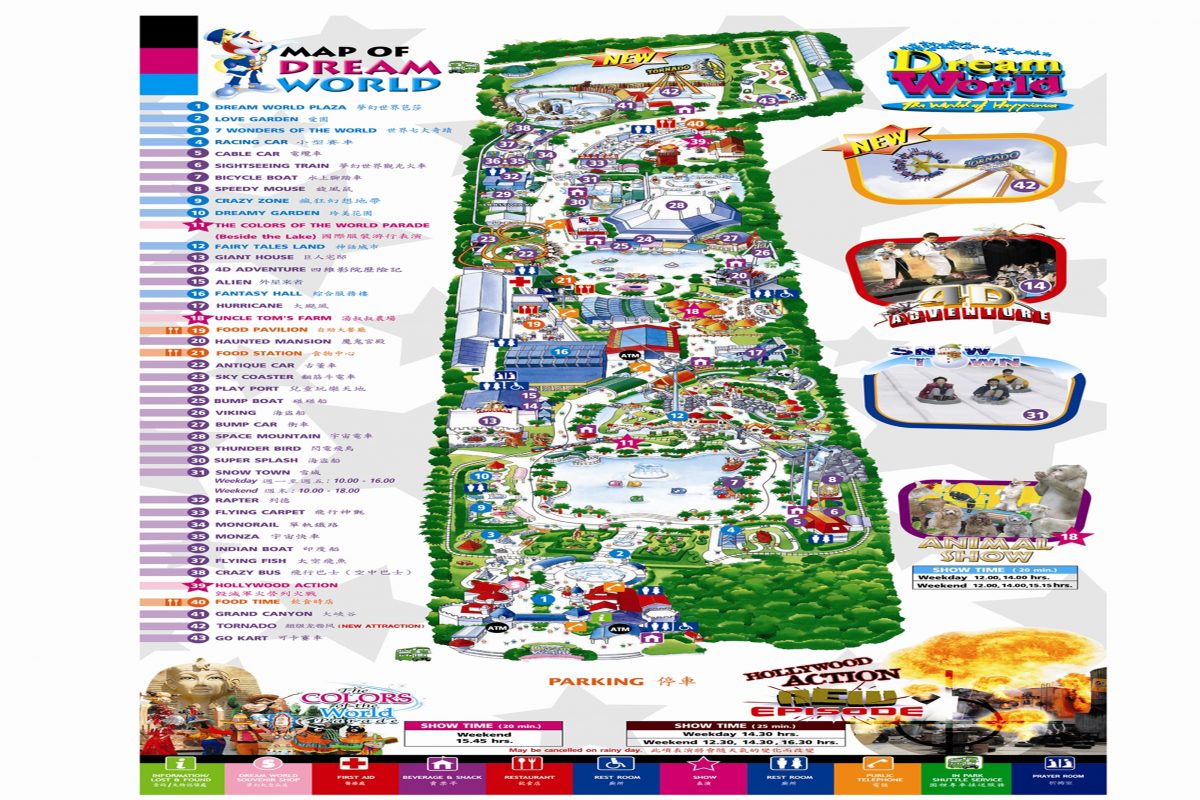 Food
There is a good choice of food options including a food court with good Thai, and Indian food. You will find most favorite Thai dishes here including Pad Thai, Somtam, Fried Rice and Curry. If you fancy fast food there are burgers, fries & KFC. There is an International food buffet included in the price of most tours. Prices are reasonable by western standards. The food court area has several shops selling Dream World souvenirs.
Safety
Dream World is a safe destination. Parents should watch their children near water as many areas are not fenced. Also, make sure you don't lose them in the crowd.
Tickets
Tickets on the door are 1125 baht including all rides or 1300 baht which also includes the buffet.
Buying tickets online is cheaper. A ticket including all rides, Snow Town, Lunch Buffet & transport to and from the park cost from 950 baht. Book here.
Ticket Only: Tickets are 750 baht at the entrance. You will have to pay extra inside the park for Snow Town and the Water Park. You can buy discounted tickets online for 600 baht.
Getting There
If you are going independently a taxi from central Bangkok will cost you 400-500 baht each way in a metered taxi. Grab taxis are slightly cheaper. If you travel to Mo Chit by BTS, a taxi from there will cost you 300 baht each way.
Opening Hours
Dream World is open every day from 10.00 to 17.00 or 19.00 on weekends & public holidays.
Where is it?
62 Moo 1, Rangsit-Ongkharak Road, (km7), Thanyaburi, Pathum Thani
Map