Sri Maha Mariamman Temple
Thailands First Hindu Temple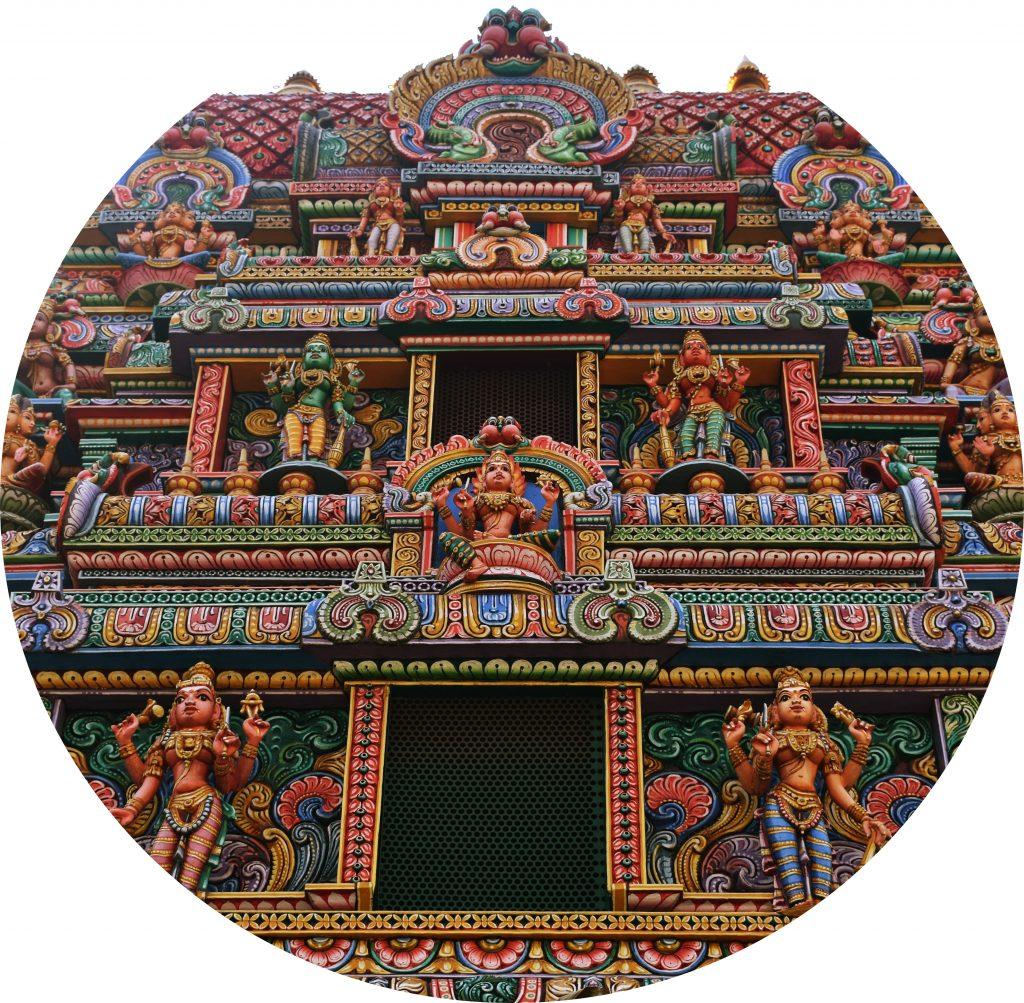 Sri Maha Mariamman Temple
Sri Maha Mariamman Temple or Wat Phra Sri Maha Uma Devi Temple or Wat Khaek is on Silom road in Bangkoks central business district. It is the main Hindu temple in Bangkok, built in 1879 by Tamil immigrants in a south Indian architectural style. The outside of the temple is very colorful with carved images of various gods and goddesses in different shapes and sizes.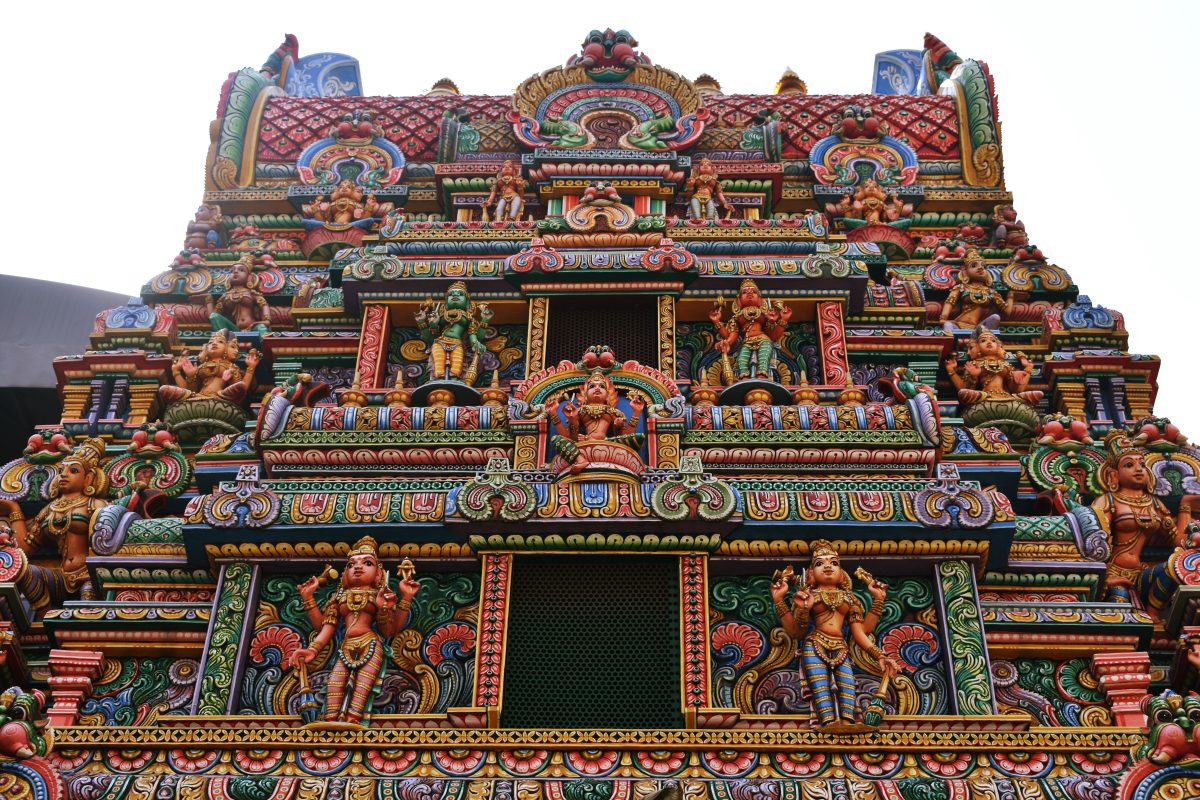 Sri Maha Mariamman Temple Shrines
The main shrine of the complex is under a gilded copper-plated dome. Within the Sri Maha Mariamman temple, there are shrines dedicated to Ganesh, Kartik, and Phra Sri Maha Uma Devi who is the principal goddess enshrined in the main shrine. Uma is the goddess of disease, rain, and protection. Worshippers believe she can help them in matters of love and fertility.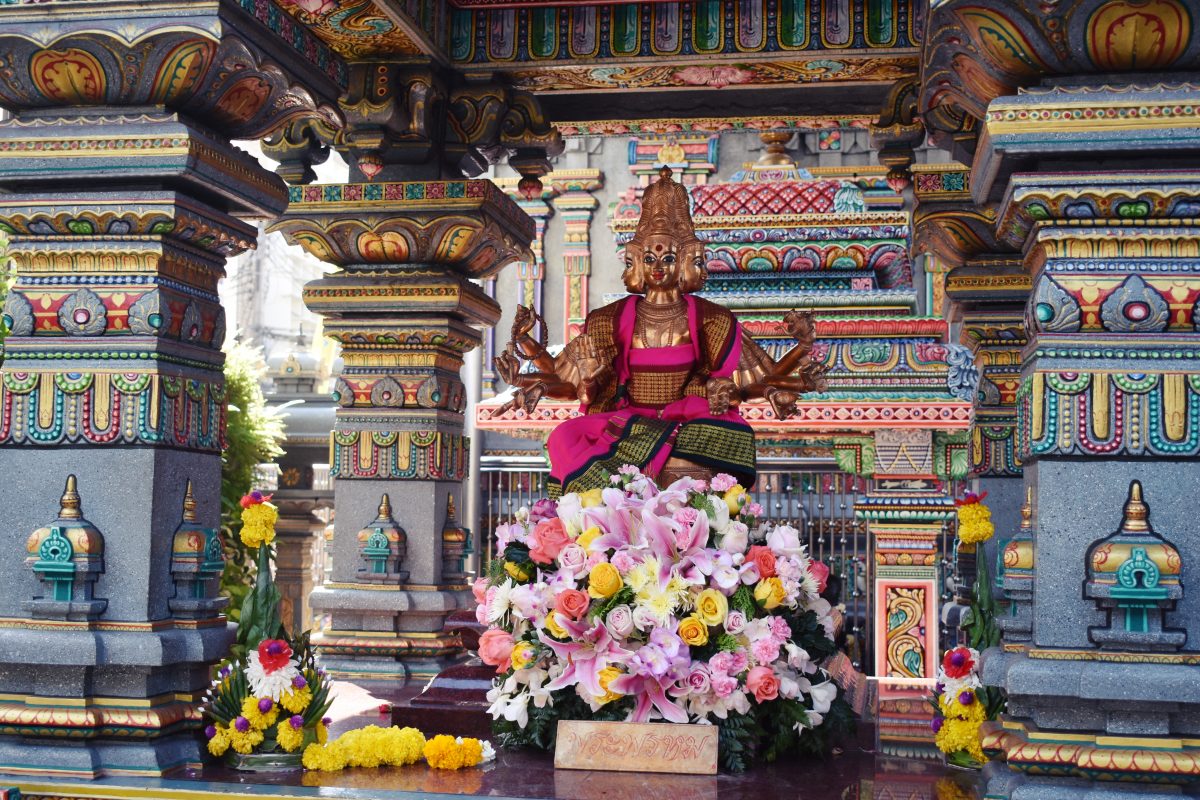 How to Worship
Worshippers offer flower garlands, young coconuts, and bananas. You can buy them outside the temple. Meat is not offered. There are also minor shrines dedicated to the gods Shiva, Brahma, and Vishnu. Sri Maha Mariamman temple is also popular with Thai and Chinese people who believe that Hindu gods can help them in business.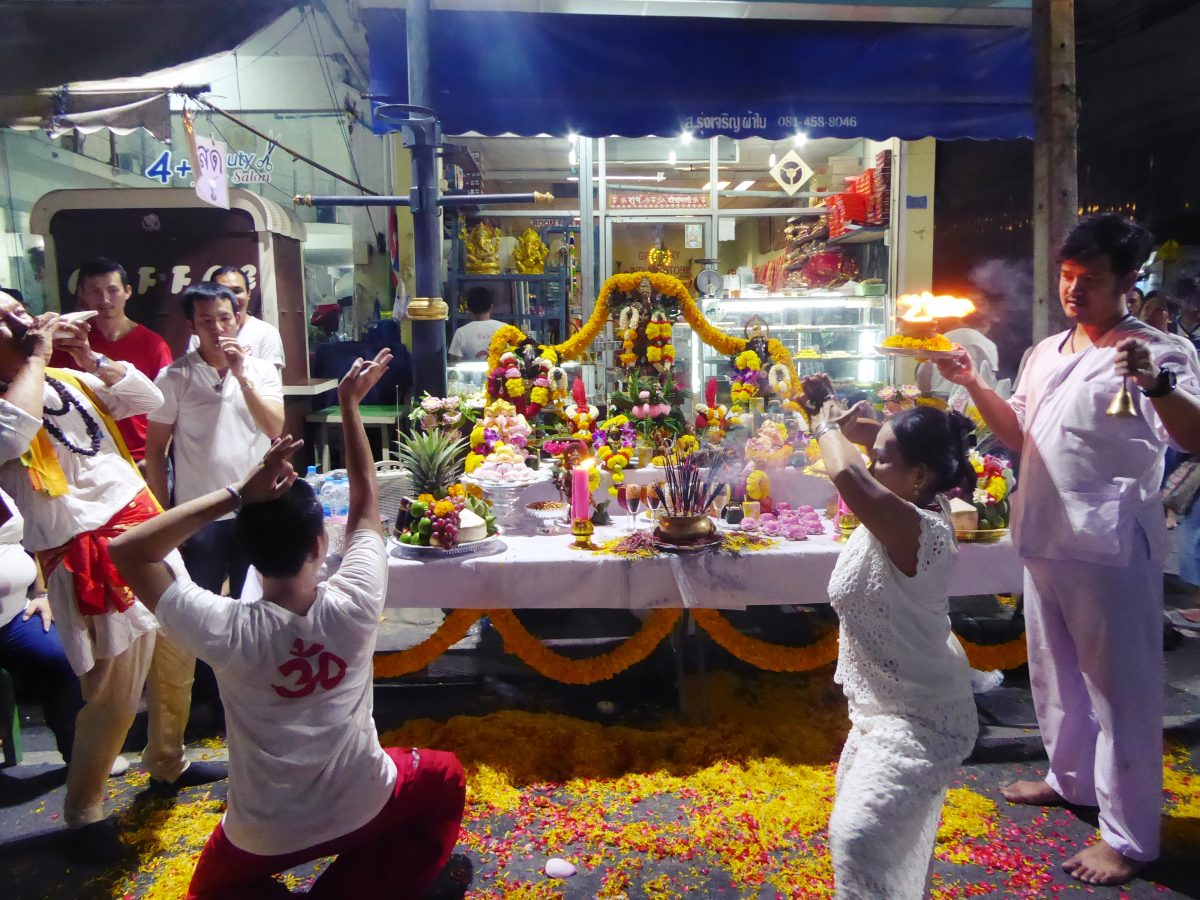 Every year in September/October there is a 10-day festival called Navaratri. It is held for 9 days and nights followed by a parade on the 10th day. The parade features a Uma image which is carried through the local streets. Part of Silom Road closes for the event. The street outside Sri Maha Mariamman temple is colorfully decorated with yellow flower garlands and candles. Worshippers at the festival believe that it will bring them relief from bad luck.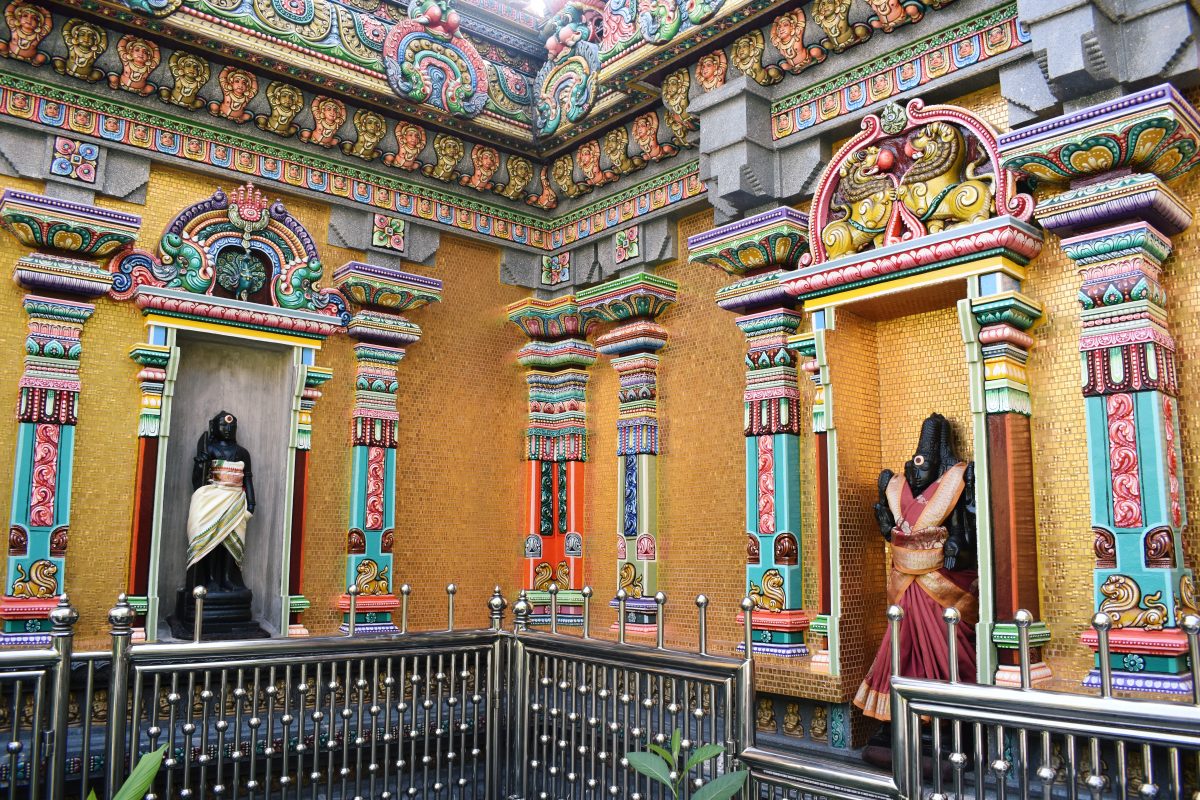 The area around the temple is home to a large Indian community with many Indian restaurants, and shops and is worth walking around. Photography is not allowed inside the temple. There are some stalls outside selling offerings for worshipping inside the temple.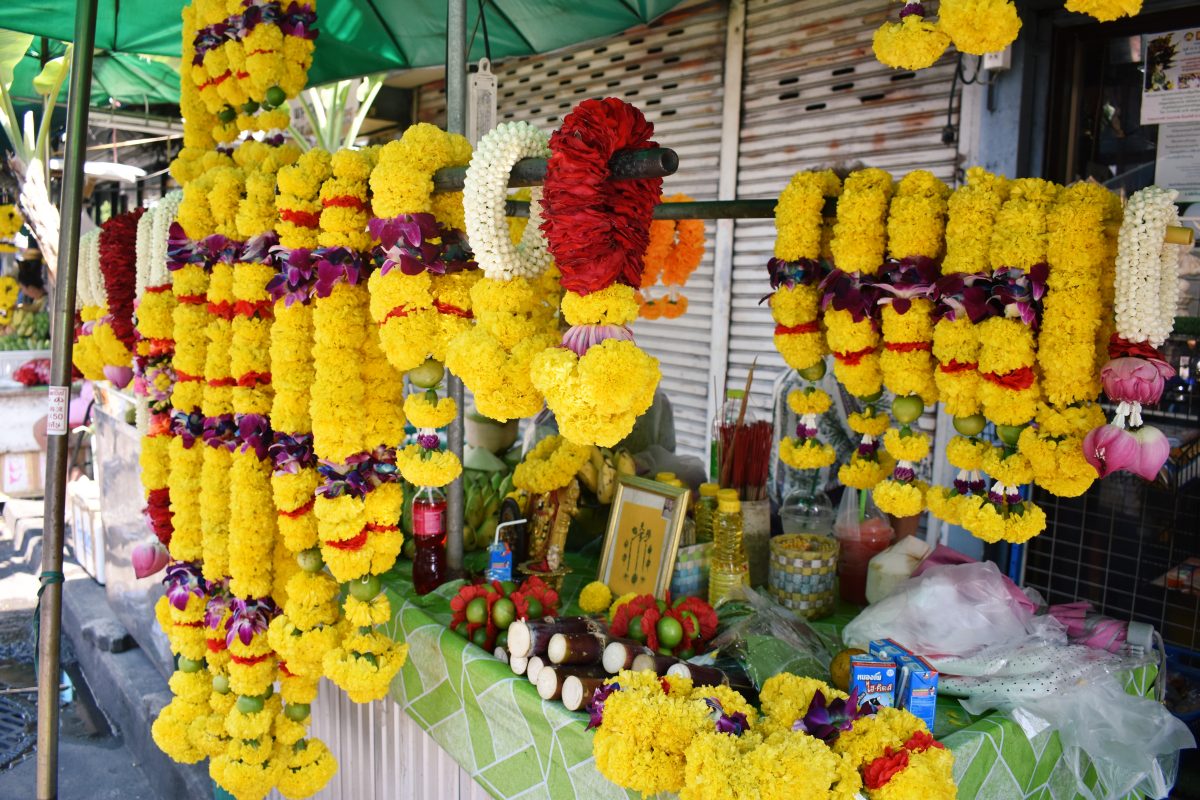 Where is Sri Maha Mariamman Temple?
Location: Silom Road
District: Silom
Opening Hours:06.00-20.30 daily
Admission: Free
Rules: No shoes or photography allowed in the temple.

How to get to Sri Mahamariamman Temple
Bus: No. 15, 76, 77, 115, 117, 147, 163, 164, 504, 514, 544, 547.
BTS: Sala Daeng station, then a 15-minute walk down Silom Road.
Map