Holy Rosary Church
A Gothic Style Riverside Church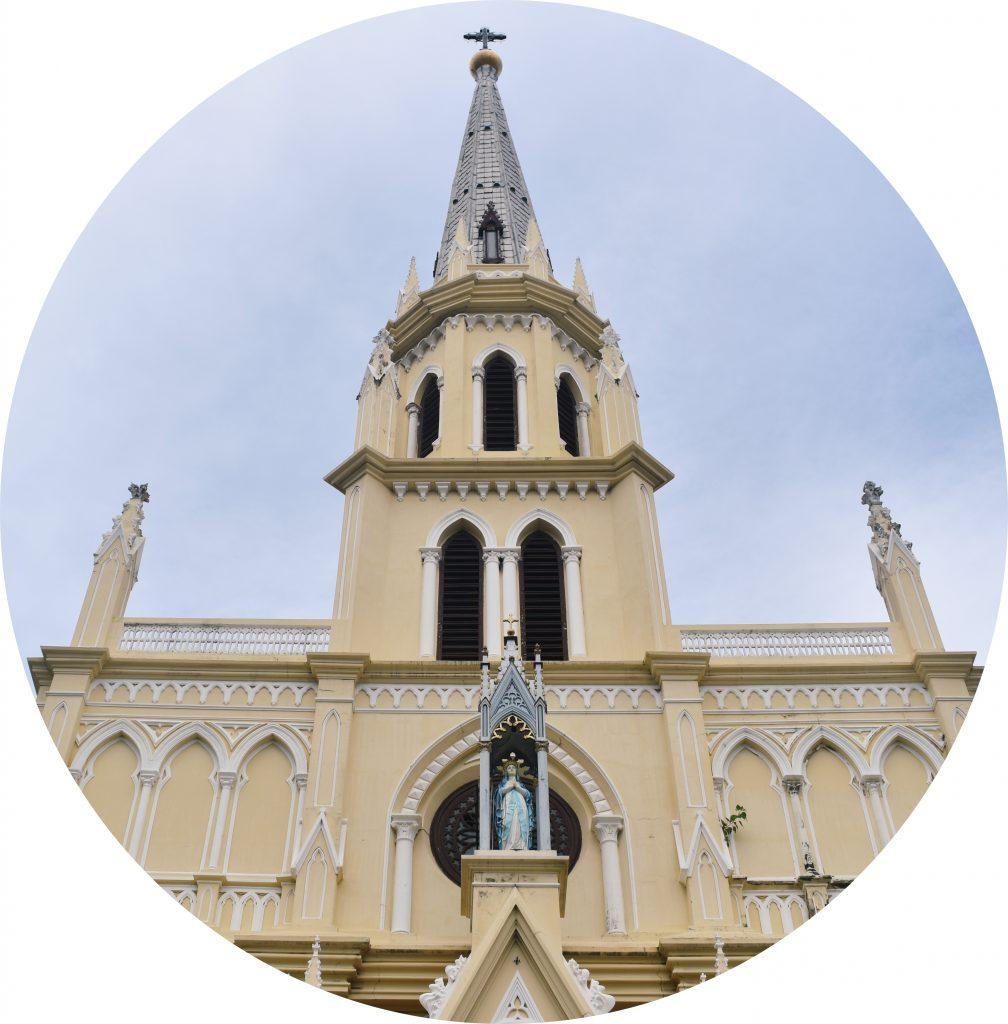 Holy Rosary Church
Holy Rosary Church is also known as Kalawar Church. The word rosary means crown of roses. It was originally built in 1786 by the Portuguese after they fled the fall of Ayutthaya. The church was originally a wooden structure built on land donated by King Rama I. It later burned down and was rebuilt. In 1891 during the reign of King Rama V, it was rebuilt a second time in a neo gothic architectural style. The temple is located on the ground between two schools through which you have to pass to get to the church. The churches distinctive gothic spire is one of the riverside landmarks of the Chao Phraya River.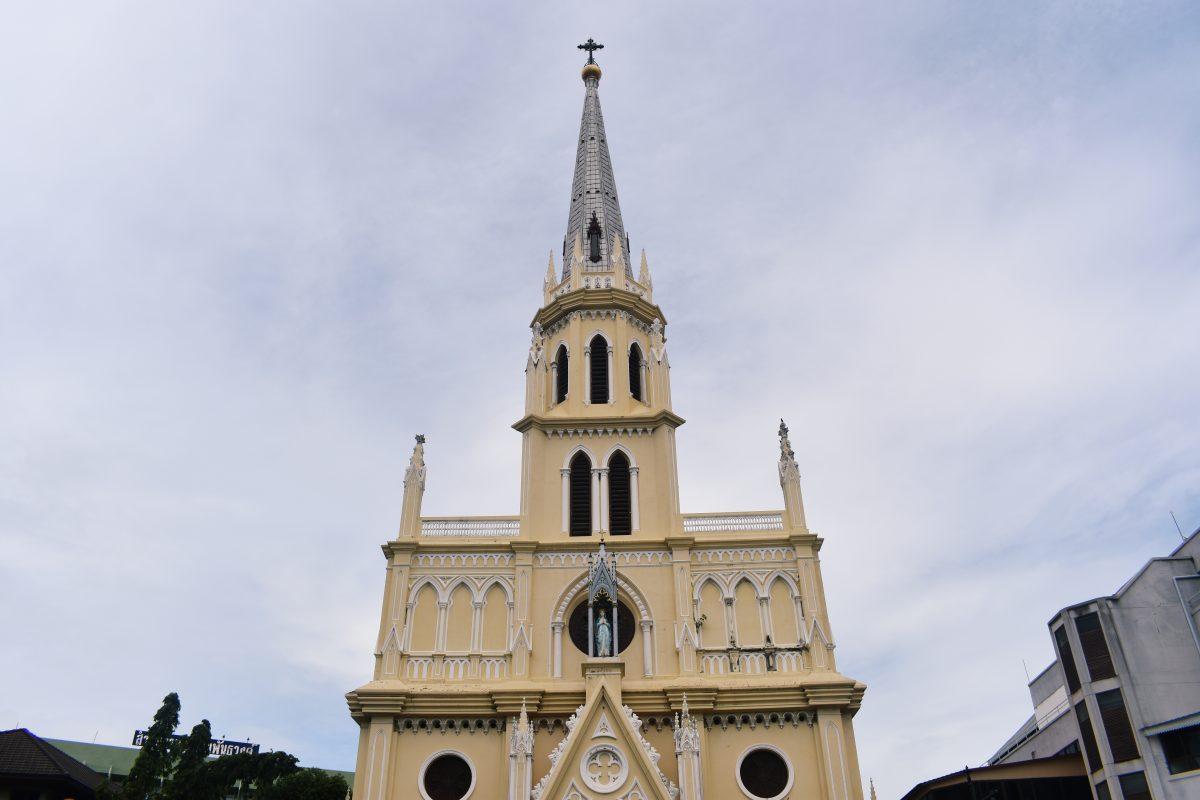 The Exterior
The buildings Gothic Revival style exterior is cream colored. It follows a cruciform floor plan, with the main façade facing the river. Its highlight is the eye-catching steeple, with its cross-topped spire, which is built into the center of the façade, behind a Gothic gable. The churchs doors and windows are in a classic gothic arched style. In between the main entrance and the spire is a round window with a statue of the Virgin Mary standing before it.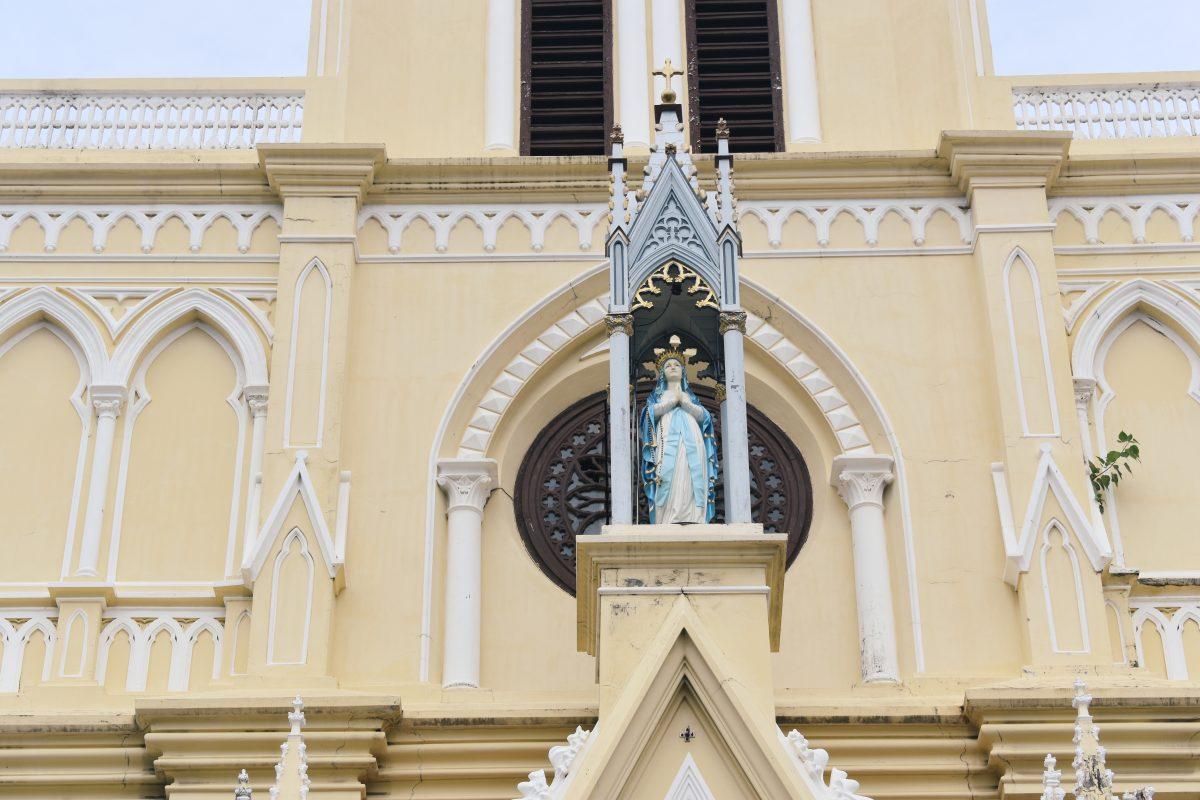 Holy Rosary Church Interior
Inside the church is painted in cream, yellow, and white. At the front of the hall are images of five female saints & the mother of the holy rosary carrying a child sits above the altar. The stained glass windows depict stories from the old and new testaments with images from the life of Jesus. The glasswork is among the most beautiful in Thailand. In between the windows are 14 paintings depicting the crucifixion of Jesus.
The Grounds
To the side of the church is a small, peaceful garden containing another statue of the Virgin Mary. On the wall of the sister?s quarters is a large crucifix.
Services
Holy Mass is held Monday ? Saturday at 19.30. The service is in Thai. On Sunday mass in Thai is held at 08.00 & 19.30. There is a mass in Chinese at 10.00.
Where is it?
Location: 1318 Charoen Krung Road, Soi Wanit 2, Yotha Road.
District: Chinatown/Silom Riverside.
Opening Hours: 08.00-17.30 daily.
Admission: Free

How to get to Holy Rosary Church
Bus: No. 1, 35, 36, 75, 93 BTS: Saphan Taksin station (exit 2)
Boat: Chao Phraya Express/Tourist Boat to Marine Department Pier N4 or Tha Si Phraya pier N3
Map
You May Also Like
Popular Pages on Tourist Bangkok